Red tamale sauce is an essential recipe for your authentic Mexican pork or beef tamales, made with real Mexican dried chiles.
When you're ready to make a tamale commitment, be sure to use an outstanding homemade sauce like this one.
Recipe | Dried Red Chiles | Vegetarian | Tamale Party | Mexican Gravy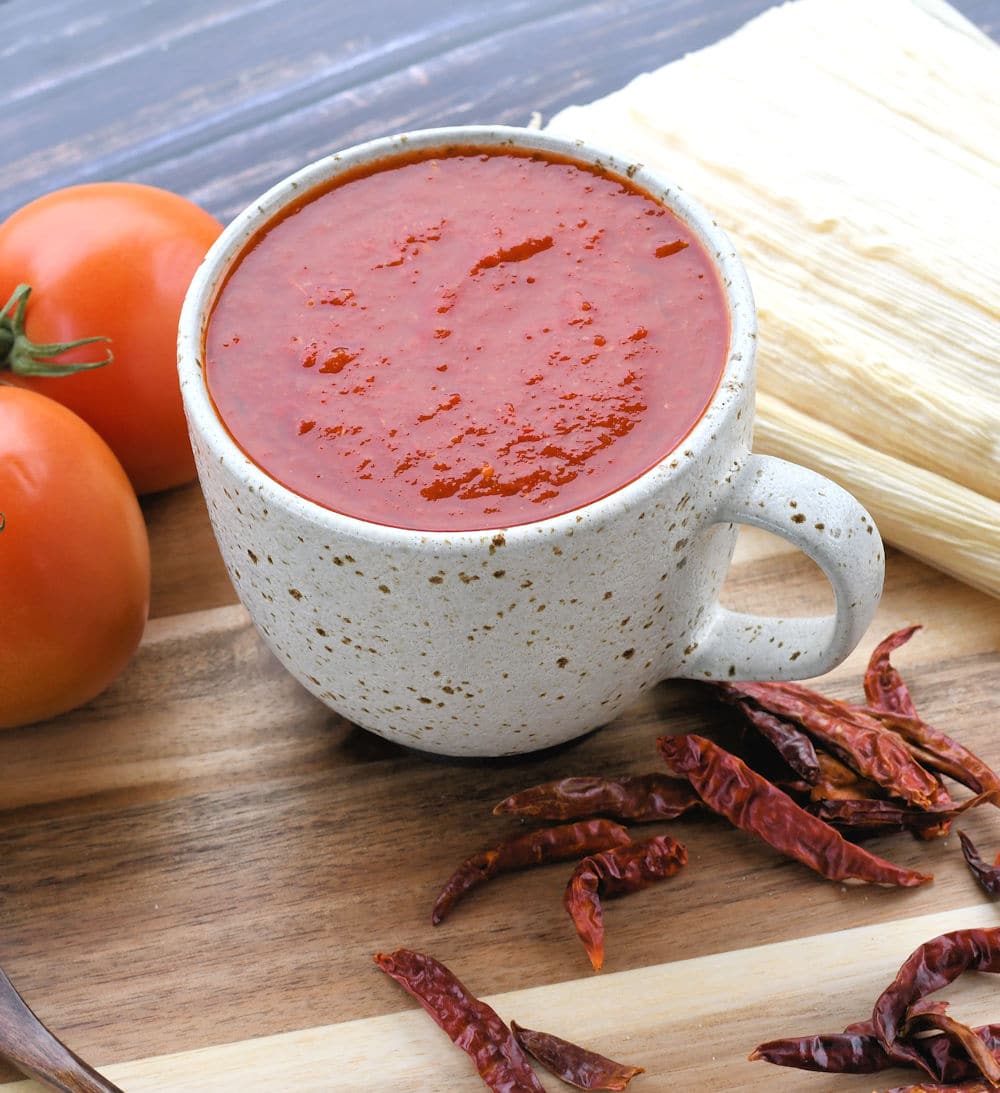 This is an authentic tamale sauce, made with dried red chiles. I've used mostly chiles that aren't very spicy. My favorite dried chiles are California, New Mexico, Ancho and Pasilla.
For just a touch of heat, I've also used chile de arbol. They're small but mighty!
How to Use This Tamale Sauce
Our first tamale recipe is for traditional pork roast tamales. Pork tamales are the most typical tamales you will find.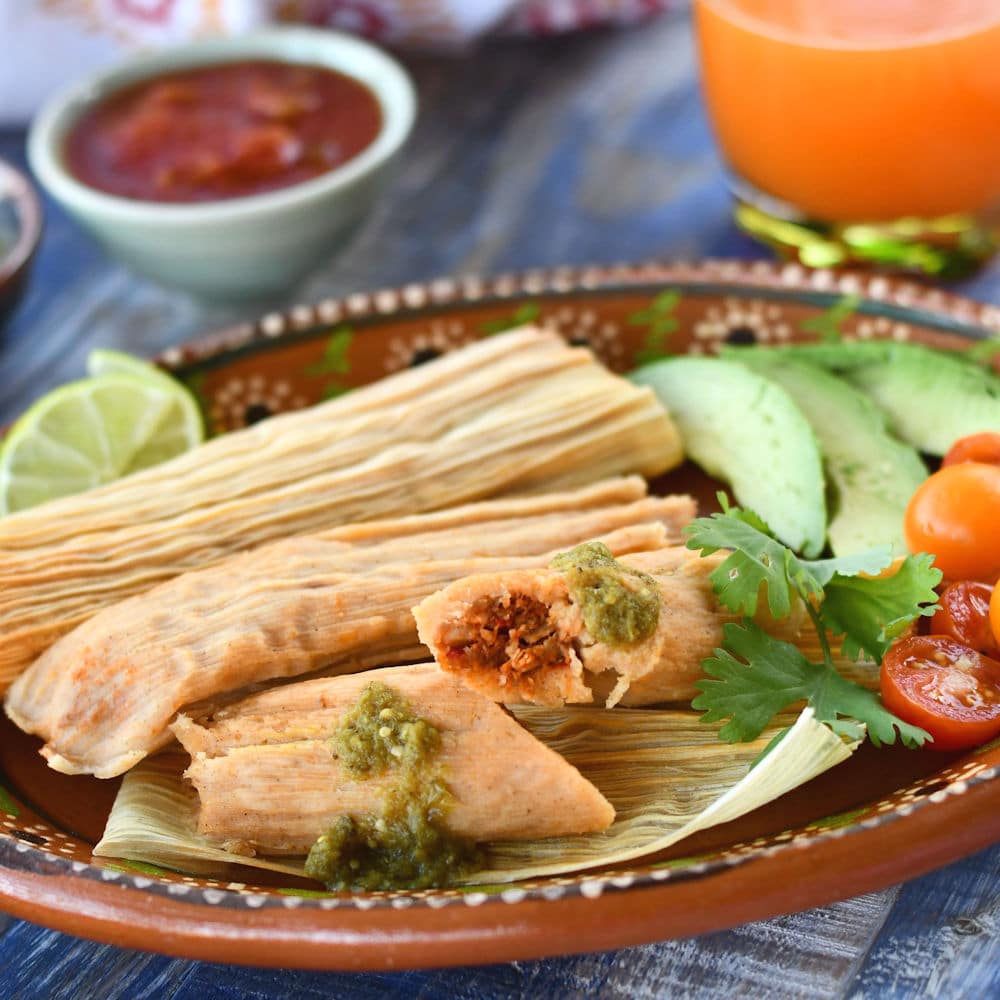 For traditional pork tamales, I've used a small amount of sauce in the masa to give it extra taste and color. The rest is mixed with the pulled pork roast filling.
Dried Red Chiles
Feel free to mix and match your chiles! My favorite is California red chiles, but I could also use New Mexico, pasilla or guajillo chiles.
I like to add a touch of smoky flavor with some ancho chile, the dried version of poblano.
Choosing your chiles is where you can let your personality shine.
If you like chipotle, try adding it as well. The sauce is the beauty of Mexican cooking. Choosing your chiles is where you can let your individual personality shine.
To add a little bit of chile heat, I've used two arbol chiles as well. They are quite hot. Whew! I tasted the sauce and, wow! Yeah, it was plenty spicy.
Remember that your sauce is going to be spread out and mixed with other filling and then enveloped in corn masa. If you don't have enough taste (and heat!) in your sauce, you could end up with bland tamales.
Eating this sauce with tortilla chips, for instance, might have been too spicy for me. But, mixed with everything else, it was perfect.
To learn more about how much spicy heat is in each chile pepper, view the Scoville Heat Scale which lists several different peppers used here.
Frequently Asked Questions
Can I use red tamale sauce for enchiladas?
Yes, I will frequently use this recipe, swapping out whatever dried chiles we have in the cupboard. The only difference is that I decrease the amount of salt and spices. For tamales, the quart of sauce will be spread out to up to four dozen pieces. For enchiladas, on the other hand, the sauce may be spread to only 18 pieces. I usually reduce the spices in this recipe to one teaspoon each instead of one tablespoon.
What kind of sauce goes on tamales?
I like to use a red tamale sauce for beef and pork. It's tomato based so tastes great combined with these meats. For chicken and vegetarian tamales, I prefer green tamale sauce which is tomatillo and green (verde) chile based. Try a Mexican Gravy recipe for a tasty pour over topping.
Are tamales gluten free?
Tamales are almost always naturally gluten free. They are made with masa flour which is made from corn, not wheat. The only exceptions may be dessert tamales.
Easy to Make Recipe
You don't even need to chop the vegetables. Just quarter the tomatoes and loosely chop the peppers after you've removed the seeds. Soften them up by simmering them in chicken stock.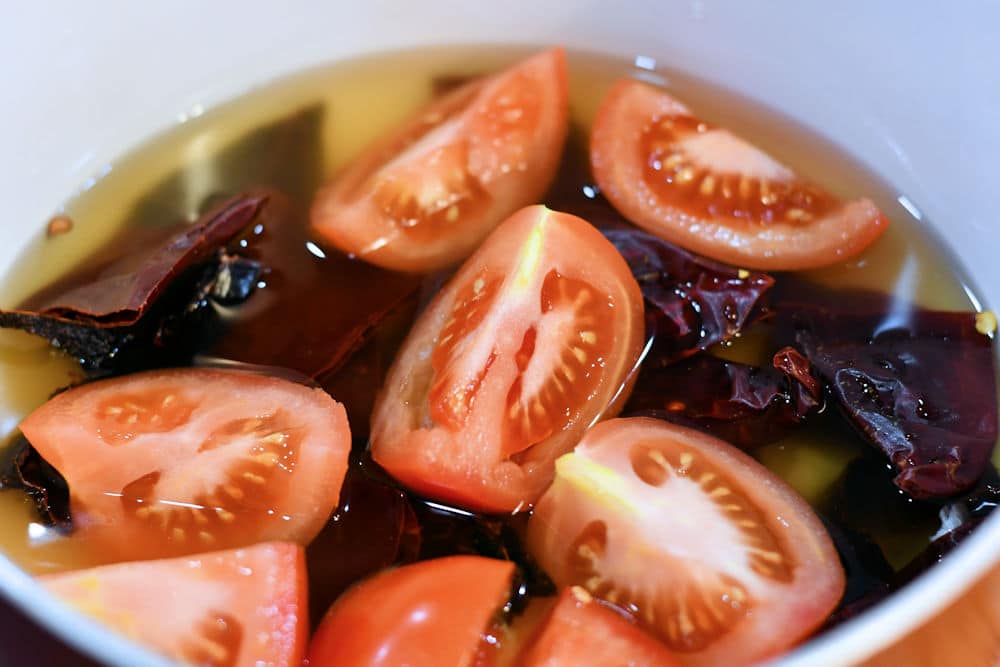 Once you've mixed everything up in the blender, it will be smooth like tomato juice.
Always use care when you're using the blender with hot ingredients. Start off slowly.
If you go all wild with your tamale sauce and run the blender on high, it will explode from the top and likely burn the hand you have sitting on top of the lid.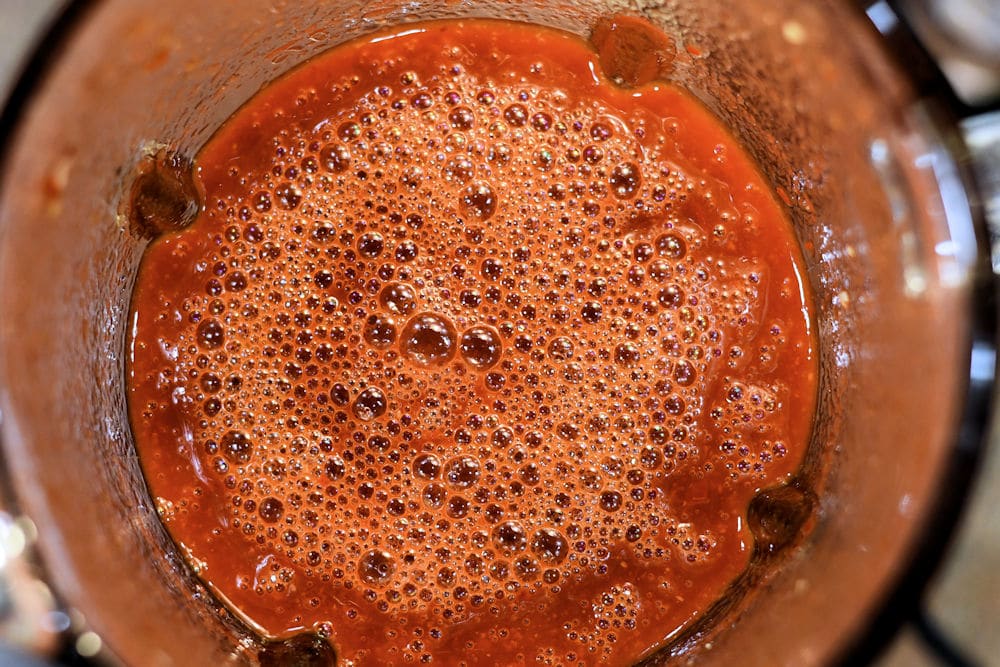 When you get finished, you will have a quart of incredibly delicious and fresh tamale sauce. If you're going to make your tamales right away, set it aside until you're ready. If you are making it ahead, refrigerate after it's cool. Use within three to four days.
Mexican Red Sauce
Mexican "Red Sauce" can mean many different sauces. You can use it for tamales, enchiladas, tacos, pozole and more.
This tamale sauce recipe uses both chiles and tomatoes. It works really well for seasoning the tamale filling.
If you prefer a sauce made without tomatoes, try this Red Enchilada Sauce recipe instead. It makes a quart as well.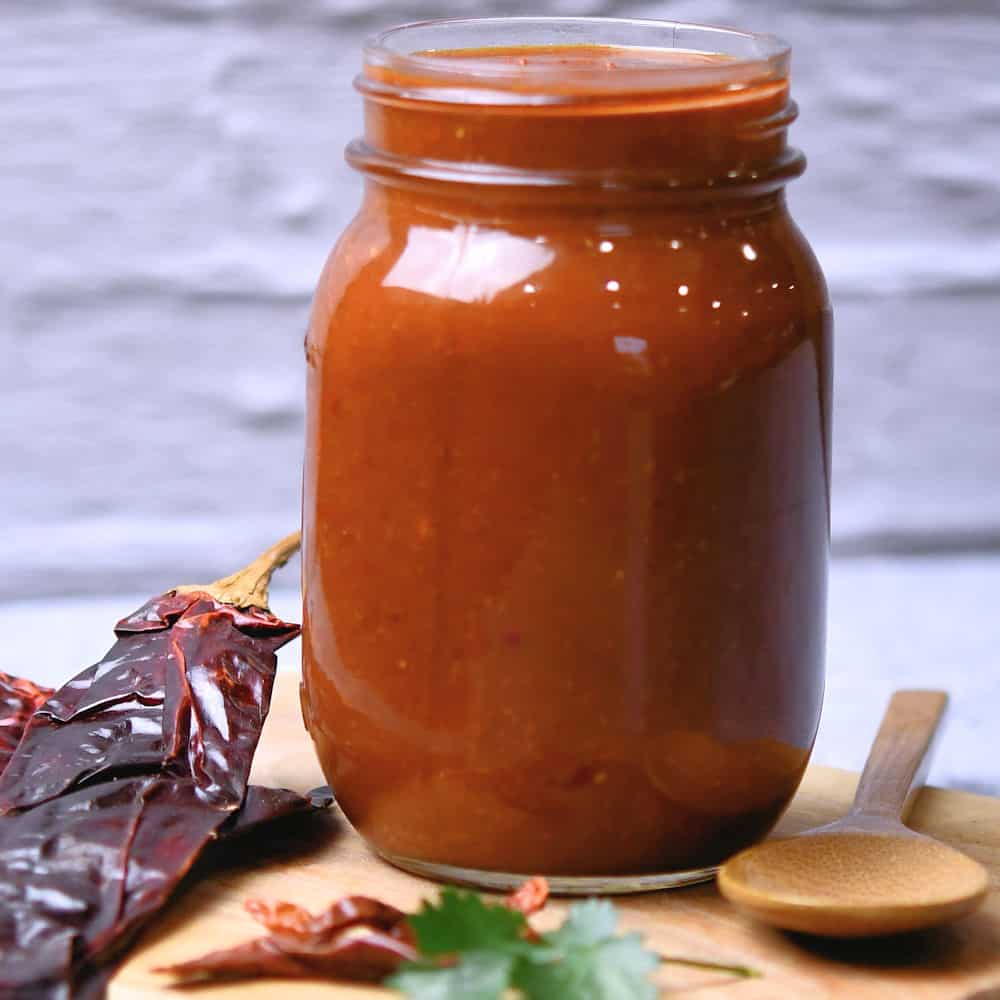 If you want to use it for tamales, you may want to increase some of the seasonings.
What is Mexican Gravy?
My idea of a great Mexican Gravy that you can serve on top of anything from tamales to nachos is my Red Enchilada Sauce. Once it finishes cooking and it's still hot, stir in a cup of cheese. Yum!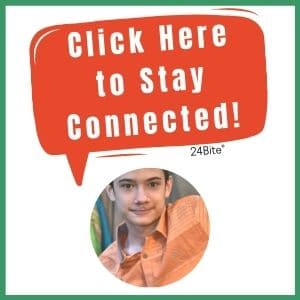 How to Use Tamale Sauce
When we make pork tamales, we only need a quart of this homemade tamale sauce. It will make about 45 tamales or so. If you plan on making more tamales, you can double the recipe. But, don't put the entire thing in the blender at once. Blend up only about two cups of the mixture at a time.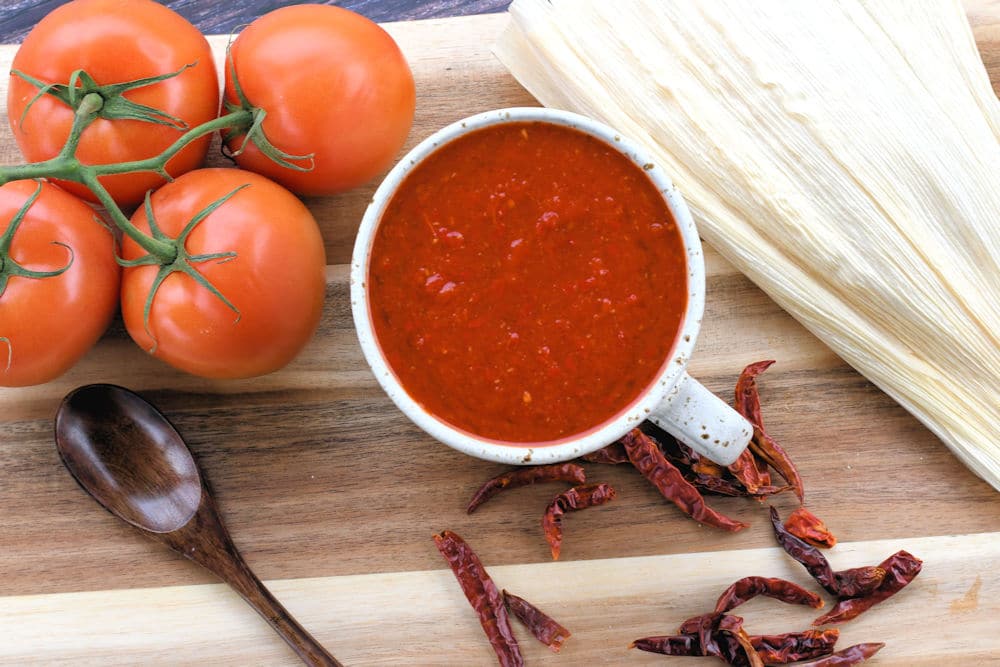 Making it Vegetarian
If you're wanting to make homemade vegetarian tamales, use vegetable stock or water instead of chicken stock. It will be just as delicious. Give it a try with this Vegan Pumpkin and Jalapeño Tamale Recipe.
Hosting a Tamale Making Party
If you're interested in hosting a Tamalada (spanish for tamale making party), learn more about preparing for a Simple Tamale Party from Global Grub.
More Delicious Mexican Food
This is the sauce that we recently used for some really incredible Pork Tamales. Or try these other delicious Mexican recipes.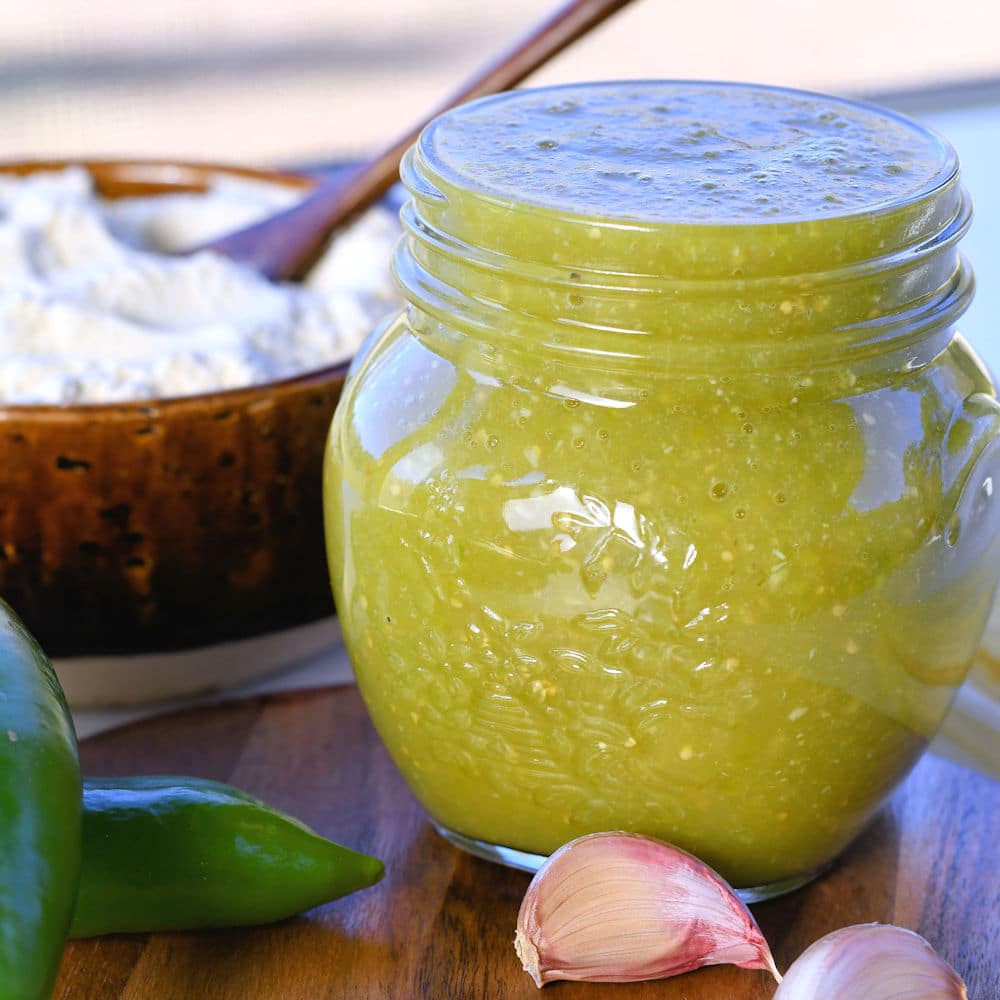 If you like tamales, be sure to try chicken tamales too! Pair it with this Homemade Verde Tamale Sauce recipe.
Recipe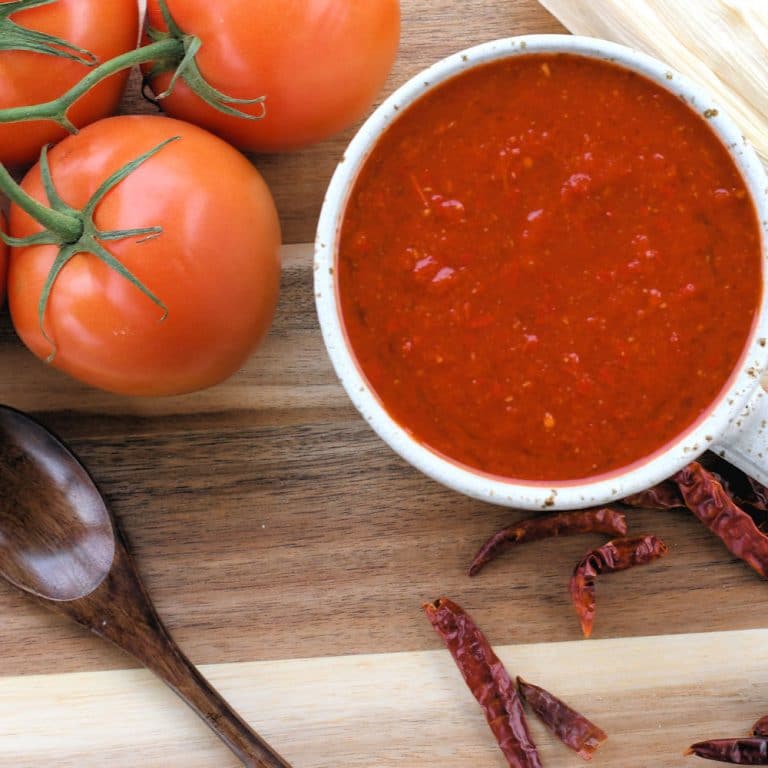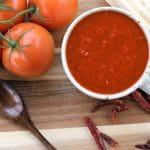 Pin Recipe Now
Red Tamale Sauce Recipe
Tap to leave a star rating
Save or Print
Red tamale sauce is an essential recipe for your traditional Mexican pork or beef tamales. When you're ready to make a tamale commitment, be sure to use an outstanding homemade sauce like this one.
For more information, be sure to check the recipe details in the attached 24Bite® post.
Equipment
Stand up blender or immersion blender
Ingredients
8

Red Anaheim Peppers

,

dried

2

Arbol peppers

,

dried

2

medium

Tomatoes

,

quartered

4

Garlic Cloves

3

cups

Chicken Stock

,

divided

1

tablespoon

Ground Cumin

1

tablespoon

Salt

1

tablespoon

Onion Powder
Instructions
Using a firm bristle brush, wash peppers.

Carefully split the peppers and remove seeds and membranes. Cut peppers into 1-2 inch pieces. Arbol peppers are small so no need to cut those.

Place peppers, tomatoes and garlic in pan with 2 cups chicken stock. Heat on medium and bring to boil, then reduce to low and simmer for 30 minutes.

Remove all ingredients to blender and blend until smooth. Return to pan.

Stir in remaining 1 cup chicken stock, cumin, salt and onion powder. Simmer for 30 minutes more.
Notes
If you're looking for a sauce to serve on top of tamales, I recommend this Mexican Gravy recipe. It's delicious and will work wonderfully for tamales, tacos, smothered burritos, enchiladas, everything.
The amount of seasonings may seem excessive, but you have to remember that this will be mixed with other ingredients and spread out among approximately 45 tamales. You're not making a standard 6 or 8 serving dish.
You can make this sauce ahead. Refrigerate and use within 3-4 days.
Nutrition Facts
Red Tamale Sauce Recipe
Amount Per Serving
Calories 12
% Daily Value*
Fat 0g0%
Sodium 251mg11%
Carbohydrates 2g1%
Protein 0.25g1%
* Percent Daily Values are based on a 2000 calorie diet.
______________________
Percent Daily Values are based on a 2000 calorie diet. All amounts are estimates and 24Bite® takes no responsibility for actual figures since calculations vary by packaging and supplier. Please calculate the amounts yourself based on package labeling if you have specific dietary requirements. 24Bite®, Kim Guzman or Christian Guzman shall not be liable for adverse reactions or any other outcome resulting from the use of recipes or recommendations on this website or actions you take as a result.
© 2019-2021 Kim Guzman and Christian Guzman. All rights reserved. Subscribe to 24Bite email newsletters.
Follow 24Bite: