Green Tamale Sauce is a mild yet tangy sauce, perfect for chicken tamales. It's easy to make using Anaheim chiles, jalapeno chiles and roasted tomatillos.
Once you know how to make tamales, you'll be able to switch out your filling easily. For my Pork Tamales, I've used a red sauce.
On my next batch of tamales, I'm going to make Chicken Tamales which is the same except you'll switch out the red tamale sauce recipe here for the verde sauce and the chicken for the pork.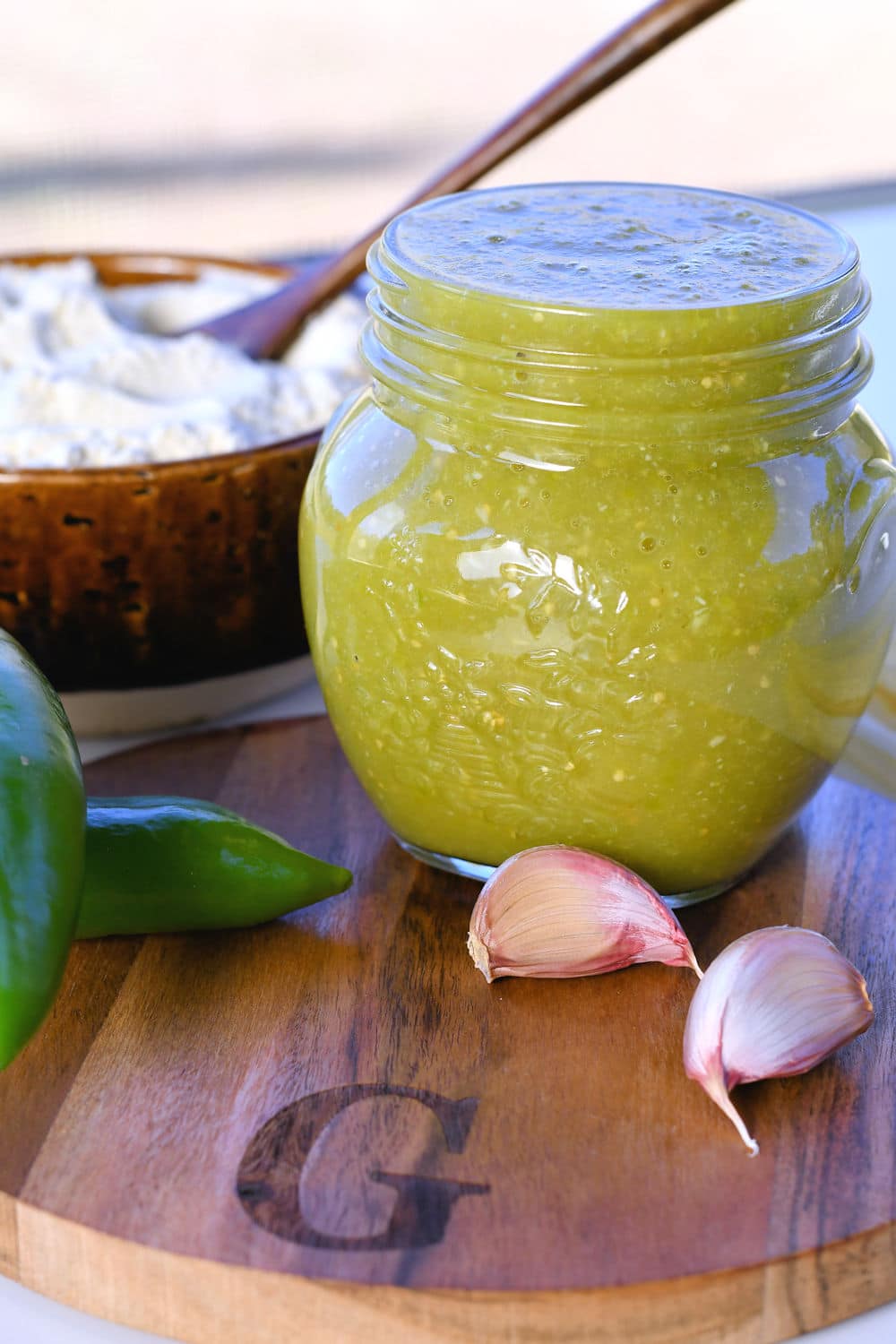 Making Tamales Step by Step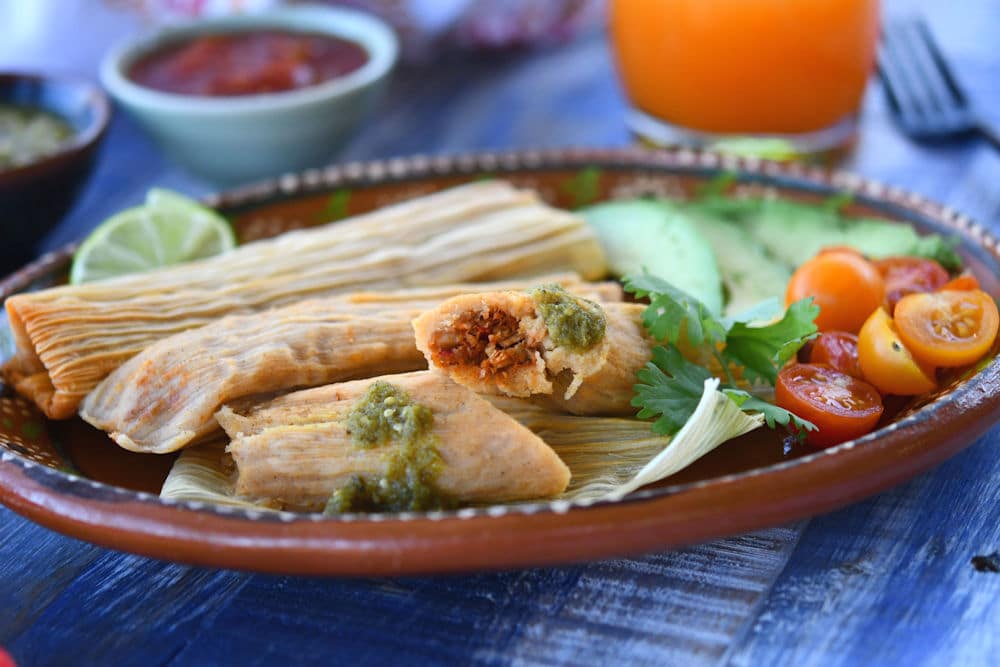 My Pork Tamales recipe includes a step-by-step tutorial for making the masa dough and filling the corn husks. Every step of the way. It's easy but time-consuming so plan ahead.
Is Green Tamale Sauce Spicy?
For this homemade Green Tamale Sauce, I've chosen Anaheim chiles for my green chile of choice. This is different than my Green Enchilada Sauce which uses poblano pepper.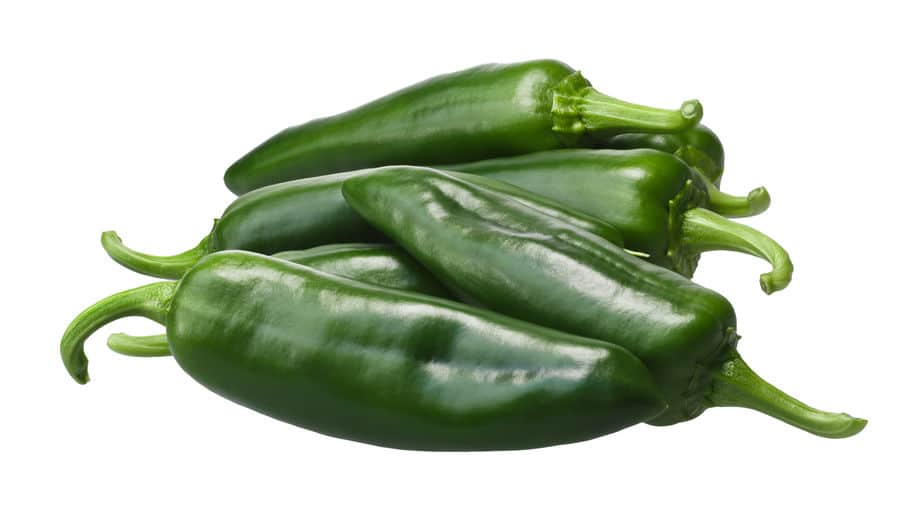 In the world of chiles, Anaheim pepper is just a step up from a sweet bell pepper in heat but still below jalapeno pepper. It's fairly similar to poblano but the outer skin isn't as tough as a poblano. And, that's why I chose it here.
I roasted the poblano peppers in my Verde Enchilada Sauce so that I could remove the outer skin. In my Verde Tamale Sauce, I wanted to do something different. The softer skin works better when you're not roasting.
Every pepper has its place. Anaheim peppers for this recipe but poblano for the other. Works for me!
According to Pepperscale.com, you can use Anaheim peppers anywhere you would typically use sweet bell peppers to add just a touch more heat. I can hardly wait to try out some stuffed Anaheim peppers!
Homemade Sauce Step by Step
This is so easy. You'll love it!
Start off by getting your food service gloves. You fingers can burn for hours, if you aren't careful.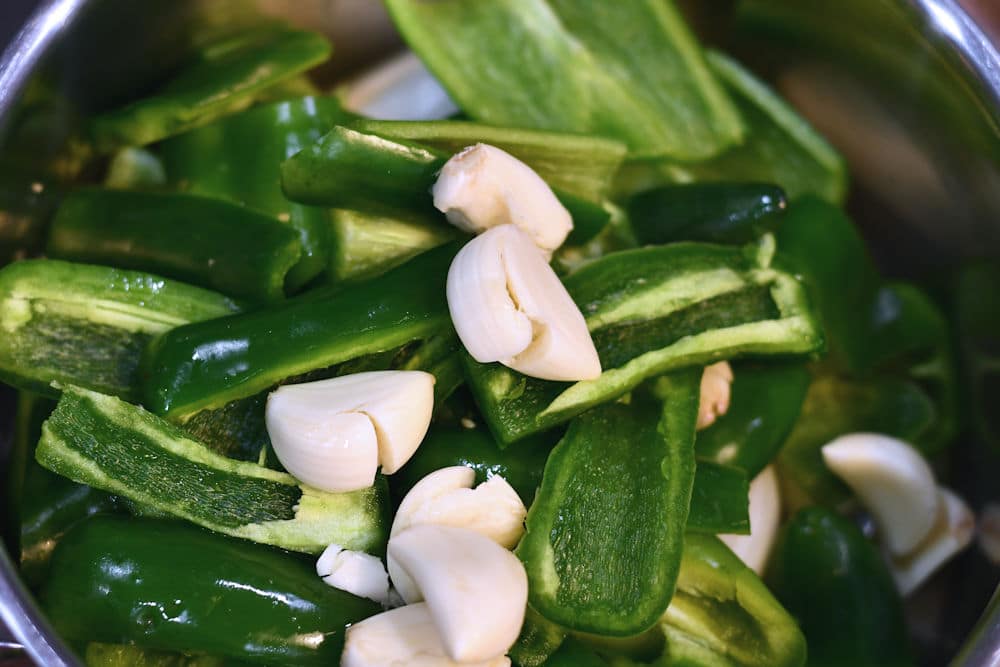 Remove all the seeds and membranes from the peppers then cut into chunks. The garlic can go right in the pan without any cutting. Cut an onion into 4 pieces. Cover everything with water and let it cook for about 15 (or up to 30) minutes until everything is soft.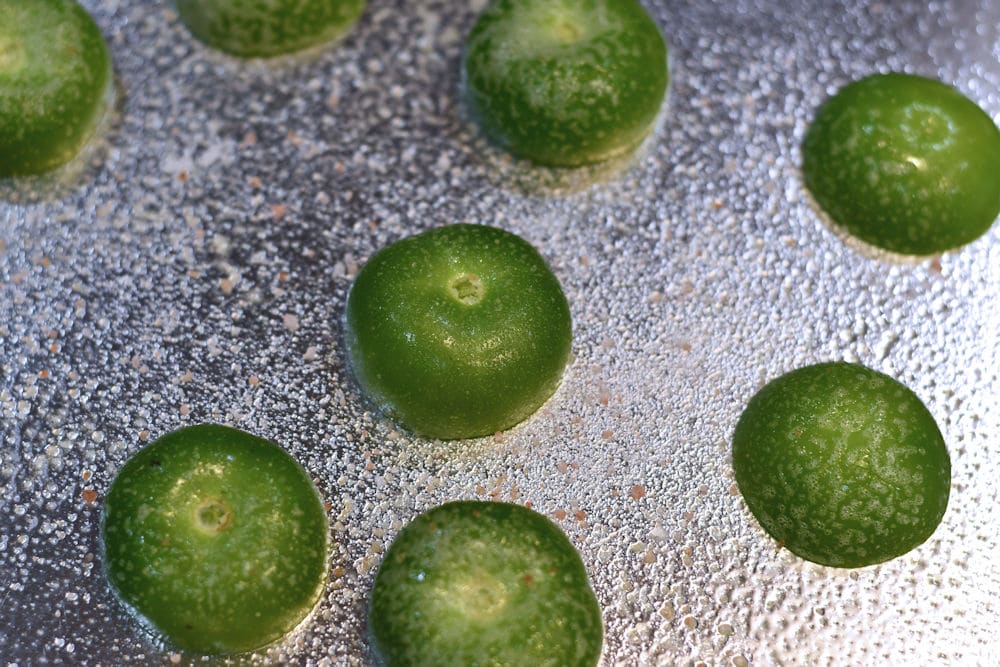 In the meantime, remove the husks from the tomatillos and clean them to get rid of the sticky residue. Cut the tomatillos in half horizontally and place cut side down to bake. I usually roast tomatillos for 20 minutes but I guess it's the time of year that tomatillos aren't very big. These only took 15 minutes.
Be careful when you're roasting tomatillos. I've had them burst so be sure to use a baking pan with an edge to catch any liquids.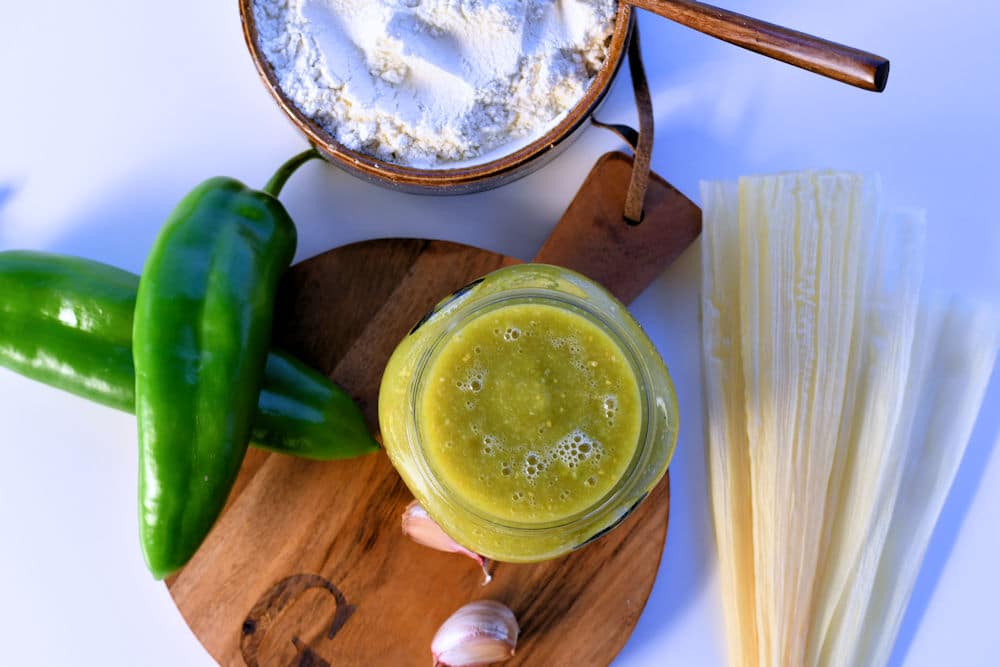 Can I Use This Sauce for Dipping?
This Verde Tamale Sauce is seasoned with salt and spices for spreading out around 40-50 tamales. You'll see that there is a lot of seasoning.
If you would like to adapt this recipe to dipping or enchiladas or anything you would need a sauce, reduce the amount of salt and seasoning. You may also want to squeeze in a lime.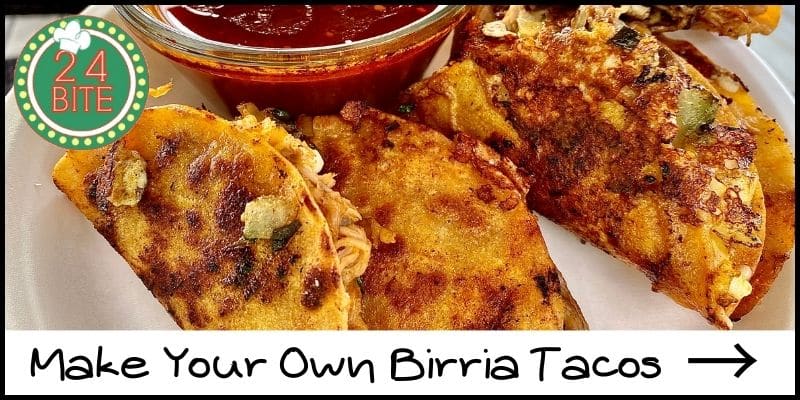 Where to Use Green Tamale Sauce
Green Tamale Sauce, verde sauce, pairs perfectly with chicken. If you want to use it for enchiladas, be sure to reduce the salt and other dried spices. You won't need nearly as much when used as an enchilada sauce as you would with a tamale sauce.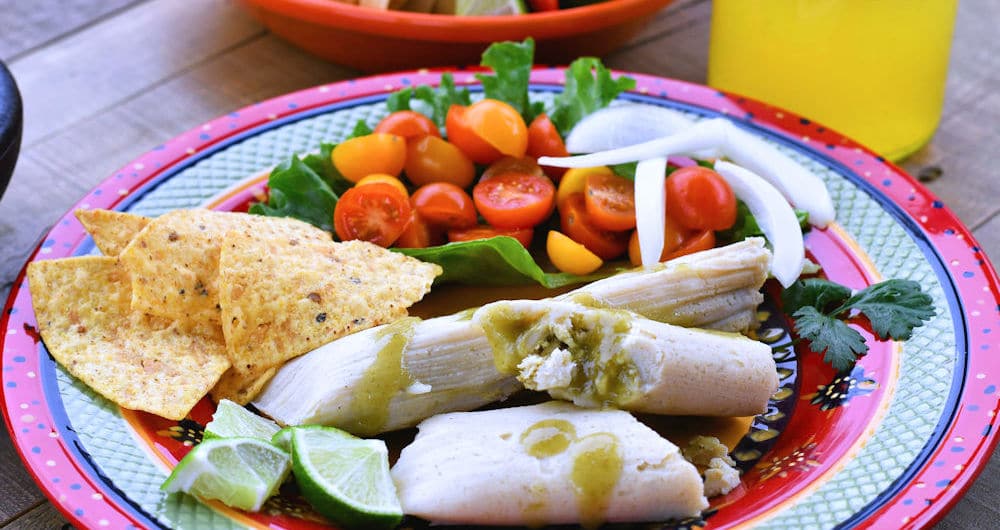 Try out this sauce with my Green Chicken Tamales. Delicious!
Recipe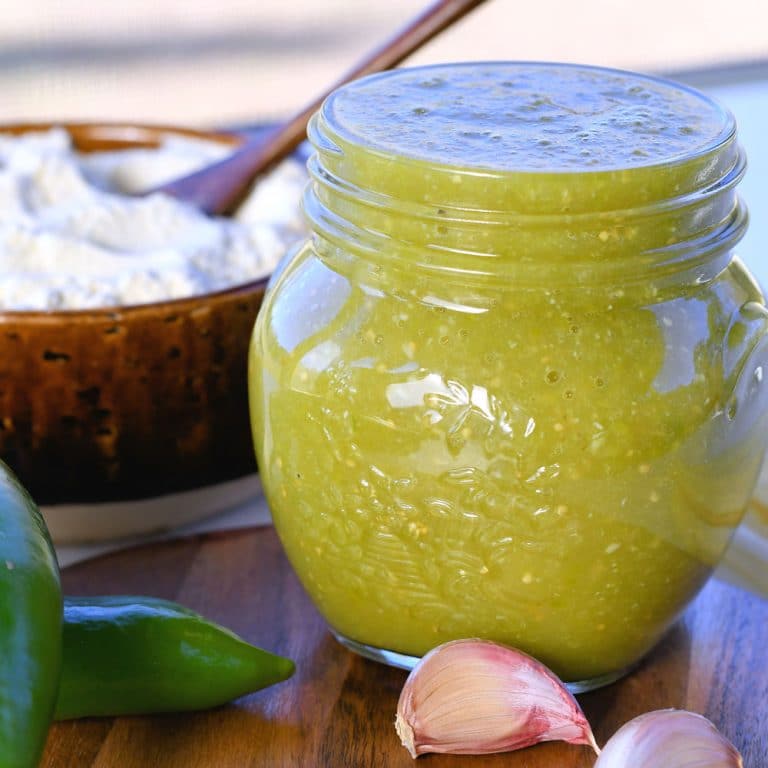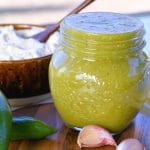 Pin Recipe Now
Homemade Green Chile Tamale Sauce
Tap to leave a star rating
Save or Print
Homemade Green Tamale Sauce is a mild yet tangy sauce, perfect for chicken tamales. It's easy to make using Anaheim chiles and roasted tomatillos.

For more information, be sure to check the recipe details in the attached 24Bite® post.
Equipment
Electric blender or immersion blender
Ingredients
6

Anaheim peppers

4

Jalapeno peppers

1

Onion

8

Garlic Cloves

6

Tomatillos

Olive Oil Cooking Spray

1

teaspoon

Sea Salt

1

tablespoon

Garlic Powder

1

tablespoon

Onion Powder

1

tablespoon

Salt
Instructions
Remove seeds and membranes from peppers, cut into large chunks. (Note: please use gloves when cutting up peppers.) Cut onion into chunks. Place peppers, onion and garlic cloves into sauce pan. Cover with water and bring to a low boil on medium heat. Cook for about 15 minutes, until soft.

Spray baking sheet with cooking spray.

Remove outer husk from tomatillos and wash well to remove any sticky residue. Cut each tomatillo in half, horizontally.

Place tomatillos, cut side down, on sprayed baking sheet. Spray tops with cooking spray and sprinkle with sea salt.

Place in oven and bake for 15 minutes, until soft. Use caution when removing because the tomatillos can burst into liquid. Set aside.

Once peppers are softened, allow to cool about 10 minutes. Do not discard liquid. Using a slotted spoon, remove pepper mixture to blender to process only half at a time. Add a little bit of liquid from peppers to blender, just enough to allow the blender to process (about ¼ to ½ cup). Process peppers and tomatillos fully. Discard remaining liquid. Return to pan.

Add remaining seasonings and heat on medium for 15 minutes. Makes one quart (62 tablespoons).
Note: If there is a video, it will not display while there is an adblocker.
Notes
This sauce is to be used with tamales. It has a lot of seasoning and salt because it's intended to be spread out to 40-50 individual tamales. This will make an equally wonderful dipping sauce but you will want to reduce the salt and seasoning then squeeze a lime over it and enjoy.
We will be using this chile verde sauce for chicken tamales. If you're unfamiliar with making tamales, please check out our Homemade Pork Tamales recipe for step-by-step instructions. Substitute the green tamale sauce for the red chile tamale sauce and boneless chicken breast for the pork. 
If you're looking to use up some more Anaheim chiles, check out my post on What to Do with Anaheim Peppers.
Nutrition Facts
Homemade Green Chile Tamale Sauce
Amount Per Serving
Calories 302
Calories from Fat 27
% Daily Value*
Fat 3g5%
Sodium 10443mg454%
Carbohydrates 68g23%
Protein 7g14%
* Percent Daily Values are based on a 2000 calorie diet.
______________________
Percent Daily Values are based on a 2000 calorie diet. All amounts are estimates and 24Bite® takes no responsibility for actual figures since calculations vary by packaging and supplier. Please calculate the amounts yourself based on package labeling if you have specific dietary requirements. 24Bite®, Kim Guzman or Christian Guzman shall not be liable for adverse reactions or any other outcome resulting from the use of recipes or recommendations on this website or actions you take as a result.
© 2019-2023 Kim Guzman and Christian Guzman. All rights reserved. Subscribe to 24Bite email newsletters.
Follow 24Bite: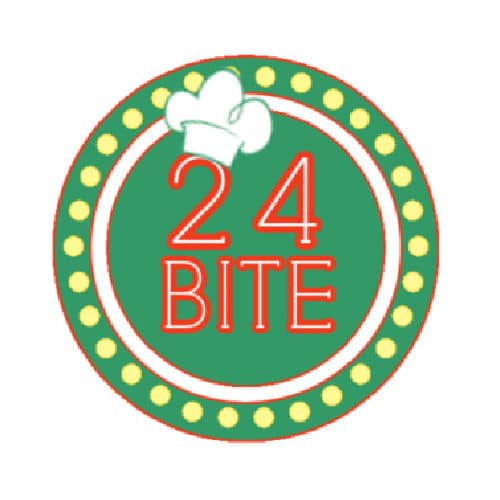 Twitter | Facebook | Pinterest