These shredded beef green chiles enchiladas will rival your favorite Mexican restaurant. With every bite, you taste the tender shredded beef infused with green chiles then heated in softened tortillas with all the melty cheese you want.
Recipe | Homemade Enchilada Sauce | How to Soften Corn Tortillas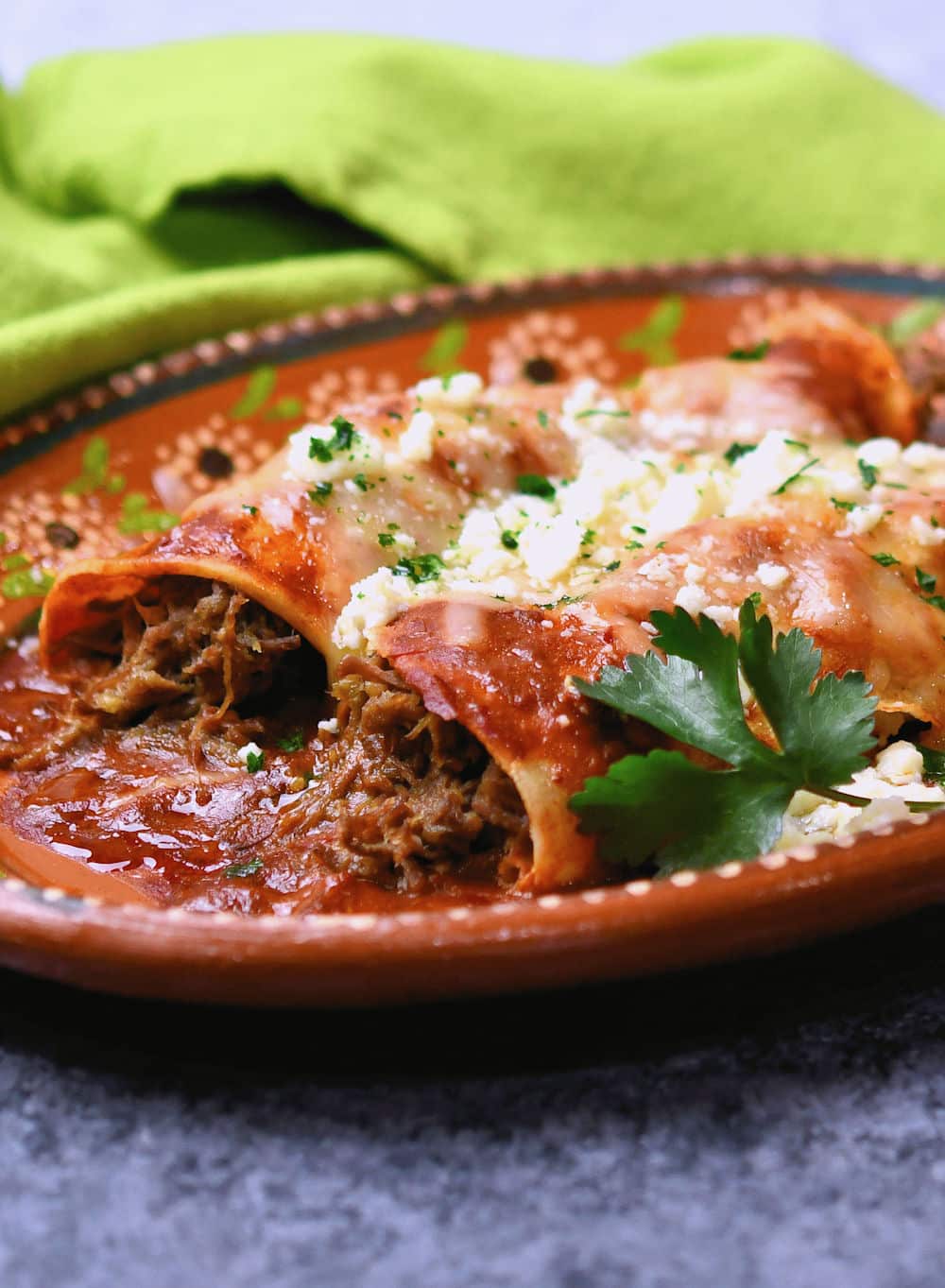 Enchilada Filling
These enchiladas start with a roast cooked slowly over low heat until it's fork tender. Once it's ready, the meat is shedded with forks.
It should be very easy to shred but different cuts react differently so you can chop it, if you prefer.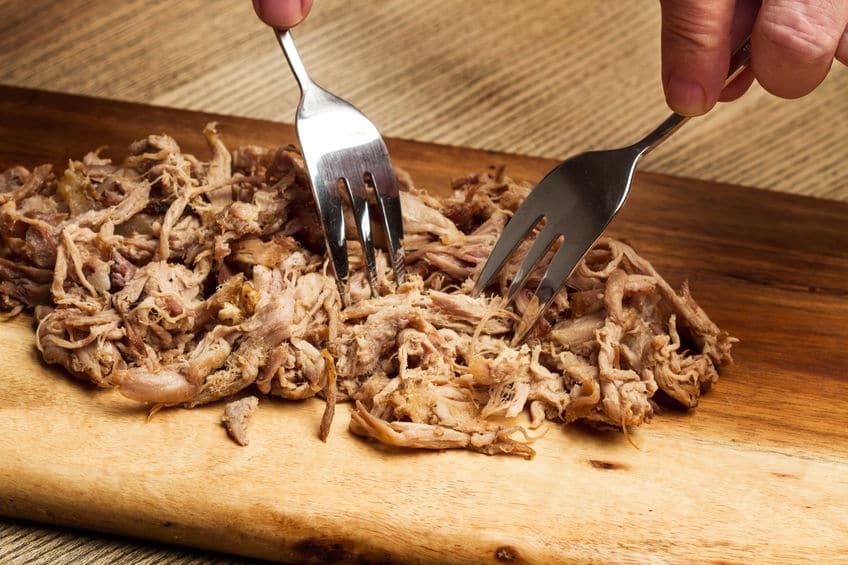 My grandmother's middle sister, Marcia, is the one who taught my mom how to make this green chile meat.
Once you have it shredded, return it to the pan, add green chiles and more water, if necessary. Continue slow cooking until the water has almost evaporated.
It may take several hours to prepare the meat. It's important to give it the time it needs.
What happens is the meat takes on the delicious flavors of green chiles.
While I've used this recipe for enchiladas here, we've used it for other things as well. Try it for chimichangas, burritos, tacos, chile rellenos and more.
It's such a great base. You'll want to use it again and again. I had some leftover and used it for sheet pan nachos.
It freezes well too, so make an extra batch and freeze half of it for later.
Red Enchilada Sauce
For this recipe, I've written it so you can use canned enchilada sauce. It makes things easier, of course. But, you don't need to use canned sauce.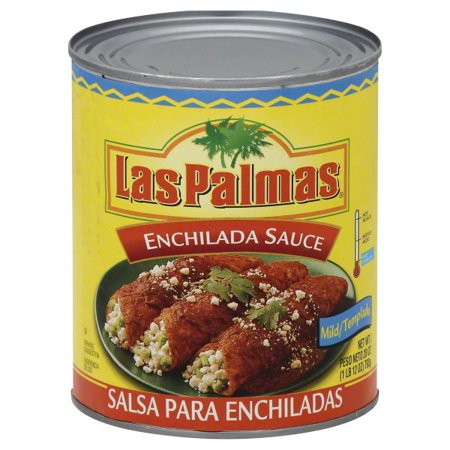 When I'm using a canned sauce, I prefer Las Palmas. Use any sauce you can find will work. Some are better than others.
Homemade Enchilada Sauce
If you really want to make these beef enchiladas the best they can be, you will want to try to make your own enchilada sauce. You can control the level of heat and you won't get any unnecessary preservatives.
Red Enchilada Sauce
Red enchilada sauce is made with dried red chiles like California, New Mexico or Guajillo. I've also added an Ancho chile for a little bit of smoky flavor and Arbol chiles for some spicy heat.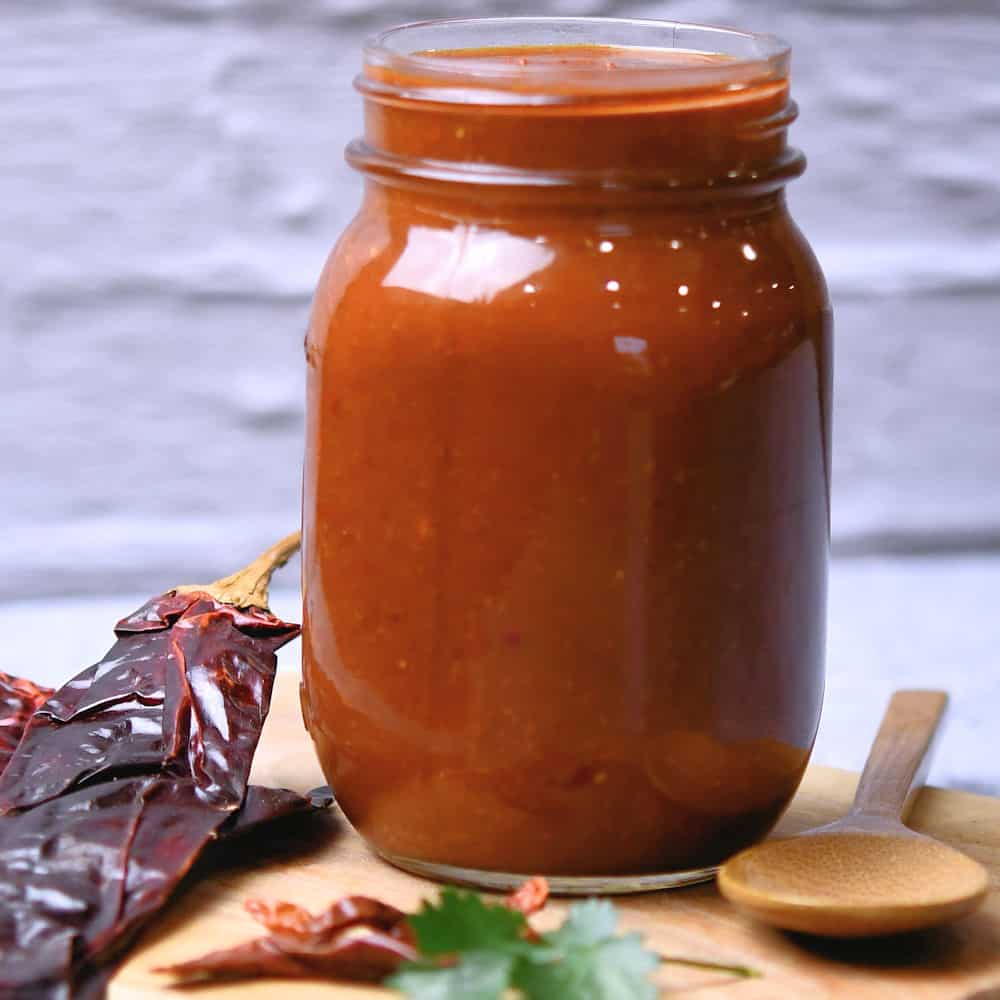 Have a look at my Red Enchilada Sauce recipe for details.
If you don't have access to dried chiles, not to worry. I've also provided instructions on how to use different chile powders.
Green Enchilada Sauce
You may also want to try green enchilada sauce to match the flavors of the green chiles in the meat.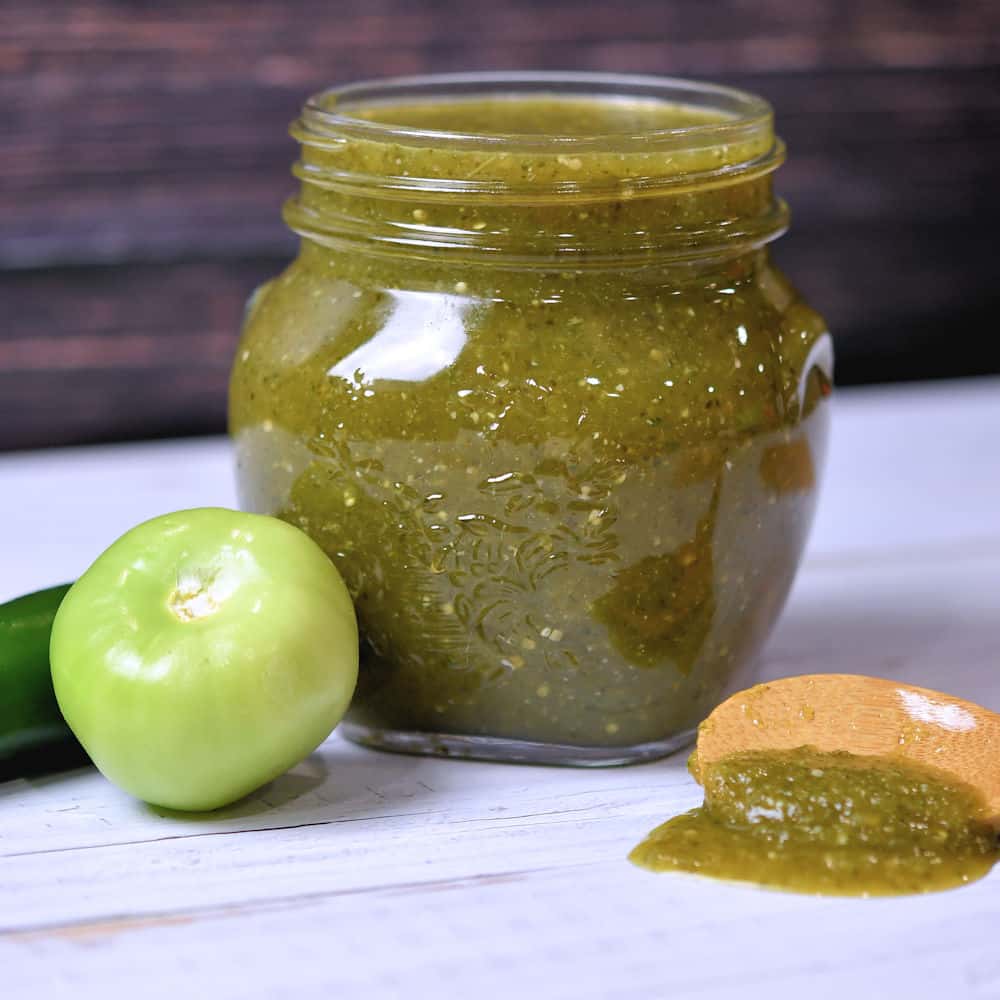 You can enjoy the delicious tastes of poblano chiles, jalapeno and tomatillos with this Green Chile Enchilada Sauce recipe.
Frequently Asked Questions
Can you use flour tortillas for enchiladas?
There is nothing wrong with using flour tortillas. They won't be authentic Mexican enchiladas, but, if that's what you prefer, go for it! If you use flour tortillas, you will have something more like smothered burritos. There is nothing at all wrong with that.
How do you soften corn tortillas so they don't break?
You must heat corn tortillas to keep them from breaking. You can heat them on a comal, roti pan or skillet. Heat them in an oven or microwave. I've detailed all of these methods so you can try them and pick your favorite.
How do you keep corn tortillas from getting soggy in enchiladas?
One of the methods is to fry them quickly to make a sort of barrier. The other way is to be careful how much sauce you add to the bottom of your pan. All that sauce can soak into the tortilla. If you add too much, you will end up with a soggy tortilla.
Enchiladas Assembly
To start, you will need to soften your tortillas. When I'm in a hurry, I like to use the easiest method of using the microwave.
Soften the Corn Tortillas
Yes, I know. You may laugh. But, honestly, it's quick and there's no added calories like some other ways.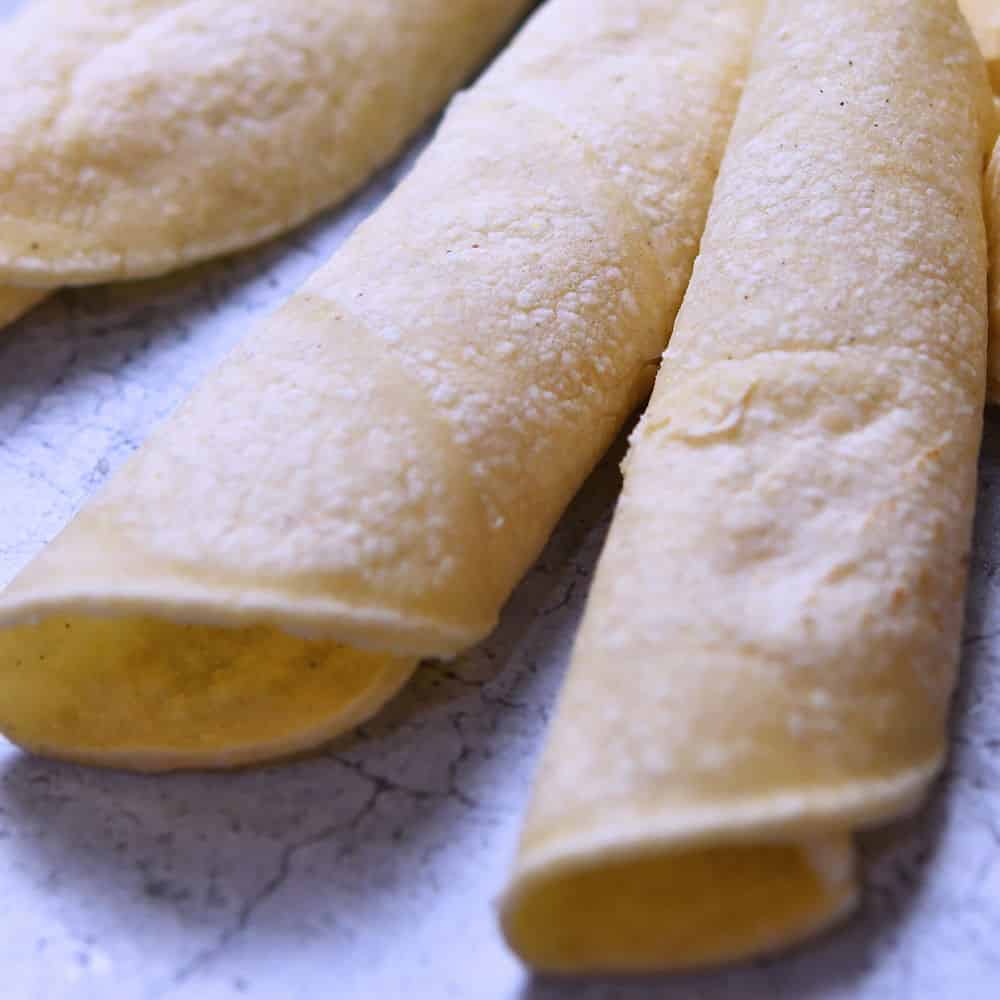 I'm not going to lie because flash frying the tortillas will soften a corn tortilla and it's the way that tastes the best. But, it takes awhile and it adds the oil, which isn't entirely necessary.
In a different post, I've detailed the different ways to soften corn tortillas without breaking.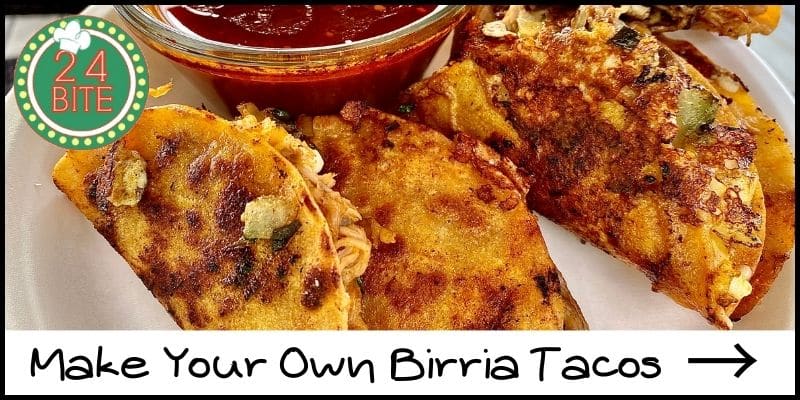 Dipping the Tortilla in Sauce
This, I think, is one of the most crucial steps in making enchiladas.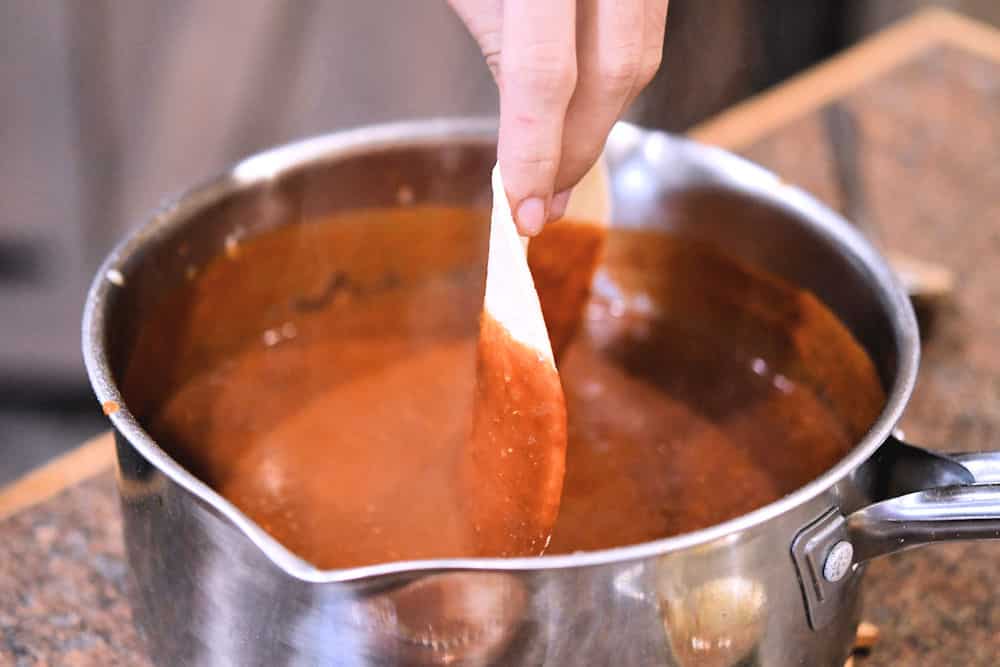 Be quick about dipping the tortillas. You don't want the sauce to get so soaked up into the tortilla that it will fall apart.
Think about what would happen if you dipped a piece of bread in a bowl of soup. If you dip it quickly, you can pull the bread out, without much damage. If you leave it too long, it's going to fall apart.
This will happen with your tortillas as well.
Filling and Rolling the Enchilada
Traditionally, enchiladas aren't made as a casserole. They are made on indiviual plates.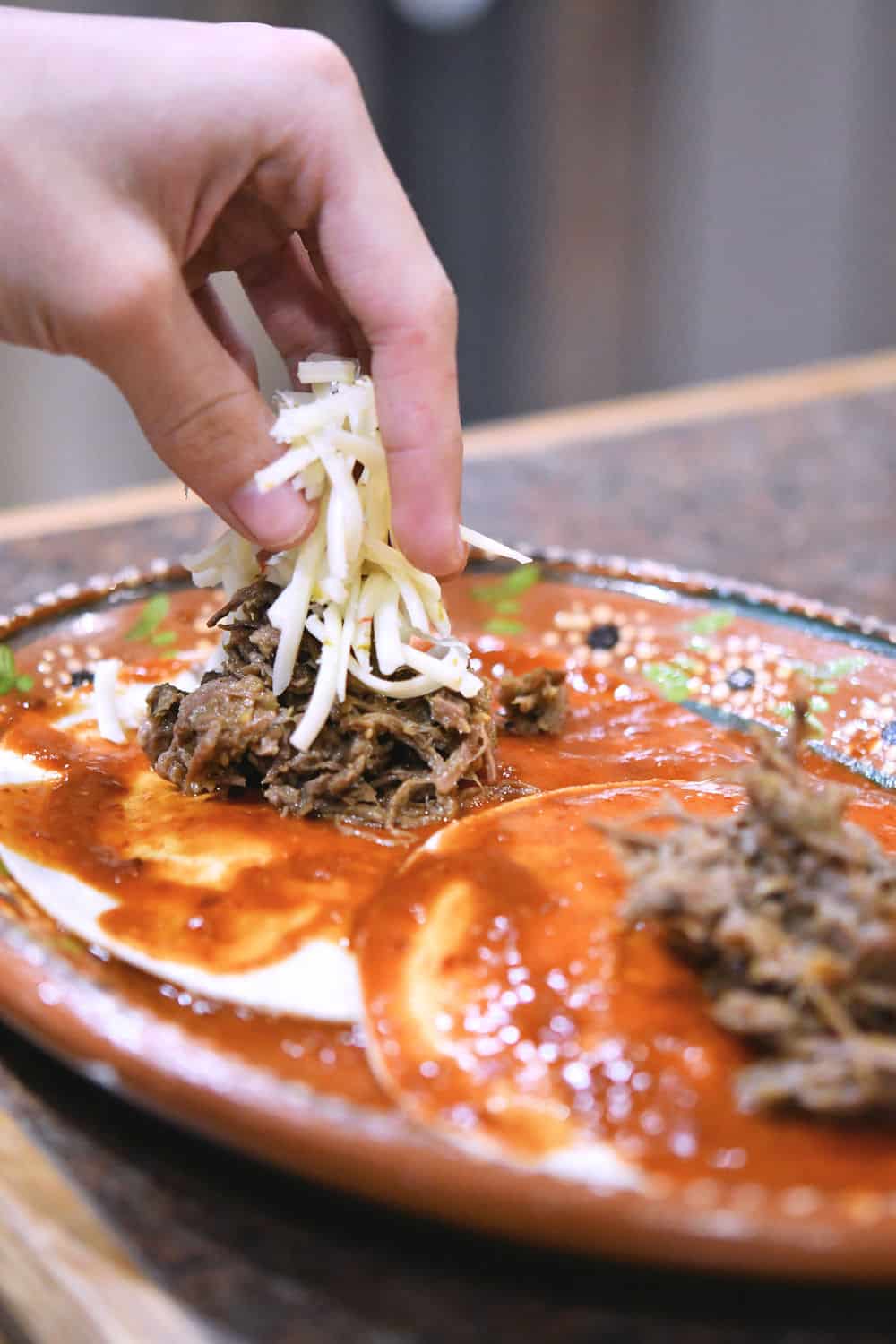 Here, you can see that I'm filling the tortillas directly on the serving plate. Once I've rolled them up, I can add more cheese to the top and put this plate directly in the oven for about five minutes to heat the cheese.
The recipe will indicate the typical casserole style enchiladas, but I would love for you to try the traditional way to plate enchiladas.
It's quicker, easier and even cleanup is faster. I think you will love it. It will also be more like your favorite Mexican restaurant.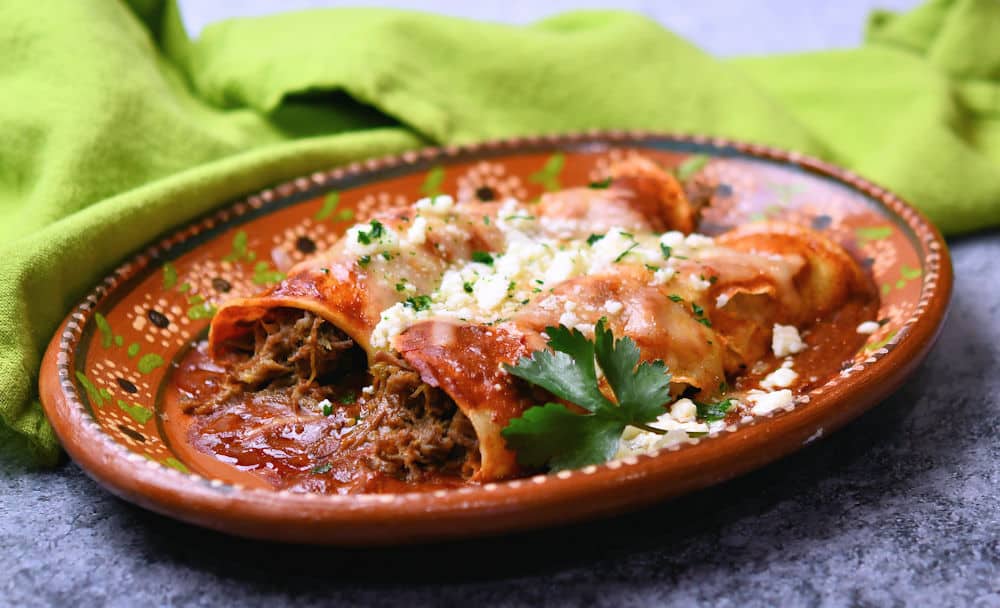 More Mexican Food Recipes
If you're looking for a chicken enchilada recipe, I have a terrific Verde Chicken Enchilada Recipe available too.
These Steak and Green Chile Enchiladas go perfectly with my Spanish Rice Recipe.
For a light and refreshing side dish addition, try my Mango Avocado Salad dressed with a delicious honey lime vinaigrette.
Don't forget dessert. Pick up my recipe for Mexican Rice Pudding.
Recipe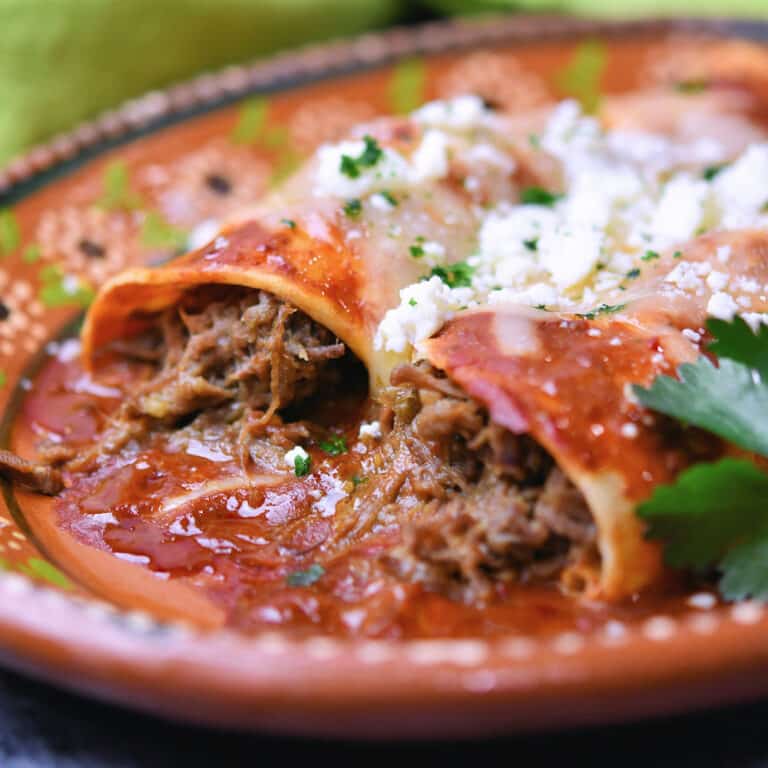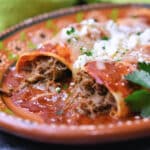 Pin Recipe Now
Shredded Beef Chile Enchiladas
Tap to leave a star rating
Save or Print
These beef green chiles enchiladas will rival your favorite Mexican restaurant. With every bite, you taste the tender shredded beef infused with green chiles then heated in softened tortillas with all the melty cheese you want.

For more information, be sure to check the recipe details in the attached 24Bite® post.
Equipment
2 8×12" rectangle baking dishes

Aluminum Foil

Pastry brush
Ingredients
2.5

pounds

Beef Roast

8

ounces

Chopped Green Chiles Mild

1

teaspoon

Ground Ancho Powder

1

teaspoon

Salt

,

optional

1

teaspoon

Cumin

28

ounce

Las Palmas Enchilada Sauce Mild

18

Corn Tortillas

,

8-inch each

4

cups

Monterey Jack Cheese

,

shredded
Instructions
Meat Filling
In a large pan, place steak or roast in pan and fill with water until it covers the meat. Cook on the stovetop on low until meat is fork tender, about 2 or 3 hours. Check and add water, as necessary, during the cook time.

Remove from heat and remove cooked meat to a cutting board. Set aside pan. Don't discard the water. Shred meat with a fork, or chop, if you prefer.

Return shredded meat to pan of water, add chopped chiles. Add seasonings. Water should be just covering the top. If not, add water until just covered.

Cook on medium-low heat until most of the water has evaporated, about 30 minutes to 1 hour. Remove from heat and set aside to cool.

Once cooled enough to handle, about 20 or 30 minutes, begin assembly.
Tortilla Preparation
The tortillas will need to be soft in order to handle them without breaking or tearing.

With pastry brush, brush each tortilla with just a bit of cool water, stack, wrap in aluminum foil and put in oven until soft, about 10 minutes.

Keep the tortillas wrapped and use them one at a time, continuing to keep the remainder wrapped. Do not turn off the oven. See below for other methods of softening tortillas.
Assembly
Add enough enchilada sauce to the bottom of each baking dish to cover lightly, just a fine film.

Dip tortilla quickly into sauce and place it in the baking pan, on top of the sauce. Place about 2 tablespoons of meat filling and 1 tablespoon cheese in the tortilla, wrap and place in baking dish, seam side down.

Continue filling the baking dish with rolled tortillas. You may need two two baking pans.

Liberally distribute cheese over the top of the enchiladas, leaving the edges open so they can get a little crispy.

Place, uncovered, in preheated oven and cook for about 10-15 minutes, until cheese is melted and edges of tortillas are a little crispy.

Remove from oven and allow to cool about 10 minutes before serving. Makes 18 enchiladas. Serving size is usually 2 enchiladas.
Note: If there is a video, it will not display while there is an adblocker.
Nutrition Facts
Shredded Beef Chile Enchiladas
Amount Per Serving
Calories 241
Calories from Fat 99
% Daily Value*
Fat 11g17%
Sodium 1531mg67%
Carbohydrates 15g5%
Protein 22g44%
* Percent Daily Values are based on a 2000 calorie diet.
______________________
Percent Daily Values are based on a 2000 calorie diet. All amounts are estimates and 24Bite® takes no responsibility for actual figures since calculations vary by packaging and supplier. Please calculate the amounts yourself based on package labeling if you have specific dietary requirements. 24Bite®, Kim Guzman or Christian Guzman shall not be liable for adverse reactions or any other outcome resulting from the use of recipes or recommendations on this website or actions you take as a result.
© 2019-2023 Kim Guzman and Christian Guzman. All rights reserved. Subscribe to 24Bite email newsletters.
Follow 24Bite: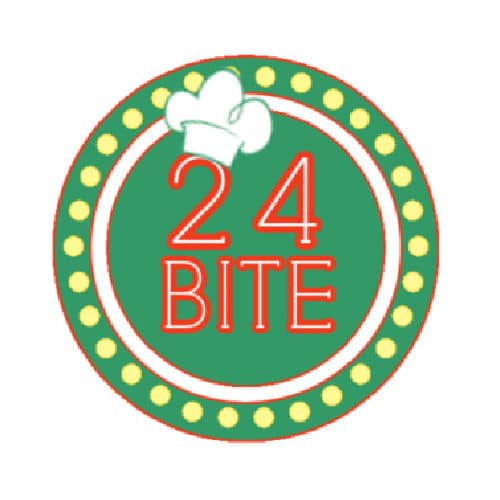 Twitter | Facebook | Pinterest