Poblano chile peppers take on a delicious mild sweetness when roasted, making them a perfect match for melty cheese in these restaurant-quality enchiladas. You'll want to make these cheese enchiladas again and again.
Recipe | Ingredients | Roasting Poblano Chiles | Why do my enchiladas get soggy?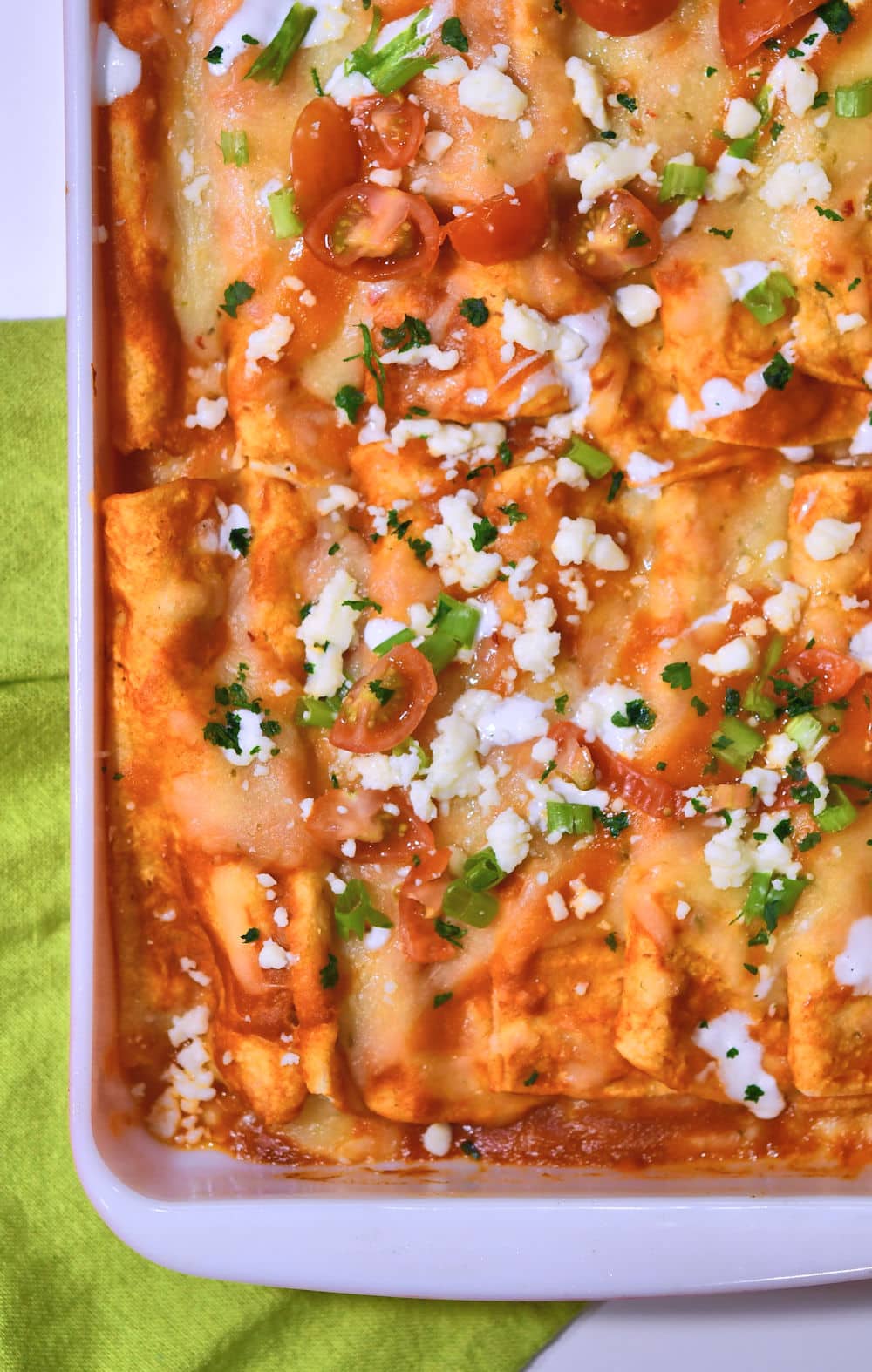 Ingredients
The number of ingredients for these wonderful roasted poblano enchiladas may seem like a lot at first. It's really not as involved as it looks, though.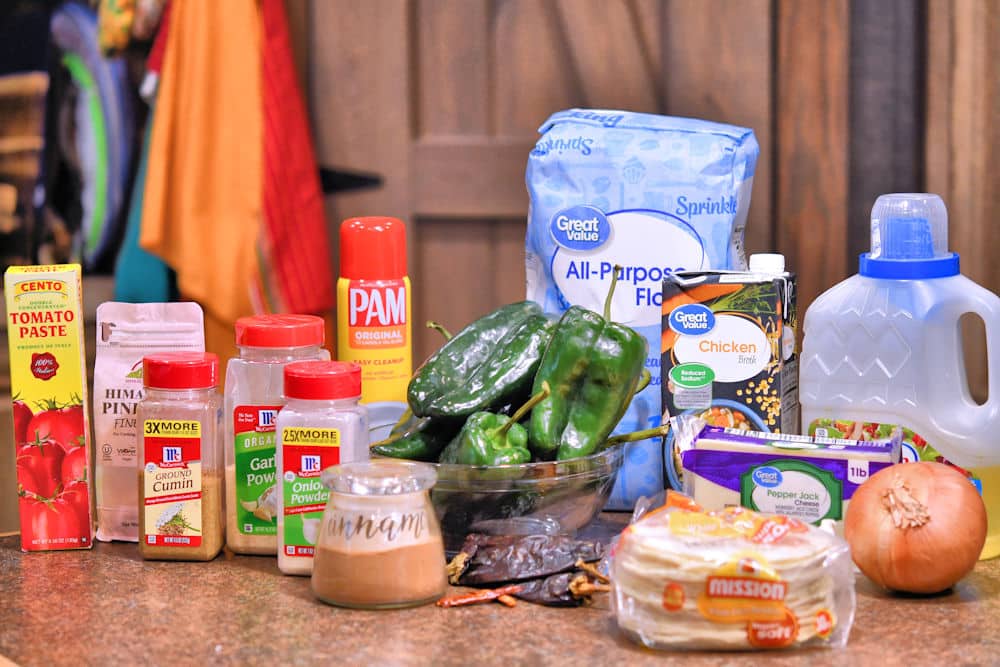 Half the ingredients are seasonings for the sauce. That leaves you with only your homemade red enchilada sauce, tortillas, roasted poblanos and cheese.
Roasting the Poblano Chiles
For this recipe, roasting the poblano chiles is easy to do since you won't need to keep them whole. You can split them in half like this first.
This tray could use a little more broiling to get a nice char on the top. It will only take 10-12 minutes.
When making whole roasted poblanos, you would need to char them on one side then turn them for the other side. Only half a chile means half the time.
Put the roasted chiles in a bowl with a plastic cover to "sweat" them. After about 15-20 minutes, the chiles will be cool enough to handle and you'll be able to peel them easily with your fingers.
Making the Red Enchilada Sauce
Making homemade enchilada sauce is much easier than you imagine, I'm sure.
Start off by cooking red chiles, onion and garlic cloves in some water on the stove. Process them in a blender with chicken broth. Easy, right?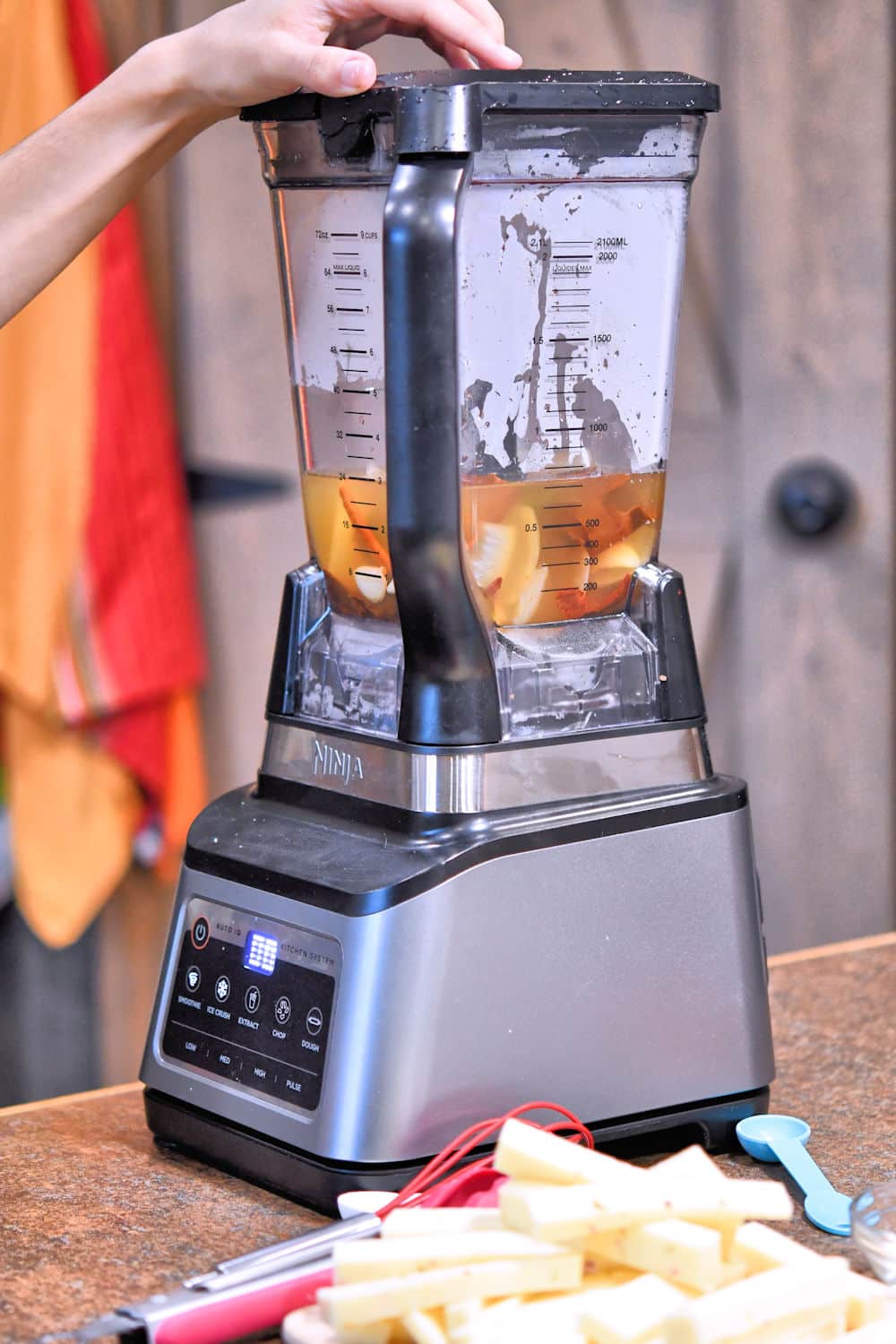 Once blended, strain the liquid and save it. Discard the solids.
Let me say again for those in the back: DON'T ACCIDENTALLY STRAIN INTO THE SINK! I've done that before. Pay attention!
Mom says there's a meme about it out there somewhere. Don't. Do. It.
Add the liquid to a roux with a small amount of tomato paste and seasonings. Cook for about five minutes. Boom! You've got your enchilada sauce!
Curious about that blender? It's new and I love it! It has three blades instead of one so you don't have to worry as much about food getting stuck up under that one blade at the bottom.
Have a look at this Ninja Professional Plus Kitchen System (aff link) at Amazon. It's the one we use and includes the blender, a food processor bowl and two to-go cups.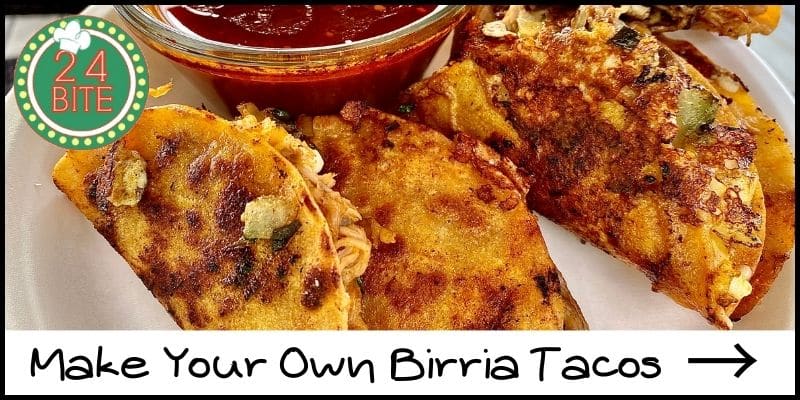 What can I substitute for dried chiles?
If you can't find the red chiles, you can substitute some chile powder and cayenne powder.
Cook the onion and garlic the same way, then process it in the blender just like before.
When it comes time to add your seasonings, add one tablespoon dark red chile powder and half to one full teaspoon of cayenne powder.
Is there a difference between chile powder and chili powder?
Yes! There is a difference between chile powder and chili powder.
Chile powder is the dried powder version of chiles. Chili powder is a mixture of chile powder and other seasonings like pepper, cumin, oregano and sometimes, even salt. It's typically used to make chili, the meat and tomato type of stew.
Mmmm…. chili. Try my Slow Cooker Steak Chili Recipe too.
Assembly of Enchiladas
Once you have everything completed, assemble it on the counter so you can easily reach each item.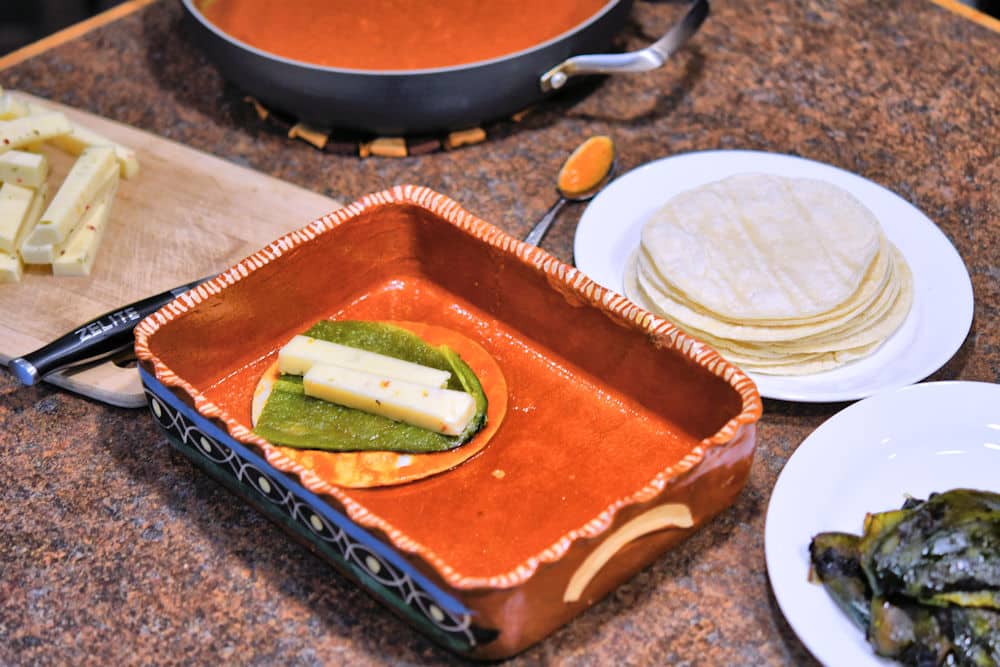 Dip the tortillas in the sauce, place them in the baking pan, add a poblano then your cheese. Roll up and place seam down in the pan.
Since this cheese melts easily, you can either cut the cheese into sticks like this or shred it first.
I tried it both ways and they turned out tasting the same. The only difference is that you can't fit as many in the pan as easily.
The sticks don't "mold" and allow you to squish them up closely together. This produced flatter enchiladas with more cheese leakage.
The shredded cheese tended to make a more tidy enchilada.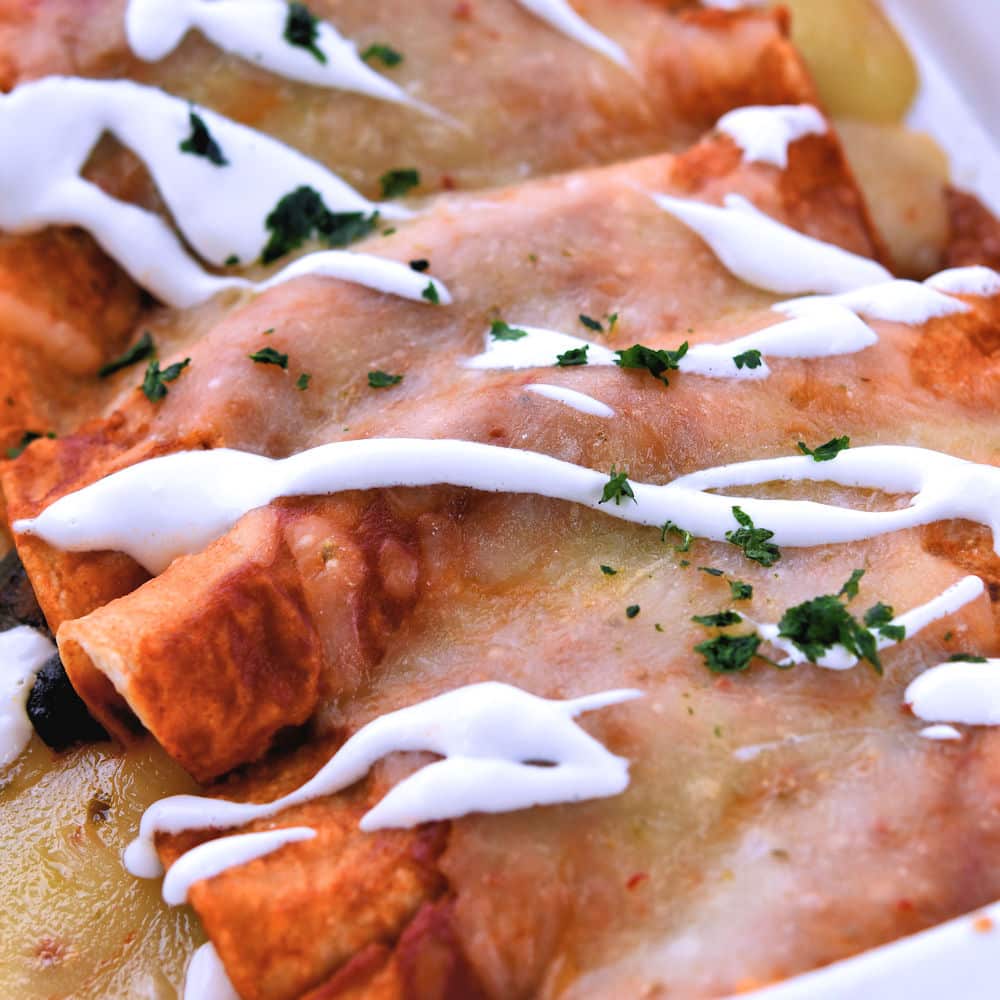 Softening the Tortillas
Corn tortillas are a little dry from the store and they tend to break when you roll them up. There are three different methods you can use to soften your tortillas.
Before you begin, be sure to check your expiration date! If they're expired, they may not soften at all. I've written more extensive details for softening corn tortillas.
Microwave Heating
Wrap the tortillas in a dampened cloth or paper towel then microwave for 1 to 1 ½ minutes. Separate the tortillas right away so they don't stick together. This is the easiest method.
Oven Heating
Brush each tortilla one time with a tiny bit of water. Place them in aluminum foil and heat them in a 400° oven for 10 minutes or so.
Light Frying in Oil
The traditional method of heating the tortillas is to lightly fry them in oil before filling.
In a skillet or comal, heat oil on low until warm but not blazing hot. Cook each tortilla individually for about 3 or 4 seconds on each side. Your goal is to heat the tortilla until it's warmed through and pliable but not stiff like a taco.
Why do my enchiladas get soggy?
Enchiladas get soggy from too much sauce. Corn tortillas are dry and soak up the sauce making your enchiladas fall apart. There is simply too much liquid in there.
To avoid this, dip your tortillas in the sauce then roll. That's all the sauce you need.
Or, try the light frying method to soften your tortillas. This provides a light barrier to keep your tortillas from soaking up too much liquid.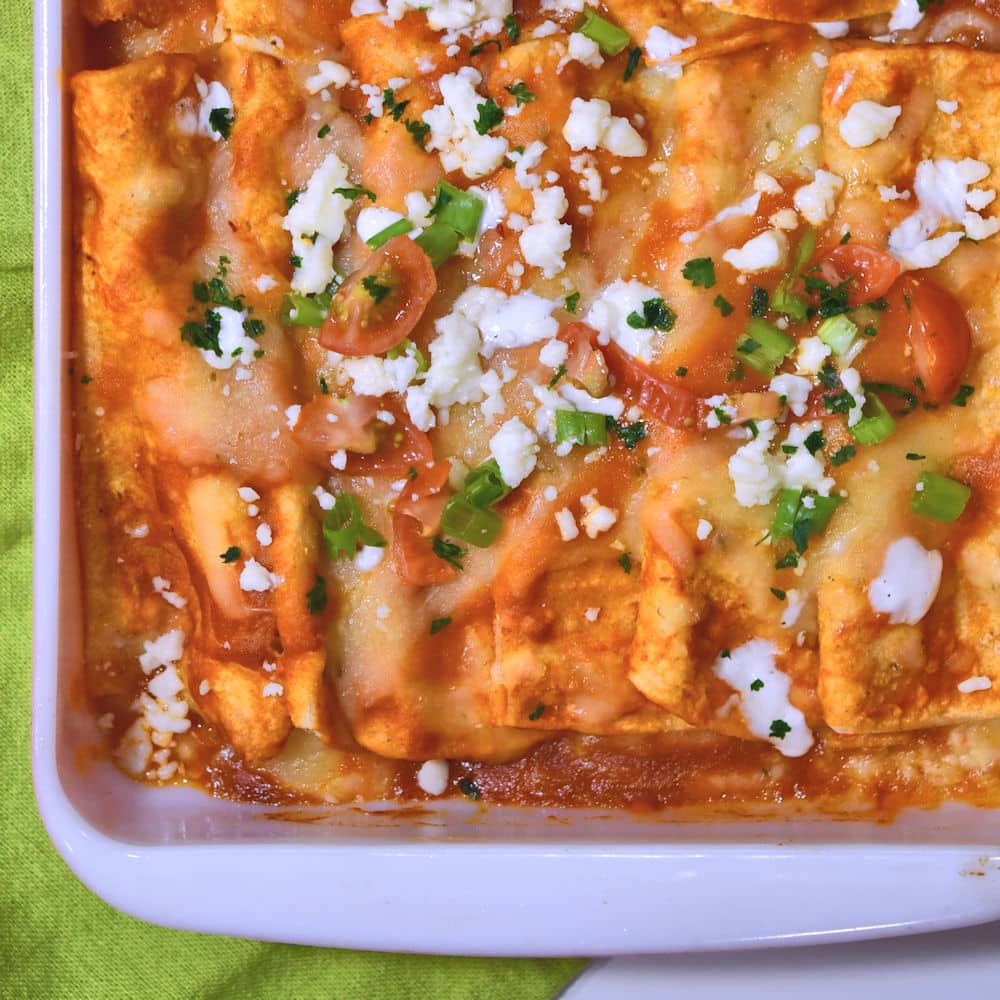 Are cheese enchiladas vegetarian?
This enchiladas recipe isn't considered vegetarian. You can easily make it vegetarian, though.
Use vegetable broth instead of chicken broth when you make your red enchilada sauce.
And, the cheese. You will need to read the label. Great Value cheeses aren't vegetarian. You can easily find a nice melting cheese, though.
Here's a list of vegetarian cheeses. I used Pepper Jack because I wanted that extra zip of the chiles in it. You can also use regular Monterey Jack or Mozzarella or even a combination of several white cheeses.
Stick to white cheeses for Mexican food authenticity. But, there are no food police going to come to your door if you use some yellow cheese. I promise.
If you're curious about different types of Mexican cheeses, I love this post from Food and Wine.
Can I make cheese enchiladas without the roasted poblano chiles?
Yes! This recipe is delicious even without the poblano chiles. Just follow all instructions the same except omit them.
If you've been craving restaurant style cheese enchiladas, this is it!
Try My Other Enchiladas Recipes
You can check out all my Mexican food recipes or try these favorites.
Recipe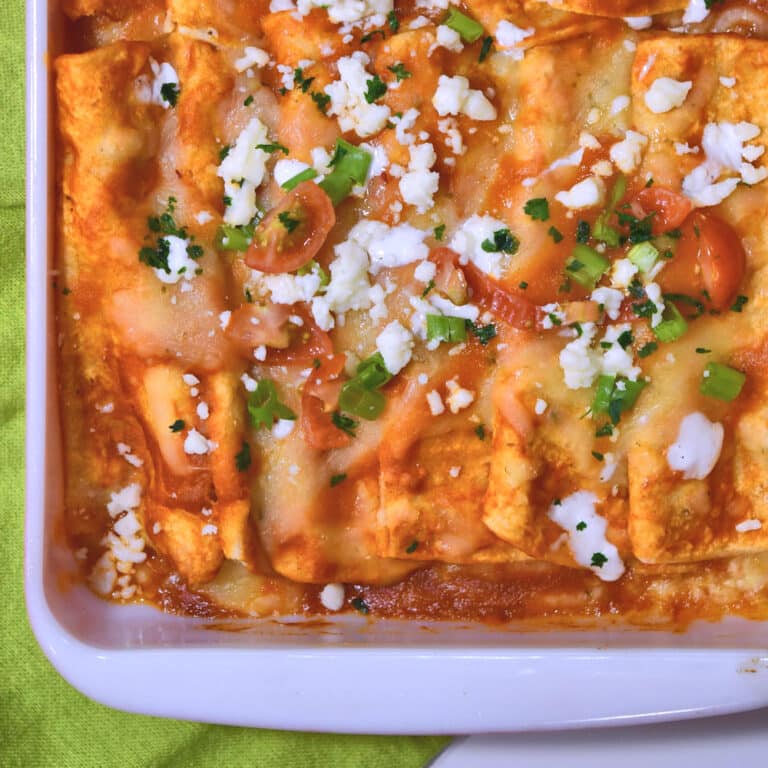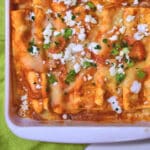 Pin Recipe Now
Roasted Poblano Cheese Enchiladas
Tap to leave a star rating
Save or Print
oblano chile peppers take on a delicious mild sweetness when roasted, making them a perfect match for melty cheese in these restaurant-quality enchiladas. You'll want to make these cheese enchiladas again and again.

For more information, be sure to check the recipe details in the attached 24Bite® post.
Equipment
Baking Sheet (Cookie Sheet)

Electric Blender

9 x 13" baking dish
Ingredients
6

Poblano Peppers

3

Dried Anaheim Chiles

2

Chile de Arbol

½

Onion

3

Garlic Cloves

2

cups

Chicken Broth

3

tablespoons

Vegetable Oil

3

tablespoons

All Purpose Flour

1

teaspoon

Cumin

1

teaspoon

Garlic Powder

1

teaspoon

Onion Powder

1

teaspoon

Salt

1

pinch

Cinnamon

2

tablespoons

Tomato Paste

12

Corn Tortillas

1

pound

Pepper Jack Cheese

Cooking Spray

,

like Pam
Instructions
Preheat broiler element on oven (usually about 550℉).

Wash and cut off the stem from poblano chiles. Carefully cut the poblanos in half so that there are two mostly flat pieces. Don't cut them so that there are two folded pieces. You want to cut them so that they will be flat on the pan. Remove all the seeds.

Place poblano halves with skin side up on a baking sheet and into the oven. Broil for 10-15 minutes until completely charred on top.

Remove baking sheet from oven and place charred chiles in a bowl. Cover with plastic wrap. Allow them to sweat for 15-20 minutes. This helps with removal of the charred outer layer. Set aside.

While the poblanos are in the oven, remove the stem and seeds from the dried chiles. Cut the onion into three pieces. Peel garlic cloves. Place dried chiles, onion and garlic in small saucepan with enough water to cover and place on stovetop on medium heat. Allow to cook about 15 minutes on medium until softened, remove from heat.

With slotted spoon or colander/strainer, remove cooked vegetables and place in electric blender with chicken broth. Blend until fully processed.

Place a strainer over a bowl and strain the solid pieces from the liquid in the blender. DO NOT STRAIN OVER THE SINK! You want the liquid. Discard solids.

In a skillet, over medium/high heat, whisk together vegetable oil and flour. Allow to cook, stirring frequently, about 3 minutes, until lightly browned. Add all spices and tomato paste and continue whisking until well blended. Slowly pour in strained chile liquid while whisking continuously. Allow to cook, whisking occasionally, until slightly thickened, about 5-7 minutes. Remove from heat and set aside.

Remove the plastic cover from the bowl of charred poblanos. With your fingers, rub off the charred skin. You will have 12 poblano halves to use in the 12 enchiladas. Set aside.

Soften tortillas in the method you prefer. I prefer to place the tortillas in a damp paper towel in the microwave for 1 ½ minutes. The second method would be to lightly brush with water and place in aluminum foil in the oven for about 15 minutes. Or, the third method would be to heat vegetable oil in a skillet an lightly heat each tortilla, one at a time until softened. If you need more details on the alternate methods, you'll find more information in the post above.

Remove enough cheese from the block to make ½ cup shredded and set aside to be used for the top of the enchiladas.With remaining cheese, either shred or cut into 12 equal stick shaped pieces. I prefer to shred because it's more difficult to get the enchiladas to fit with the solid sticks. But, if you're in a hurry, sticks will melt just as well with this type of cheese.

Spray 9 x 13" baking dish with cooking spray. Assemble the chile sauce, shredded cheese, poblanos and tortillas on the counter for easy access. Pick up a tortilla and dip it into the sauce, place in baking dish. Place one poblano in the center with about 3 tablespoons shredded cheese on top. Roll up the tortilla and place in baking dish with seam side down. Repeat for remaining tortillas. Sprinkle the ½ cup of remaining cheese on the top.

Place in preheated oven, uncovered, and bake for 10 minutes, until cheese is melty.
Note: If there is a video, it will not display while there is an adblocker.
Notes
Enchiladas can be garnished and served with the remaining chile sauce, Mexican crema, sour cream, cilantro, queso fresco and/or green onions and tomatoes.
Serve with traditional sides of refried beans, rice and a small salad or pico de gallo.
Nutrition Facts
Roasted Poblano Cheese Enchiladas
Amount Per Serving
Calories 256
Calories from Fat 144
% Daily Value*
Fat 16g25%
Sodium 575mg25%
Carbohydrates 18g6%
Protein 12g24%
* Percent Daily Values are based on a 2000 calorie diet.
______________________
Percent Daily Values are based on a 2000 calorie diet. All amounts are estimates and 24Bite® takes no responsibility for actual figures since calculations vary by packaging and supplier. Please calculate the amounts yourself based on package labeling if you have specific dietary requirements. 24Bite®, Kim Guzman or Christian Guzman shall not be liable for adverse reactions or any other outcome resulting from the use of recipes or recommendations on this website or actions you take as a result.
© 2019-2023 Kim Guzman and Christian Guzman. All rights reserved. Subscribe to 24Bite email newsletters.
Follow 24Bite: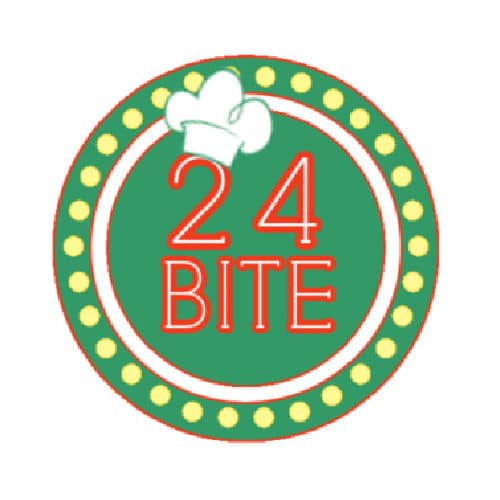 Twitter | Facebook | Pinterest