Learn to make authentic red enchilada sauce using dried Mexican chiles for rich and robust flavor, perfect for more than just enchiladas.
It's a Mexican gravy that can also be used for topping tamales, nachos, smothered burritos and more.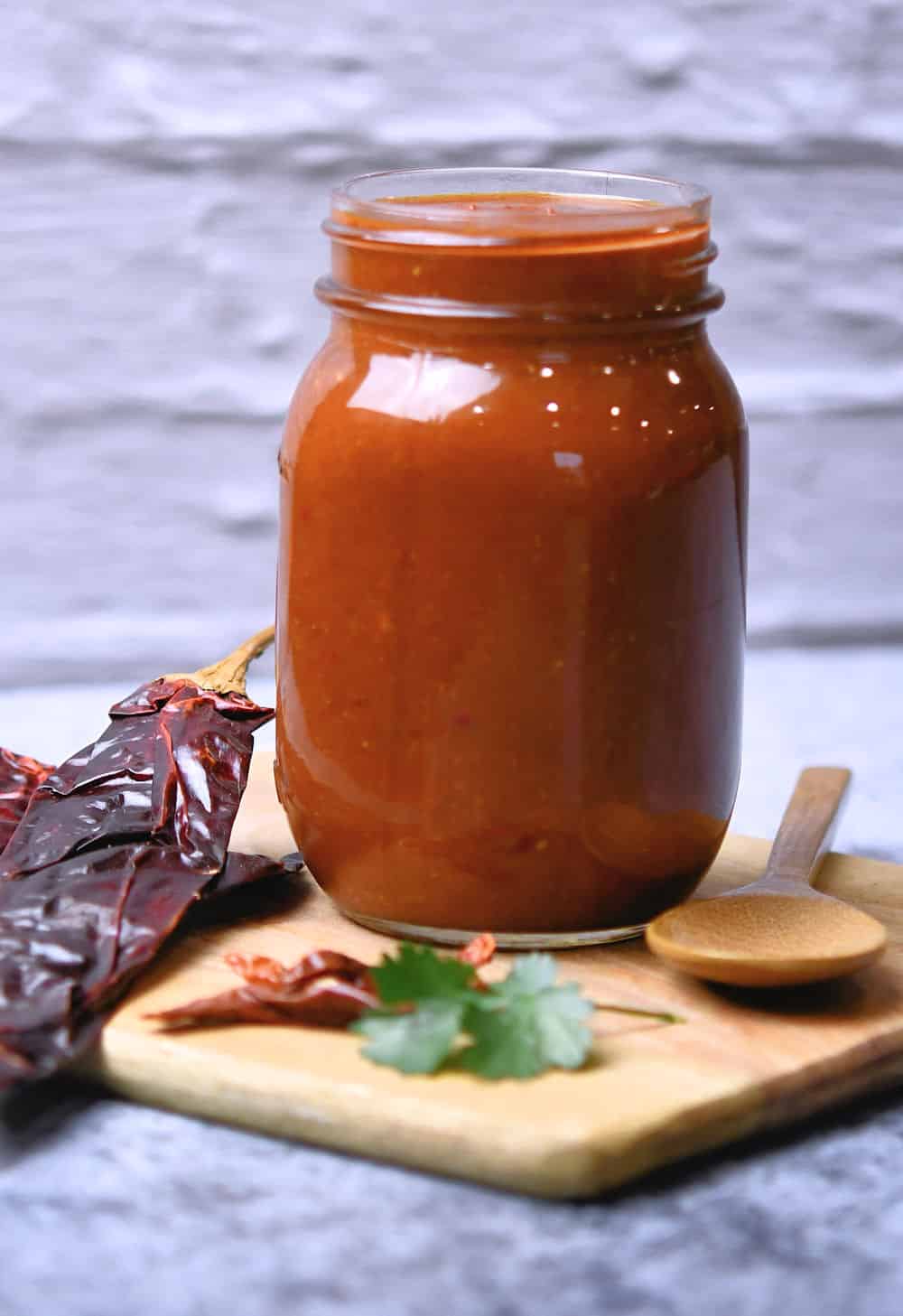 Traditionally, red enchilada sauce is made with chiles, not tomatoes. If you've been on a mad search over the internet, looking for this sauce in a chiles-only, no tomatoes version, you've found it!
Ingredients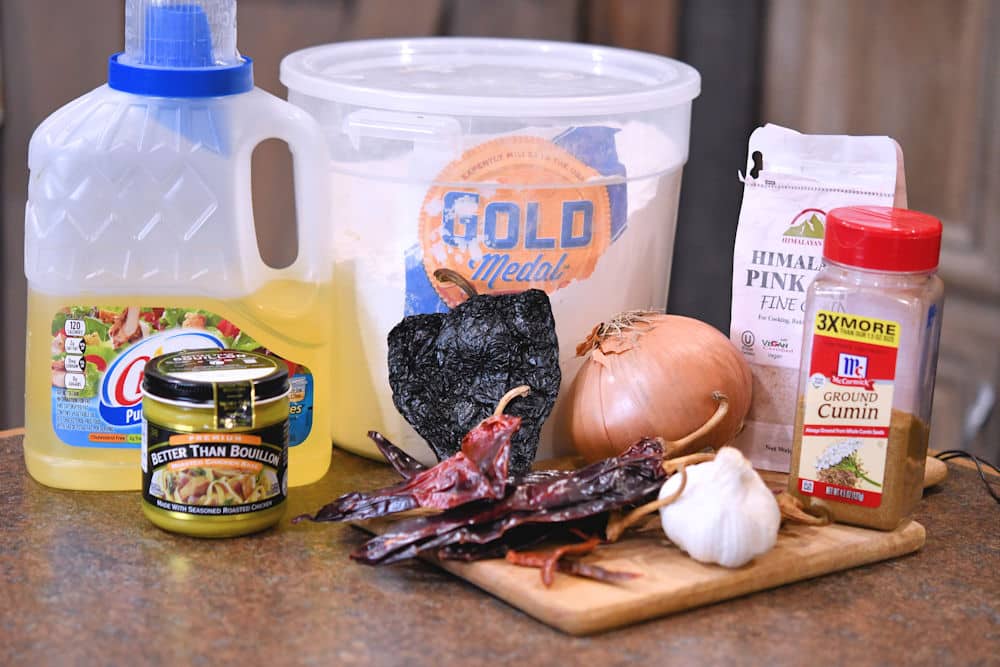 Many enchilada sauce recipes use all powdered chiles and spices, but I wanted to be as traditional as possible.
Making an authentic Mexican enchilada sauce means that you start by picking your dried chiles.
There Are No Tomatoes in Enchilada Sauce
Enchilada means that, traditionally, this sauce is made from chiles, not tomatoes. It's in the word: en-chile.
There are chiles here, but no tomatoes. It's the red chiles that provide the red color.
If you want to throw in a couple of tomatoes to cook and add to the blender, it's okay. If you've never tried chiles only, do yourself a favor and try it at least once. You never know what you're missing.
I added tomatoes to my Red Tamale Sauce, if you prefer a tomato base.
What is Mexican Gravy?
What Sauce is Served with Tamales?
The answer is this enchilada sauce recipe, which you may also know as Mexican gravy. It's delicious and flavorful, made traditionally with dried red chiles.
What is Mexican Gravy?
Mexican gravy is a slightly thickened chili sauce flavored with dried red chiles. This Enchilada Sauce is perfect for Mexican Gravy. Serve over tamales, burritos, tacos, enchiladas and well, just about anything.
Tex Mex Tamale Gravy?
Slowly add in one cup of finely grated cheese to each quart while cooking. Maybe this gravy is more of something created in the United States than in Mexico? I'm not sure but I like to think that there are also people in Mexico who like to add cheese to their red sauce because…. cheese!
Anaheim Chiles
The primary chile pepper I've used in this red enchilada sauce is dried Anaheim peppers. That's the one in the center of this photograph. They are about 1 ½ to 2″ wide and about 6 to 8″ long.
Anaheim chiles are sometimes called California chiles as well. You can substitute New Mexico chiles, which are the same type of chile but grown in New Mexico.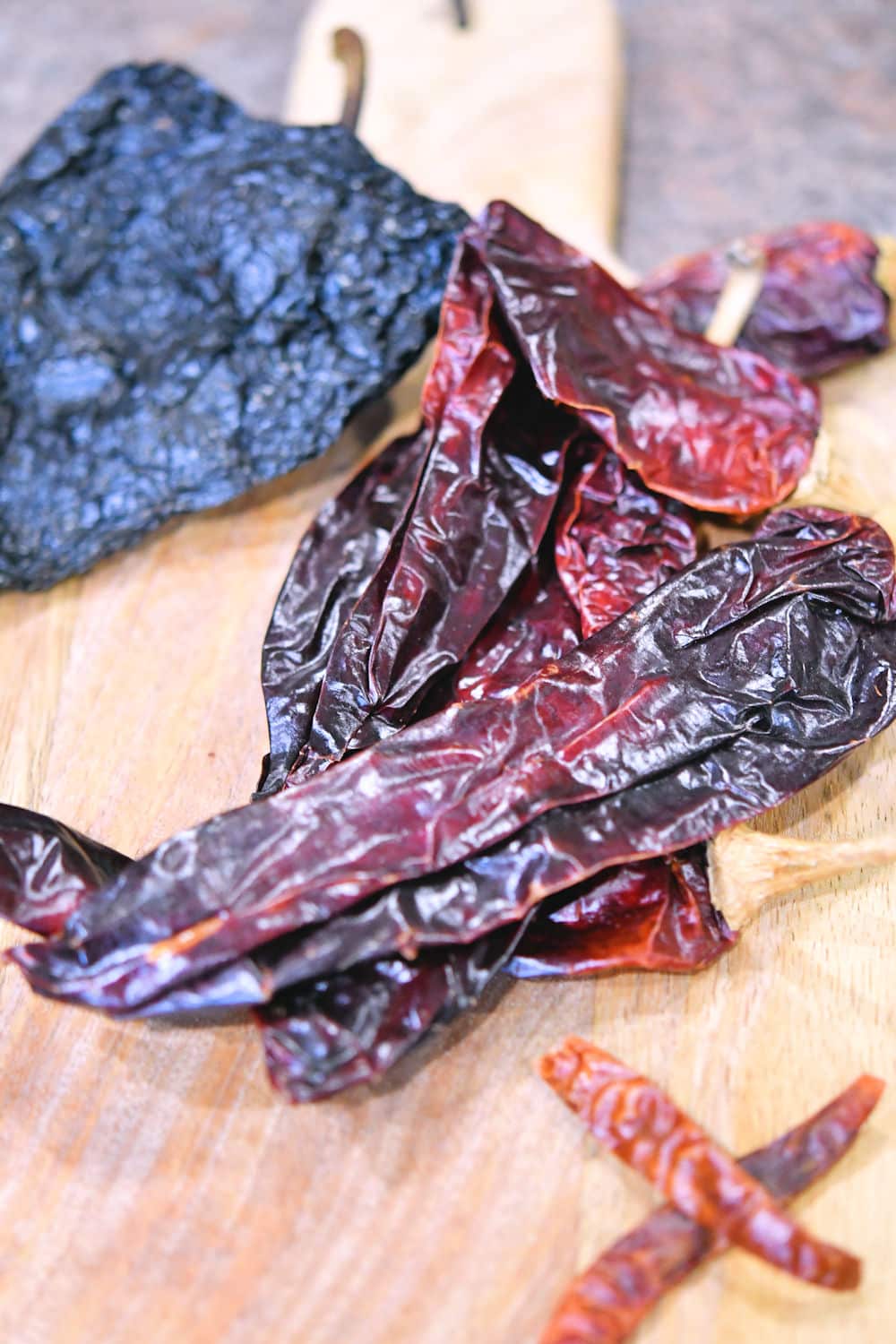 They're more spicy than Anaheim because of the soil and weather conditions. You may know them as Hatch chiles.
If you're unable to find these, you can also substitute Pasilla or Guajillo.
Ancho Chiles
I used one ancho chile. Ancho is a smoked and dried poblano pepper. It gives a darker color and a little bit of a smoky taste.
Chiles de Arbol
These are the two little, skinny peppers. I think the smaller peppers are always the hottest. Two of them give this enchilada sauce just a touch of heat. It wasn't overpowering but it was definitely there.
If you use guajillo chiles, though, you may not want to use the chiles de arbol at all because guajillo can be pretty spicy.
When you're picking and choosing your chiles, have a look at my Scoville Heat Scale for details about each pepper.
Substitutions for Dried Chiles
If you're unable to find the dried chiles, or you want to save time, you can try using the powdered versions.
For each Anaheim chile, use 1 tablespoon mild red chile powder. Ancho chile can be replaced with 1 tablespoon ancho powder. And, maybe 1 teaspoon of cayenne instead of chile de arbol.
Making the Chile Base
Before you boil the dried chiles to reconstitute them, remove the stems and seeds.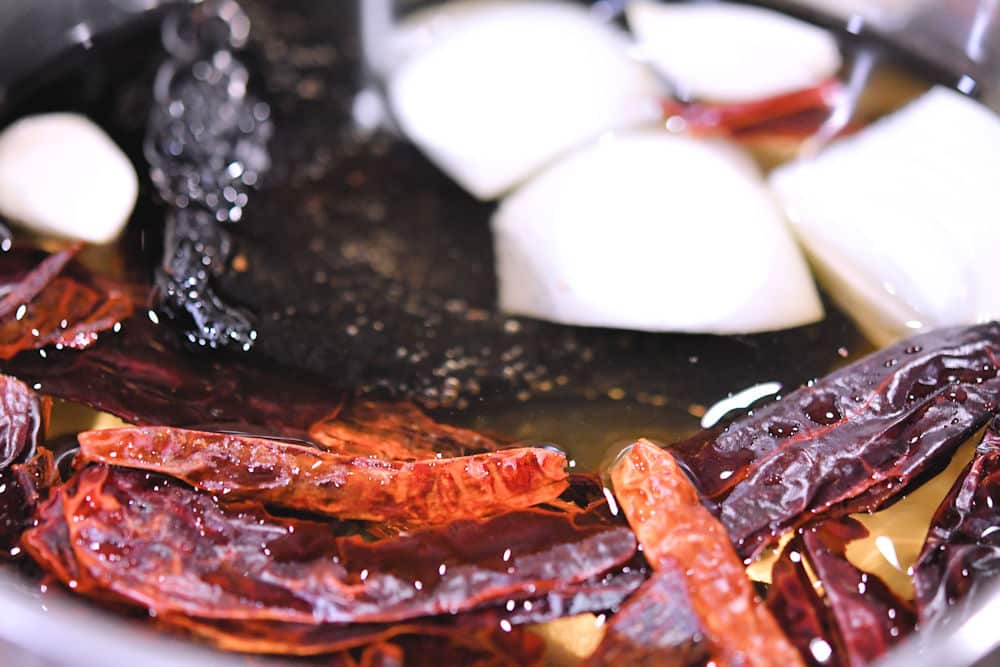 Since we don't know how these peppers are dried, always wash them before you use them.
Most of the time, peppers are dried in the open air. You never know what could be on there. Try not to think about it. Just wash them. Trust me.
I like to wash them after I've removed the seeds and stems. Water makes the seeds stick to the peppers, making it more difficult to remove them. Whatever way works best for you is the way to go.
Using a Blender
A blender is one of the most important small appliances when making Mexican food.
Blend until completely smooth. You could strain after blending but I don't find it necessary, if it's blended really well.
Have a look at this Ninja Professional Plus Kitchen System (aff link) at Amazon. It's the one we use and includes the blender, a food processor bowl and two to-go cups.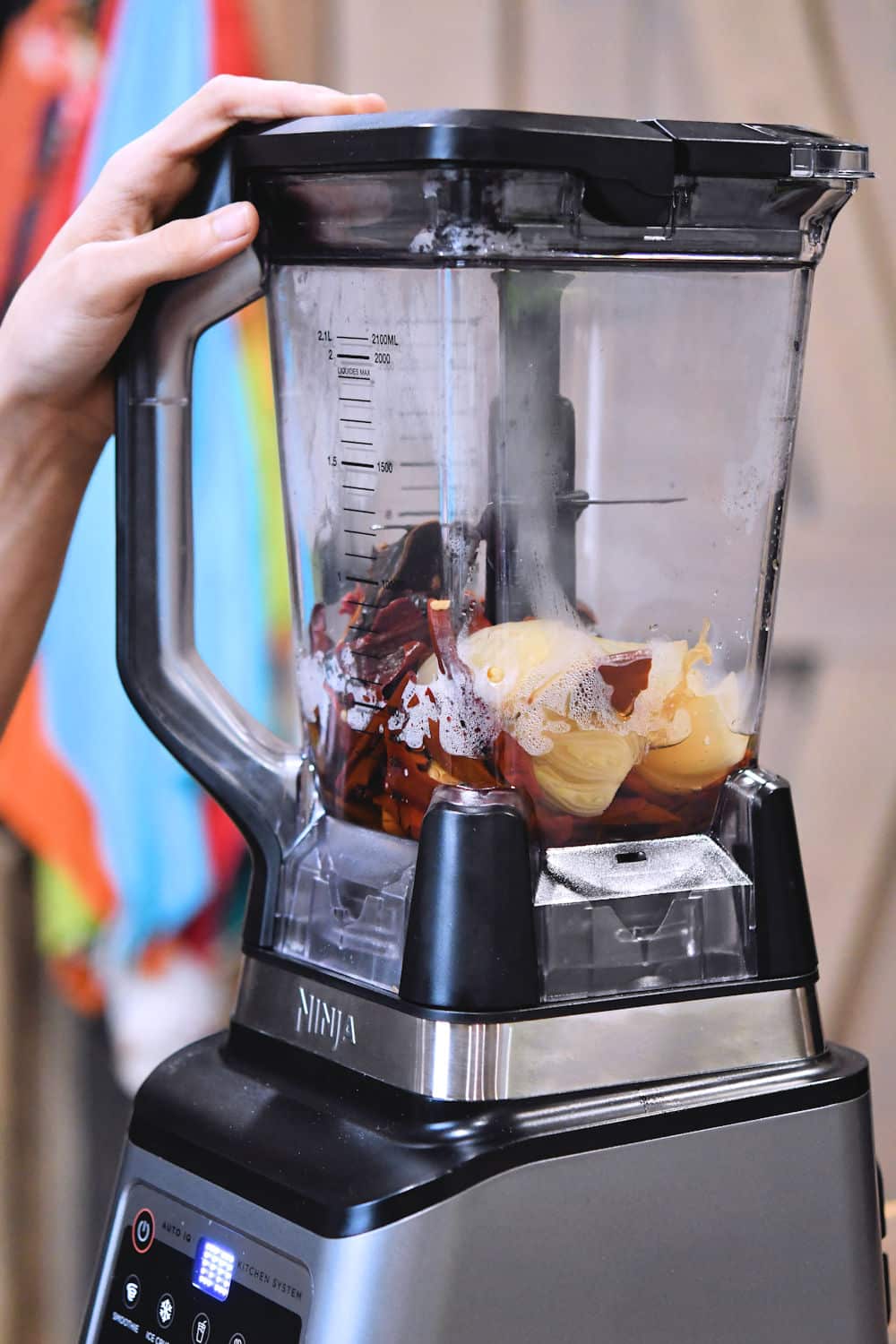 How Long Does Enchilada Sauce Keep?
This sauce should last in the refrigerator 3 or 4 days. It may get a little thick when it's chilled for awhile. You can add more water to it in order to get back to the right consistency, if you like.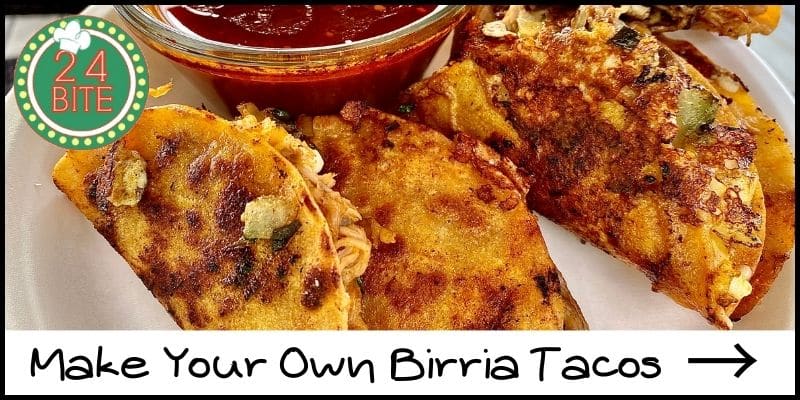 This sauce can also be frozen for 3-4 months.
Since this recipe makes one quart of sauce, you may have some leftover when making a tray of enchiladas. Use the remainder at the table when serving.
You can also use it to make nachos later. I made sheet pan nachos with the remainder. This is really the most delicious enchilada sauce I've ever made.
Is Enchilada Sauce Gluten Free?
As with many recipes, enchilada sauce is sometimes naturally gluten free and sometimes not. It depends on the recipe. For instance, if I'm not straining out the solids after processing in the blender, I could decide that it's thick enough like that.
This recipe strains out everything so it's a lot like red water. I've used all purpose flour to slightly thicken this enchilada sauce so it's not gluten free, as is.
If you would like to make it gluten free, replace the flour with gluten free flour or corn flour, known as masa harina.
You don't necessarily need to thicken the sauce either. It can be used as a thin liquid, if you prefer. As with Mexican gravy, you could also add in some fine grated cheese and slowly stir it in to make it thicker.
More Recipes
Browse through all my Mexican Food Recipes. I try to keep them as authentic as possible, with a few fun Tex Mex recipes as well.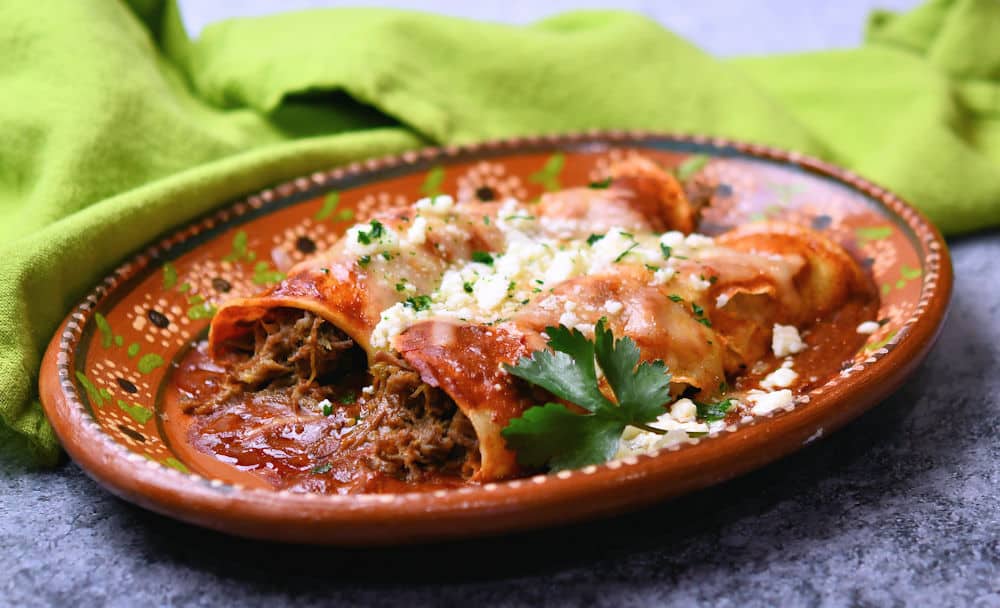 Try this sauce drizzled over any of these Authentic Mexican Tamales. This sauce would be perfect for these Beef Green Chiles Enchiladas.
Recipe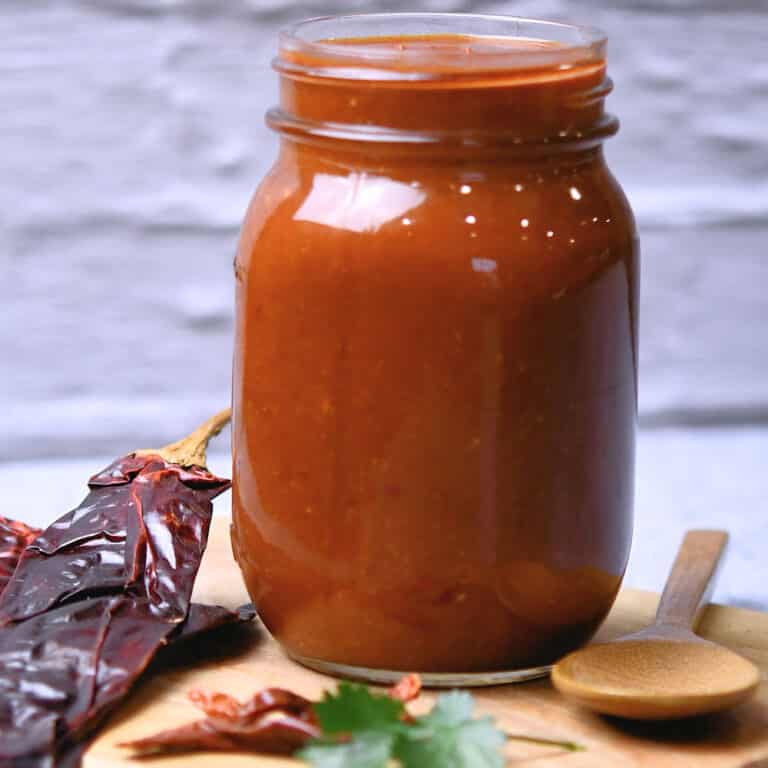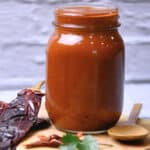 Pin Recipe Now
Red Enchilada Sauce
Tap to leave a star rating
Save or Print
Learn to make authentic red enchilada sauce using dried Mexican chiles for rich and robust flavor, perfect for more than just enchiladas. It's a Mexican gravy that can also be used for topping tamales, nachos, smothered burritos and more.

For more information, be sure to check the recipe details in the attached 24Bite® post.
Ingredients
5

Dried Anaheim Chiles

1

Ancho Chile

2

Chiles de Arbol

½

Onion

4

Garlic Cloves

Water

¼

cup

Vegetable Oil

¼

cup

All Purpose Flour

1

teaspoon

Better Than Bouillon

,

chicken flavor

½

teaspoon

Cumin

½

teaspoon

Salt

,

optional
Instructions
Stem, seed and rinse all dried chiles. Cut onion into three pieces. Peel garlic cloves. Place in a medium sauce pan with enough water to cover.

Place pan on medium high heat and bring to a boil then reduce to low and cover with lid. Allow to cook until everything is heated through and chiles are soft, about 10-15 minutes.

With slotted spoon, remove all ingredients from sauce pan to electric blender. Add about 1 cup water so blender blades will move easily. Pulse until smooth. Strain out and discard solid pieces, leaving the liquid. Set aside.

Rinse and dry sauce pan or use a different one. With a whisk, mix together oil and flour briskly until smooth. Place pan on stovetop at medium heat. Cook, stirring almost constantly, until lightly browned, about 5-7 minutes. (To make gluten free, see note below.)

Stir in liquid sauce from blender until smooth. Slowly stir in three cups water. Be careful when you first start pouring. There will be a lot of hot steam.

Stir in remaining ingredients. The bouillon already has a lot of salt so, if you want to reduce the sodium, leave out the extra salt.

Bring to boil, then reduce heat and cook for about 5-7 minutes until slightly thickened.
Note: If there is a video, it will not display while there is an adblocker.
Notes
Makes 1 quart. Serving size is calculated at ¼ cup for nutrional information.
To make gluten free, you can use GF flour or masa harina. Or, you can leave this part out completely for a thinner sauce.
Use any leftovers at the table as a condiment, or save for another recipe later.
Mexican gravy. To thicken this sauce for more of a Mexican gravy, slowly stir in ½ to 1 cup of your favorite cheese until fully melted near the end of cooking. Serve over tamales, burritos, nachos, tacos, chimichangas, everything.
Nutrition Facts
Red Enchilada Sauce
Amount Per Serving
Calories 20
Calories from Fat 9
% Daily Value*
Fat 1g2%
Sodium 118mg5%
Carbohydrates 4g1%
Protein 1g2%
* Percent Daily Values are based on a 2000 calorie diet.
______________________
Percent Daily Values are based on a 2000 calorie diet. All amounts are estimates and 24Bite® takes no responsibility for actual figures since calculations vary by packaging and supplier. Please calculate the amounts yourself based on package labeling if you have specific dietary requirements. 24Bite®, Kim Guzman or Christian Guzman shall not be liable for adverse reactions or any other outcome resulting from the use of recipes or recommendations on this website or actions you take as a result.
© 2019-2023 Kim Guzman and Christian Guzman. All rights reserved. Subscribe to 24Bite email newsletters.
Follow 24Bite: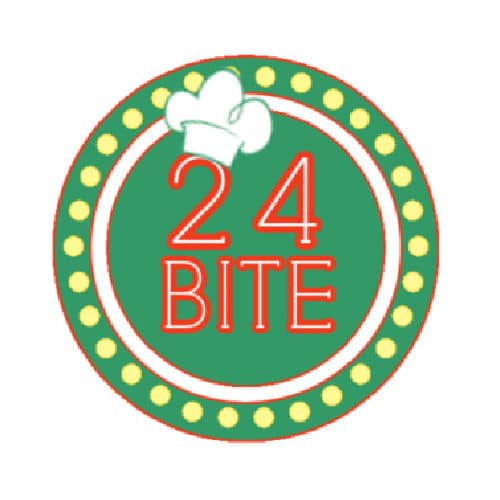 Twitter | Facebook | Pinterest