Milanesa Steak, Milanesa de Res in Spanish, is a popular thinly sliced, breaded main course, quickly pan-fried. It's an easy dish that gets on the table in 30 minutes.
Recipe | Milanesa Origins | What do you serve with Milanesa Steak?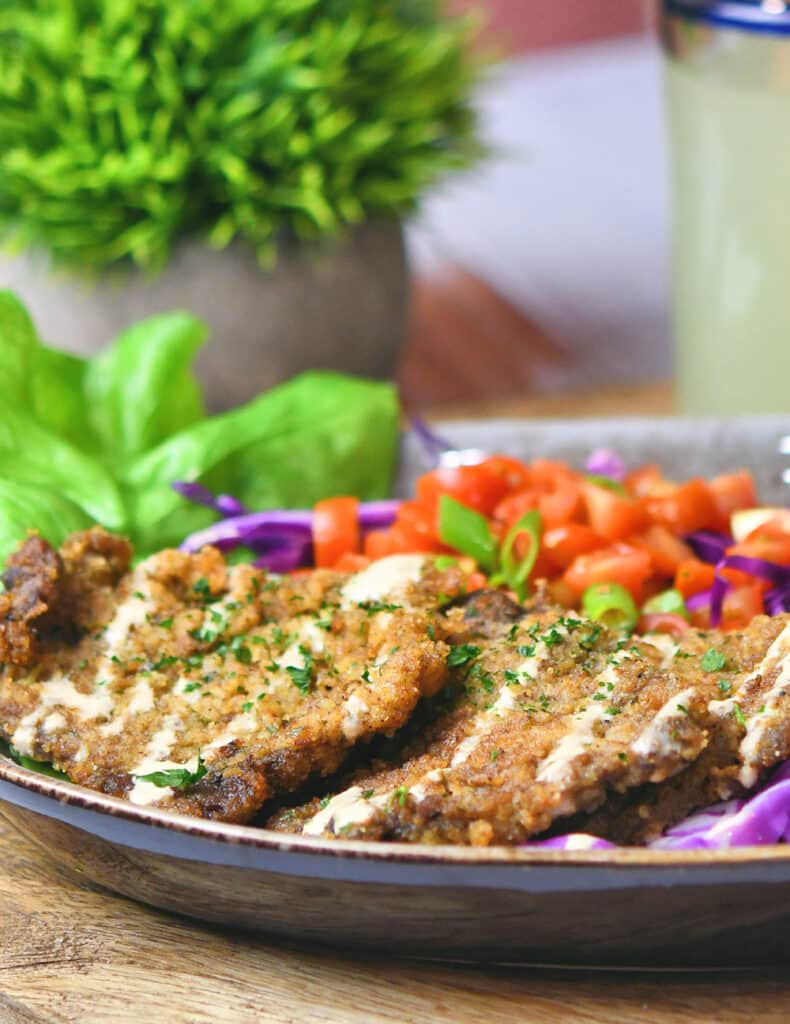 The quickly-fried meat is so tender that it's perfect on its own or as a sandwich, taco or quesadilla.
And, you will love what I just discovered. It's ahhh-mazing with Ranch dressing. I can't tell you how much of this I ate when I figured out that dipping it in Ranch dressing was so GOOD.
Milanesa origins
The name of Milanesa comes from the City of Milan in Italy. It's a popular meal in Central and South America in addition to Italy, of course.
Milanesa was brought to Mexico many, many years ago when it was introduced by Italians.
You will find similar main dishes in other countries. For instance, you'll find a similar meal in Germany called Wiener Schnitzel.
In the United States, you'll find a version called Chicken Fried Steak. Chicken Fried Steak is nearly identical except it's more common to include a delicious thickened cream gravy.
Ingredients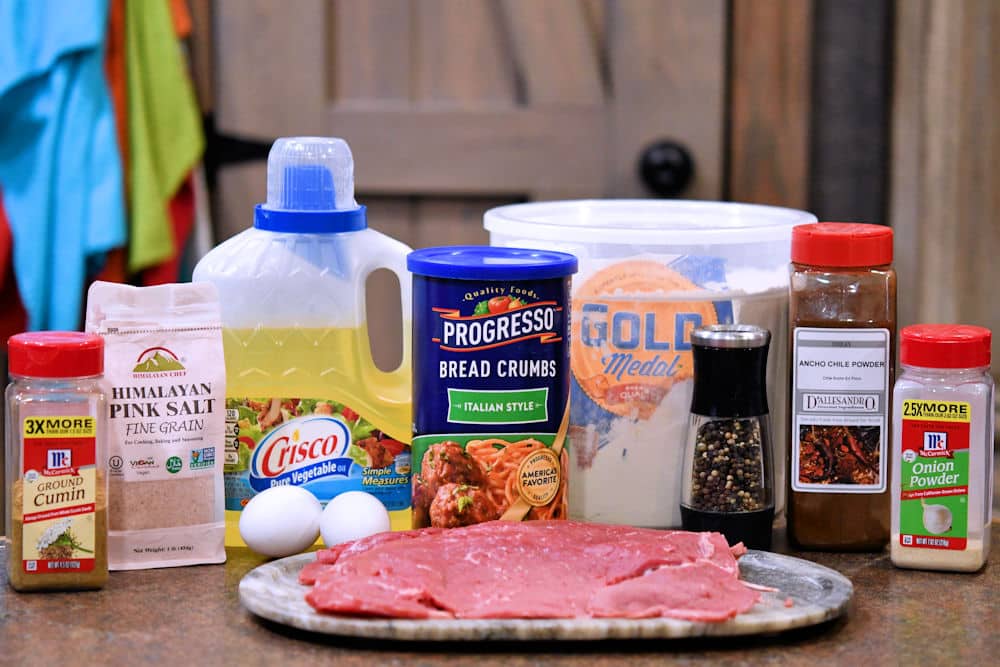 To make you will only need a few spices, eggs, breadcrumbs and flour. Mix everything in separate bowls and line them up on the counter to make it more of an assembly line process.
If your Milanesa steak is cut very thin, it may be difficult to handle. You can cut them in half. A smaller size is easier to maneuver.
What do you serve with Milenesa steak?
In Mexico, you will typically find Milanesa de Res and French fries on a plate. Too much fried food on one plate seems excessive sometimes.
Besides French fries, try a fresh pico de gallo of tomatoes, onions and chopped jalapeños. Sliced avocado or guacamole is always a good idea.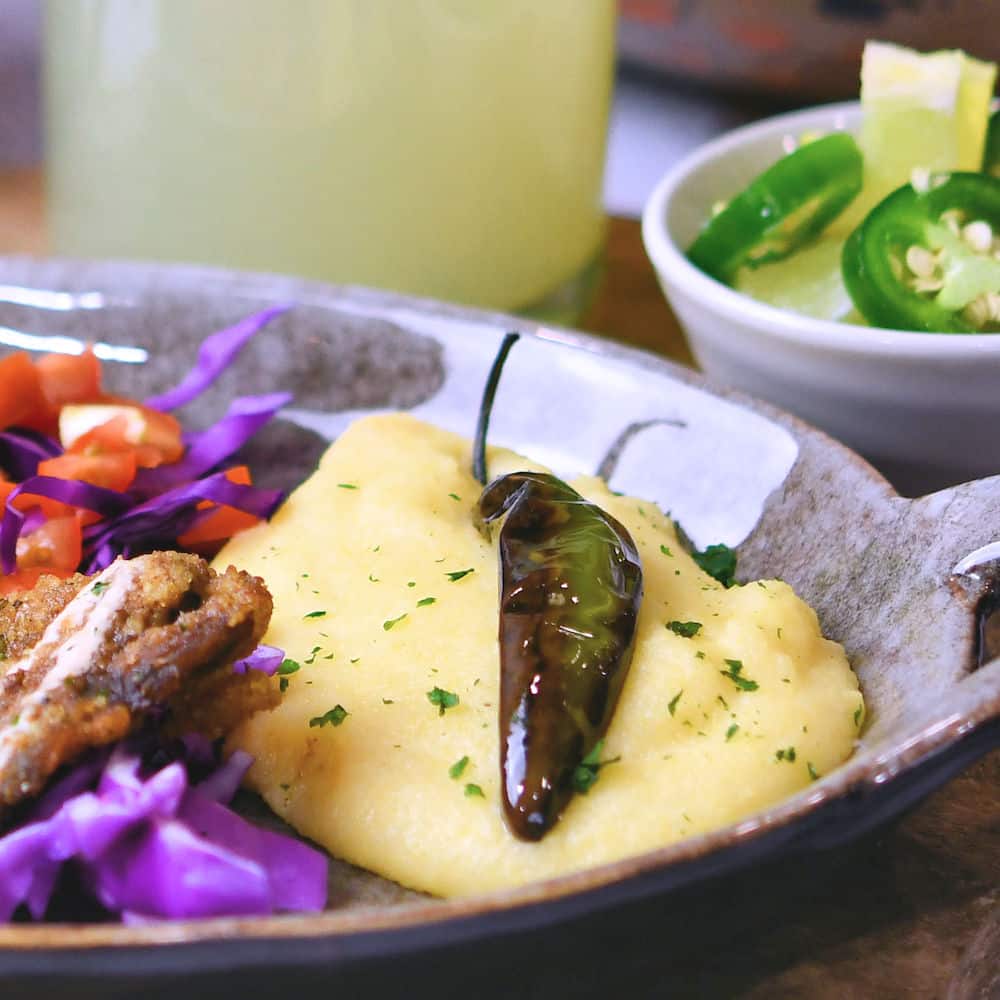 That little side with the roasted serrano isn't mashed potatoes. It's polenta, a quick little side dish, made from fine cornmeal. You can't get any more perfect than Italian polenta for an already Italian dish.
For something different than your typical pico de gallo, try serving a little scoop of Red Onion Salsa with this dish.
If you're wanting to stick with the traditional French fries, maybe try something like my Roasted Red Potatoes to get your crispy potato fix.
You know that verde green salsa that you get at the table at Mexican restaurants? It's so easy to make at home. Try this Mexican Salsa Verde Restaurant Style recipe.
What is Milanesa steak?
This Milenesa steak recipe uses very thinly sliced beef, usually top round. Our market has the sliced steak available pre-packaged.
If you need to ask your butcher to slice them, they should be about ⅛ to ¼″ thick.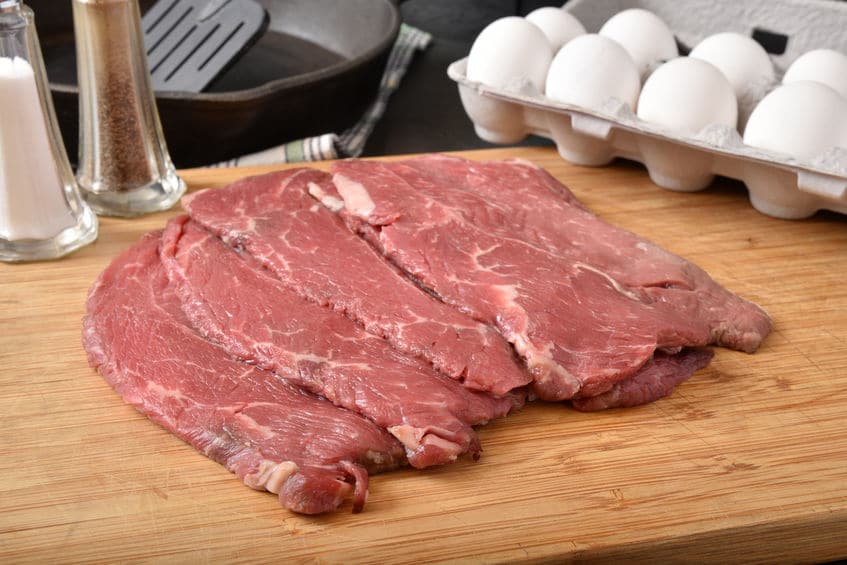 If you don't want to use beef, you can also use any sliced meat, like chicken, pork or veal. You could also make a vegetable Milanesa by slicing eggplant.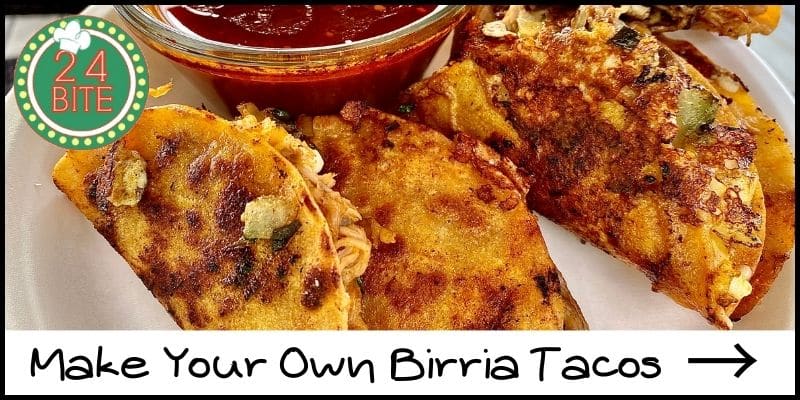 If using another meat, you may need to use a meat pounder to get it thin enough.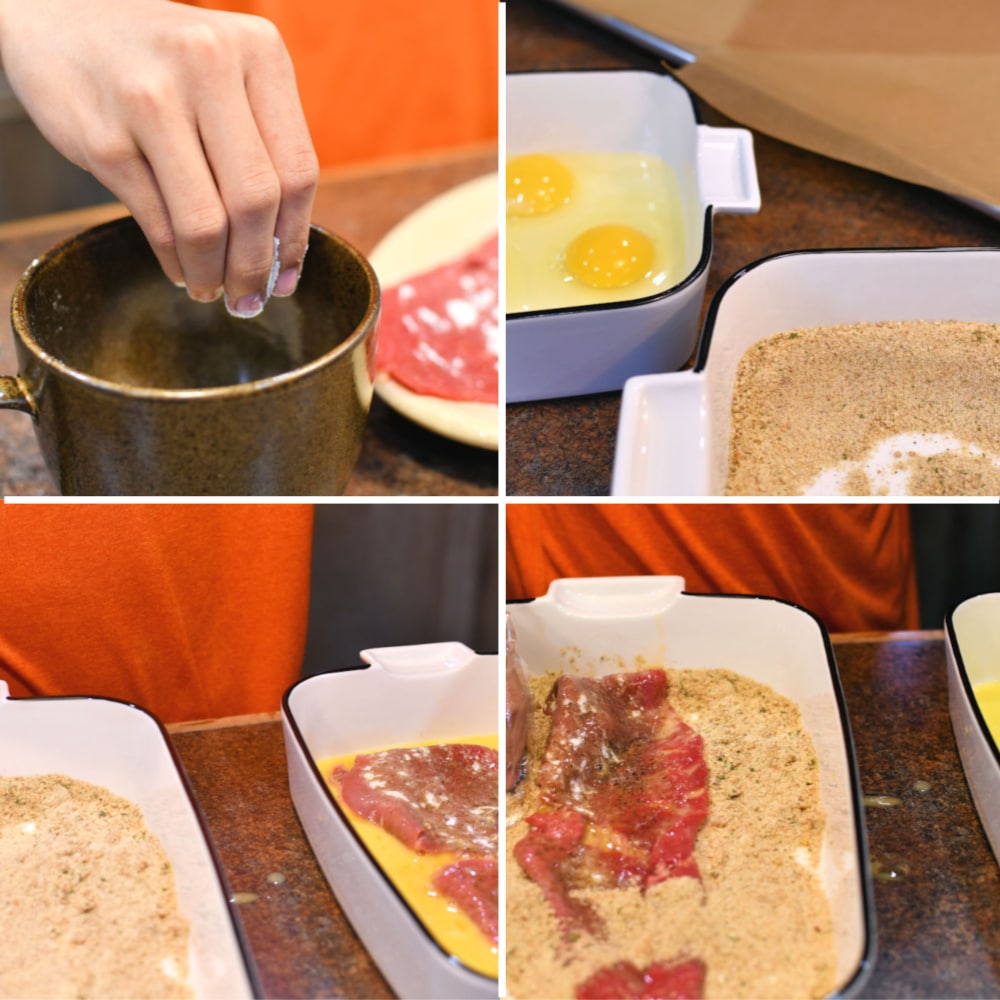 Preparation Tips
Here are a couple of tips for dipping in egg and breading.
First, feel free to wear food service gloves. There's no reason why you need to get messy.
Second, always dip in egg with one hand. Then, dip in the breadcrumbs with the other hand. This will help you avoid the big clumps of gunk.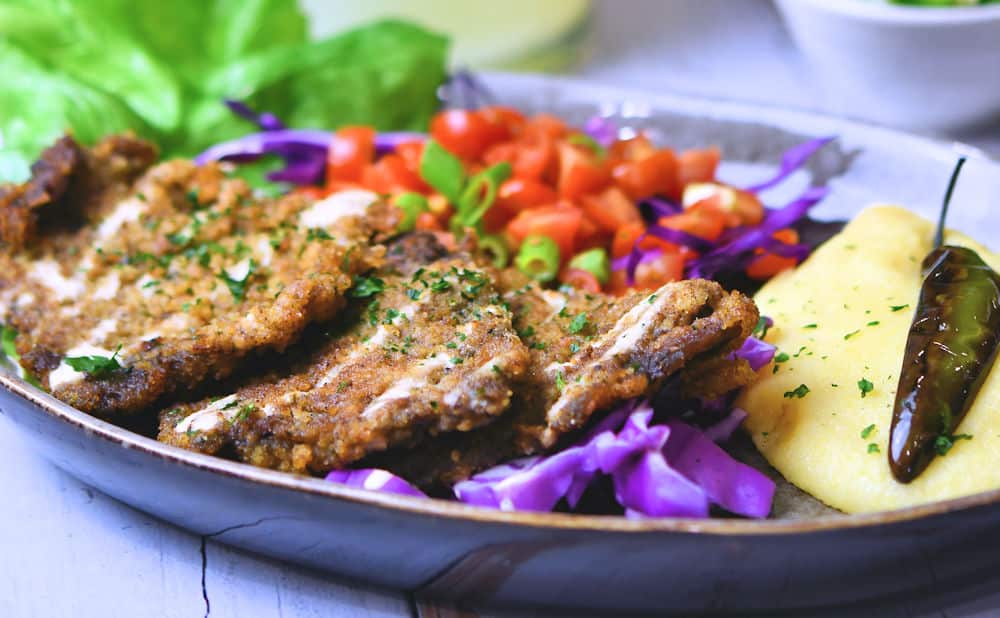 If you like this Milanesa steak recipe, I'm building a Mexican Food recipe library which may interest you. Lots of delicious homemade Mexican food as authentic as I can get it.
For added spicy heat, try serving this Tomatillo Red Chili Sauce with the steak. It's a great red chile sauce, perfect for so many uses.
Milanesa can also be called Piccata. Try a gluten free version of Chicken Piccata.
Feature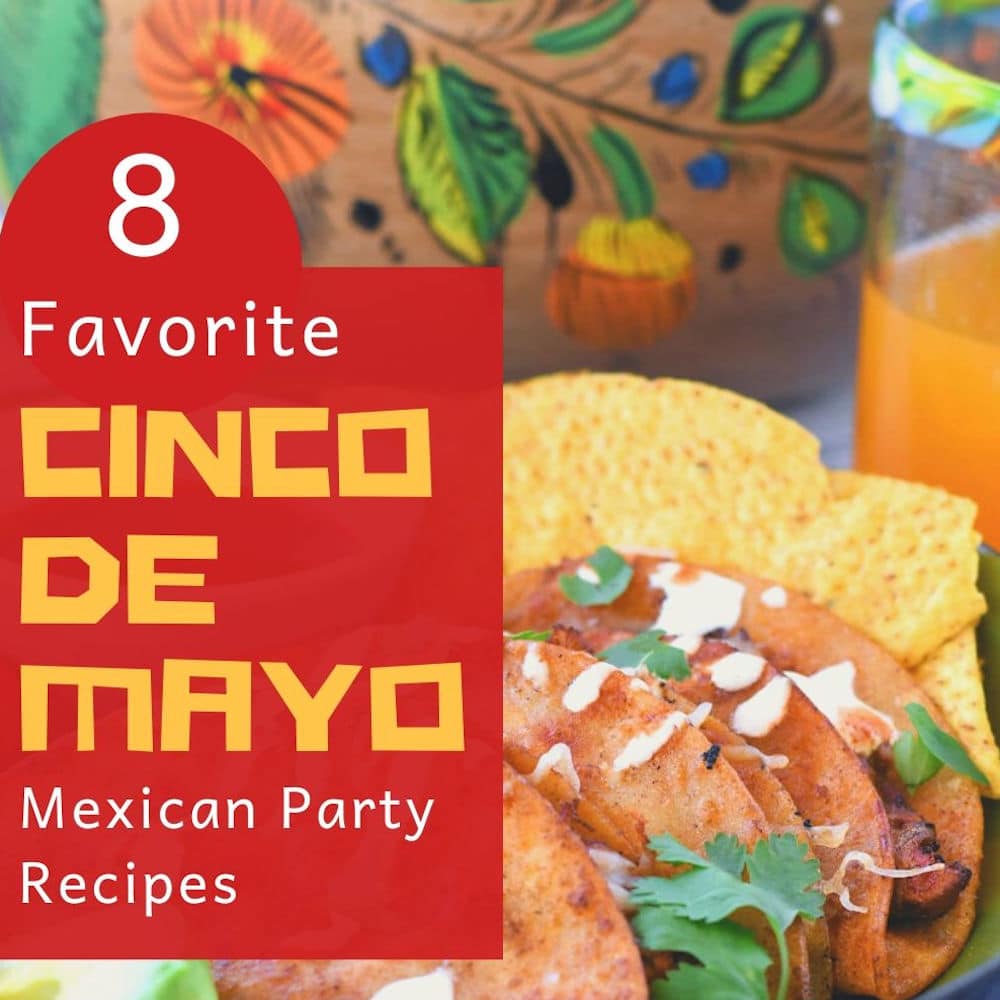 This recipe was featured in this roundup of 8 Favorite Recipes for Cinco de Mayo.
Recipe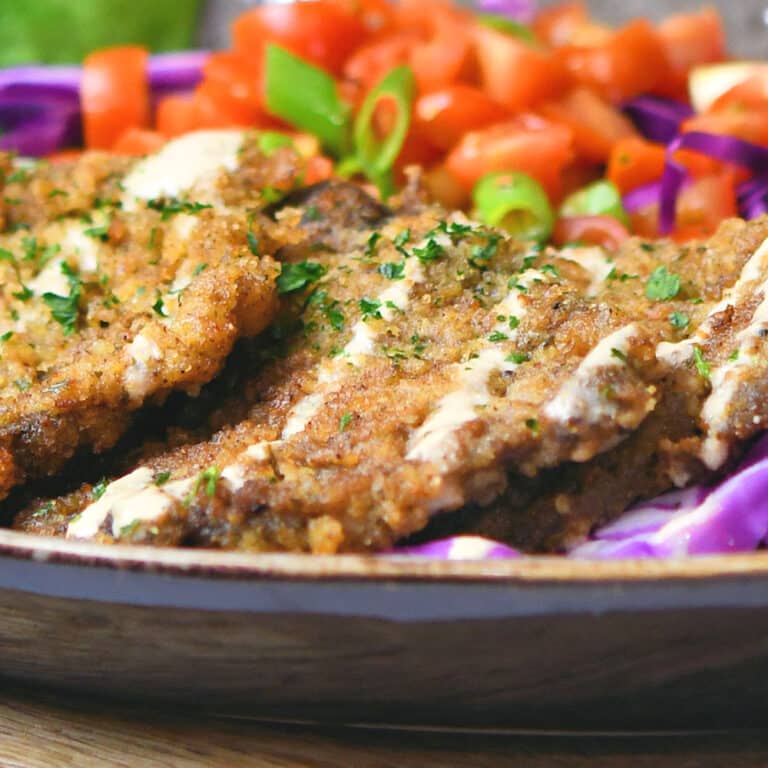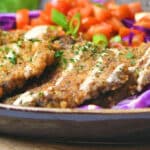 Pin Recipe Now
How to Make Milanesa de Res
Tap to leave a star rating
Save or Print
Milanesa Steak, Milanesa de Res in Spanish, is a popular thinly sliced, breaded main course, quickly pan-fried. It's an easy dish that gets on the table in 30 minutes.

For more information, be sure to check the recipe details in the attached 24Bite® post.
Ingredients
¼

cup

Vegetable Oil

,

For frying

¼

cup

All Purpose Flour

½

cup

Breadcrumbs

,

like Seasoned Progresso with Parmesan

½

teaspoon

Salt

½

teaspoon

Pepper

1

teaspoon

Ancho Powder

½

teaspoon

Cumin Powder

½

teaspoon

Onion Powder

2

large

Eggs

1

pound

Top Round Steaks

,

Milanesa Beef, very thin top round slices
Instructions
Begin heating oil in skillet on medium heat on the stove top.

In shallow casserole or pie dish, stir together breadcrumbs and spices, set aside.

In another shallow casserole or pie dish, whisk eggs until well blended, set aside.

Sprinkle flour on both sides of each steak.

Working with one steak at a time (using gloves, if you like), dip each steak in egg then in breadcrumb mixture. Set steaks aside on a baking sheet so they're not touching.

Once all steaks are covered and the oil is hot, cook one steak at a time. Place in the oil and cook for 1-2 minutes if the steaks are ⅛" thick or 2-3 minutes if the steaks are ¼" thick. Using tongs, turn and repeat.

Remove steaks to drain on paper towels.

This meal is typically served with French fries when plated or can be made into fajita style tacos or sandwiches. I've shown it with a tomato pico de gallo and a rounded scoop of polenta, garnished with cilantro and lime slices for squeezing a bit of lime juice on top when serving.
Note: If there is a video, it will not display while there is an adblocker.
Notes
I have used Seasoned Progresso Breadcrumbs for this recipe. This product already contains some seasoning and Parmesan cheese. If you use plain breadcrumbs, add 2 tablespoons Parmesan cheese when mixing the breadcrumbs and spices.
If your skillet isn't non-stick, you can add as much oil as you need in order to fry the steaks.
Nutrition Facts
How to Make Milanesa de Res
Amount Per Serving
Calories 385
Calories from Fat 189
% Daily Value*
Fat 21g32%
Sodium 507mg22%
Carbohydrates 17g6%
Protein 32g64%
* Percent Daily Values are based on a 2000 calorie diet.
______________________
Percent Daily Values are based on a 2000 calorie diet. All amounts are estimates and 24Bite® takes no responsibility for actual figures since calculations vary by packaging and supplier. Please calculate the amounts yourself based on package labeling if you have specific dietary requirements. 24Bite®, Kim Guzman or Christian Guzman shall not be liable for adverse reactions or any other outcome resulting from the use of recipes or recommendations on this website or actions you take as a result.
© 2019-2023 Kim Guzman and Christian Guzman. All rights reserved. Subscribe to 24Bite email newsletters.
Follow 24Bite: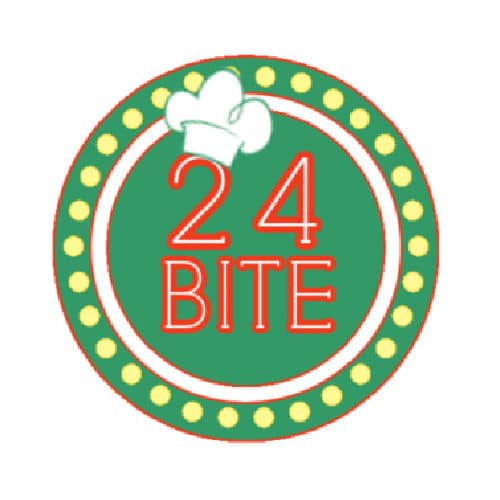 Twitter | Facebook | Pinterest