Homemade Pork Tamales is one of the most popular dishes from Latin America and is now one of the most requested in the United States as well.
Crockpot pork roast has never tasted so good as it will when slow cooked overnight with an authentic red chili sauce. This step by step tamales recipe will show you how to make homemade pork tamales for your next special occasion.
Tamales are made by spreading a homemade masa dough inside a corn husk, adding the filling of your choice and then rolling it up for steaming.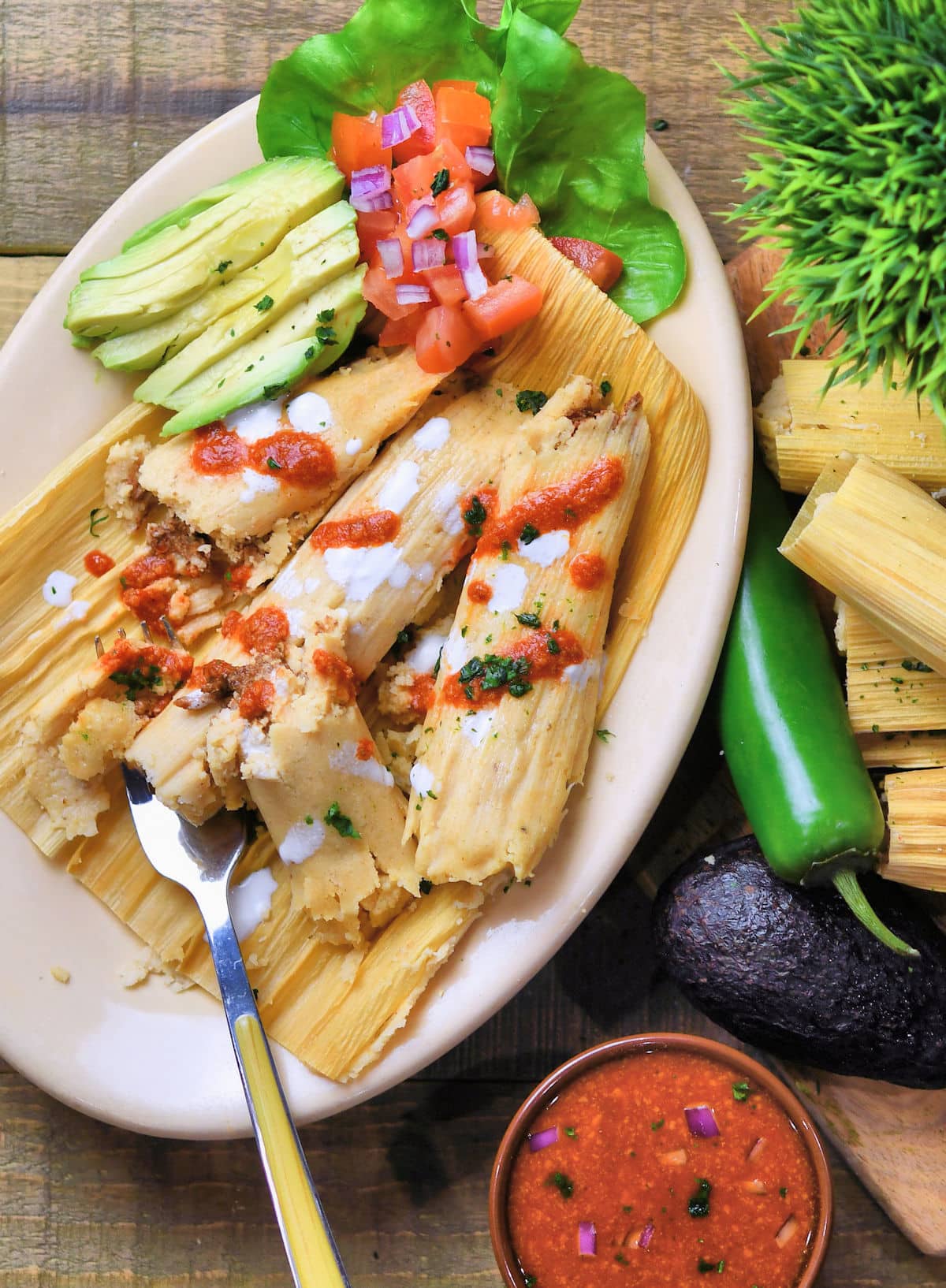 Pork tamales are the basic tamal, fairly common, but you can check out all our different tamales recipes here. We've made them with beef, chicken, even a pumpkin and jalapeno vegan variety.
No, you don't eat the husk, although apparently a certain former president did try to do that in the Great Tamale Incident. That is Jerry. Don't be like Jerry.
Is it Difficult to Make Tamales?
No, it's really not difficult. That's a misconception. Instead of being difficult, making homemade pork tamales is a matter of there being so many different little steps but each step is really very easy. In this tamales recipe, I'm going to give you the steps that helped me to not only make delicious pork tamales but I also enjoyed the process!
Start Your Tamales the Night Before
For best results and to save yourself a lot of anxiety, start your homemade pork tamales recipe the night before.
Rub the pork roast with your seasonings and place in slow cooker crockpot on low.
Start your Red Tamale Sauce.
While the Sauce is simmering, wash the corn husks with a brush and cool water. Clean them well. You need to get rid of any debris and silks.
Place corn husks in a large pan, dishpan or even a cleaned sink, if you want. Fill with water and then place something heavy on top to keep them dunked under the water. Soaking them overnight really helped with assembly.
Finish up the Tamale Sauce and refrigerate for the next day.
Go to bed.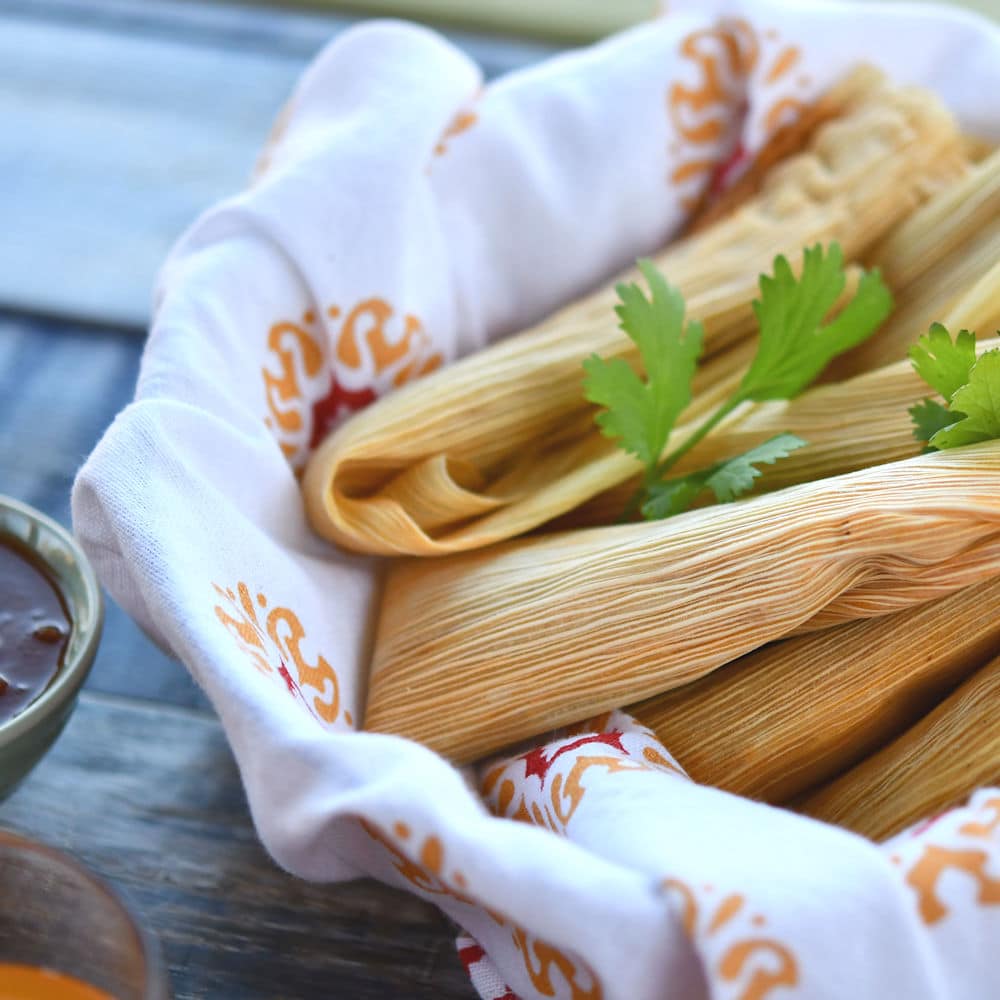 Make Your Red Tamale Sauce
Making a red tamale sauce yourself allows you to add as much spicy heat as you like.
You can take my basic red tamale sauce recipe and make it in a mild version with California and Anaheim chiles. Or, you can make your sauce more complex with Guajillo and Pasilla chiles.
Assembling Tamales the Next Day
So, you're going to wake up to that incredible aroma of the pork roast in the crockpot. Yum!
Take the roast out of there and let it cool enough to be able to handle. Shred it up with forks like this.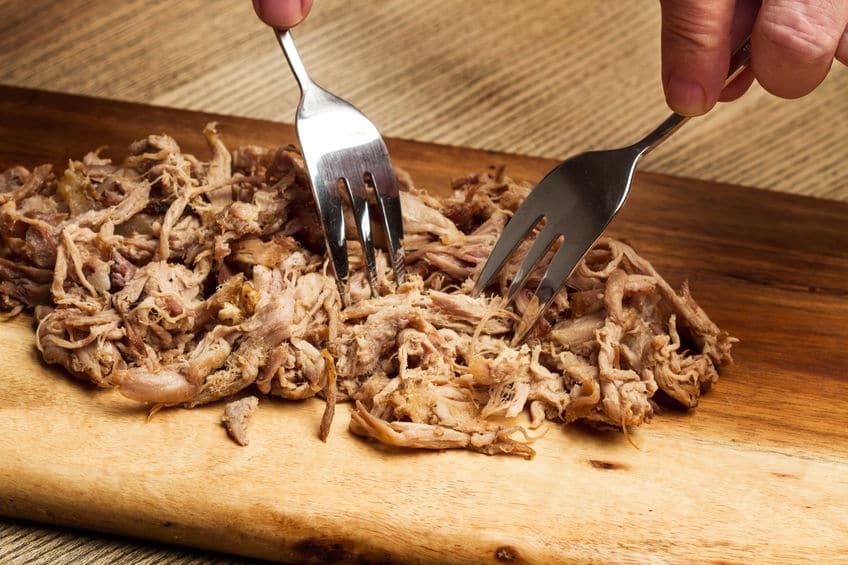 Cut Up the Shreds for Easier Eating Later
Now, you could leave it like this but I recommend that you cut up the longer shreds with a knife. You don't need to do a lot of cutting. But, picture this: you go to cut up your tamale into bite sized pieces and you end up dragging out long shreds of roasted pork. To make it easier to cut up, it just makes sense to make the shreds smaller. I prefer the texture of the shreds over chunks but I don't want them so long that it makes it difficult to cut easily with a fork.
Remove ¾ cup Tamale Sauce from the quart you've made and set it aside for the Masa Dough. Put the remainder in a pan with the pork shreds and begin heating.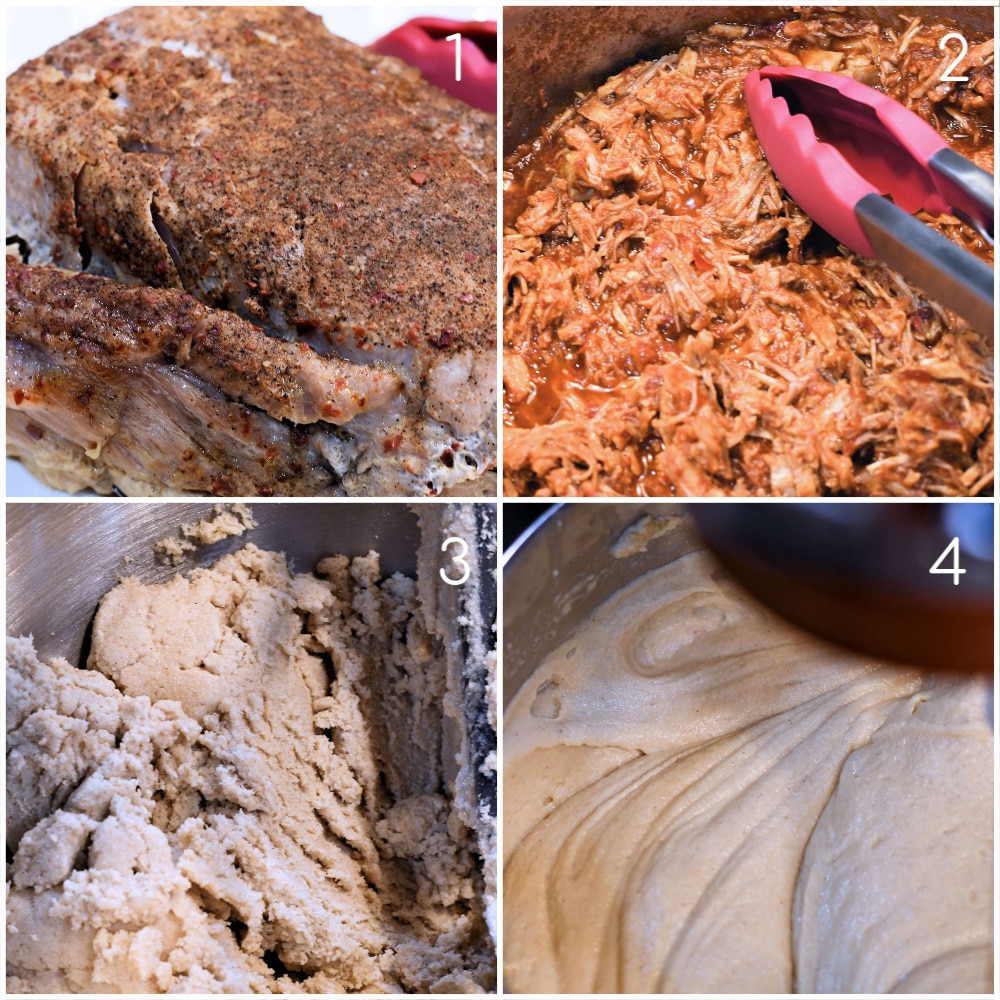 Making the Masa for Tamales
Whisk together the masa harina, seasonings and baking powder.
Melt the lard and add it to the masa harina mixture together with the reserved Tamale Sauce. At this point, it will look like wet sand, the kind of sand you can use to make sand castles.
Add stock, one cup at a time and mix well after each addition until the masa is smooth and has a texture similar to hummus or like cake batter. It also had sort of the consistency of wet cement that had just been poured but maybe that's not as appetizing. Let the masa sit there a bit then mix again to see if you need to add another cup of stock.
If you're not into using lard, you can use vegetable shortening. If you want a vegan alternative for the masa dough, use shortening for the lard and use vegetable stock instead of chicken stock. Use plant-based "meat product" for the filling to keep it completely vegan.
If you're looking for more details on making this easy masa, you can learn how to make tamale masa dough with masa harina.
How to Assemble Homemade Tamales
Okay, so you see why people are scared to do this, right? There really are a lot of steps. But, honestly, just take it easy with the steps. You don't have to rush. Nothing is going to happen to your tamales.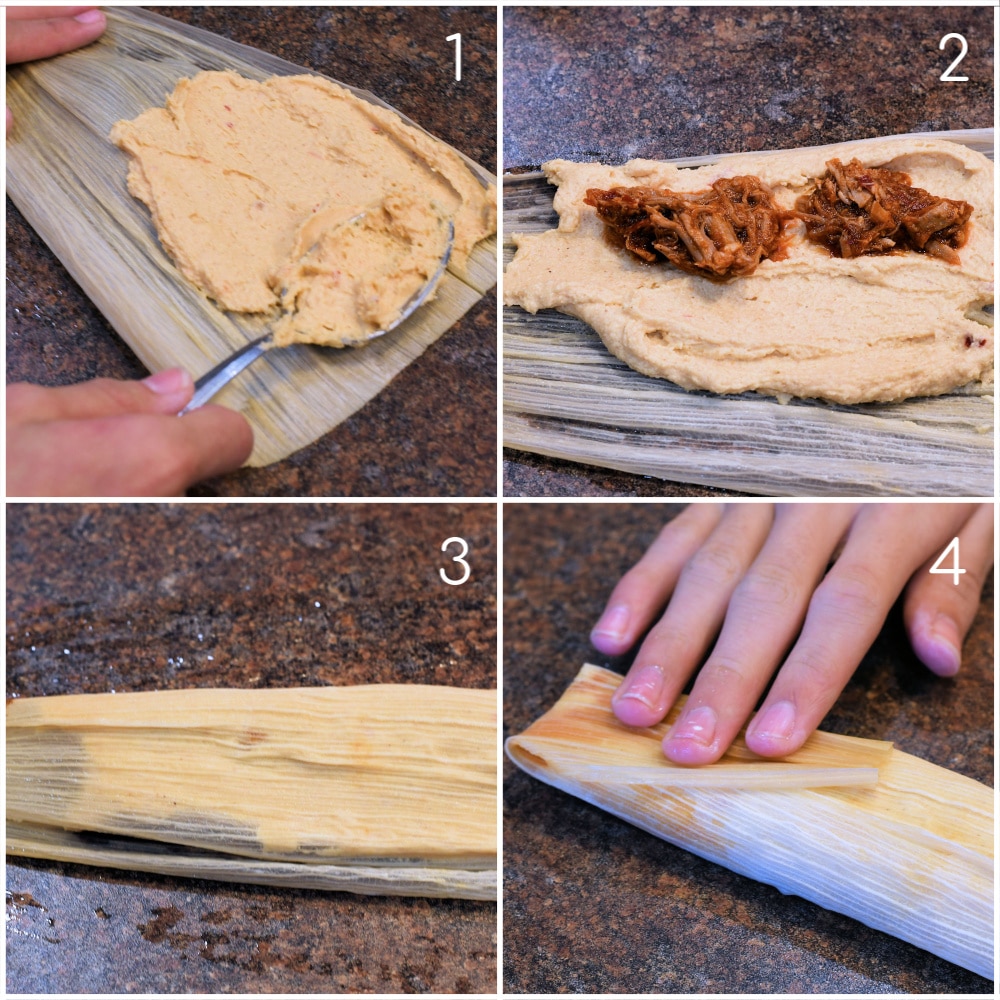 Pat dry a husk. Inspect it to find the smoother side and place it smooth side up, sideways with the skinnier side toward your non-dominant hand. Hold it there and smooth about two tablespoons of masa dough as shown, leaving the bottom ¾ inch or so without dough.
Add about one tablespoon filling at the top.
Fold the top over so the edges are touching then push down on the top at the open edge, push it back a little and fold over to form a tube.
Fold over the skinnier end as shown and then set in a tray with the folded side down.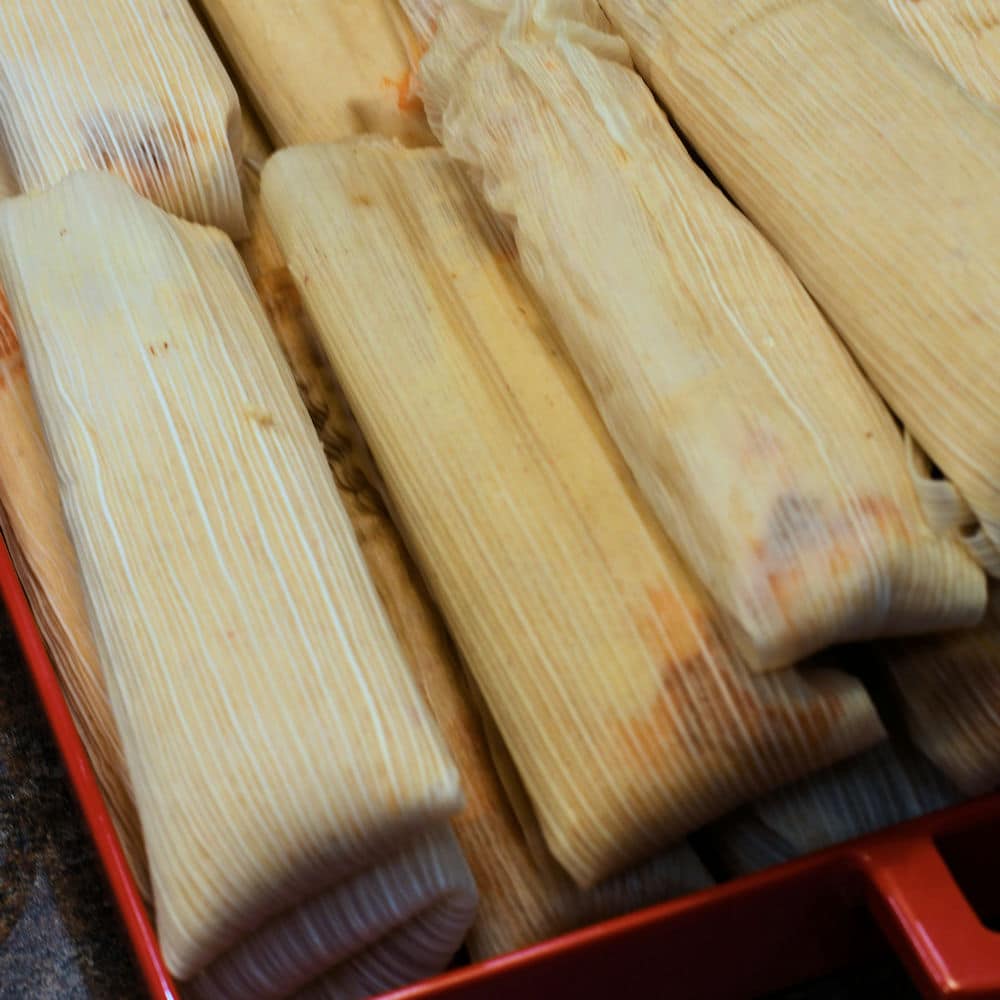 Some of your corn husks may be too big and you can easily tear them down to size. Some of them will be too small and you can set those aside.
If you really want to get creative, you can tear them in tiny strips to tie around the tamales. I didn't do the tying. It's not necessary but it makes a pretty presentation, if you want to do that.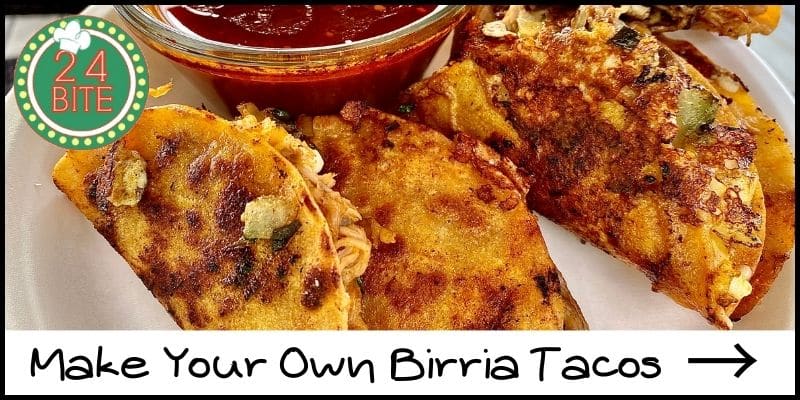 Steaming the Tamales
Whew! We're almost there! You need to steam your fresh tamales. These are open little packets so you can't put it into water and baking will dry them out. Your goal is moist tamales.
If this is your first time making tamales, you may not want to invest in a big tamale steamer. You can easily use a large stock pot or pasta pot.
Put water in the bottom of the pan then put one of these steamer baskets in the bottom. Stack up your tamales, with the opening facing up. Cover and begin cooking.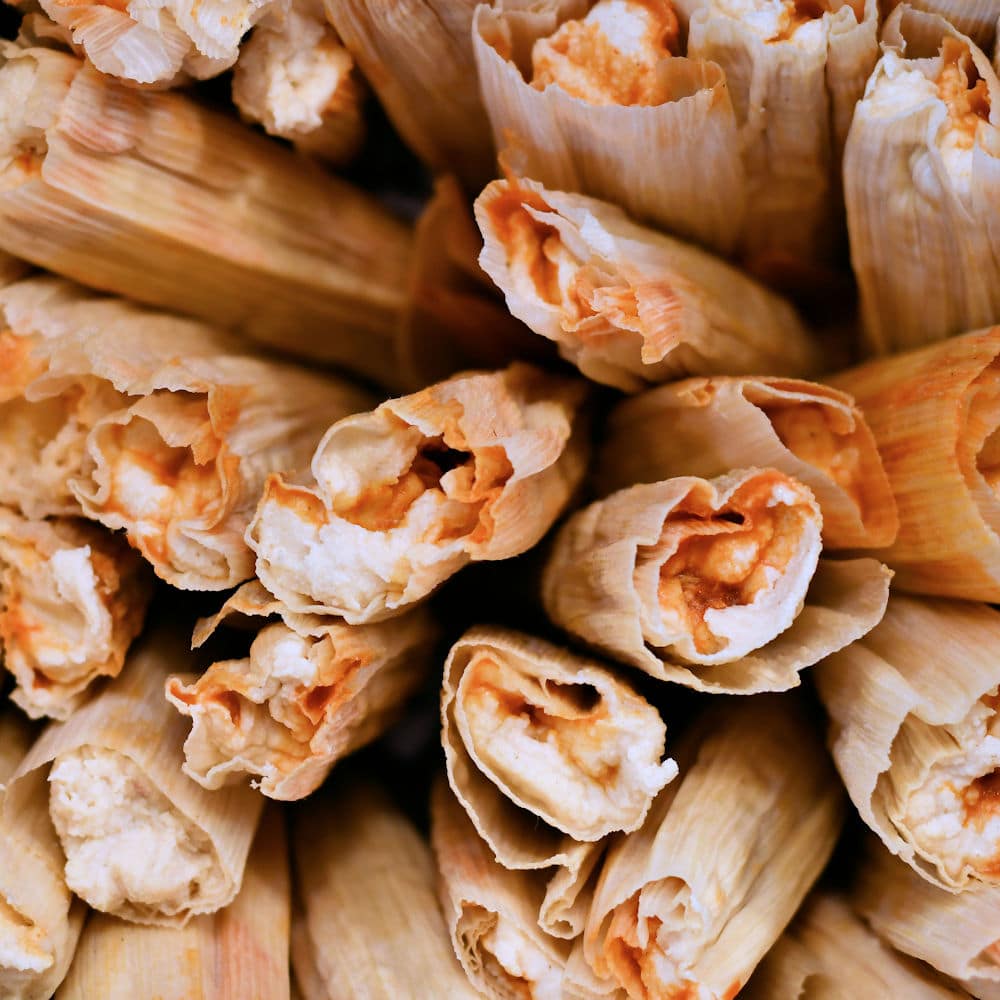 When you're using a steamer basket, check your water level every 10 or 15 minutes and refill as necessary. Don't pour the water directly on top. You'll need to move the tamales out of the way and pour down the middle. If you want, put marbles or a coin in the water. As long as they're bouncing around in the bottom, you still have water. If they stop making noise, there's no more water. when you remove the cover to check the tamales, try not to get any water from the lid directly on the tops of the tamales.
How About a Tamale Steamer?
If you're going to be doing this more than once, you may want to invest in a Tamale Steamer.
It's really not very expensive and makes it a lot easier to steam the tamales without contantly worrying about the water level.
Have a look at this 32-Quart Stainless Steel Steamer (aff link). It's the perfect size for all my tamale recipes. It doesn't stain like aluminum and withstands all the tamales we make during the year. A lot! Have I mentioned how much I love tamales?
Okay, yes, you're finished after about 60-90 minutes of steaming. Now you know why people make homemade tamale making into a party with family and friends!
This recipe is going to make about 40-50 tamales. Leave them in the corn husks until you are ready to eat them. You can eat some then store the rest in the freezer. We made two batches, ate some with family for Christmas Eve dinner, gave a lot away and we still have about 20 in the freezer now. I look forward to enjoying them later. Yum!
Can you Freeze Tamales?
Yes! Tamales can be frozen either before steaming or after steaming.
Once you've wrapped the tamales in the corn husks, place the uncooked tamales in a freezer bag or other airtight freezer container and place them in freezer for up to six months.
Thaw them overnight in the refrigerator then steam them according to the instructions.
If you want to steam them then freeze them, follow the same instructions but wait until they are completely cool before you pack them away.
Yes, you REALLY can eat a tamale taco and it's delicious! Let's call it "tamaco"!

Christian Guzman
You can heat the tamales in the microwave while they're still covered in the corn husk. Or, open them up and crisp them a little in a skillet.
The heated tamale can be eaten with scrambled eggs or put it in a tortilla with your favorite taco condiments. Yes, you REALLY can eat a tamale taco and it's delicious!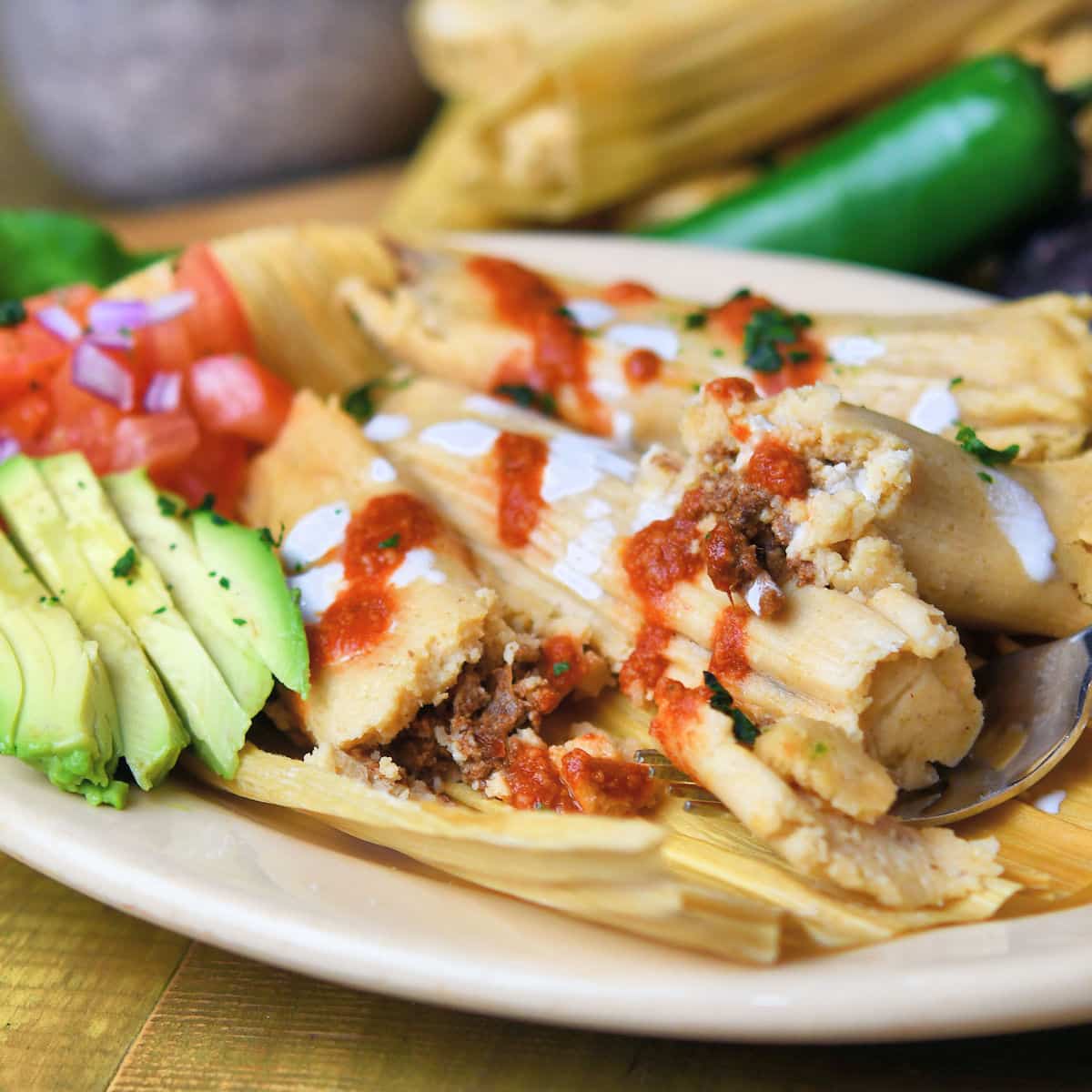 More Tamales, Please!
Tamales can be made in many different flavors, savory or sweet. This is just my first homemade tamale recipe because it's the most common. I plan on adding more so stay tuned!
I have a new tamale flavor for you to try! Check out my Homemade Chorizo Tamales recipe. More to come!
The biggest question of the day, though, is "What do I serve with tamales?" I've planned out an entire feast for you to pick and choose with this What to Serve with Tamales here.
Be sure to also check out my new Easy Chicken Mole Tacos. You'll love them.
If you're not quite ready to make corn husk filled tamales, try our Authentic Pork Tamale Casserole with No Corn Husks.
When you're ready for even more Mexican food recipes, have a look at the meal plans for our Favorite Cinco de Mayo Recipes.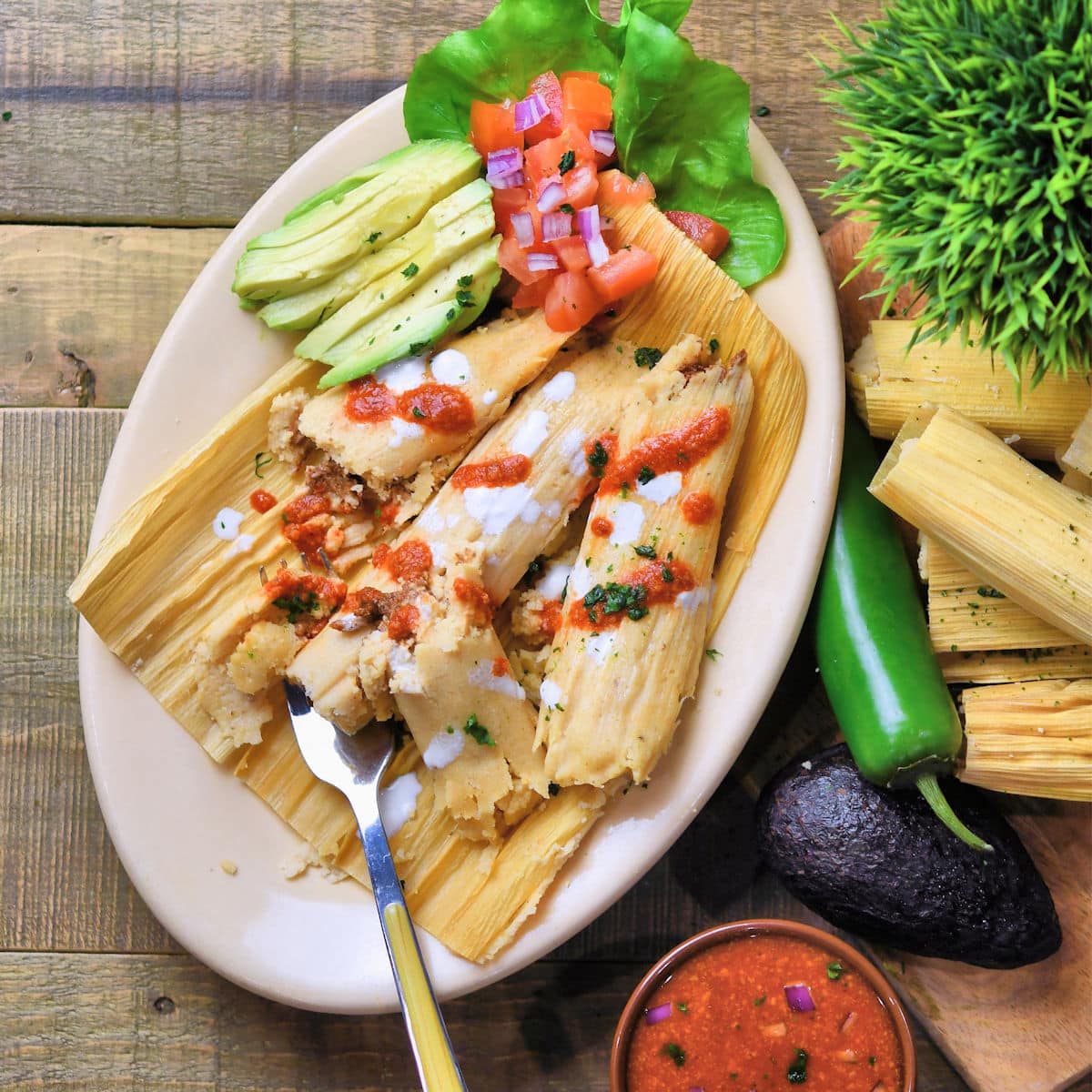 Recipe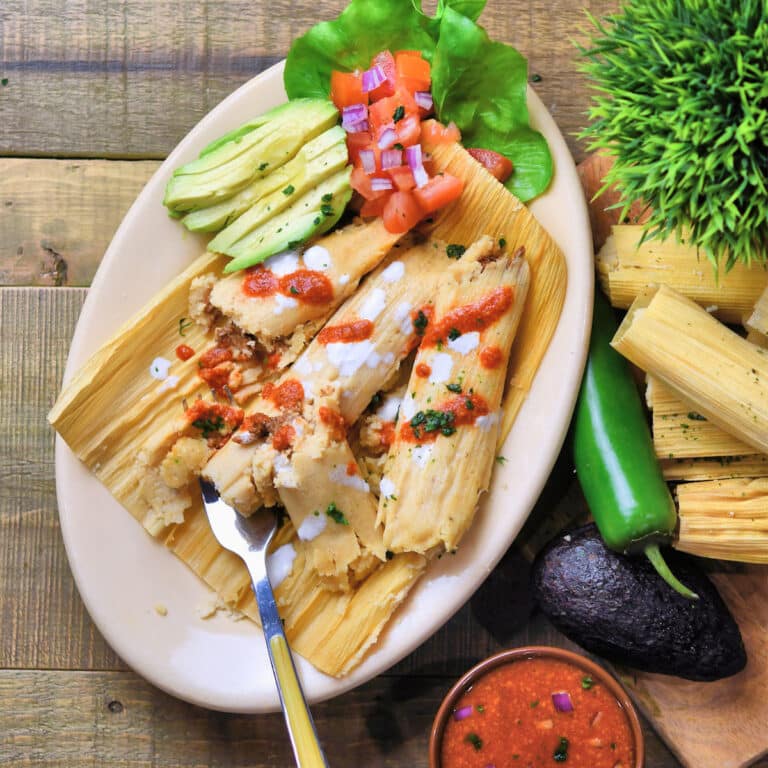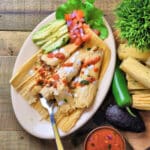 Pin Recipe Now
Pork Tamales Recipe
Tap to leave a star rating
Save or Print
Homemade Tamales is one of the most popular dishes from Latin America and is now one of the most requested in the United States as well. Holidays aren't the same without them.

For more information, be sure to check the recipe details in the attached 24Bite® post.
Equipment
6 quart Crock Pot

Stock Pot and Steamer Basket or Tamale Steamer
Ingredients
Preparing Pork Roast
2

pound

Pork Roast

1

teaspoon

Salt

1

teaspoon

Pepper

1

teaspoon

Onion Powder
Masa Dough
6

cups

Masa Harina

,

like Maseca

2

tablespoon

Baking Powder

1

tablespoon

Onion Powder

1

tablespoon

Salt

1

tablespoon

Ground Cumin

1

pound

Lard

¾

cup

Red Tamale Sauce

5

cups

Chicken Stock
Instructions
Preparing Corn Husks
Being careful not to rip the corn husks, wash with cool water and a brush to remove all debris and corn silks.

Place in a large pan or dishpan or even in a clean sink. Fill with cool water to cover the husks. Place a large heavy dish or plate on top to ensure that the husks are all underwater. Leave them overnight.
Preparing Pork Roast
Mix together salt, pepper and onion powder. Rub on all sides of pork roast.

Place in Crock Pot on low and cook for 6-8 hours, or overnight, until fork tender.

Remove and shred with a fork. Using a knife, cut the shreds a few times so that they aren't too long and stringy.
Preparing Pork Filling
Set aside ¾ cup of Red Tamale Sauce to use later, for the masa dough.

Place the shredded pork and the remainder of the Tamale Sauce in a sauce pan on medium-low heat. Cook until heated through, stirring occasionally to ensure that it doesn't stick and burn. If there isn't enough liquid, add a little bit of water or stock, ¼ cup at a time. You don't want to overdo it.
Preparing Masa Dough
Whisk together masa harina, baking powder and seasonings.

Melt lard. You can melt it on the stovetop. I melted it in a glass measuring cup in the microwave for two minutes.

Add lard and ¾ cup Tamale Sauce to masa harina mixture. Mix well. It will look like wet sand like you would use to make sand castles.

Add one cup of stock at a time and mix well until you have FOUR CUPS stock in the masa. Let sit for about 20 minutes for the liquid to soak into the masa harina. You are looking for the consistency of hummus or cake batter. Continue adding stock about ¼ cup at a time, as necessary, to reach the right consistency for spreading easily.
Assembling the Tamales
Separate and pat dry a few husks at a time. Inspect to ensure that you have the smooth side facing upwards. Turn it vertically and hold the skinnier end with your non-dominant hand. Spread about two tablespoons masa dough as shown in the photos above.

Spread about one tablespoon of the filling in a line close to the top.

Fold the husk vertically, edge to edge. With your dominant hand, push the top back a little with the filling and curl toward you to form a tube. Fold over the skinnier end and place in a tray with seam side down. Repeat until you run out of one of the ingredients (husks, masa or filling).
Steaming the Tamales
In a large stockpot, place a steamer basket and fill with water up to the basket. Stack the tamales straight up in the stock pot with the fold at the bottom.

Cover and heat to boiling then reduce heat to low to keep the water steaming through the tamales. Check the water level every 10-15 minutes when using a steamer basket since the water level is already low. You don't want the water to dry up. When replenishing water, move the tamales out of the way before pouring so you don't get extra water inside the tamales. When removing the lid to check the tamales, try not to tilt it since this might add water to the inside of the tamales.

Cook for 60 to 90 minutes. After about 60 minutes, pull out one of the tamales and remove it from the husk to check for doneness. If it comes clean from the husk, it's done. If not, keep going for 15 minutes and try again. If still not quite done, you'll need 15 minutes more.

Remove from heat. Serve immediately. Allow to cool completely before storing in the refrigerator or freezer. When storing, leave them in the husks.
Note: If there is a video, it will not display while there is an adblocker.
Notes
If you're not into using lard, you can use vegetable shortening. If you want a vegan alternative for the masa dough, use shortening for the lard and use vegetable stock instead of chicken stock.
If you don't want to use a crock pot, you can cook the pork roast in a pan with enough water to cover on the stove top or in the oven at 350°. It will take approximately two hours.
Serve with avocado, lime slices, tomato salad and salsa. I've used some Green Roasted Chile Sauce I had made for enchiladas.
View the web story for Authentic Pork Tamales.
Nutrition Facts
Pork Tamales Recipe
Amount Per Serving
Calories 97
Calories from Fat 18
% Daily Value*
Fat 2g3%
Sodium 281mg12%
Carbohydrates 14g5%
Protein 7g14%
* Percent Daily Values are based on a 2000 calorie diet.
______________________
Percent Daily Values are based on a 2000 calorie diet. All amounts are estimates and 24Bite® takes no responsibility for actual figures since calculations vary by packaging and supplier. Please calculate the amounts yourself based on package labeling if you have specific dietary requirements. 24Bite®, Kim Guzman or Christian Guzman shall not be liable for adverse reactions or any other outcome resulting from the use of recipes or recommendations on this website or actions you take as a result.
© 2019-2023 Kim Guzman and Christian Guzman. All rights reserved. Subscribe to 24Bite email newsletters.
Post updated July 29, 2021 from October 19, 2020.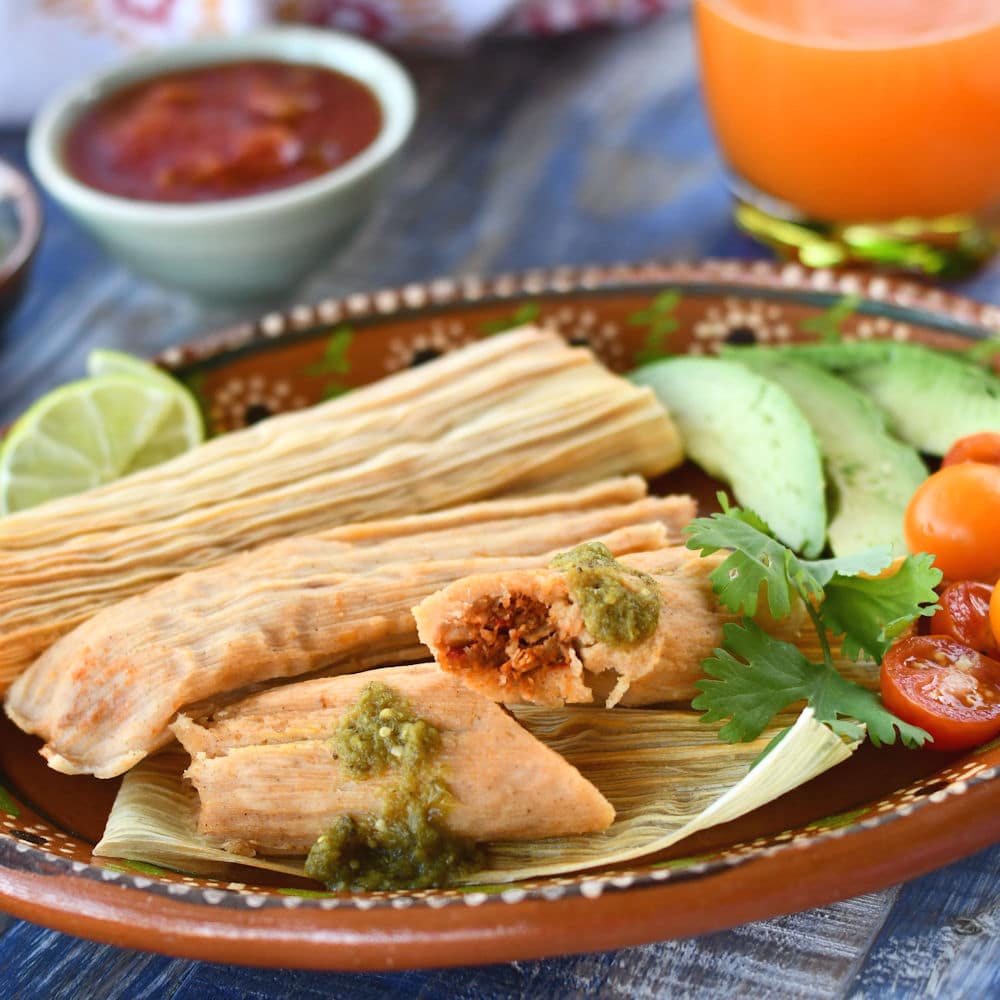 Follow 24Bite: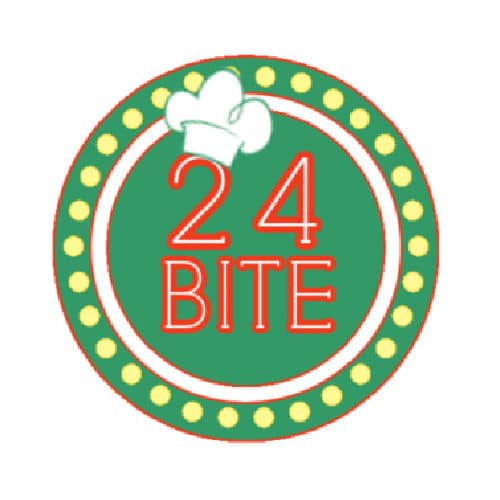 Twitter | Facebook | Pinterest