This chicken enchiladas with green sauce recipe is made of creamy cheese filled rolled tortillas, also known as Enchiladas Suizas. It's a Mexican tribute to Swiss cuisine.
Green chicken enchiladas is a classic favorite in our kitchen, full of creamy, gooey cheesy goodness. The recipe screams to be doubled so double everything and make it for your next big get together.
Recipe | Making Green Enchilada Sauce from Scratch | How to Make Mexican Rice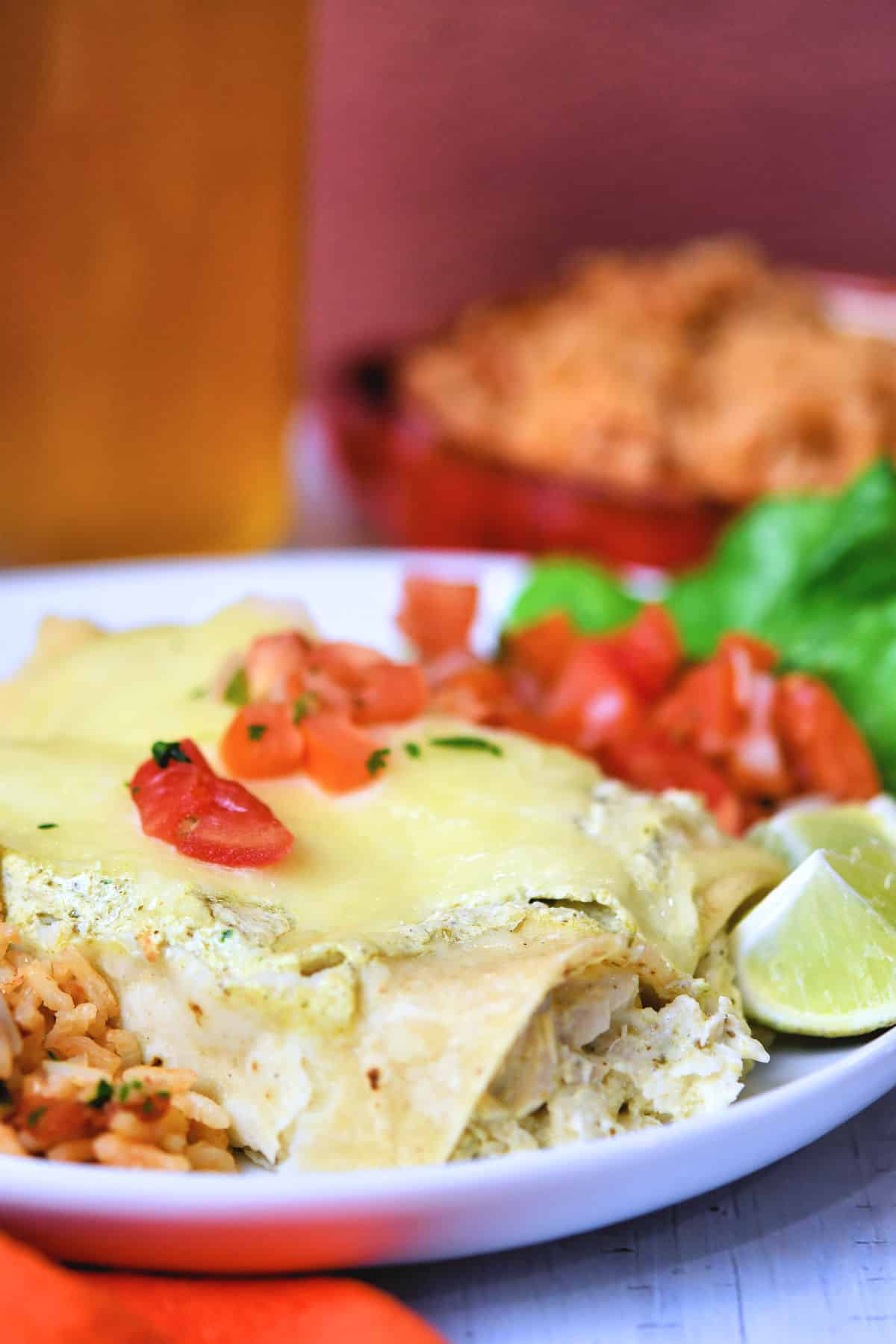 Ingredients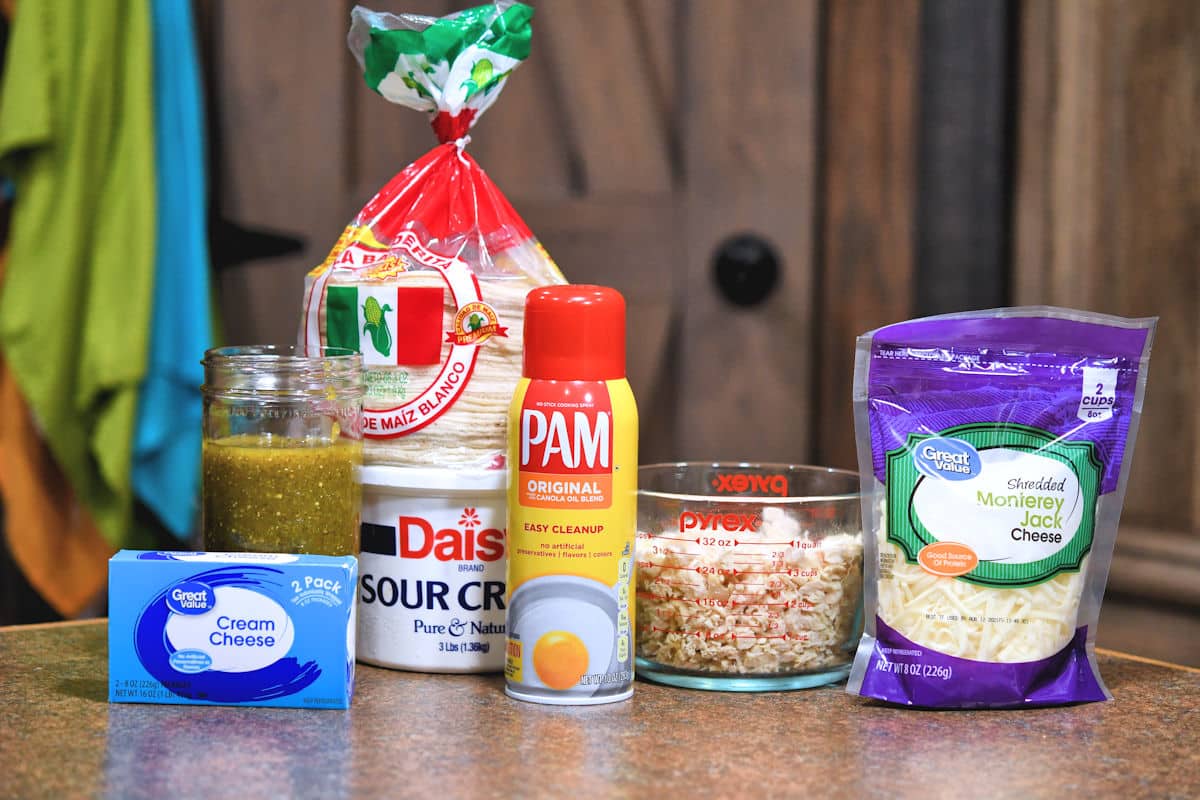 You may have expected more ingredients. This is one of the easiest enchilada recipes I've made and this is all it takes.
Shredded chicken
Green enchilada sauce
Sour cream
Cream cheese
Monterey Jack cheese
Corn tortillas
I didn't add any extra seasonings because I made the green enchilada sauce from scratch. It already has onion, garlic and full flavor from green chiles. I didn't need anything else.
Making Green Enchilada Sauce
I recently made a batch of green enchilada sauce. My recipe makes two quarts so I save it in pint size portions. One pint (2 cups) is the amount needed to make these enchiladas.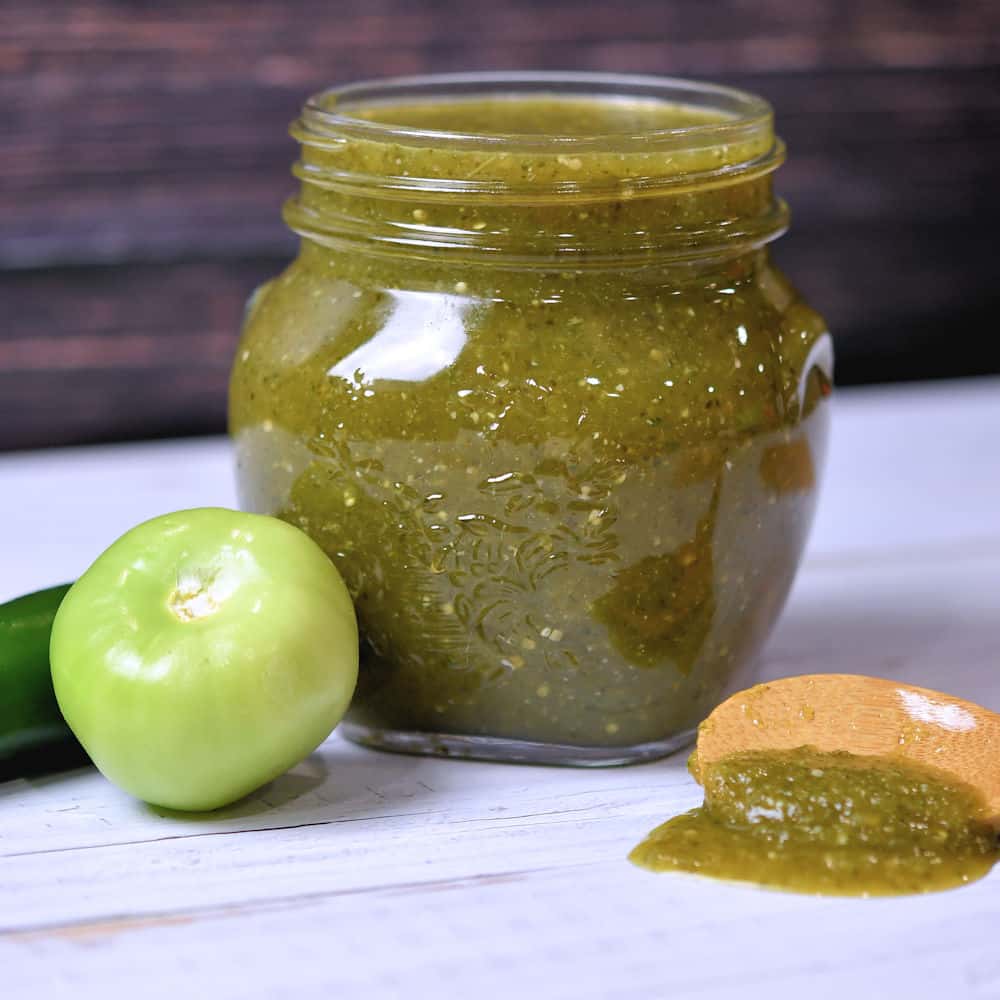 If you don't have time to make your own enchilada sauce, I like Las Palmas Green Chile Enchilada Sauce.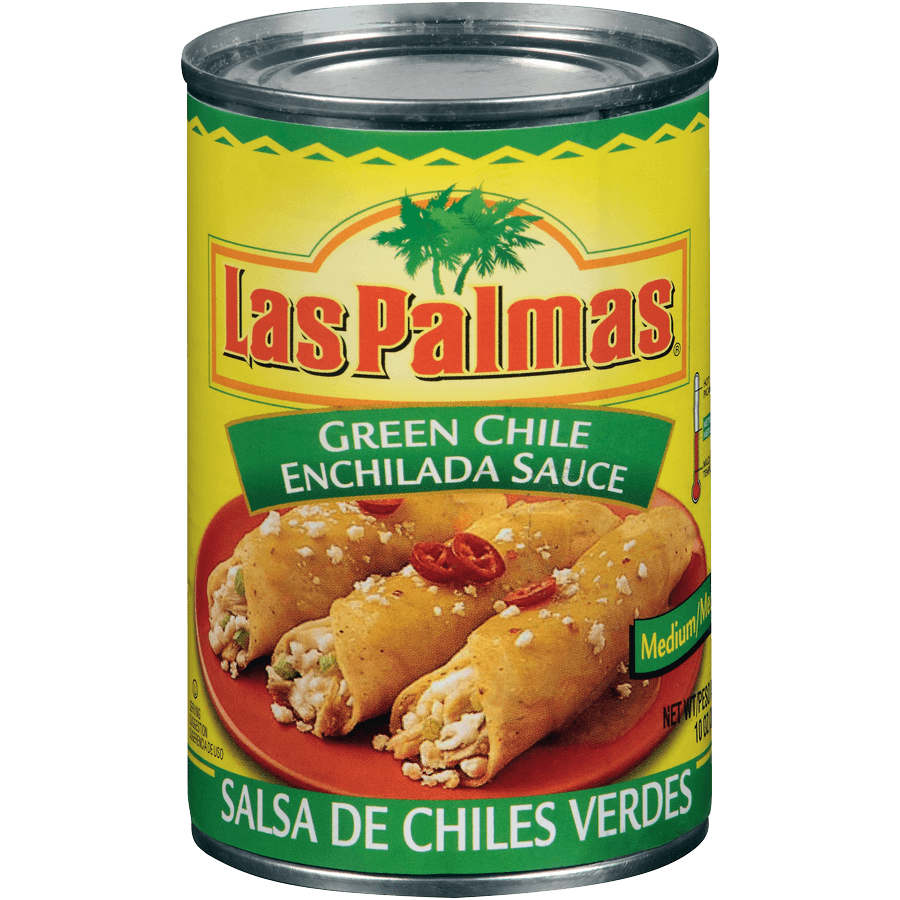 Softening Corn Tortillas
I've used many different methods to soften corn tortillas. If you don't soften your tortillas, they're not going to roll. They're going to break and crack.
Yes, it is possible to soften your tortillas so they roll beautifully.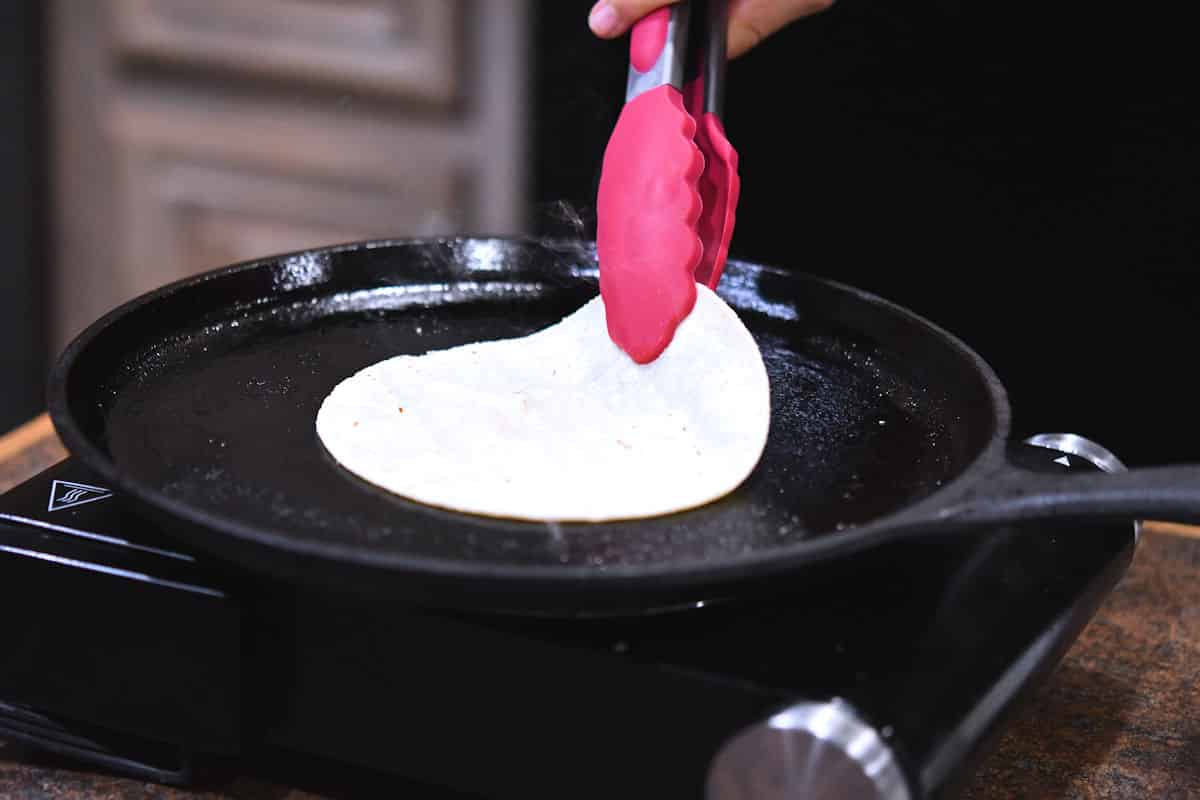 For this enchilada recipe, I decided to simply fry the corn tortillas quickly on a comal (or roti pan).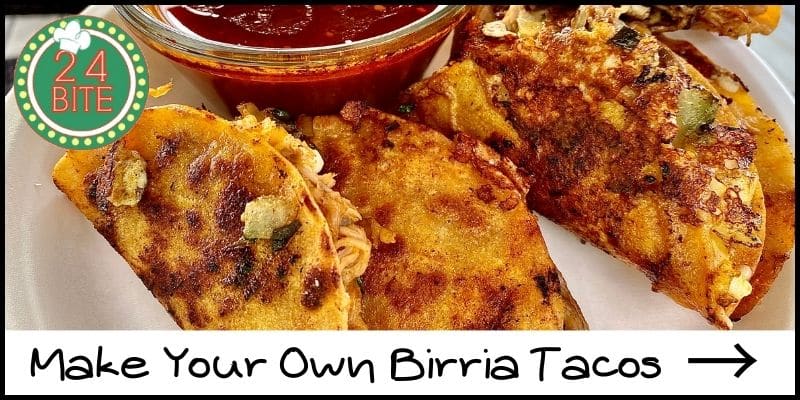 Heat the comal to about medium-high. Lightly spray each tortilla with cooking spray and quickly fry it on each side.
Work with one tortilla at a time. It only takes 10-15 seconds for each side. The goal is to make the tortilla sort of floppy and give it a little color. You don't want it to harden or burn.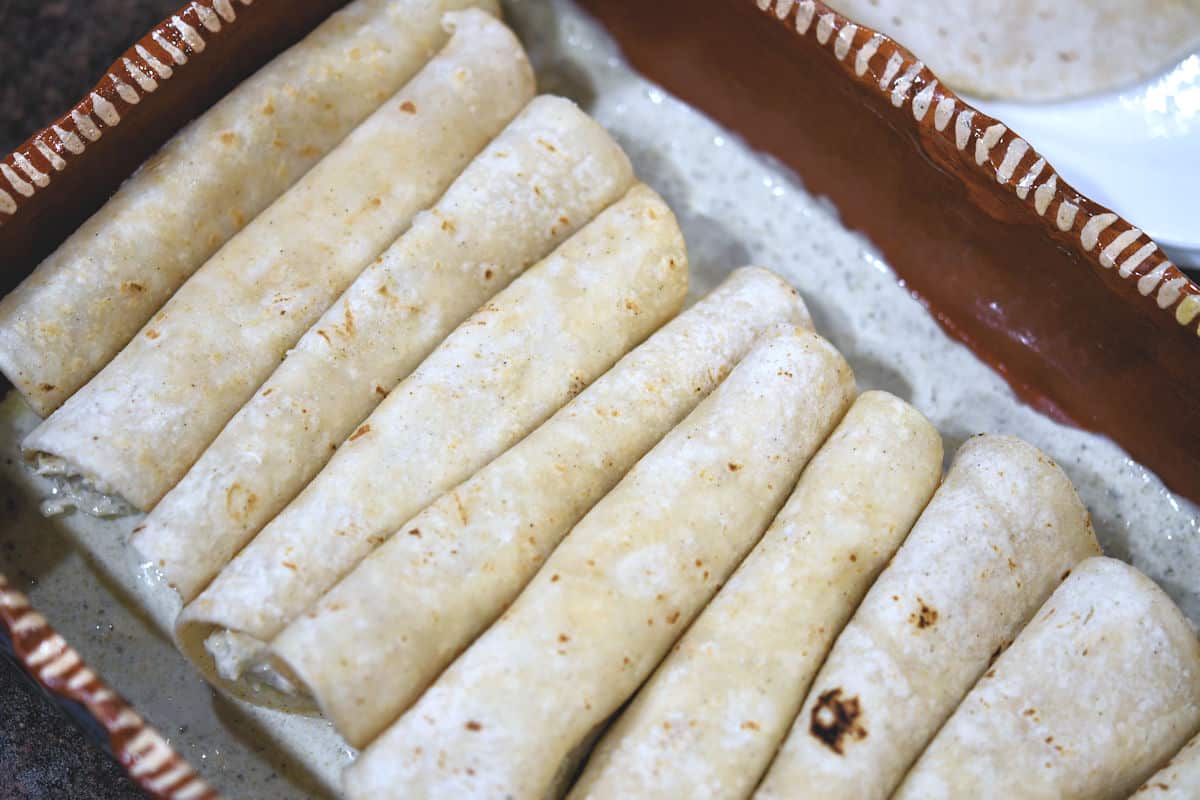 You won't need to worry about the tortillas breaking now. Keep them in the stack so they will keep each other warm. They aren't going to immediately harden so take your time.
You can learn other Ways to Soften Corn Tortillas, if you want to check out other methods. Try different ways so you can find your favorite.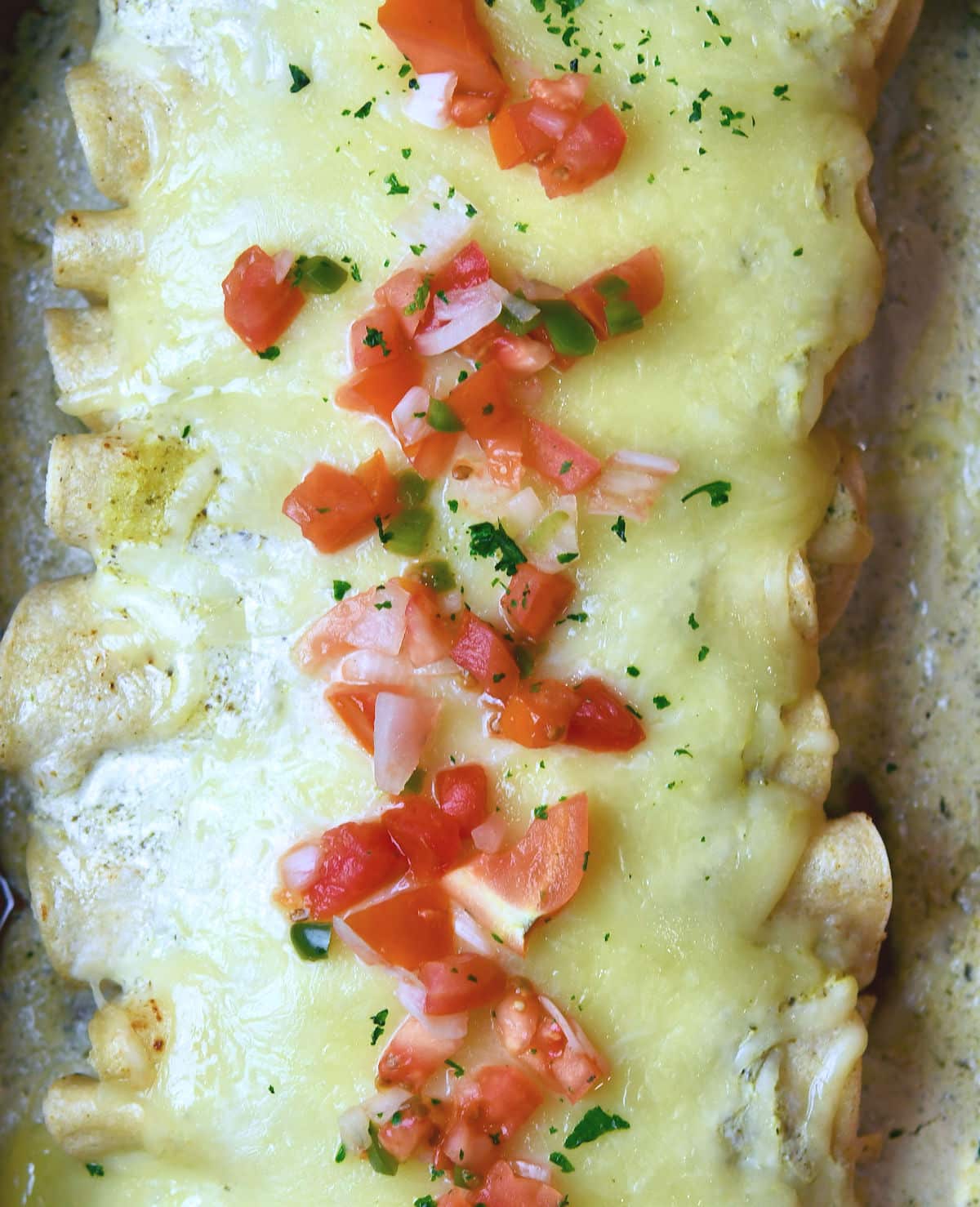 Is It Gluten Free?
Like most of my Mexican food recipes, this too is gluten free when you stick to the ingredients shown. If you make any substitutions, like using flour tortillas, for instance, always check your label.
How to Make Mexican Rice
A question I see frequently is about making Mexican rice. How do you get your Mexican rice to be fluffy and not sticky.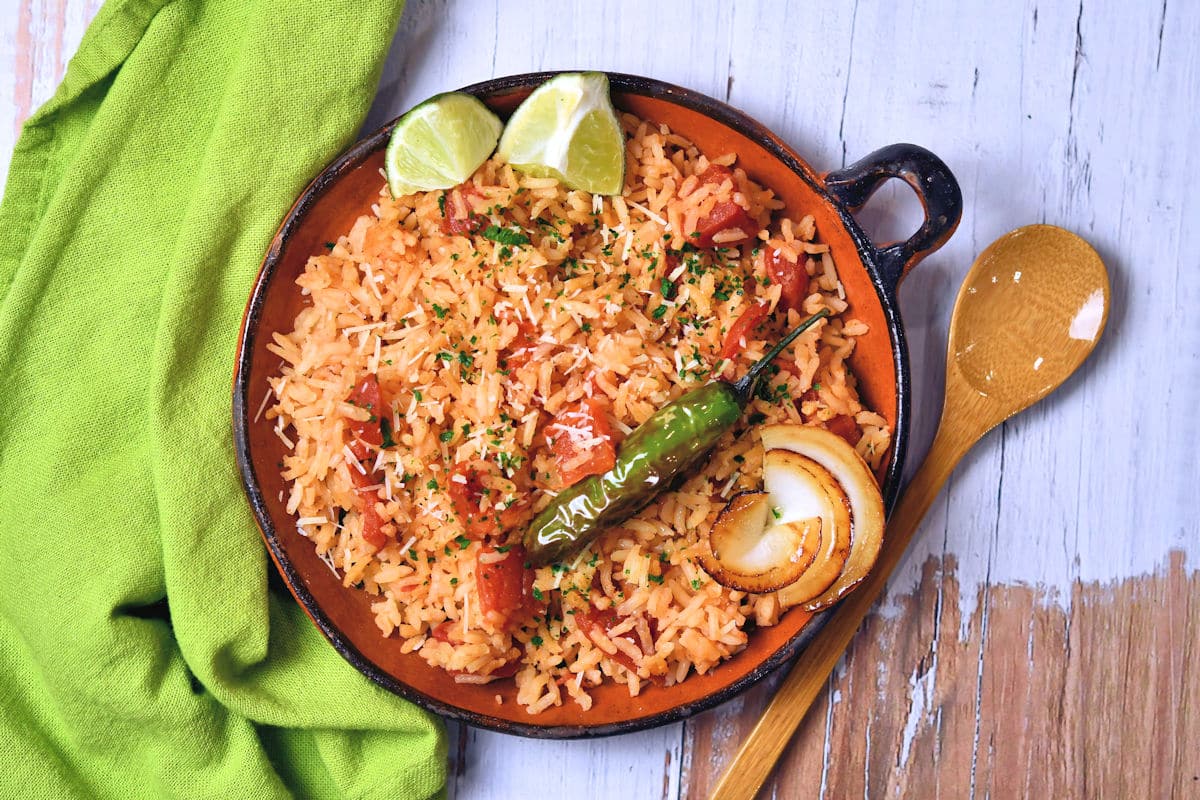 I saute my Mexican Rice (Spanish Rice) before I add the water to simmer. This is the most crucial step to keeping your rice from sticking. The frying helps it to develop a barrier that keeps it from getting gooey during cooking.
Add a Mango Avocado and Jicama Salad for something light and refreshing with this meal.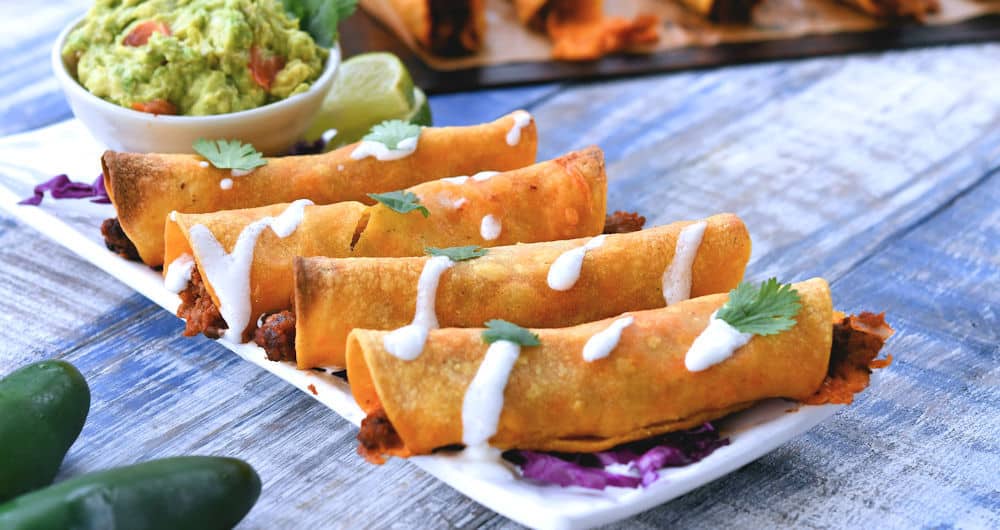 Try some fun Baked Cheeseburger Rolled Tacos for a great Tex Mex snack, appetizer or meal.
If you want a traditional fresh side salsa, try this Pico De Gallo recipe.
Recipe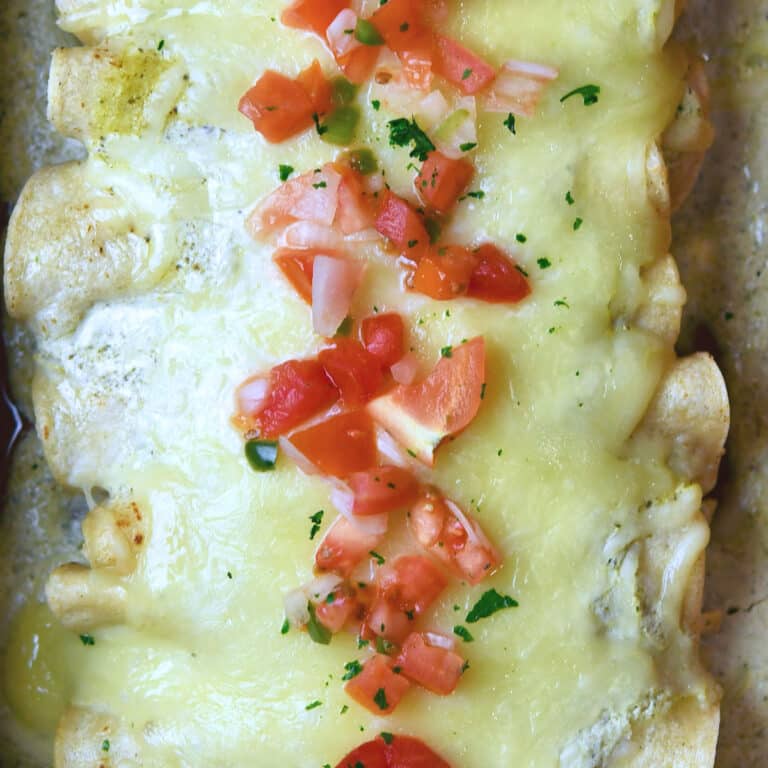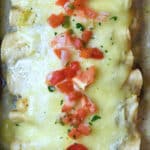 Pin Recipe Now
Chicken Enchiladas with Green Sauce
Tap to leave a star rating
Save or Print
This chicken enchiladas with green sauce recipe is made of creamy cheese filled rolled tortillas, also known as Enchiladas Suizas. It's a Mexican tribute to Swiss cuisine.

For more information, be sure to check the recipe details in the attached 24Bite® post.
Equipment
Hand mixer

Skillet, comal or roti pan

9 x 13 Casserole Pan
Ingredients
4

ounces

Cream Cheese

,

softened

1

cup

Sour Cream

,

divided

2

cups

Green Chile Enchilada Sauce,

canned or fresh, divided

1.5

pounds

Chicken Breast

,

cooked, shredded (about 3 cups shredded)

12

Corn Tortillas

1 ½

cups

Monterey Jack Cheese

,

shredded

Cooking Spray

,

like Pam
Instructions
Prepare Chicken. This recipe uses cooked, shredded chicken. If you haven't cooked the chicken breast, cook it in water until fully cooked, then shred it with a fork or chop. You can do this earlier in the day or the day before.

Prepare Filling. In a medium size bowl, using hand mixer, whip softened cream cheese. Mix in ½ cup sour cream and 1 cup green enchilada sauce. Using spoon, stir in shredded chicken. Set aside.

Prepare Topping. In a separate bowl, combine 1 cup green enchilada sauce and ½ cup sour cream. Set aside.

Preheat oven to 350℉.

Fry Tortillas. In a skillet, comal or roti pan, on medium-high heat, fry each tortilla individually and stack them on a plate. To fry: spray each tortilla, one at a time, very lightly with cooking spray and place on skillet. Fry each side of the tortillas very quickly, about 10-15 seconds on each side. You are trying to heat it and give it a little color. The tortilla should be floppy, not hard. Once you've completed the entire stack, place another plate on top and flip the stack over onto the other plate. This keeps the first tortilla from getting too cooked. Frying is a very quick process but it's important not to skip it.

Note: You may want to spray the pan a little with cooking spray, especially around the sides where the enchiladas may stick during baking. Pour ½ cup enchilada Topping (see step 3 above) in bottom of 9 x 13" baking pan and spread it around the entire bottom with a spoon.

Place about two tablespoons of enchilada Filling (see step 2 above) in each softened tortilla, roll up and place, seam side down, in baking pan. Carefully squeeze them in there, as necessary, until all tortillas are in the pan.

Add remaining half of enchilada Topping down the center third of each tortilla, leaving the edges open (this will allow them to get a bit crispy in the oven). Distribute the shredded cheese across the top.

Place in oven, uncovered and cook for 15-20 minutes, until bubbly and cheese is melted.

Allow to cool for about 15 minutes before cutting.
Note: If there is a video, it will not display while there is an adblocker.
Notes
Makes 6 servings of 2 enchiladas per person.
Garnish with bits of cilantro, lime wedges, onion slices, crumbled queso fresco, slices of avocado and pico de gallo.
Serve with Spanish Rice, sour cream and guacamole. Refried beans, salsa and chips as well.
I've used my own Green Enchilada Sauce for this recipe. It makes 2 quarts. You will only need 2 cups for this recipe. Try doubling the enchiladas for two pans of enchiladas then save one in the freezer, if you like. The sauce itself can also be frozen in pint size containers for ease in making the enchiladas later.
If you do not have fresh enchilada sauce, you can purchase green enchilada sauce in cans. You can also use canned (or jarred) salsa verde. Or try a mixture of both of them together.
Nutrition Facts
Chicken Enchiladas with Green Sauce
Amount Per Serving
Calories 516
Calories from Fat 252
% Daily Value*
Fat 28g43%
Sodium 498mg22%
Carbohydrates 29g10%
Protein 37g74%
* Percent Daily Values are based on a 2000 calorie diet.
______________________
Percent Daily Values are based on a 2000 calorie diet. All amounts are estimates and 24Bite® takes no responsibility for actual figures since calculations vary by packaging and supplier. Please calculate the amounts yourself based on package labeling if you have specific dietary requirements. 24Bite®, Kim Guzman or Christian Guzman shall not be liable for adverse reactions or any other outcome resulting from the use of recipes or recommendations on this website or actions you take as a result.
© 2019-2023 Kim Guzman and Christian Guzman. All rights reserved. Subscribe to 24Bite email newsletters.
Follow 24Bite: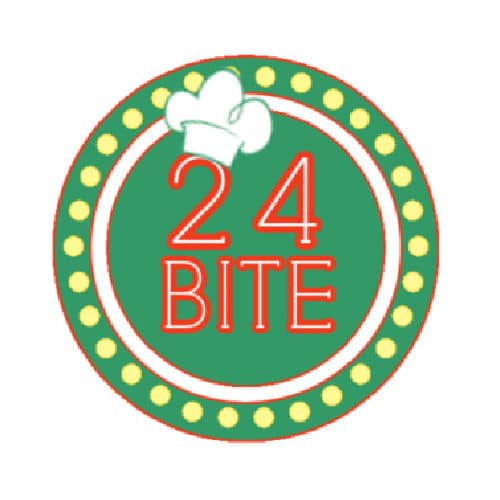 Twitter | Facebook | Pinterest