Learning how to make Tamale Masa is the most important part of making homemade tamales from scratch. Masa harina is used in this easy recipe to make a traditional tamale dough.
Making tamale masa is something that comes up right away when you learn to make traditional Mexican tamales. The way I've been making tamales like crazy has helped me perfect my tamale masa recipe in the last year.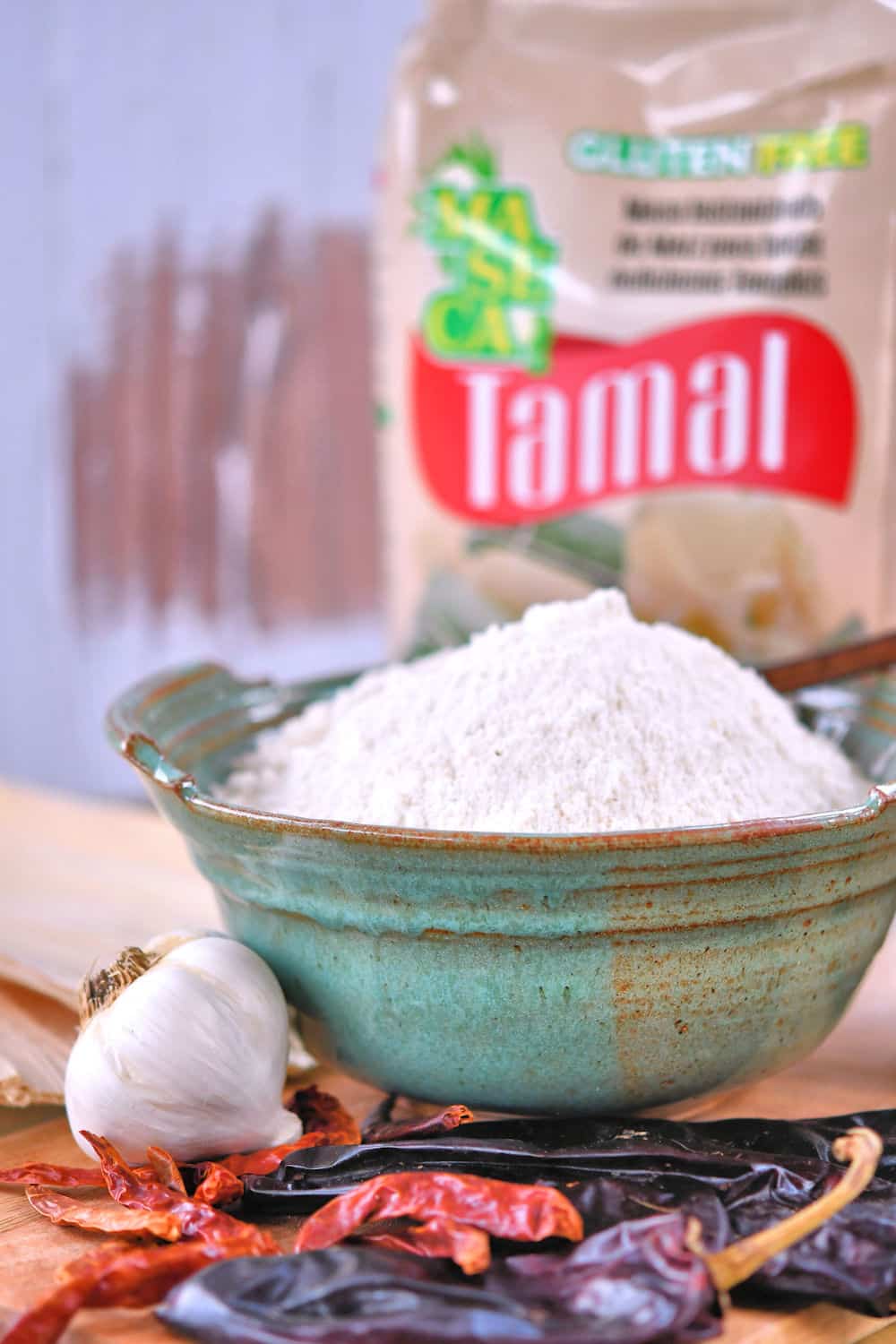 I love tamales and I can eat them for three meals a day, every day, and I would be perfectly happy.
I've learned a lot about making tamales since starting this website. If you want to learn how to make tamales, I can teach you the 5 Easy Steps to Making Authentic Mexican Tamales.
Tamal vs. Tamale
I have to point out that the single version of this tasty delight is actually TAMAL in the Spanish language. TAMALES is the plural version. It's common for Americans to call both single and plural by the same name, though.
You will often hear someone asking for a "tamale" but, it's technically correct to say "tamal".
It doesn't really matter to me what they're called. My love for tamales will never change even if you suddenly started calling them brussels sprouts.
What is Masa Harina?
Now that we've got that out of the way, let's talk about masa harina. Masa harina is the flour that's used to make your tamale dough.
This flour is made from puffed kernels of maize corn called hominy. The hominy is grated into corn dough.
Once dehydrated, this grated corn is now a corn-based flour. It looks like wheat flour, but it's entirely gluten free since it's made from corn instead.
Maseca is the brand most widely available to us. Even here in Arkansas, we can easily find it in the ethnic section of our store. Maseca makes precooked, instant corn flour in two versions that I've found: regular and tamal.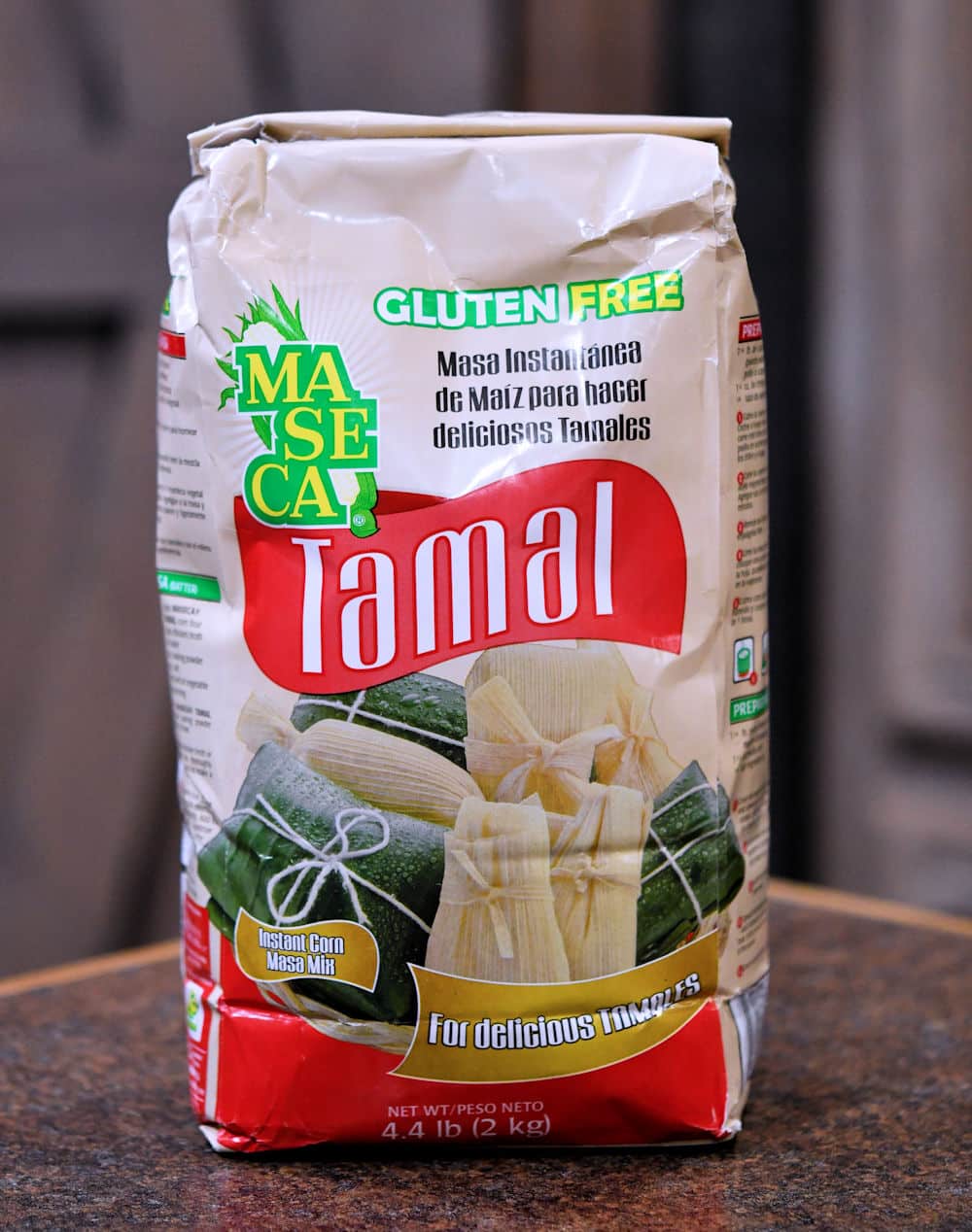 We usually use "tamal" if it's on the shelf. If not, we will get the other one. Either will work for this recipe.
Masa harina is also available in a blue corn version (azul). We have some in the pantry but I'm wanting to make blue corn tortillas with it.
It's not as sweet as white or yellow masa harina so it has its own familiar uses as well. I don't think I would try it with tamales because it's harder to find and we've only found it in a small bag. Sounds fun, though!
Can You Freeze Masa?
I freeze Masa all the time. Sometimes, I make a full batch of masa but I run out of the filling. Or, perhaps I used the Instant Pot and I only wanted to make one batch. I freeze the leftover masa in a freezer bag or vacuum sealed bag up to 6 months.
I've read that many people in Mexico add milk, sugar, cinnamon and fruit to the leftover masa to make dessert tamales with leftover masa. I'm not able to do that with my masa recipe because it's highly seasoned with chiles and spices.
Is Masa Harina the same as Cornmeal?
Cornmeal is ground corn whereas, masa harina has been treated to make hominy and then ground.
Cornmeal and masa harina aren't interchangeable in recipes.
Use cornmeal to make bread. On the other hand, you use masa harina to make tamales, tortillas, pupusas and gorditas.
Hominy, by the way, is also used to make grits. I've never had grits, but I look forward to trying it.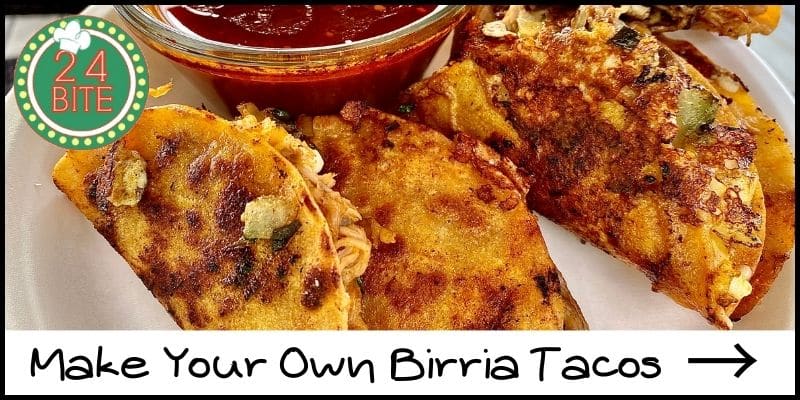 Well Seasoned Tamale Masa
When you first learn how to make tamale masa, you'll want to decide what seasonings you want to include. You need to know what flavors you need to incorporate.
We like to season our tamale dough well. You eat the entire tamale, not just the filling. What's the point of going to all the trouble to make tamales if your dough is bland?
I like to use garlic powder, onion powder and cumin. Another key ingredient is tamale sauce. I use a little bit of the tamale sauce that I'm using for the filling for that continuity of flavors.
If you don't have any extra sauce to add to the tamale dough, try adding some of the cooking liquid for flavoring. Or, try adding some chile powder.
You can use any you have on hand. Try a tablespoon of ancho powder for little added heat or a tablespoon of chipotle or habanero for more added heat.
Our Scoville Heat Scale will come in handy for making the decision about which chile powders to use.
I have used chicken stock and vegetable stock but I really didn't like the time I used beef stock. I was surprised because it was a beef tamale. But, it didn't taste as good as the others to me.
Making Tamale Dough
Masa dough can be made from fresh ground masa corn or masa harina, the corn flour I use here. We've only been able to find ground masa one time (available either prepared or unprepared), so we prefer masa harina for convenience.
To begin, whisk your flour, baking powder and seasonings together. This is the same thing that you usually do with all your baking: whisking the dry ingredients first.
You mix the dry ingredients together first so you don't get stuck with something like a big bite of baking powder in one spot.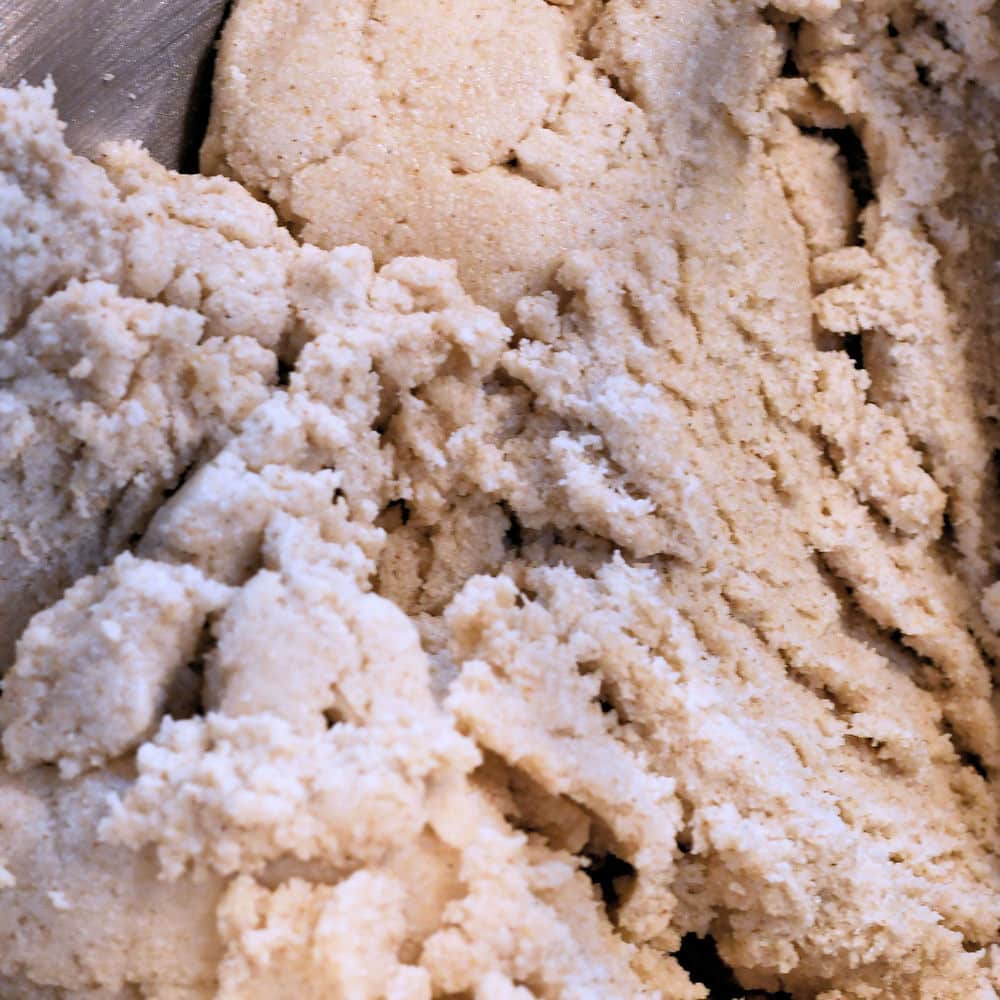 When you add the lard and tamale sauce, your consistency will be like wet sand, perfect for sand castles. You should be able to pick it up and mash it together to form a shape.
This has been done by hand for a long, long time in Mexico. I'm cheating, of course, but I like to use our Kitchenaid.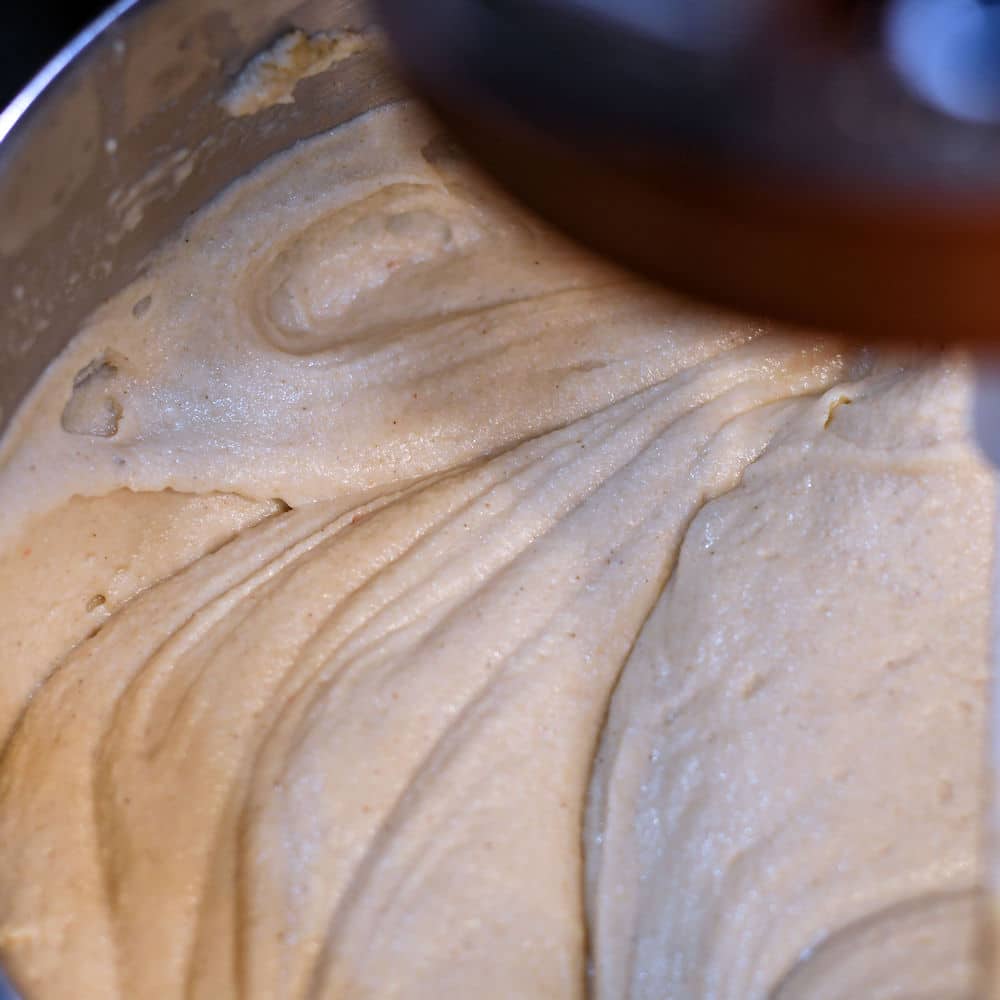 Once you add the chicken stock, your consistency will be like a thick hummus or cake batter. If you like, you can use vegetable stock for a vegan substitute for the chicken stock.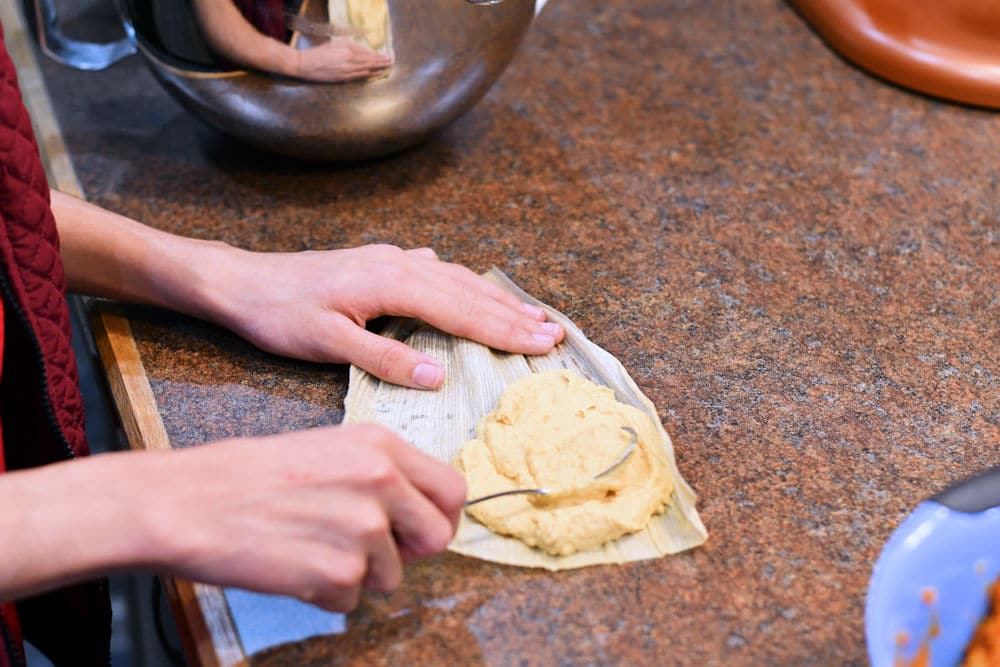 This tamale masa is very easy to spread on a corn husk. I have no problems with it sticking and I usually use the back of a spoon to spread it.
Frequently Asked Questions
What is the difference between Masa and Maseca?
Masa is the dough you make with masa harina. Maseca is the most popular brand name for masa harina.
How long do you steam tamales?
I usually need to steam tamales for about 90 minutes.
Why are my tamales sticking to the husk?
This could be because there isn't enough fat (lard or other). The most likely culprit, though, is that your tamales haven't finished cooking. The sign of your tamales being finished is that they pull away from the husk when you open them up. Start at 60 minutes then add 15-30 minutes at a time until they start to pull away from the husk.
Tamale Fillings
I've used many different fillings for tamales and I have several recipes. If you're new to making tamales, you might want to make your first stop at my Beginner Small Batch Instant Pot Chicken Tamales. Have a look at the Tamale recipes category for more options like chicken, pork, chorizo and more.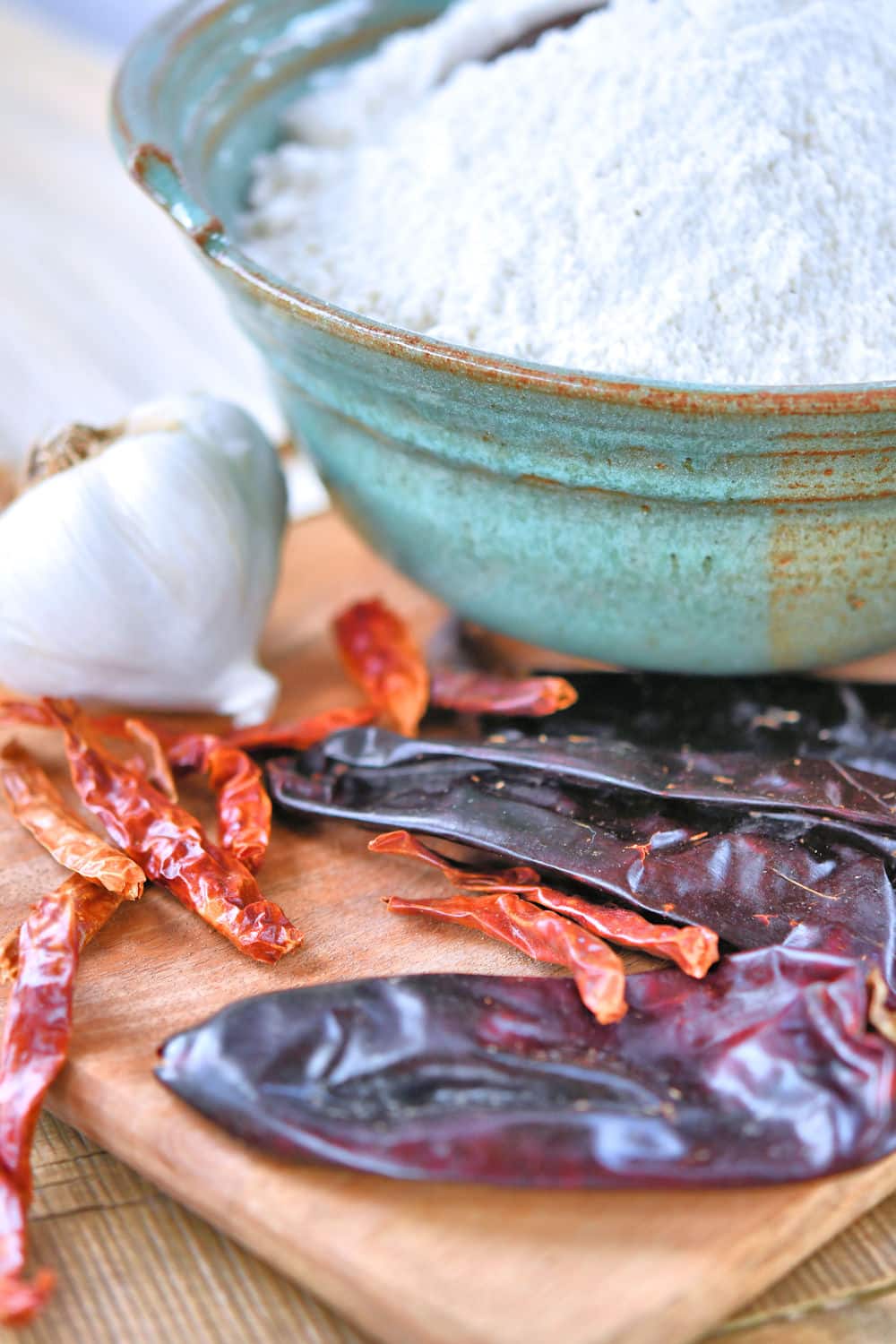 Don't stop with these fillings, though. If you have something leftover, you can style your own tamale version.
Use some adobo chicken from this Chicken Tinga Tacos recipe. Or, if you like chicken molé, try using the chicken in this Chicken Mole Tacos recipe.
Browse all of our Mexican food recipes to pick your favorite.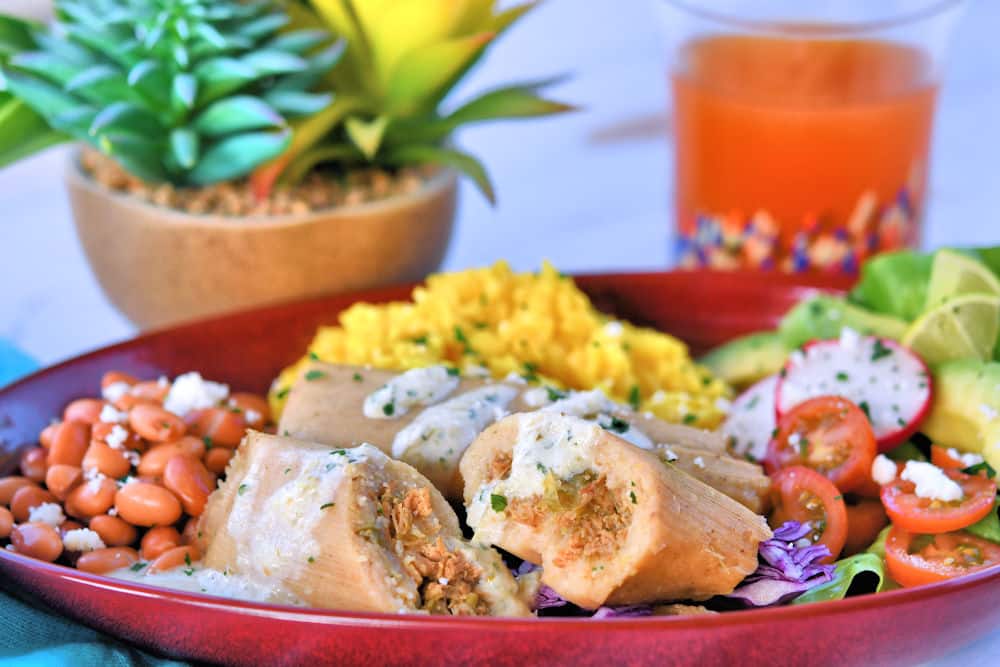 Have a look at this 32-Quart Stainless Steel Steamer (aff link). It's the perfect size for all my tamale recipes. It doesn't stain like aluminum and withstands all the tamales we make during the year. A lot! Have I mentioned how much I love tamales?
Since this recipe is only for the tamale masa, you will find the details for making the tamales in the individual recipes for each filling. You'll find many answers to your questions there as well.
Recipe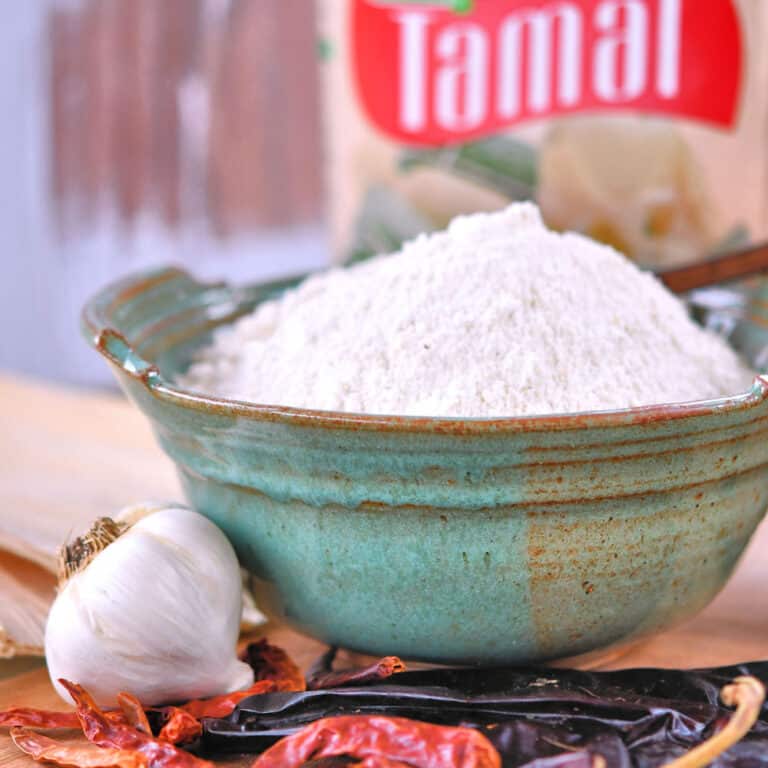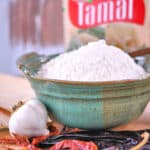 Pin Recipe Now
Tamale Dough Made With Masa Harina
Tap to leave a star rating
Save or Print
Learning how to make Tamale Masa is the most important part of making homemade tamales from scratch. Masa harina is used in this easy recipe to make a traditional tamale dough.

For more information, be sure to check the recipe details in the attached 24Bite® post.
Ingredients
6

cups

Masa Harina

,

like Maseca

2

tablespoons

Baking Powder

1

tablespoon

Salt

1

tablespoon

Onion Powder

1

tablespoon

Garlic Powder

1

tablespoon

Ground Cumin

1

pound

Lard

¾

cup

Red Tamale Sauce,

from linked recipe, or other preferred sauce

6

cups

Chicken Stock
Instructions
Whisk together masa harina, baking powder and seasonings.

Melt lard (see below for alternatives). You can melt it on the stovetop. I melted it in a glass measuring cup in the microwave for two minutes.

Add lard and ¾ cup Tamale Sauce to masa harina mixture. Mix well. It will look like wet sand like you would use to make sand castles.

Add one cup of stock at a time and mix well until you have FOUR CUPS stock in the masa. Let sit for about 20 minutes for the liquid to soak into the masa harina. You are looking for the consistency of hummus or cake batter. Continue adding stock about ¼ cup at a time, as necessary, to reach the right consistency for spreading easily.
Note: If there is a video, it will not display while there is an adblocker.
Notes
This recipe makes soft, fluffy, flavorful masa dough. If you prefer more of a paste that spreads thinly on the corn husk, add liquid only until desired consistency. The thinner masa will take less time to cook.
If you're not into using lard, you can use equal amounts of vegetable shortening or  butter.
If you prefer a vegetarian or vegan alternative, use vegetable stock in the masa and shortening for the fat.
I prefer a well-seasoned tamale masa dough. I use both seasonings and sauce for this additional flavor. 
As indicated, I use ¾ cup of the tamale sauce that I'm using for the filling of the tamale. For purposes of nutrtional values, I've used my Red Tamale Sauce recipe. If you're using chicken, you may be using a green (verde) sauce. In that case, use ¾ cup of that sauce instead.
See the web story for Making Tamale Masa Dough from Masa Harina.
Nutrition Facts
Tamale Dough Made With Masa Harina
Amount Per Serving
Calories 163
Calories from Fat 9
% Daily Value*
Fat 1g2%
Sodium 269mg12%
Carbohydrates 14g5%
Protein 2g4%
* Percent Daily Values are based on a 2000 calorie diet.
______________________
Percent Daily Values are based on a 2000 calorie diet. All amounts are estimates and 24Bite® takes no responsibility for actual figures since calculations vary by packaging and supplier. Please calculate the amounts yourself based on package labeling if you have specific dietary requirements. 24Bite®, Kim Guzman or Christian Guzman shall not be liable for adverse reactions or any other outcome resulting from the use of recipes or recommendations on this website or actions you take as a result.
© 2019-2023 Kim Guzman and Christian Guzman. All rights reserved. Subscribe to 24Bite email newsletters.
Follow 24Bite: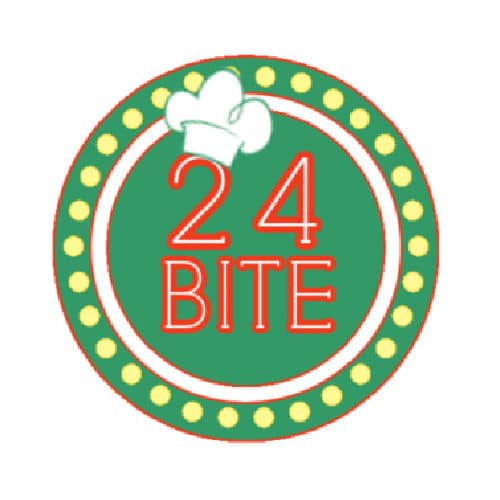 Twitter | Facebook | Pinterest