You can learn how to make green chile enchilada sauce from scratch with this easy recipe. Use the sauce for chalupas, burritos and chimichangas too. It can even be used for dipping chips.
Making your own enchilada sauce is quick and easy with so much added flavor by roasting the green chiles first.
Use it right away for incredible enchiladas or preserve it in the freezer or in shelf stable jars.
Don't be shy about learning how to roast and peel green chiles. It's really easy and provides such a great sweet flavor.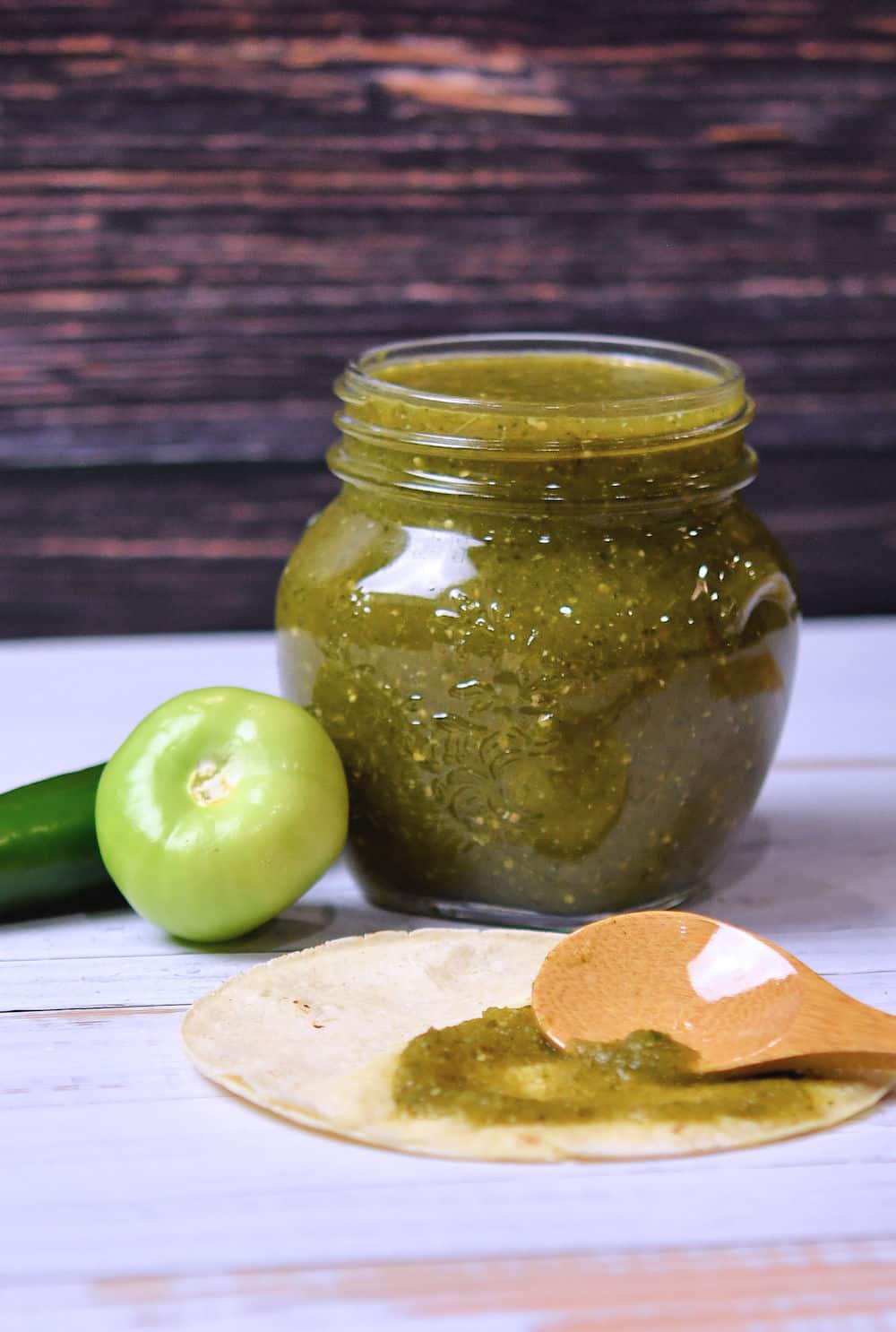 I recently made Green Chicken Enchiladas. I used some purchased green enchilada sauce but I wanted to try to develop a recipe myself instead. It's always better when it's homemade!
Identifying Mexican Chile Peppers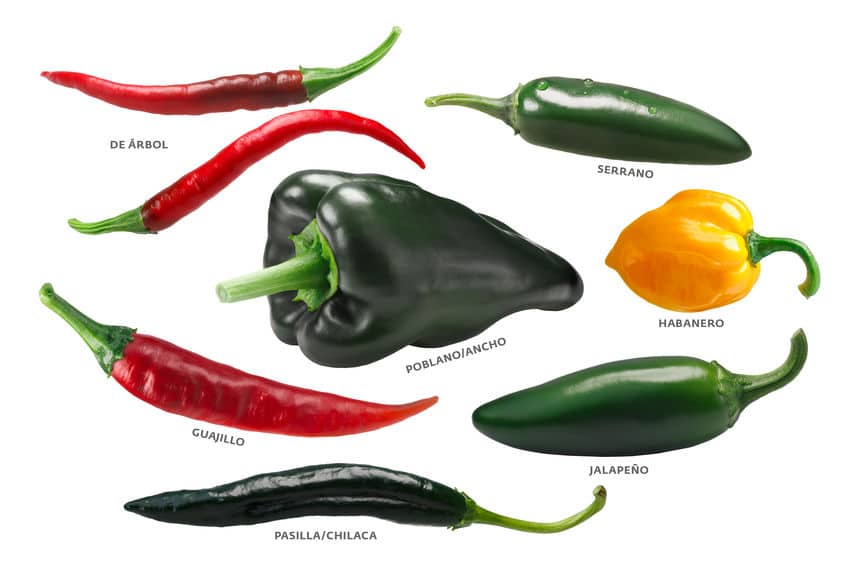 The primary pepper in this green enchilada sauce is the Poblano Chile. It's the large pepper shown in the image above and is about the size of a typical green bell pepper.
Poblano chiles aren't very spicy on the Scovile Heat Scale so any heat to your sauce will be added with the jalapeño. You could use serrano instead of jalapeño, if you like more heat.
Roasting and Peeling Peppers
To begin, you will roast your poblanos. Cut them in half and place them on a sheet pan with parchment paper with skin side up.
You can see the difference in size in the image above, with all the Poblanos being in front and the Jalapeños there in the back.
I'm not a fan of very spicy food so I used only two jalapeño peppers and I removed all of the seeds and membranes, which is where you'll find most of that heat.
This recipe is more about the flavor and not about the spicy heat.
After roasting, place your chiles in a zipper bag and set aside to cool. The steam produced by the peppers inside the bag will help in allowing you to peel them.
Is there plastic on the outside of peppers?
Once the roasted peppers are cooled about 10 minutes, remove the skin which will now look like a thin plastic film.
It's not really plastic, of course. Peel and discard.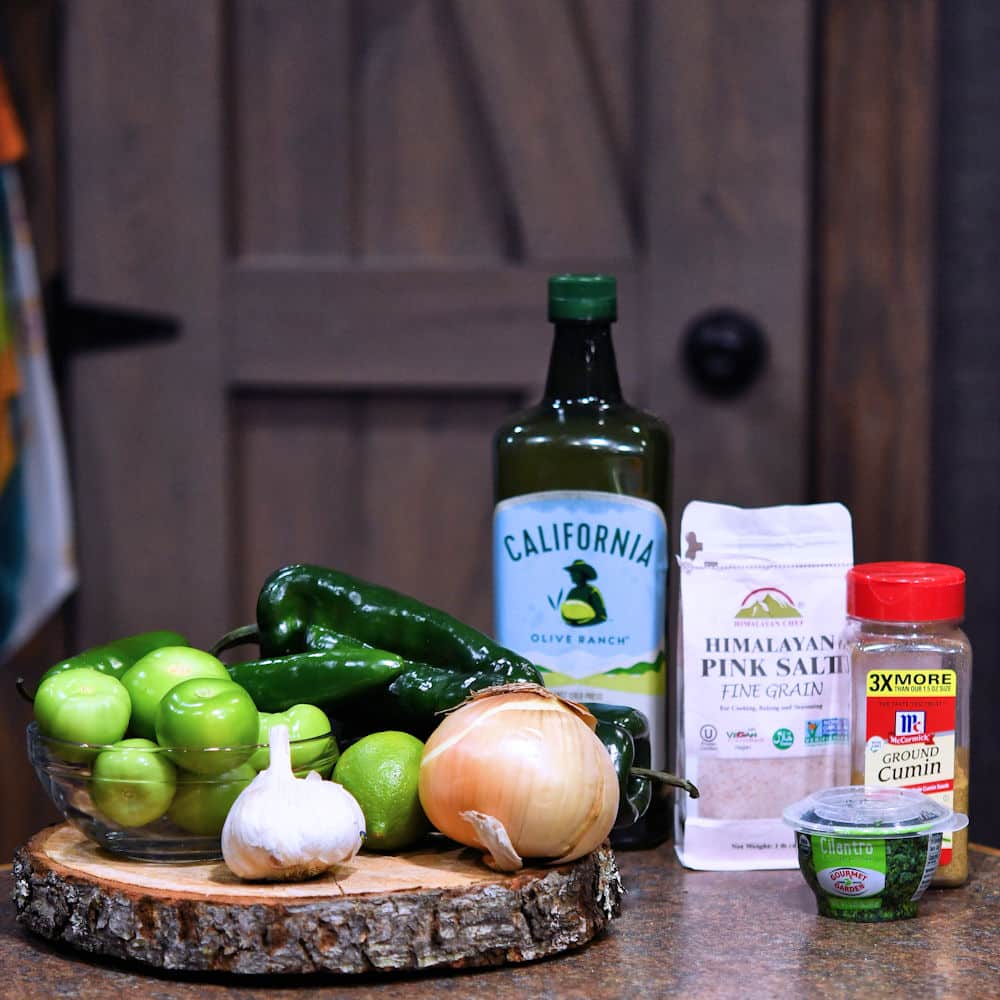 Can you make this sauce more spicy?
If you prefer more spice, try using a different pepper until you get the taste you like. Anaheims are popular without a tremendous amount of heat.
For more heat, serranos and, of course, habaneros are popular. Chipotle and ghost peppers are showing up a lot. Ghost peppers, wow! I don't even want to think about it.
Check out my Scoville Heat Scale to get the heat measurements of your favorite chiles and how they stack up to the others.
Green Chile Verde Sauce
I can appreciate the taste of the sauce rather than it having so much heat that all you feel is the heat, but I know people have different levels of pepper heat resistance. Mine is just really low. ha!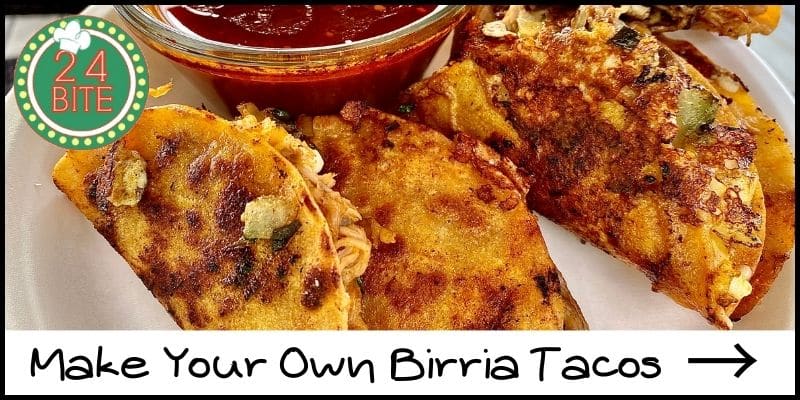 You can call this sauce many different names depending on your region. Green sauce, green chile sauce, green chili sauce, verde sauce, chiles verdes sauce.
Verde simply means green so, no matter what you call it, you'll be on the right track here.
What are Tomatillos?
Tomatillos, found in this green enchilada sauce recipe, are small fruits that are covered with a papery husk. That may sound strange at first, but hey, corn is also in a husk and there's no problem there, right?!
Once you peel off the husk, clean off the sticky residue from the fruit before you use it in your recipes. It looks just like a baby green tomato, but it's not really a tomato.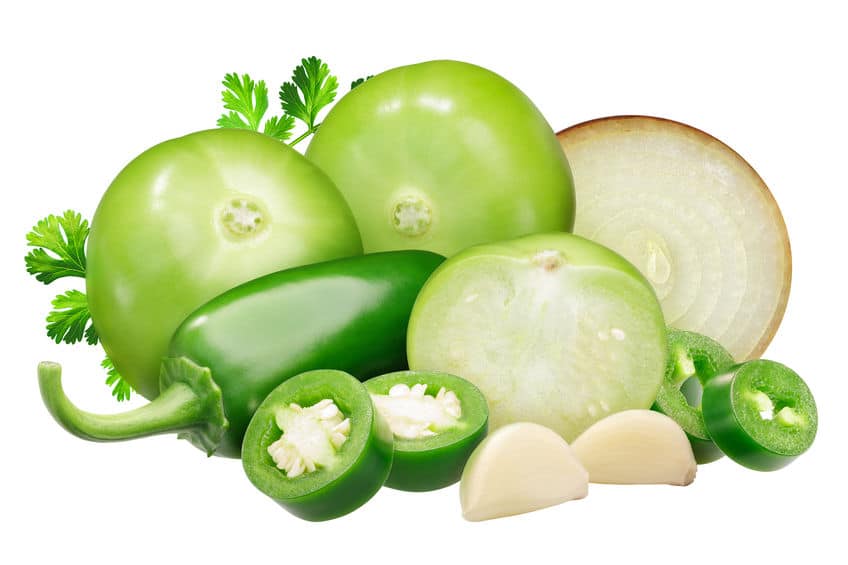 A tomatillo, just like a tomato, can be eaten raw, chopped in a salad. You can roast them too.
Be aware that it will pretty much disintegrate when you roast them so don't try it on a cookie sheet without raised sides. They could burst and run over into your oven.
I didn't roast the tomatillos for this recipe, but you could. Just be very careful not to make a mess when you're transferring from sheet pan to the stock pot.
The tomatillo is a little tart, but not spicy like a pepper. It's kind of a citrus-y sort of tart. Cooking it gives it a more mellow taste and roasting will bring out the sweet tones through caramelization.
Canning for Shelf Stability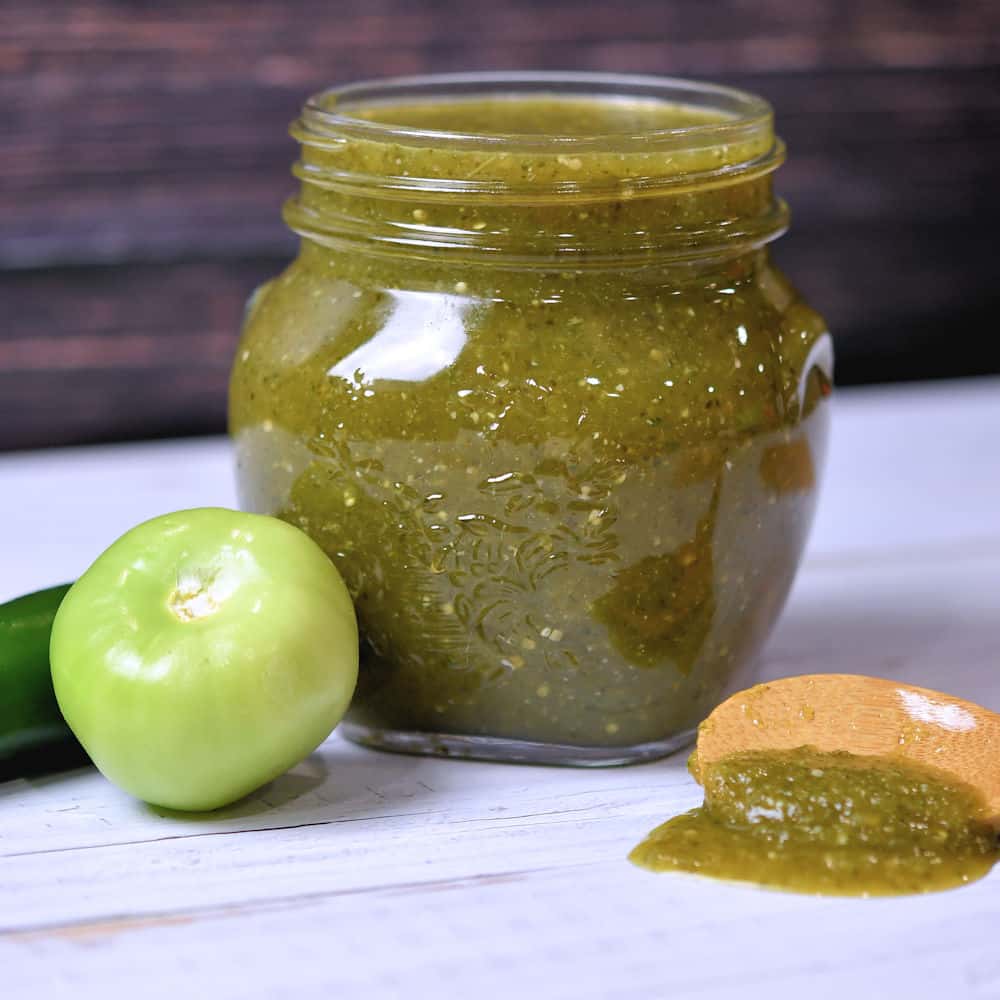 For this recipe, I didn't preserve these jars of green enchilada sauce, but you can, if you like. I ended up with about two quarts total and I just separated them into pint size containers for the freezer.
If you want to can them, be sure to use a pressure canner and can them at 10 pounds of pressure for 55 minutes, or according to your manufacturer's instructions.
Recipe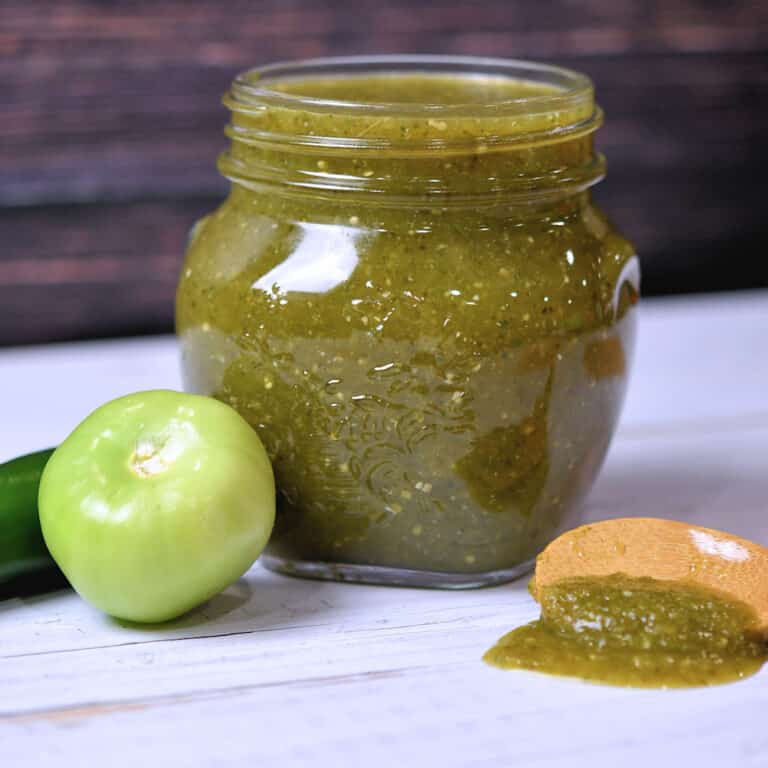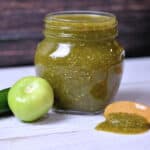 Pin Recipe Now
Roasted Green Chiles Enchilada Sauce
Tap to leave a star rating
Save or Print
A delicious, mild Mexican chile verde sauce, perfect for enchiladas or eaten with tortilla chips. Increase or decrease to your favorite level of spicy heat by changing the peppers.

For more information, be sure to check the recipe details in the attached 24Bite® post.
Equipment
Large Sheet Pan

Parchment Paper

Stock Pot

Immersion Blender or Standing Blender
Ingredients
Cooking Spray

2

pounds

Poblano Peppers

,

about 7 or 8

2

Jalapeño

2

tablespoons

Olive Oil

1

pound

Tomatillo

,

about 8 or 9

1

large

Onion

,

chopped

10

Garlic Cloves

,

minced

3

cups

Water

1

teaspoon

Cumin

1

teaspoon

Salt

Juice of One Lime

¼

cup

Cilantro

,

chopped
Instructions
Wash and dry all peppers. Cut in half lengthwise. Remove stems, seeds and membranes.

Place parchment paper on large sheet pan and spray with cooking spray.

Place peppers with skin side up and place in preheated oven. Cook for 30 to 40 minutes until it looks like the skin is charred.

Remove from oven, place in a bowl and cover with plastic wrap for 10 minutes. Let them cool a little bit more if they're still too warm to the touch.

Carefully remove the thin plastic-y looking skin and chop the peppers.

Remove husks from tomatillos and wash to remove the sticky residue. Dry then chop.

In a stock pot, over medium heat, add olive oil, onions, garlic, chopped peppers and chopped tomatillo.

Cook until onions are a little transparent and fragrant, about 10 minutes.

Add water, cumin and salt. Continue cooking, stirring occasionally, for about 30 minutes, until tomatillos are completely soft.

Remove from heat and allow to cool for 30 minutes. Add lime juice and chopped cilantro. Stir well.

Using an immersion blender, blend well. If using a standing blender, blend about one or two cups at a time. Makes about 2 quarts.
Note: If there is a video, it will not display while there is an adblocker.
Notes
1 pint is perfect for my Green Chicken Enchiladas.
If preserving, split between 4 pints.

Use a pressure canner at 10 pounds pressure for 55 minutes, or according to manufacturer's instructions.
Nutrition Facts
Roasted Green Chiles Enchilada Sauce
Amount Per Serving
Calories 695
Calories from Fat 315
% Daily Value*
Fat 35g54%
Sodium 2410mg105%
Carbohydrates 95g32%
Protein 16g32%
* Percent Daily Values are based on a 2000 calorie diet.
______________________
Percent Daily Values are based on a 2000 calorie diet. All amounts are estimates and 24Bite® takes no responsibility for actual figures since calculations vary by packaging and supplier. Please calculate the amounts yourself based on package labeling if you have specific dietary requirements. 24Bite®, Kim Guzman or Christian Guzman shall not be liable for adverse reactions or any other outcome resulting from the use of recipes or recommendations on this website or actions you take as a result.
© 2019-2023 Kim Guzman and Christian Guzman. All rights reserved. Subscribe to 24Bite email newsletters.
Follow 24Bite: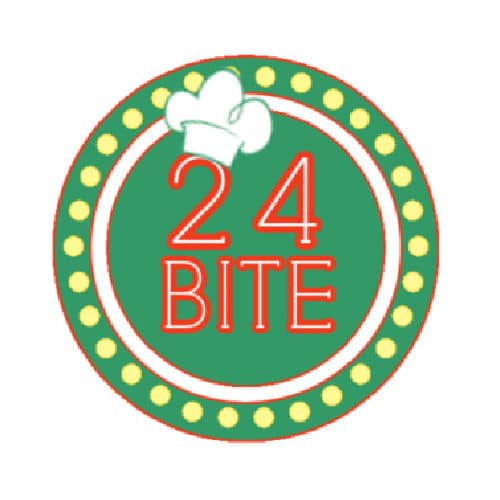 Twitter | Facebook | Pinterest