These easy chicken birria tacos, also called quesabirria tacos, will become your new favorite and taco Tuesday will never be the same.
Although the more traditional birria is made with goat or lamb, or more recently, beef, I've decided to change the rules a bit. I'm using less expensive chicken, which also has the benefit of taking less time to cook.
If you're wondering, yes, these are those delicious looking crispy tacos that you've been seeing all over the internet. You can't even search tacos without seeing a plate of tacos served with a little bowl of consomme for dipping.
Maybe we could describe it as the French dip of Mexico! Work with me here.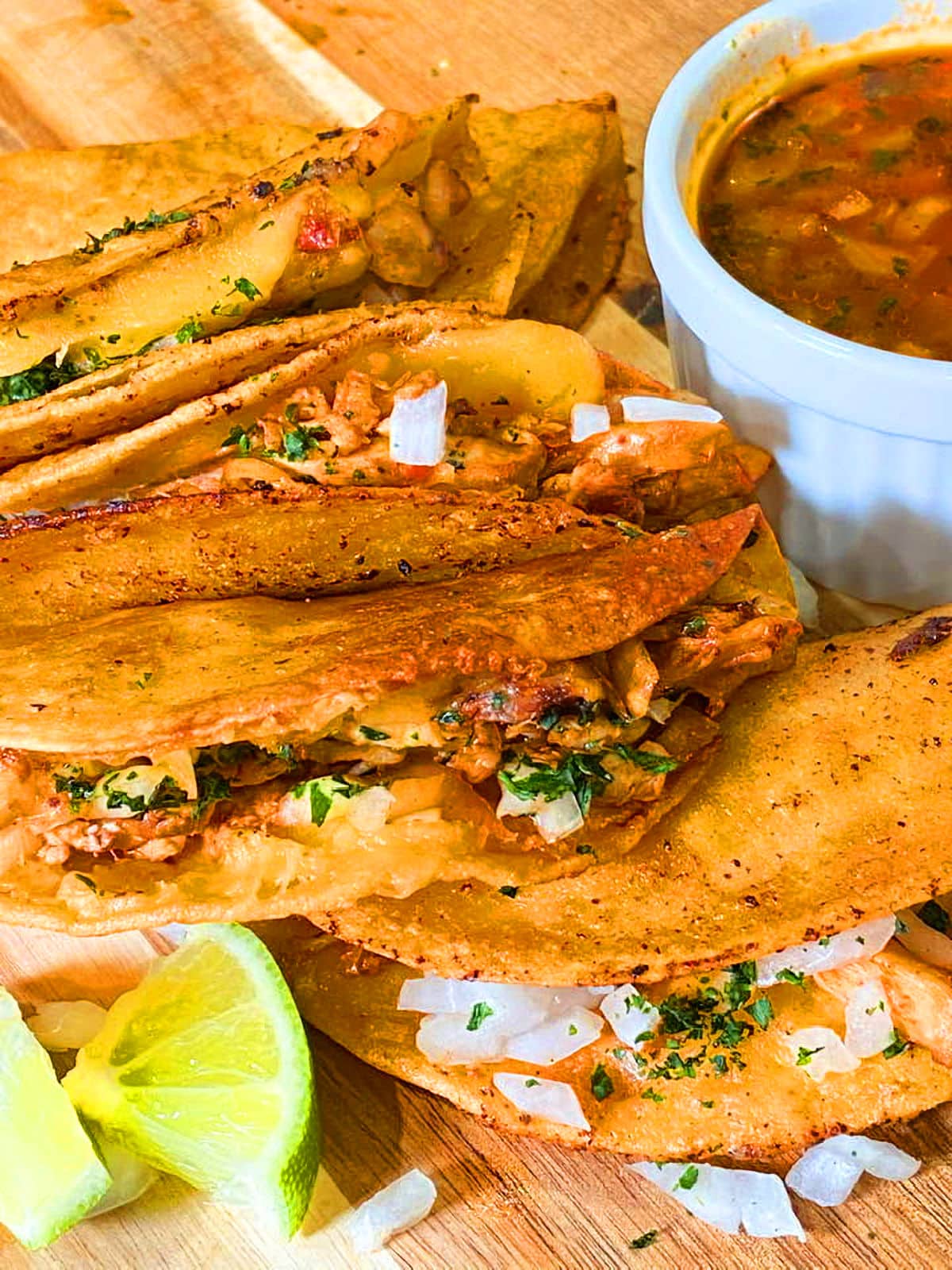 Is There Such a Thing as Chicken Birria Tacos?
The word birria means "braised meat". The most typical meat used is goat and many die-hard connoisseurs will insist that you can't have birria if it's not made with goat.
This is simply not the case. Since it means braised, it can be any meat at all from venison to beef to, yes, even chicken.
If you are visiting Mexico, you will find birria served in a bowl like a stew or in tacos like the ones here. If looking for chicken, you would ask for "birria de pollo". It's not quite as popular as beef, but is popular in many kitchens because chicken is less expensive and doesn't require a long cook time.
How Do You Make Birria Tacos Crunchy?
After working with it several times, I've found that the temperature of the fying oil must be high enough that it fries the tortillas instead of soaking into them.
If you are getting soft tortillas, try turning up the heat to fry them more quickly. Be careful to protect yourself from the hot oil, but you will definitely need to use the higher temperatures so the grease doesn't have a chance to soak into the tortilla.
Do I Have to Use An Instant Pot?
No. The only part I've done in an Instant Pot is braise the chicken. It makes a tender, juicy chicken. But, you could just as easily braise the chicken in a large covered skillet over low to medium low heat on the stove top.
Ingredients
Because the red chile sauce is made from scratch, there are several ingredients. Once you get the sauce out of the way, though, you'll simply braise the chicken thighs and assemble your tacos.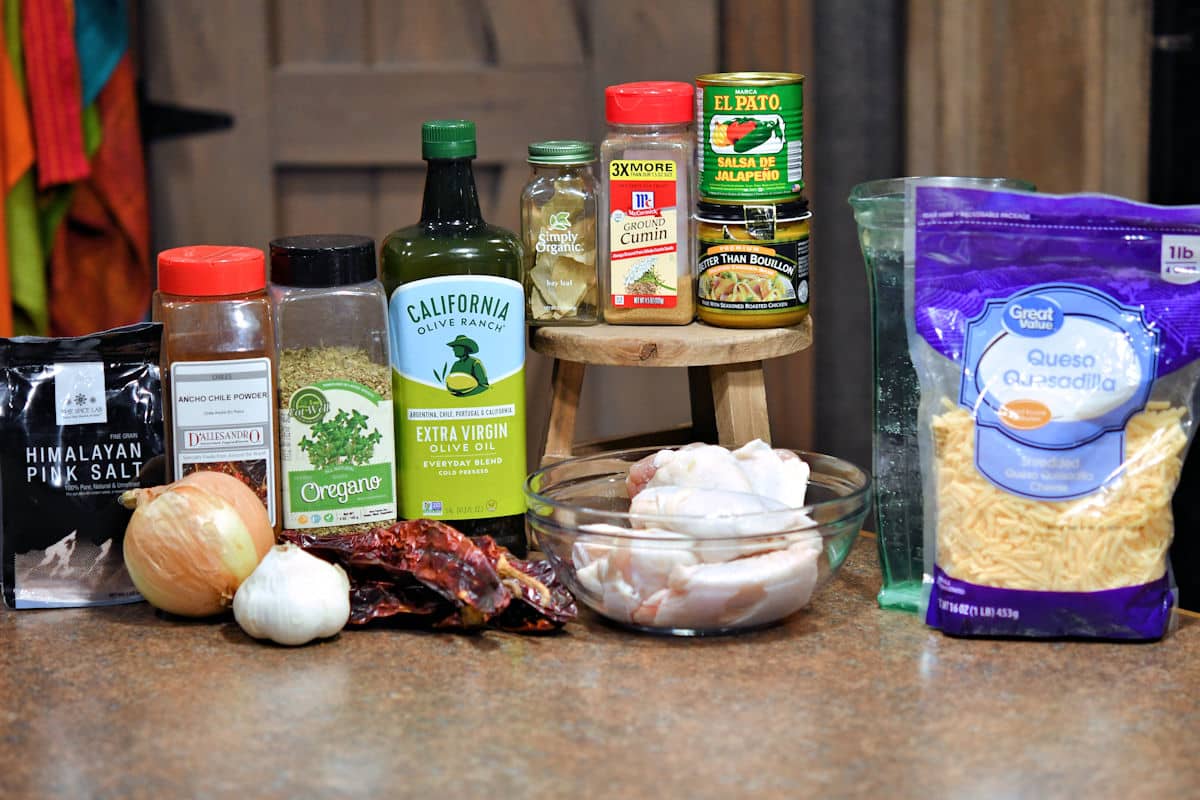 What chiles to use in birria red sauce?
For this chicken birria, I didn't want something very spicy. I used dried red Anaheim chiles, also known as California chiles.
Anaheim chiles aren't spicy at all. To me, I feel like they're like green bell peppers. It's possible that they could even be the same peppers in cans of mild diced green chiles.
I tried to add a little more heat by using the El Pato sauce. Although this sauce is spicy alone, it didn't really turn out to give much heat when mixed in with the birria sauce.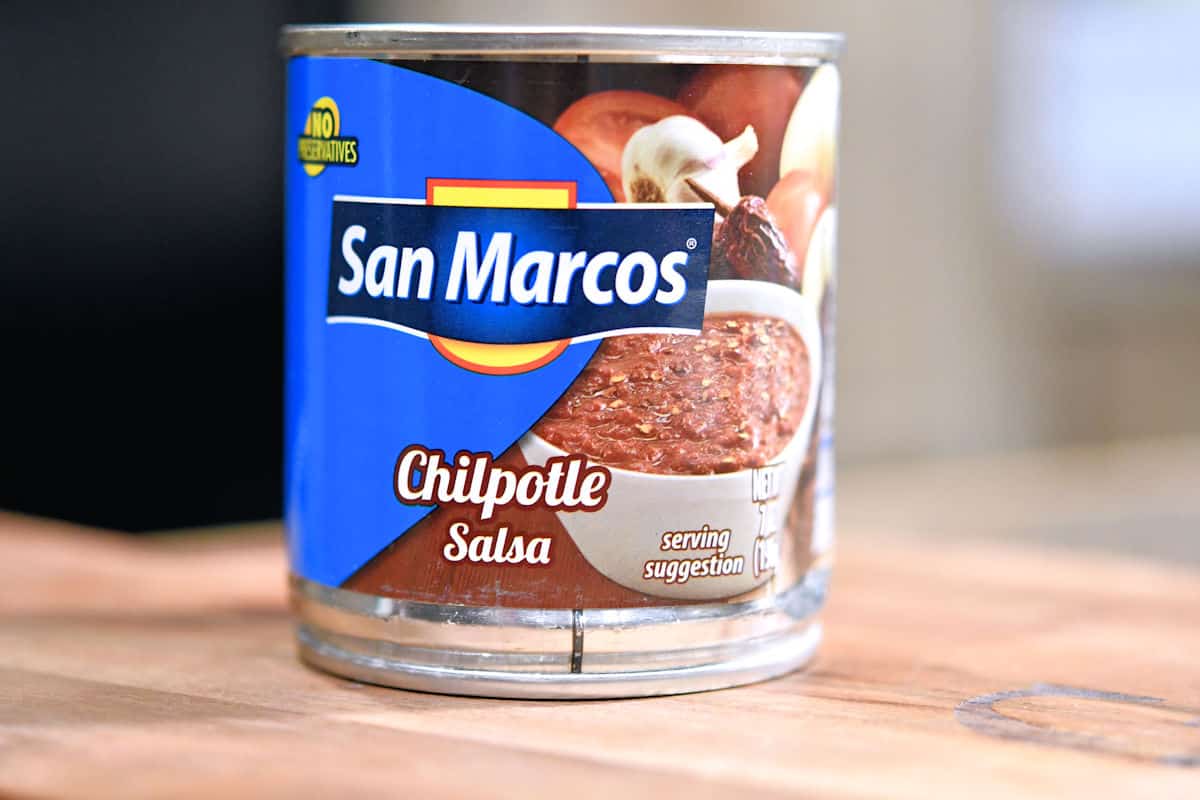 If you want to add more heat, but still want to stick to the red color, try using a can of chipotle salsa instead.
You can also use Guajillo chiles or chiles de Arbol, which are even hotter. Check out my Scoville Heat Scale to learn more about each of the chiles and how spicy they can be.
What cheese to use in quesabirria tacos?
I guess I should explain the difference between birria tacos and quesabirria tacos first. It's easy. Quesabirria means that the tacos are made with meat and cheese. Queso=cheese.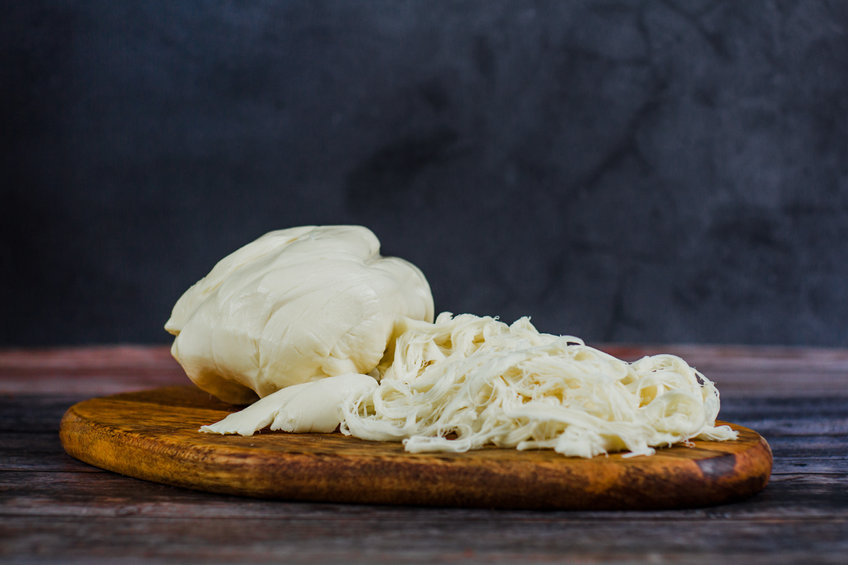 Although I've used Quesadilla cheese, you can use any melty cheese you can find. Oaxaca would be great, but it's not available around here.
Try Monterey Jack or Pepper Jack for a spicy alternative. Mozzarella cheese could be used as well.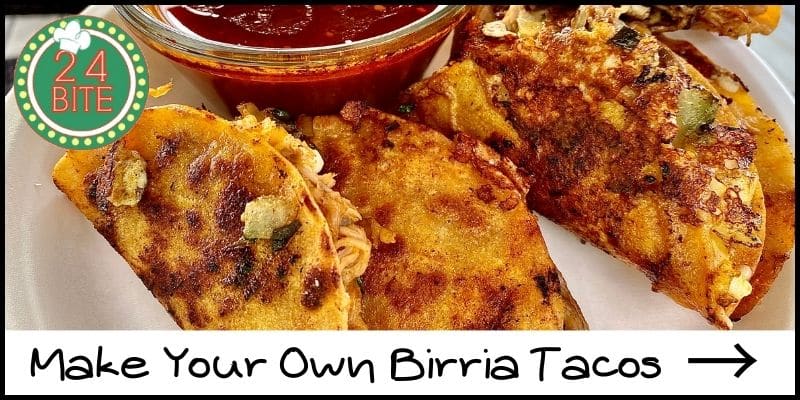 Frequently Asked Questions
Is birria a goat meat?
Birria is braised or steamed meat, traditionally made from goat or lamb. More recently, it's made with beef roast, but it can be made with any meat.
What should birria taste like?
Birria is a a mixture of flavors, filled with sweet, savory, spicy seasonings. Each bite is a taste explosion.
Where is birria from?
Birria comes from the town of Cocula in the State of Jalisco, Mexico. You are probably already familiar with the capital of Jalisco… Guadalajara.
How long does it take to make birria?
There are quite a few steps to making birria. It's especially time consuming if you need to cook the beef two or three hours until tender.
To shorten the time involved, I'm using chicken, but there are still a lot of steps.
Like my tamales recipes, I've learned to do things by splitting up the steps. My tip? Make the sauce first, even the night before.
If you make the sauce the night before, the fat will set on the top, making it easier to remove and use to fry the tortillas the next day.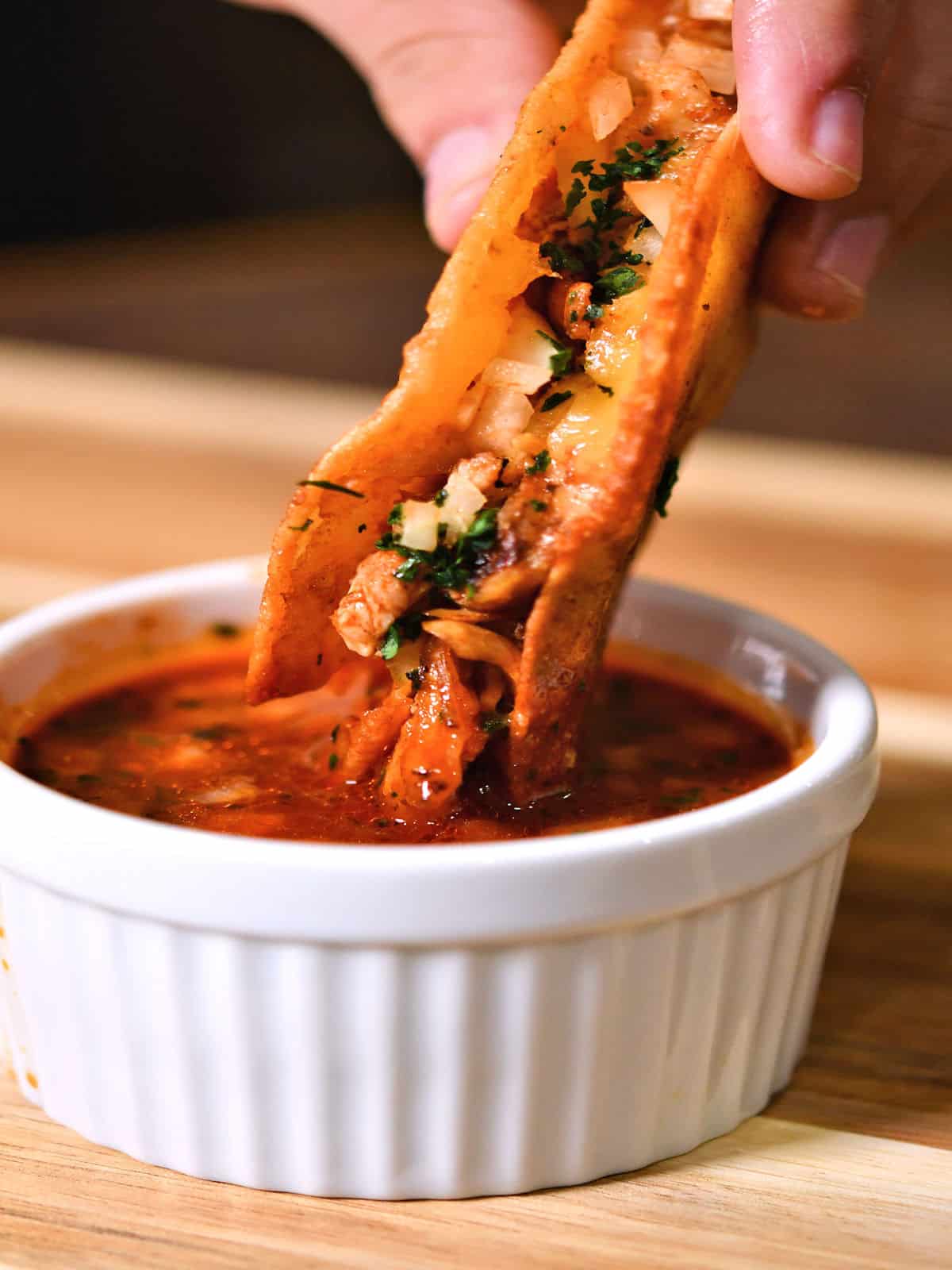 Using an Instant Pot
I've used an Instant Pot to braise the chicken in the red chile sauce. The Instant Pot is a great way to steam meat and tamales, making it great for Mexican food.
I've included instructions on using a covered skillet as well. It's easy to use either one here.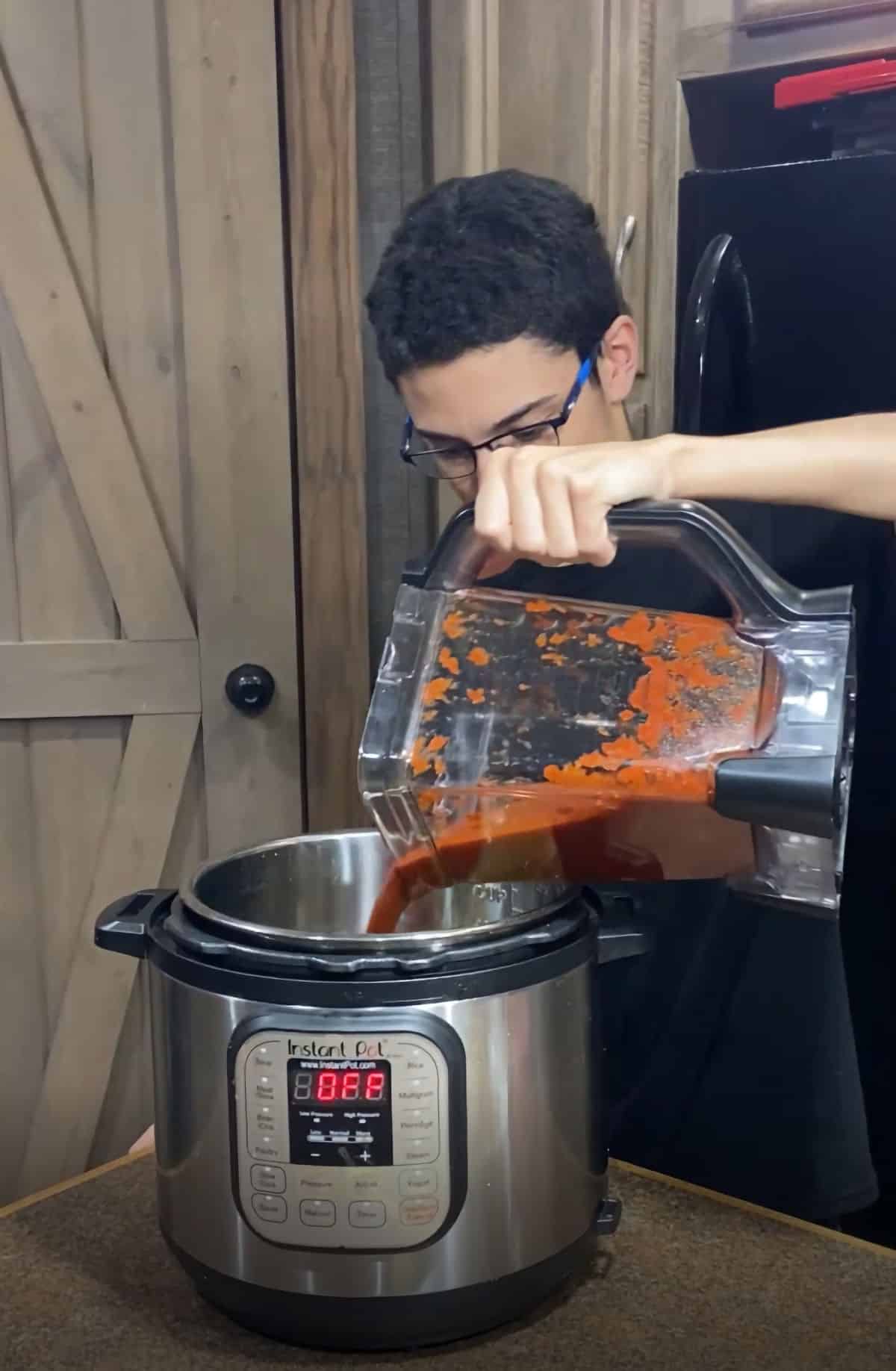 Have a look at this Ninja Professional Plus Kitchen System (aff link) at Amazon. It's the one we use and includes the blender, a food processor bowl and two to-go cups.
What do you serve with birria?
If you decide to eat the birria as a stew, you can serve it with any typical sides. Check out my list of things to serve with tamales. You can use any of these.
If you decide to serve the meat assembled as chicken birria tacos as I've done, I don't mind telling you that you don't need any sides. I could easily eat them without anything else.
Okay, though, if you really want to add some sides, a little side salad and sliced avocado would be delicious. My Spanish rice recipe would be excellent as well.
I was able to find more history on birria and how birria became the hottest new taco trend.
Now, you'll be able to jump on this trend right in your own home!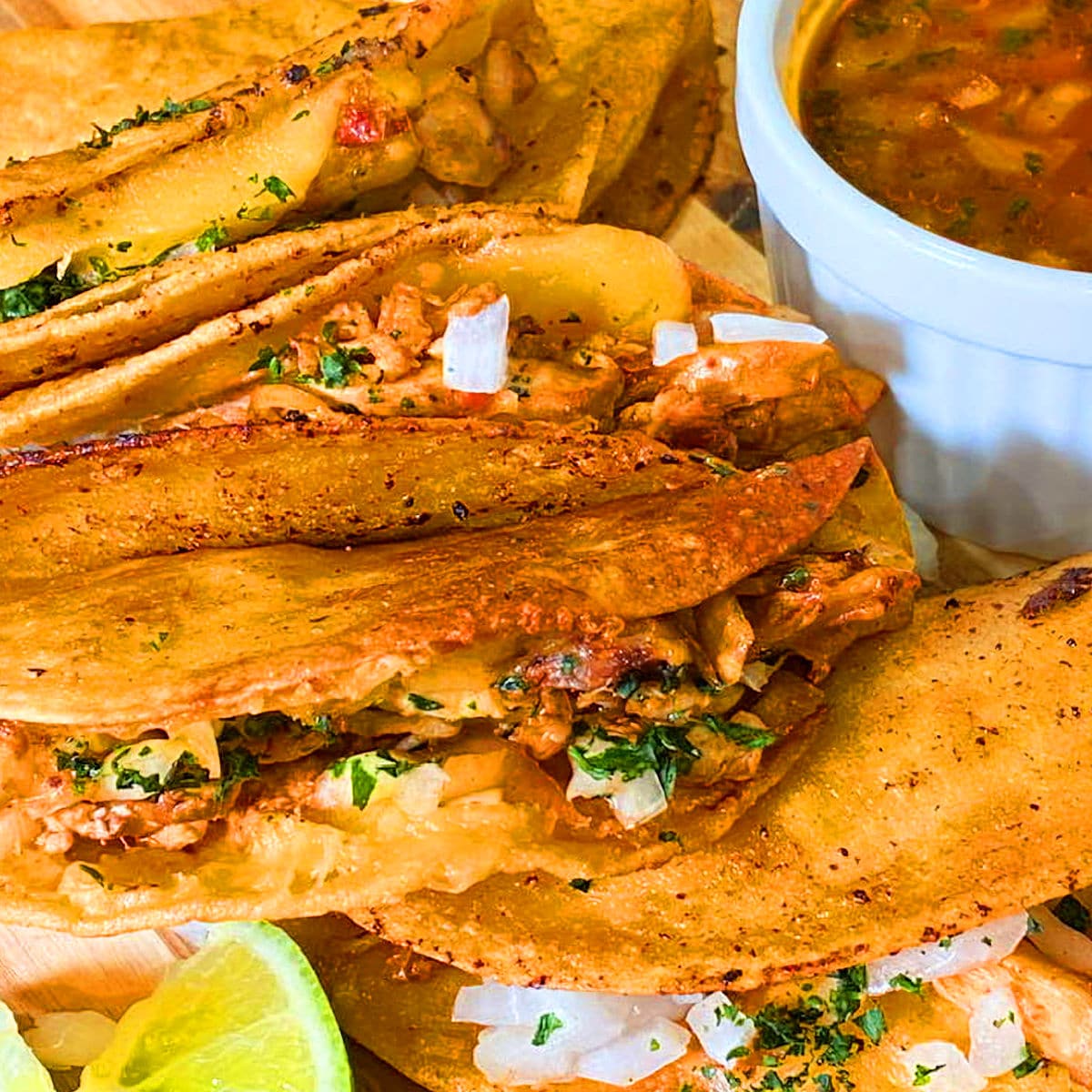 Recipe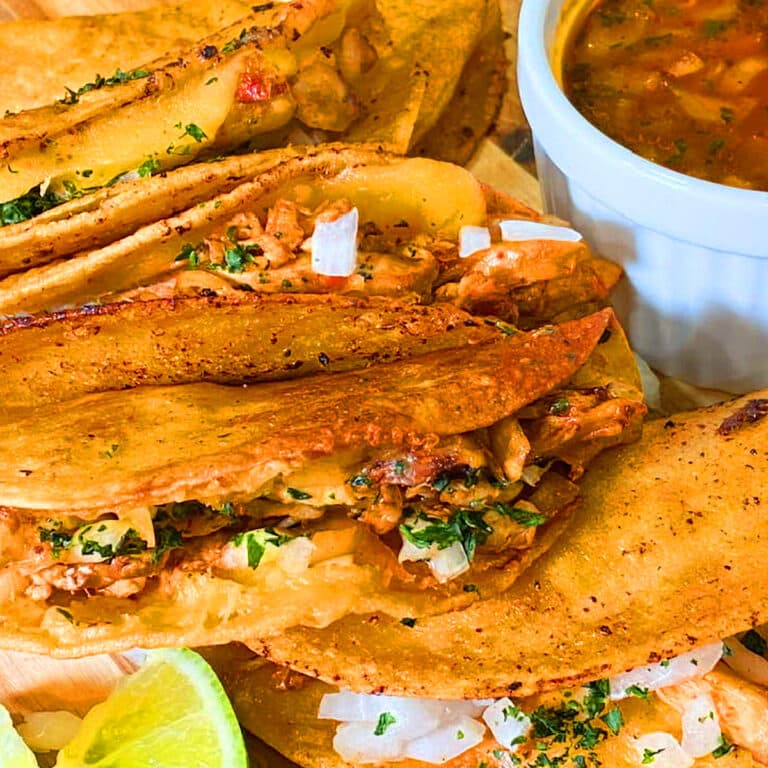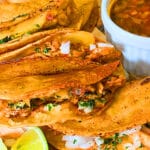 Pin Recipe Now
Chicken Birria Tacos Instant Pot and Stove +VIDEO
Tap to leave a star rating
Save or Print
These easy chicken birria tacos, also called quesabirria tacos or in Spanish, Birria de Pollo, will become your new favorite and taco Tuesday will never be the same.

For more information, be sure to check the recipe details in the attached 24Bite® post.
Equipment
6-quart Instant Pot Pressure Cooker (or covered skillet)

or Large Deep Skillet (see notes)

or Dutch Oven

or Crockpot
Ingredients
Red Chile Sauce
8

Red Anaheim Chiles

,

can be other dried red chiles; i.e. California or Guajillo

5

Garlic Cloves

,

peeled

½

large

Onion

,

other half is used later

Water

1

teaspoon

Ancho Chile Powder

1

teaspoon

Oregano

½

teaspoon

Cumin Powder

½

teaspoon

Salt

1

teaspoon

Better Than Bouillon

,

chicken flavor, or other chicken bouillon (check for gluten free)

7.75

ounces

El Pato Jalapeno Salsa

,

green can or whichever El Pato desired
Chicken
2

tablespoons

Olive Oil

2.5

pounds

Chicken Thighs

,

with skin and bone

2

cups

Water

2

Bay Leaves
Assembly
12

Corn Tortillas

8

ounces

Queso Quesadilla Cheese

,

about 2 cups shredded, any white melty cheese can be substituted like Oaxaca or Monterey Jack

½

large

Onion

Cilantro

,

for garnish

Limes

,

sliced or quartered
Instructions
NOTE: Instructions for Instant Pot here. See end of recipe card for crockpot, skillet and Dutch oven.
Red Chile Sauce
Carefully split the dried peppers, remove seeds and membranes. Using a firm brush, wash the chiles under cool water. Place washed chiles, garlic and ½ onion in medium saucepan. Cover with water and place on medium high heat until boil, reduce to simmer and cook until softened, about 20 minutes.

With slotted spoon, remove chiles, garlic and onion from saucepan and place in blender with ½ cup water. Add Ancho Chile Powder, Oregano, Cumin, Salt, Better Than Bouillon and El Pato sauce. Blend until smooth.

Place a mesh strainer over a large bowl. Pour the sauce through the strainer to remove the solids. Swirl a spoon in the sauce, gently scraping the sides and bottom of the strainer so the liquid will go through. Discard the solids.*

Note: You can either continue directly to the remainder of the recipe or store the sauce in the refrigerator for up to 24 hours before preparing the remainder.
Chicken
Place 2 tablespoons olive oil in Instant Pot and press saute. Allow to heat for about one minute. Place chicken thighs, skin side down in Instant Pot. As you place them, move them around a little in order to distribute the olive oil. Sear chicken for about 4 or 5 minutes for a golden brown then remove to a plate and set aside. If your saute feature tends to run too hot, it's okay to hit cancel and let it cool down a little bit before continuing the saute button. Press the Cancel button on the Instant Pot to reset.

Place Red Chile Sauce, 2 cups water and Bay Leaves in Instant Pot. Stir lightly to incorporate. Place Chicken in Instant Pot.

Check the Instant Pot lid to ensure the seal is in place and nothing is blocking the vent. Place lid on top, turn and set lever to Sealing. Press the Manual (or Pressure Cook) button on the Instant Pot and set to high for 10 minutes. After the 10 minutes of pressure, natural release for 5 minutes then quick release the remaining by turning off the sealing valve. Entire process should take about 20-25 minutes. Once pressure is fully released, remove lid. It will be HOT.

Remove chicken thighs to plate. Remove skin and bones then shred or cut into pieces to fit into tortillas. Remove all cooking sauce to a separate, smaller container to make things easier for assembly.
Assembly
Skim some of the fat into a skillet on medium high heat. Dip a tortilla into the cooking sauce then place in hot skillet. This will splatter so use caution. Don't be tempted to turn down the heat. This requires the heat in order to make crispy tacos. If you cook it too slowly, it will be more like enchiladas.

Once one side of the tortilla is fried for about 30 seconds to one minute, turn it over. After another 30 seconds or so, add two tablespoons chicken and two tablespoons shredded cheese. Using two spatulas, fold over the tortilla in the middle. Press lightly and continue cooking about 30 seconds. Turn over and continue cooking. For more red color, spoon over more red sauce on each side while frying. Remove to paper towel lined plate. Repeat the frying until all tacos are used. Skim off more fat from the cooking sauce as needed. If necessary, add olive or vegetable oil to the pan.

Dice the remaining ½ onion and open the tacos slightly to add the onion and chopped cilantro. Place extra sauce for dipping into little bowls. Stir in about a teaspoon diced onion and a pinch of chopped cilantro into each bowl of sauce. Place pieces of lime on the side to squeeze over the tacos. Serve immediately.
Note: If there is a video, it will not display while there is an adblocker.
Notes
This is an involved recipe. If you want, you can make the sauce ahead of time and place it in the refrigerator.
It's actually easier that way anyway since the fat will rise to the top making it easy to remove and use for frying the tortillas.
If you prefer to cook the chicken on the stovetop, use a large skillet with a cover. Sear the chicken in oil, add the required ingredients. Bring to a boil on medium high heat, reduce to simmer, cover and cook  for about 20-25 minutes, or until chicken temperature is 165

℉. Follow the remaining instructions as written.
After searing the chicken, you can also cook in the Crockpot or in the oven with a Dutch oven baking pan.
*You can strain the sauce before pressure cooking or after pressure cooking, or both. Or neither. It's a personal preference and I've strained out the solids whenever it felt right. And, I've also made it without straining out. Try different ways to see which is your favorite.
To see the step-by-step process for making these birria tacos, see my web story at Easy Chicken Birria Tacos Story and Easy Birria Tacos Story.
Nutrition Facts
Chicken Birria Tacos Instant Pot and Stove +VIDEO
Amount Per Serving
Calories 362
Calories from Fat 216
% Daily Value*
Fat 24g37%
Sodium 452mg20%
Carbohydrates 15g5%
Protein 22g44%
* Percent Daily Values are based on a 2000 calorie diet.
______________________
Percent Daily Values are based on a 2000 calorie diet. All amounts are estimates and 24Bite® takes no responsibility for actual figures since calculations vary by packaging and supplier. Please calculate the amounts yourself based on package labeling if you have specific dietary requirements. 24Bite®, Kim Guzman or Christian Guzman shall not be liable for adverse reactions or any other outcome resulting from the use of recipes or recommendations on this website or actions you take as a result.
© 2019-2023 Kim Guzman and Christian Guzman. All rights reserved. Subscribe to 24Bite email newsletters.
Follow 24Bite: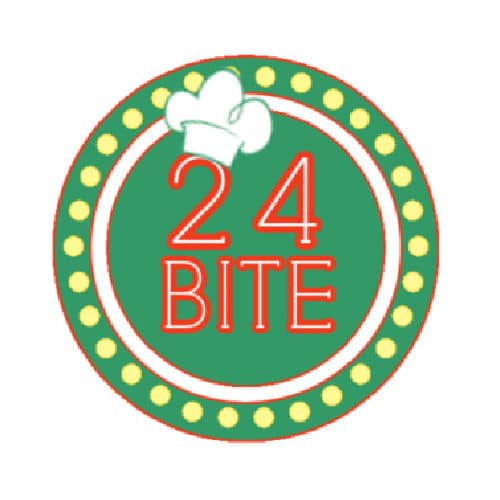 Twitter | Facebook | Pinterest