Chicken mole tacos take on a much different taste when simmered in the delicious and unexpected tastes of a great mole sauce. This one skillet recipe that starts with Dona Maria Sauce will have you craving mole even if you've never tried mole.
Recipe | What is Molé? | Making the Molé Sauce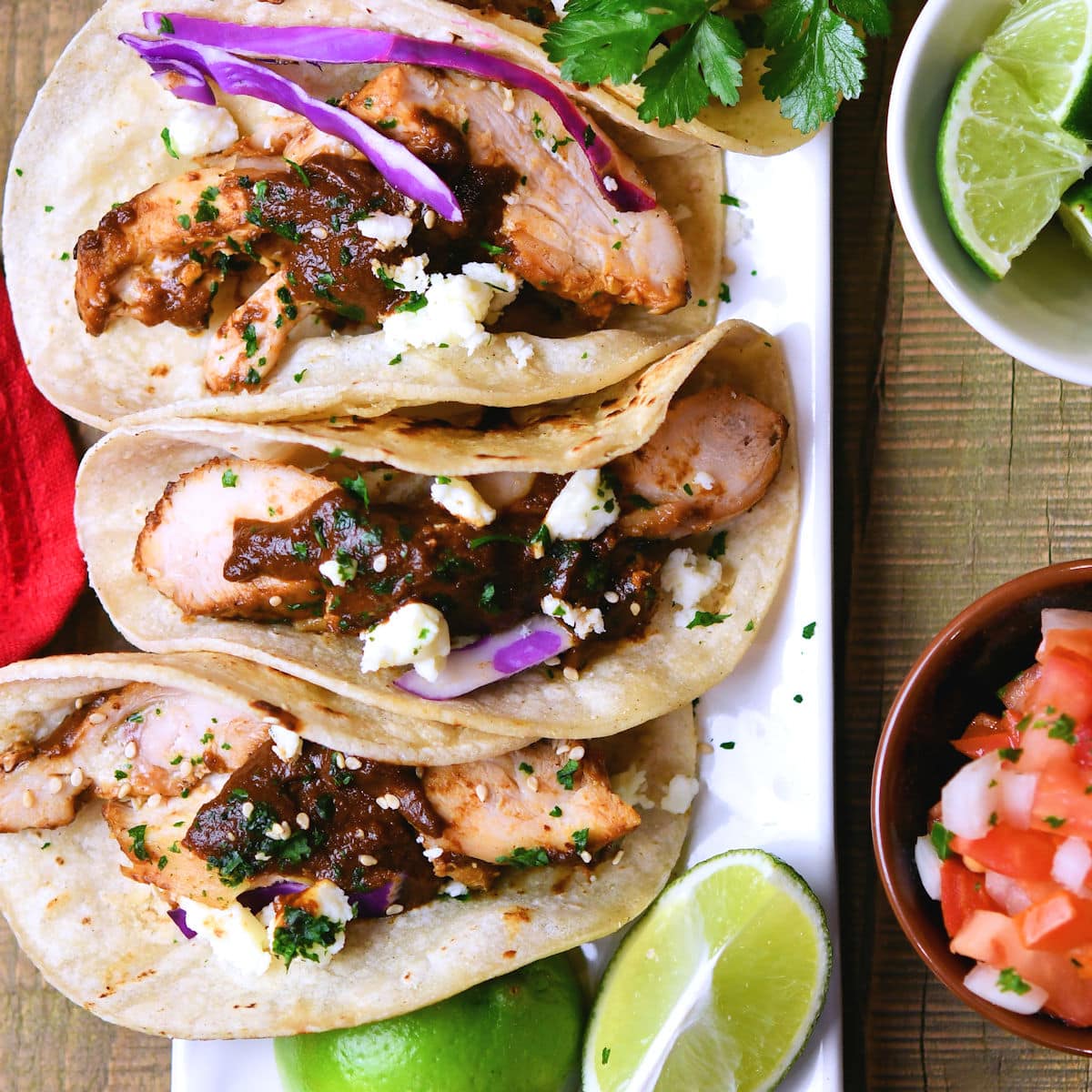 What is Molé?
Molé sauce is a combination of many different things. It varies from town to town and family to family. You'll find a variety of nuts, seeds, crackers, chiles and CHOCOLATE!
Easy chicken tacos taste wonderful with molé sauce with all these different, unique flavors combined.
How do you say Mole?
Mole should technically be written as molé with the accented "e". Mole is an Aztec word simply meaning sauce and is pronounced MOH-leh.
You had me at chocolate.
Wait. There's Chocolate in Mole Sauce?
In Mexico, it's not entirely uncommon to use chocolate in cooking. I balked at it at first but mom reminded me that barbecue sauce usually has sugar. Even ketchup has sugar. It's just a little bit to take away any bitterness.
It's not enough chocolate to make pudding no matter how much it may look like chocolate pudding. For your easy chicken tacos, I prefer to have something a little in between. You might say that it's about the consistency of ketchup.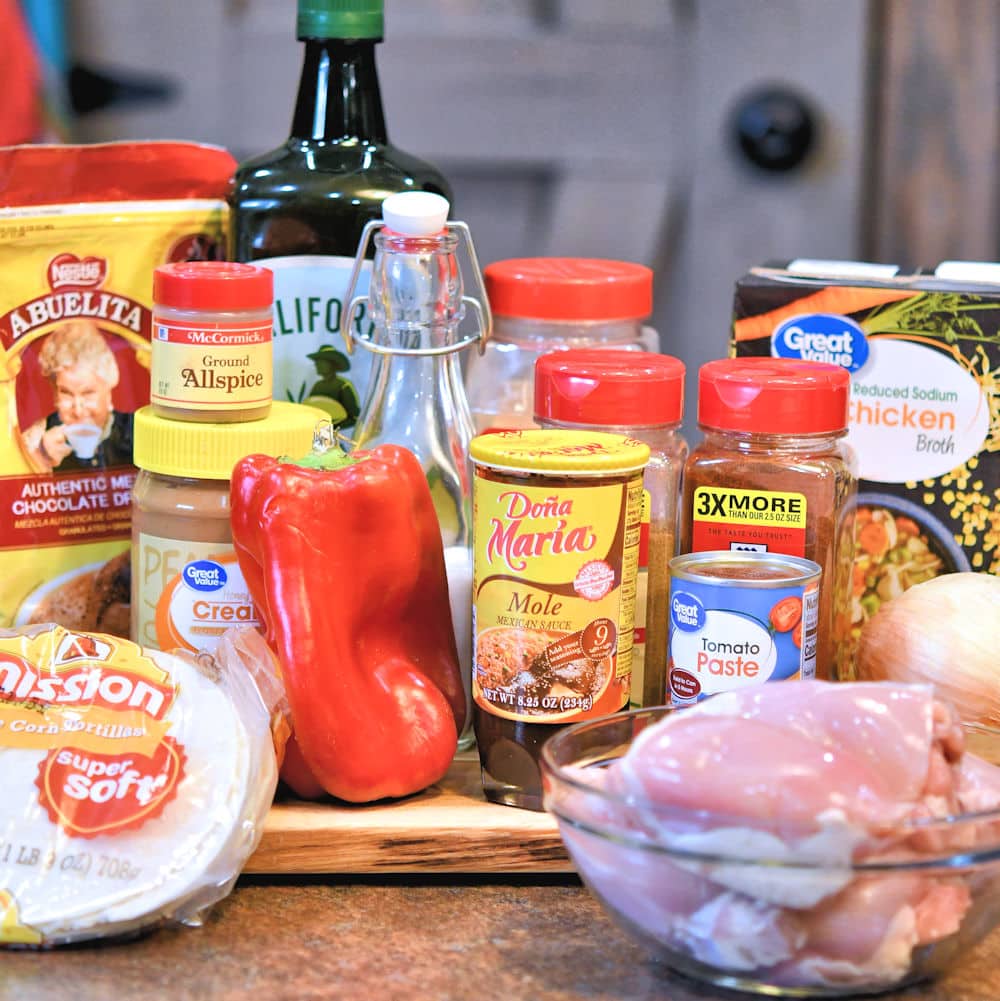 History of Mole Sauce
It's said that mole was invented by a convent of nuns because they wanted something special for a visit from the archbishop. Be sure to read about it at America's Test Kitchen.
It can take up to three days to make the traditional homemade mole sauce from scratch. Maybe mom and I may try that sometime, but for now, we are completely happy with the Dona Maria mole base. And, besides, they come in cute jars that make great juice glasses.
Is Mole Sauce Very Spicy?
This version of chicken mole isn't spicy at all. I have recently discovered that I prefer a spicier mole. I like it to have just enough bite that you know it's there, without it being overwhelming.
If you want a spicier sauce, try adding the same amount of chipotle sauce to replace the tomato paste. It's made by San Marcos and is the perfect substitute. It's a mixture of tomato with chipotle.
If you're unable to find the cans of chipotle sauce, try adding the sauce from a can of chipotles in adobo. If it's not enough sauce, you can add tomato paste to it to make it the equivalent in the recipe.
Whatever you do, don't go wild with the sauce. You can always add more, but you can't so easily remove it.
Dona Maria Mole
I really like adding the Dona Maria Mole sauce. It adds wonderful flavor but, for me, it's just a base. I like to build on those flavors and make the mole sauce my own.
That's not unusual. I think every family has their own unique and delicious flavors. Some people like it with peanut butter, some don't. I think some people prefer it without chocolate too.
Try experimenting with the ingredients until you come up with your own family favorite.
How do you open the can of Dona Maria Mole?
Believe it or not, this is tricky. Once you know the trick, though, you're all good.
You need a bottle opener. You don't need the pointed can opener. Most hand held can openers will have a bottle opener on the other side. You may not have realized it was there. I didn't. ha!
Don't throw away the jar either. Once you clean it up, it makes the perfect juice glass.
Step by Step Instructions
The first thing you will want to do is make your chicken golden and crispy. It already looks delicious, right?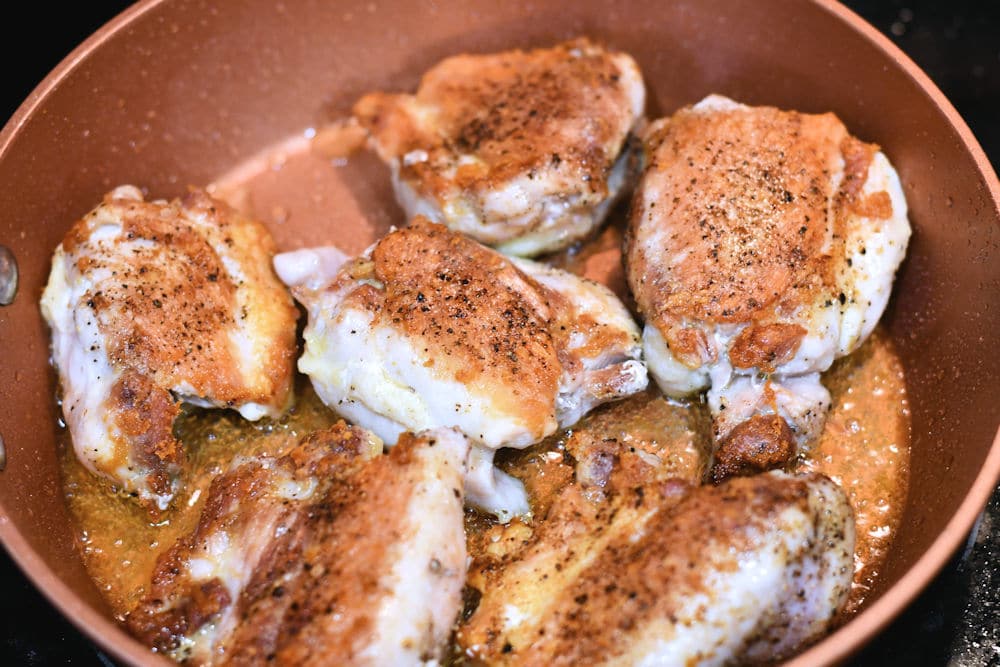 Once you've crisped up the chicken, you will cook some bell pepper and onion in the same skillet. Set it all aside to make the mole sauce. The bell pepper and onion will be used in the tacos.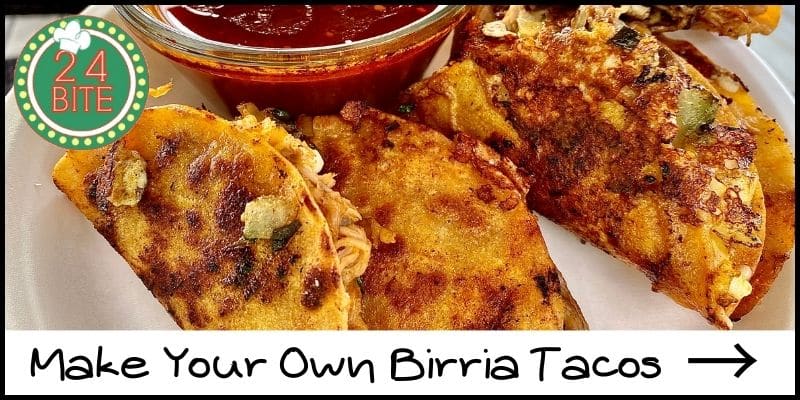 Making the Mole Sauce
When you buy the Dona Maria Mole, you need to understand that it's not ready. It's a sauce base, not the actual sauce. You need to add more to it.
Each family is going to add different things in different amounts. It's also a matter of preference about how thick the sauce should be. I've seen it as thin as taco sauce and also as thick as chocolate pudding.
Preparing the Dona Maria Paste
If you've never had mole, you will want to try it both ways and see how you like it.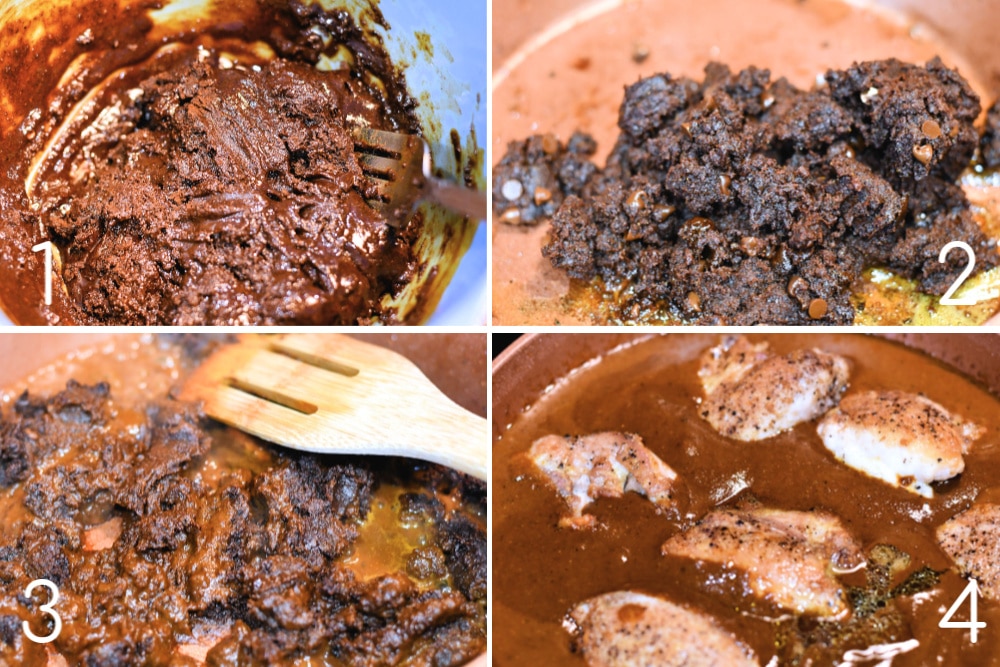 When you first open the jar of Dona Maria mole sauce, use a fork to get it out of the jar and stir it well with the fork. The oils have separated and everything needs to be combined again.
You can see that it's just a paste made of some spices and a little bit of liquid. It's pretty chunky.
For this recipe, I've only used half the jar and I've saved the rest. Remember that it's a flavor base, not the sauce itself.
Adding the Remaining Ingredients
The next steps are incorporating the other seasonings to finish the sauce and simmering the chicken in the sauce until done. It only takes about 15 minutes and wow, it smells wonderful!
This recipe makes a lot of mole sauce for simmering the chicken. Be sure to save it for something later. I ended up with about a quart remaining and I'll be using it to make mole enchiladas.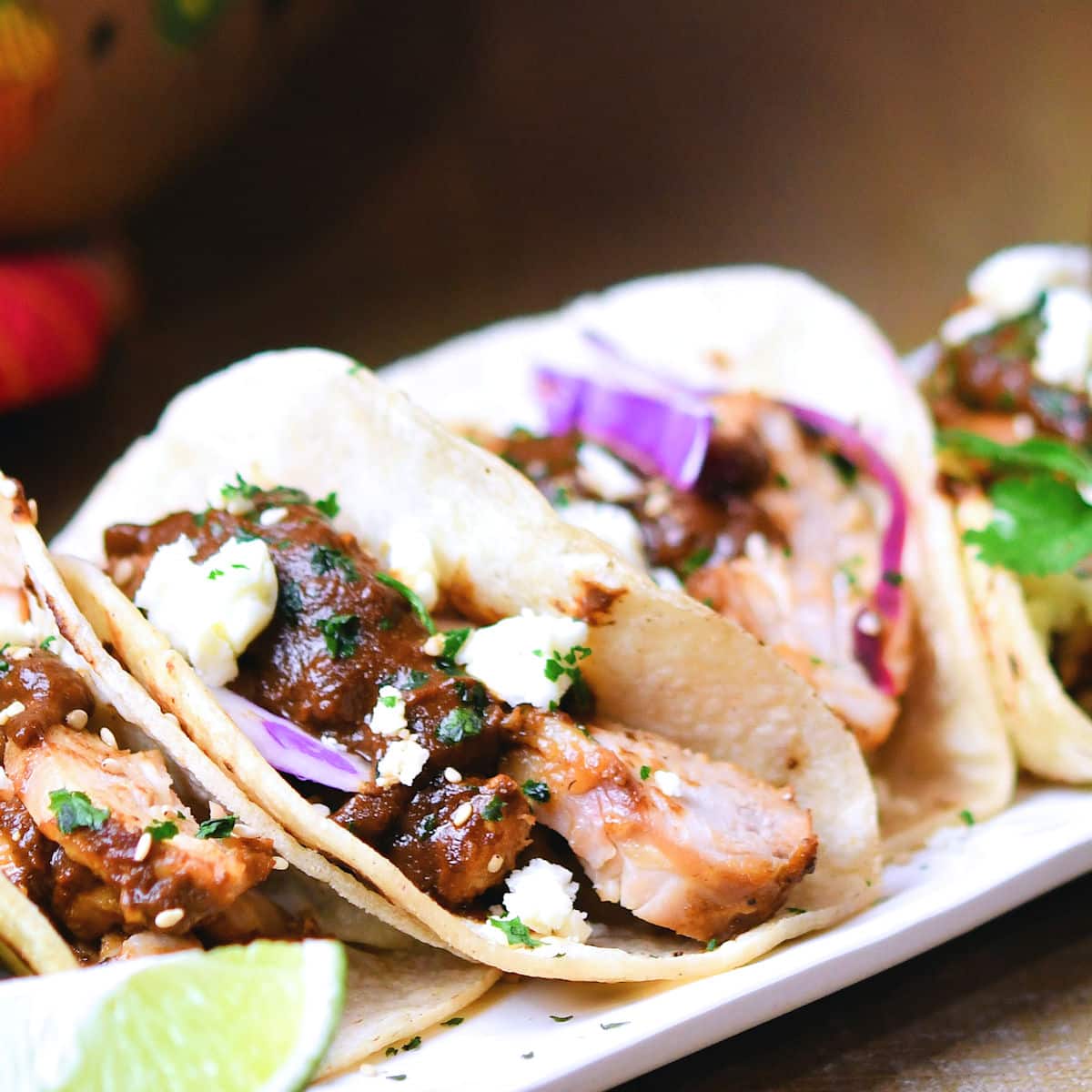 Don't be afraid to use corn tortillas. You really can make them soft and pliable. I've written more extensive details for softening corn tortillas.
What to Eat with Chicken Mole Tacos
Try some of these great recipes with your tacos so you will have an entire meal of Mexican food goodness.
Be sure to browse all our Mexican food recipes for more ideas.
For an easy, trending birria tacos recipe, try these delicious Chicken Birria Tacos.
For another delicious chicken recipe with interesting flavor combinations like this one, try my Chicken Chasseur French Hunter's Chicken recipe.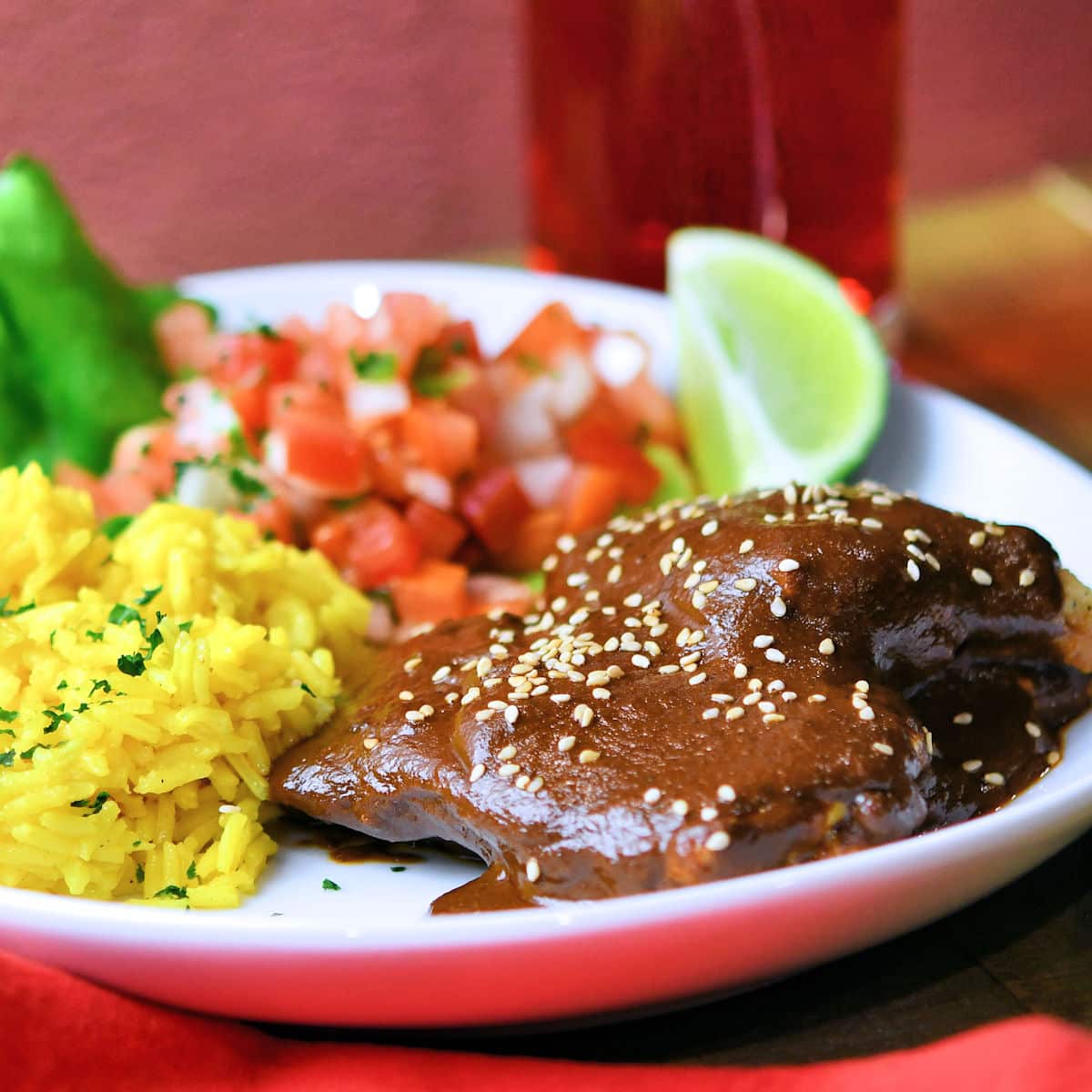 Recipe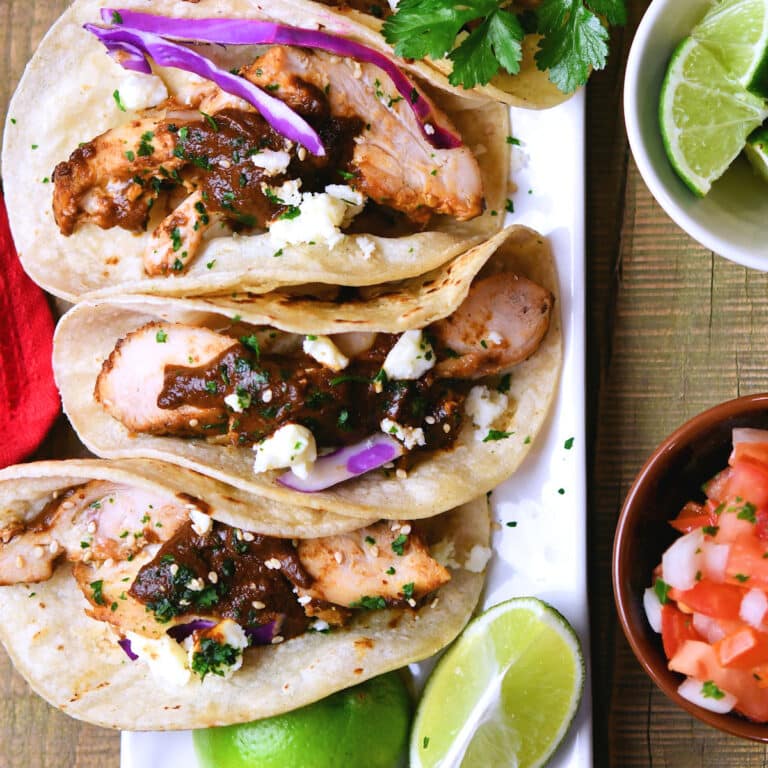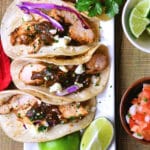 Pin Recipe Now
Easy Chicken Mole Tacos with Dona Maria Sauce
Tap to leave a star rating
Save or Print
Easy chicken tacos take on a much different taste when simmered in the delicious and unexpected tastes of a great mole sauce. This one skillet recipe will have you craving mole even if you've never tried mole.

For more information, be sure to check the recipe details in the attached 24Bite® post.
Ingredients
6

Boneless Chicken Thighs

2

tablespoons

Olive Oil

½

Onion

,

slivers

1

Bell Pepper

,

red, slivers

4

ounces

Dona Maria Mole Sauce

3

ounces

Tomato Paste

1

tablespoon

Abuelita Hot Chocolate Powder

½

teaspoon

Garlic Powder

½

teaspoon

Salt

½

teaspoon

Red Chile Powder

½

teaspoon

Cumin

½

teaspoon

Allspice Powder

1

tablespoon

Peanut Butter

2

cups

Chicken Stock

12

Corn Tortillas
Instructions
Wash chicken with cool water and pat dry. If desired, season both sides with salt and pepper.

Place olive oil in large skillet and put on medium high heat. Place chicken thighs in skillet and cook until golden and crispy, about 3-5 minutes. Turn and cook another 3-5 minutes. Remove chicken to separate plate and set aside.

Place bell pepper and onion in same pan. Cook in oil until softened and a little blackened on the edges, about 8-9 minutes. Remove pepper and onion to separate plate and set aside.

Open Mole Sauce to a separate bowl. With a fork, stir until smooth. Add tomato paste, chocolate powder, garlic powder, salt, red chile powder cumin, allspice and peanut butter to mole sauce. Stir well, breaking up the mole paste to combine.

Place mole mixture in skillet on medium heat. Begin adding chicken stock a little at a time and combine thoroughly. Once melted, smooth and combined well, add chicken thighs back to skillet. Allow to come to a boil then reduce to simmer and cover. Simmer for 15 minutes.

Remove lid and allow to continue cooking until sauce comes to desired consistency, about 5 minutes.

Remove thighs to cutting board and allow to cool for about 8-10 minutes.

Heat the corn tortillas in your preferred method. See notes below for different options.

Slice chicken thighs. Add to a tortilla. Add mole sauce from the pan. Add some cooked pepper and onion. Add other condiments and garnishments as desired such as crumbled Queso Fresco, crema, avocado slices and cilantro.
Note: If there is a video, it will not display while there is an adblocker.
Notes
For a spicier molé sauce, replace the tomato paste with the same amount of chipotle sauce or the sauce from a can of chipotle in adobo.
Corn tortillas are fragile and will tear if not prepared properly. Here are some ideas on heating the tortillas.
Brush each tortilla with a bit of cool water, stack in a foil wrapper and heat about 10-12 minutes in a 350° oven.
Heat lightly in a skillet.
Heat in a microwave. Place a bowl of water in the microwave at the same time to make a more humid environment.
If you don't have a tortilla warmer, keep your warm tortillas wrapped in a clean towel. You could also place a regular pan lid on top of them to keep them warm.
Serves two tacos per person.
Have a look at my Easy Chicken Mole Tacos Story.
Nutrition Facts
Easy Chicken Mole Tacos with Dona Maria Sauce
Amount Per Serving
Calories 272
Calories from Fat 144
% Daily Value*
Fat 16g25%
Sodium 339mg15%
Carbohydrates 20g7%
Protein 13g26%
* Percent Daily Values are based on a 2000 calorie diet.
______________________
Percent Daily Values are based on a 2000 calorie diet. All amounts are estimates and 24Bite® takes no responsibility for actual figures since calculations vary by packaging and supplier. Please calculate the amounts yourself based on package labeling if you have specific dietary requirements. 24Bite®, Kim Guzman or Christian Guzman shall not be liable for adverse reactions or any other outcome resulting from the use of recipes or recommendations on this website or actions you take as a result.
© 2019-2023 Kim Guzman and Christian Guzman. All rights reserved. Subscribe to 24Bite email newsletters.
Follow 24Bite: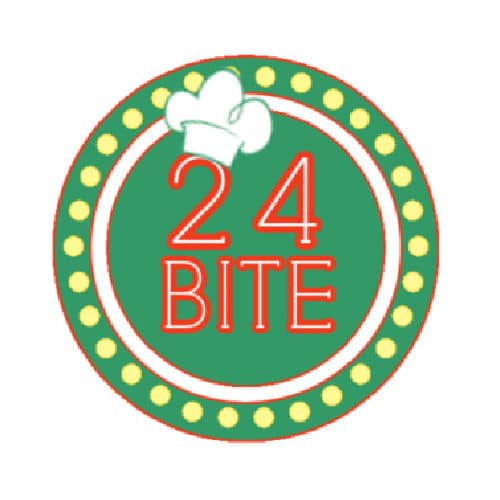 Twitter | Facebook | Pinterest