This Pork Tamale Casserole takes homemade tamales to an entirely new level. You get all the authentic tamale taste and texture without making individual corn husk filled tamales. Let's get started!
We've developed this pork tamale casserole recipe for everyone who loves tamales but may not have the time or patience to make authentic corn husk filled tamales.
Recipe | Ingredients | Dried Mexican Chiles | Making the Masa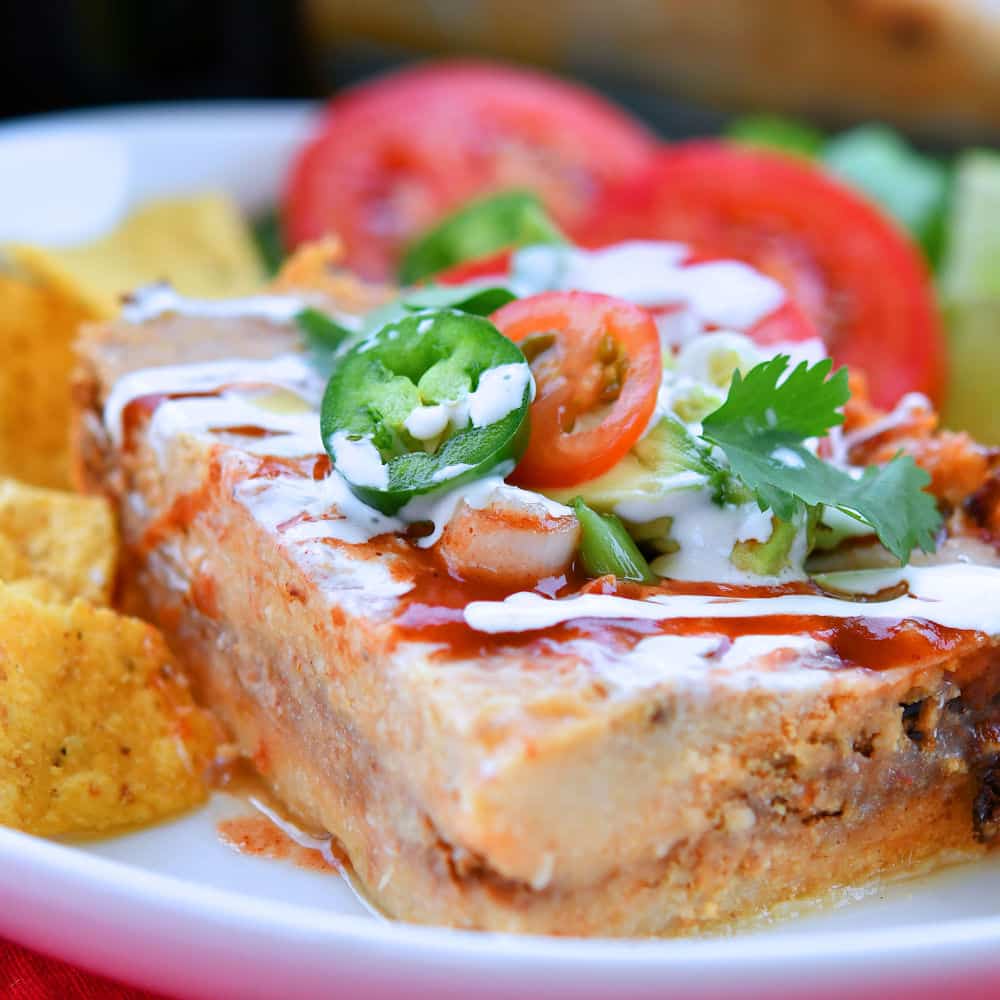 My sister Brianna and her husband love the pork tamales that we make but she has three small children, my niece and nephews. There is really no chance that she will have the time to make homemade authentic tamales right now.
This recipe is the answer to having tamales when you can't have tamales!
Ingredients
For this pork tamale casserole, I've used some items that you may only find at a Mexican store or market. We were able to find most everything at our local store. The only things we usually have to get elsewhere are the chiles.
Dried chiles are hard to find in Arkansas. Mom says that she remembers an entire stand of dried chiles and spices at the grocery store in Texas, but we don't have that here. We have to go to a Mexican store or buy online.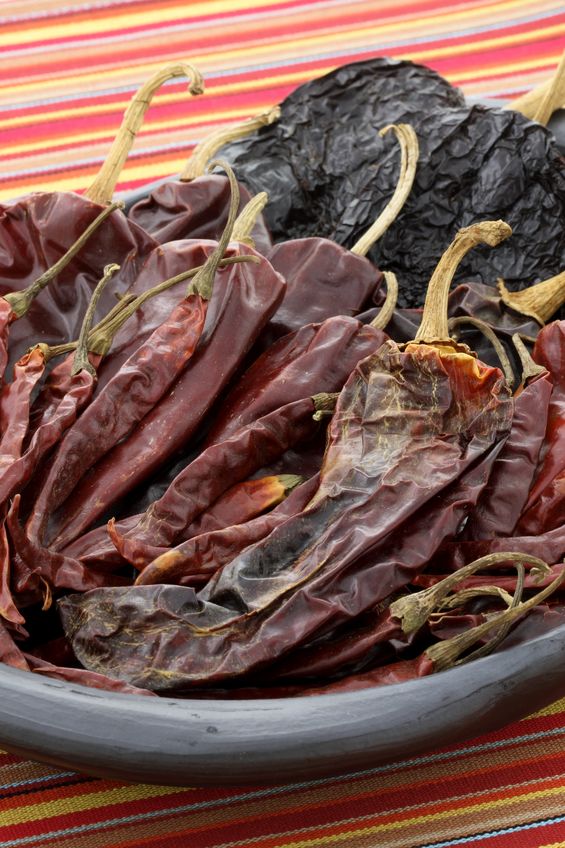 Dried Mexican Chiles
When you buy a bag of dried chiles, ALWAYS wash them before use. But, I've learned the hard way that you need to wash them after you open them up and remove the seeds. The seeds usually fall right out when the chile is dry but, if you wash it, they're going to stick and make it more difficult to remove them.
I've used Guajillo chiles (the dried form of Mirasol chiles) today but you can use red California chiles (the dried form of Anaheim chiles, which are less spicy) or Ancho chiles (the dried form of Poblano chiles). I used one Arbol because those little suckers are HOT! Feel free to use more but you've been warned.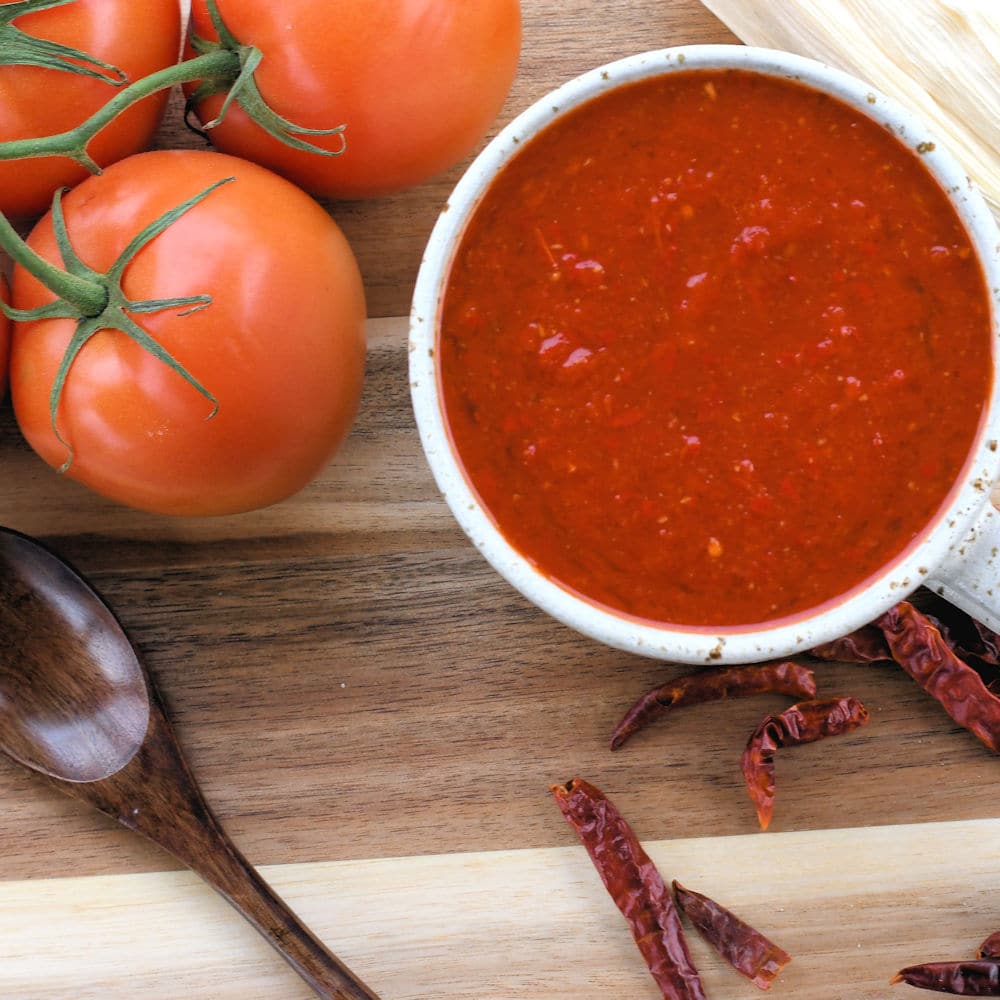 You can see the little arbol chiles in this photo of our Homemade Red Chile Tamale Sauce. Mom told me that she recently saw someone call them "rat's tails" in a Facebook group. So funny! But, true!
If you don't want to make your own sauce, that's absolutely okay! Use about half a quart of canned enchilada sauce or El Pato hot sauce, or both. Use a large can of tomato paste with some chicken stock and seasonings. Your goal is about two cups of sauce. You need enough to coat the shredded pork, but not enough that it drips. Doctor up the sauce with any seasonings or dried chile powder you like. Use my tamale sauce recipes as a guide in choosing your chiles and seasonings.
Making the Masa Dough
Our local grocery store has masa harina readily available. We have regular Maseca and Maseca Para Tamal. Either of these will work perfectly. Don't use cornmeal. Cornmeal isn't the same. Masa harina looks like flour.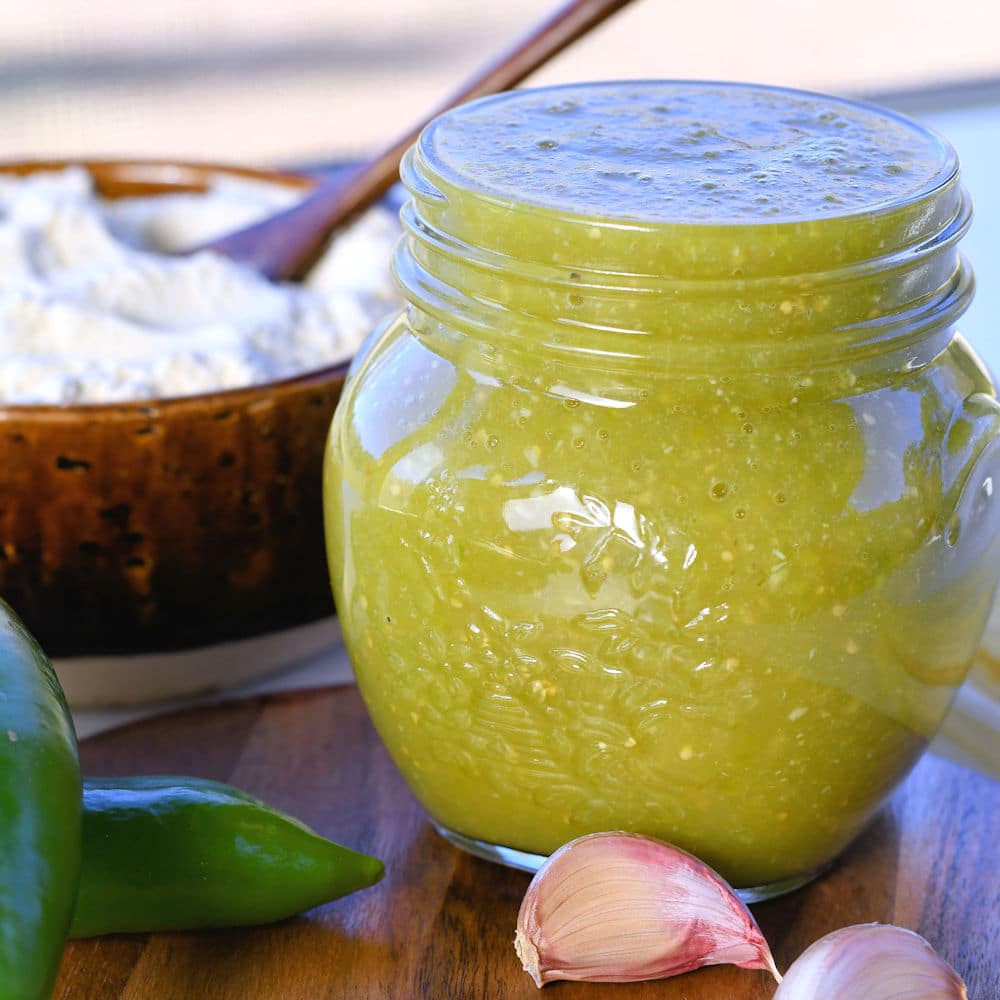 You can see the masa harina in the top left of this photo of our Homemade Green Tamale Sauce.
When you're making the masa, feel free to add about ¼ cup of your sauce to it, if you want. Flavoring the masa makes everything even better!
When we normally make tamales, we make about four or five dozen at a time. Notice in our tamale sauce recipes, there's quite a bit of salt and seasongs, more than you would normally use. This is because it's spread out so thin to so many tamales. When making the tamale casserole here, we've adapted the recipe to use for a smaller number of servings.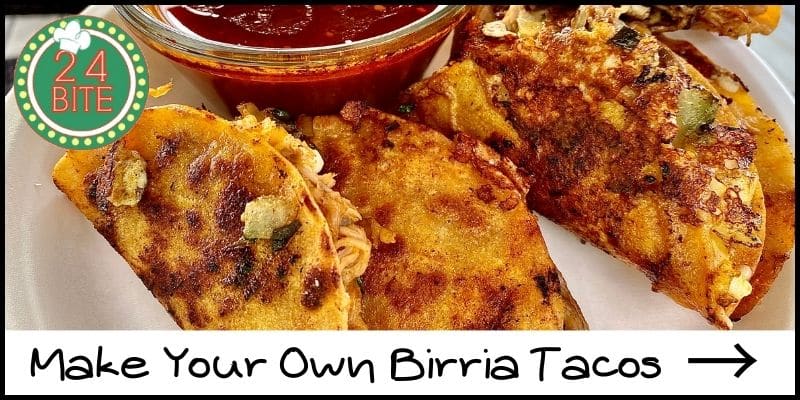 Preparing the water bath
The most important thing when baking the pork tamale casserole is the water bath. Baking in a water bath isn't unusual. You will find this technique when making cheesecake, flan and creme brulee.
A water bath keeps your dish properly hydrated with steam so it doesn't dry out and crack. This is the most crucial step of getting that authentic taste and texture so don't omit it.
The trick is to find a baking pan that will allow the water and the 9×13 casserole pan. Check your cupboards. We have a 10×15 baking pan, but you may be able to find something else. Check your really big pans like perhaps a turkey roaster.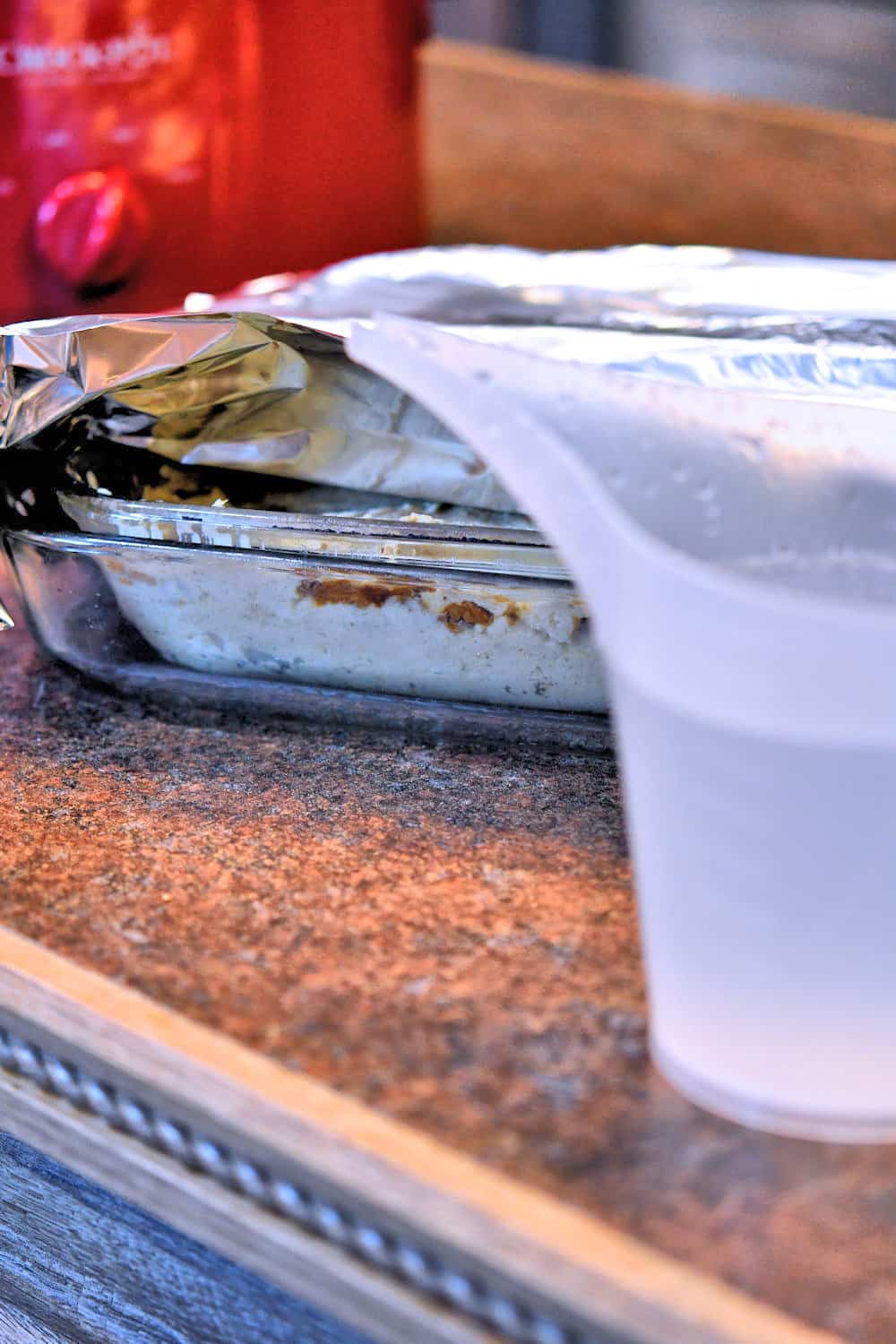 Once you have the casserole inside the water bath dish, cover it completely with foil. You may need to use two strips of foil, folded together several times in the middle in order to make a much wider piece of foil.
For safety, I like to leave a small opening and put the entire thing in the oven before adding the water to the water bath. Use a spouted measuring cup or pitcher to make this easier.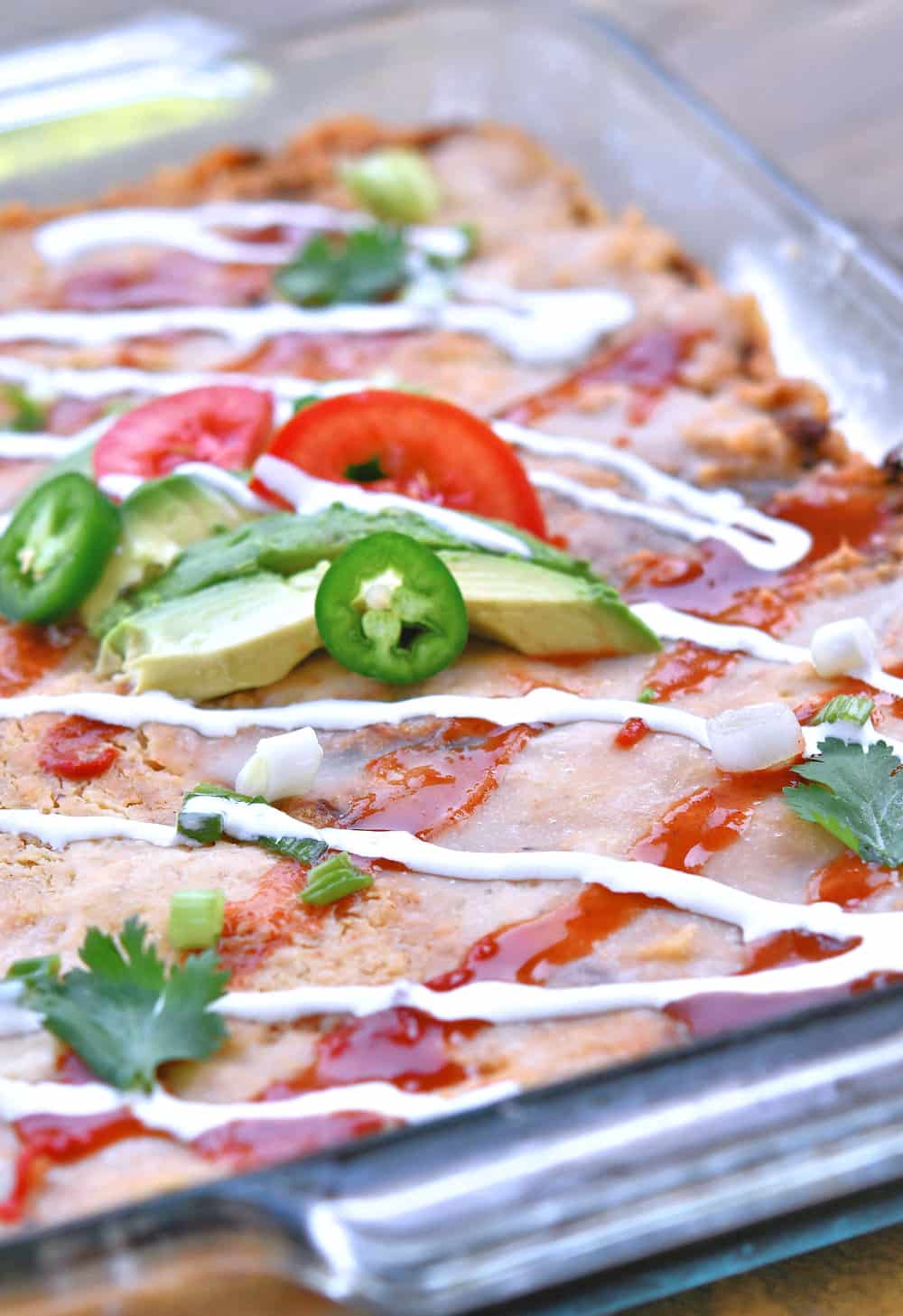 Is Tamale Casserole gluten free?
Yes, absolutely! Like our other tamale recipes, we've used all gluten free ingredients.
Can I use other tamale fillings?
Yes! I think we'll try chicken next time. To make it quicker, you can mix the chicken with Herdez Salsa Verde or green enchilada sauce, instead of making homemade, if you want. You can also use fresh chopped jalapeños and onions, but saute them first.
More tamale recipes
Once you've tried this pork tamale casserole, why not try regular tamales too?! We have several recipes at 24Bite:
Have you ever tried Entomatadas? Try this Cheese and Onion Entomatadas recipe for the closest you'll get to a Mexican version of grilled cheese and tomato soup. Yum!
Be sure to browse all our Mexican food recipes for more ideas.
Recipe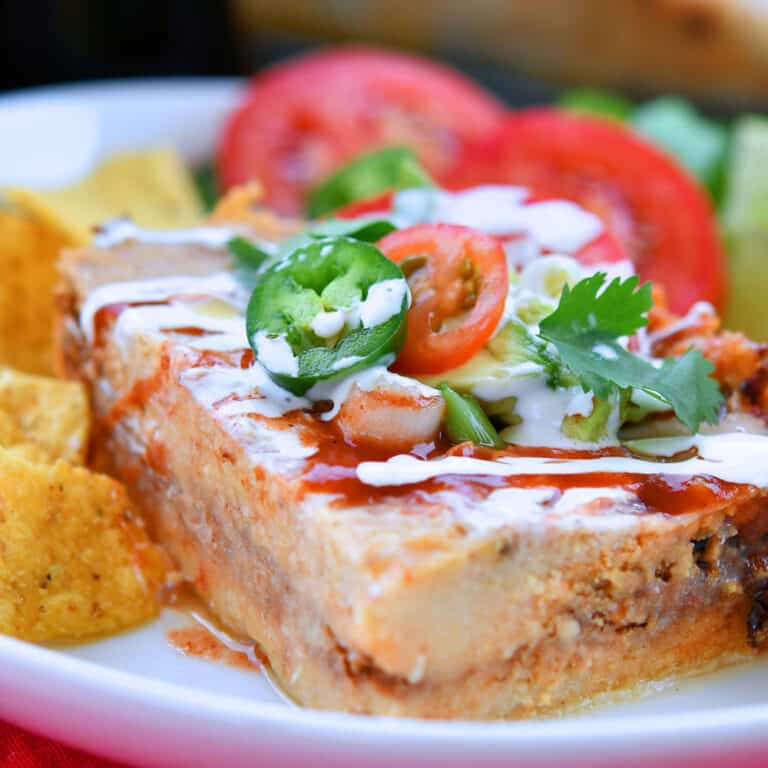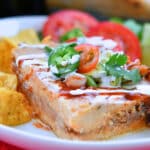 Pin Recipe Now
Pork Tamale Casserole Authentic Taste No Husk
Tap to leave a star rating
Save or Print
This Pork Tamale Casserole takes homemade tamales to an entirely new level. You get all the authentic tamale taste and texture without making individual corn husk filled tamales. Let's get started!

For more information, be sure to check the recipe details in the attached 24Bite® post.
Equipment
6 quart Crock Pot

9×13 rectangle bakeware AND 10×15 rectangle bakeware

Standing Blender
Ingredients
Preparing Pork Roast
2

pounds

Pork Roast

Salt and Pepper

,

as desired
Red Sauce
4

Guajillo Chiles

,

seeded and cleaned

1

Arbol Chile

,

cleaned

1

Onion

,

quartered

1

Tomato

,

quartered

6

Garlic Cloves

,

peeled

1 ½

Chicken Stock

,

or chicken broth

1

teaspoon

Ground Cumin
Masa Dough
3

cups

Masa Harina

,

like Maseca

1

tablespoon

Baking Powder

1

teaspoon

Salt

1

teaspoon

Onion Powder

1

teaspoon

Garlic Powder

1

tesapoon

Ground Cumin

1

teaspoon

Dark Chili Powder

8

ounce

Lard

,

melted

3

cups

Chicken Stock

,

or chicken broth
Instructions
Preparing Pork Roast
Rub salt and pepper, as desired, on all sides of pork roast. If you don't want to use salt here, use onion, garlic or chili powder, or any combination. A garlic pepper blend would make a nice rub for the roast.

Place in Crock Pot on low and cook for 6-8 hours, or overnight, until fork tender.

Remove and shred with a fork. Using a knife, cut the shreds a few times so that they aren't too long and stringy.
Preparing Red Sauce
Note: Prepare the sauce while the roast is cooking and place in refrigerator for later. Place chiles, tomato, onion and garlic cloves in saucepan. Add enough water to cover. Place on stove top on medium heat for about 20 minutes, until vegetables are softened.

With slotted spoon, remove everything from water to blender. Add indicated amount of chicken broth and cumin to blender. Process until smooth.
Preparing Pork Filling
You will only need about 1 ½ cups sauce for the shredded pork. Start mixing about one cup sauce with the pork and add only enough to make it nicely coated but not dripping. Any leftover sauce can be used as a serving sauce or to flavor the masa.

Set aside to prepare masa.
Preparing Masa Dough
Whisk together masa harina, baking powder and seasonings.

Melt lard. You can melt it on the stovetop. I melted it in a glass measuring cup in the microwave for two minutes.

Add melted lard to masa harina mixture. Mix well. It will look like wet sand like you would use to make sand castles.

Add one cup of stock at a time and mix well after each addition.
Assembling the Casserole
For this process, you will need two baking dishes, one that will fit in the other. I've used a 9×13 rectangle baking dish for the casserole itself. It fits into a 10×15 rectangle baking dish which will hold the water. Check your cupboards to see what you may have available. You can use anything that will allow you to cook inside another pan, as a water bath. It doesn't need to be a 10×15 baking dish. You could have a turkey roasting pan that will work, for instance.

Spray the 9×13 rectangle baking dish with cooking spray. Spread half the masa dough in the same pan. Use the back of a spoon or spread and press down with your fingers. Spread all of the pork roast mixture on top of the masa dough. Drop spoonfuls of remaining masa dough evenly on top of pork roast mixture then carefully spread or press it until pork mixture is completely covered.

Place the 9×13 baking dish inside the 10×15 baking dish. Cover with foil. You may need to cut two pieces of foil and fold them together vertically in order to make it wider. Leave a little opening so you can pour in water. Very carefully, place the baking pans into the oven. Using a spouted measuring cup, pour water into the lower baking pan, being careful not to overfill because it will boil and you don't want it to boil over into the casserole. Secure the foil.
Baking the Casserole
Bake for 1 ½ hours. Check after an hour to see whether you need to add more water.

When you remove from the oven, be very, very careful. If possible, remove the foil and take out the smaller baking dish first, leaving the one with the boiling hot water inside the oven until cooled. Once you remove the casserole, be certain the foil is still covering while it cools. When making the tamales as close to authentic as possible, you need to keep them covered so they don't dry out.

Allow to cool for about 15- 20 minutes before serving. Cut into square pieces or cut into rectangles to mimic the look of a tamal that's been cooked in a corn husk.
Note: If there is a video, it will not display while there is an adblocker.
Notes
If you're not into using lard, you can use vegetable shortening. 
If you don't want to use a crock pot, you can cook the pork roast in a pan with enough water to cover on the stove top or in the oven at 350°. It will take approximately two hours.
Serve with avocado, lime slices, tomato salad, red cabbage, sour cream, red sauce and Mexican crema. 
Nutrition Facts
Pork Tamale Casserole Authentic Taste No Husk
Amount Per Serving
Calories 400
Calories from Fat 45
% Daily Value*
Fat 5g8%
Sodium 322mg14%
Carbohydrates 27g9%
Protein 22g44%
* Percent Daily Values are based on a 2000 calorie diet.
______________________
Percent Daily Values are based on a 2000 calorie diet. All amounts are estimates and 24Bite® takes no responsibility for actual figures since calculations vary by packaging and supplier. Please calculate the amounts yourself based on package labeling if you have specific dietary requirements. 24Bite®, Kim Guzman or Christian Guzman shall not be liable for adverse reactions or any other outcome resulting from the use of recipes or recommendations on this website or actions you take as a result.
© 2019-2023 Kim Guzman and Christian Guzman. All rights reserved. Subscribe to 24Bite email newsletters.
Follow 24Bite: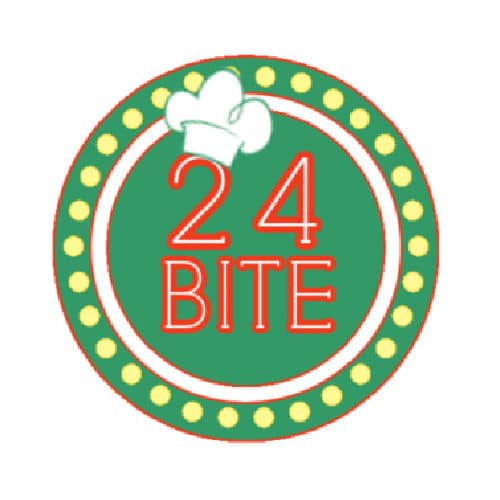 Twitter | Facebook | Pinterest