These Spinach Enchiladas contain a delicious mix of spinach, mushrooms and onions in melty white cheese and flavored with salsa verde for a one-of-a-kind meatless meal.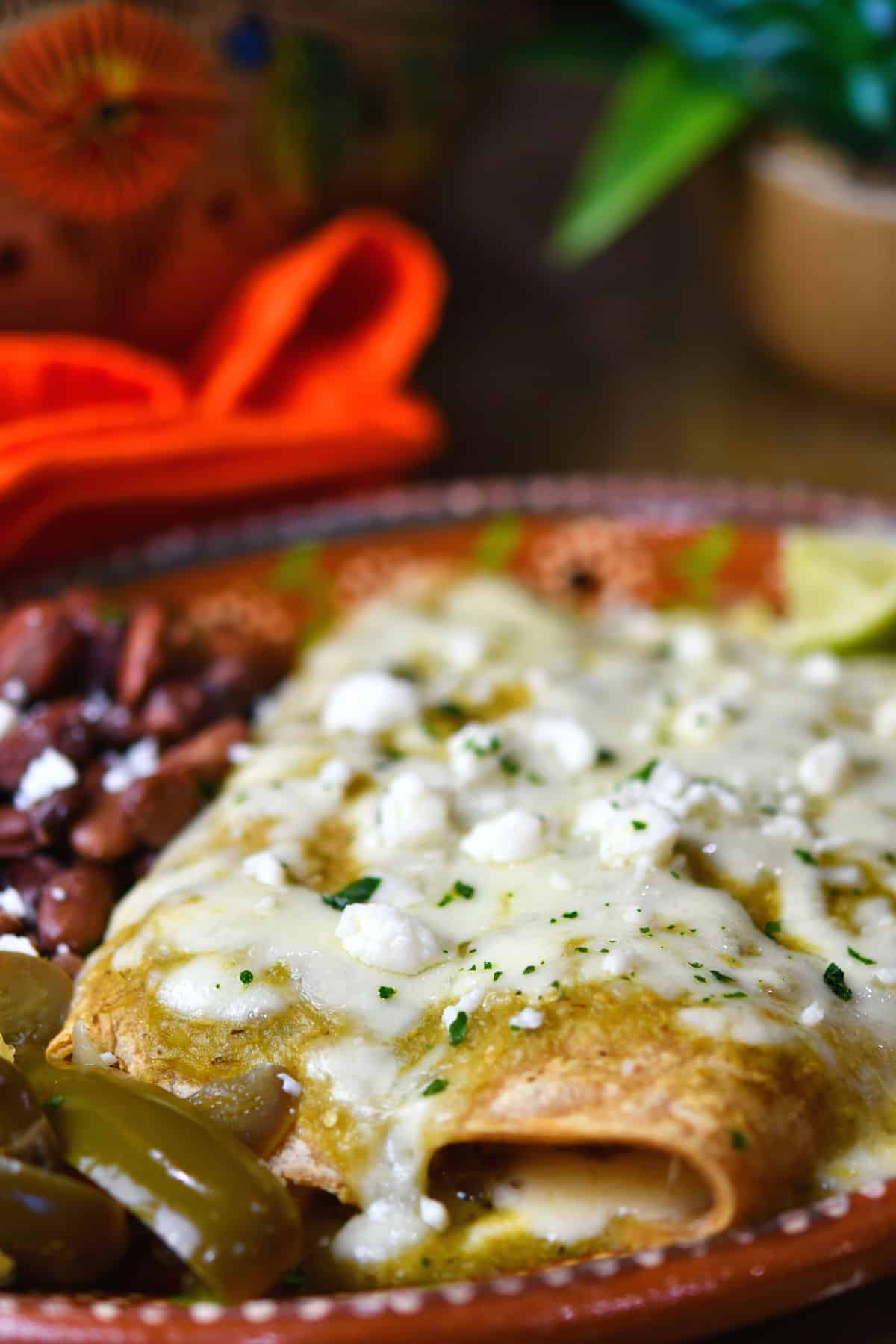 Ingredients
For these vegetable enchiladas, I didn't use many ingredients. If I had made my own Verde Enchilada Sauce, there would be a lot more ingredients and it would be more involved. Fresh tomatillos have been hard-to-find this year so jarred sauce, it is.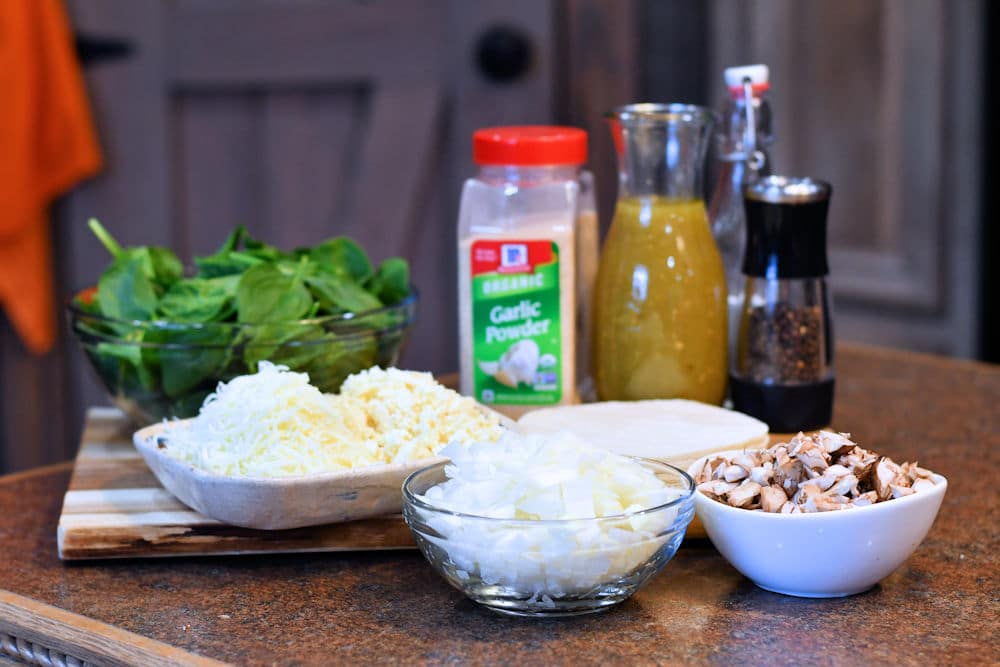 For this recipe, I'm using only:
Corn tortillas
White cheese
Spinach
Mushrooms
Onion
Salsa Verde
Seasonings
Cheese for Vegetable Enchiladas
Vegetable enchiladas will, of course, include cheese and what cheese you use is up to you. I've used one pound Monterey Jack cheese.
To maintain authenticity, use a white cheese but, really, if you want to use a yellow cheese, the enchilada police aren't going to show up at your doorstep to take you away.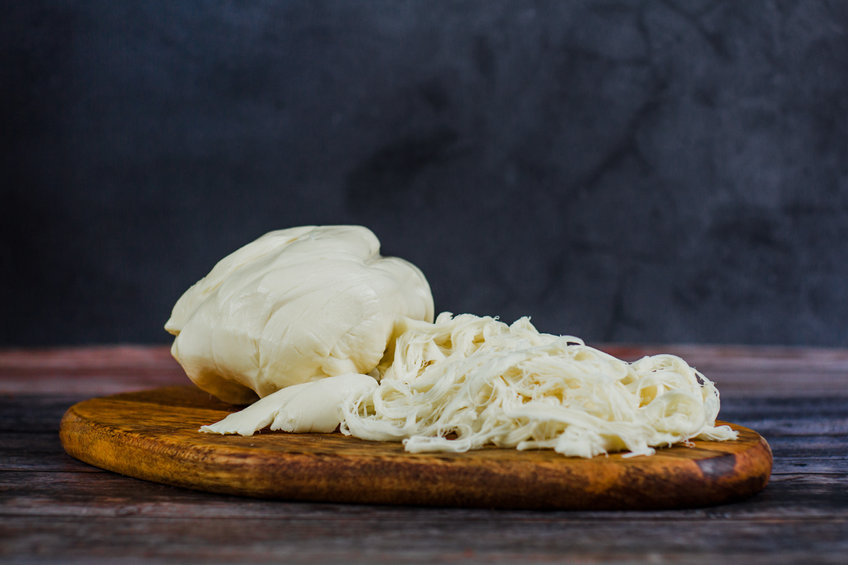 For the soft melting cheese, I've used what I can find here. But, if you can find Mexican Chihuahua cheese, also known as Queso Menonita, definitely go for that.
Menonita is the name for the cheese because it was originally made by the Mennonite communites in the State of Chihuahua, Mexico. In Chihuahua, it's called Menonita. Most everywhere else, including the United States, it's called Chihuahua Cheese.
Mozzarella cheese will work as a substitute. Really, any of your favorite melty cheese will work.
Is this Vegetarian?
The exact recipe may or may not be vegetarian, depending solely on the cheese of choice.
You need to watch the ingredients in the cheese. Some cheeses use rennet and you need to confirm the type of rennet used. If it's animal rennet, then it's not vegetarian. Vegetatio has a nice list of vegetarian cheeses which will give you plenty of choices.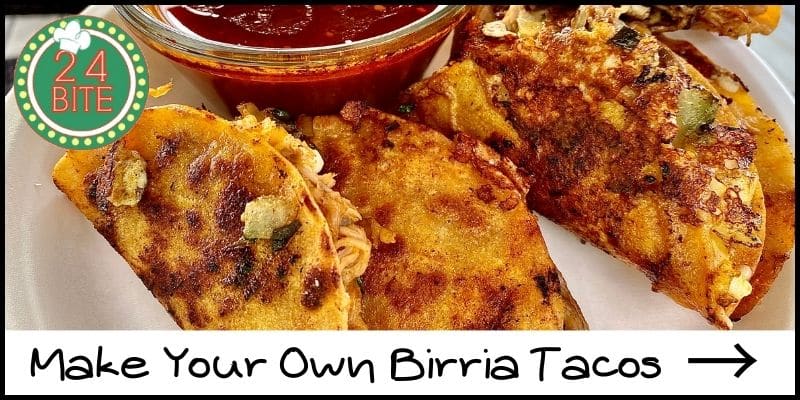 Soften Corn Tortillas
There are so many different ways to soften corn tortillas. You can soften them in a skillet or comal, like I've done here.
I was able to heat the tortillas in a ceramic skillet without using any oil at all. As long as you keep it swirling around, it doesn't stick.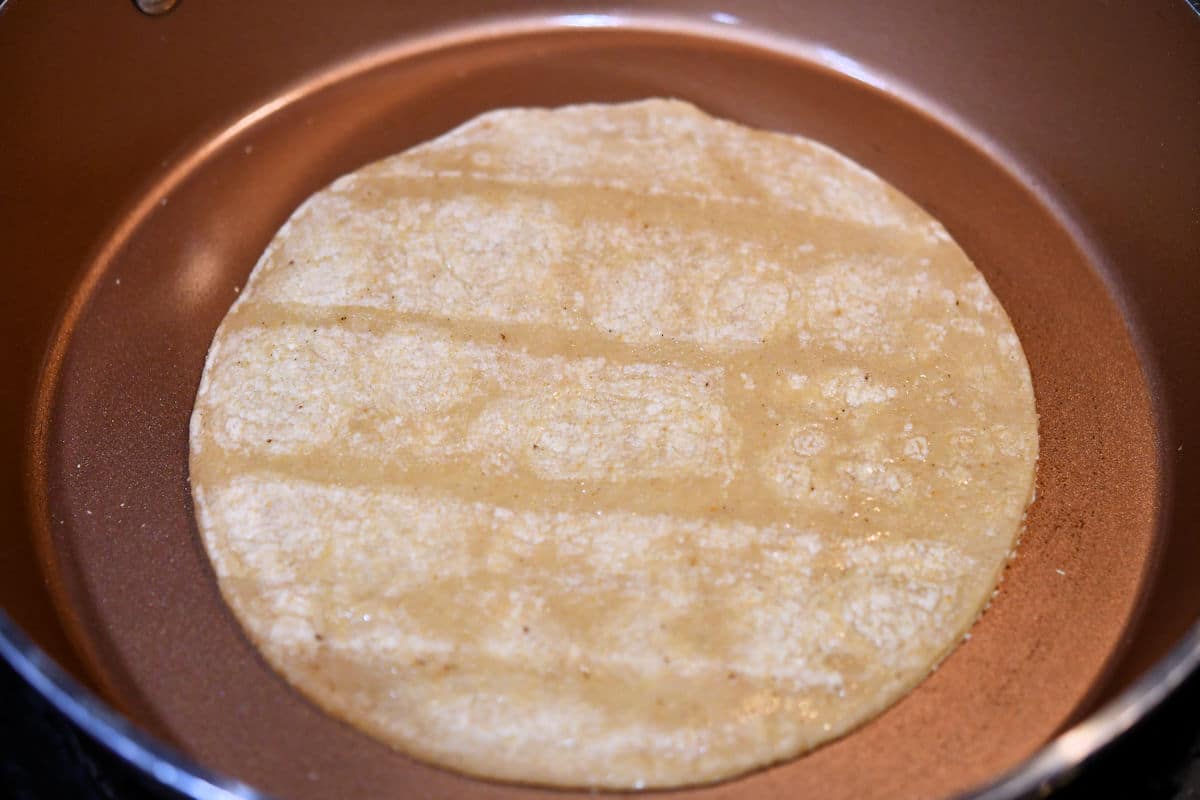 If you don't want to pan fry the tortillas, you have options. You can soften them in the oven or in the microwave. You can use a bit of olive oil or olive oil spray.
It's important that you don't heat them too long, though. I've got nothing against tostadas, but you won't be able to roll them up if you cook them too long.
I've discussed How to Soften Corn Tortillas without Breaking in more detail. Check it out for more alternatives.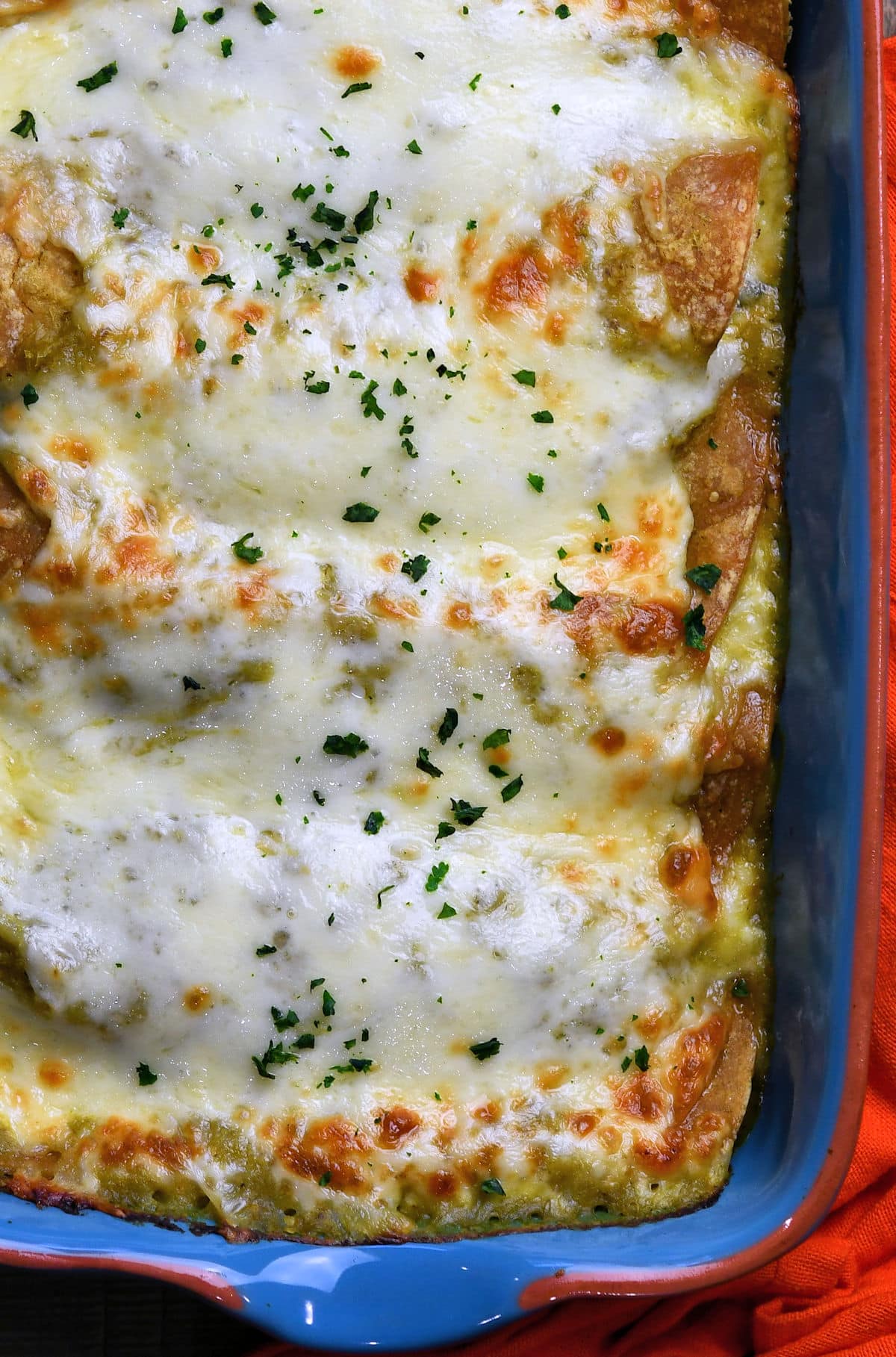 Using Flour Tortillas
I've used corn tortillas for more authenticity. Mexican enchiladas are always made with corn tortillas, preferably yellow corn since it's stronger. But, if you prefer blanca flour tortillas, that's okay too. Be sure to heat them up a little, though.
Flour tortillas come in various sizes so be sure to get the ones marked "Taco" instead of the ones marked "Fajita" or "Burrito". These are certainly tasty alternatives, but you have to watch to make sure your tortillas will fit inside your baking pan.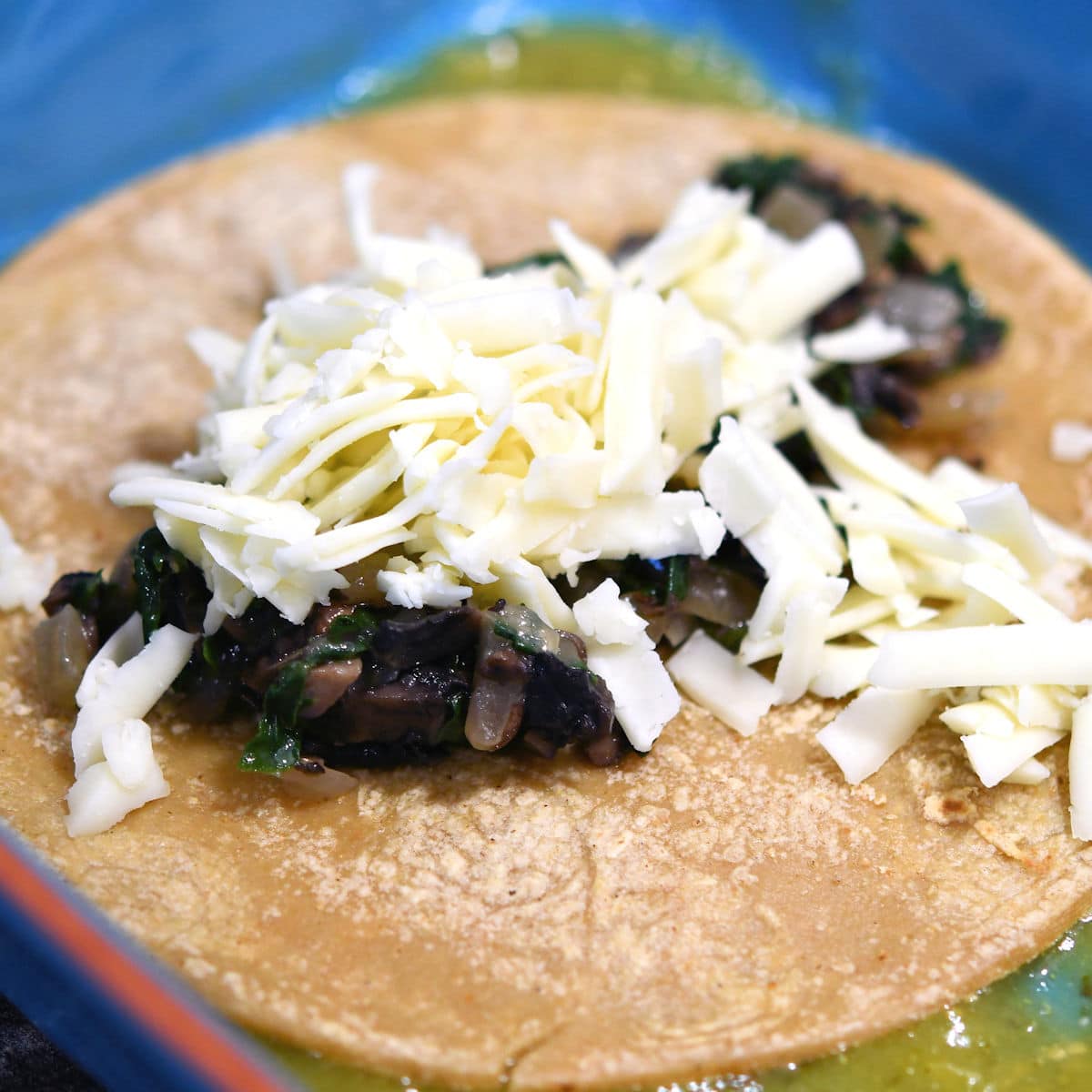 Enchilada Assembly
There are two common sizes of corn tortillas, 8″ and 9″. Depending on the size, you may be able to fit only 8 enchiladas in your pan. You may need two pans. Or, if you have extra ingredients, you can add them to pasta for tomorrow's meal.
Once you have all the tortillas rolled, pour half the verde salsa down the center most part of the pan. I know that I've seen many photos of enchiladas that are completely covered. You can't see the shapes of the tortillas, just the cheese.
I don't do this because I really like the edges exposed. They crisp up in the oven and it's a beautiful thing.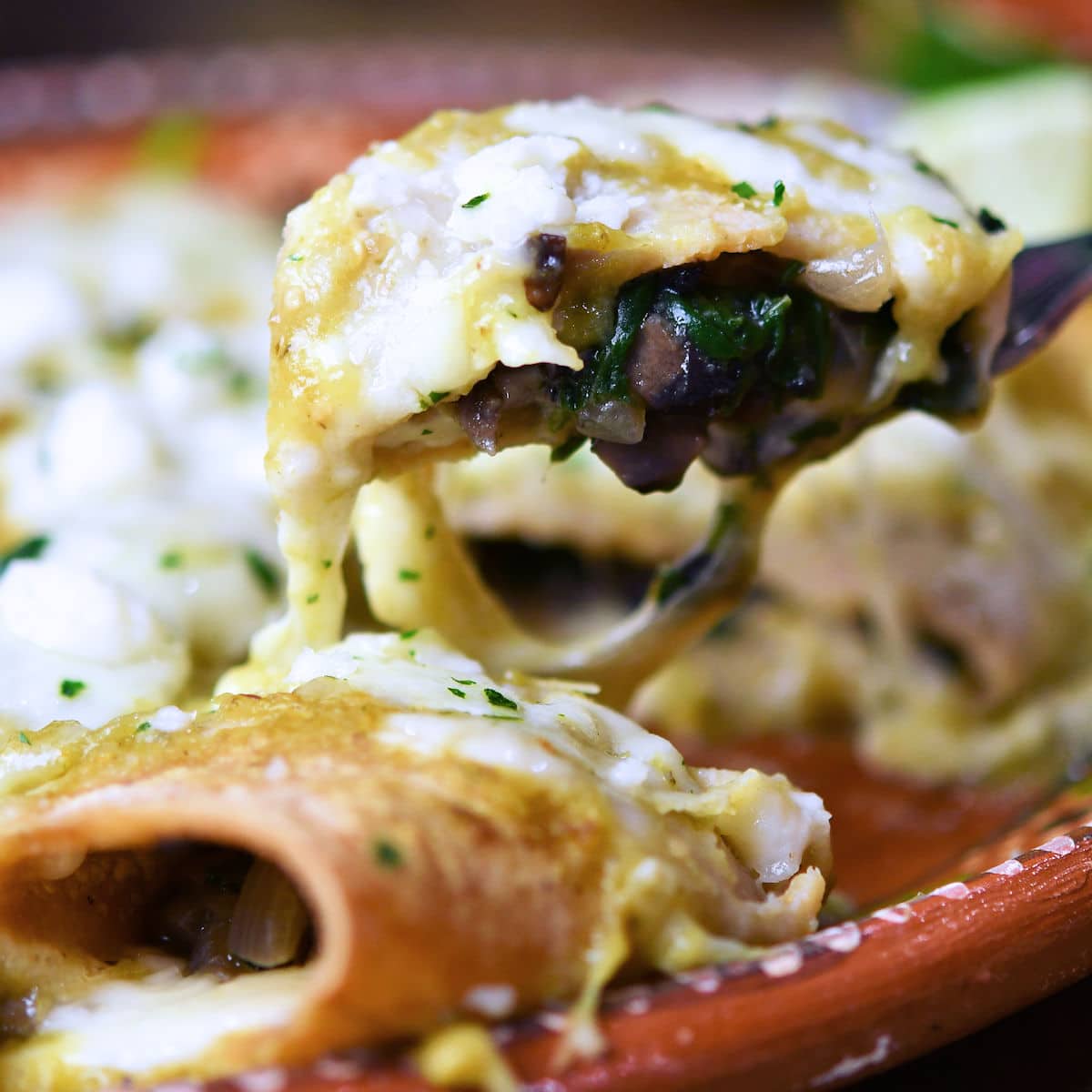 More Mexican Food
If you've followed my website for long, you will already know how much I love Mexican food. Pizza and Mexican food. Yum! Here are some other recipes to try.
If you're looking for another meatless enchilada alternative, try these Cheese Enchiladas with Roasted Poblano Peppers.
Be sure to browse all our Mexican food recipes for more ideas.
Recipe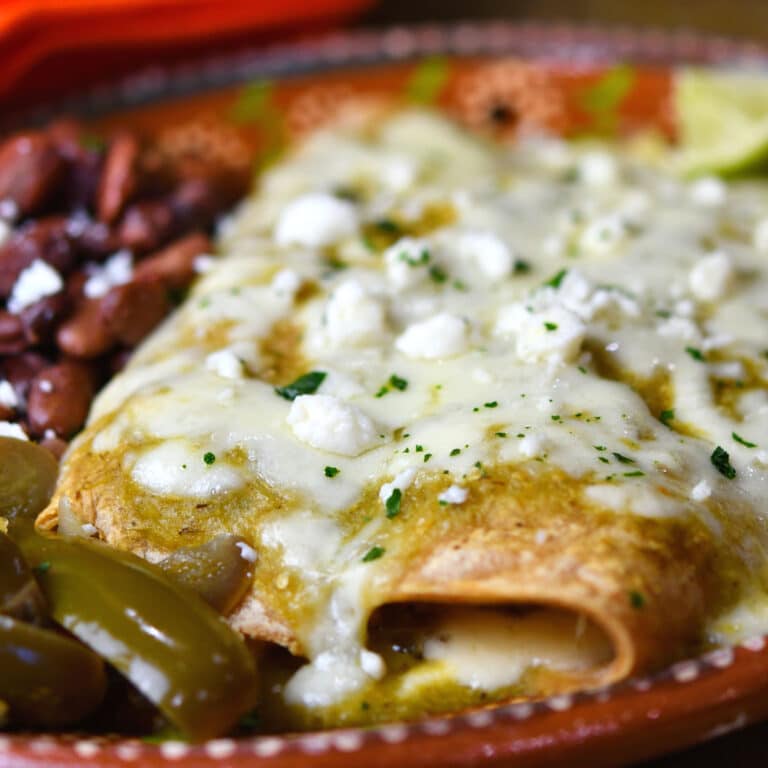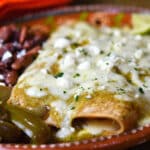 Pin Recipe Now
Spinach Enchiladas with Mushrooms
Tap to leave a star rating
Save or Print
These Spinach Enchiladas contain a delicious mix of spinach, mushrooms and onions in melty white cheese and flavored with salsa verde for a one-of-a-kind meatless meal.

For more information, be sure to check the recipe details in the attached 24Bite® post.
Equipment
9×13" oven-safe baking pans
Ingredients
Veggie Enchilada Filling
2

tablespoon

Olive Oil

1

large

Onion

,

chopped

1

pint

Baby Bella Mushrooms

,

chopped

6

ounces

Baby Spinach

,

chopped
Assembly
1

pound

Monterey Jack Cheese

,

shredded

2

cups

Herdez Salsa Verde

,

or other green sauce
Instructions
In a skillet, on the stove top, on medium heat, place 2 tablespoons olive oil. Add chopped onion and mushrooms. Cook until softened, about 4-5 minutes.

Add chopped spinach to same skillet and cook until wilted, about 4-5 minutes. Remove from heat and set aside.

In another skillet, begin frying the tortillas. This will add some color to the tortillas and make them easier to roll without much cracking. (See above for alternate methods.) Place the tortillas, one at a time, heating about 30 seconds on each side. You want to heat them, but you don't want tostadas. Remove to a plate and cover with a towel until you complete all of them.

Place about ½ – ¾ cup salsa verde in baking pan and distribute evenly. Place a tortilla flat in the baking pan, place about two tablespoons of spinach mixture and two tablespoons of shredded Monterey Jack down the center. Roll up the tortilla and place seam side down in the baking pan. When the rolled tortillas make it so you no longer have room in the pan to put the tortilla directly on the pan, just set it on top of the already rolled tortillas in order to roll them.

Pour ½ – 1 cup salsa verde down the centermost part of the enchiladas, leaving a little bit of the open edges unsauced. This allows them to crisp up a bit in the oven.

Sprinkle Monterey Jack cheese also down the center, still leaving some of the edges open a little. Place in preheated oven for 10-15 minutes. Your goal is simply to heat through and melt the cheese. 5-10 minutes more will give you bits of golden brown on the top. Everything is already cooked, though, and you're not really cooking anything. Serve immediately.
Note: If there is a video, it will not display while there is an adblocker.
Notes
If you have more authentic Mexican cheeses available, try using Oaxaca or Enchilado for the semi-soft and Chihuahua for the soft melting cheese.
For ease, you can use the jarred salsa verde or your favorite canned green enchilada sauce. If you have tomatillos and green chiles available fresh, you can make your own Green Chile Enchilada Sauce.
Serve with avocado, tomatoes, cilantro, extra verde sauce, crema and lime.
Nutrition Facts
Spinach Enchiladas with Mushrooms
Amount Per Serving
Calories 241
Calories from Fat 135
% Daily Value*
Fat 15g23%
Sodium 607mg26%
Carbohydrates 16g5%
Protein 12g24%
* Percent Daily Values are based on a 2000 calorie diet.
______________________
Percent Daily Values are based on a 2000 calorie diet. All amounts are estimates and 24Bite® takes no responsibility for actual figures since calculations vary by packaging and supplier. Please calculate the amounts yourself based on package labeling if you have specific dietary requirements. 24Bite®, Kim Guzman or Christian Guzman shall not be liable for adverse reactions or any other outcome resulting from the use of recipes or recommendations on this website or actions you take as a result.
© 2019-2023 Kim Guzman and Christian Guzman. All rights reserved. Subscribe to 24Bite email newsletters.
Follow 24Bite: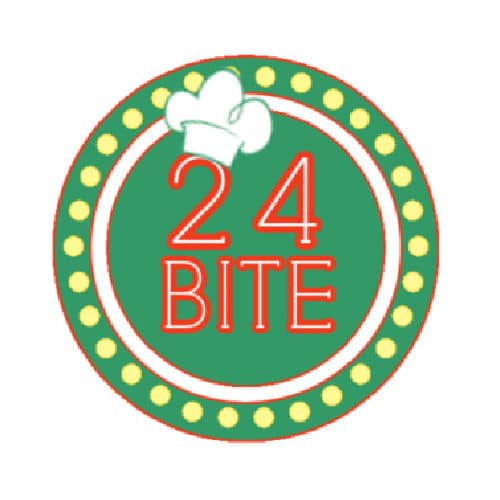 Twitter | Facebook | Pinterest