Chicken Tinga Tacos Dorados is a recipe that starts with tender shredded chicken in a homemade adobo sauce then fried and served with a dipping sauce.
Recipe | What is Chicken Tinga? | Homemade Adobo Sauce | Cinco de Mayo Recipes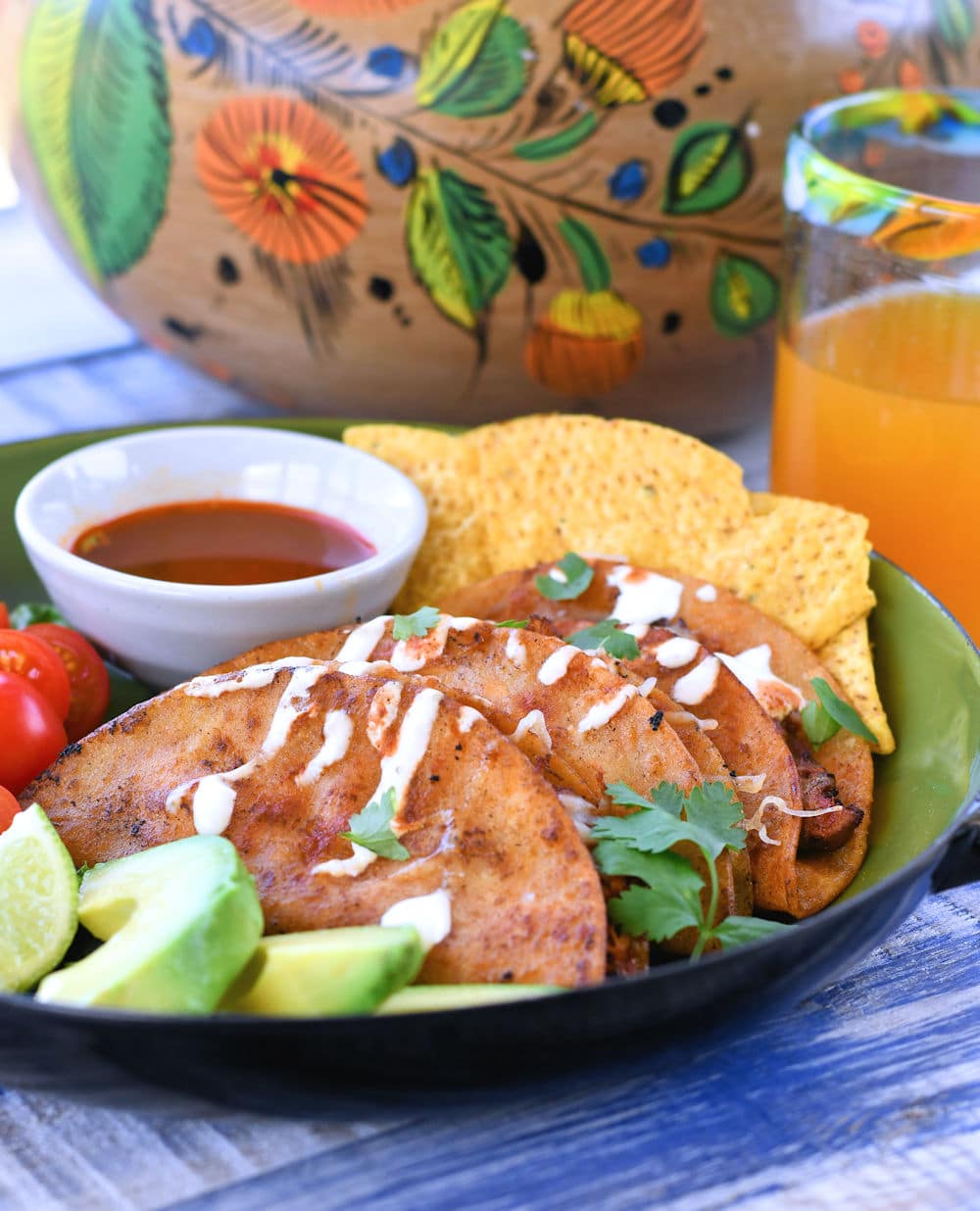 What is Chicken Tinga?
Chicken tinga, also known as tinga de pollo, is a traditional dish from the State of Puebla in Mexico. Puebla is the site of the battle that Cinco de Mayo commemorates so it is obligatory that I give it a try for our Cinco de Mayo menu.

To make chicken tinga, you first cook the chicken until it's tender and you can shred it with a fork. Once shredded, you will simmer it in a delicious homemade adobo sauce.
Homemade Adobo Sauce
I had to break out a very old cookbook to get the general idea of how to make homemade adobo sauce. I reviewed several chicken tinga recipes and all that I could find used the canned chipotles in adobo sauce.
If you've been following me for long, you will know that I prefer to make things homemade instead of depending on a can.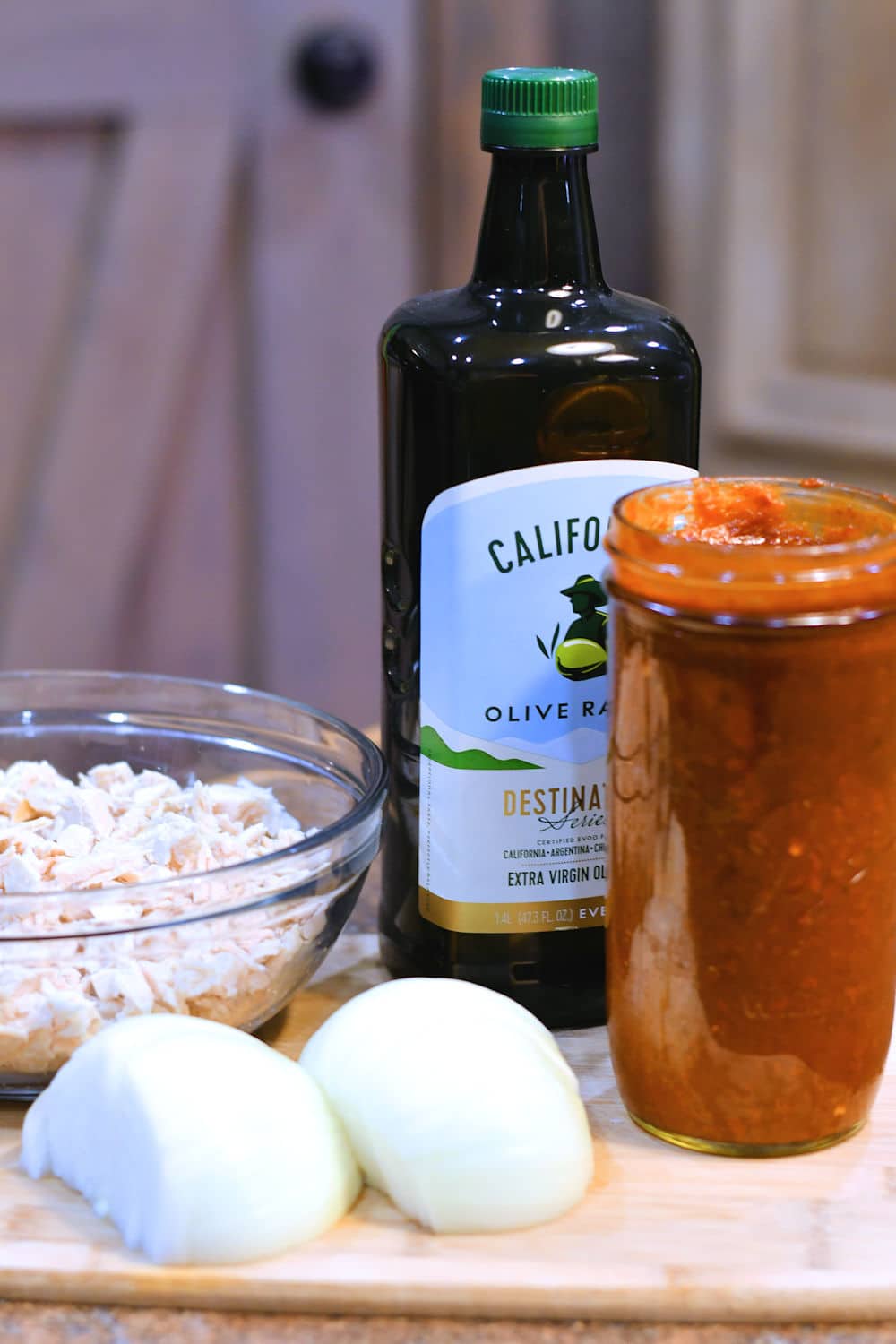 All I can say is "Wow!" The adobo sauce is very similar to barbecue sauce except it's got a spicy edge to it. Once you add the shredded chicken, think of it as a spicy barbecue pulled chicken. It would be equally tasty on a toasted bun. Delicious stuff.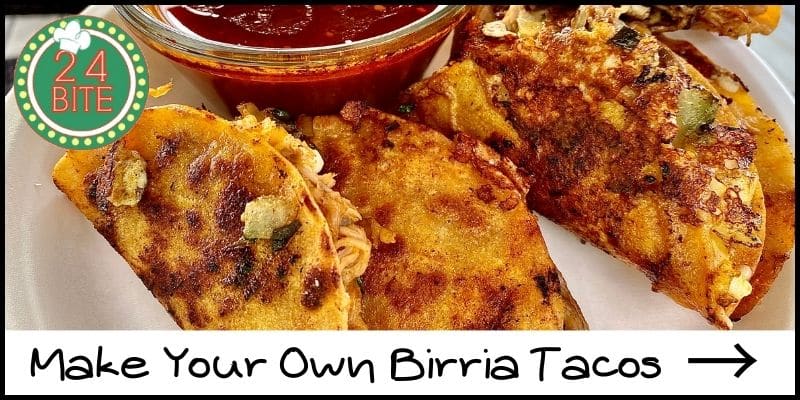 Adobo Sauce Ingredients
For this recipe, I settled on three primary kinds of dried chiles: guajillo, ancho and chipotle. These are the dried versions of the fresh mirasol, poblano and jalapeno peppers. Keep in mind that they're the same chiles; they're just called by a different name to indicate that they've been dried. I also used a tiny bit of arbol chile.
If you want to reduce the spice level of your adobo sauce, instead of guajillo, try using the dried Anaheim/California/Colorado chiles. They have just a touch of heat and can be used in abundance. We use them frequently and buy them a couple of pounds at a time.
The arbol chile is fairly hot so use it sparingly or not at all if you want to decrease the spice.
The ancho chile is dark so it will give your sauce that rich, darker color. There are lots of different chile options and you can mix and match to get your perfect combination. Have a look at Marxfood to see a heat scale for the different chiles.
Step by Step Chicken Tinga
Like many of the recipes I make, I made the chicken and adobo sauce ahead of time. I wanted to have a rest before I began putting the tacos together. Although I've made plenty of tacos, I've never tried to fry the tacos before and I knew it would need a bit of practice.
When I was ready, the chicken tinga turned out to be very easy to put together.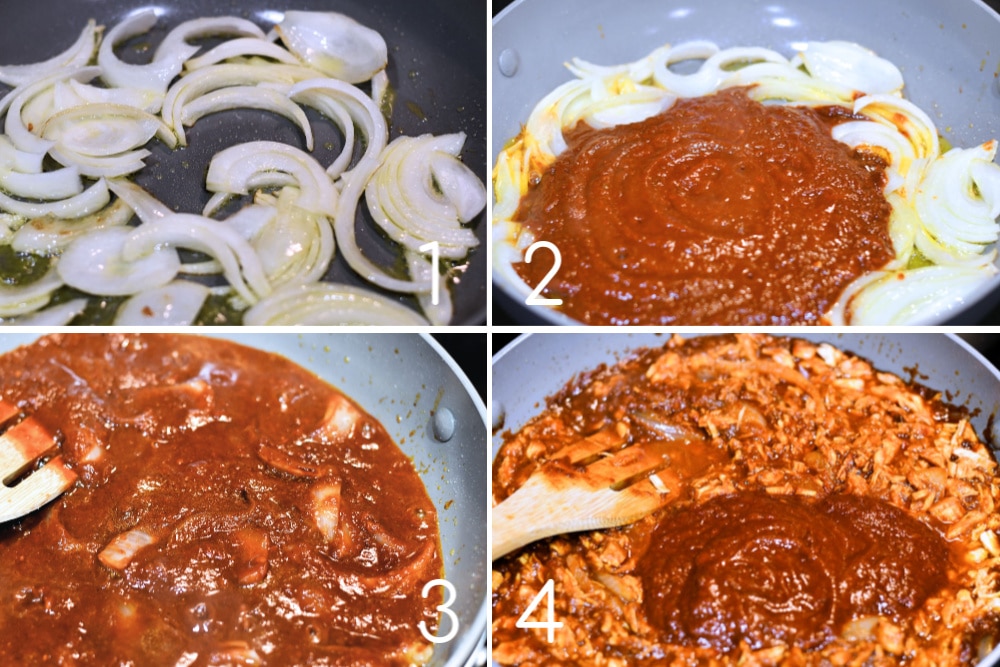 Saute the onions in olive oil.
Add the adobo sauce.
Heat through.
Add the chicken and simmer.
Frying the Tacos
Before frying the tacos, I strained the chicken tinga so I had about 1 ½ cups plain sauce. Then, heat up the oil in a skillet.
You have to be really careful with these next steps in making tacos dorados. The oil will pop and spatter. It may be falling on deaf ears but it was so worth it.
When you have the sauce separated, you dip the tortillas in it and then you carefully place it in the hot oil. Again, be really careful with it. You will turn it over in about 30-60 seconds and quickly place about 2-3 tablespoons chicken tinga in the center.
I used two separate spatulas for the folding maneuver. Anchor the taco with one of the spatulas and then fold it over with the other. Smash it a little and then turn it over to fry the other side.
All in all, this entire process, while sounding like a long time, took less than two minutes per taco. Once you get the hang of it, you can move right along at a quick clip to get them all finished. Place them on a paper towel lined platter.
Condiments
If you have some of the sauce remaining, serve it with the tacos in a little dipping bowl. Serve with crema, avocado, limes and cilantro. You can also open up the tacos a little and add cheese, lettuce and tomato, if you want.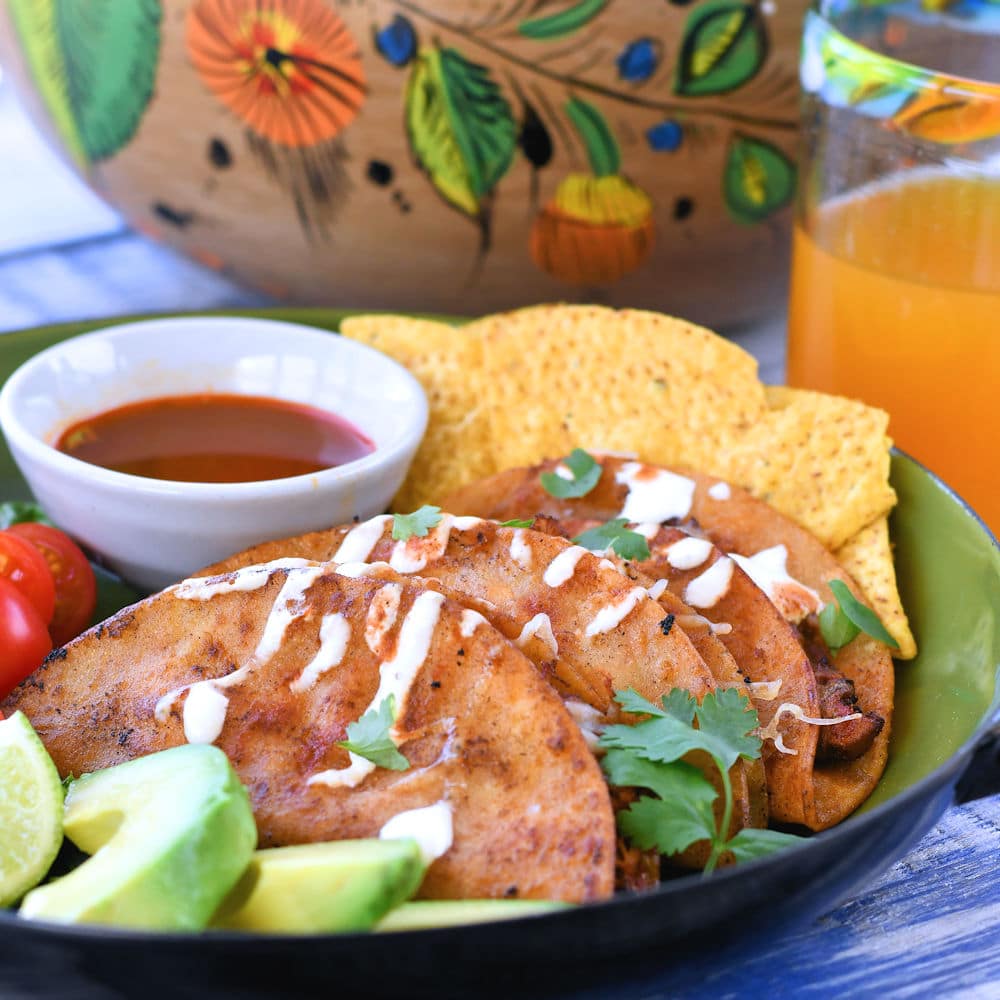 More Cinco de Mayo Recipes
I've been preparing for Cinco de Mayo for at least two months and I've got lots of options. Choose one or choose them all.
Be sure to browse all our Mexican food recipes for more ideas.
Feature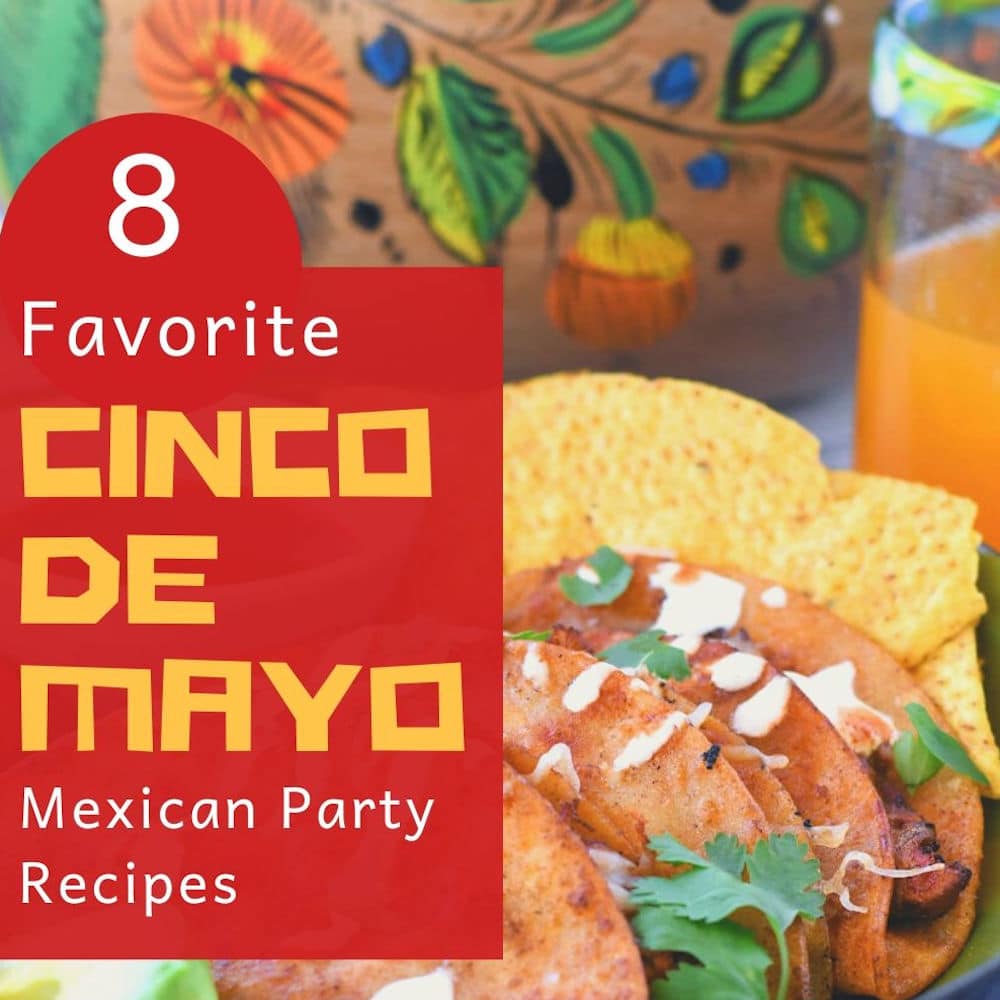 This recipe was featured in this roundup of 8 Favorite Recipes for Cinco de Mayo.
Recipe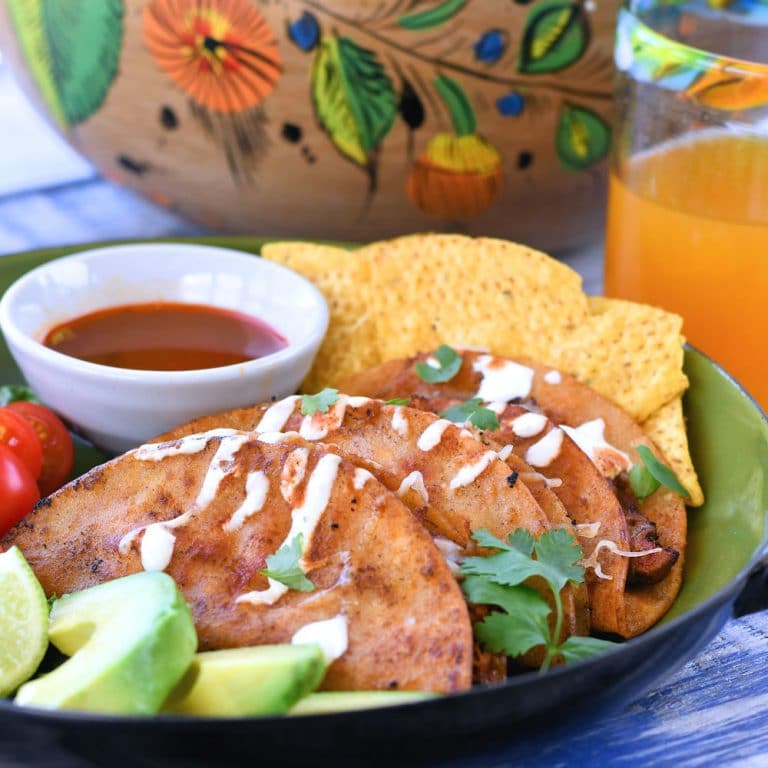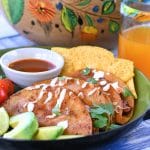 Pin Recipe Now
Chicken Tinga Tacos Dorados
Tap to leave a star rating
Save or Print
These delicious tacos start with a tender shredded chicken in a homemade adobo sauce then fried and served with a dipping sauce.

For more information, be sure to check the recipe details in the attached 24Bite® post.
Equipment
Stand up or immersion blender
Ingredients
Shredded Chicken
2

Boneless Skinless Chicken Breasts

Water
Adobo Sauce
2

Roma Tomatoes

,

quartered

4

Garlic Cloves

,

peeled

1

large

Onion

,

quartered

6

Dried Guajillo Chiles

,

stemmed, seeded and rinsed

4

Dried Ancho Chiles

,

stemmed, seeded and rinsed

4

Dried Chipotle Chiles

,

stemmed, seeded and rinsed

2

Dried Arbol Chiles

,

stemmed, seeded and rinsed

2

cups

Water remaining from cooking chicken breasts

1

teaspoon

Salt

1

teaspoon

Oregano

1

teaspoon

Cumin

1

teaspoon

Brown Sugar

⅛

cup

Apple Cider Vinegar
Finishing Up Chicken Tinga
2

tablespoons

Olive Oil

1

small

Onion
Taco Assembly
18

Corn Tortillas

Vegetable Oil

,

for frying
Instructions
Preparing Chicken
Place chicken in a large sauce pan and cover with water.

Place on medium high heat and bring to a boil then reduce heat to low and cover with lid. Allow chicken to cook until heated through, about 10-15 minutes. Remove chicken and DO NOT DISCARD water. Once chicken is cooled, shred with a fork.
Preparing Adobo Sauce
Quarter tomatoes and large onion. Peel garlic cloves. Stem, seed and rinse all dried chiles. Place all in a medium sauce pan with 2 cups water from boiling the chicken.

Place pan on medium high heat and bring to a boil then reduce to low and cover with lid. Allow to cook until everything is heated through and chiles are soft, about 15 minutes.

With slotted spoon remove all ingredients from water to blender. To blender, add salt, oregano, cumin, brown sugar and apple cider vinegar. If necessary to allow blender to work properly, add a little more water from the chicken cooking water.
Making Chicken Tinga
Peel and cut small onion in half then cut into slivers.

Place large skillet on medium high heat with olive oil. Cook onion slivers until transparent.

Add shredded chicken and adobo sauce to same skillet. Add more water from chicken cooking water to bring to a consistency that is easily stirred and can be brought to a boil without burning to the pan. Don't be afraid to add the water. It will need to have enough liquid to use for dipping so don't worry about it having too much water. You don't want the chicken to be swimming in the water but you want to have enough that you will be able to strain out about 1-½ cups of liquid for dipping.

Bring to a boil then reduce heat to low, cover and simmer for 20 minutes.
Taco Assembly
Once the chicken tinga is cooled slightly, strain it through a metal mesh strainer into a bowl so you have separated the bulk of the liquid from the meat mixture.

Heat a skillet with about ¼" vegetable oil (for frying).

Dip a tortilla in the strained tinga liquid, covering it on both sides. (or use a pastry brush to brush it onto the tortilla). Place the dipped tortilla in the hot oil. Be very careful during this part of the process, it will pop and spatter due to the liquid. (See notes below if you want to skip this step.)

Place two or three tablespoons of chicken mixture in the center of the tortilla.

Using two spatulas, one for each hand, hold one side of the tortilla while folding the tortilla in half, enclosing the meat mixture. Turn it over to crisp up the other side of the folded tortilla, being careful not to drop the contents out the open side. This entire process will come together very quickly. You'll get the hang of it after the first couple of tries. Remove the cooked tortillas to a paper towel lined plate. Repeat for all tacos.

If desired, you can open the tacos up a little to add any other ingredients you like such as cheese, tomatoes, lettuce, etc. I preferred them without only the chicken tinga and crema.
Note: If there is a video, it will not display while there is an adblocker.
Notes
If you prefer not to fry the tacos, you can pan sear them on a dry skillet. Don't dip them in the sauce. Place the tortilla on a hot skillet until it's heated. Turn it over, add chicken tinga to center then fold and cook both sides. If you decide not to fry the tacos, you can deduct about 120 calories and 14 fat grams from each taco.
Nutrition Facts
Chicken Tinga Tacos Dorados
Amount Per Serving
Calories 231
Calories from Fat 153
% Daily Value*
Fat 17g26%
Sodium 157mg7%
Carbohydrates 17g6%
Protein 4g8%
* Percent Daily Values are based on a 2000 calorie diet.
______________________
Percent Daily Values are based on a 2000 calorie diet. All amounts are estimates and 24Bite® takes no responsibility for actual figures since calculations vary by packaging and supplier. Please calculate the amounts yourself based on package labeling if you have specific dietary requirements. 24Bite®, Kim Guzman or Christian Guzman shall not be liable for adverse reactions or any other outcome resulting from the use of recipes or recommendations on this website or actions you take as a result.
© 2019-2023 Kim Guzman and Christian Guzman. All rights reserved. Subscribe to 24Bite email newsletters.
Follow 24Bite: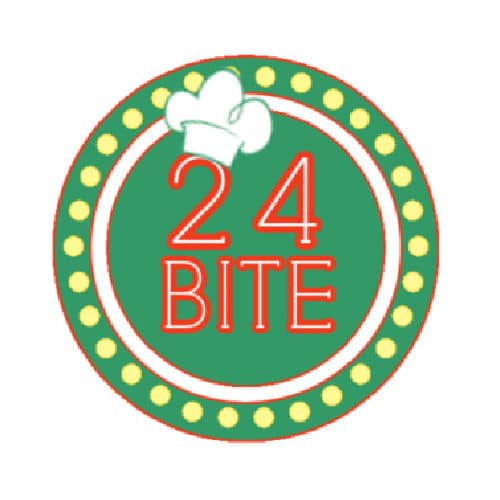 Twitter | Facebook | Pinterest