Freshly made Mexican salsa verde is easy to make and it's better than anything you'll find in a bottle. Use it for dipping or as a sauce for tacos, enchiladas and chilaquiles.
Recipe | What is a tomatillo? | How to serve Mexican salsa verde?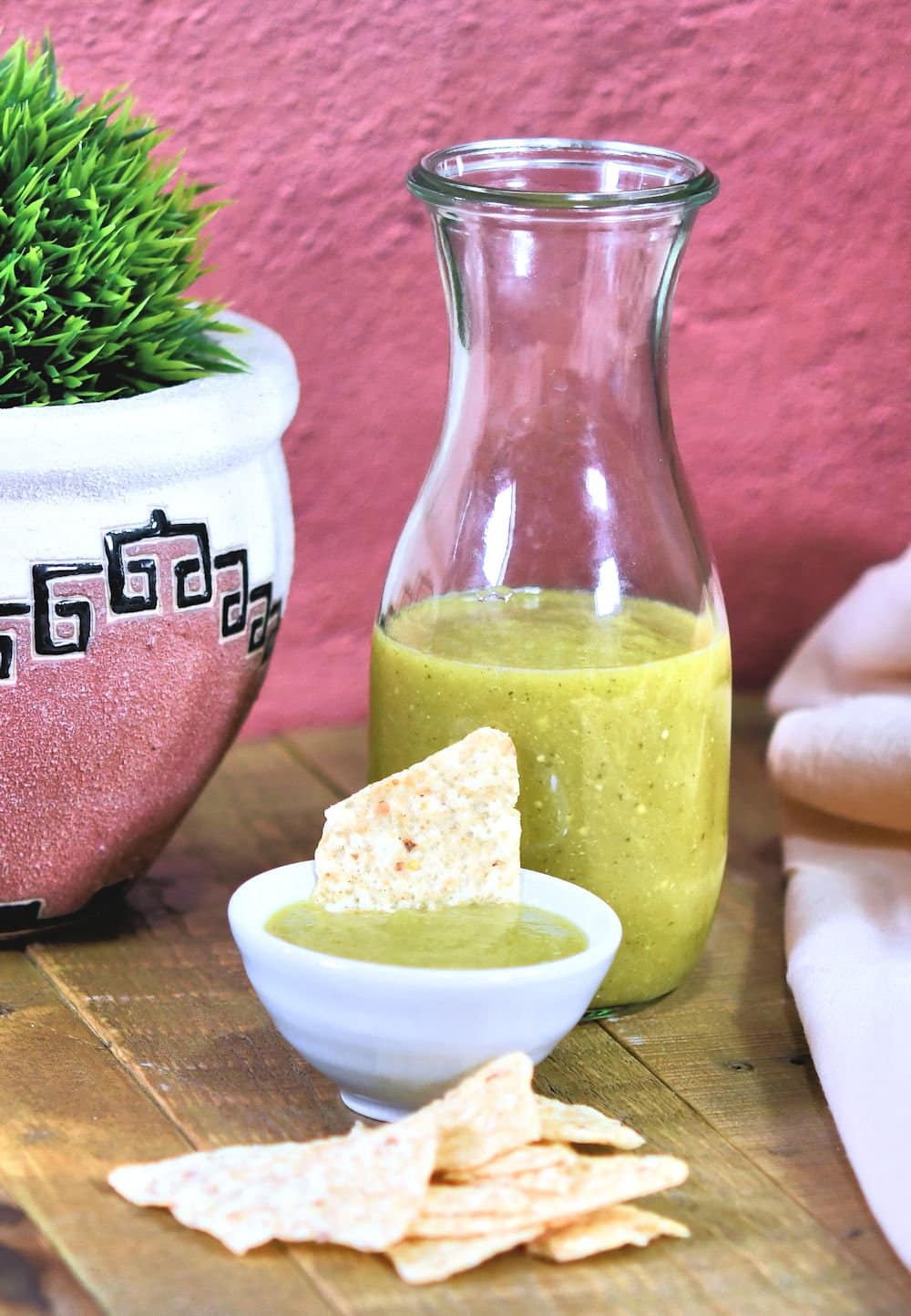 Ingredients
The Mexican salsa verde you find in restaurants, also called green sauce, is usually a tomatillo salsa. You will also find the usual ingredients of onion, garlic and chiles.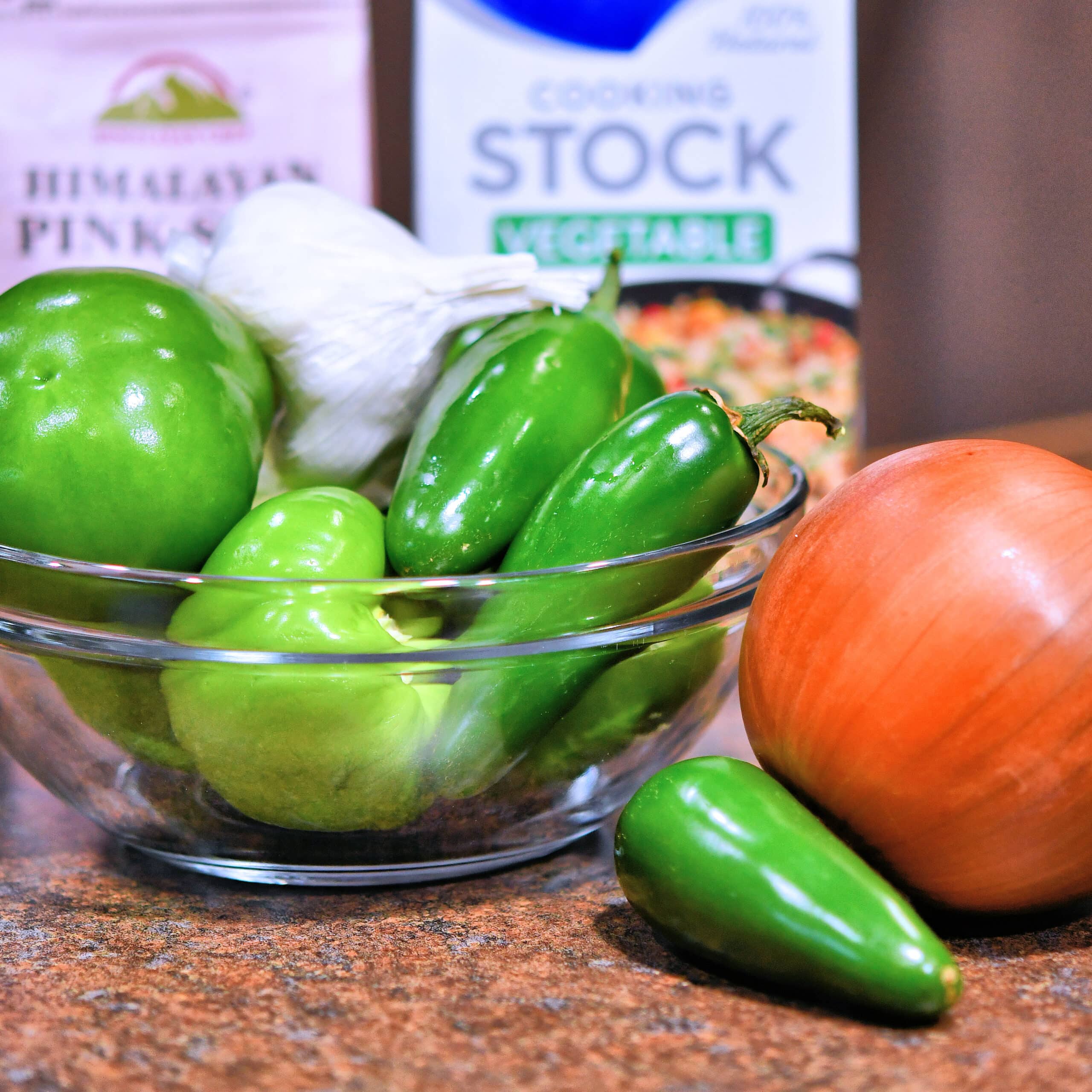 What is a tomatillo?
A tomatillo is a green vegetable in a paper husk. The husk must be removed and you should wash the tomatillo well. There is a sticky residue that cleans off easily.
I know it's unusal to find this residue. It's one of nature's little miracles. It helps to keep pests away.
What's a substitute for tomatillo?
If you are unable to find tomatillo, try using green tomatoes instead. I'm not sure, but I think some Mexican brands also sell canned tomatillos, much like you would find canned tomatoes. You would then only need to cook and soften the onions, chiles and garlic.
Jalapeno chile pepper
If you want a mild salsa verde, use jalapenos. If you remove the stem, seeds and membranes, you'll be left with only the taste of the jalapeno without a tremendous amount of spicy heat.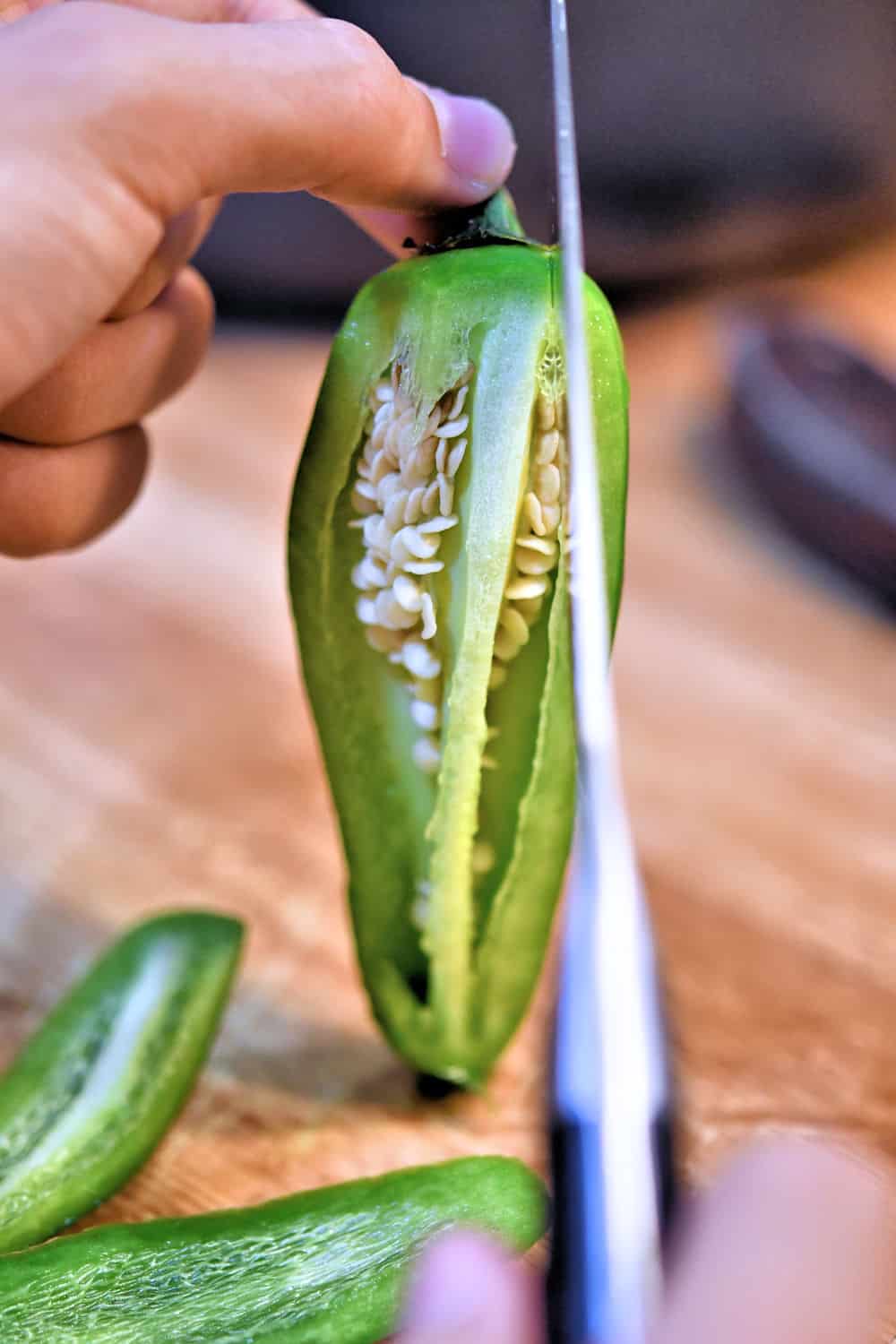 I like to hold the jalapeno by the stem and cut down vertically along the outside of the pepper. This leaves the inner seed portion mostly intact.
Cutting the jalapeno this way makes your prep work so easy! You end with four nicely portioned pieces, perfect for this recipe.
Serrano chile pepper
A serrano chile may look a little like a jalapeno, but it's smaller. And, you know what else? It's HOTTER!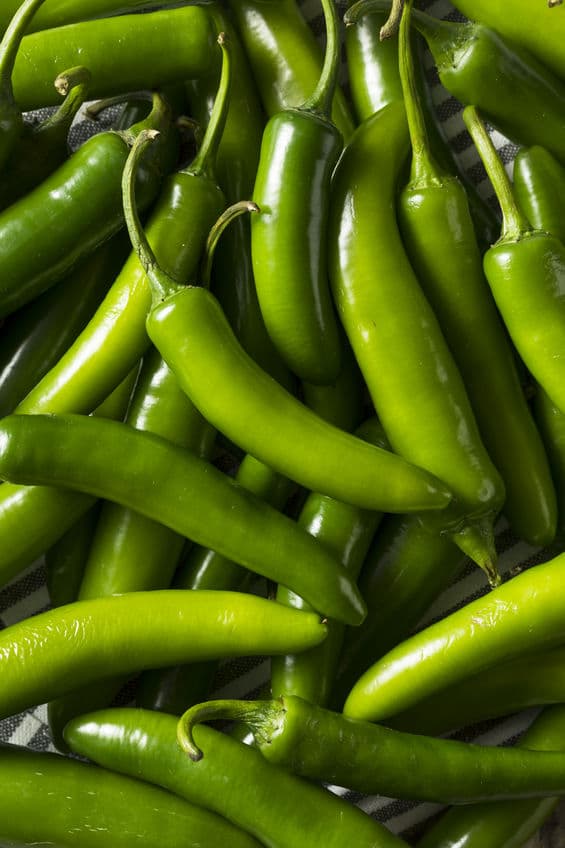 If you compare the serrano chile to a jalapeno, the serrano will usually be smaller and thinner. A serrano looks about the size of your little finger.
Use care with this one. I find that many times, the smaller the chile, the more heat it has.
Take a look at our Scoville Heat Scale to see the difference between the jalapeno and the serrano.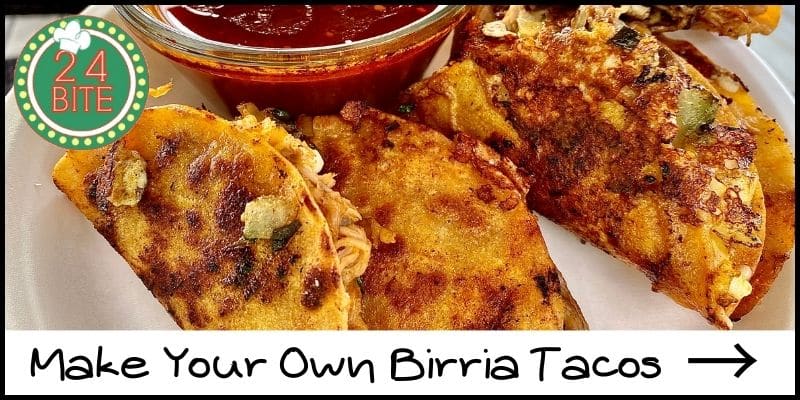 For this recipe, mix and match your chiles. You'll want to use green chiles, of course. Experiment with Anaheim, Hatch, jalapeno, serrano or even green bell pepper, if you're especially sensitive.
Cooking the vegetables
You'll be running the vegetables through a blender so you can loosely chop all of them. Quarter the tomatillos, onion and jalapenos. You can put the serranos in the pan without cutting but you will need to cut off the stem before blending.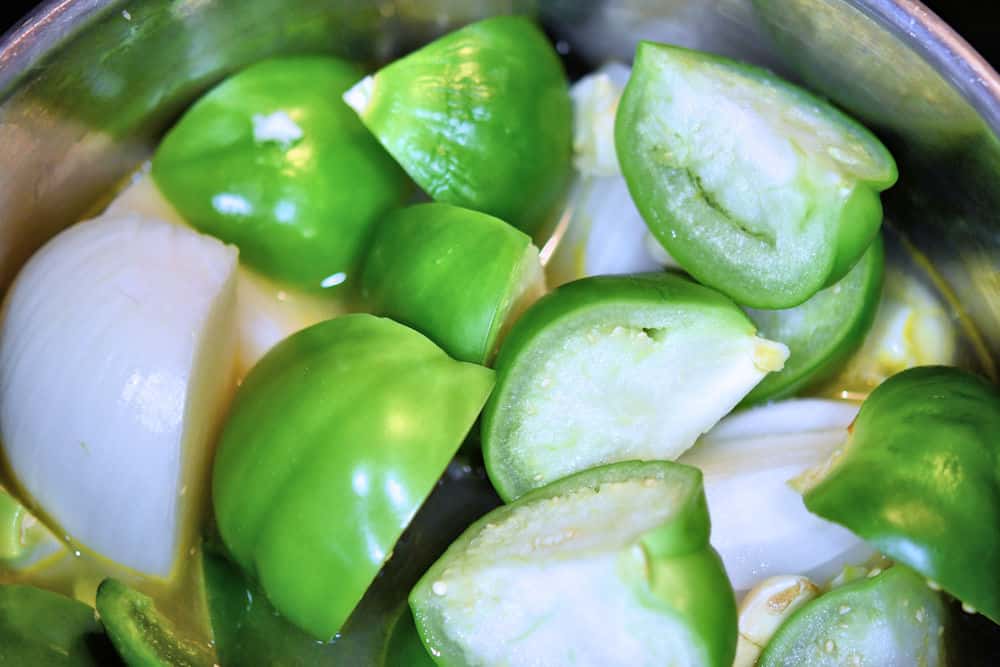 Once the vegetables come to a boil, turn down the heat and let them cook for about 10-15 minutes until softened.
You will also notice a change in the color of the tomatillos to more of a yellowish green.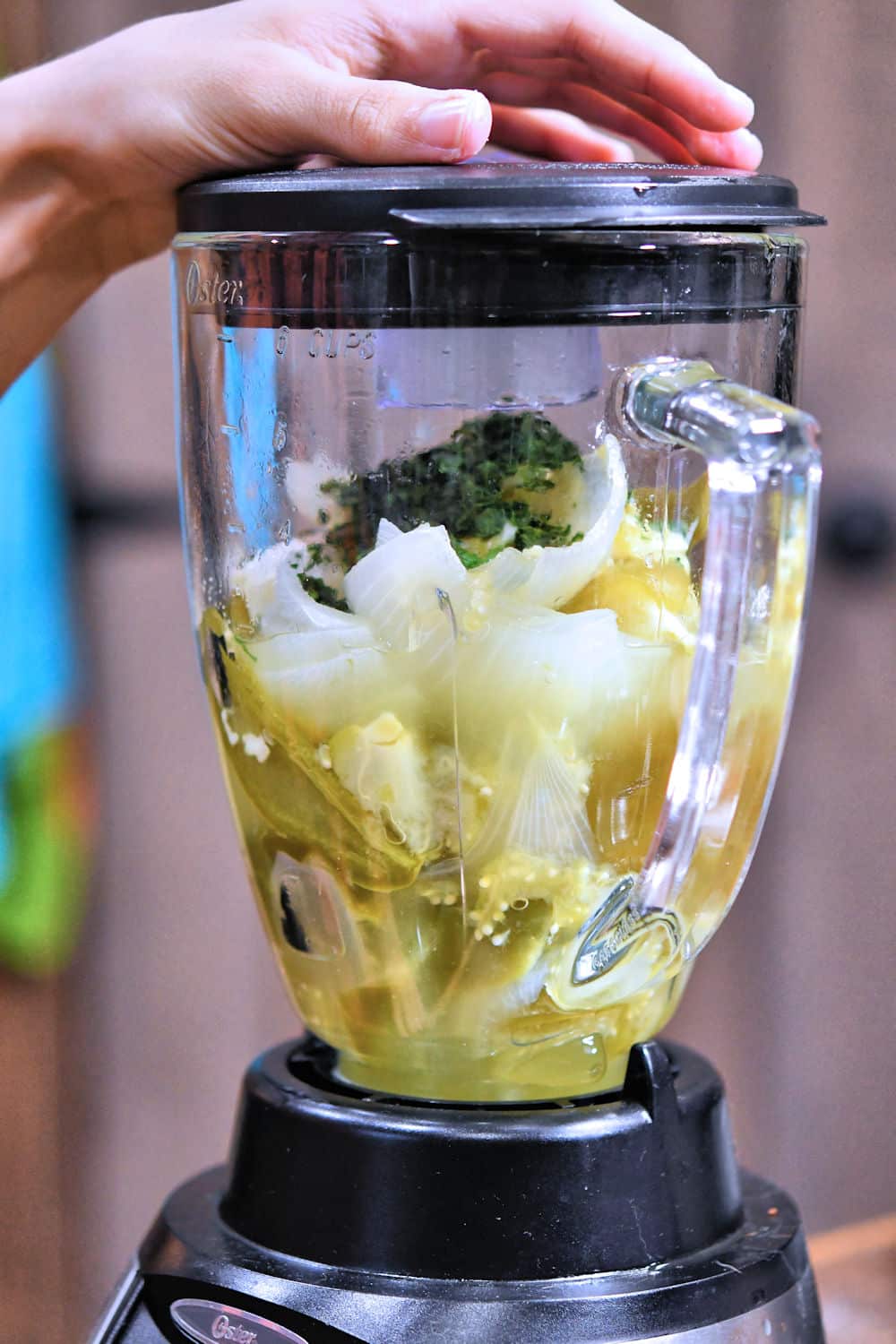 Strain the vegetables but retain the liquid. You shouldn't need anything extra because there's a lot of liquid already in the tomatillos, but just in case, you will be able to use the retained liquid to get the blender moving.
To cilantro or not to cilantro
I'm not a huge fan of cilantro but I like to add some for color. Because I don't use much of it, it would just go bad constantly in the refrigerator. I would use a little bit and then throw it away. It was an endless cycle.
I tried to put it in the refrigerator in a glass with water and a plastic bag over the top. I guess this works for some people, but it didn't work for me.
One day, I found this beautiful product and I use it all the time now. I used about one or two tablespoons in this salsa verde.
If you turn out to be a cilantro whisperer and you have fresh cilantro, use about ¼ bunch of it, finely chopped.
How to serve salsa verde
My favorite way to serve salsa verde is with some tortilla chips. A bowl of salsa with some chips is sometimes all I will need.
Don't stop there, though! You can use it in enchiladas, tostadas, tacos, chilaquiles and migas. Mix it in with rice or beans. Delicious!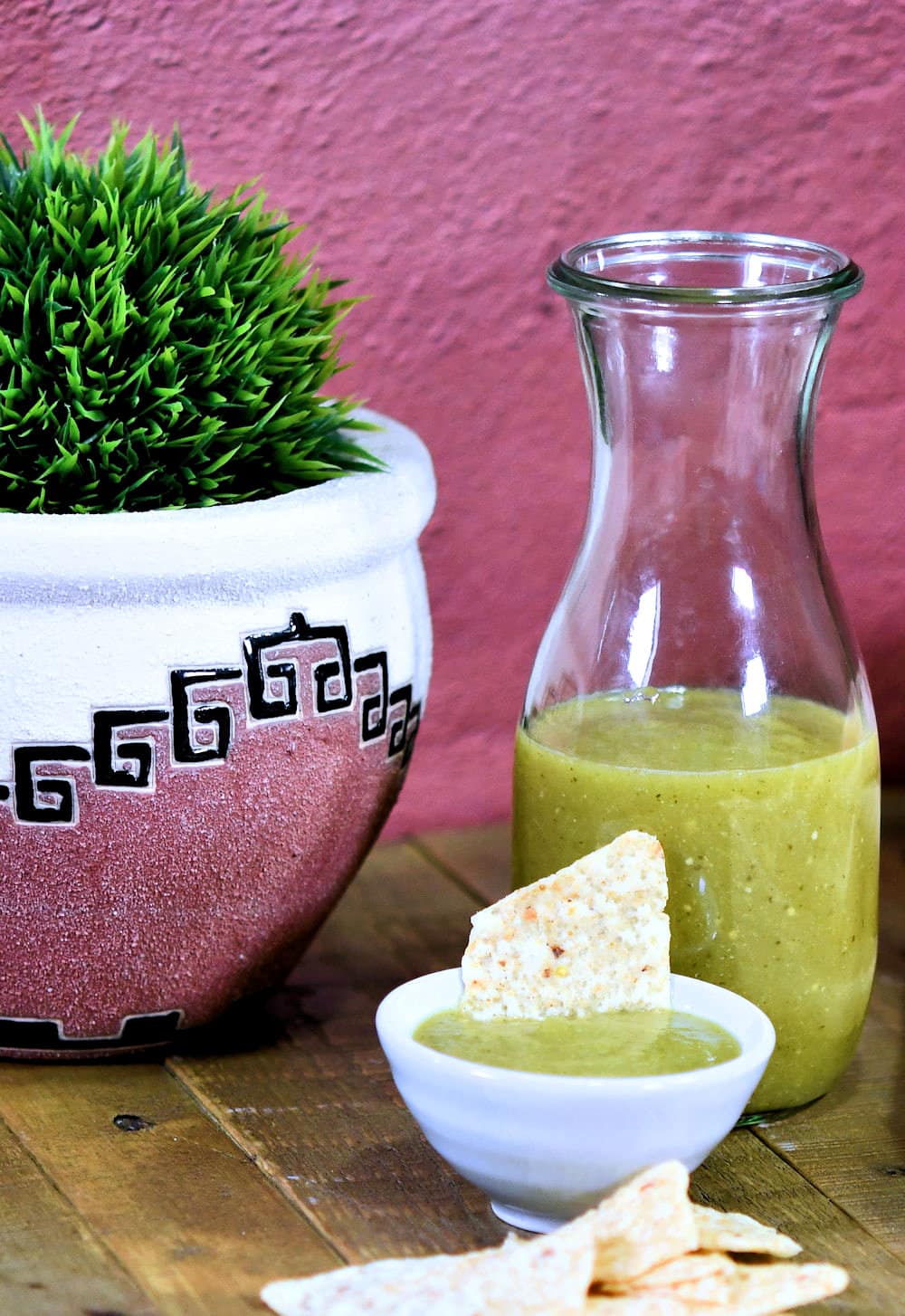 More recipes
We have lots of recipes which would be great with this salsa verde which you can find in our Mexican recipes category.
Recipe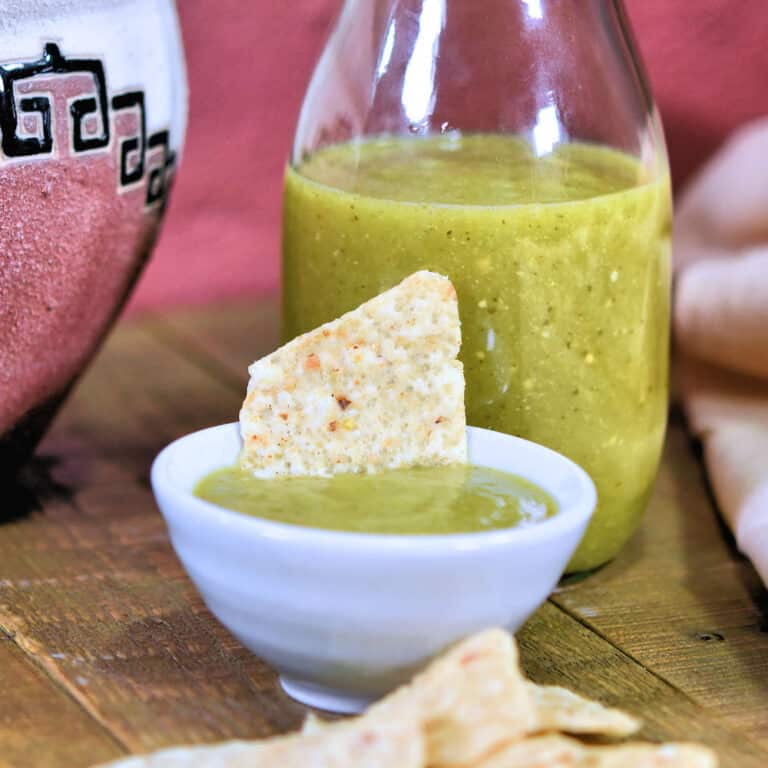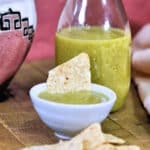 Pin Recipe Now
Restaurant Style Salsa Verde Recipe
Tap to leave a star rating
Save or Print
Freshly made Mexican salsa verde is easy to make and it's better than anything you'll find in a bottle. Use it for dipping or as a sauce for tacos, enchiladas and chilaquiles.

For more information, be sure to check the recipe details in the attached 24Bite® post.
Equipment
Electric standing blender
Ingredients
1

pound

Tomatillos

,

husk and sticky residue removed, quartered

3

Jalapenos

,

stemmed, seeds and membrane removed, quartered

1

Serrano

,

stemmed, halved

½

Onion

,

quartered

4

Garlic Cloves

3

cups

Vegetable Stock

,

or water

1

teaspoon

Salt

2

tablespoons

Cilantro

2

teaspoons

Lime Juice

,

bottled or fresh
Instructions
Place everything except salt, cilantro and lime juice in saucepan. Bring to boil then reduce heat to medium low and allow to simmer 15 minutes.

With slotted spoon, remove all from saucepan to blender. Use a strainer or colander, if you prefer. The tomatillos should have enough liquid to get the blender moving. If there isn't enough liquid, add about ¼ cup stock to blender as well. Add remaining ingredients to blender.

Process in blender until smooth. Serve immediately.
Note: If there is a video, it will not display while there is an adblocker.
Notes
Recipe makes one pint. 
Serving size is measured at 2 tablespoons. 16 servings.
This salsa verde is a little spicy with the addition of the serano chile pepper. Since I like to use this with chips, you get just a little bit of heat with every bite.
To reduce the heat, omit the serrano. To increase the heat, add more serrano. Look at our Scoville Heat Scale for more information on the spiciness of chiles.
If your salsa needs more heat after it's prepared, try adding jalapeno or habenero powder. Stir well.
Nutrition Facts
Restaurant Style Salsa Verde Recipe
Amount Per Serving
Calories 15
Calories from Fat 9
% Daily Value*
Fat 1g2%
Sodium 322mg14%
Carbohydrates 3g1%
Protein 1g2%
* Percent Daily Values are based on a 2000 calorie diet.
______________________
Percent Daily Values are based on a 2000 calorie diet. All amounts are estimates and 24Bite® takes no responsibility for actual figures since calculations vary by packaging and supplier. Please calculate the amounts yourself based on package labeling if you have specific dietary requirements. 24Bite®, Kim Guzman or Christian Guzman shall not be liable for adverse reactions or any other outcome resulting from the use of recipes or recommendations on this website or actions you take as a result.
© 2019-2023 Kim Guzman and Christian Guzman. All rights reserved. Subscribe to 24Bite email newsletters.
Follow 24Bite: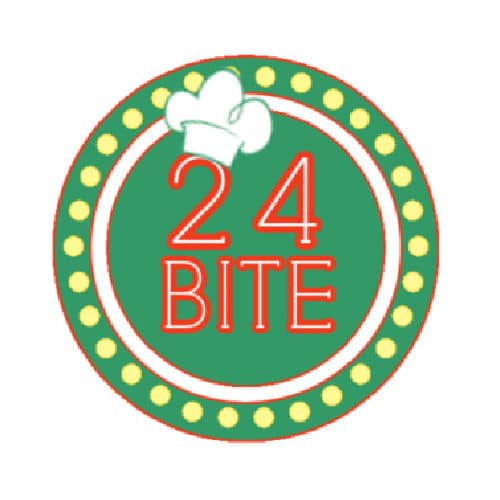 Twitter | Facebook | Pinterest