Enjoy delicious vegetarian fajitas, perfectly marinated in a spice and citrus mixture for an authentic taste even without the meat. Plant-based goodness at its best.
This quick and delicious recipe uses tempeh (cultured tofu) instead of meat for a healthy, tasty alternative.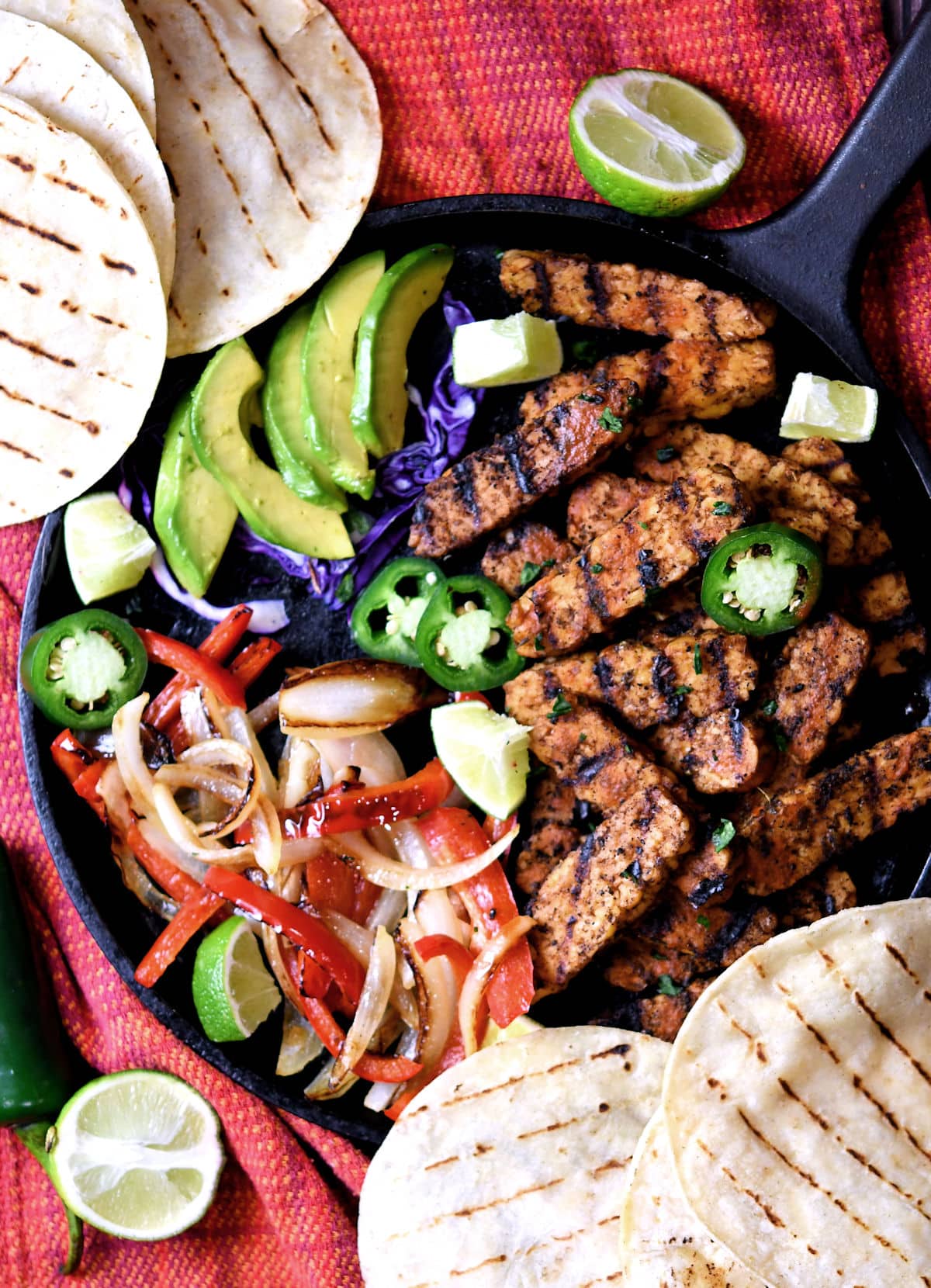 The Key to Fajitas is an Amazing Marinade
This may seem like a lot of ingredients but most of them are spices for the marinade so don't worry about that.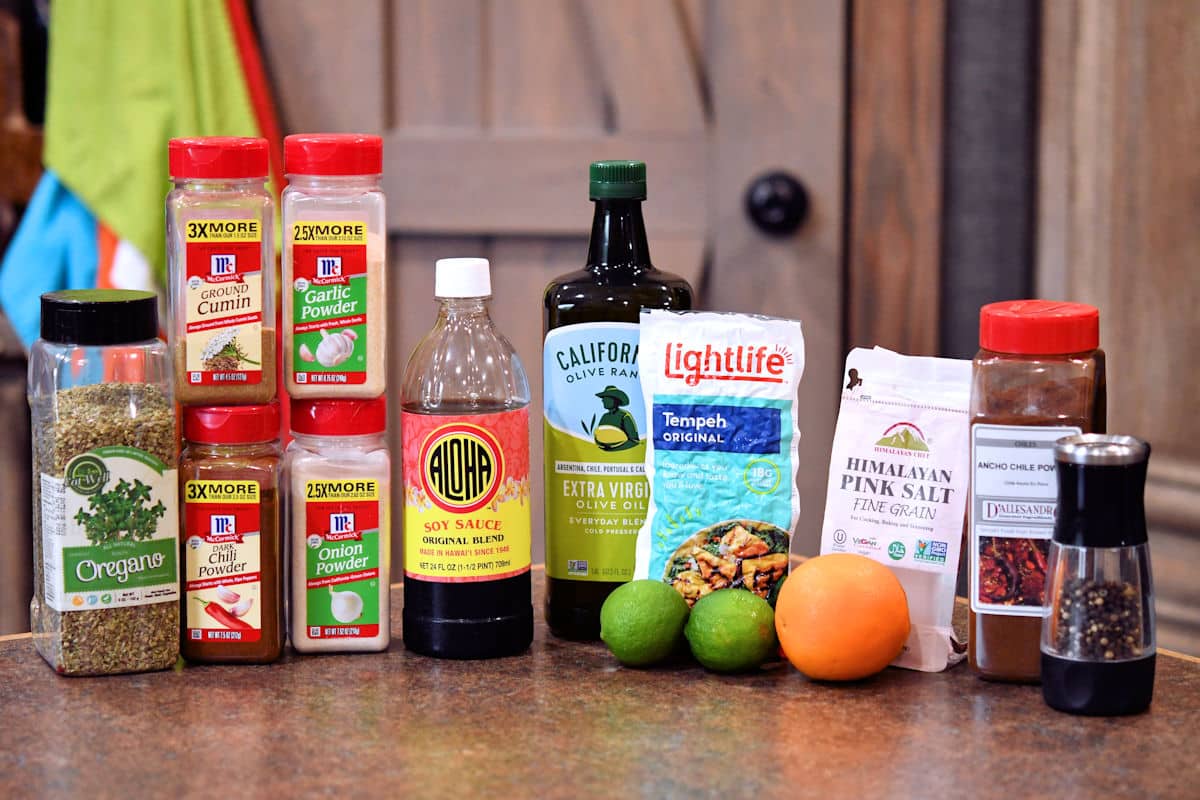 Garlic and Onion Powders. These are staple ingredients in almost all my recipes.
Dark Red Chili Powder. This is a mild red chile powder. Be careful if you're in the UK because I've heard that it's spicy and I'm warning you, just in case.
Ancho Chile Powder. Another fairly mild chile. Use your favorite chiles. You don't need to use exactly the same. Use the same amount as you would in the list of ingredients.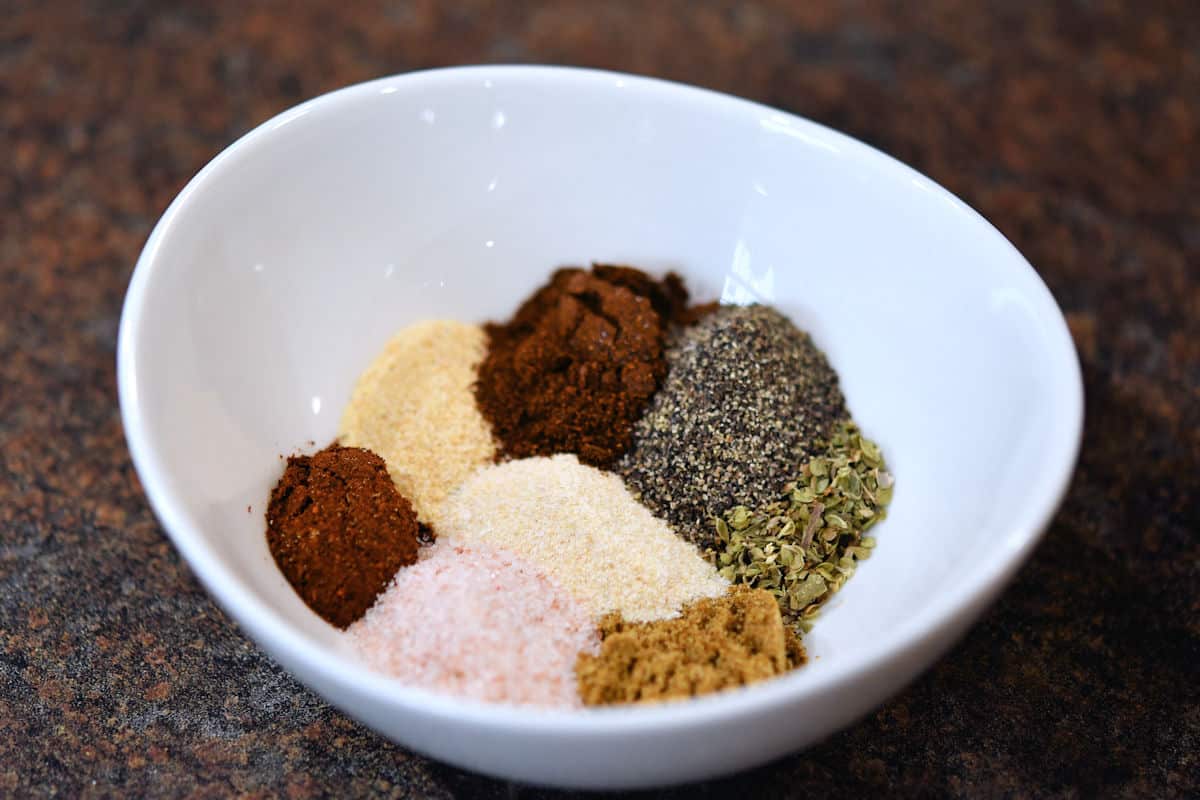 Mexican Oregano. If you don't have Mexican Oregano, try using your standard Oregano, or omit it.
Citrus juices. I prefer using fresh squeezed, but you can use bottled, if you prefer.
What is Tempeh?
Tempeh is a sort of chewy, but slightly crunchy bar made of fermented soybeans. Because of its firm texture, it's a hearty, low fat substitute for meat.
Plain tempeh doesn't have a prominent taste until you spice it up with a tasty marinade. It seems to absorb whatever flavors you add to it.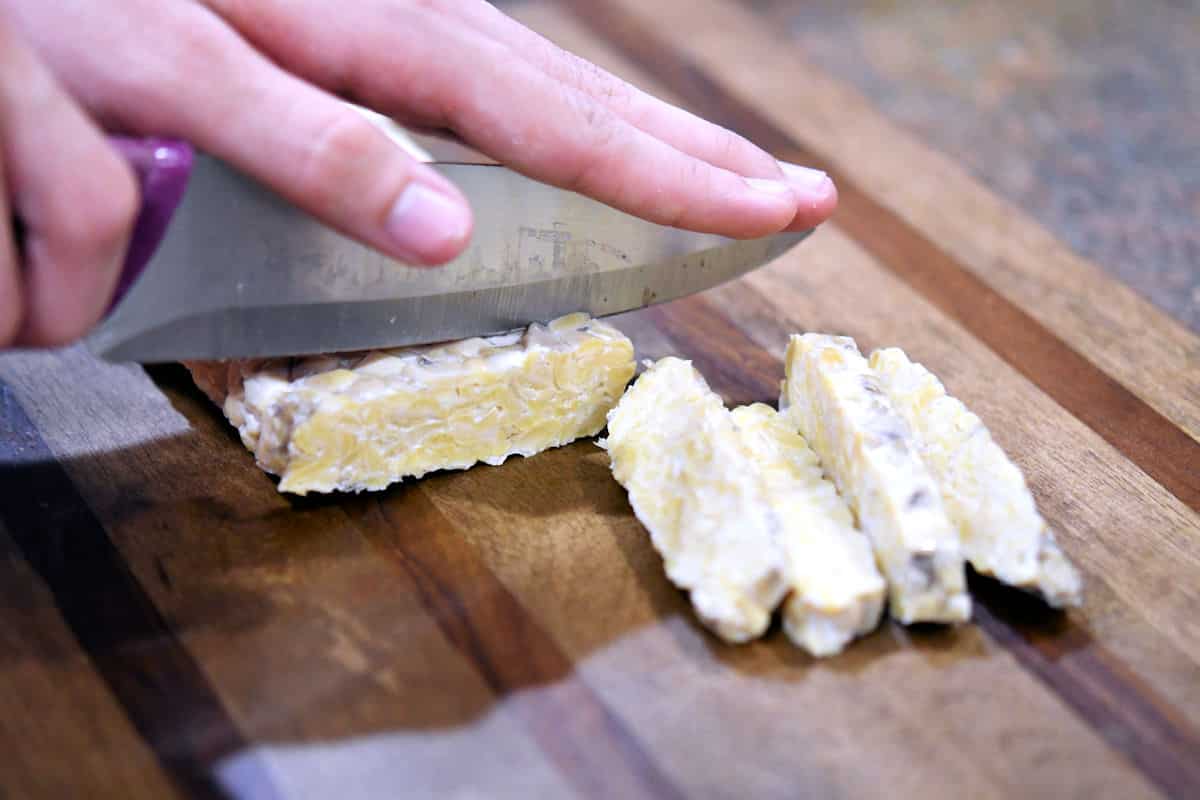 For my vegetarian fajitas marinade mixture, I opted for a peppery-citrus combination. If you like spicy, replace one of the chile powders with your favorite.
Chipotle would give a smoky flavor while habanero would be fiery but still a perfect match for the citrus.
Check out how your favorite peppers rate on our Scoville Heat Scale.
It's very easy to slice this tempeh. Move slowly and carefully to make ¼″ – ½″. It will crumble fairly easily so cut it with precision.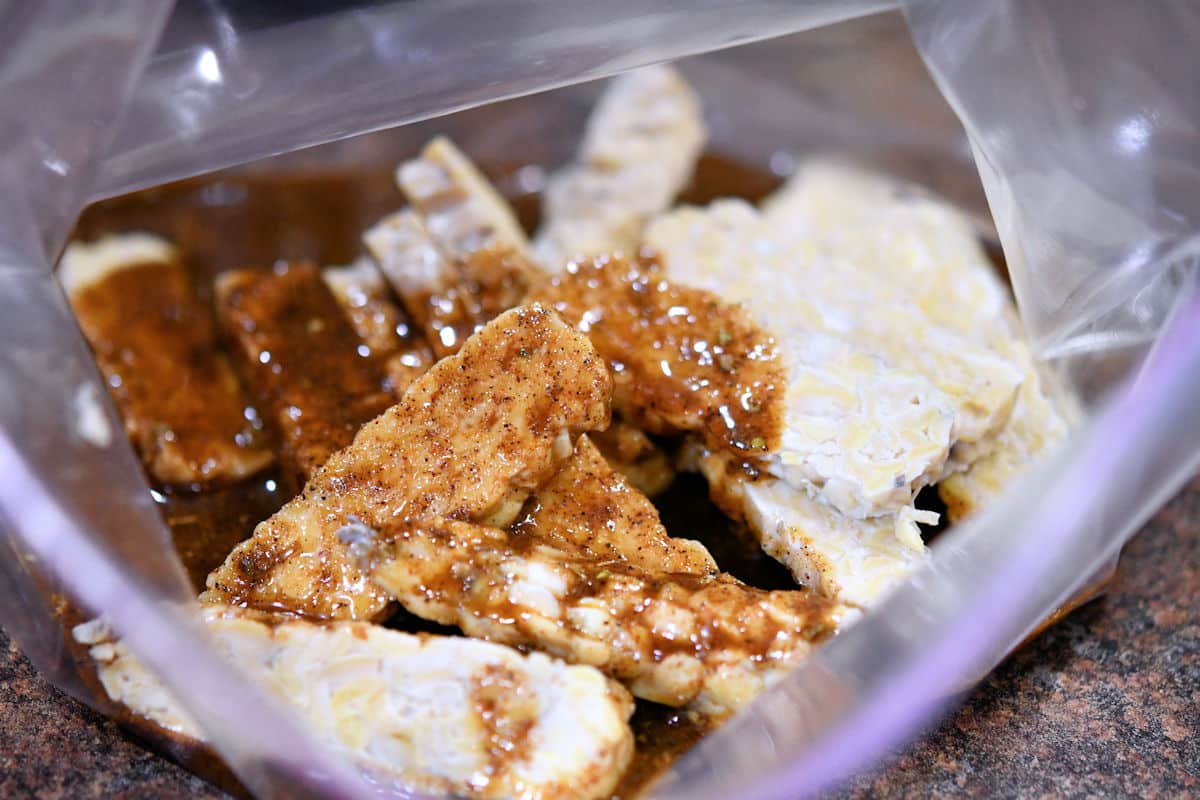 What is the difference between tempeh and tofu?
Tofu is made from curdled soy milk. The curds are pressed into a bar form. It can vary in density depending on how well it's drained. I like to think of it like Mozzarella cheese.
Tempeh, on the other hand, has a strong, slightly nuttier flavor. It's got a bit of an earthy taste. It's kind of like pie crust made of peanuts instead of flour or maybe a granola bar.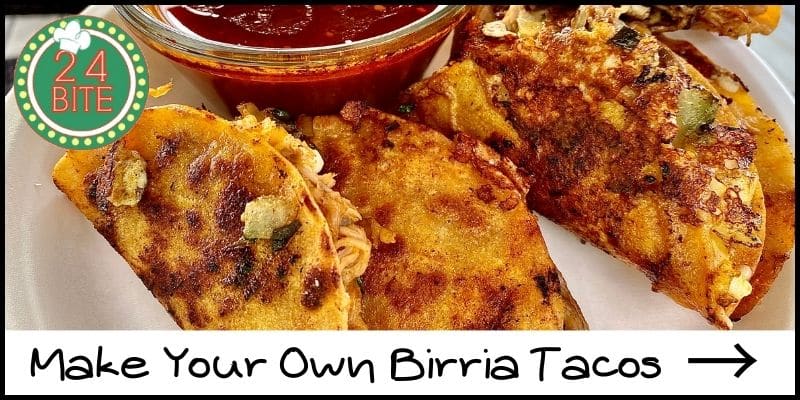 Since it crumbles easily, like queso fresco, you could crumble it and make a ground beef substitute.
I wonder whether my chorizo spices could be used with crumbled tempeh for my Make Your Own Chorizo Recipe instead of pork?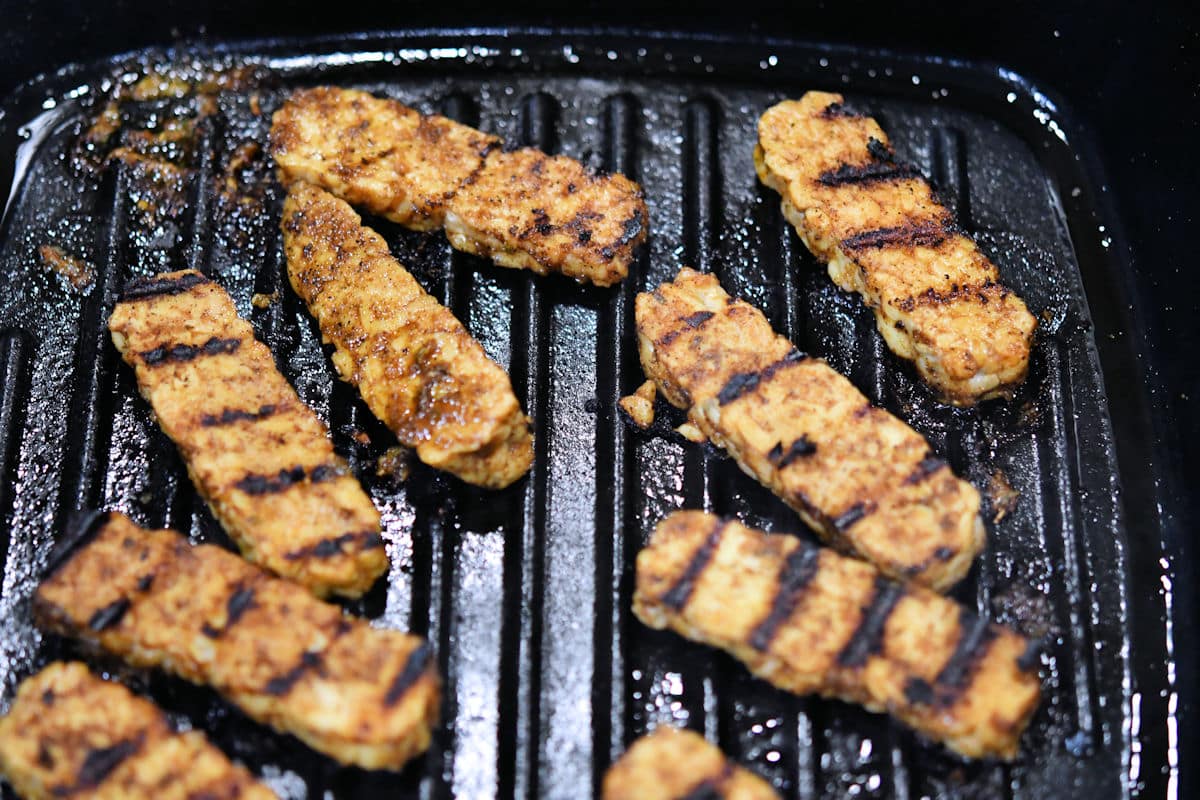 If you are having a problem with your tortillas breaking, first check to make sure they're not out of date. Next, learn my tips on Softening Corn Tortillas.
Is It Vegetarian?
Tempeh is a plant-based product and is both vegetarian and vegan. One of our 24Bite visitors asked for a vegetarian taco.
I chose tempeh because, after research, it looked like it was the best at holding the flavor, texture and look of meat fajitas.
One of my cousins is vegetarian (Hi, Lysie!) and I can hardly wait for her to try this. While tempeh may be an acquired taste when eaten by itself, once you pile on all your fajita fixings, you won't even notice that there's no real meat.
If you want to use meat, though, feel free to marinate beef, shrimp or chicken in a separate bag with the same ingredients. They taste just as wonderful on any of these proteins.
To keep it vegetarian, be sure to choose the appropriate versions of things like the cheese. All cheeses aren't vegetarian since some use rennet. Here's a list of Vegetarian Cheeses compiled by Vegetatio.
What to Serve With Vegetarian Fajitas
To keep your menu plant-based, serve Pico de Gallo Salsa on the side or even in the taco itself.
I have a great Spanish Rice recipe too. I've used chicken broth, but you could easily substitute vegetable broth or water.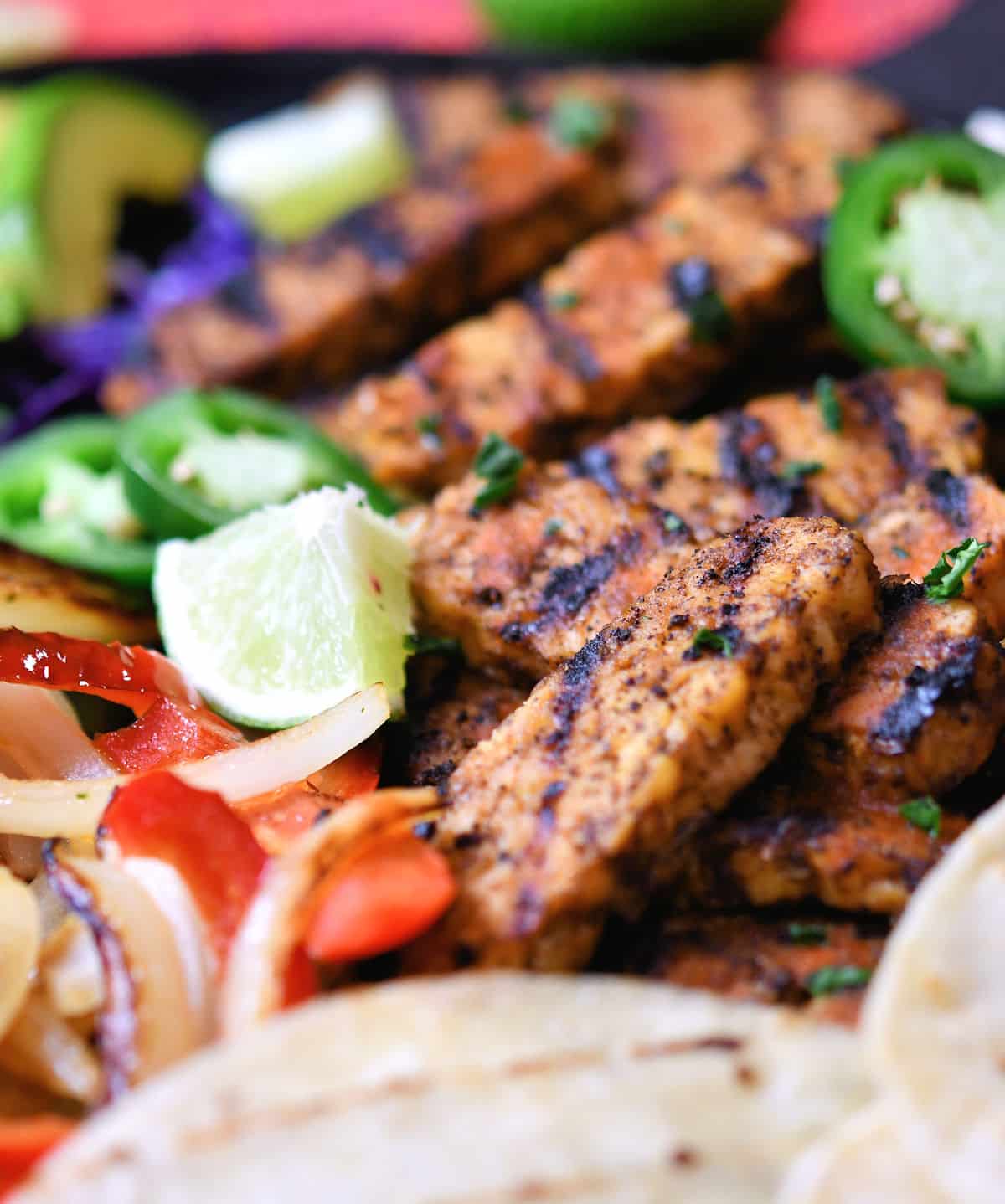 More Recipes
Browse all our Mexican food recipes or try some of these favorites.
Recipe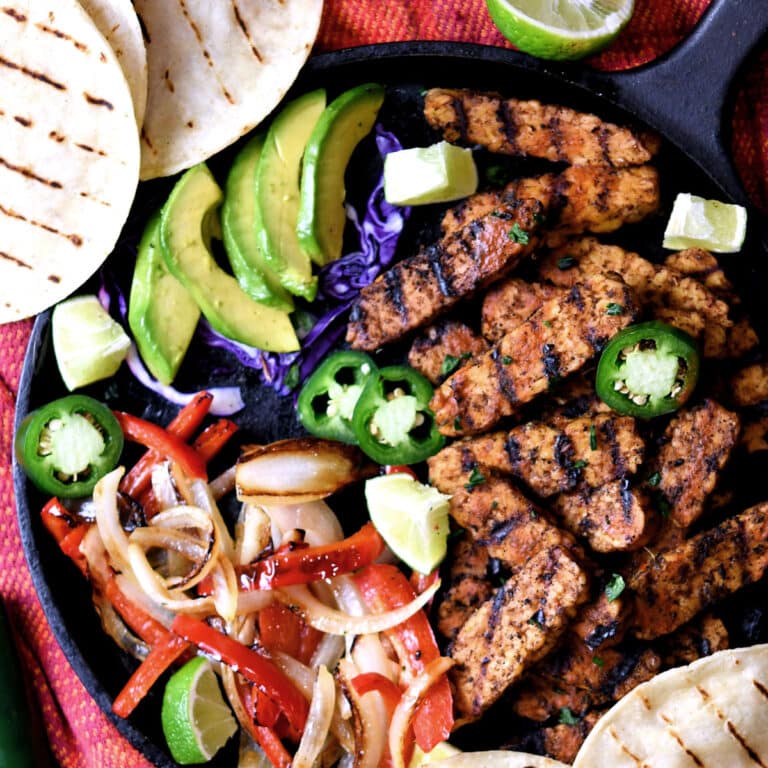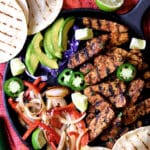 Pin Recipe Now
Vegetarian Fajitas No Meat Tacos
Tap to leave a star rating
Save or Print
Enjoy delicious vegetarian fajitas, perfectly marinated in a spice and citrus mixture for an authentic taste even without the meat. Plant-based goodness at its best.

For more information, be sure to check the recipe details in the attached 24Bite® post.
Equipment
Ziploc Bag, gallon

Skillet (regular or with grill lines)

Tongs
Ingredients
Marinade
½

cup

Olive Oil

2

teaspoons

Soy Sauce

1

teaspoon

Mexican Oregon

1

teaspoon

Dark Red Chili Powder

1

teaspoon

Ancho Chile Powder

1

teaspoon

Cumin

1

teaspoon

Garlic Powder

1

teaspoon

Onion Powder

1

teaspoon

Ground Black Pepper

½

teaspoon

Salt

,

fine, optional

1

Orange

,

Juice only, about ¼ cup

2

Limes

,

Juice only, about 3 tablespoons
Fajitas
2

tablespoons

Olive Oil

½

Red Bell Pepper

,

thinly sliced

¼

Onion

,

thinly sliced

8

ounces

Tempeh

,

used Lightlife Tempeh Original

8

Corn Tortillas
Instructions
Whisk together all marinade ingredients in a small bowl or jar.

Cut tempeh into ¼" – ½" pieces.

Place tempeh slices in a ziploc bag. Pour in the marinade and rotate carefully to ensure all pieces have marinade. Place flat in the refrigerator. Allow to marinate 2 hours or overnight, up to a total of 24 hours, if desired.

Place two tablespoons oil in skillet and heat on medium. Add thinly sliced bell pepper and onions. Cook until softened, about 5-7 minutes. With tongs, remove to a plate and set aside.

If you plan on heating the tortillas in the skillet, use the same skillet and tongs to heat one at a time then set aside. Add more oil, as necessary, to keep things from sticking.

Place marinated tempeh in skillet and heat on medium until it's crispy on the edges and a little blackened in bits or lines are visible if using a grill pan. Turn after about 3-5 minutes to cook the reverse side. Once ready, remove with tongs. Discard remaining marinade.
Note: If there is a video, it will not display while there is an adblocker.
Notes
Assemble each fajita taco with two or three pieces of tempeh and a pinch of bell pepper and onion.
Use all your favorite condiments: sour cream, shredded cheese, guacamole, sliced avocado, limes, crema, taco sauce, sliced jalapenos, crumbled queso freso.
To keep this vegetarian or vegan, choose the condiments appropriately.
To reduce the carbs, eat as a salad, rolled in a lettuce leaf or in a faux tortilla made of cheese.
Note on nutritional information: Presuming that you wouldn't be using the marinade remaining in the ziploc bag after removing the tempeh, I have deducted 63 calories and 7g fat (half of the olive oil) from the totals shown.
Nutrition Facts
Vegetarian Fajitas No Meat Tacos
Amount Per Serving
Calories 220
Calories from Fat 126
% Daily Value*
Fat 14g22%
Sodium 249mg11%
Carbohydrates 20g7%
Protein 7g14%
* Percent Daily Values are based on a 2000 calorie diet.
______________________
Percent Daily Values are based on a 2000 calorie diet. All amounts are estimates and 24Bite® takes no responsibility for actual figures since calculations vary by packaging and supplier. Please calculate the amounts yourself based on package labeling if you have specific dietary requirements. 24Bite®, Kim Guzman or Christian Guzman shall not be liable for adverse reactions or any other outcome resulting from the use of recipes or recommendations on this website or actions you take as a result.
© 2019-2023 Kim Guzman and Christian Guzman. All rights reserved. Subscribe to 24Bite email newsletters.
Follow 24Bite: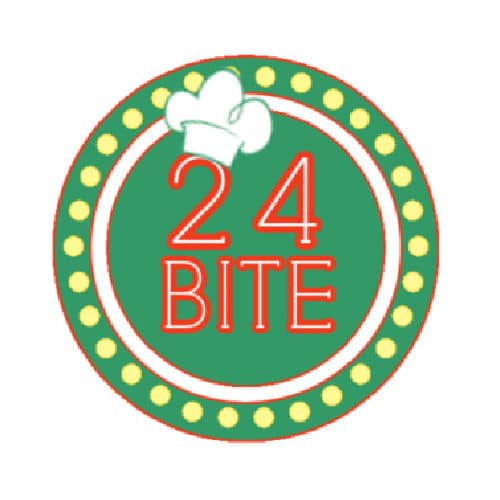 Twitter | Facebook | Pinterest