This Instant Pot Flan recipe is a decadent treat that can be made easily with only six ingredients. Serve alone or with whipped cream and a homemade spun sugar decoration.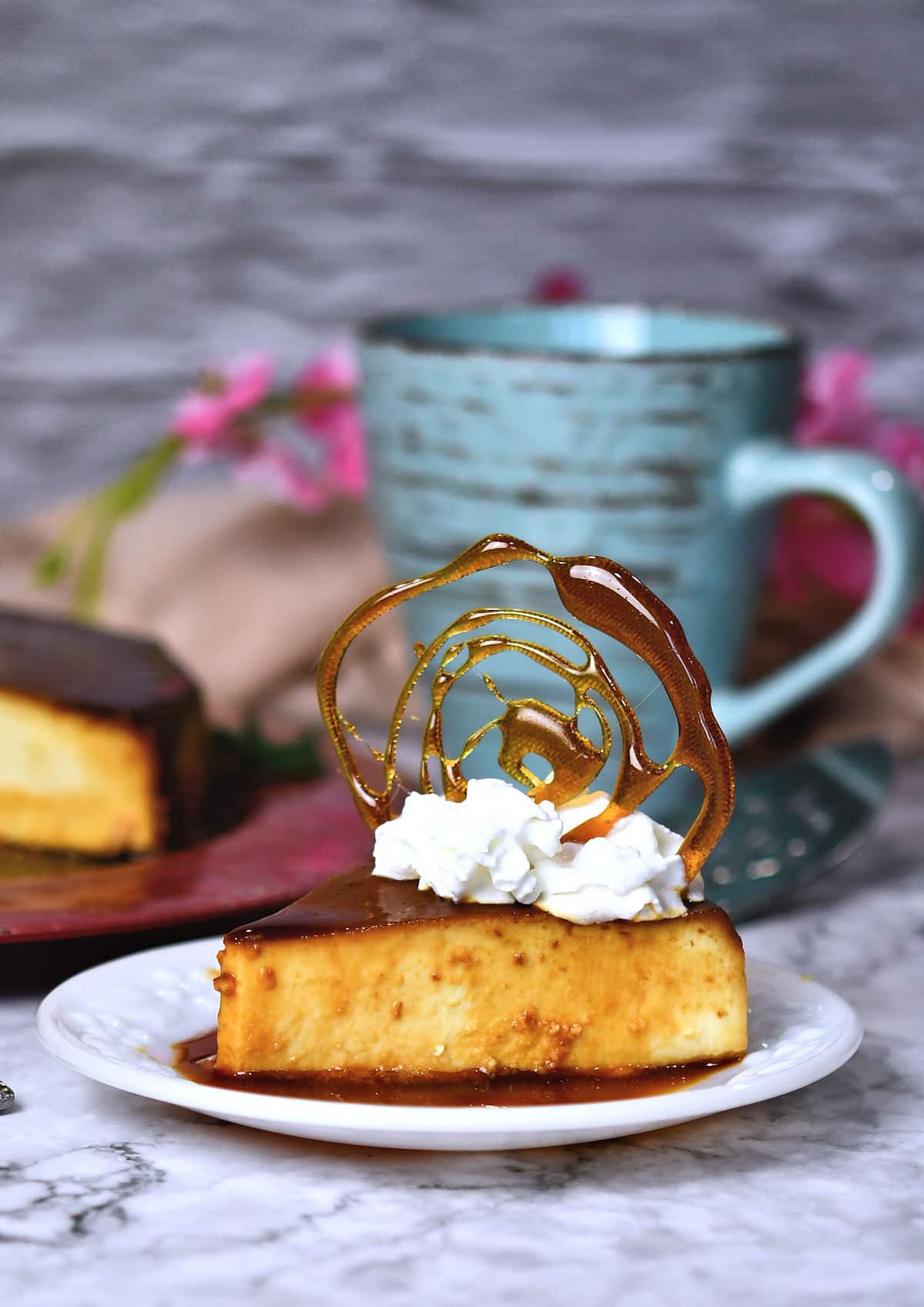 What is Flan Made Of?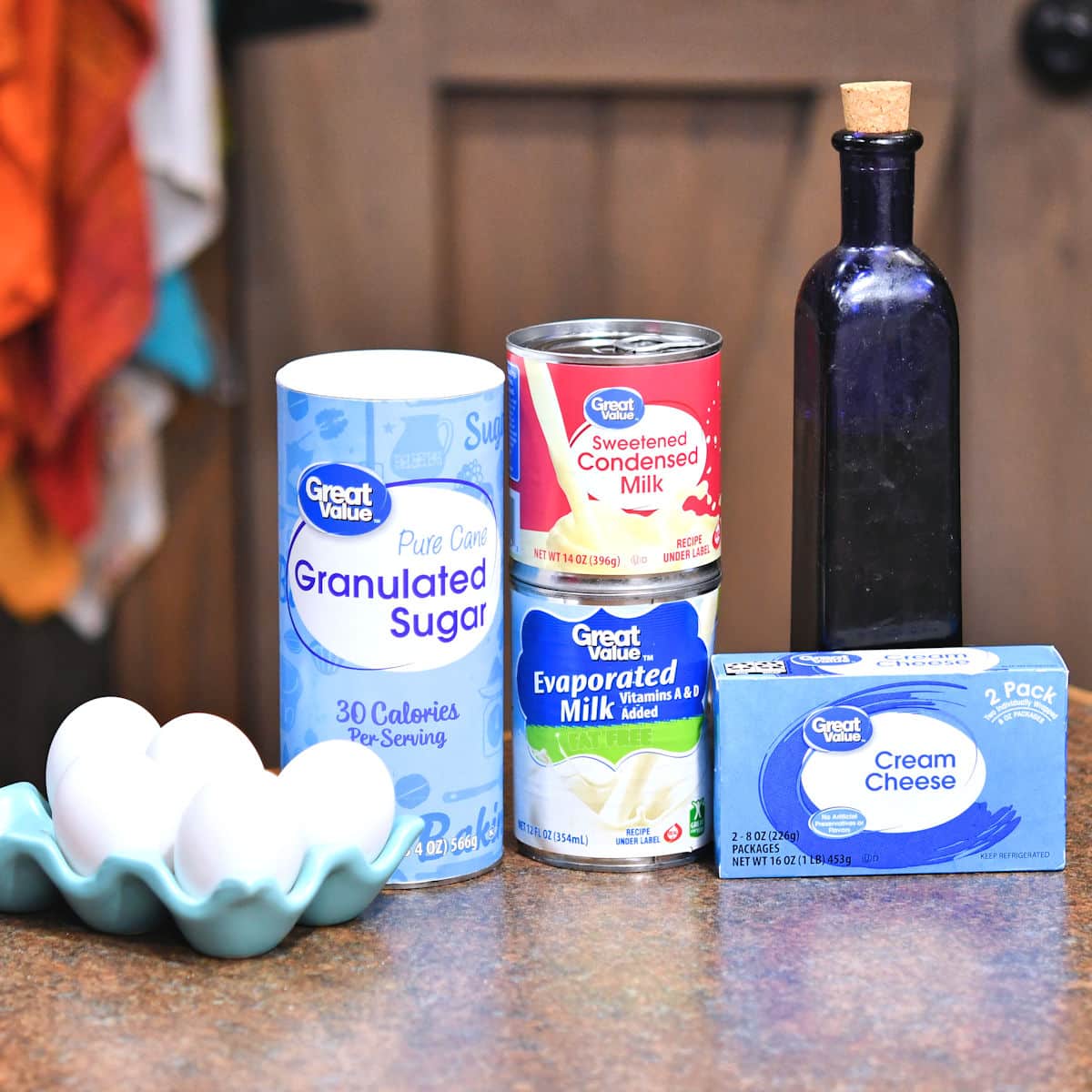 For this Instant Pot Flan, I've used a little less of each ingredient than normal because the pan is slightly smaller than a full size flan mold, called a "Flanera".
I've used six common ingredients. Nothing unusual or unique. You probably already have everything available right now!
Sweetened Condensed Milk, the base of many Mexican recipes.
Evaporated Milk.
Cream Cheese.
Eggs.
Sugar.
Vanilla Extract.
You see how easy this is going to be already, I'll bet.
Is Flan Spanish or Mexican?
Spanish or Mexican? Both, actually. Like much of the Mexican cuisine, it was influenced by Spain. It's not just the Spanish language that was introduced to Mexico.
Different types of food were introduced too. Some things evolved over time. Flan, though, is very similar in both cultures.
Like many Mexican recipes, the ingredients are different between regions, states and villages. You may even find different recipes for flan by abuelitas on the same street!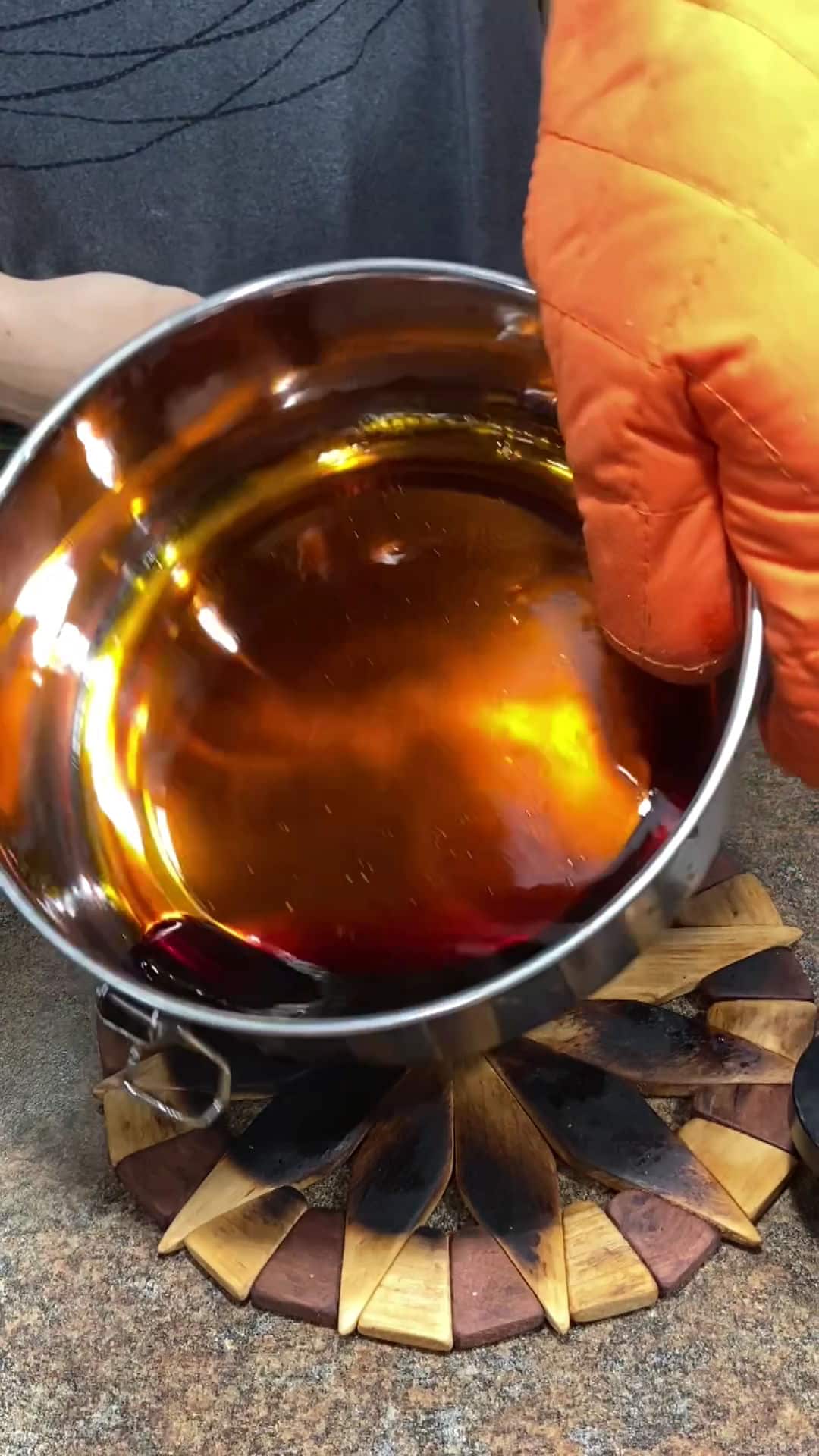 What Does Flan Taste Like?
I've tried to keep this recipe as traditional as I could, with the ingredients available. It makes a custard style dessert. If you like creme brulee, you can expect to like this as well.
To me, Flan tastes like a smooth, creamy sweet milk. It's solid, but a little jiggly, like gelatin. There's no gelatin in it, though. Unlike creme brulee, there's a sugar syrup topping for a delicious, rich caramel like flavor.
What is a Flanera?
The flan mold is called a "Flanera". It's perfect for this recipe. The latches on the side are like the latches on canning jars. It has a great handle on the top so that it's easy to remove from the Instant Pot.
Have a look at this 8″ Flanera (aff link). This flan mold is perfect for making flan in the Instant Pot. I especially love that it has a handle on the top, making it easy to remove. You can use it for flan, pudding, lasagna and more.
If you don't have a Flanera, you can use a straight-sided baking pan that's compatible with your Instant Pot. You will need to cover it completely with foil.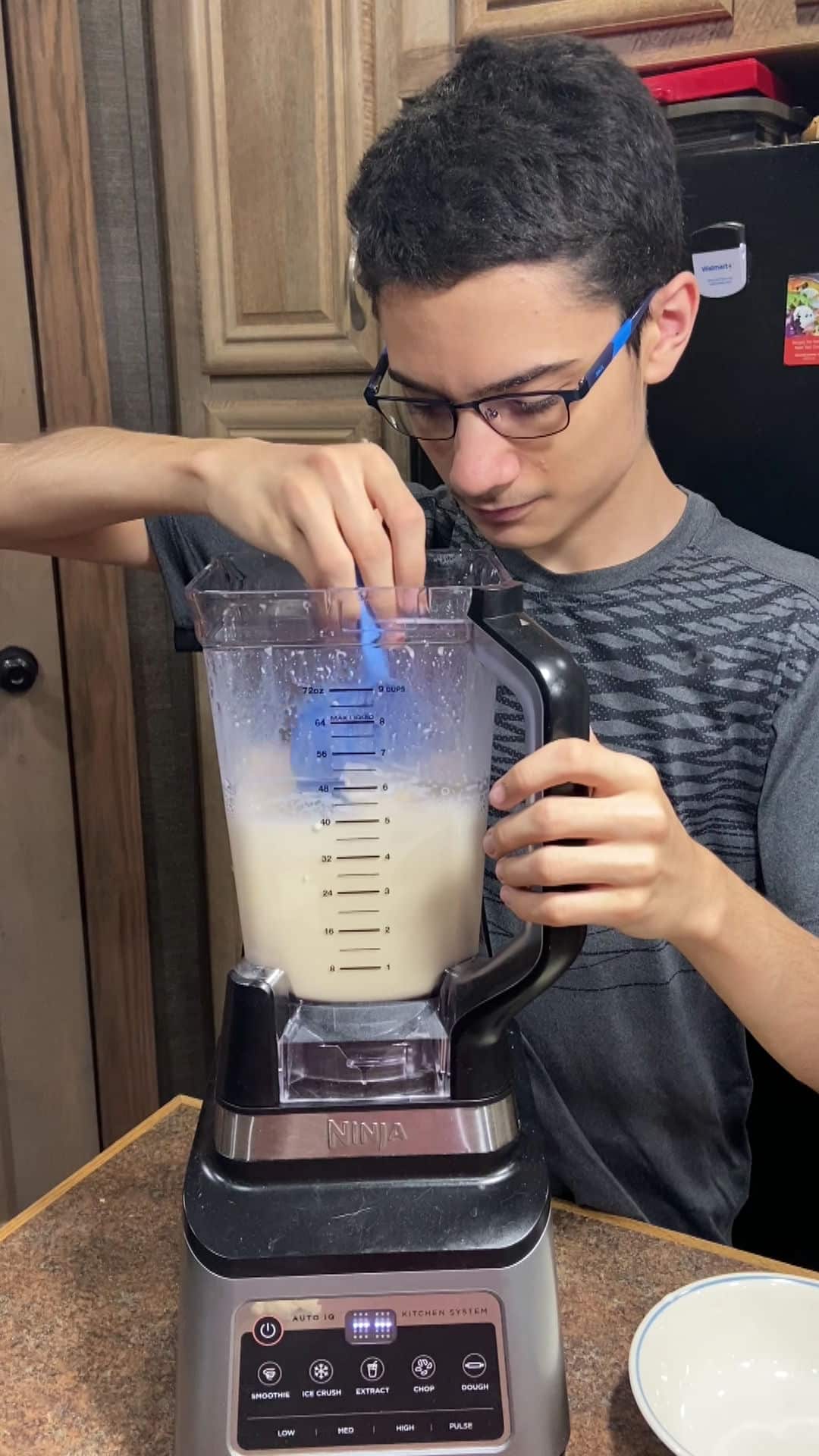 Without the Flanera's handle, you will need a long-handled trivet or a foil "sling" to help with taking out the finished Flan.
Frequently Asked Questions
What does flan taste like?
Flan tastes like a sweet milk custard, sort of like creme brulee, except there is also a liquid sugar syrup caramel like topping.
What is a Flanera?
A flanera is a fully enclosed pan used to make the flan. The one we use also has a little handle on top, making it easy to get in and out of the Instant Pot.
Does flan need to be refrigerated?
Yes! Flan is made of milk and eggs so it must be refrigerated.
Using an Instant Pot
Like my Tamales Recipes, Flan is steamed to its creamy perfection. I find that the Instant Pot provides the perfect environment for steaming.
Besides, if you need to make a flan in the oven, you have to put it in a water bath and move that around, checking the water depth frequently. The Instant Pot makes it so much easier!
If you don't have an Instant Pot, have a look at this 6-Quart Instant Pot (aff link) which we use. We've had it for several years and it still works great.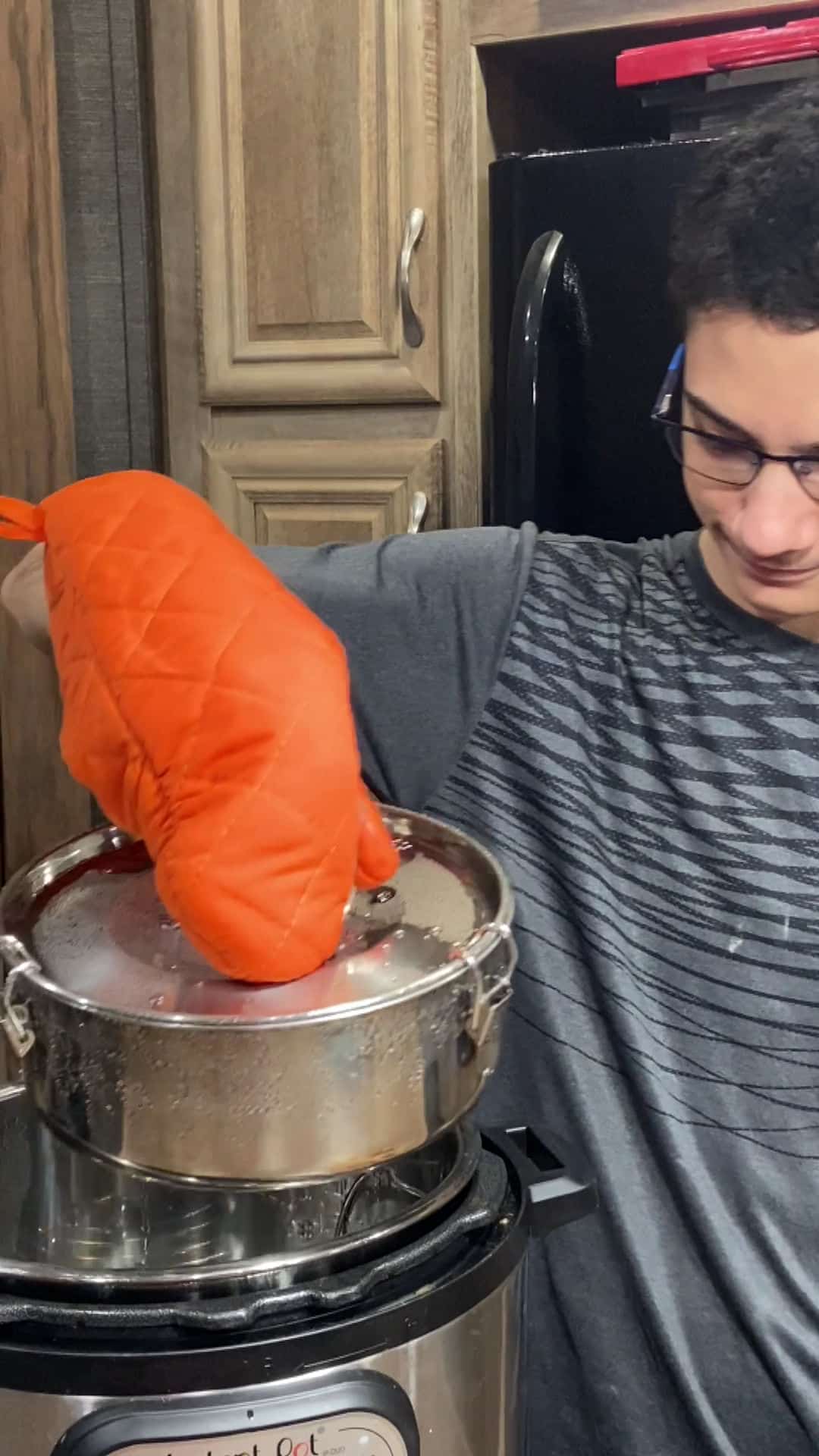 How to Make Spun Sugar Decorations
It turns out that making the Spun Sugar Decorations for the top of the Flan was extremely easy. I melted some sugar, the same way I did for the Flan itself.
Once everything was melted and cooled slightly, I was able to make lots of random shapes on a silicone mat. Within five minutes, I had them all created.
Check out this Spun Sugar Decorations video from Matt Adlard at Tastemaker.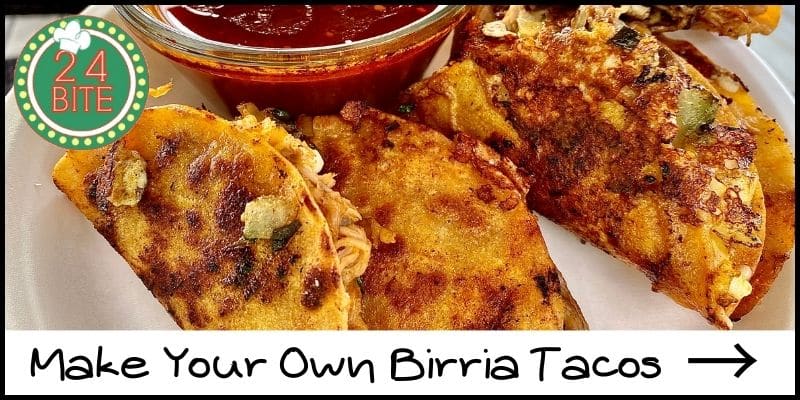 Does Flan Need to Be Refrigerated?
Yes, absolutely. You must refrigerate any Flan. It's made with all milk and eggs, which require refrigeration. Be sure to eat it within 2 or 3 days.
Try These Other Great Desserts
Who doesn't love desserts?! Here are some of my favorites.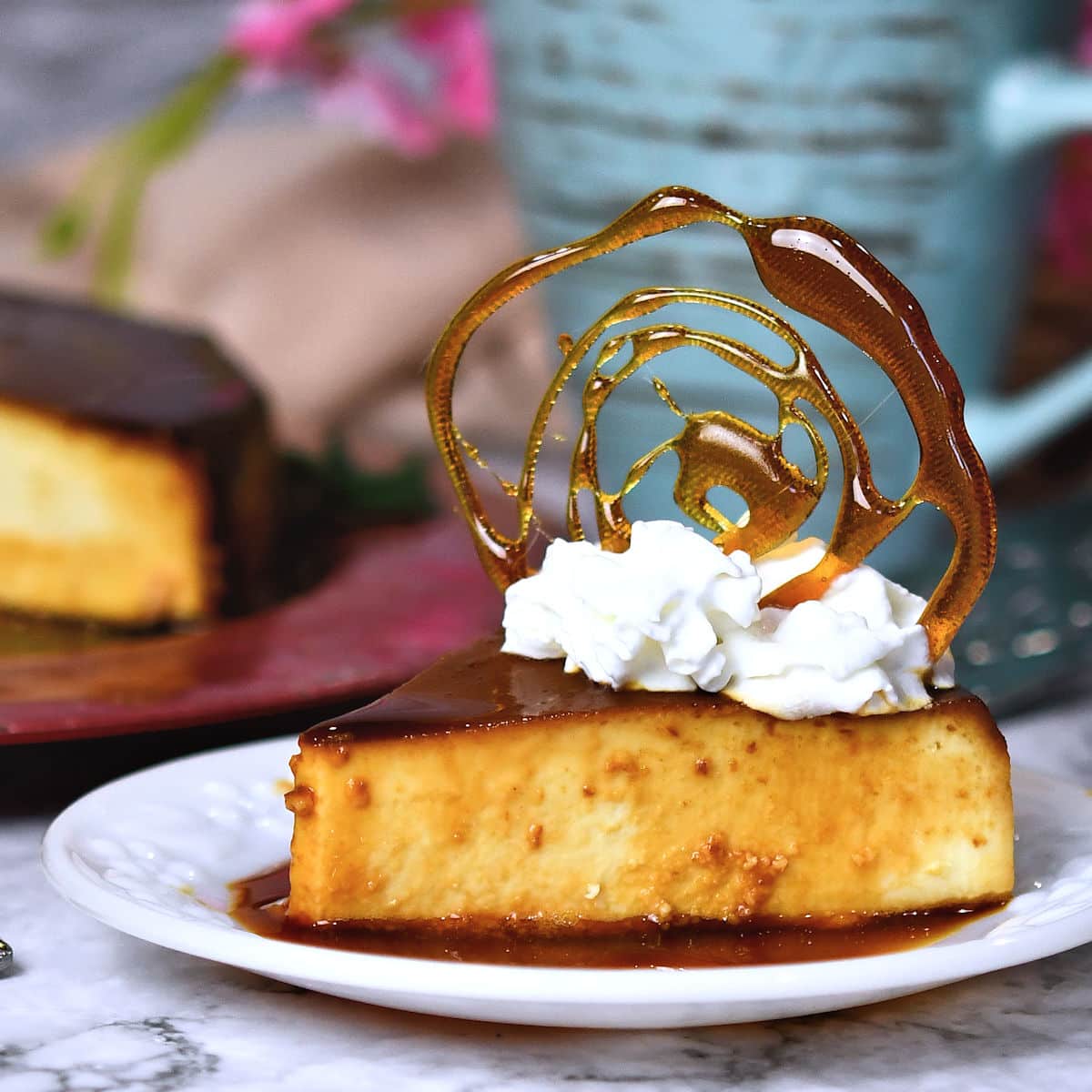 Recipe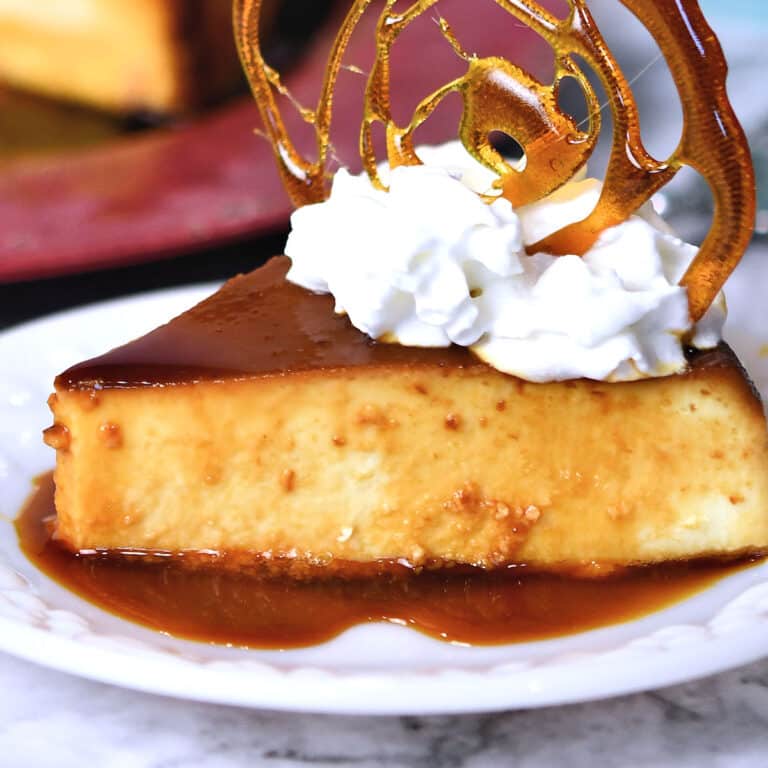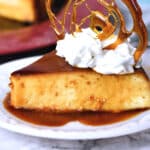 Pin Recipe Now
Instant Pot Flan Recipe
Tap to leave a star rating
Save or Print
This Instant Pot Flan recipe is a decadent treat that can be made easily with only six ingredients. Serve alone or with whipped cream and a homemade spun sugar decoration.

For more information, be sure to check the recipe details in the attached 24Bite® post.
Equipment
1 quart sauce pan

Flanera Flan Mold or 8" baking pan for Instant Pot

Electric Blender

6-quart Instant Pot
Ingredients
½

cup

Sugar

2

tablespoons

Water

,

cold

12

ounces

Evaporated Milk

,

one can (see Notes for alternate recipe)

14

ounces

Sweetened Condensed Milk

,

one can

4

ounces

Cream Cheese

,

cut into 4 equal pieces

5

Eggs

,

large (see Notes for alternate recipe)

1

teaspoon

Vanilla Extract
Instructions
Add sugar in sauce pan and place on medium heat on stove top. Stir occasionally until there is visable melting. Stir frequently until all sugar is melted. Continue stirring until the sugar syrup turns an amber color. Remove from heat and immediately stir in 2 tablespoons cold water carefully. It will steam and hiss. Stir until smooth. As quickly as you can, pour into the flanera. Using potholders to protect your hands, swirl around to cover the bottom and up the sides about half way. Set aside to cool.

Place all remaining ingredients into blender in the order presented.

Blend until smooth then allow to sit, undisturbed, for 5 minutes.

With a small cup, skim off the bubbles and foam from the milk mixture.

Slowly pour milk mixture into the prepared flanera.

Place trivet inside Instant Pot. Add 2 cups water. Place flanera on trivet.

Check the Instant Pot lid to ensure the gasket is in place and nothing is blocking the vent. Place lid on top and set lever to Sealing. Press the Manual button on the Instant Pot and set to high for 15 minutes. Allow to naturally release completely. The entire cook time should be around 35 minutes.

Carefully remove flanera and set it on a potholder or hot pad for 30 minutes then place in the refrigerator. It will still be hot so you will want to put the hot pad into the refrigerator as well. (It may still be a little jiggly in the center.)

Run a butter knife vertically around the flan to remove it from the sides of the flanera. Use a plate and turn it upside down on top of the flanera. Carefully and slowly, flip everything over so that the flanera is on the top, upside down. Allow the pan to sit there for about one-half minute or so, tapping on it, if you like. Then slowly remove the pan. The sugar syrup will slide out as well so make sure you have a plate large enough to catch it.

Serve immediately. Refrigerate any leftovers right away.
Note: If there is a video, it will not display while there is an adblocker.
Notes
If a flanera is unavailable, a straight sided baking dish can be used instead. It will need to be covered completely with aluminum foil and you will need a long handled trivet in order to remove it after the Instant Pot has finished.
If you do not have a long handled trivet, you could instead make a "sling" with foil for easier removal.
For a creamier, more cheesecake-like flan, use 7 eggs instead of 5 and use 1 cup half and half instead of evaporated milk. This is my favorite version and is demonstrated in the video. It's a simple swap of a couple of ingredients. Everything else remains the same.
Serve with fruit and whipped cream, if you like.
See post for information on making the Spun Sugar Decorations.
Nutrition Facts
Instant Pot Flan Recipe
Amount Per Serving
Calories 354
Calories from Fat 135
% Daily Value*
Fat 15g23%
Sodium 193mg8%
Carbohydrates 45g15%
Protein 11g22%
* Percent Daily Values are based on a 2000 calorie diet.
______________________
Percent Daily Values are based on a 2000 calorie diet. All amounts are estimates and 24Bite® takes no responsibility for actual figures since calculations vary by packaging and supplier. Please calculate the amounts yourself based on package labeling if you have specific dietary requirements. 24Bite®, Kim Guzman or Christian Guzman shall not be liable for adverse reactions or any other outcome resulting from the use of recipes or recommendations on this website or actions you take as a result.
© 2019-2023 Kim Guzman and Christian Guzman. All rights reserved. Subscribe to 24Bite email newsletters.
Follow 24Bite: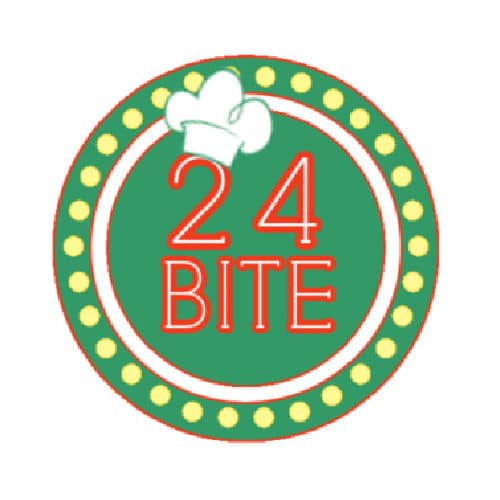 Twitter | Facebook | Pinterest