This Cheese Entomatadas Recipe is the closest you'll get to the comfort of a Mexican version of grilled cheese and tomato soup. It's everything you love, perfect for a quick breakfast or lunch.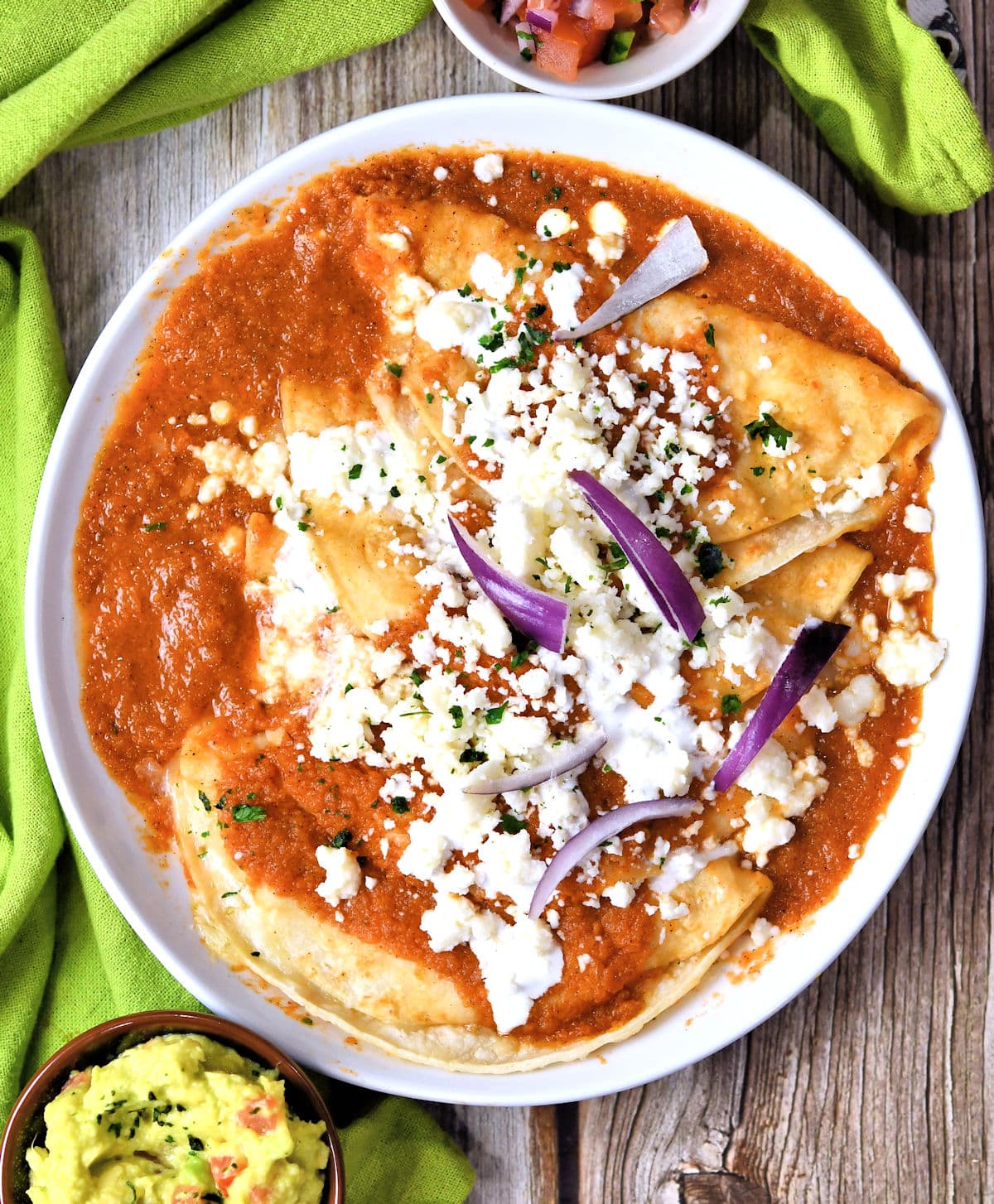 What are Entomatadas?
I know many of you probably haven't heard of entomatadas. They look like enchiladas, don't they? They're pretty much the same except the sauce is different.
What's the Difference Between Entomatadas and Enchiladas?
I'm sure you're familiar with enchiladas. A tasty tortilla, filled with goodness, rolled then smothered in sauce. That sauce is predominantly made of chiles. You can tell by the name itself: en-chil-adas.
Now, we'll take a look at the word entomatadas. This is the same tasty rolled or folded tortilla, except it's smothered in a tomato-based sauce. Here, we have the name: en-tomat-adas.
Are There More Enchilada Style Dishes?
Yes! There is another one you will like as well: enfrijoladas. What are those? Break down the word as: en-frijol-adas. Frijoles are beans. So, this one is a rolled tortilla, covered in a bean sauce.
You want more? Enmoladas are swimming in molé sauce. Yum!
Ingredients
When you're looking for that instant comfort food of a grilled cheese but you want it in a more Mexican food version, the cheese entomatada is really the way to go.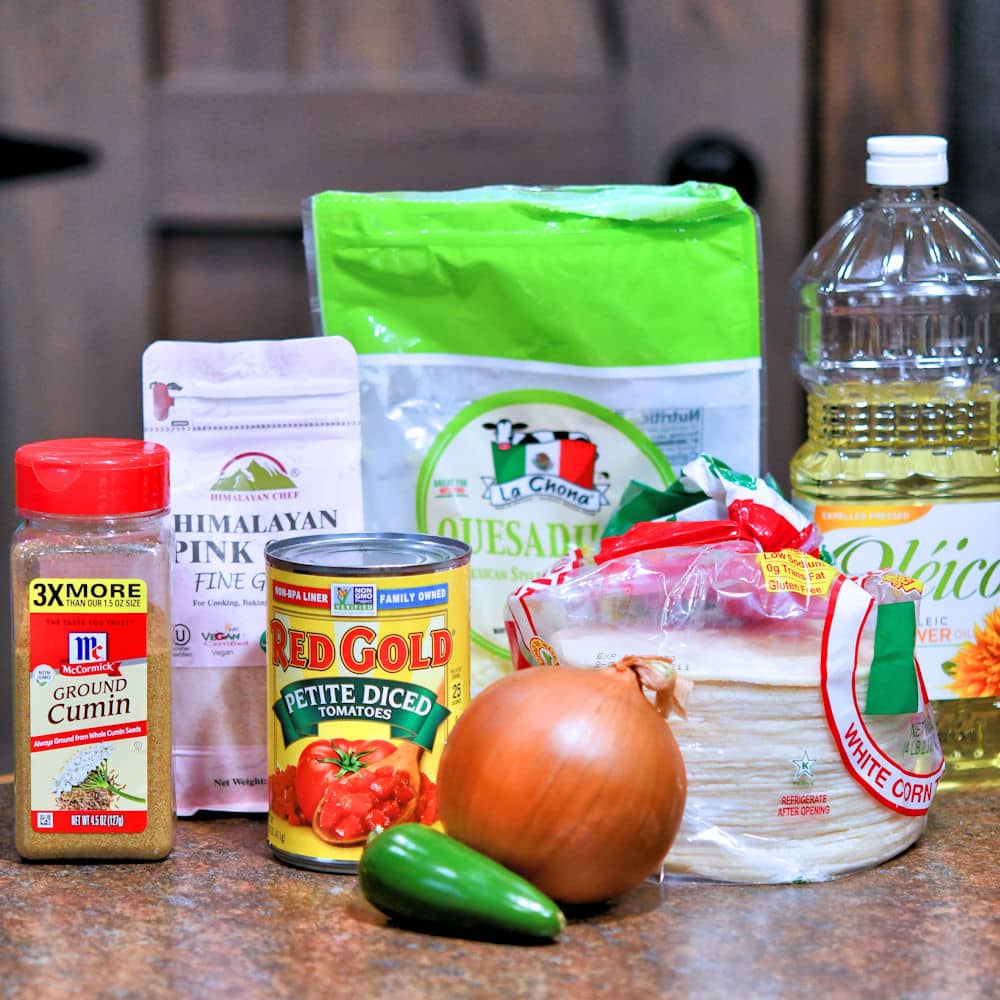 There aren't many ingredients in this recipe for onion and cheese entomatadas. Of course, you can add more to it: refried beans, chicken, beef or chorizo are common.
Entomatadas with Fresh Tomatoes
The first time I made my entomatadas, I used garden fresh tomatoes because we had just harvested these tomatoes from outside.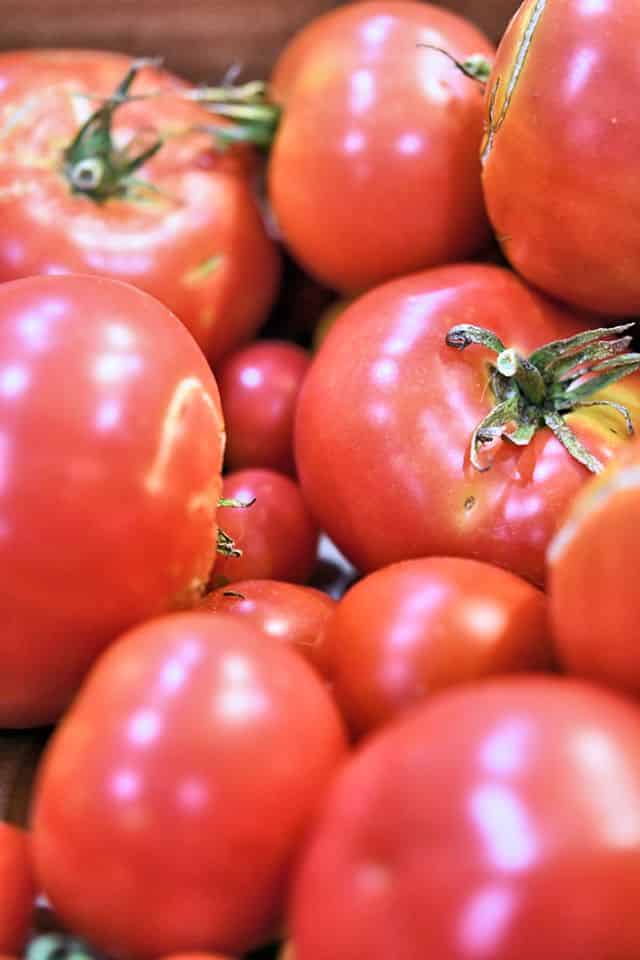 You'll need about a pound of fresh tomatoes, or perhaps 6 or 7 Roma tomatoes if you prefer fresh tomatoes. Peel them or don't peel them, your choice.
You can use any variety of tomato you like. Some tomatoes have a lot of water so you may need to simmer it longer on the stove in order to make it thicker. Saucing tomatoes have less water, making it quicker to get to sauce thickness.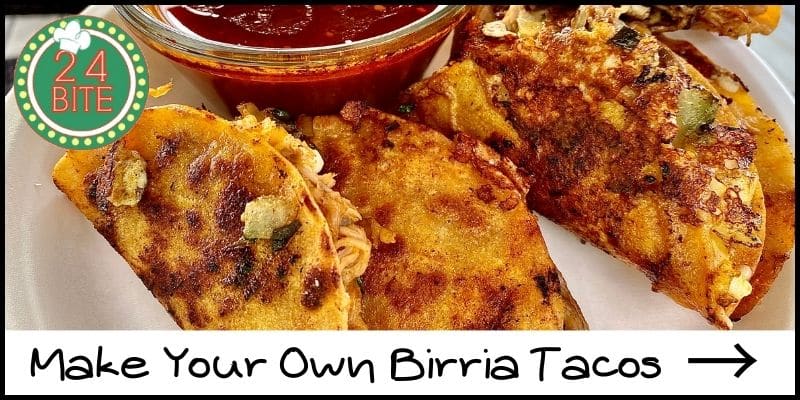 When using fresh tomatoes, instead of frying everything in a skillet, place the tomatoes, pepper and onion in a sauce pan with some water until they're soft enough to place in the blender.
Cutting the Jalapeno
When you're cutting up the japaneño, hold the stem and cut straight down along the sides.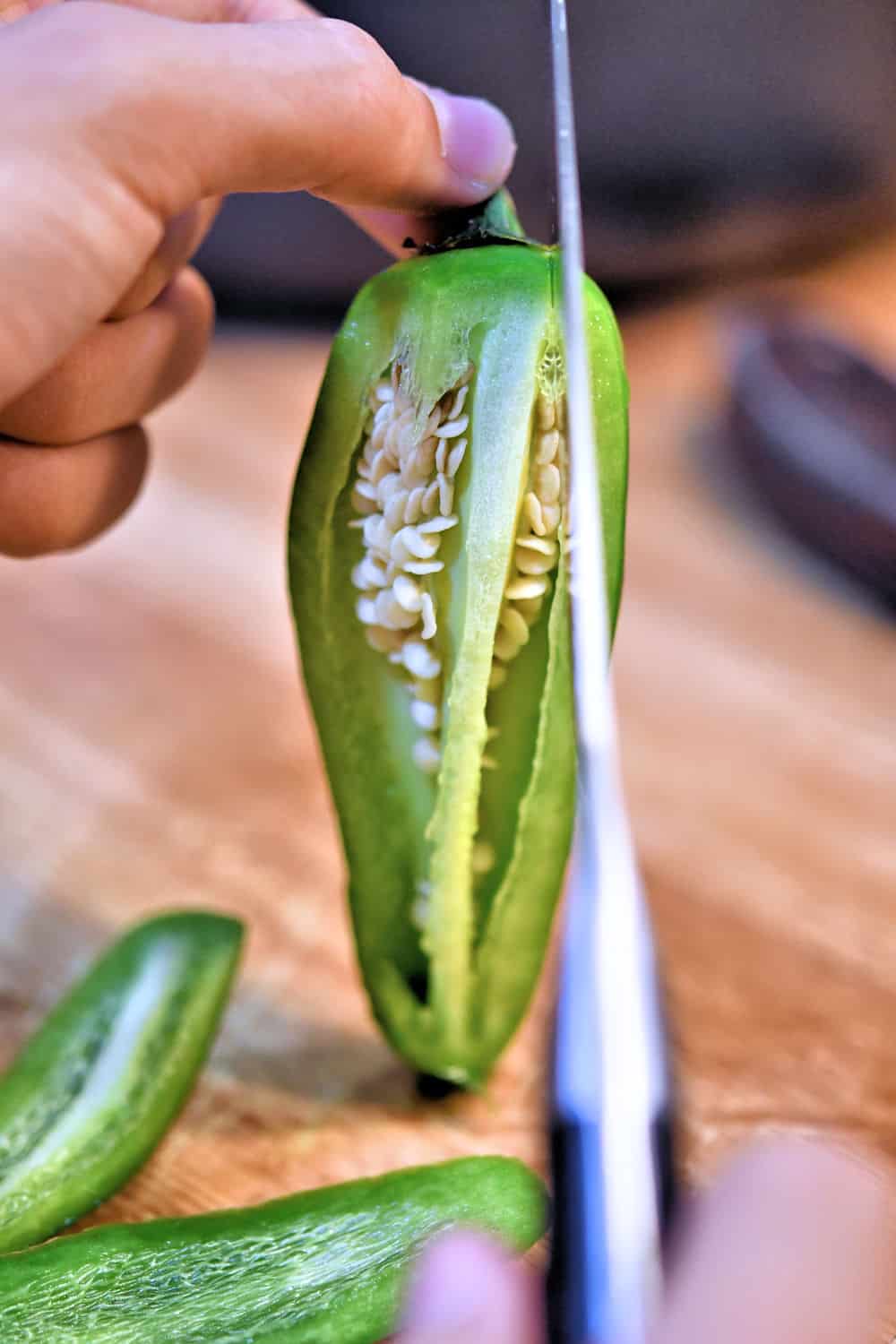 This makes life so much easier. You are actually cutting around the seeds and they remain intact, attached to the stem. You just throw away the stem and you have very little prepping to do.
Sauteeing the Vegetables
Removing the seeds will keep the taste of the jalapeño while removing most of the spicy heat. If you want more heat, check out our Scoville Heat Scale and you can choose your own heat level.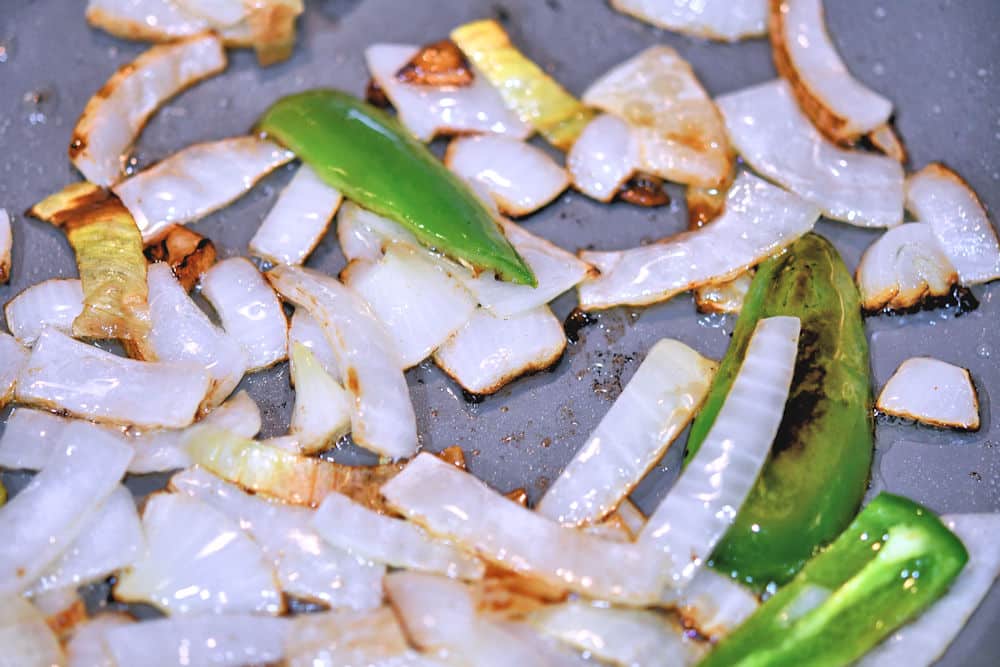 If you're using canned tomatoes, go ahead and saute the onions and jalapeño until there's a little bit of browning around the edges. This carmelization with add delicious flavor.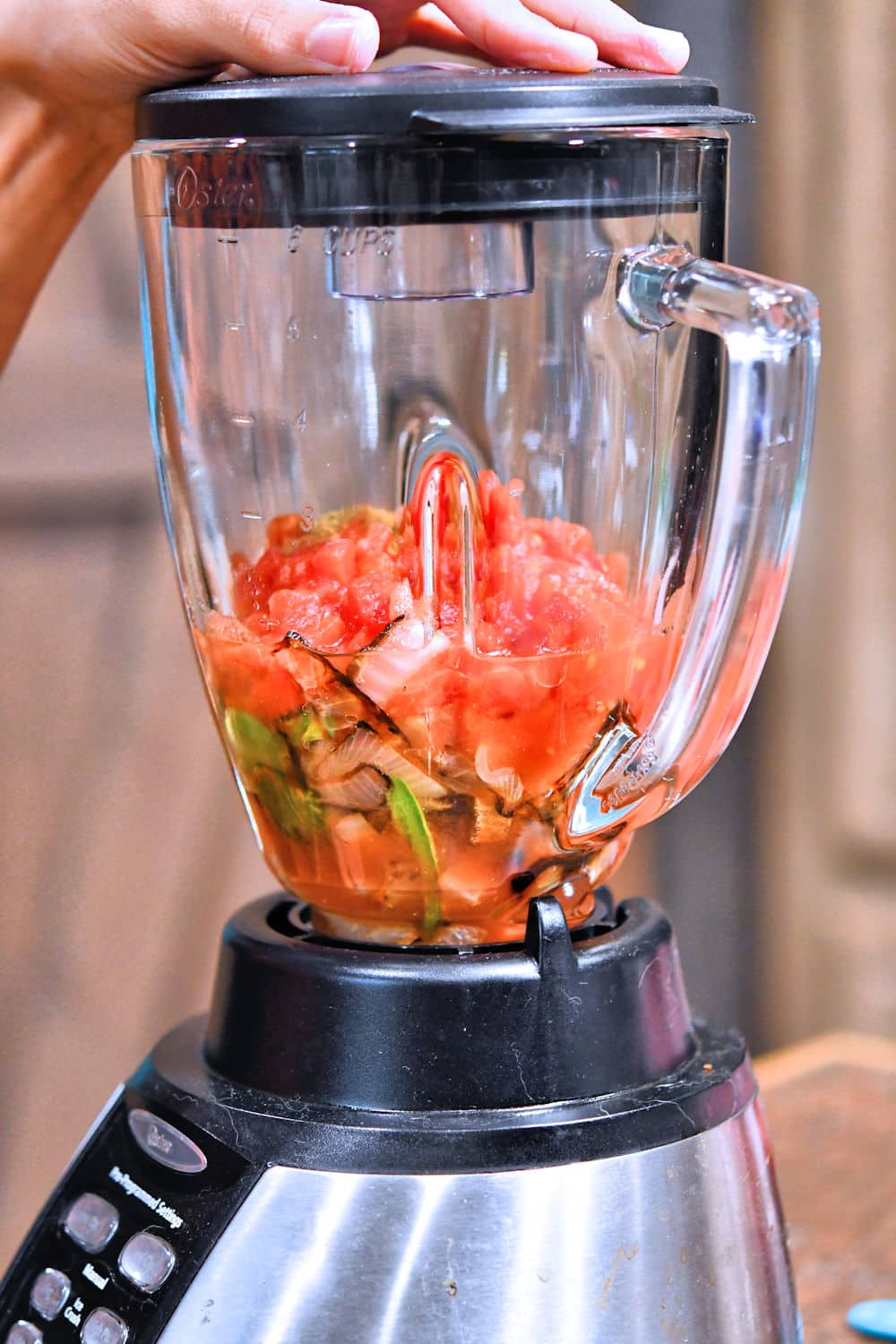 Add everything to the blender and blend away. The blender is one of the most important appliances in the Mexican kitchen.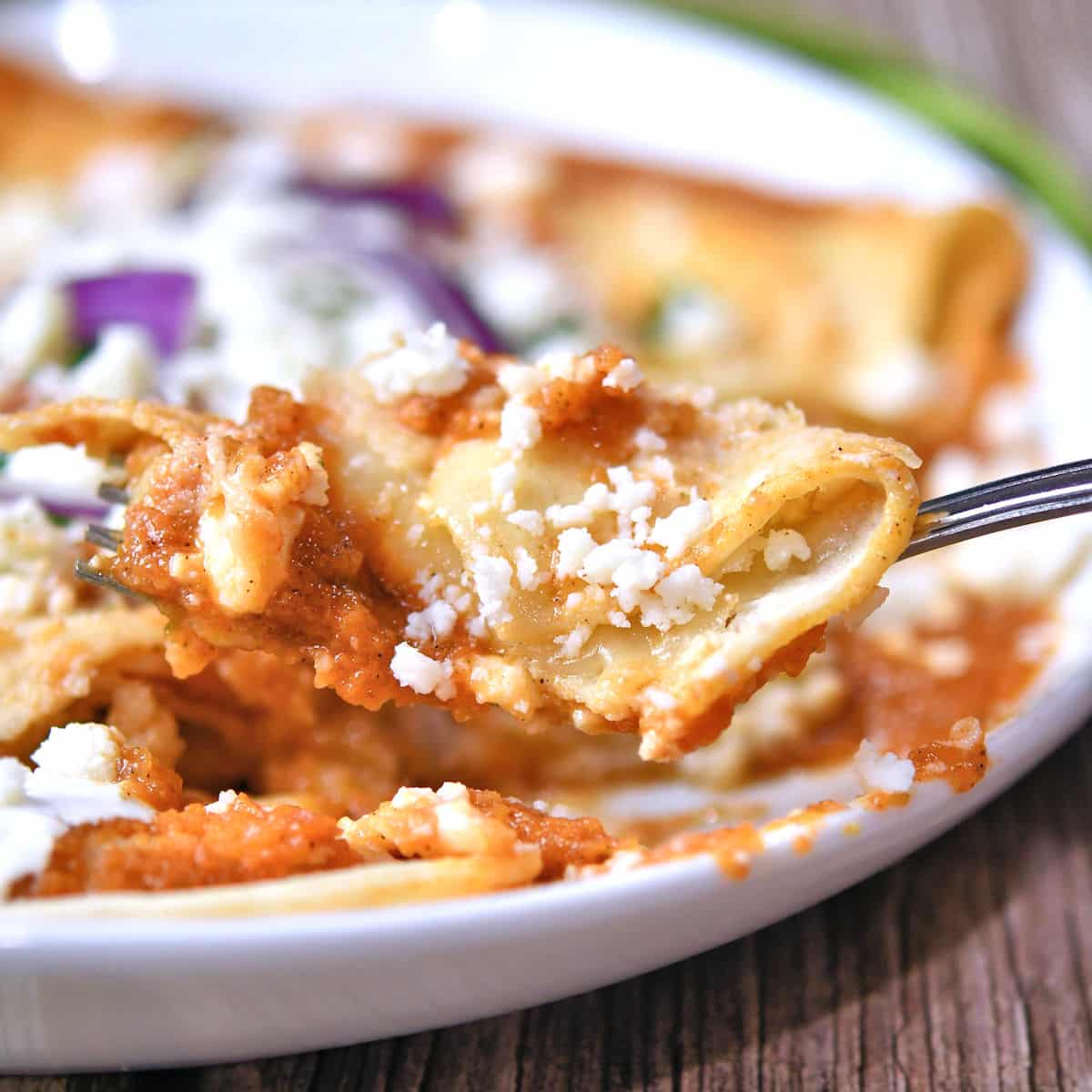 I've fried the tortillas to make them soft. I've written more extensive details for softening corn tortillas.
You May Also Like These Recipes
If you're looking for another great meatless meal alternative, try our Cheese Enchiladas with Roasted Poblano Peppers. You can make them with or without the Poblano chiles, for two different tastes.
Have a look at these Sour Cream Enchiladas too. Instead of a chile-based sauce, these enchiladas use a sour cream sauce. Or, these Cheese Entomatadas for a tomato-based sauce.
When you're looking for more comfort food, I especially love these recipes:
Be sure to browse all our Mexican food recipes for more ideas.
Recipe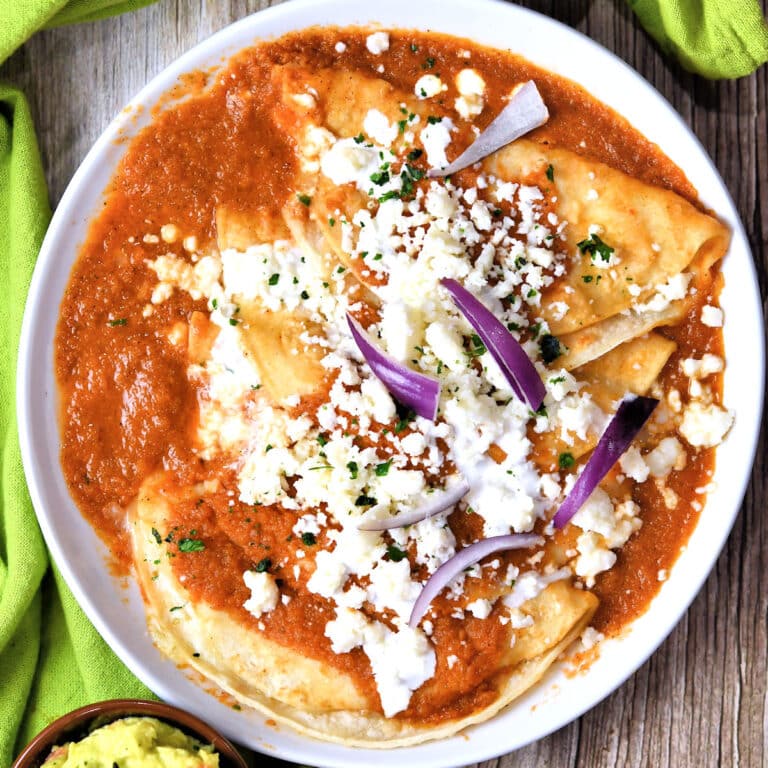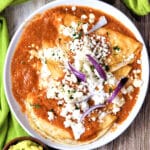 Pin Recipe Now
Cheese Entomatadas Recipe
Tap to leave a star rating
Save or Print
This Cheese Entomatadas Recipe is the closest you'll get to the comfort of a Mexican version of grilled cheese and tomato soup. It's everything you love, perfect for a quick breakfast or lunch.

For more information, be sure to check the recipe details in the attached 24Bite® post.
Equipment
Standing or immersion blender
Ingredients
2

tablespoons

Safflower Oil

,

or other preferred oil

1

Jalapeño

,

with stem, seeds and membranes removed

1

Onion

,

large, divided

14.5

ounces

Diced Tomatoes

½

teaspoon

Salt

½

teaspoon

Cumin

6

Corn Tortillas

1 ½

cups

Monterey Jack Cheese

,

or other melting cheese like Mexican Quesadilla, shredded
Instructions
Remove stem, seeds and membranes from jalapeño then cut it into manageable pieces (about 4). Chop onion. Cook jalapeño and HALF chopped onion in skillet until slightly browned, about 7-8 minutes. With slotted spoon, remove to blender, leaving any remaining oil in skillet.

Add tomatoes, salt and cumin to blender. Pulse until smooth.

Pour tomato mixture into separate saucepan on medium heat. Bring to boil then reduce to simmer while preparing the tortillas.

Fry each tortilla for about 10-20 seconds on each side in the remaining oil. If necessary, add more oil. Don't overcook. The tortillas should be softened but not crispy. Remove to a plate and blot with paper towel as necessary to remove any excess oil.

Once the tortillas are cool enough to handle, begin assembly. Place ¼ cup sauce on microwave safe plate. Spread evenly. Place about 2 or 3 tablespoons cheese and one tablespoon onion (the other half of the onion that wasn't cooked) in center of a tortilla, roll up (or fold over) and place on top of tomato mixture on plate. Repeat for remaining tortillas. (We usually put two or three per plate.) Pour about ¼ cup sauce on top of rolled tortillas. If desired, sprinkle some shredded cheese on top.

Microwave assembled tortillas 1-2 minutes to melt the cheese. Serve immediately. If you prefer, you can assemble the entomatadas on an oven safe plate and heat slightly in an oven to melt the cheese.
Note: If there is a video, it will not display while there is an adblocker.
Notes
When serving, sprinkle with cilantro and Mexican crema. Serve with avocado slices. Add crumbles of queso fresco too, if desired.
This sauce is mild. If you prefer something more spicy, use serrano chile instead.
When using fresh tomatoes, boil and peel 6 roma tomatoes. The sauce may need to simmer longer to come to desired consistency.
Traditionally, Mexican entomatadas are served folded in half. I believe (but could be wrong) that enchiladas didn't start being rolled until much later, when mixed with other cultures, by placing the enchiladas in a casserole. You can roll or fold, as you choose.
Nutrition Facts
Cheese Entomatadas Recipe
Amount Per Serving
Calories 224
Calories from Fat 126
% Daily Value*
Fat 14g22%
Sodium 456mg20%
Carbohydrates 16g5%
Protein 9g18%
* Percent Daily Values are based on a 2000 calorie diet.
______________________
Percent Daily Values are based on a 2000 calorie diet. All amounts are estimates and 24Bite® takes no responsibility for actual figures since calculations vary by packaging and supplier. Please calculate the amounts yourself based on package labeling if you have specific dietary requirements. 24Bite®, Kim Guzman or Christian Guzman shall not be liable for adverse reactions or any other outcome resulting from the use of recipes or recommendations on this website or actions you take as a result.
© 2019-2023 Kim Guzman and Christian Guzman. All rights reserved. Subscribe to 24Bite email newsletters.
Follow 24Bite: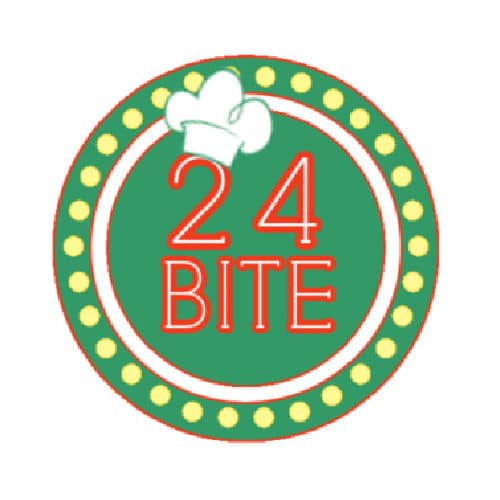 Twitter | Facebook | Pinterest