This No Bake Cheesecake starts with a traditional recipe but gives it a flavorful twist. The crust is made with dried apricots and walnuts. No graham crackers and it's gluten free!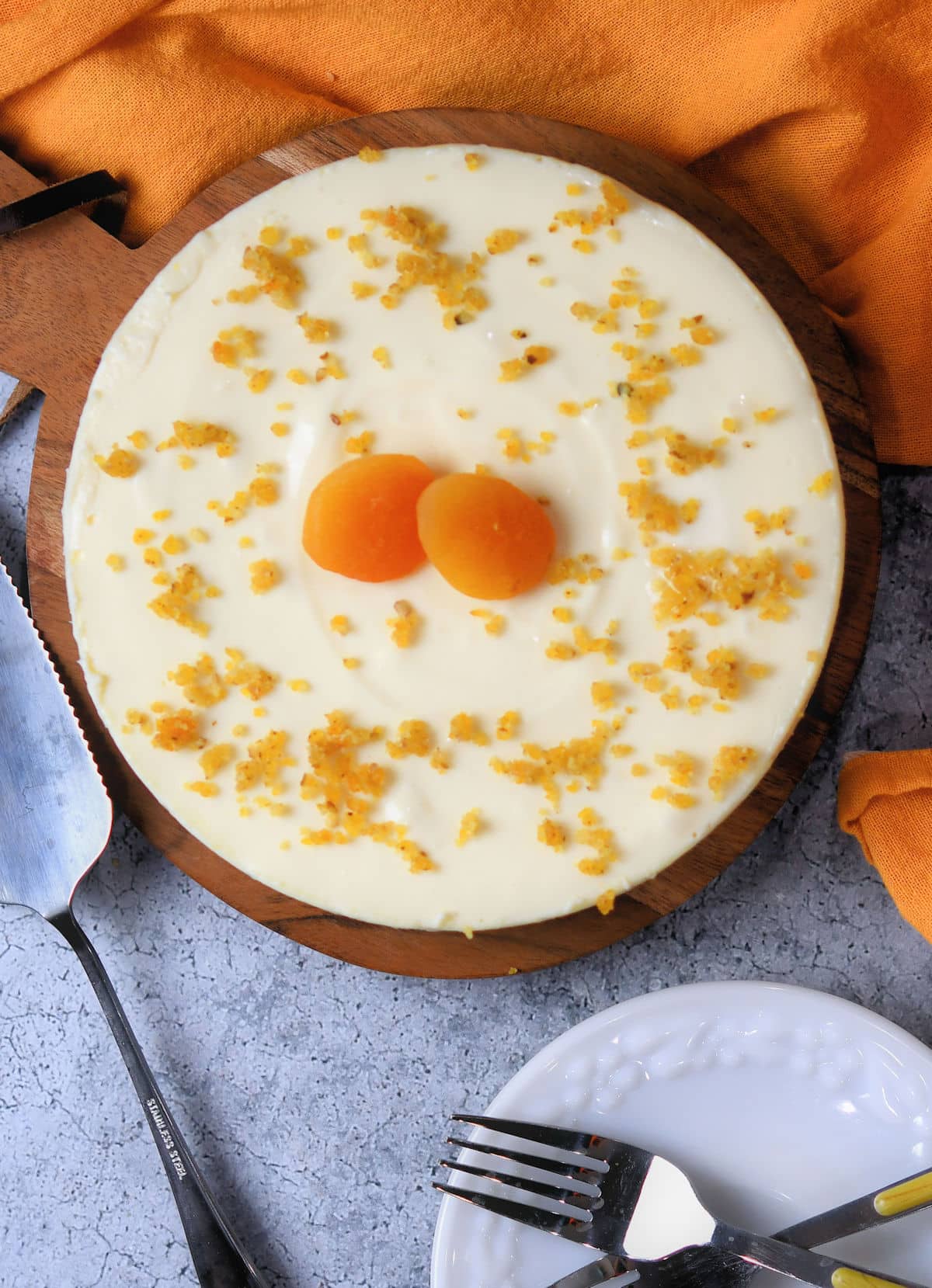 Ingredients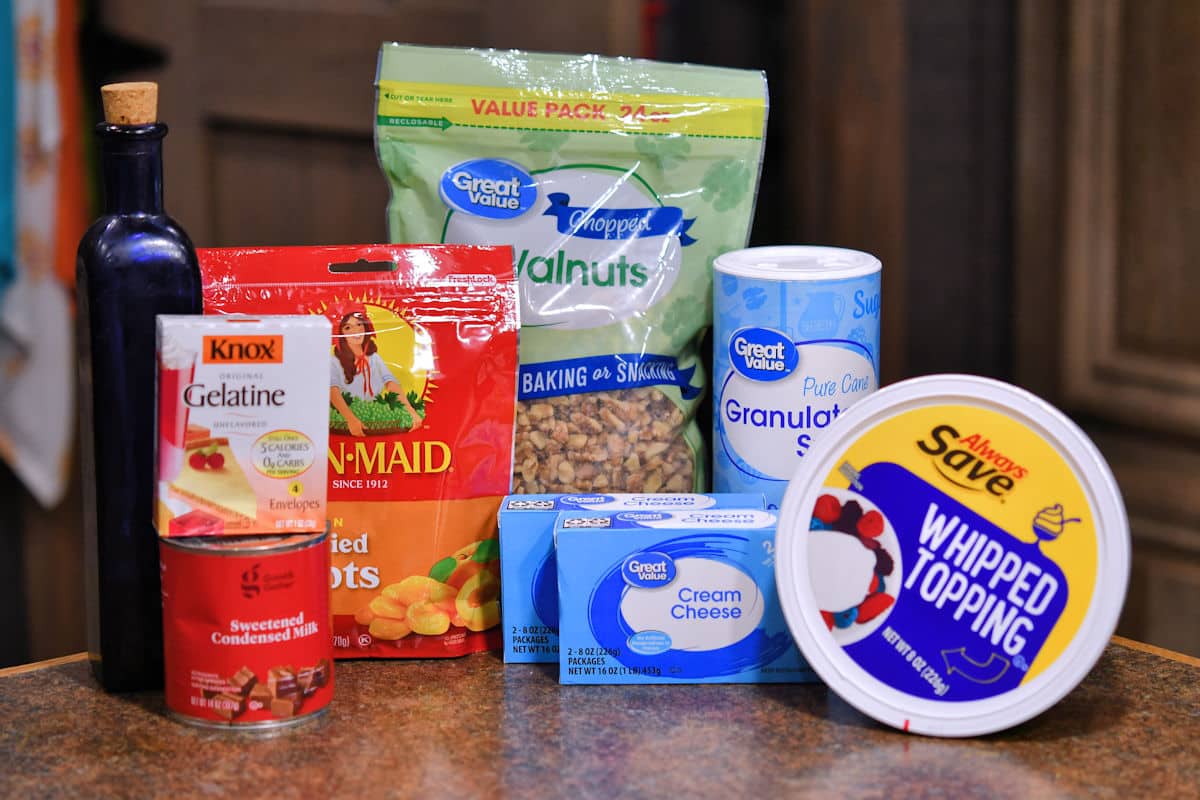 Mom has been making cream cheese pie for as long as I can remember. Cream cheese, sweetened condensed milk, lemon juice and vanilla in a premade graham cracker crust. You're probably familiar with it, right?
I wanted the same taste except I wanted a different texture. I wanted all the goodness of the traditional pie but I wanted it to stand up like a cheesecake.
Using Gelatin in Cheesecake
That's when I discovered Knox Gelatine! It's the same ingredient used to make jello, except it's unflavored. Just one packet is all that I needed to get this cheesecake to stop looking like pie.
Since there is no egg in the ingredients, there's nothing to really hold it together like you would with say, Mexican Flan.
That one little packet of gelatin takes you from pudding to cake in a flash!
Frequently Asked Questions
Why is my no bake cheesecake too soft?
Sometimes it's the cream cheese itself. It could have too much liquid in it. Or, if you're using lemon juice to basically curdle the cheese, you may have used the wrong amount or it wasn't fresh enough. My recipe uses gelatin so it's more fool-proof.
How do you thicken a no bake cheesecake?
My fool proof way to thicken it is my recipe here, using gelatin. If you're following a different recipe, you could place the cheesecake in the freezer to thicken but don't leave it in there too long since it could change the texture.
What's the difference between cheesecake and no bake cheesecake?
It's not as obvious as bake and no bake. A baked cheesecake has eggs and is cooked in a water bath. The no bake version doesn't have eggs and is placed in the refrigerator right away, without cooking time.
No Graham Crackers in the Crust
Most cheesecakes have a graham cracker crust. I've made one with a vanilla wafer crust too. But, I wanted apricot. So, I came up with this fun new crust.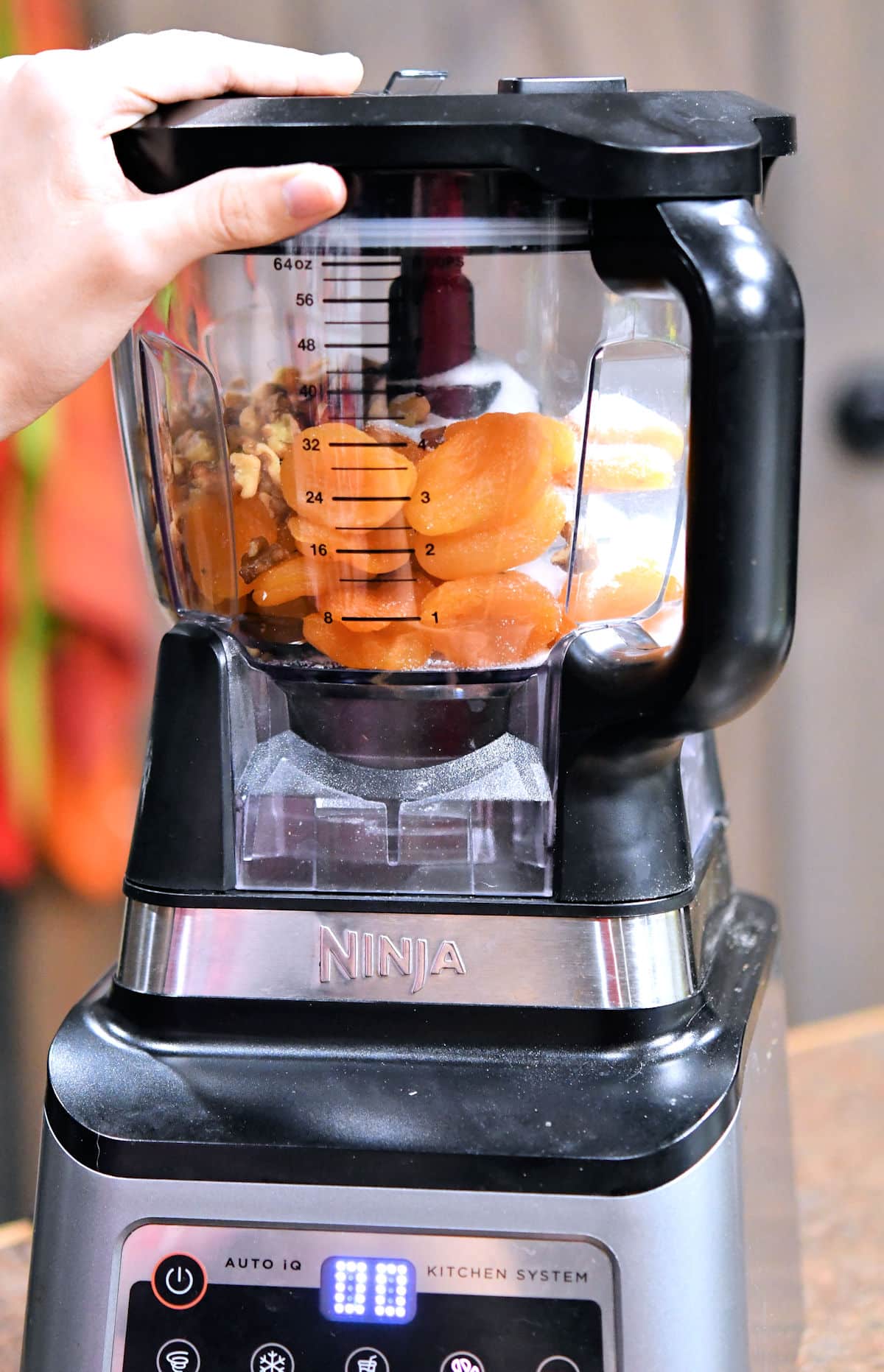 Apricot Walnut Crust
Nothing but dried apricots, walnuts and a little bit of sugar to help separate the bits. Put them in the food processor and off you go.
The apricots are sticky and everything sticks together just like graham cracker crumbs would stick together with melted butter. Actually dried apricots stick together better!
It's a gluten free dream. No bake and it's even vegan. I can see many applications for it in the future.
The rest of the cheesecake is obviously not vegan, of course. But, the crust could be a life changer!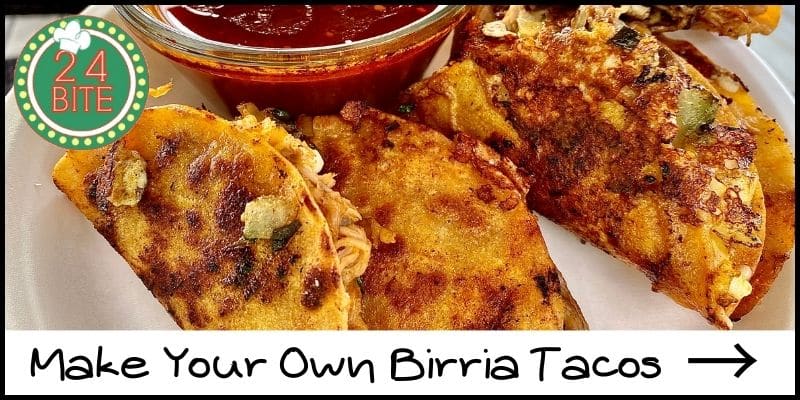 How to Use Leftover Apricot Mix
I'm working on some recipes to use any leftover of this mix. You can still use it as a topping for oatmeal or cereal. It's tasty on top of ice cream.
This buttery Apricot Shortbread Cookie recipe is great to use leftover apricot walnut mix. You simply replace the mix provided in that recipe already.
If you have ½ cup leftover, you can make these delicious Apricot Soft Granola Bars.
Is the Crust Gluten Free?
This crust is naturally gluten free. You don't have to use special gluten free ingredients. Just fruit and nuts. It's as simple as that.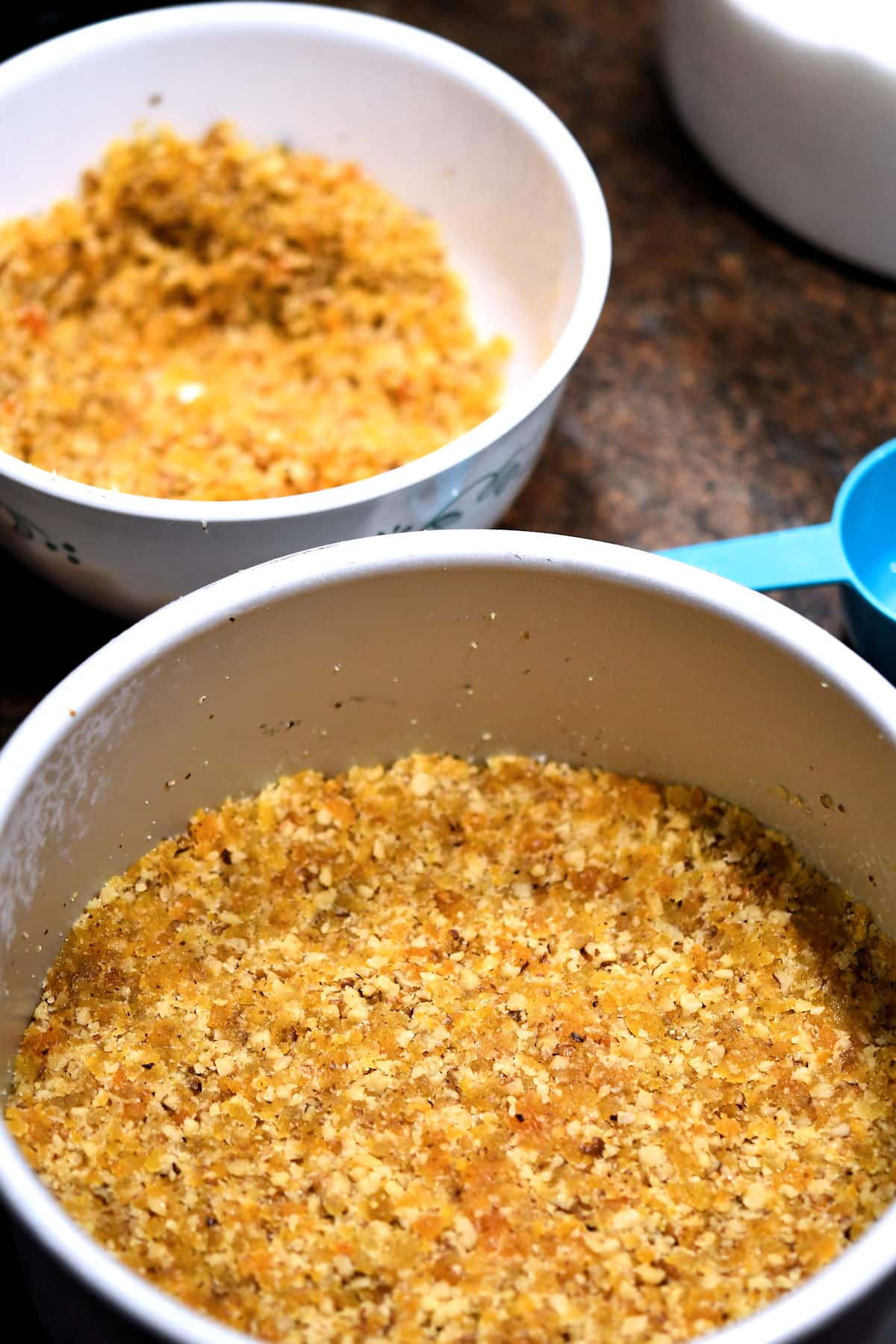 How Long Does No Bake Cheesecake Last?
Store any leftovers in an airtight container in the refrigerator. Eat as soon as you can since it will only last up to 5 days.
More Dessert Recipes
You can take a look at all my Dessert Recipes or here are some of my favorites: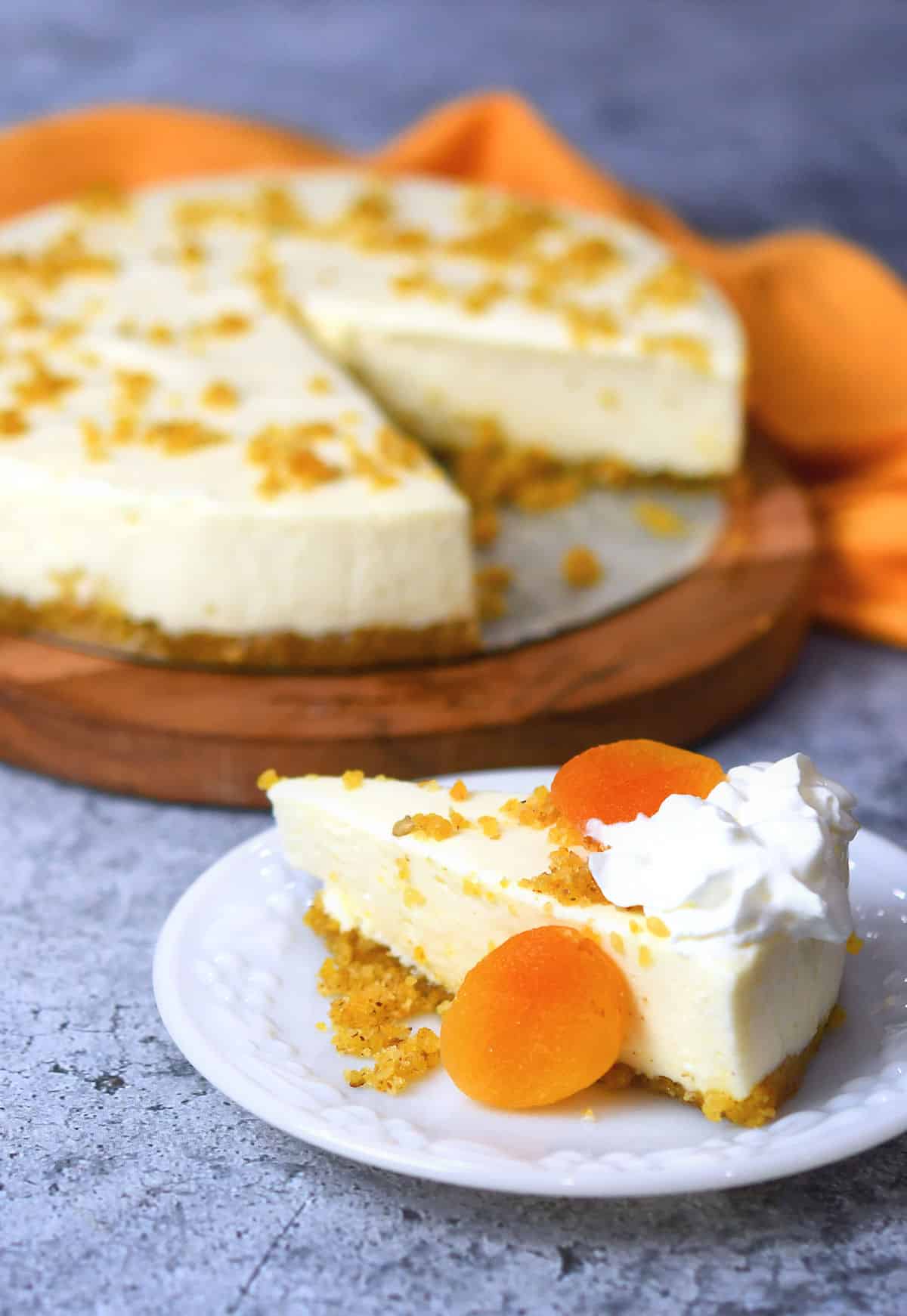 Recipe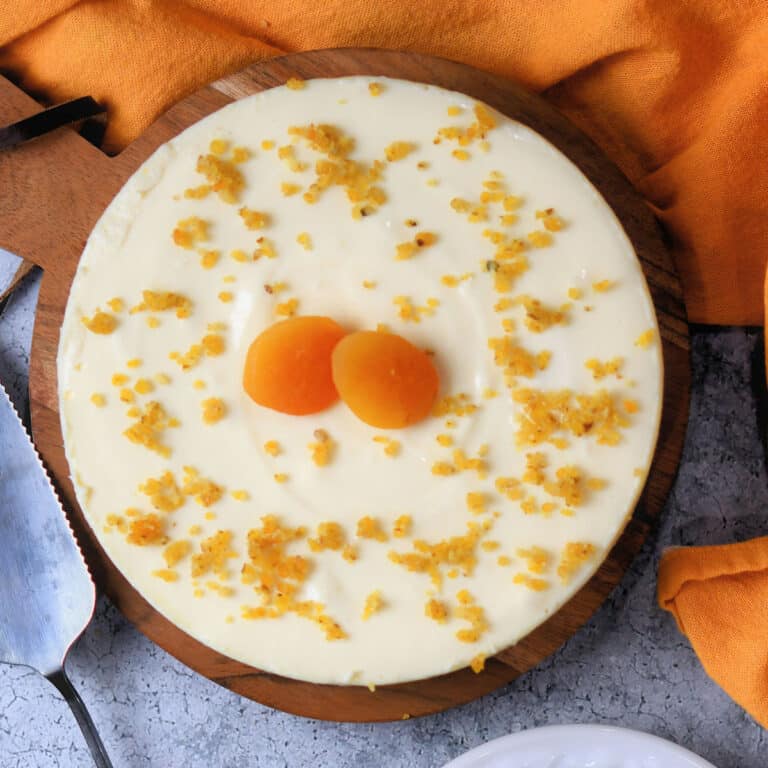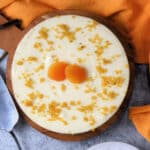 Pin Recipe Now
No Bake Cheesecake with Apricot Crust
Tap to leave a star rating
Save or Print
This No Bake Cheesecake starts with a traditional recipe but gives it a flavorful twist. The crust is made with dried apricots and walnuts. No graham crackers and gluten free!

For more information, be sure to check the recipe details in the attached 24Bite® post.
Equipment
Food processor

7-8.5" Cheesecake Pan
Ingredients
Apricot Walnut Crust
6

ounces

Dried Apricots

1

cup

Walnuts

⅓

cup

Sugar
No Bake Cheesecake
16

ounces

Cream Cheese

,

softened

14

ounces

Sweetened Condensed Milk

2

teaspoons

Vanilla Extract

.25

ounces

Gelatin

,

unflavored, one packet, like Knox

¼

cup

Water

,

room temperature

16

ounces

Whipped Topping

,

thawed
Instructions
Place all crust ingredients into a food processor and process until ground, but not paste. (See process shots above to duplicate the look.) Assemble the cheesecake pan and place a circle of parchment paper in the bottom.

Place about ½ cup in the bottom of the pan and press gently until packed. As needed, add more. You'll only need about ¼" of crust. There is more than enough to accommodate other traditional pan sizes. Set aside the remaining to sprinkle on top. Keep it in an airtight container in the refrigerator until ready to serve.

In a small, microwave safe bowl or cup, place ¼ cup cool water. Sprinkle gelatin on top and stir. Continue stirring until most is dissolved. Set aside while making the filling.

Using a stand mixer or hand mixer, whip softened cream cheese in a large bowl. Add sweetened condensed milk and vanilla extract. Mix well.

Check the gelatin and stir. Microwave for about 15 seconds, stir, then mix well into the cheese mixture. Fold in whipped topping.

Pour evenly into cheesecake pan. Smooth the top. Cover and place in the refrigerator. I used a shallow bowl to cover, making sure it didn't touch the top of the cheesecake. Refrigerate overnight for best results.

When ready to serve, run a blunt knife around the outer edge of the cheesecake to loosen from pan.

Sprinkle remaining apricot mxture over top when serving.
Note: If there is a video, it will not display while there is an adblocker.
Notes
There is enough apricot walnut mixture and filling to make up to an 8.5″ cheesecake pan. The difference in size will only affect the height of the cheesecake, since it's a no-bake cheesecake.
The nutrition information takes into account the entire list of ingredients. You probably won't use all the apricot crust ingredients, but there's no way to calculate that beforehand.
Extra apricot mixture can be used to top yogurt, cereal or oatmeal.
Nutrition Facts
No Bake Cheesecake with Apricot Crust
Amount Per Serving
Calories 446
Calories from Fat 243
% Daily Value*
Fat 27g42%
Sodium 191mg8%
Carbohydrates 45g15%
Protein 9g18%
* Percent Daily Values are based on a 2000 calorie diet.
______________________
Percent Daily Values are based on a 2000 calorie diet. All amounts are estimates and 24Bite® takes no responsibility for actual figures since calculations vary by packaging and supplier. Please calculate the amounts yourself based on package labeling if you have specific dietary requirements. 24Bite®, Kim Guzman or Christian Guzman shall not be liable for adverse reactions or any other outcome resulting from the use of recipes or recommendations on this website or actions you take as a result.
© 2019-2023 Kim Guzman and Christian Guzman. All rights reserved. Subscribe to 24Bite email newsletters.
Follow 24Bite: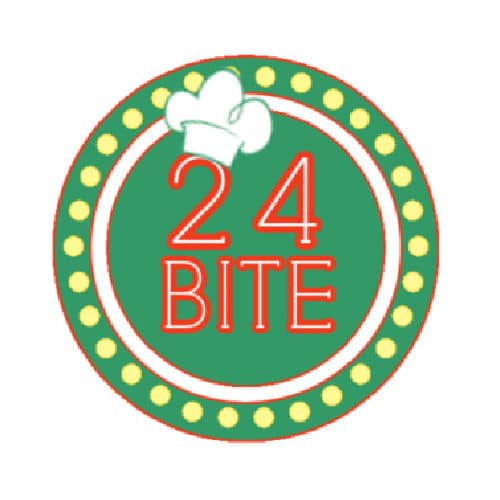 Twitter | Facebook | Pinterest