There's nothing like fresh tortilla chips made from scratch. I mean fresh, from masa harina, corn tortilla chips. This is a recipe you will want to save!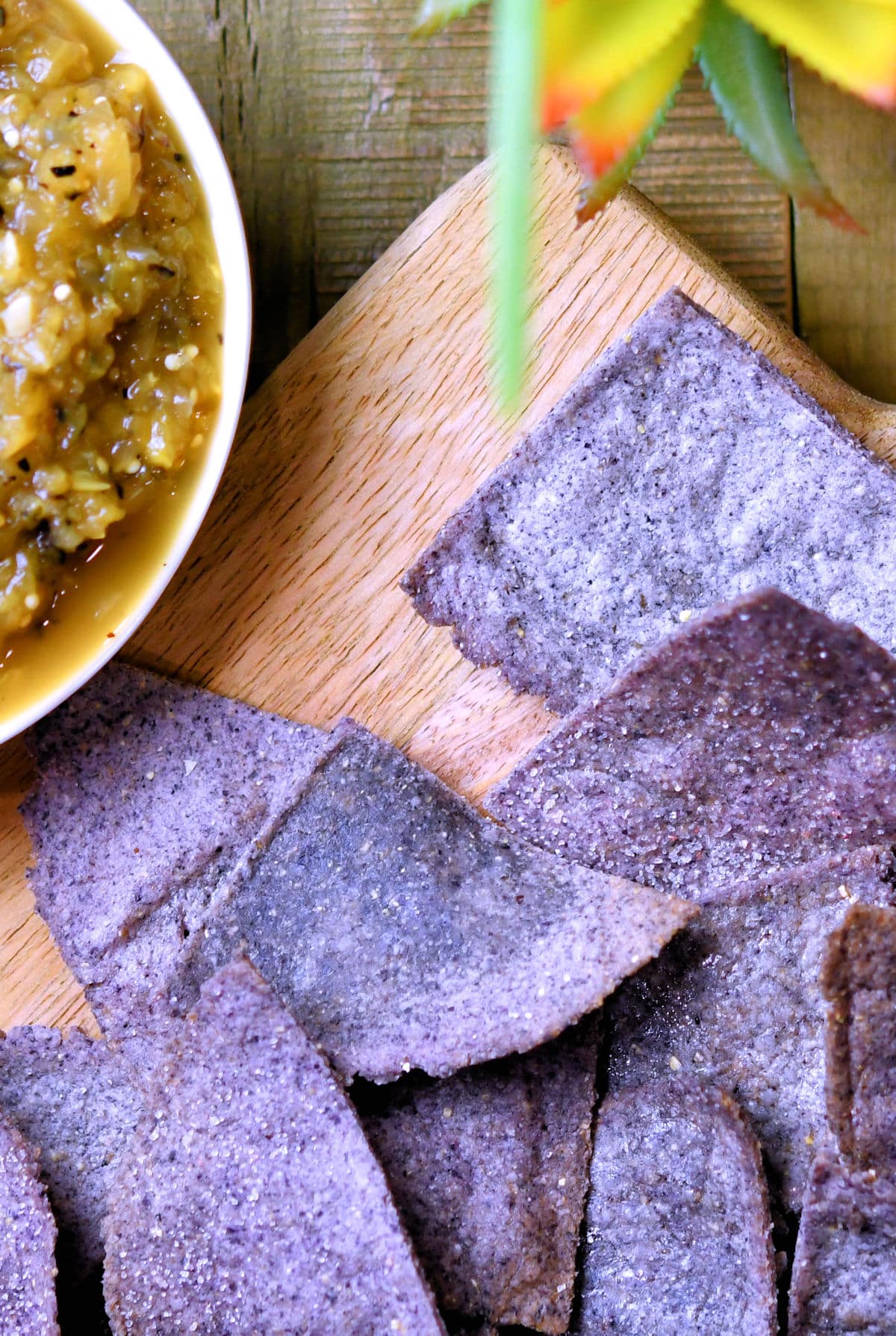 You Can Make Blue Corn Tortillas?
Yes, you can make blue corn tortillas! Maseca brand has a corn flour made from blue corn. It's not as popular as yellow and white corn, of course. But, it's something new and fun to try.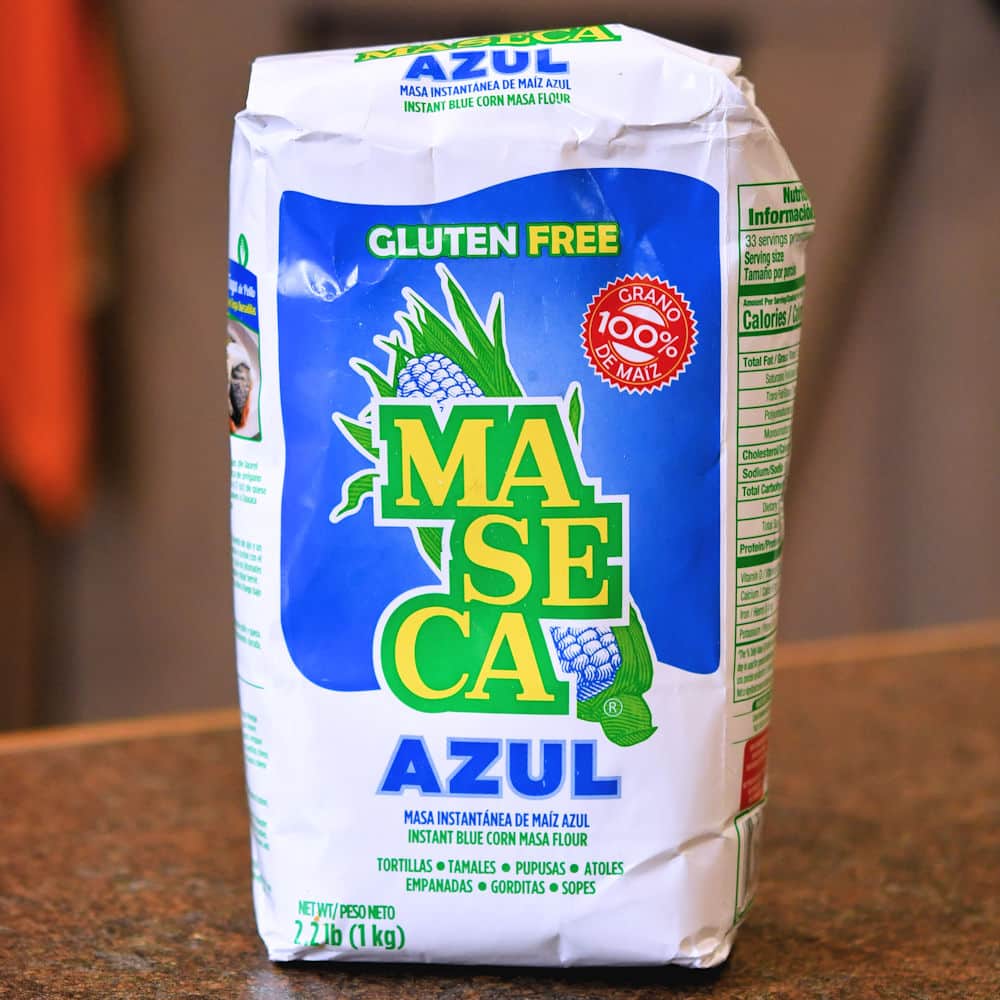 I'm going to be honest here. I didn't choose blue corn flour because of the health benefits. I chose it because I thought it would give a better color to go with the yellow of the my Pineapple Tomatillo Salsa.
Health Benefits of Blue Corn
But, that doesn't mean that I don't acknowledge the health benefits.
Like other blue fruit and vegetables, blue corn contains a pigment called anthocyanin. Naturally blue foods are high in antioxidants and anti-inflammatories. Eat more blue food!
We had to special order this Maseca Azul blue corn flour. It's not available in any of the stores around here. We ordered it from MexGrocer.
Can I Substitute Different Masa Harina?
Yes! You can use white or yellow masa harina too. You would make the tortilla chips exactly the same, substituting 1:1.
Ingredients
Can you believe that there are only three ingredients in tortillas? Just masa harina, water and a little bit of salt.
And, they're so easy to make. Once you've made the dough, portion it out into 16 individual balls, fresh and ready to be flattened.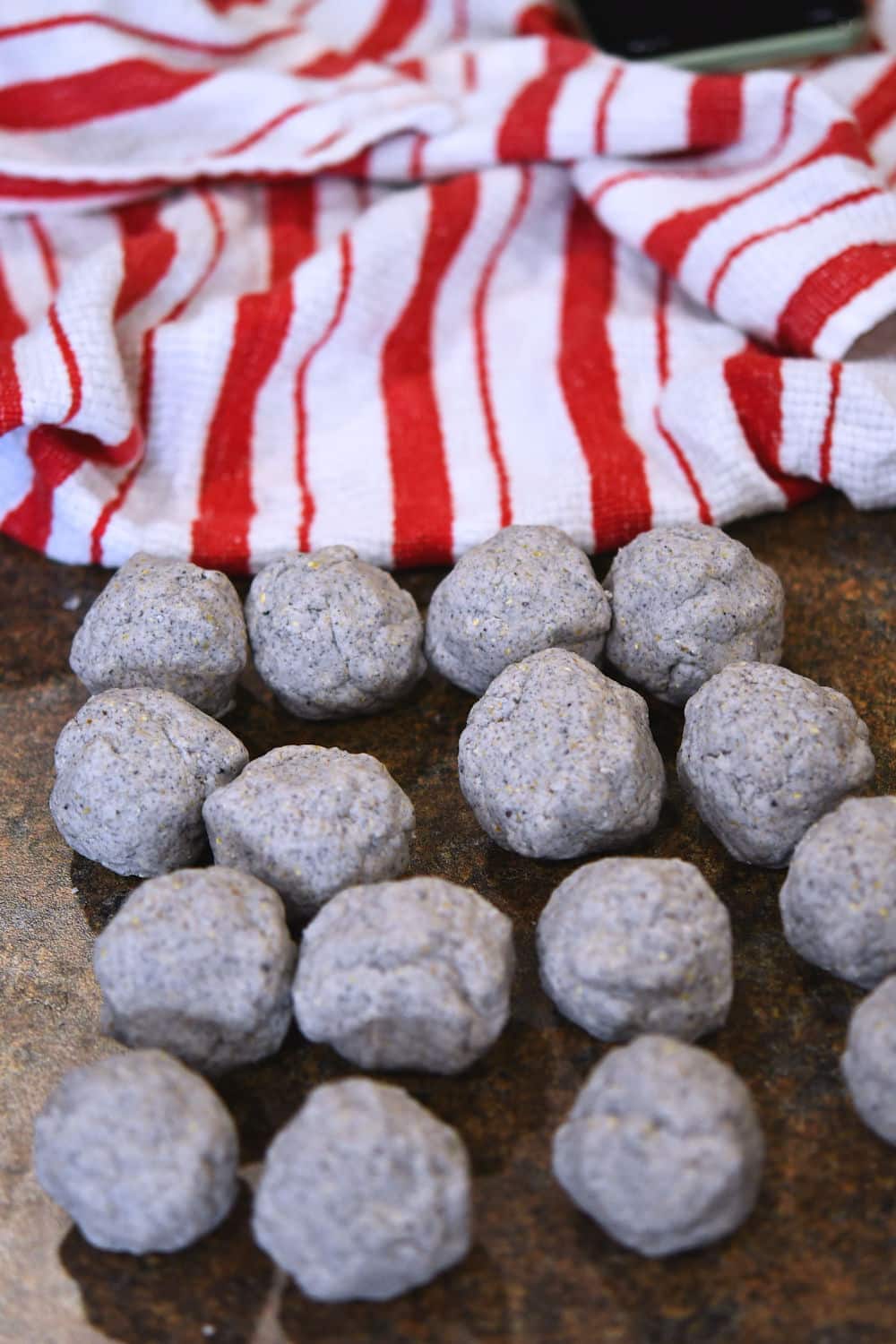 What If I Don't Have a Tortilla Press?
We haven't always had a tortilla press. I know that it works nicely. A tortilla press is fun and makes the tortillas more quickly.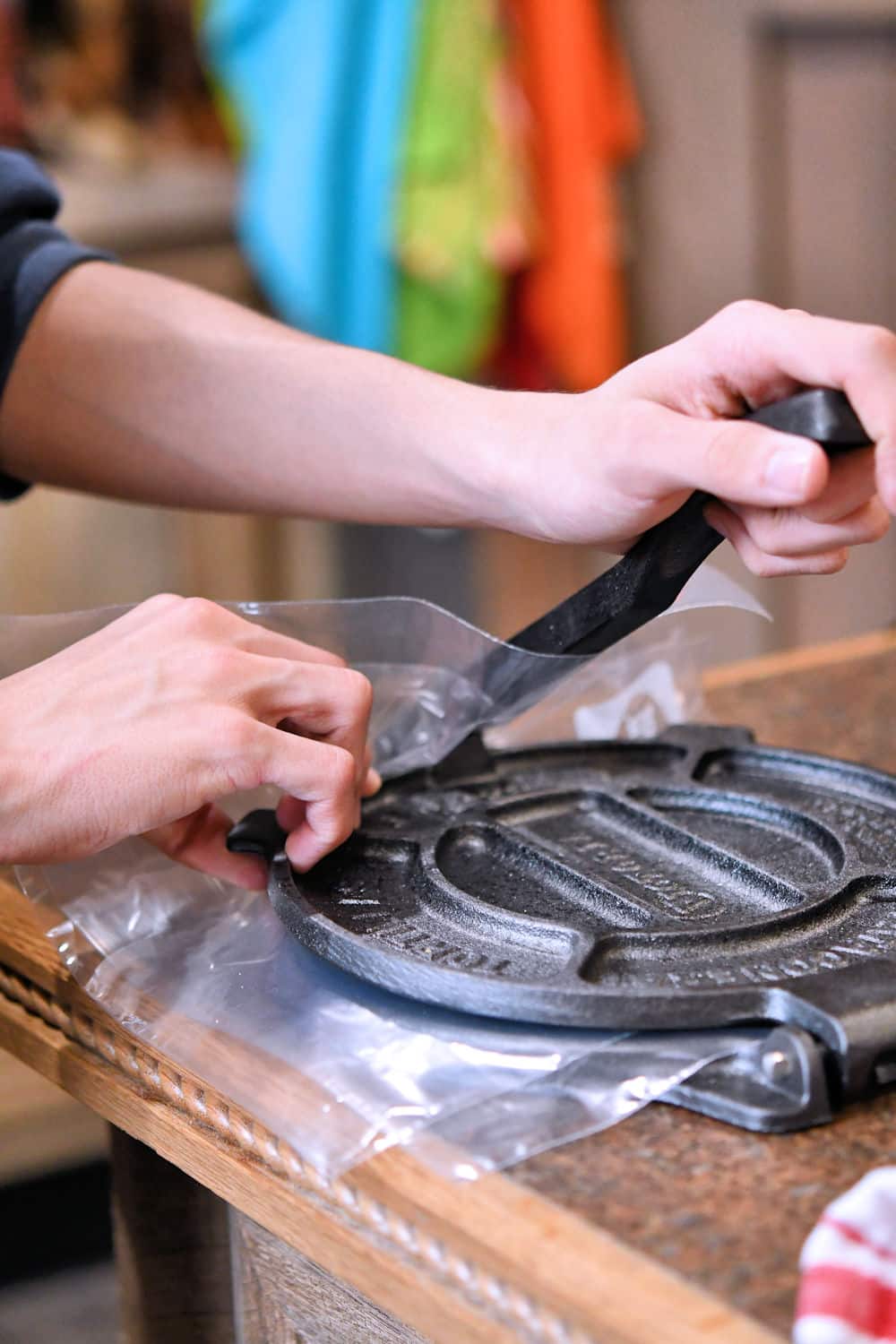 Have a look at this Victoria 8″ Cast Iron Tortilla Press (aff link). It's a nice weight. It's seasoned but you should still use the plastic in between like I've shown here. You can use it for both corn and flour tortillas.
If you don't have a tortilla press, you can use a rolling pin to flatten the tortillas. I have also used Corelle plates.
Corelle plates are nice and flat on the bottom. If you turn two of them bottom to bottom, you can easily mimic a tortilla press.
No matter which method you use, use the pieces of plastic ziploc bags. This will make it easier for you to move the raw dough to the skillet.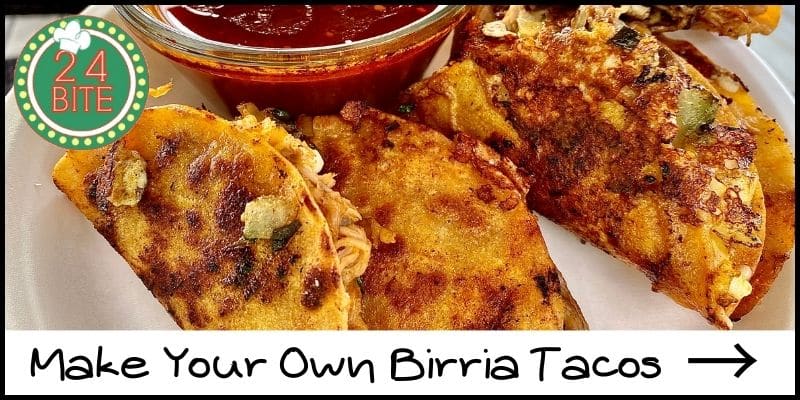 Cooking the Raw Tortillas
Cook the raw tortillas first to retain their shape. It only takes about 90 seconds per tortilla. Cut them in quarters to fry them.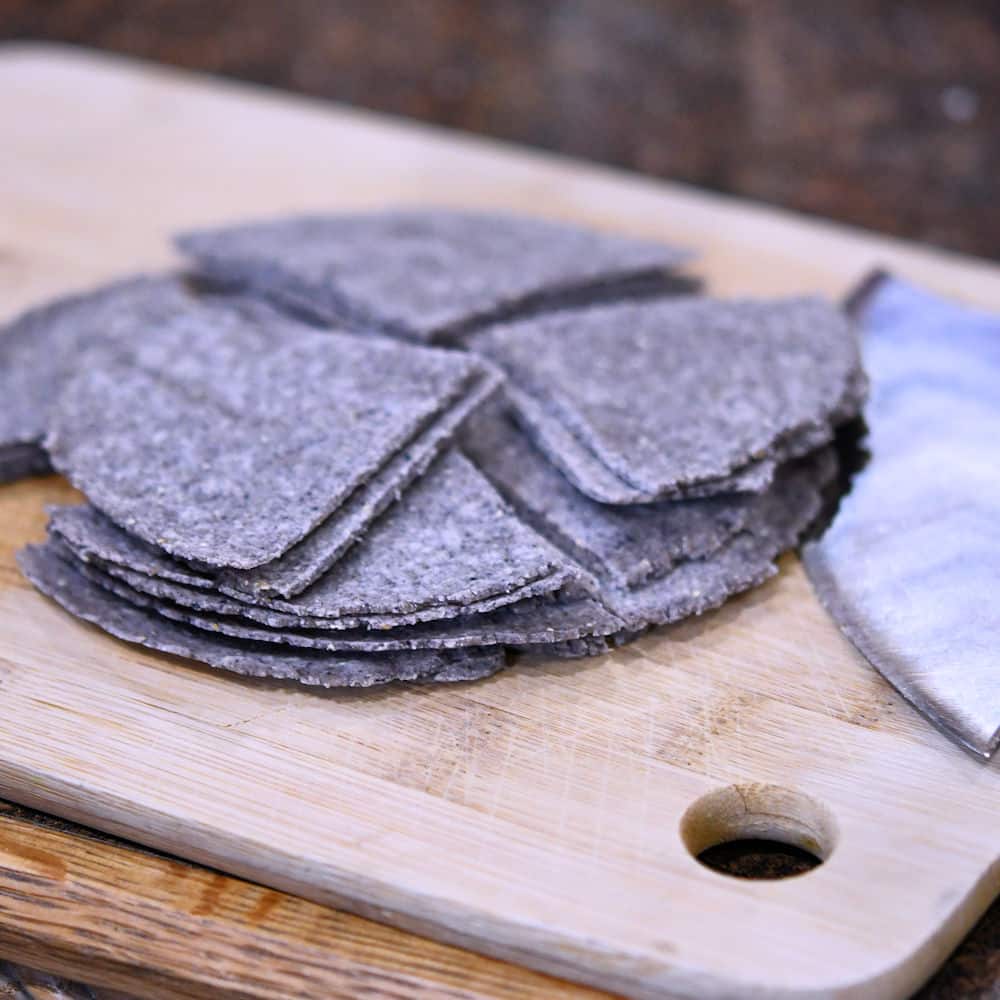 I like to use an air fryer to cook these tortilla chips because it's easier and healthier. If you would like to deep fry them instead, use vegetable or peanut oil at 350℉.
Where Would You Serve These Chips?
Everywhere! Have a look at our Mexican food recipes for a larger variety. Specifically, I think they would be great with any of these recipes:
How Long Will Homemade Tortilla Chips Keep?
These chips are best served on the same day. In an airtight container, they may last two days. But, honestly, this is the reason we have Chilaquiles the next morning!
Recipe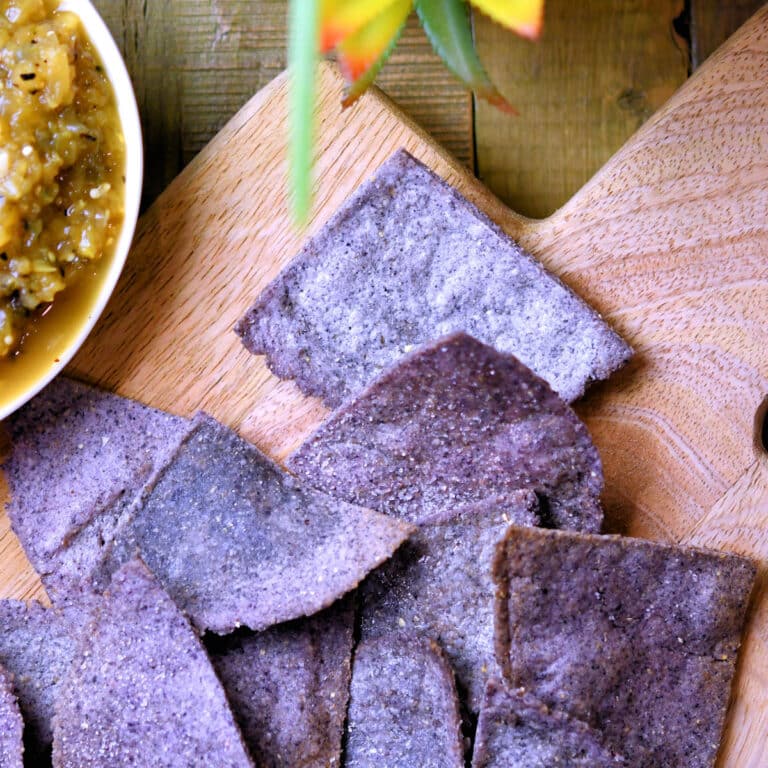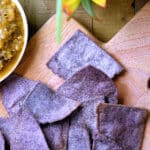 Pin Recipe Now
Homemade Tortilla Chips from Scratch
Tap to leave a star rating
Save or Print
There's nothing like fresh tortilla chips made from scratch. I mean fresh, from masa harina, corn tortilla chips. This is an air fryer recipe you will want to save!

For more information, be sure to check the recipe details in the attached 24Bite® post.
Equipment
Tortilla press

Skillet or comal

Air Fryer (optional)
Ingredients
2

cups

Masa Harina

,

blue corn flour

1 ¼

cups

Water

Cooking Spray

,

like Pam

1

teaspoon

Salt
Instructions
Place masa harina in a bowl. Pour water on top. Using hands, mix together until you form a soft dough. Due to several factors, including the age of the corn flour and the humidity in your home, you will probably need more water. Add one tablespoon of water at a time. I needed to add three tablespoons (probably because it's currently winter and we have central heating) to get the dough I needed. To test the dough, make a small ball about 1 ½ to 2" across and try to flatten in the palm of your hand. When you're able to flatten it without cracking, it's ready.

Separate the dough into 16 equal pieces and form into a ball. To keep from drying out, cover with a damp towel while working with each individually.

Cut a gallon size ziploc bag in half to make two pieces of plastic. Place each ball of dough between the plastic sheets and press with tortilla press until tortilla measures about 5" across.

Heat comal or skillet on medium heat. Carefully remove each dough ball from plastic and place in hot skillet for 30 seconds, turn, 30 seconds more, turn and another 30 seconds. That's 1 ½ total minutes. Remove to covered tortilla keeper or covered casserole. The tortillas will continue cooking from their own heat in the covered container. Work with each tortilla, one at a time, keeping the remaining balls of dough under the damp towel.

After cooking, place the entire stack on a cutting board and make two cuts down the center to make 4 triangles of each tortilla.

Preheat air fryer for 5 minutes at 400℉. Place triangles in air fryer basket, spray with cooking spray and sprinkle with salt. Cook for about 5-6 minutes at 400℉. If your basket gets too full, you may need to make two or three passes. Alternatively, bake in oven on a baking sheet in the same manner. Watch carefully because it can go from perfect to burnt very quickly. Right out of the air fryer or oven, the chips may be more chewy than crisp. As they cool, they get crispier.

To deep fry, use vegetable or peanut oil and fry in oil at 350℉. Drain on paper towels.
Note: If there is a video, it will not display while there is an adblocker.
Nutrition Facts
Homemade Tortilla Chips from Scratch
Amount Per Serving
Calories 104
Calories from Fat 9
% Daily Value*
Fat 1g2%
Sodium 294mg13%
Carbohydrates 22g7%
Protein 3g6%
* Percent Daily Values are based on a 2000 calorie diet.
______________________
Percent Daily Values are based on a 2000 calorie diet. All amounts are estimates and 24Bite® takes no responsibility for actual figures since calculations vary by packaging and supplier. Please calculate the amounts yourself based on package labeling if you have specific dietary requirements. 24Bite®, Kim Guzman or Christian Guzman shall not be liable for adverse reactions or any other outcome resulting from the use of recipes or recommendations on this website or actions you take as a result.
© 2019-2023 Kim Guzman and Christian Guzman. All rights reserved. Subscribe to 24Bite email newsletters.
Follow 24Bite: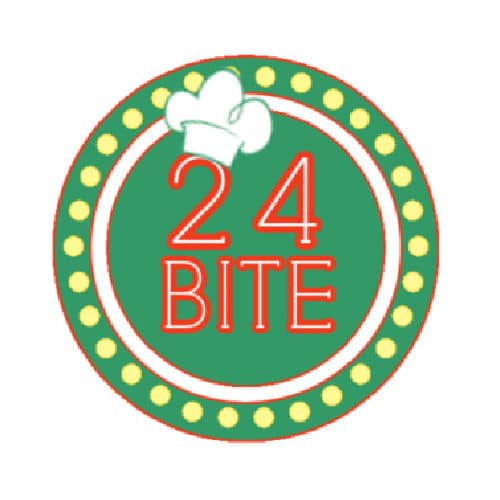 Twitter | Facebook | Pinterest