Make your own tomatillo red chili sauce from scratch and you'll never look back. When you make it yourself, you control your perfect spicy heat level.
You can use red chili sauce for anything from tacos to burritos and even dipping tortilla chips. With this batch, I made a nice pan of shredded beef green chiles enchiladas.
Even though this is a tomatillo sauce, look at the deep red color. I wasn't expecting it to be so red.
I'm using dried red chiles which give this beautiful color. The tomatillos give it a bit of a bright, tart flavor.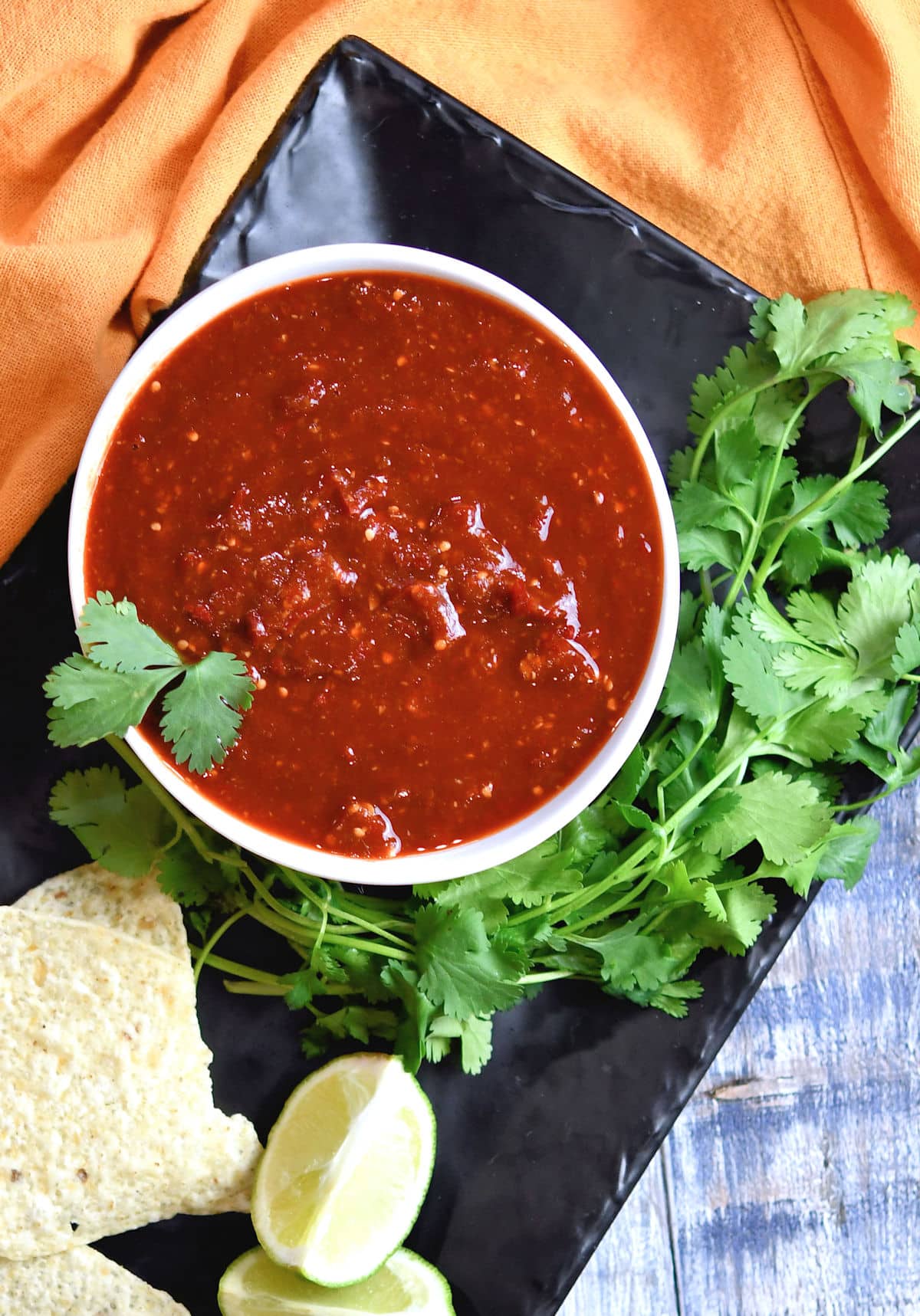 Ingredients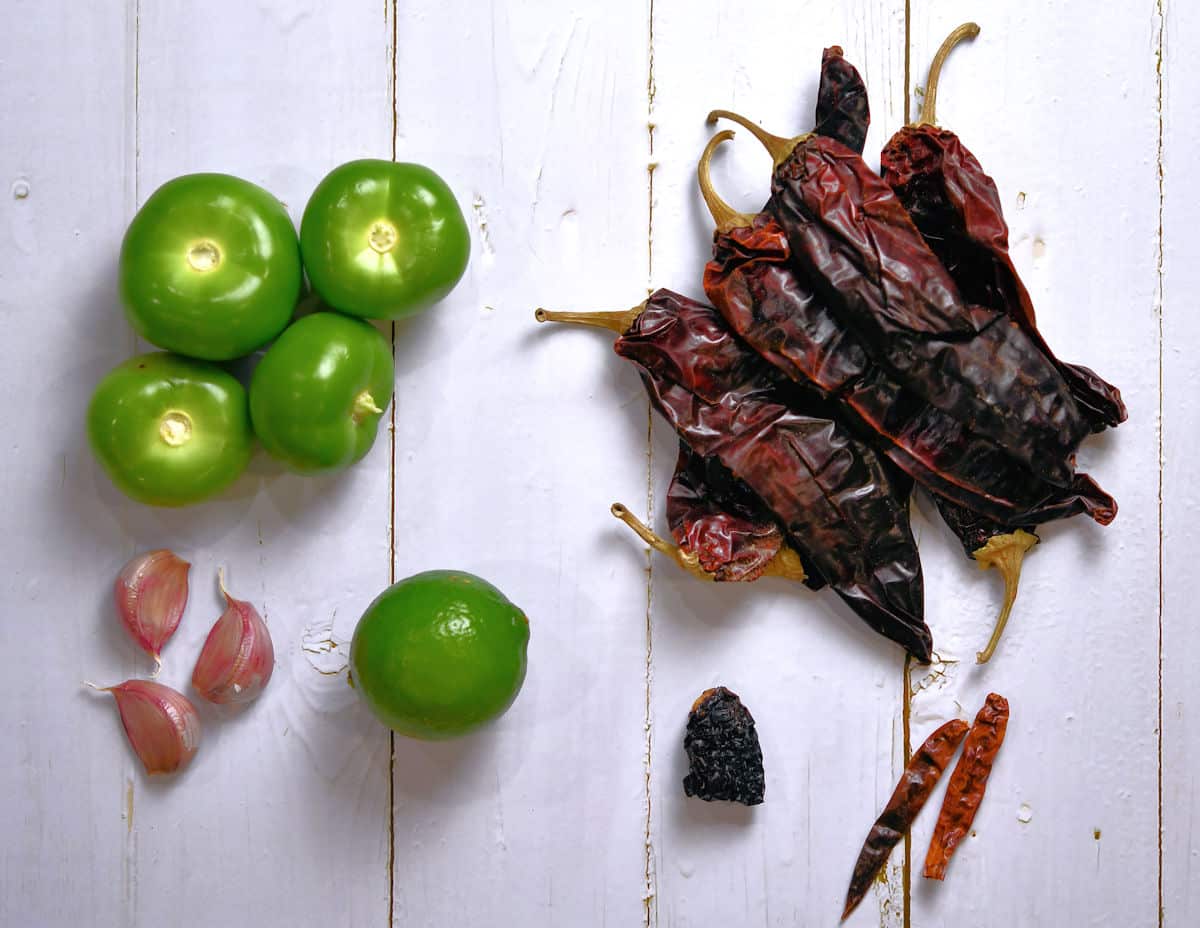 What are Tomatillos?
Although tomatillos look similar to tomatoes, they are very different in taste.
Tomatillos are sort of tart and sour. Instead of the sweetness of tomatoes, they have an almost citrusy flavor.
When you find them at the store, they will have a papery husk on the outside. Keep the tomatillos in the refrigerator. Leave the husk until you're ready to use them.
Once you remove the husk, be sure to wash off all the sticky residue on the outside.
Are tomatillos spicy?
Tomatillos aren't spicy. Your added ingredients are probably spicy but, tomatillos are more tart and citrusy.
Can you eat raw tomatillos?
Yes, tomatillos can be chopped for a salad. You can also make a green salsa, running them through a food processor with chiles and onion. For this recipe, I don't use them raw.
Is red chili sauce the same as enchilada sauce?
Authentic enchilada sauce is simply a sauce made of red chiles. What chiles you use is entirely up to you. Think of them both as generic terms for a red sauce made of mostly chili peppers so both terms are usually interchangeable.
How to Use Dried Red Chiles
I've used Anaheim red chiles to give the deep red color of the sauce. Chiles de arbol are the little ones that look like shrimp tails. Those give the heat.
I decided to add a chipotle pepper, which is a dried, smoked jalapeno. I love that little bit of smoky flavor.
Remember that these are chiles and can affect sensitive skin, even if they don't look very dangerous in their dried form. You may want to consider food service gloves.
At the very least, make sure to wash your hands and under your fingernails really well after you work with them. Don't scratch your eyes!
Do your research and try different chiles to find your favorite level of heat. Read more about the different chiles with this Scoville Heat Scale.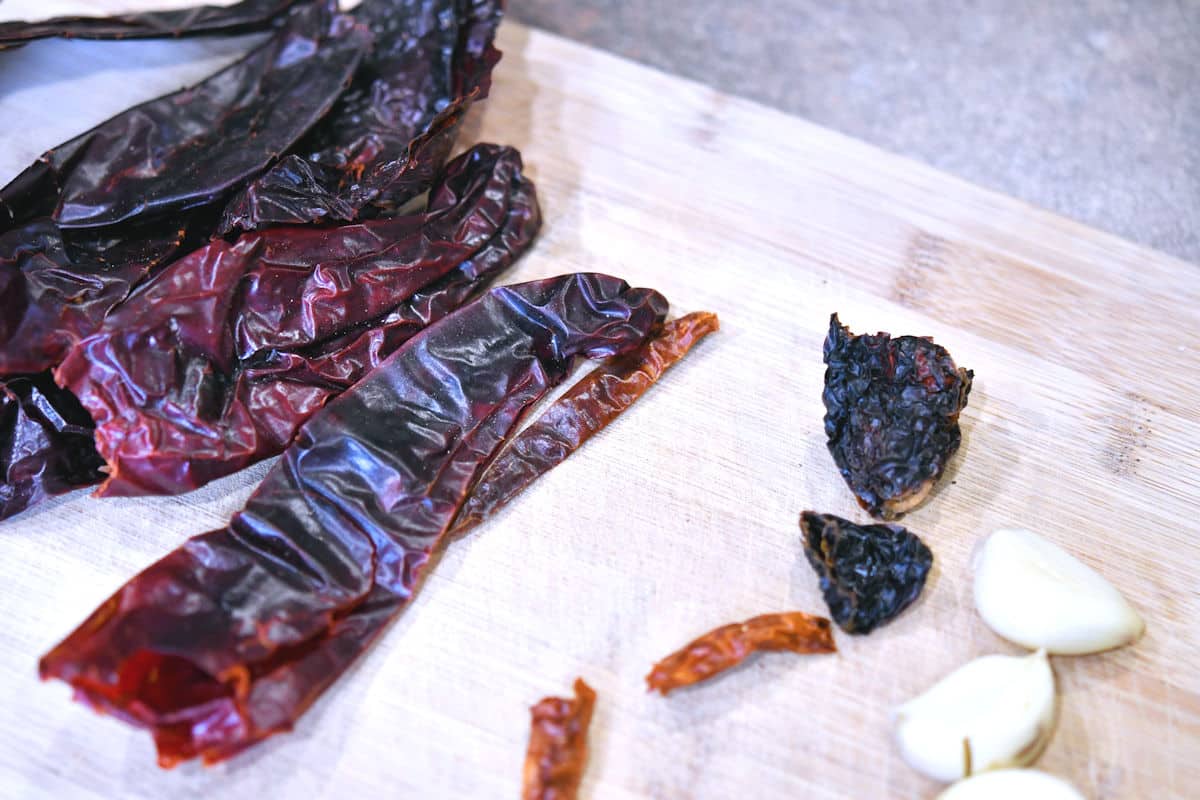 I like to remove the stems and open up the chiles along the sides. Tap them on the counter to remove the loose seeds and then pull out the membranes.
Make sure to wash your red chiles before adding them to the pan to reconstitute. These chiles are usually dried outside in the open air. There is dust and debris that you don't want in your food.
No Onions?
I like to use onions in my sauces. If you want to use onion, quarter it and add it to the saucepan when boiling the tomatillos.
I decided not to use onions this time because it seems to turn the salsa a little more orange-y. I was going for that deep red color so I didn't want to take a chance of adding too much white.
If you decide to add onions, remember that the onion will have volume. It will increase the finished amount of salsa.
Turning Red Chiles into Sauce
The chiles will need to be reconstituted and the rest of the produce needs to soften before you run it through a food processor.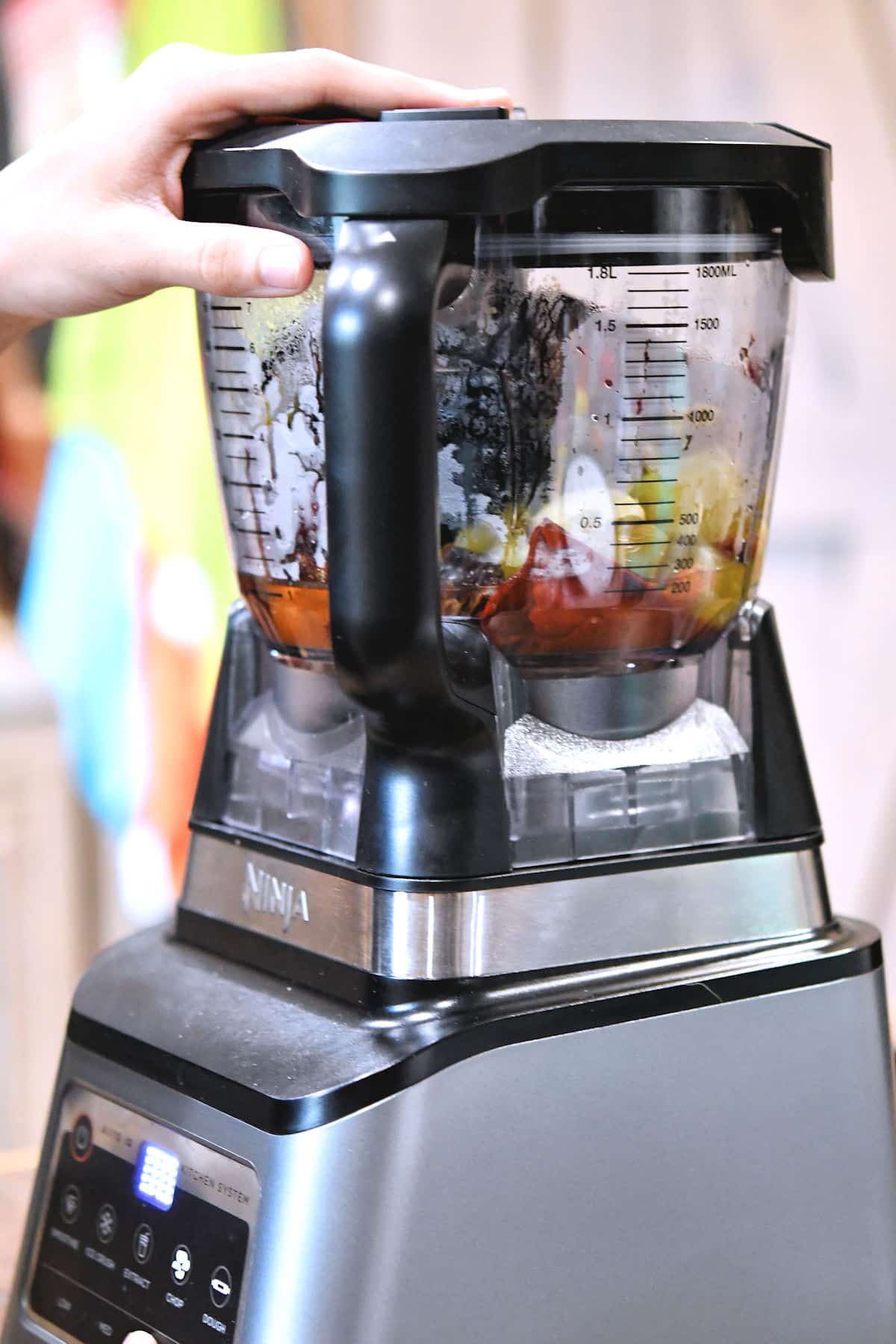 Although the Anaheim chiles, tomatillos and garlic will soften fairly quickly, it will take a little bit longer for the chipotle and chiles de arbol.
Have a look at this Ninja Professional Plus Kitchen System at Amazon. It's the one we use and includes the blender, a food processor bowl and two to-go cups. (This is an affiliate link, by the way. If you click it and buy, I may get a little something something from them at no extra cost to you.)
If you don't have a food processor, you can use a blender. You may need to add a little liquid to get it moving.
Is red chile sauce bitter?
If the red chili sauce has too much chile flavor, you may feel like it's bitter. If the strong taste of red chiles is too much, you can try adding one or more other ingredients.
A teaspoon or two of granulated sugar.
Some chicken bouillon to taste, granulated or a paste like Better Than Bouillon.
Add about 2 or 4 ounces tomato paste.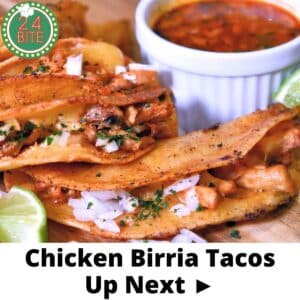 How long will this sauce last?
Be sure to use or freeze the chili sauce within 3-5 days. It doesn't have the preservatives you would find in canned. Freeze it 5-6 months to use later.
More Recipes
Right after I made this, I used it to make Shredded Beef Green Chiles Enchiladas. It was a little more spicy than the original, but so good.
This red sauce makes a great drizzle for homemade tamales. Don't be intimidated by tamales. You can learn these 5 Easy Steps to Making Authentic Mexican Tamales.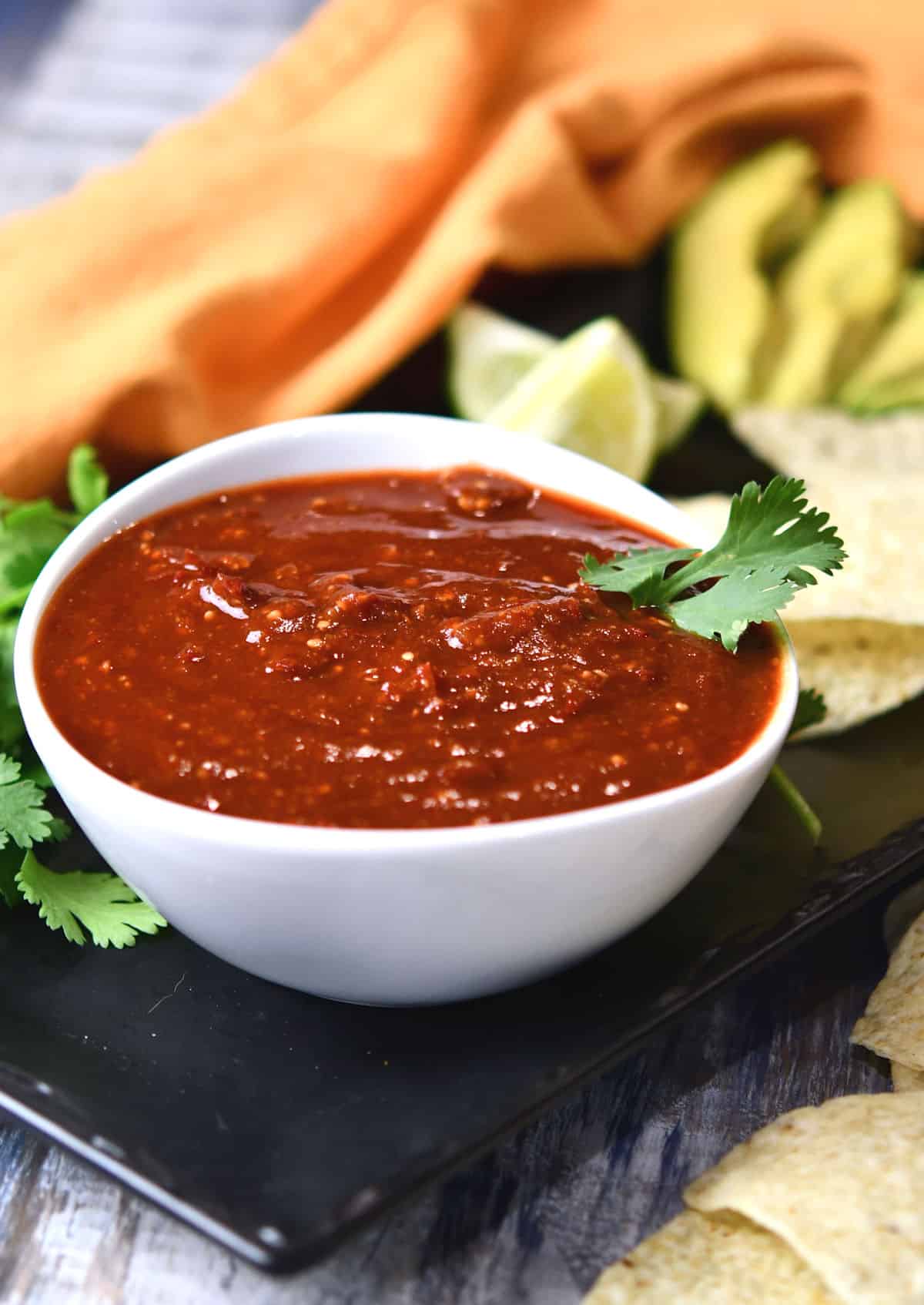 Recipe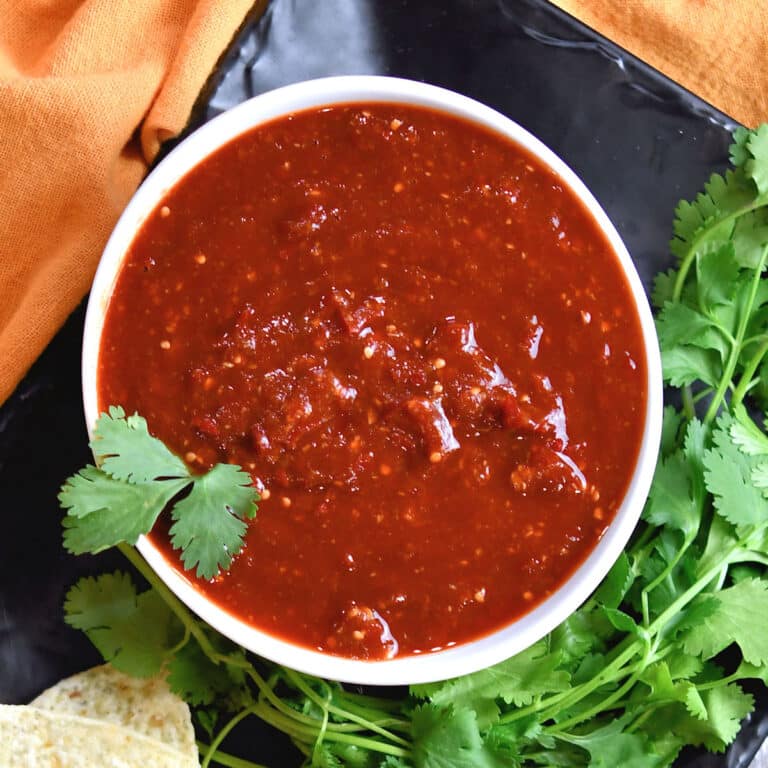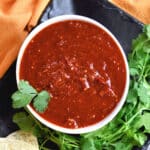 Pin Recipe Now
Tomatillo Red Chili Sauce
Tap to leave a star rating
Save or Print
Make your own tomatillo red chili sauce from scratch and you'll never look back. When you make it yourself, you control the spicy heat. Use red chili sauce for anything from tacos to burritos and even dipping tortilla chips.
For more information, be sure to check the recipe details in the attached 24Bite® post.
Equipment
Medium Saucepan

Food processor
Ingredients
4

Tomatillos

,

husks removed and cleaned of residue

7

Anaheim Red Chiles

,

stems, seeds and membranes removed

2

Chiles de Arbol

1

Chipotle Chlie

,

stem, seeds and membranes removed

3

Garlic Cloves

,

peeled

1

Lime

,

juice only
Instructions
Peel husk from tomatillos, discard. Clean the residue from the outside and quarter.

Prepare chiles by removing the stems, seeds and membranes. Wash under cool water.

Remove peel from cloves of garlic

Place tomatillos, chiles and garlic in medium saucepan and cover with cool water. Cook on stovetop over medium heat about 15-20 minutes. Turn the heat down to simmer when it begins to boil too quickly. Once the tomatillos, garlic and red chiles become soft, remove them to the food processor with the slotted spoon. The chipotle will take the longest to reconstitute. Continue cooking about 10-15 minutes longer then remove the remaining to the food processor as well.

Process in the food processor until smooth, or desired consistency.

If you like, place the lime in the microwave for 10-15 seconds to help break down its juices. Juice the lime and stir well or process lightly into the red sauce mixture.

If a thinner consistency is desired, add cool water, a little at a time. Remember that you can add, but you can't remove.

Serve immediately or chill as desired.
Note: If there is a video, it will not display while there is an adblocker.
Notes
Makes 8 ¼-cup servings.
Use as a dipping sauce or as a condiment to be served with tacos, nachos, burritos or enchiladas. Can also be used as red enchilada sauce or a cooking sauce for beef or chicken.
Add equal amounts of sauce and sour cream for red salsa crema.
Make more spicy by using guajillo chiles instead of Anaheim and/or add more chiles de arbol. Make less spicy by removing the chiles de arbol.
If the taste of chiles is too strong for you, add 2-4 ounces of tomato paste and chicken stock or Better Than Bouillon Chicken Flavor.
If it tastes to bitter for you, try adding about a teaspoon or two of granulated sugar.
Nutrition Facts
Tomatillo Red Chili Sauce
Amount Per Serving
Calories 16
Calories from Fat 9
% Daily Value*
Fat 1g2%
Sodium 1mg0%
Carbohydrates 3g1%
Protein 1g2%
* Percent Daily Values are based on a 2000 calorie diet.
______________________
Percent Daily Values are based on a 2000 calorie diet. All amounts are estimates and 24Bite® takes no responsibility for actual figures since calculations vary by packaging and supplier. Please calculate the amounts yourself based on package labeling if you have specific dietary requirements. 24Bite®, Kim Guzman or Christian Guzman shall not be liable for adverse reactions or any other outcome resulting from the use of recipes or recommendations on this website or actions you take as a result.
© 2019-2022 Kim Guzman and Christian Guzman. All rights reserved. Subscribe to 24Bite email newsletters.
Follow 24Bite: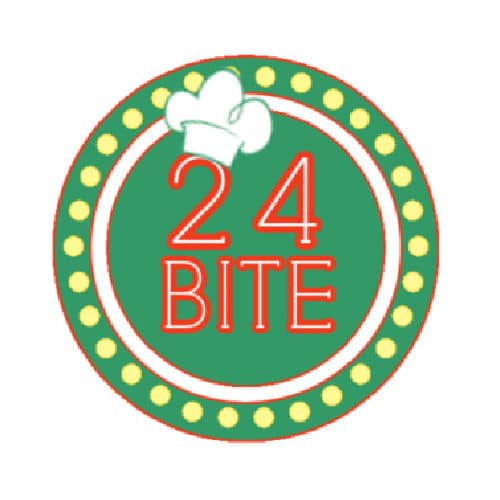 Twitter  |  Facebook  | Pinterest  |  Instagram | MeWe