Coca Cola Carnitas make the best tacos. Braise pork roast in a slow cooker until fork tender then sear in a hot skillet for those delicious crispy bits.
Slow cooking in citrus juices with the sugary cola allows the pork to break down to tender pieces, just the perfect size for filling tortillas, tamales, burritos and more.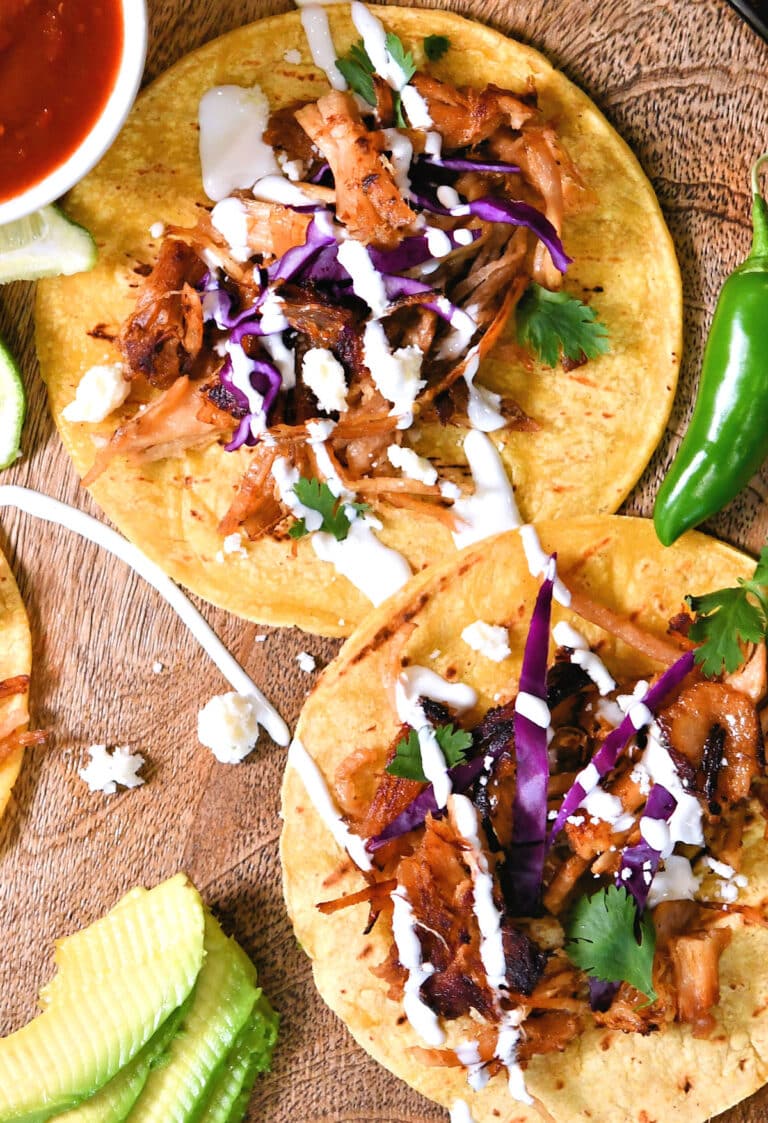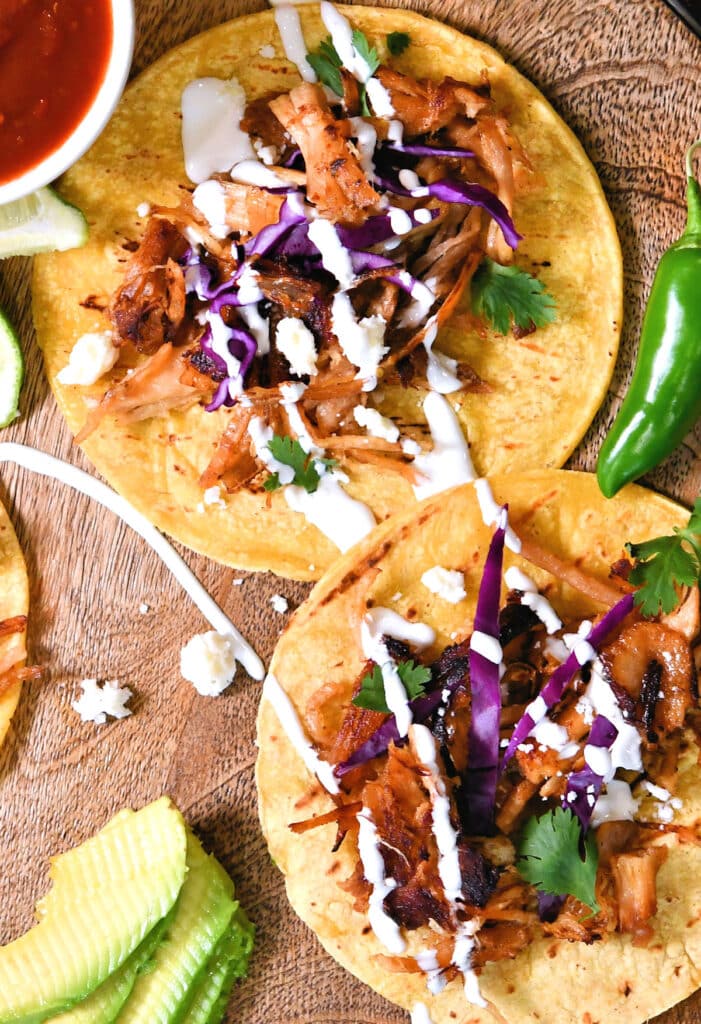 Ingredients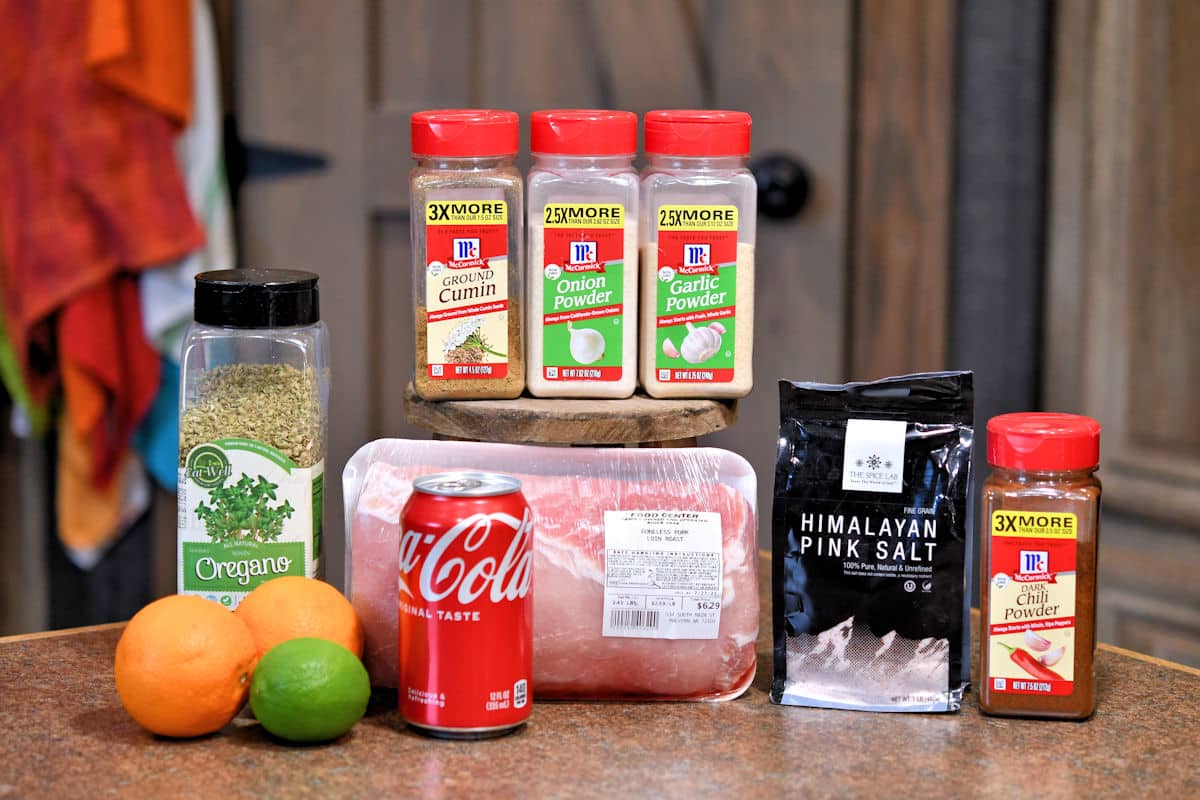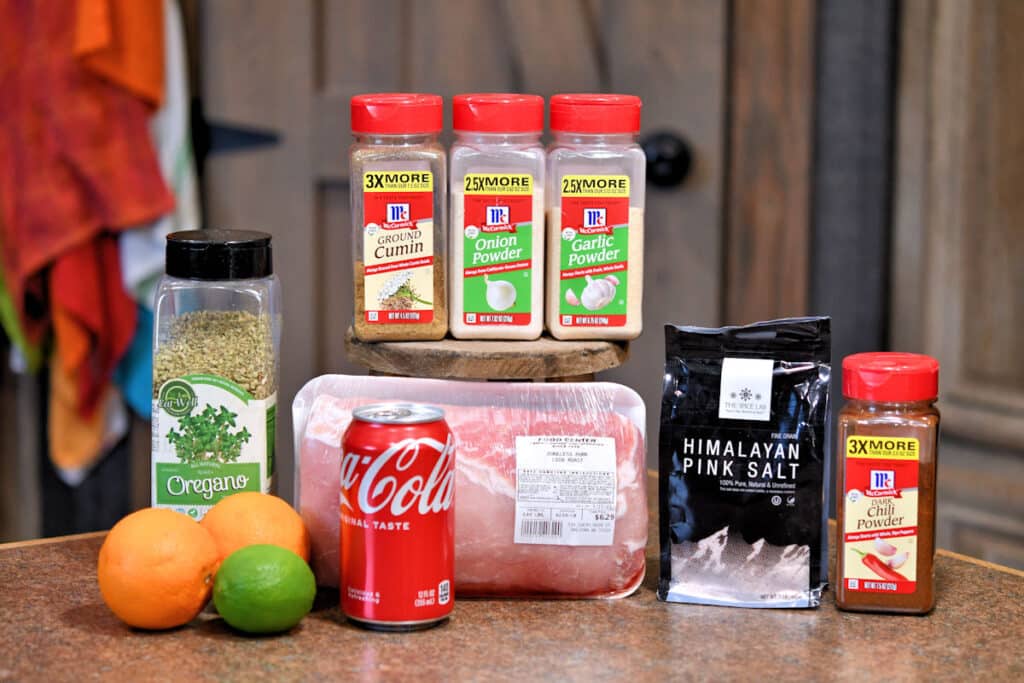 The pork roast is braised in a crockpot with only a few ingredients. Most of these ingredients are the seasonings, so don't let it intimidate you.
Use the juice of two oranges and one lime.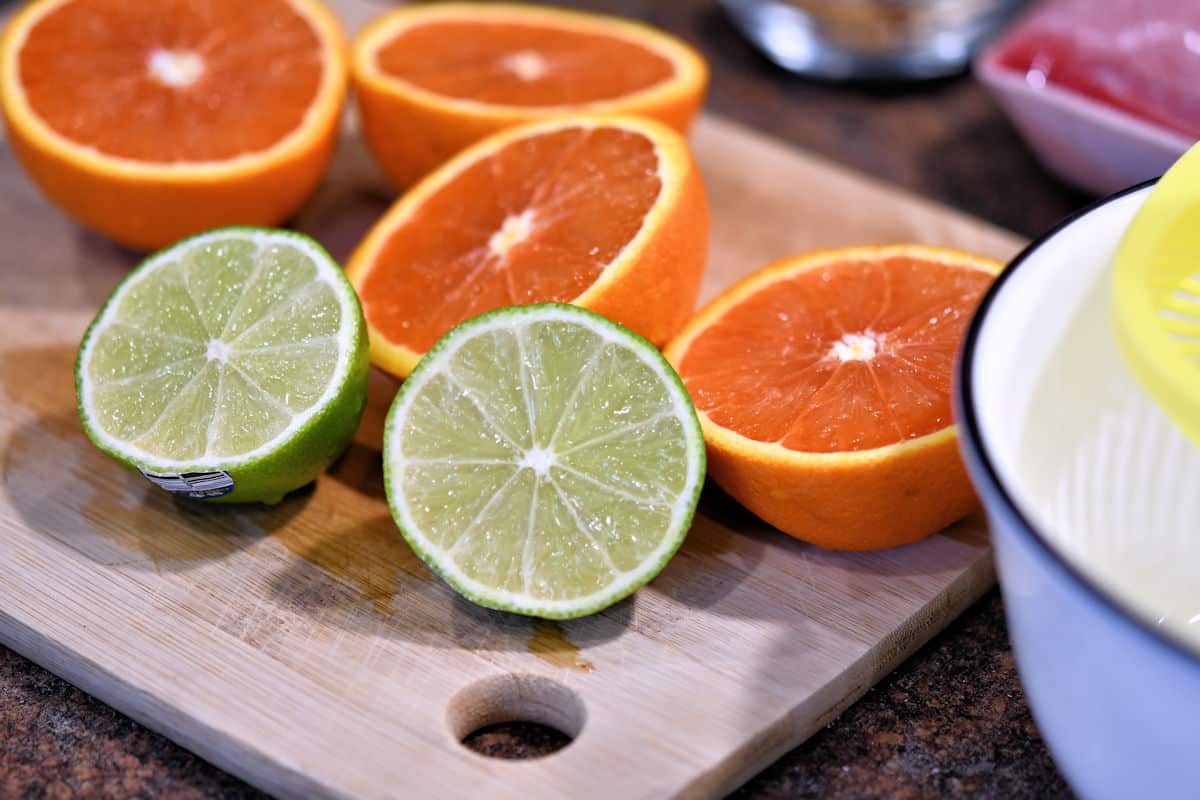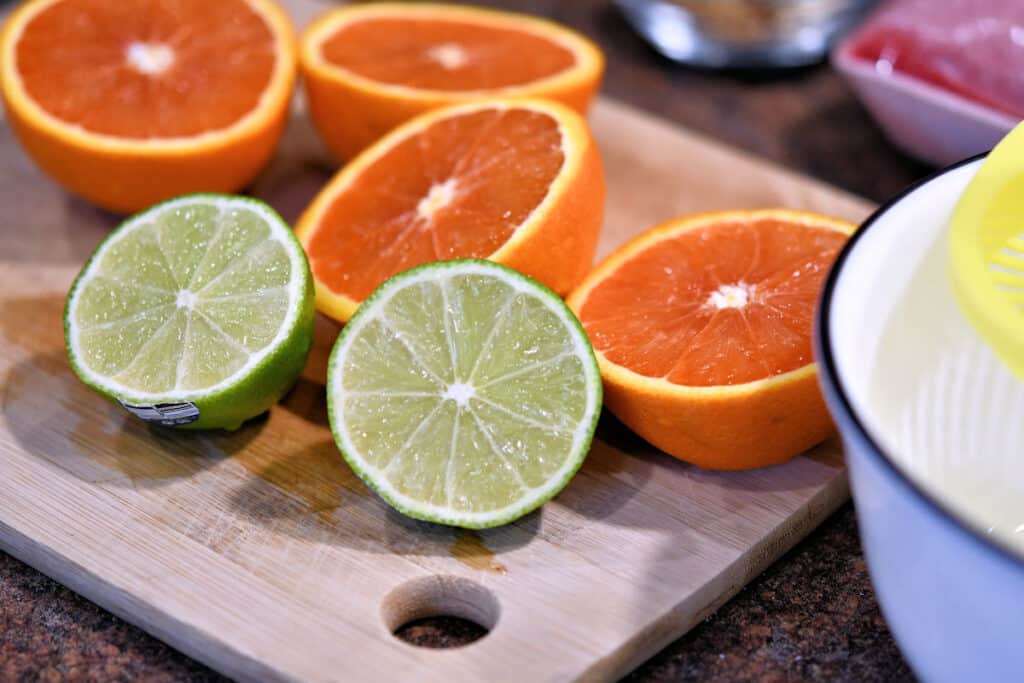 When choosing a cola, be sure to use the full sugar version. You don't want to use a diet version. The sugar is needed, especially for the searing and eventual glazing.
I've used different brands of cola. Coco Cola was used this time but try it with Dr. Pepper too.
What cut makes the best carnitas?
For best results, I suggest a pork shoulder roast (alsa called pork butt). The fat content and marbling is higher which keeps it moist.
I had to use pork loin roast this time because that's all that was available at the store. The last year and a half has been more difficult to get meat for us and we need to learn to work around it, right?
Because I used a loin roast, I used more of the meat juices while searing. It all worked out, of course. Just don't accidentally throw out the juices before you get everything finished.
Are carnitas supposed to be crispy?
Carnitas don't have to be crispy at all. It's completely up to you. If you're short on time, you can simply put the small pieces of pork meat into the skillet with the juices and cook them down without the searing. I promise it will be tasty either way.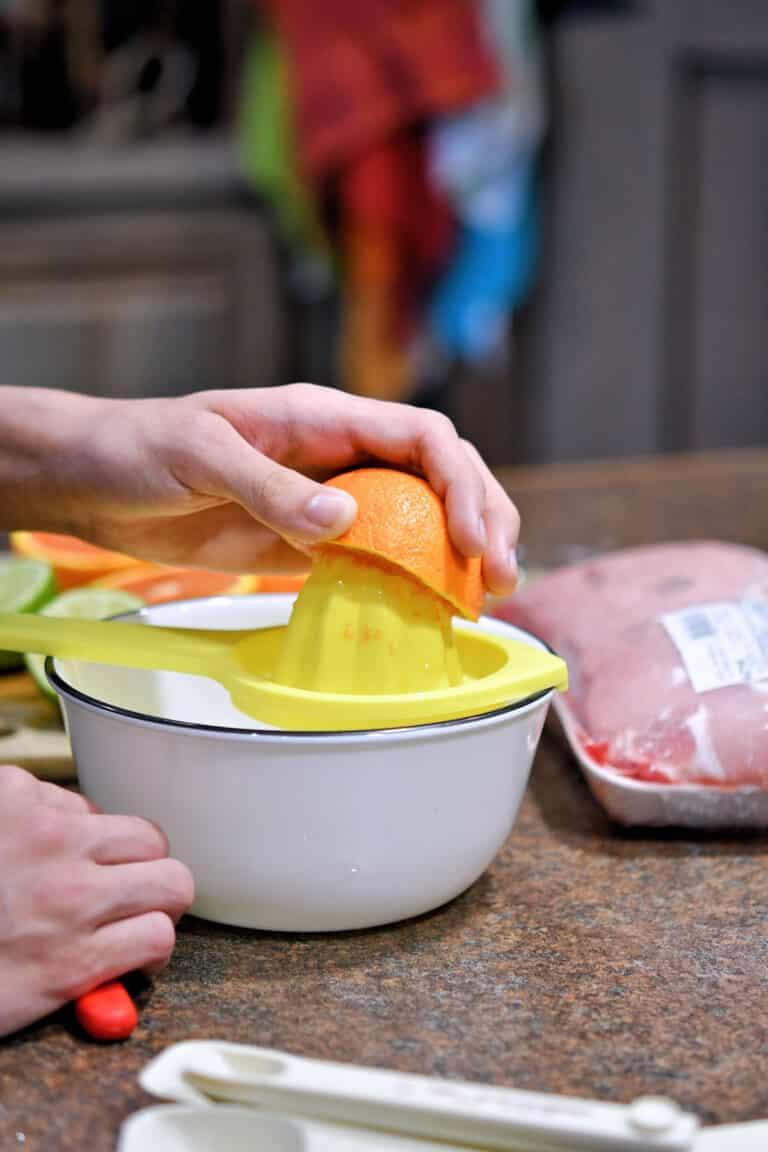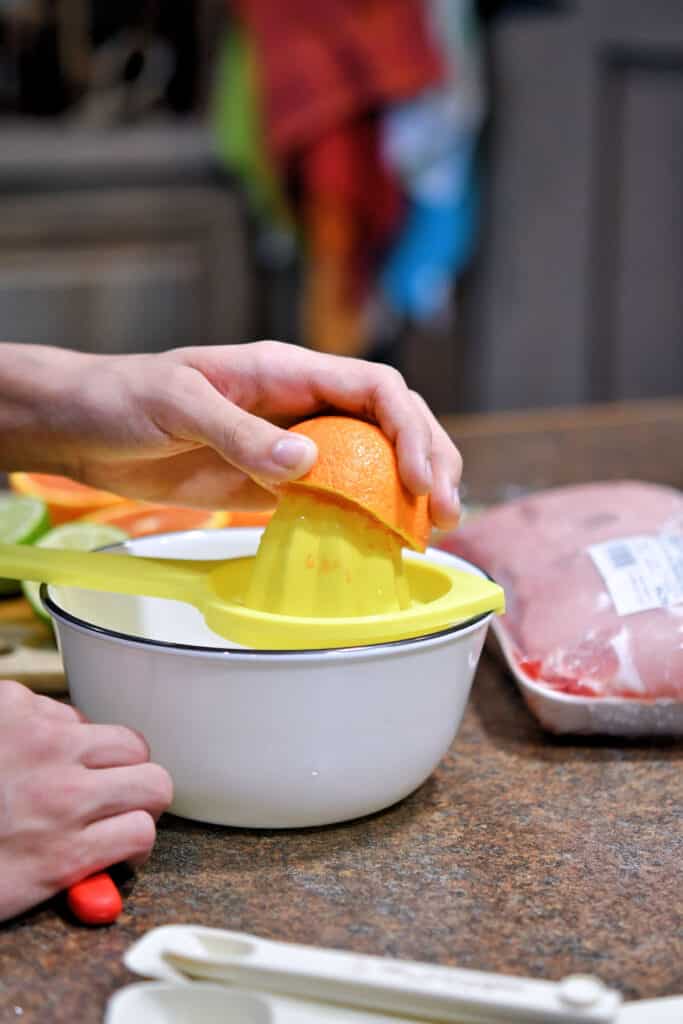 Do you shred or chunk carnitas?
Is chunked a word? Even if it's not a word, you understand, I'm sure. I prefer chunks myself.
We were making tacos, so shreds work better. If I simply wanted a bowl of carnitas (and, trust me, I have wanted just that), the chunks are great. It's up to you.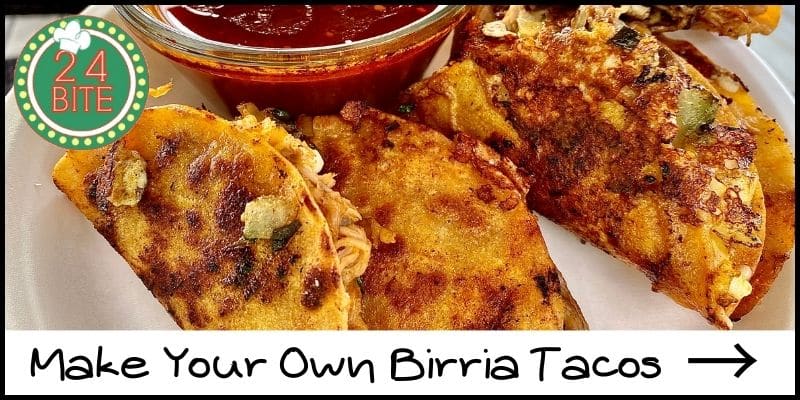 When is National Taco Day?
Did you know there's a National Taco Day? There's an actual website for it. Visit National Taco Day here.
According to the website, "Americans ate over 4.5 billion tacos last year". Next time, try your tacos with these crispy cola carnitas instead.
You can see all of my taco recipes here, for some delicious variety. Here are some of my favorite sides as well.
For an easy, trending birria tacos recipe, try these delicious Chicken Birria Tacos.
How do you serve carnitas?
Start off by frying your tortillas up a bit. You don't want them to fall completely apart when you fold them.
Add your favorite toppings. I've used red cabbage, cilantro, queso fresco and crema. Serve avocado on the side and give some limes a good squeeze over everything. Yum!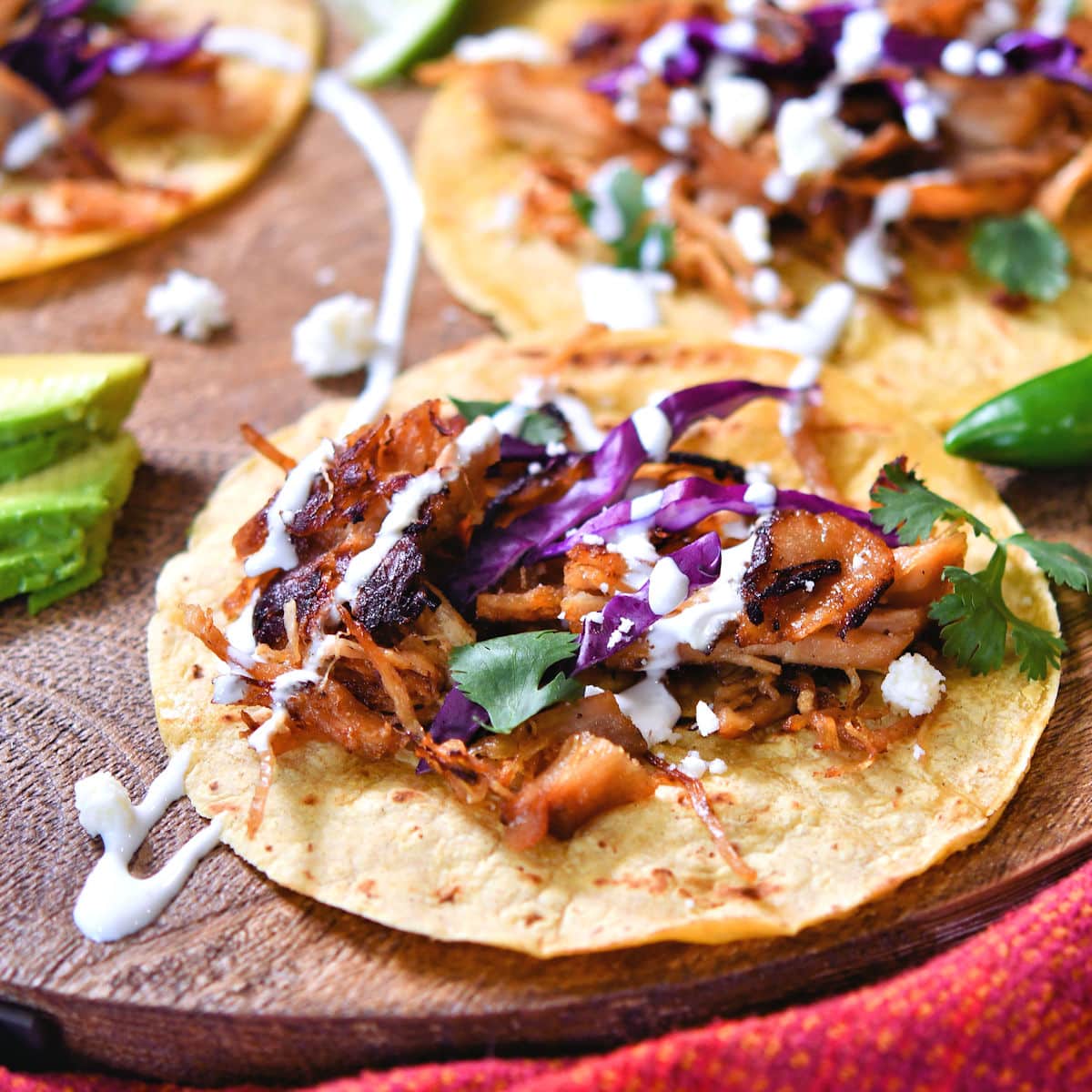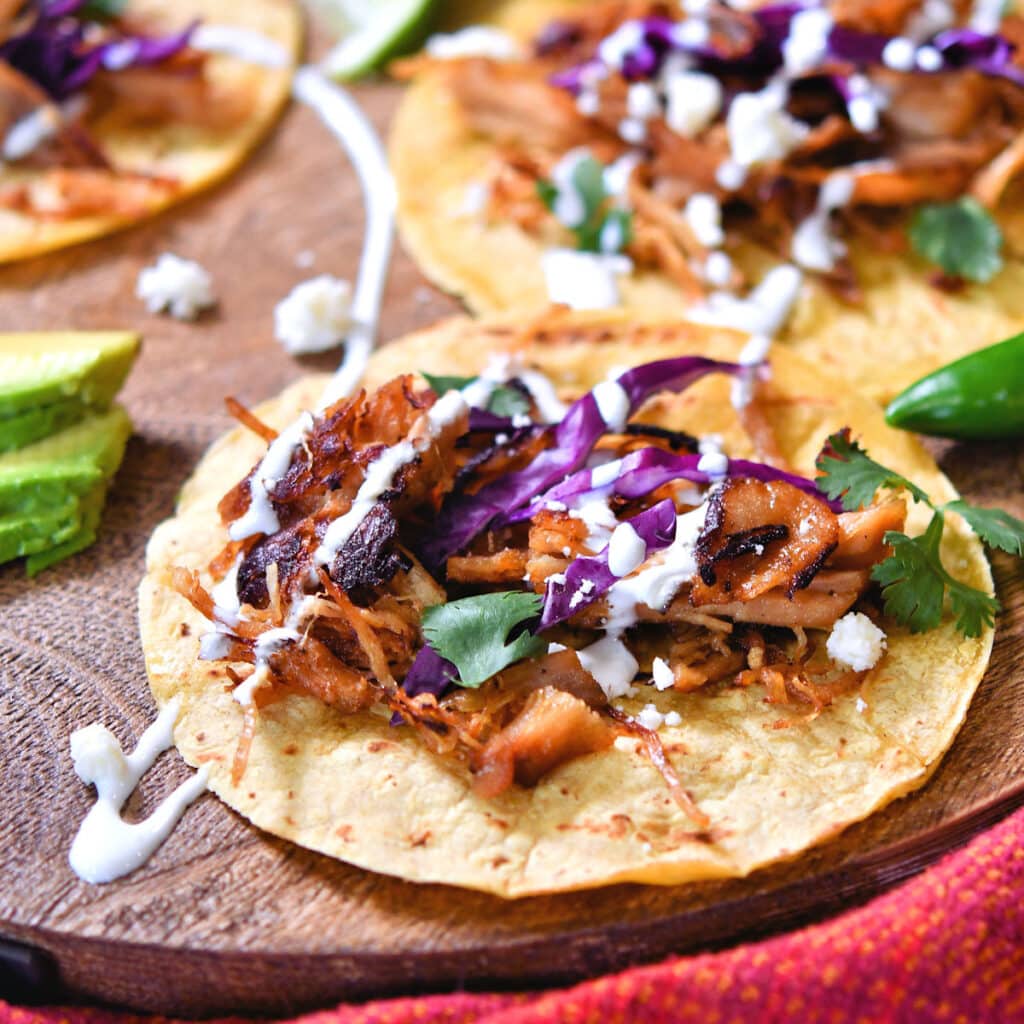 Recipe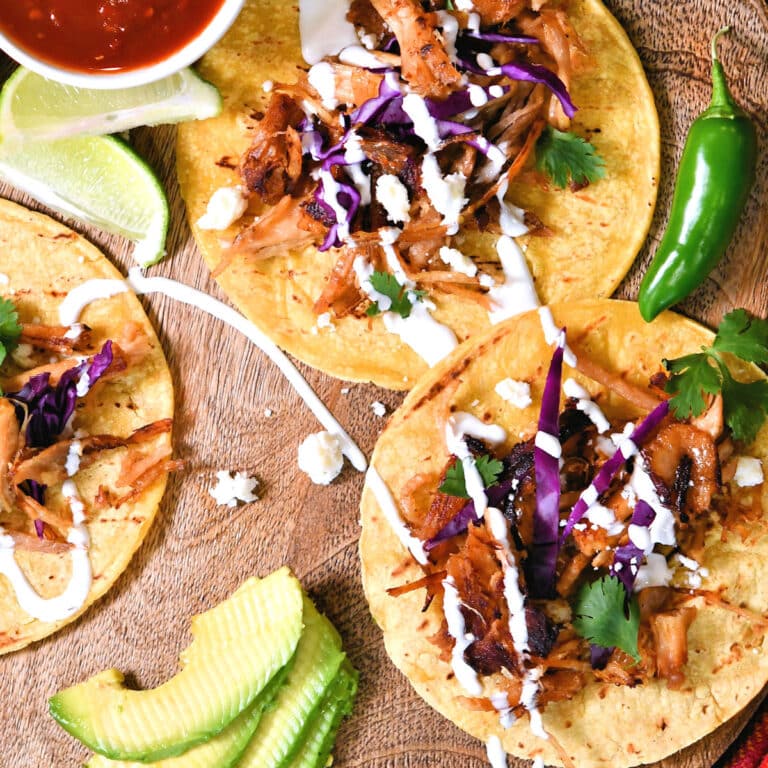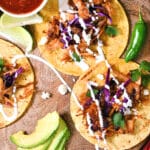 Pin Recipe Now
Coca Cola Carnitas
Tap to leave a star rating
Save or Print
Crispy Coca Cola Carnitas make the best tacos. Braise pork roast in a slow cooker until fork tender then sear in a hot skillet for those delicious crispy bits.

For more information, be sure to check the recipe details in the attached 24Bite® post.
Equipment
6 quart Crock Pot or other slow cooker

Large skillet
Ingredients
Slow Cooking Carnitas
2

tablespoons

Olive Oil

1

teaspoon

Salt

1

teaspoon

Garlic Powder

1

teaspoon

Onion Powder

1

teaspoon

Red Chili Powder

1

teaspoon

Cumin

1

teaspoon

Oregano

2.5

pound

Boneless Pork Roast

,

See notes

12

ounces

Cola

,

real sugar version or Mexican preferred, but any brand, not diet

½

cup

Orange Juice

,

freshly squeezed, two oranges

2

tablespoons

Lime Juice

,

freshly squeezed, one lime
Instructions
Slow Cooking Carnitas
Place 2 tablespoons olive oil in large skillet and heat on medium.

Place all seasonings inside a small bowl and mix together.

Rub seasoning mix into all sides of pork roast then sear on all sides in skillet.

Place cola and juices of oranges and lime in 6 quart crock pot and stir to mix.

Place seared roast into liquid in crockpot and pour anything remaining in the skillet into crock pot.

Cook 3-4 hours on high, or 5-6 hours on low.

Remove roast to a cutting board. Do NOT discard the juices in the crock pot. These will be used later. Let roast sit for about 10 minutes.

Separate the pork roast into small chunks or shreds. Chunks are best for carnitas and more traditional, but shreds are good too.
Crisping Up the Carnitas
Heat 3 tablespoons olive oil in large skillet.

Add the pork roast pieces. Let them sizzle until there are crispy bits around the edges. If there is too much pork roast for your skillet, you can halve the roast pieces and repeat the crisping process.

Once crispy, start adding the juices from the crock pot, about 1 cup or so at a time. The meat will soak up the juices quickly but you want to have enough so that, when you heat the juices some of it will evaporate, leaving the syrupy goodness of the cola.

Continue heating the carnitas in the skillet until there's a little bit of evaporation and some syrup has formed. Add more liquid, if desired. Continue until you reach the desired juicy, tender carnitas.
Note: If there is a video, it will not display while there is an adblocker.
Notes
Boneless pork roast: The best carnitas are made with pork shoulder (aka pork butt). It has the right amount of fat to keep the carnitas juicy. Don't be tempted to trim off the fat. Other cuts of pork will work as well. You will need to add more juices for the leaner cuts.
Serve carnitas over rice. Make tacos, empanadas, burritos or nachos.
Serve with red cabbage, crema, cilantro, lime and avocado slices.
When crisping up the carnitas, you need enough oil to touch the edges of the meat so those bits will brown and crisp. You don't need to use olive oil for any of the oil needed for this recipe. You can use any oil or, traditionally, you could also use lard.
Nutrition Facts
Coca Cola Carnitas
Amount Per Serving
Calories 293
Calories from Fat 135
% Daily Value*
Fat 15g23%
Sodium 367mg16%
Carbohydrates 7g2%
Protein 32g64%
* Percent Daily Values are based on a 2000 calorie diet.
______________________
Percent Daily Values are based on a 2000 calorie diet. All amounts are estimates and 24Bite® takes no responsibility for actual figures since calculations vary by packaging and supplier. Please calculate the amounts yourself based on package labeling if you have specific dietary requirements. 24Bite®, Kim Guzman or Christian Guzman shall not be liable for adverse reactions or any other outcome resulting from the use of recipes or recommendations on this website or actions you take as a result.
© 2019-2023 Kim Guzman and Christian Guzman. All rights reserved. Subscribe to 24Bite email newsletters.
Follow 24Bite: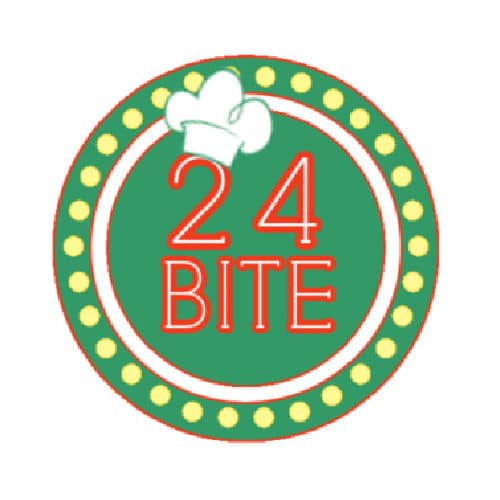 Twitter | Facebook | Pinterest