Chorizo and Potatoes is a typical Mexican breakfast made from only four budget friendly ingredients. Can be used for tacos, burritos, empanadas and more.
Chorizo sausage costs about 75% less than ground beef so you can spend less and still get the Mexican food you crave.
Budget friendly meals are on the menu these days so we do what we can, right?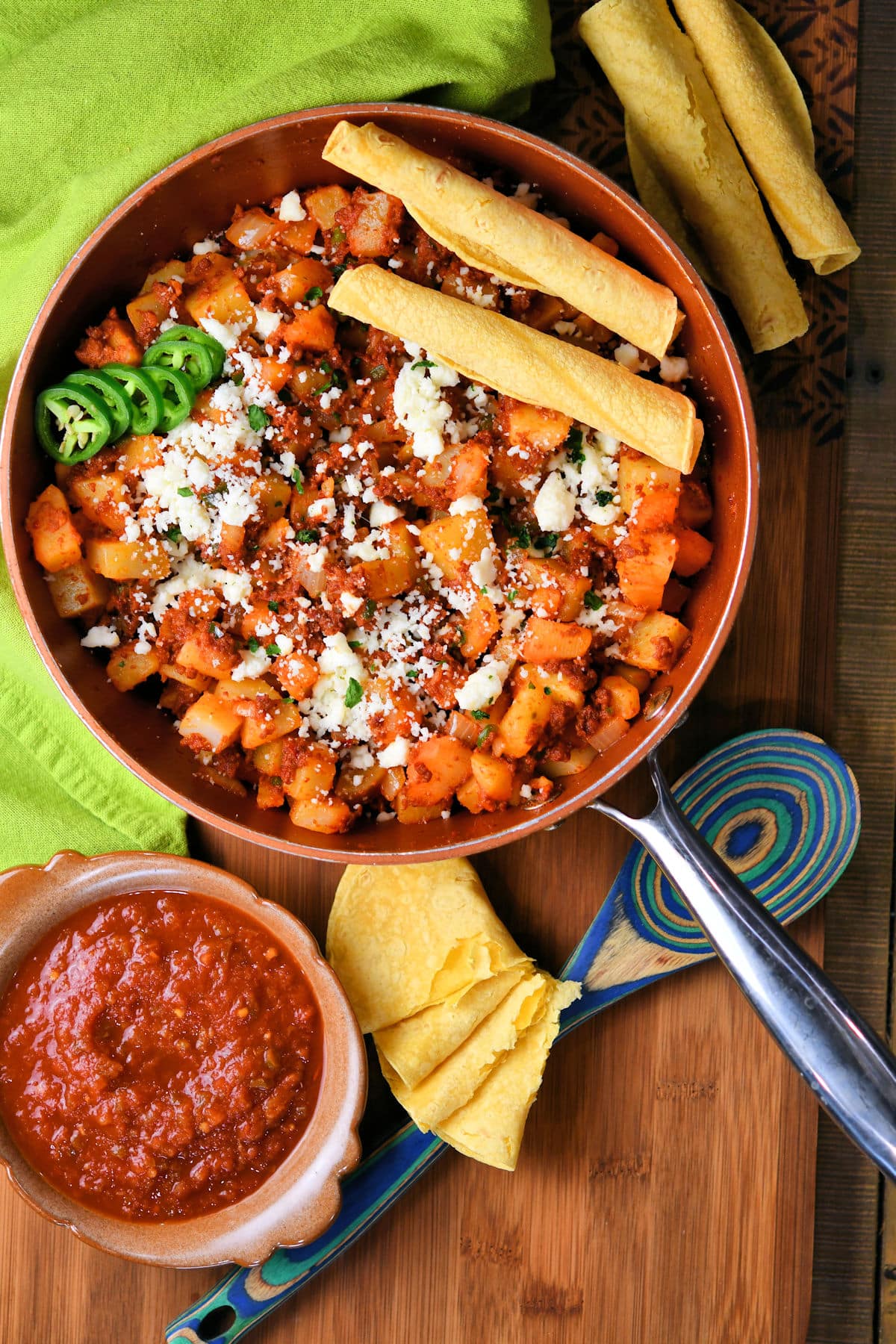 Ingredients for Chorizo and Potatoes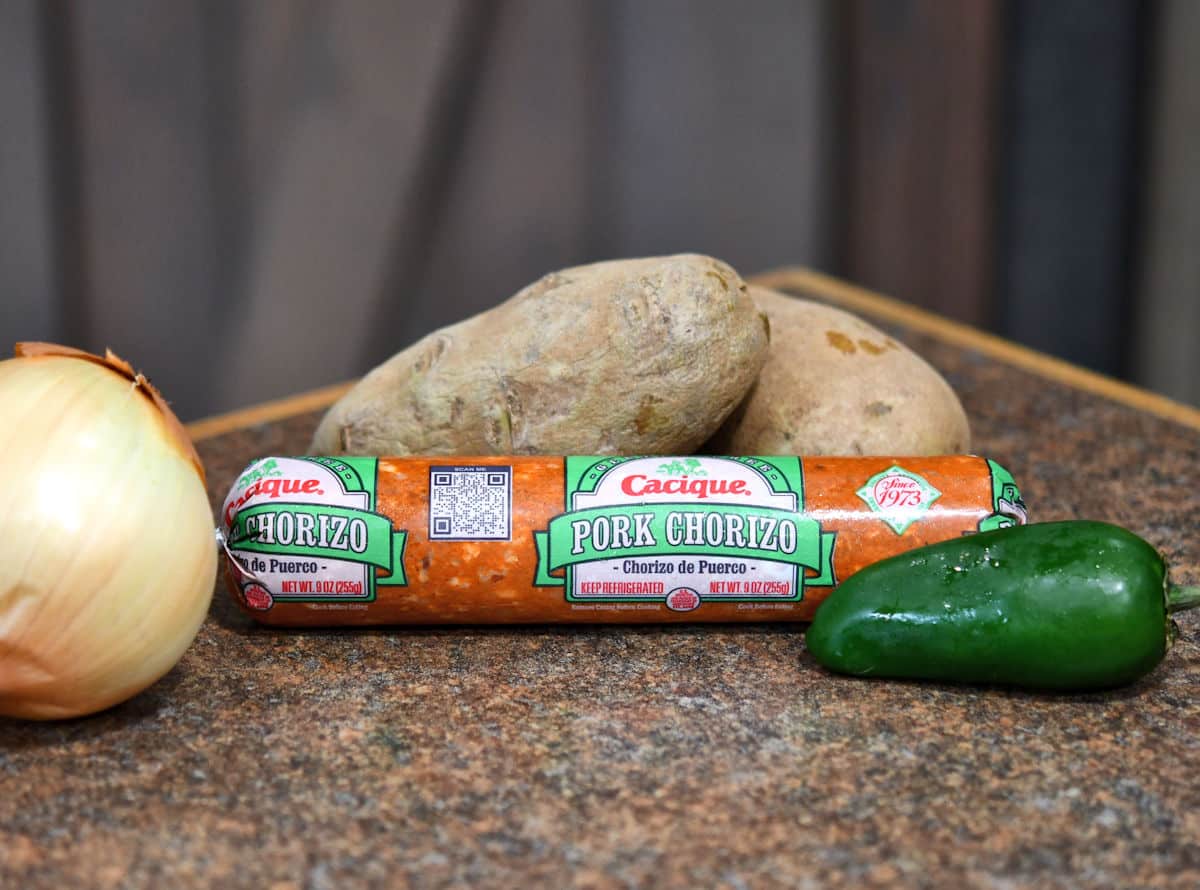 A real Mexican meal doesn't need to be expensive. Chorizo and potatoes, known as Chorizo con Papas in Spanish, is inexpensive. You will only need four budget-friendly ingredients.
You can add your own favorites when serving, like shredded or crumbled cheese. Serve with tortillas or on tostadas. Use for a filling in empanadas.
No matter what you decide, you will have a hearty meal for less than a dollar.
What is Mexican chorizo?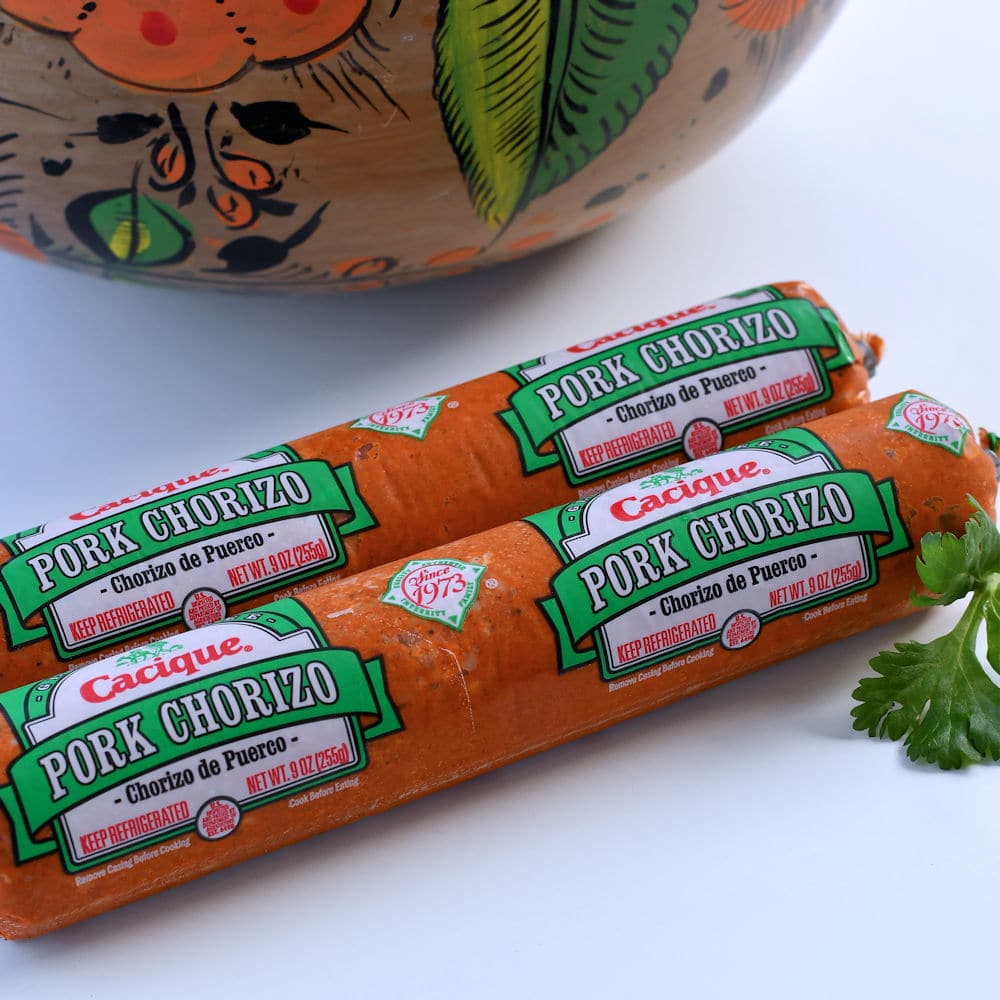 For this recipe, I've used Mexican chorizo by Cacique. It's raw sausage in a plastic tube and you will usually find it near the other raw sausage in the grocery store.
Spanish chorizo, unlike this chorizo, is more like a cured sausage, like a tube of summer sausage, smoked sausage or kielbasa. You can always use that instead, but the texture will be different. Definitely give it a try, though, if you have some available!
If you can't find this Mexican chorizo, pick up a tube of regular breakfast sausage like Jimmy Dean's. You can make your own by spicing it up. Check out my Homemade Chorizo recipe.
Is Mexican chorizo cooked?
Mexican chorizo is raw when you buy it. It needs to be fully cooked before eating.
Before you cut into the tube, wash the plastic on the outside of the chorizo. You must wash it. Just think of how many people have handled that tube. If you take a knife to it, you will be moving the germs from the outside to the inside. Yuck!
Just wash it. No questions.
A tube of chorizo is only about $1.50 at our store so we pick up several of them at the same time. I love mixing it with eggs for breakfast. Be sure to check out my list of recipes using chorizo.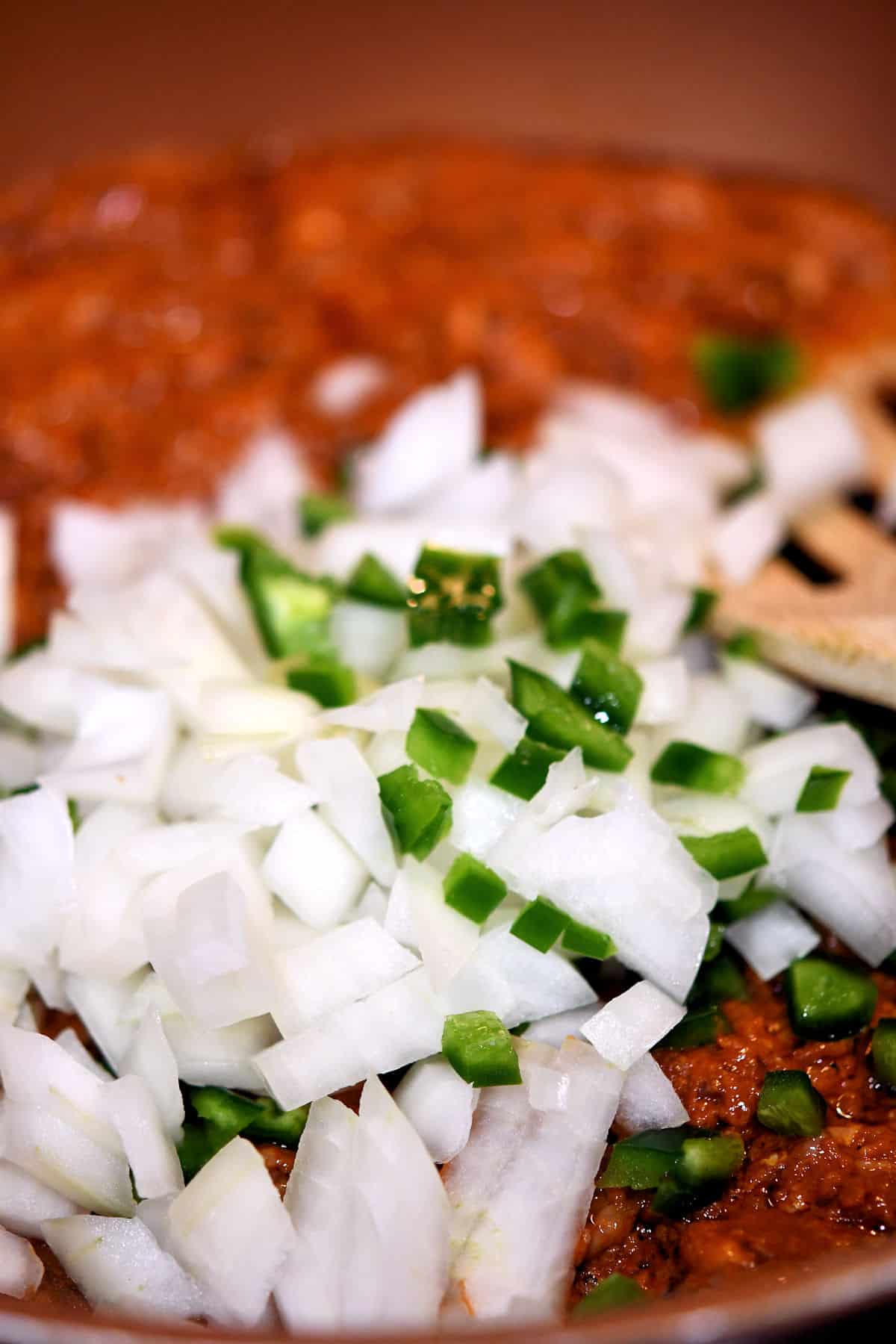 How can you tell when chorizo is cooked?
When you first add raw chorizo to your skillet, it looks a little like ground beef or breakfast sausage. Because it's so highly seasoned, you can't see much of a color change. You'll be looking for a texture change instead.
Once you start cooking the chorizo, it starts to separate into little crumbly particles. Once you have the tight crumbles, it's finished cooking.
You can also check the temperature. Once the chorizo reaches 160°F, you can be sure that it's safe to eat.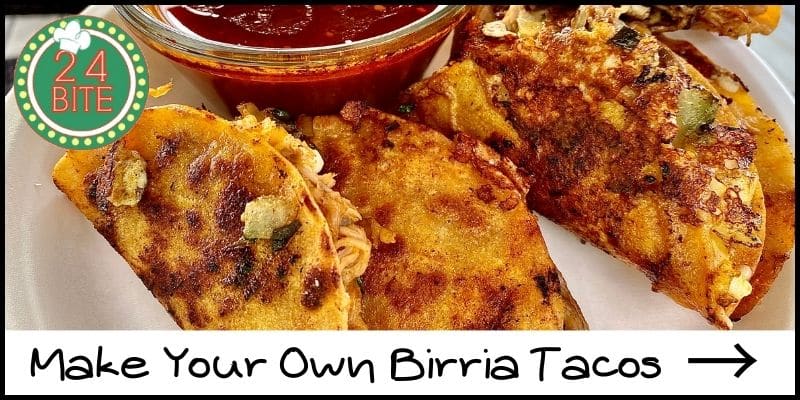 For a similar recipe, using ground beef, try this Instant Pot Mexican Picadillo.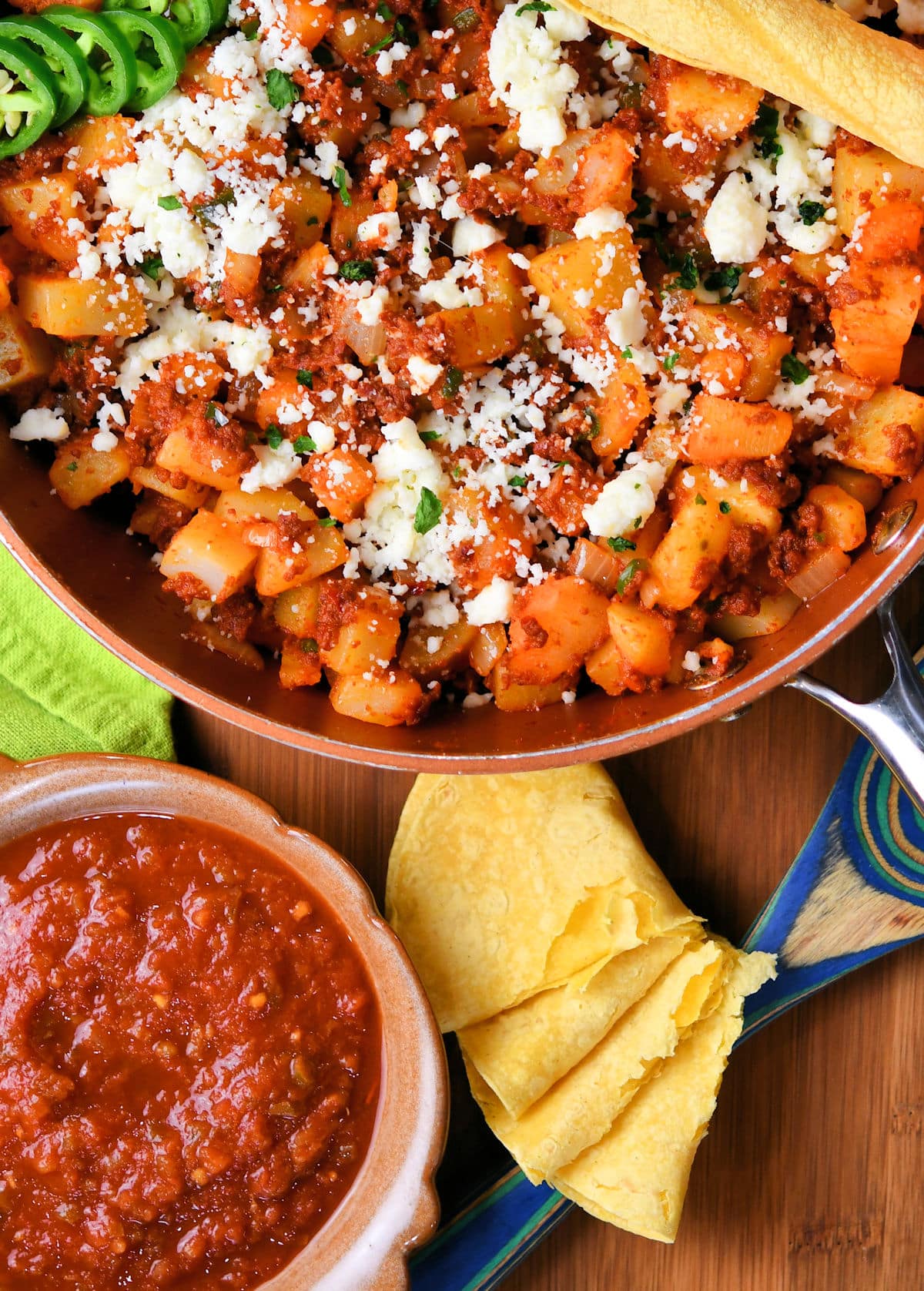 Recipe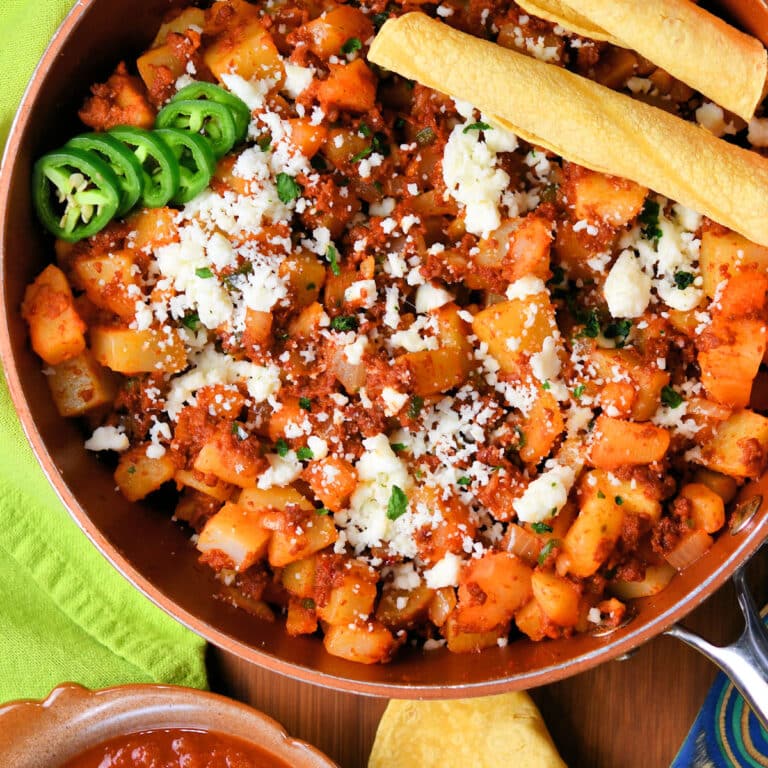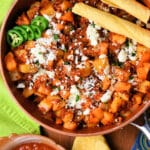 Pin Recipe Now
Chorizo and Potatoes Mexican Breakfast
Tap to leave a star rating
Save or Print
Chorizo and Potatoes is a typical Mexican breakfast made from only four budget friendly ingredients. Can be used for tacos, burritos, empanadas and more.

For more information, be sure to check the recipe details in the attached 24Bite® post.
Ingredients
¾

pound

Baking Potatoes

,

like Russet, peeled and chopped

½

Yellow Onion

,

peeled and chopped or use white onion

½

Jalapeno

,

stem, seeds and membranes removed, finely chopped

10

ounces

Cacique Pork Chorizo

Salt

,

optional, to taste
Instructions
Peel and chop potatoes. Place in a medium saucepan with enough water to cover. Cook on medium high heat until you're able to puncture with a fork, about 12-15 minutes. Don't overcook. Check often to make sure you remove from heat as soon as the potatoes are just tender. There should still be a little resistance when you pierce with a fork. Drain potatoes immediately to help keep them from cooking further.

While the potatoes are cooking, continue with the remaining instructions.

Chop onions and jalapenos as instructed. Place chorizo in skillet on medium heat and, once fat releases (about 1 minute), pour in chopped onions and jalapeno. Stirring occasionally, cook on medium high until chorizo is fully cooked and crumbly, about 10-12 minutes.

Add potatoes to chorizo mixture in skillet and stir gently. You don't want to mash the potatoes so you'll need to stir gently. Add salt, (optional), to taste. Serve immediately.
Note: If there is a video, it will not display while there is an adblocker.
Notes
When using corn tortillas, you need to soften them before use in order to avoid breakage. You can either use some of my tips to soften corn tortillas here or, if you prefer, you can use warmed flour tortillas which don't tend to break as much.
It's typical to fold the tortilla and use it to scoop up the chorizo and potatoes.
Serve with any toppings you like: lettuce, red cabbage, queso fresco, crema, avocado. Use this chorizo and potatoes filling for tacos, burritos, enchiladas or empanadas.
You can also serve with this pico de gallo recipe, black beans, guacamole and rice.
Nutrition Facts
Chorizo and Potatoes Mexican Breakfast
Amount Per Serving
Calories 132
Calories from Fat 72
% Daily Value*
Fat 8g12%
Sodium 292mg13%
Carbohydrates 10g3%
Protein 6g12%
* Percent Daily Values are based on a 2000 calorie diet.
______________________
Percent Daily Values are based on a 2000 calorie diet. All amounts are estimates and 24Bite® takes no responsibility for actual figures since calculations vary by packaging and supplier. Please calculate the amounts yourself based on package labeling if you have specific dietary requirements. 24Bite®, Kim Guzman or Christian Guzman shall not be liable for adverse reactions or any other outcome resulting from the use of recipes or recommendations on this website or actions you take as a result.
© 2019-2023 Kim Guzman and Christian Guzman. All rights reserved. Subscribe to 24Bite email newsletters.
Follow 24Bite: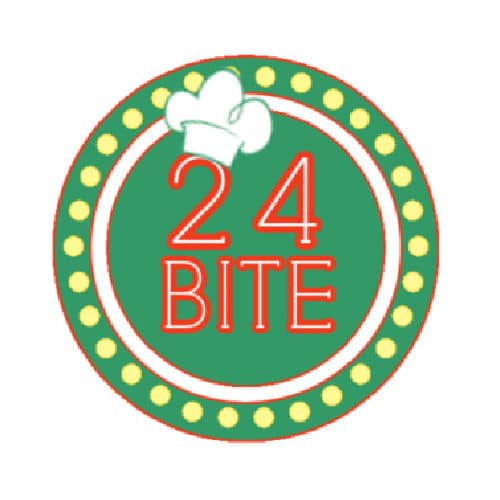 Twitter | Facebook | Pinterest