Learn how to make your own chorizo with this quick and easy recipe. It's a super spiced sausage you can eat alone or in your favorite recipes.
Chorizo is a staple in most Mexican homes. My favorite is chorizo with eggs or chorizo with potatoes. Put that in a tortilla with some sauce and you're all set!
Recipe | What is Mexican Chorizo? | What is Achiote? | How to use Mexican Chorizo?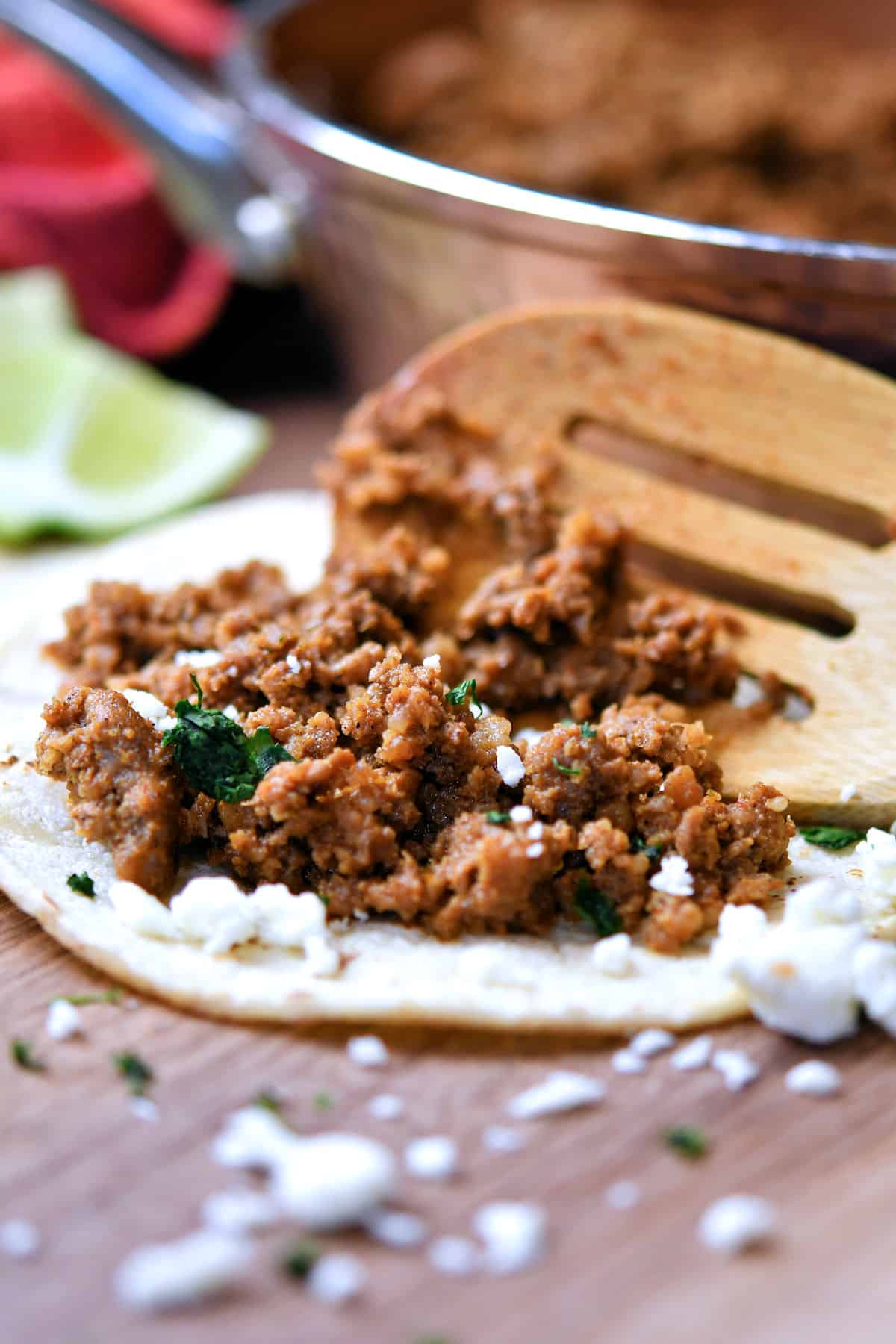 What is Mexican Chorizo?
Since I was little, I've been eating this chorizo from Cacique. I can usually open the refrigerator and find some to use for breakfast or even seasoning my favorite soups.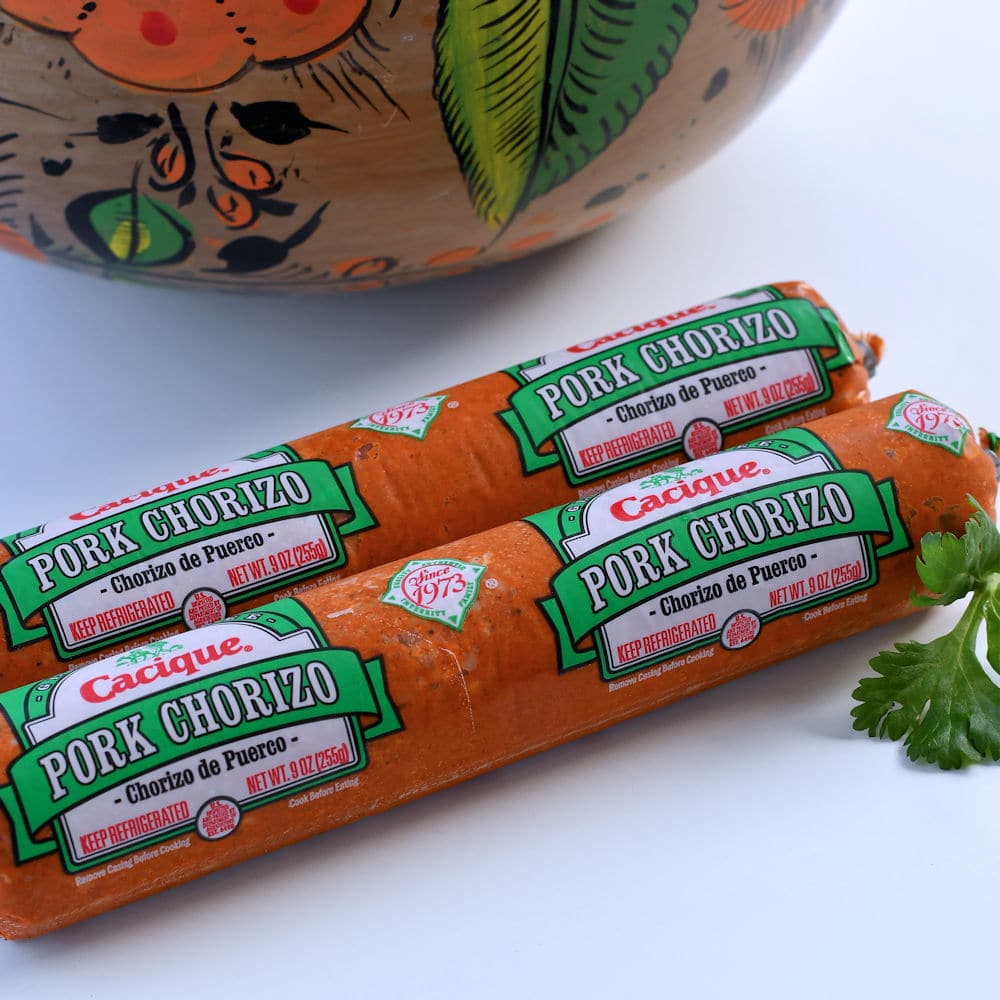 So, what happens when you don't have any chorizo and you don't have time to go to the store? You make your own homemade! It's so easy that you may never buy it ready-made again.
Ingredients
What we have here is one pound of mild sausage and all my favorite spices. Just grab all the things and you'll be fine.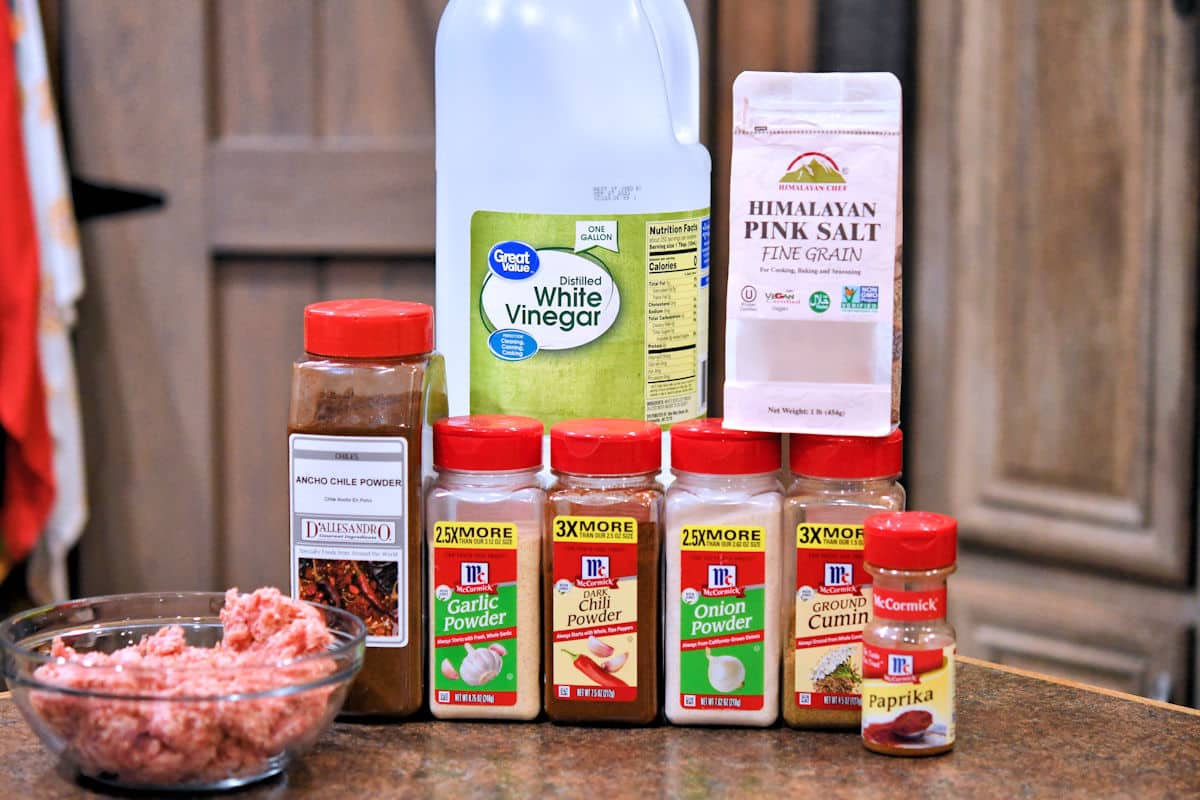 I've opted for a mild chorizo this time. Be sure to check out our Scoville Heat Scale, if you want to see some other chile varieties and how they fit into the spicy scale.
If you want spicy chorizo, try adding ground chipotle or cayenne.
Pork Sausage
The pork is, of course, the primary ingredient here. Rather than using plain ground pork, I use a one-pound roll of Jimmy Dean mild sausage.
You could use ground pork. If you prefer, you could even use ground turkey or beef. I decided on pork sausage for ease. I had no problems mixing the spices because the sausage was already mixed well.
If you want to use ground pork, you may want to use your hands to really get those spices mixed into it.
Dark Chili Powder
This is a mild chili powder. It has a darker red color. Like other spices called "chili powder," it's a blend rather than simply ground red pepper. Your goal is a reddish or orange-y color for the sausage.
From what I've read, most chili powder made in the US is not very spicy. However, there are some parts of the world where this is very spicy.
All I can say is: "Know your pepper". Make sure it's a mild one, if you want mild chorizo.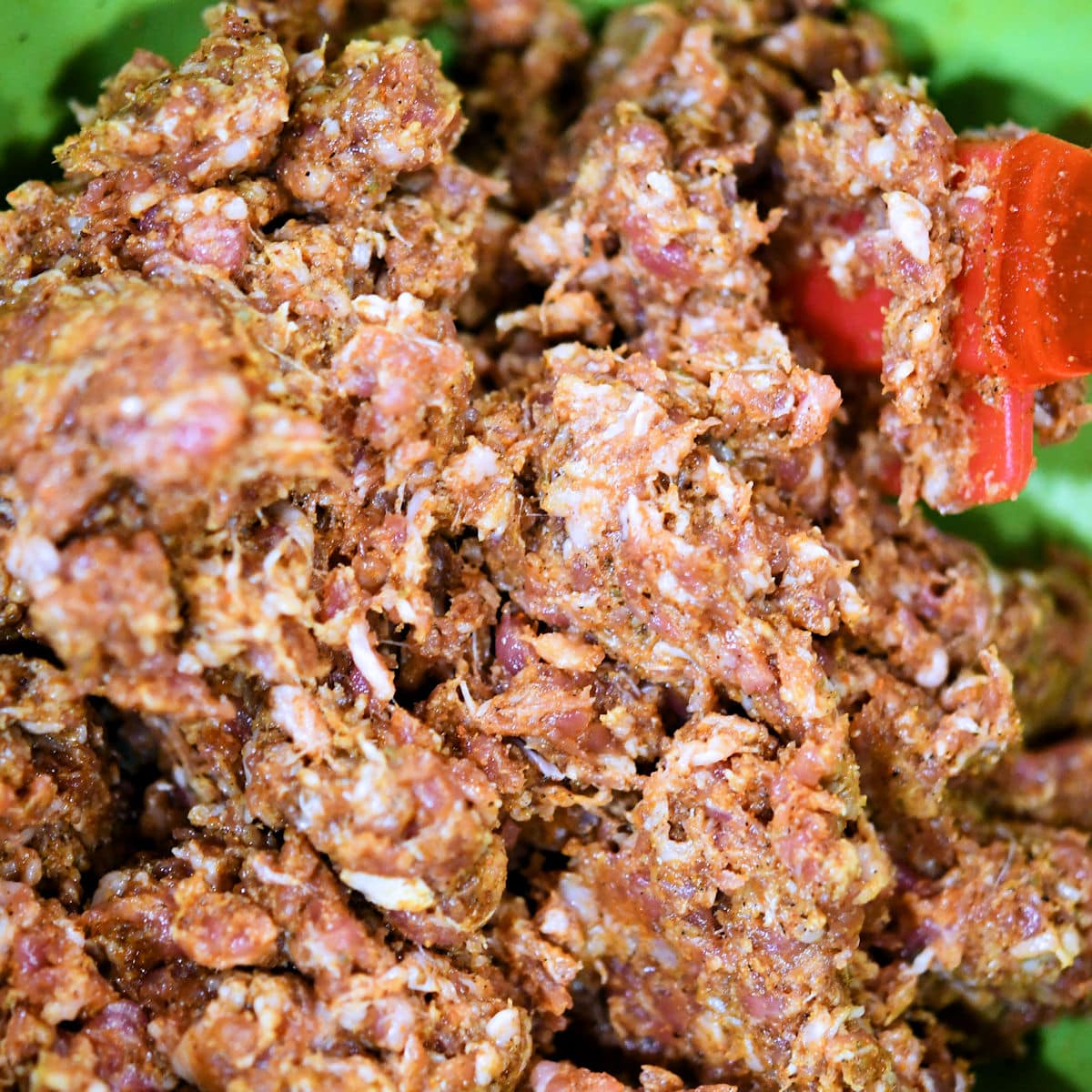 Ancho Powder
As you can see, we have a really large container of ancho powder. Ancho is the smoked, dried version of poblano pepper.
Poblano isn't all that spicy so we can get the chile flavor without a lot of heat.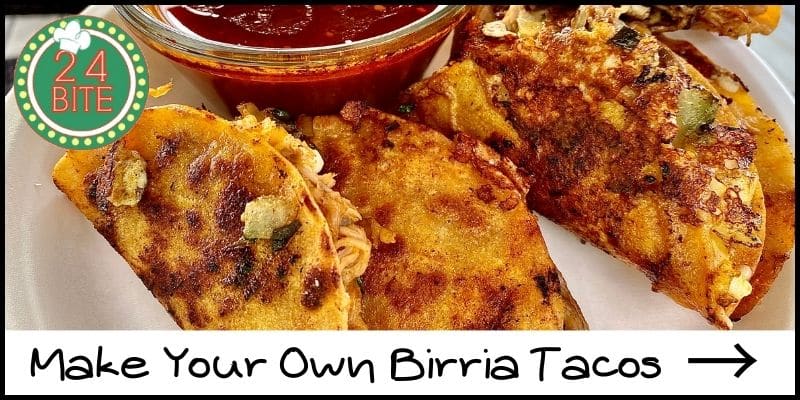 What is Achiote?
I have suggested an optional ingredient called achiote. Although many recipes for chorizo call for lots of paprika for the red coloring, I feel like achiote does a better job. Use some of each, for best results.
When using achiote, it gives a very intense flavor so I don't recommend that you use very much.
Instead of buying an entire container of plain achiote powder, try it in the seasoning blend Sazon Goya with Culantro and Achiote.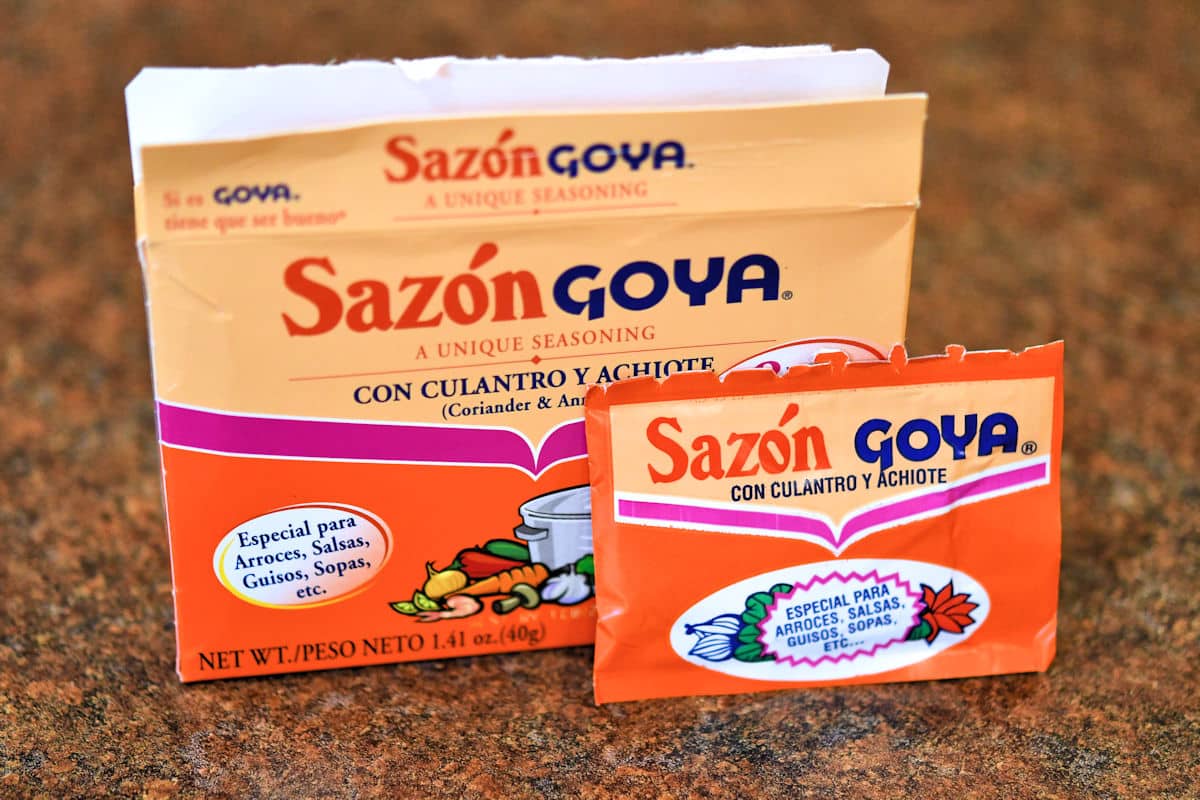 Inside the box, there are little packets which have just the right amount for most dishes, without overwhelming the flavors.
If you can find it, definitely get some. It's a delicious addition.
Add the Goya Sazon to stews, soups and I've also added it to my Sausage Ramen recipe.
How to Use Chorizo
Fry the chorizo sausage in a skillet with about ½ cup water. Scramble with eggs or cook with peeled, diced potatoes.
Add a little bit of chorizo to ground beef for chorizo hamburgers. Cook with ground beef and add your favorite chili ingredients. Make nachos. Add it to a salad.
Once you know how to make chorizo, you can make a tasty Kielbasa and Lentils Soup.
All the wonderful spices in chorizo sausage will give great flavor to many dishes, even the ones you make all the time.
I'm sure you will find many great places to use this spiced sausage. For inspiration, check out my favorite Recipes to Use Mexican Chorizo.
Recipe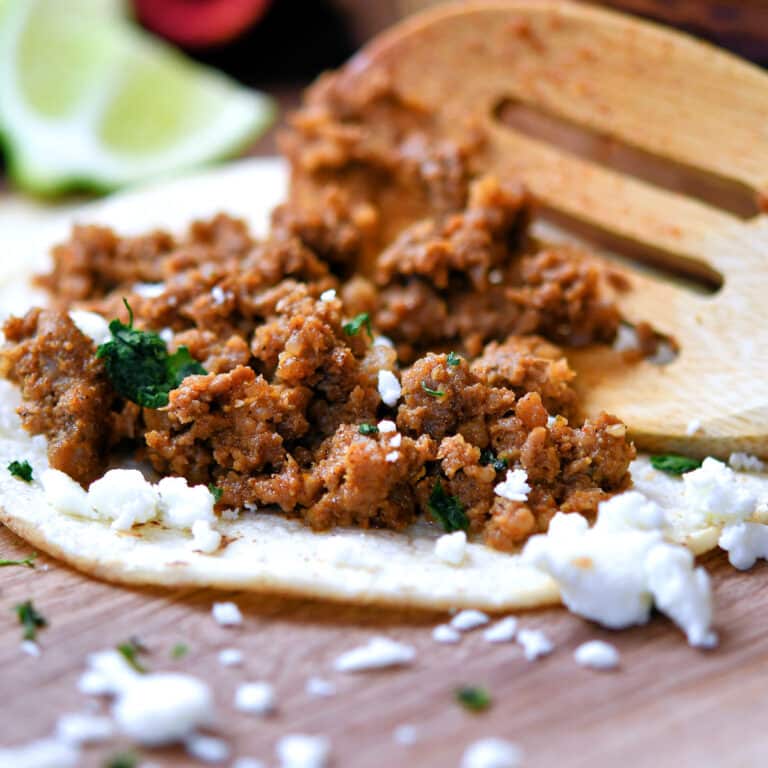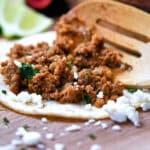 Pin Recipe Now
Make Your Own Homemade Chorizo
Tap to leave a star rating
Save or Print
Learn how to make your own chorizo with this quick and easy recipe. It's a super spiced sausage you can eat alone or in your favorite recipes.

For more information, be sure to check the recipe details in the attached 24Bite® post.
Ingredients
2

teaspoons

Dark Chile Powder

2

teaspoons

Paprika

1

teaspoon

Onion Powder

1

teaspoon

Garlic Powder

1

teaspoon

Ancho Powder

1

teaspoon

Sea Salt

,

fine grain Himalayan pink salt used

½

teaspoon

Cumin

1

packet

Goya Sazon

,

(optional)

1

pound

pork sausage

,

mild, like Jimmy Dean (or ground pork)

⅛

cup

White Vinegar
Instructions
Place all dry ingredients (the seasonings and spices) in a small bowl and stir to combine well.

Place pork, vinegar and mixed spices into a medium size bowl and mix well. If necessary, use food service gloves and mix with your hands to be certain all ingredients are well mixed.

Place in plastic wrap and refrigerate for 3 to a maximum of 48 hours before cooking.
Note: If there is a video, it will not display while there is an adblocker.
Notes
Must be fully cooked before eating. Use alone or in other recipes. 
If cooking in a dry skillet, you may want to add up to ½ cup water during cooking because this chorizo doesn't have as much fat as the store-bought. It will stick to the skillet. The water will help reduce that.
Nutrition Facts
Make Your Own Homemade Chorizo
Amount Per Serving
Calories 237
Calories from Fat 180
% Daily Value*
Fat 20g31%
Sodium 875mg38%
Carbohydrates 1g0%
Protein 12g24%
* Percent Daily Values are based on a 2000 calorie diet.
______________________
Percent Daily Values are based on a 2000 calorie diet. All amounts are estimates and 24Bite® takes no responsibility for actual figures since calculations vary by packaging and supplier. Please calculate the amounts yourself based on package labeling if you have specific dietary requirements. 24Bite®, Kim Guzman or Christian Guzman shall not be liable for adverse reactions or any other outcome resulting from the use of recipes or recommendations on this website or actions you take as a result.
© 2019-2023 Kim Guzman and Christian Guzman. All rights reserved. Subscribe to 24Bite email newsletters.
Follow 24Bite: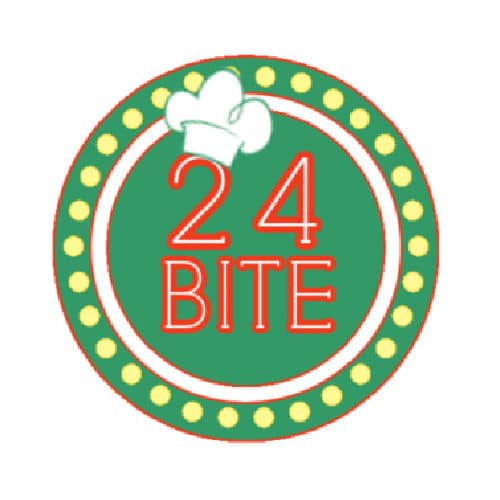 Twitter | Facebook | Pinterest