This easy Mexican Red Rice, arroz rojo in Spanish, is the most requested side dish for Mexican food. So tasty in this non spicy version of restaurant style rice.
Arroz Rojo means "red rice" in Spanish. It's the most requested side dish for Mexican food and perfect for filling burritos and tacos.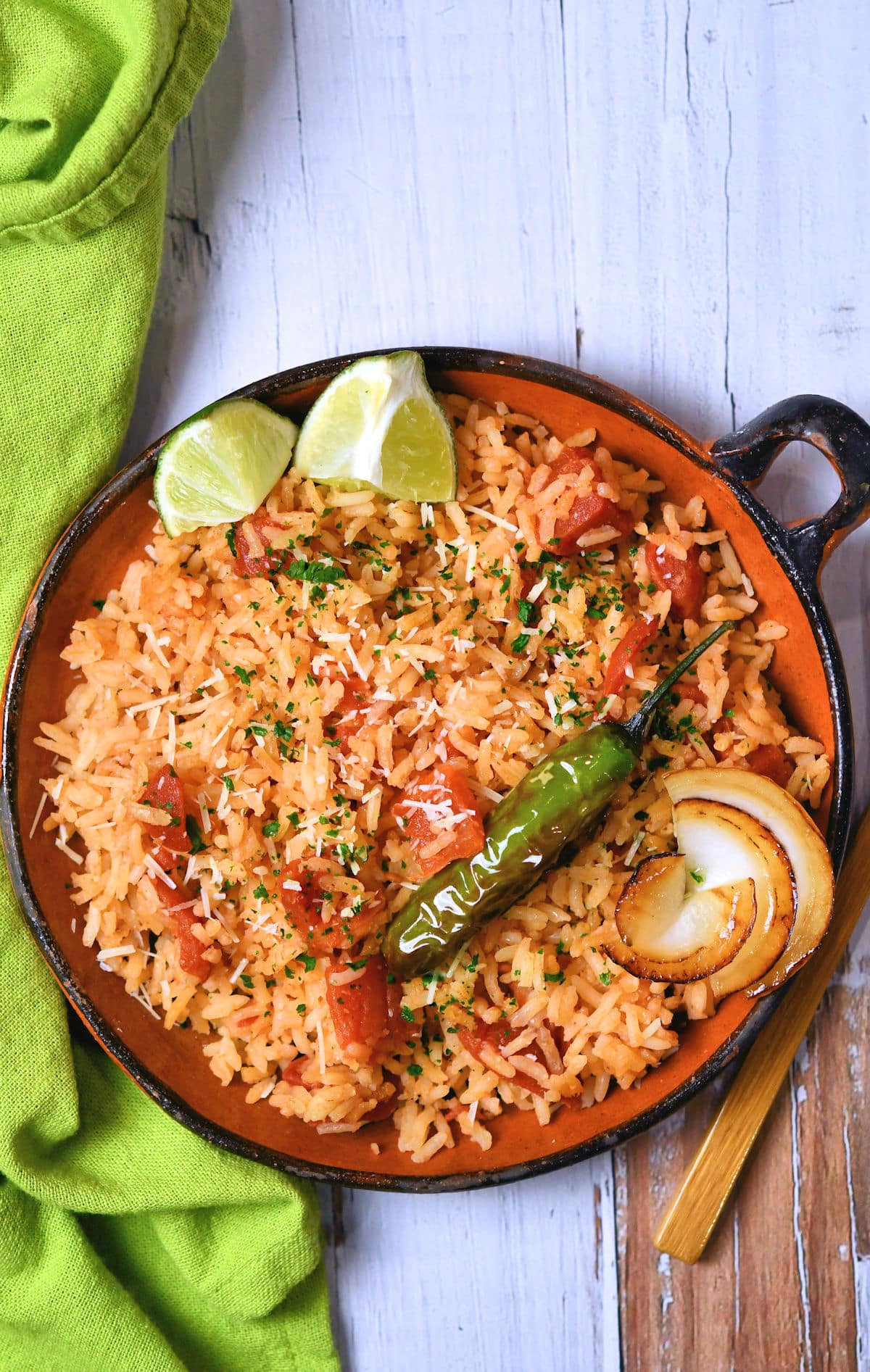 You will often find this dish served in restaurants as Spanish Rice or sometimes Mexican Rice. You'll love it infused with the flavors of tomato and chicken broth.
Try adding leftover ground beef or chicken mixed in with your arroz rojo or on the side to make it a meal in a bowl. Add black beans instead, for a meatless lunch or dinner.
Mexican Red rice gets this moist and delicious by using both the drained liquid from the tomatoes AND the chicken stock. You can, of course, use only chicken stock, but you're going to get more color if you use the tomato liquid too.
Ingredients
With only a few ingredients that you probably already have in your pantry, you can be enjoying a delicious homemade Spanish rice in about 30 minutes or so.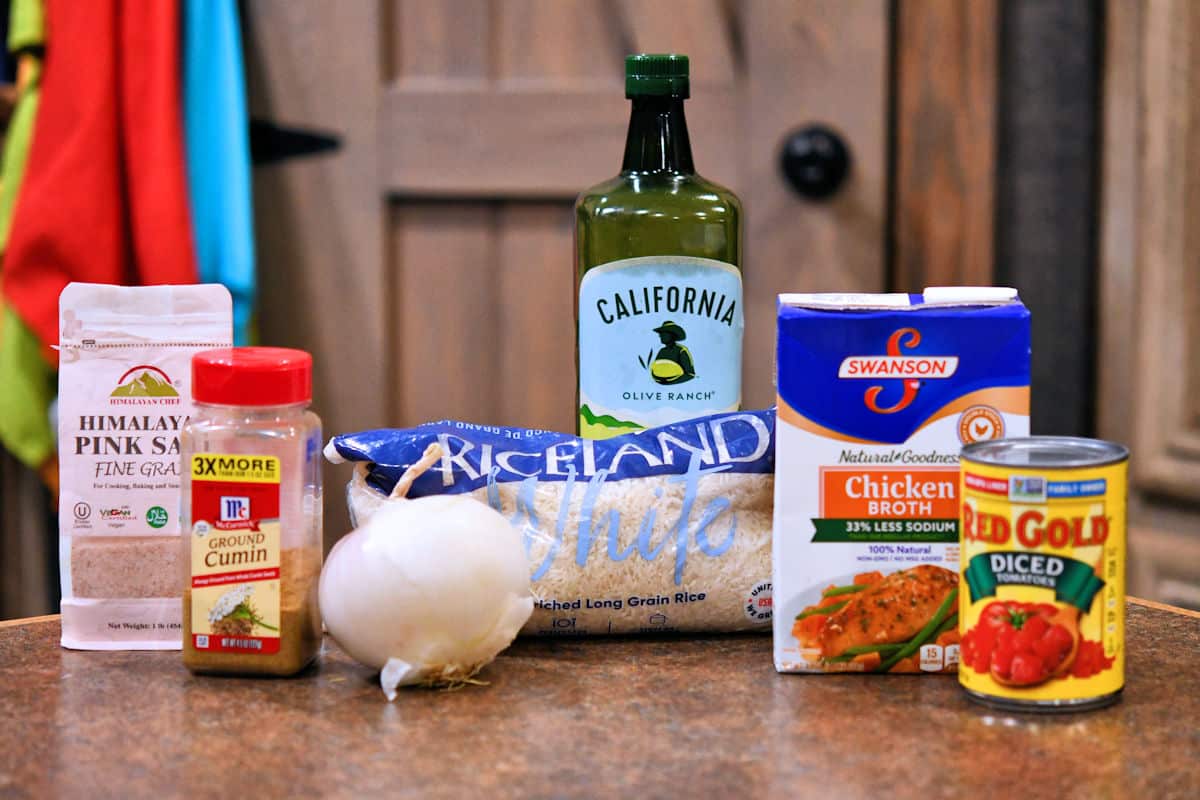 Canned Tomatoes
Start off by straining the diced tomatoes into a measuring cup. If you add the entire can, you could have too much liquid.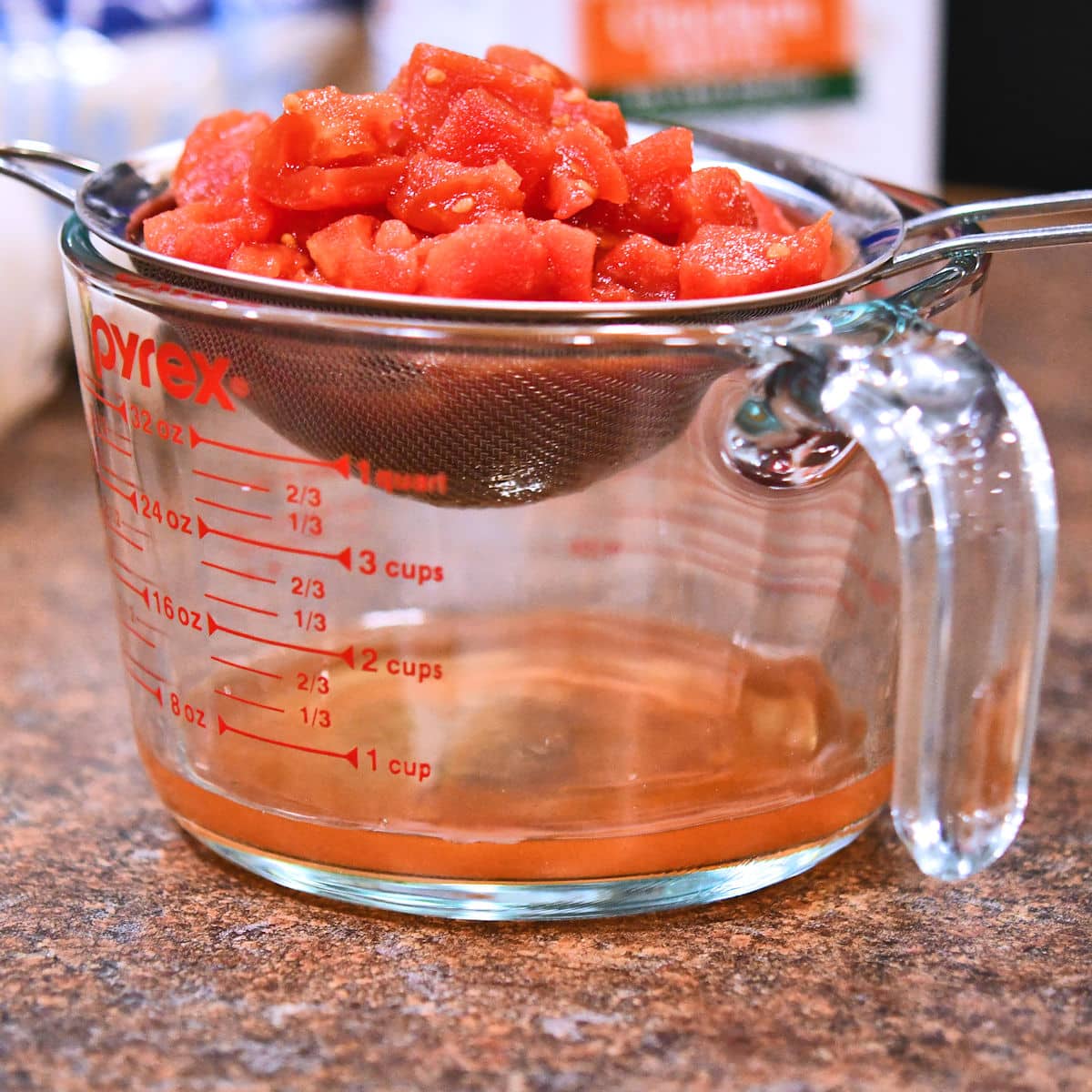 If you strain it into the sink, you're going to miss out on the red color on the rice. The color is the most distinctive part of the rice.
Make It Spicy
If you are craving a spicy version of Mexican red rice, let me introduce you to El Pato Jalapeno Sauce.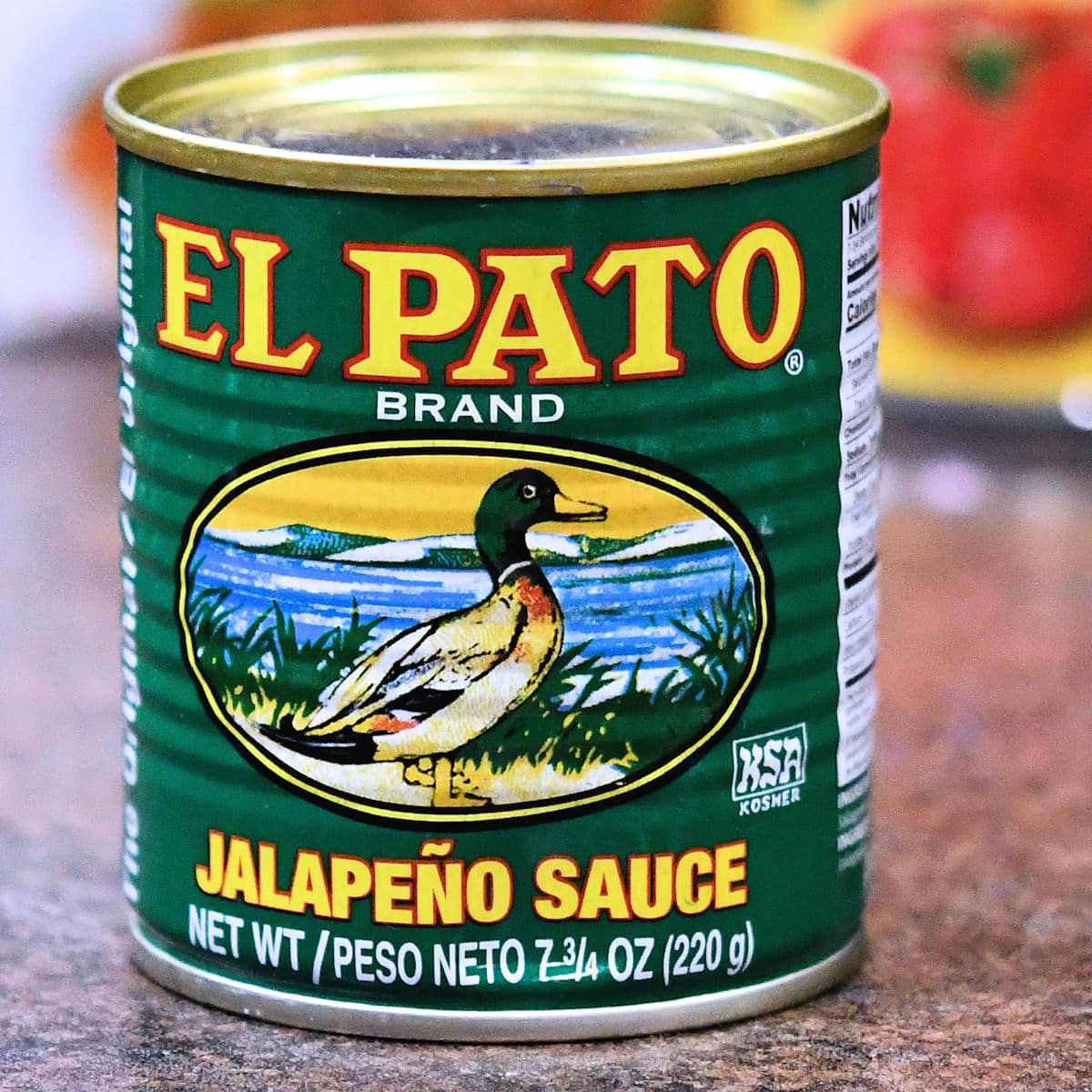 Even though this is jalapeno sauce, it's actually jalapeno and tomato. It's red, not green. You will get the red color but it will be spicy. Add it instead of the tomatoes, if you like.
Chicken Broth
I've used chicken broth, but you can also use water, if you prefer. To add the chicken flavor, add a teaspoon of granules or chicken bouillon paste.
You can keep it vegan by adding vegetable broth instead of chicken.
If you want to use water, add some bouillon for extra flavor.
Cilantro
I tend to use cilantro only as a garnish on this rice. I prefer uncooked cilantro. Too much of a good thing and all that. Personal choice.
Long Grain White Rice
I've used a standard, easy to find rice for this recipe. It's tender and fluffy. It doesn't stick as much as other varieties.
If you're curious, The Kitchn has an article on some different varieties of rice.
What's the Difference Between Spanish Rice and Mexican Rice?
Technically, Mexican rice is red. This is the perfect recipe for arroz roja. It gets its red color from the tomato juices. Spanish rice, on the other hand, is yellow because of the saffron used for flavor.
At some point, here in the US, people started calling red rice Spanish rice instead of Mexican rice. My guess is that it was called Spanish rice at some point purely for marketing purposes. These days, all three names are interchangeable in the United States.
Frequently Asked Questions
How do you garnish red rice?
I like queso fresco and a few squeezes of lime. You can also garnish with cilantro, serrano and chopped onion, as shown.
What rice do you use to make Mexican Rice?
I use a long grain white rice. It turns out fluffy and delicious without being sticky.
How much rice is in a serving?
One cup of uncooked rice will usually feed 4-6 people.
Can You Freeze Mexican Rice?
I have placed leftover Mexican rice in the freezer and it can be frozen for 3-6 months in an airtight container. The problem for me is that the rice changes texture completely when frozen. It gets mushy and wet from the ice crystals.
Is Arroz Rojo Gluten Free?
This recipe is naturally gluten free. You don't need to make any special substitutions.
The only thing you need to watch is your chicken seasoning, if you don't use broth or stock. Some bouillon may not be gluten free. But, as written, this is gluten free.
Cooking the Rice
There are some things exclusive to this rice recipe that you don't find when making plain 'ole rice.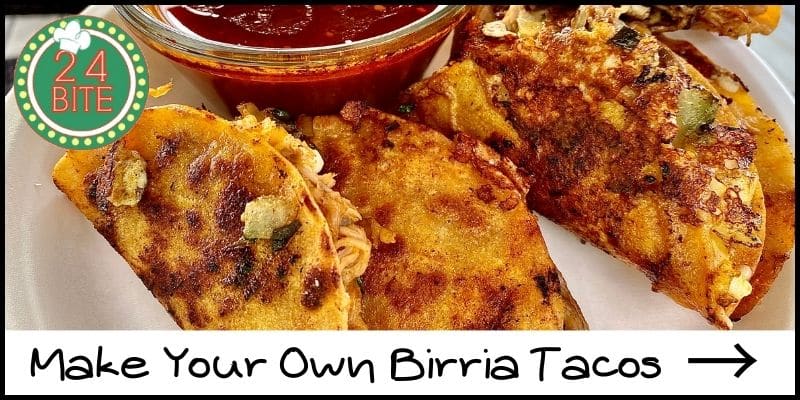 Infusing the Oil with Onion
Cut off the top part of the onion. I like to cut it off at the stem so I can use the stem to move it around in the oil.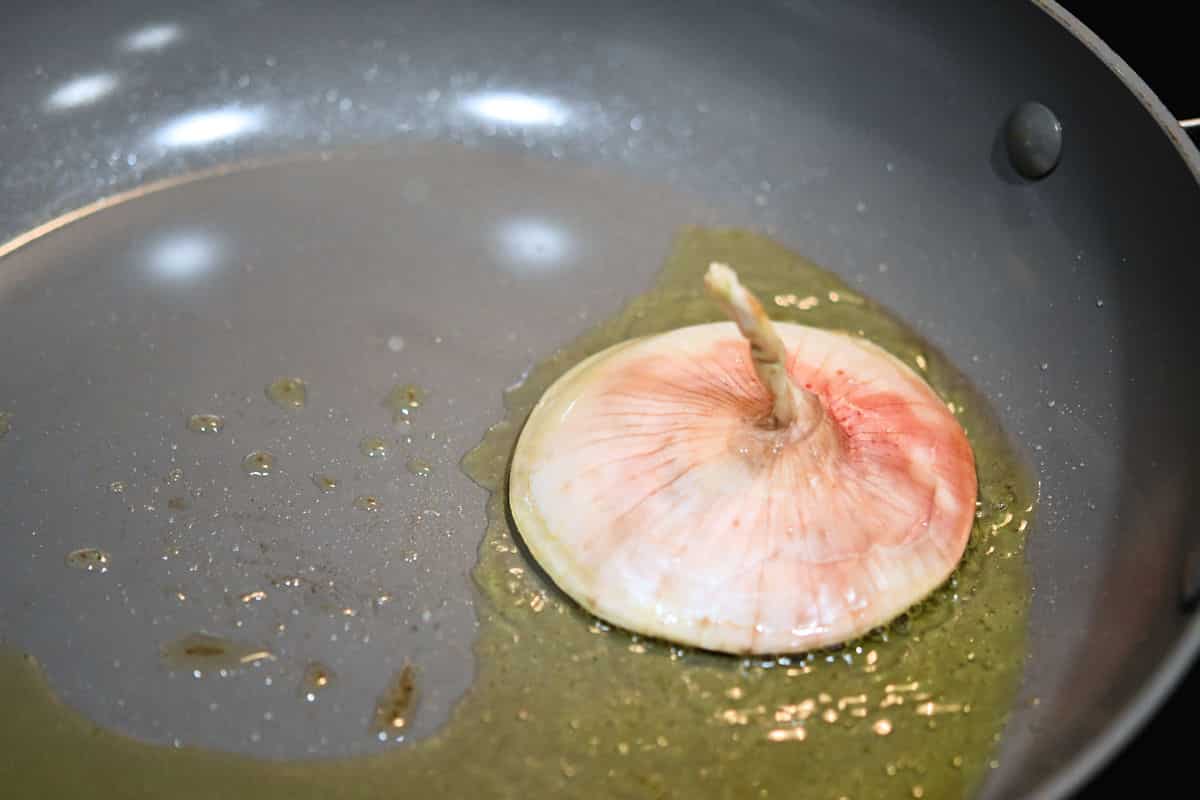 You only need the top of the onion. Once you finish with the onion, set it aside. You can use it for garnish with your finished rice.
You don't usually find pieces of onion in the rice. Infusing the onion into the oil like this will give some flavor of the onion without having onion in the rice itself.
Preparing the Uncooked Rice
As with all rice, be sure to rinse it first. I usually put it in a strainer basket and run water over it with a little swishing.
When you get ready to pour the rice into the skillet, be careful. The wet rice is going to splitter, splatter.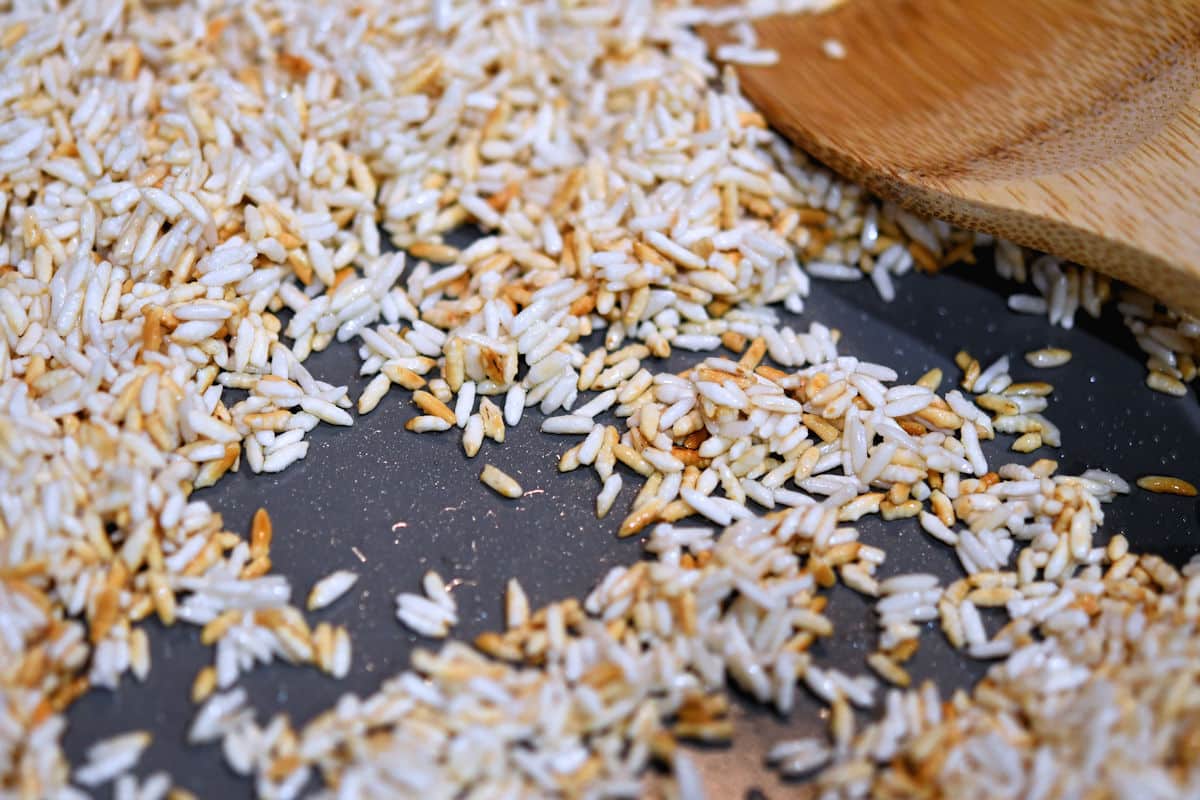 Why Does My Spanish Rice Come Out Mushy?
Saute the rice, stirring frequently, until it gets a golden brown. Watch closely. You don't want it to burn.
Don't skip this part. The outside of the rice kernels should be a little crisp to repel the sticky starch but should still be able to absorb the water.
Don't saute it too long, though. It's possible to harden the rice so much that it won't absorb the water. You don't want that.
How to Store Your Spanish Rice
This rice will keep in the refrigerator for 4-5 days if kept in an airtight container.
You can freeze it in an airtight container for 4-6 months. It seems to change texture after being frozen, though. I really prefer it fresh so I try to use it all up as soon as possible.
It's really not hard to eat it all. I promise. Making a rice bowl by adding leftover meat is a favorite. Or, try it in burritos with this Chipotle Barbacoa Beef.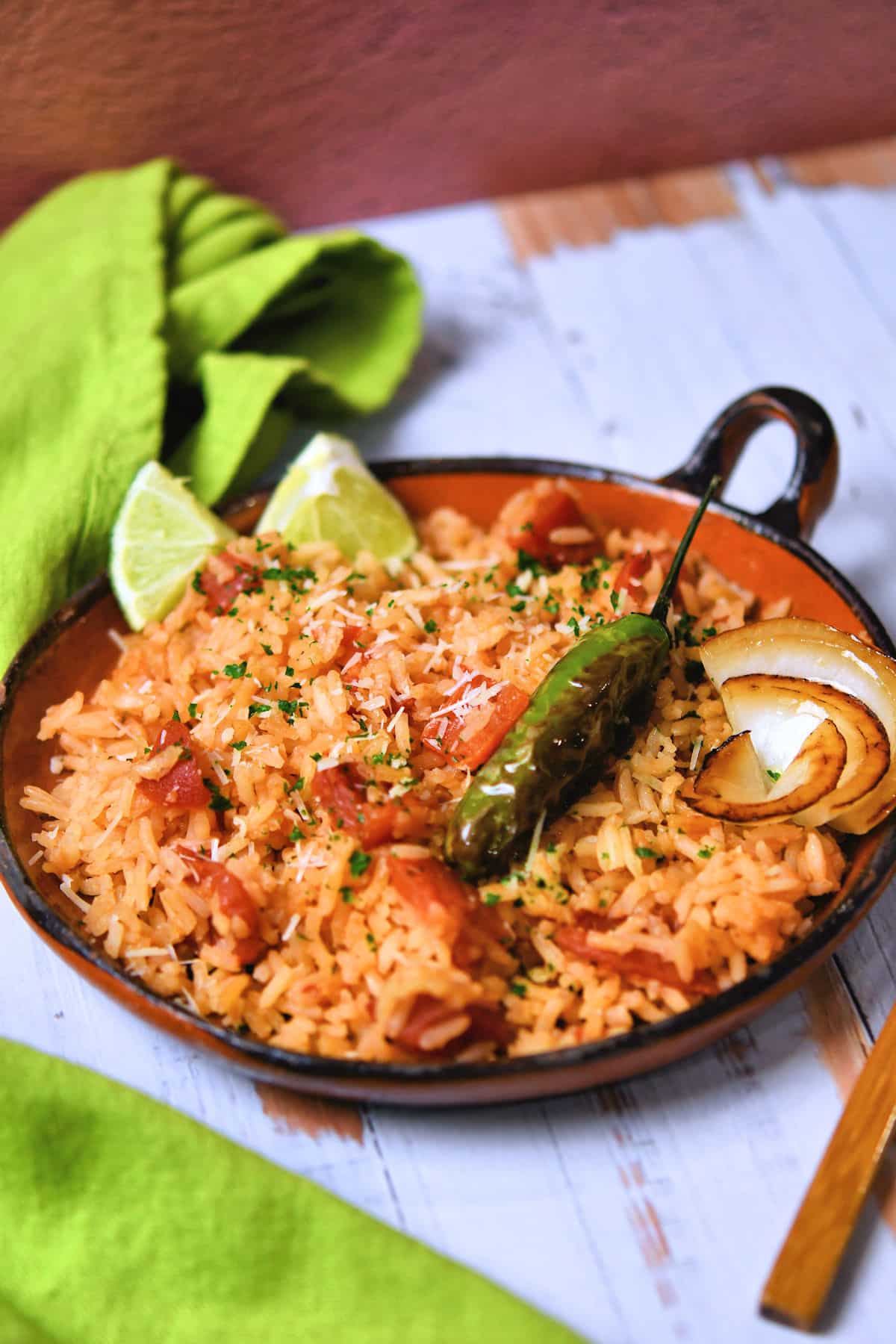 What Do You Serve with This Rice?
Mexican rice, or Spanish rice if you prefer, is delicious on its own but I usually serve it with other Mexican recipes.
Fry and mix in a batch of homemade Mexican chorizo.
I've served this as a side dish with my Green Chicken Enchiladas. Also try it with my recipe for Milanesa De Res Breaded Steak.
If you're looking for the best refried beans ever, try my Sinaloa Frijoles Puercos. It's the refried beans recipe of your dreams.
Although not technically a refried beans recipe, my recipe for Instant Pot Vegan Bean Dip will work perfectly as a side as well.
A tostada with this bean dip, rice and some black beans would be a delicious lunch treat.
Recipe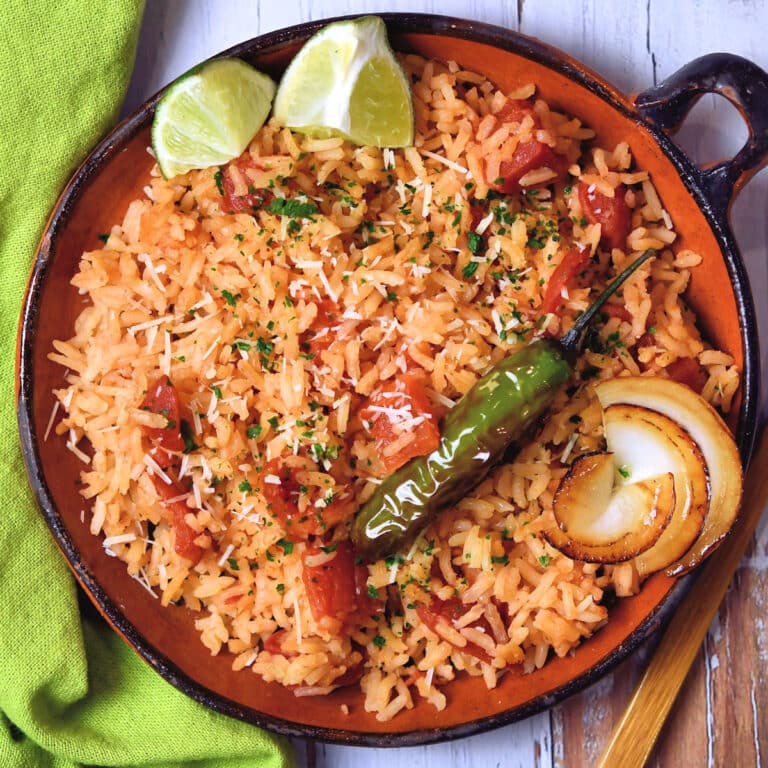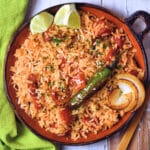 Pin Recipe Now
Easy Mexican Red Rice Not Spicy
Tap to leave a star rating
Save or Print
This easy Mexican Red Rice, arroz rojo in Spanish, is the most requested side dish for Mexican food. So tasty in this non spicy version of restaurant style rice. Delicious, infused with the flavors of chicken and tomato.

For more information, be sure to check the recipe details in the attached 24Bite® post.
Ingredients
14.5

ounces

Diced Tomatoes

,

canned

2

cups

Chicken Broth

1

teaspoon

Sea Salt

dash

Cumin

2

tablespoons

Olive Oil

¼

Onion

1

cup

Long Grain White Rice

,

uncooked
Instructions
Drain tomatoes, allowing liquid to drain into a 2-cup measure. Once completely drained, add chicken broth until the total liquid measures 2 cups. Add the diced tomatoes to the chicken broth mixture. Add salt and cumin. Stir then set aside.

Place uncooked rice in a strainer and hold it under cool water, swishing around with a spoon or your hand. Set aside to drain.

Heat olive oil over medium heat. Cut off the top ⅛ to ¼ of an onion at the stem side. Place cut side of onion in heated oil and push it around, allowing the onion to infuse with the oil, about 3 or 4 minutes. Remove onion and set aside to be used for garnish.

Add rice to skillet (you'll need a skillet that has a lid). Be careful because the wet rice will splatter in the oil. Saute in the skillet, stirring often, until the rice is golden brown, about 5-7 minutes.

Add tomato mixture, stir. Again, it's going to splitter and splatter so be careful. Bring to a boil, then reduce heat to low, cover and simmer 20 minutes, until liquid is absorbed. Don't open or stir during the 20 minutes.

If there is liquid remaining, cover and cook on low another 5 minutes.
Note: If there is a video, it will not display while there is an adblocker.
Notes
Nutrition Facts
Easy Mexican Red Rice Not Spicy
Amount Per Serving
Calories 171
Calories from Fat 45
% Daily Value*
Fat 5g8%
Sodium 774mg34%
Carbohydrates 28g9%
Protein 3g6%
* Percent Daily Values are based on a 2000 calorie diet.
______________________
Percent Daily Values are based on a 2000 calorie diet. All amounts are estimates and 24Bite® takes no responsibility for actual figures since calculations vary by packaging and supplier. Please calculate the amounts yourself based on package labeling if you have specific dietary requirements. 24Bite®, Kim Guzman or Christian Guzman shall not be liable for adverse reactions or any other outcome resulting from the use of recipes or recommendations on this website or actions you take as a result.
© 2019-2023 Kim Guzman and Christian Guzman. All rights reserved. Subscribe to 24Bite email newsletters.
Follow 24Bite: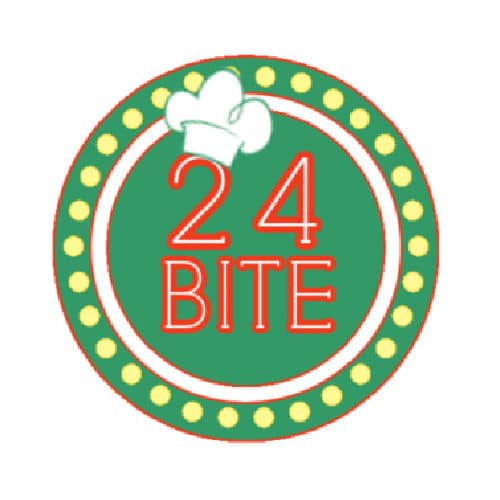 Twitter | Facebook | Pinterest