Roasted pineapple tomatillo salsa is a delicious combination of sweet and spicy. Pair with chicken, fish or simply tortilla chips.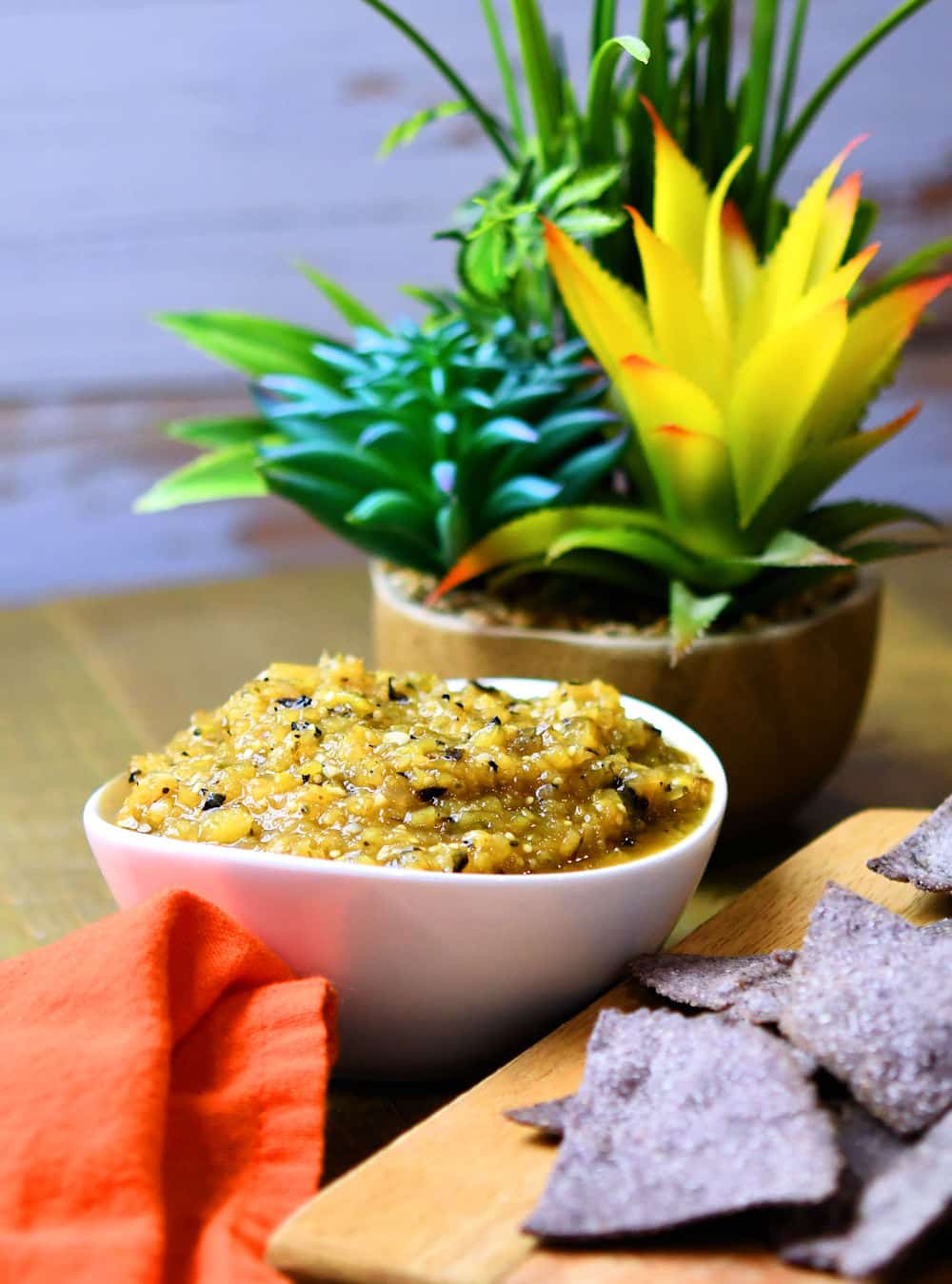 Ingredients
The best part of making salsa from scratch is the delicious fresh ingredients. Pineapple tomatillo salsa is no different than other salsas in that regard.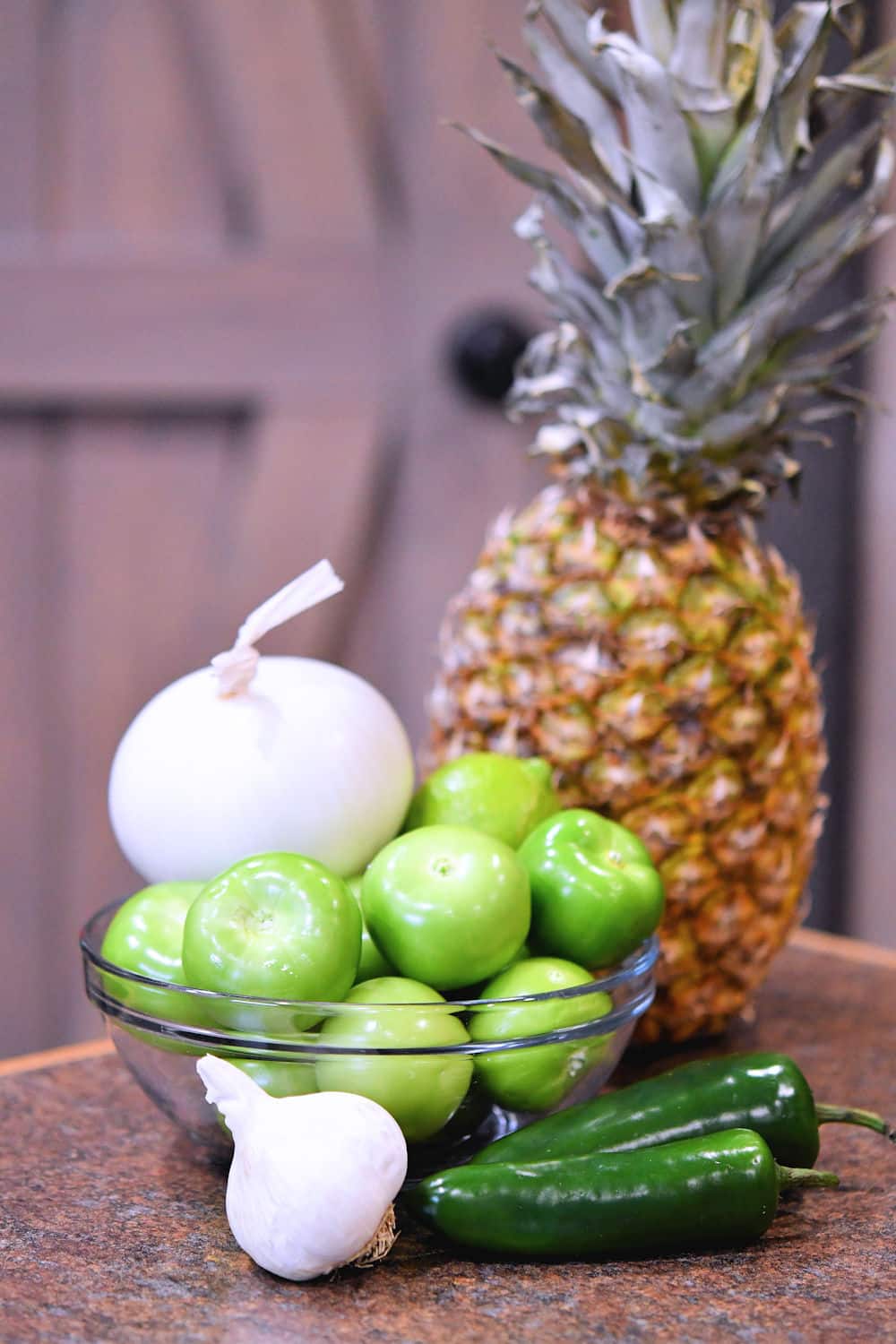 When making this salsa, you'll need these fresh ingredients. It's possible that you may not have ever bought some of them and it's fun to experiment with something new.
Pineapple
Tomatillos
Jalapenos
Onion
Garlic
Lime
When you make it fresh, you will at least know all your ingredients. No extra fillers or unusual preservatives.
Frequently Asked Questions
Are tomatillos the same as green tomatoes?
Tomatillos look a lot like green tomatoes and, in a pinch, you could substitute green tomatoes. Tomatillos are more tart and citrus-y.
Are tomatillos spicy?
Tomatillos are tart but they're not spicy. Any spicy heat in this salsa comes from the chiles/peppers used.
Can you substitute canned pineapple for fresh pineapple?
For this recipe, using canned pineapple can be done but will have a different look and taste. Be sure to get one canned in water instead of sugar.
How to Select a Pineapple
You can't go by the color. A ripe pineapple will be firm with a little give when you squeeze it. If it's rock hard, it's not ripe.
How to Ripen a Pineapple
Place the pineapple in a plastic or paper bag and leave at room temperature. It should ripen in a day or two. It will ripen even more quickly if you place a banana in the bag with it.
How to Cut a Pineapple
For this recipe, you won't need any special cutting skills for the pineapple. It's very straight forward.
Cut off the top
Flip it around to cut off the bottom
Stand it upright and cut off the sides
When you cut down the sides, make sure you get all the little "eyes". Then, make thick slices to go on the baking sheet.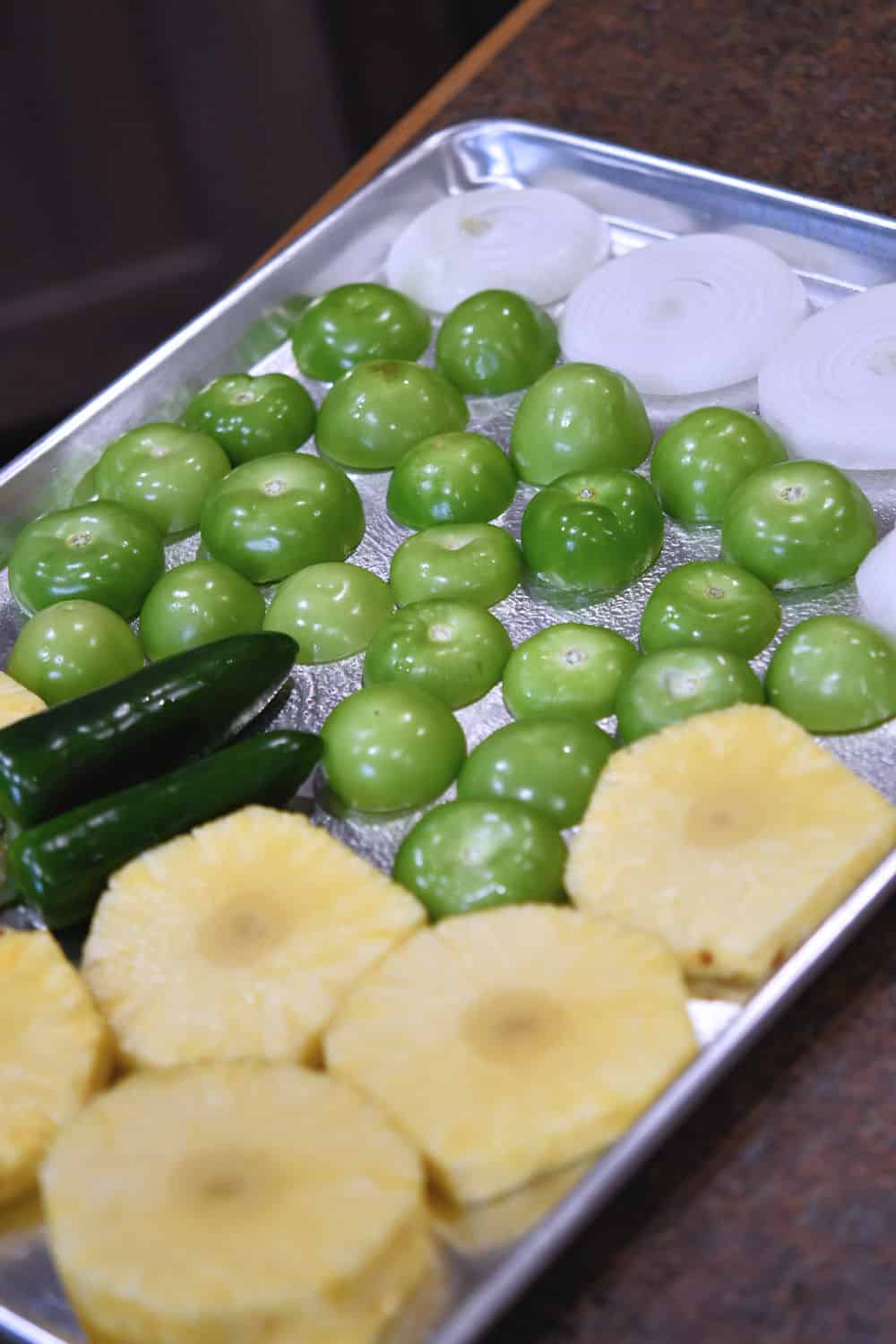 Since this could be your first time with fresh pineapple, I found a step by step guide on How to Cut a Pineapple, if you're curious.
You may be able to reuse the top of the pineapple to grow your own pineapple plant! Check out what the Empress of Dirt has to say about growing your own pineapple houseplant.
How Hot are Jalapenos?
On a scale, jalapenos are spicy but not super spicy. Removing the inner veins and seeds will make them even less spicy.
With only two jalapenos used in this pineapple tomatillo salsa recipe, it's not very spicy at all. In fact, I think it would be fine for little kids too.
The next time I make it, I think I will add a serrano pepper too. It was that low on the spicy heat scale. I would prefer a bit more heat.
If you love chiles and you love experimenting, be sure to check out my Scoville Heat Scale. You will find a list of common peppers.
You may even want to try a red chile pepper. A little bit of red mixed in with the yellow and green of the pineapple and tomatillo would make a pretty salsa.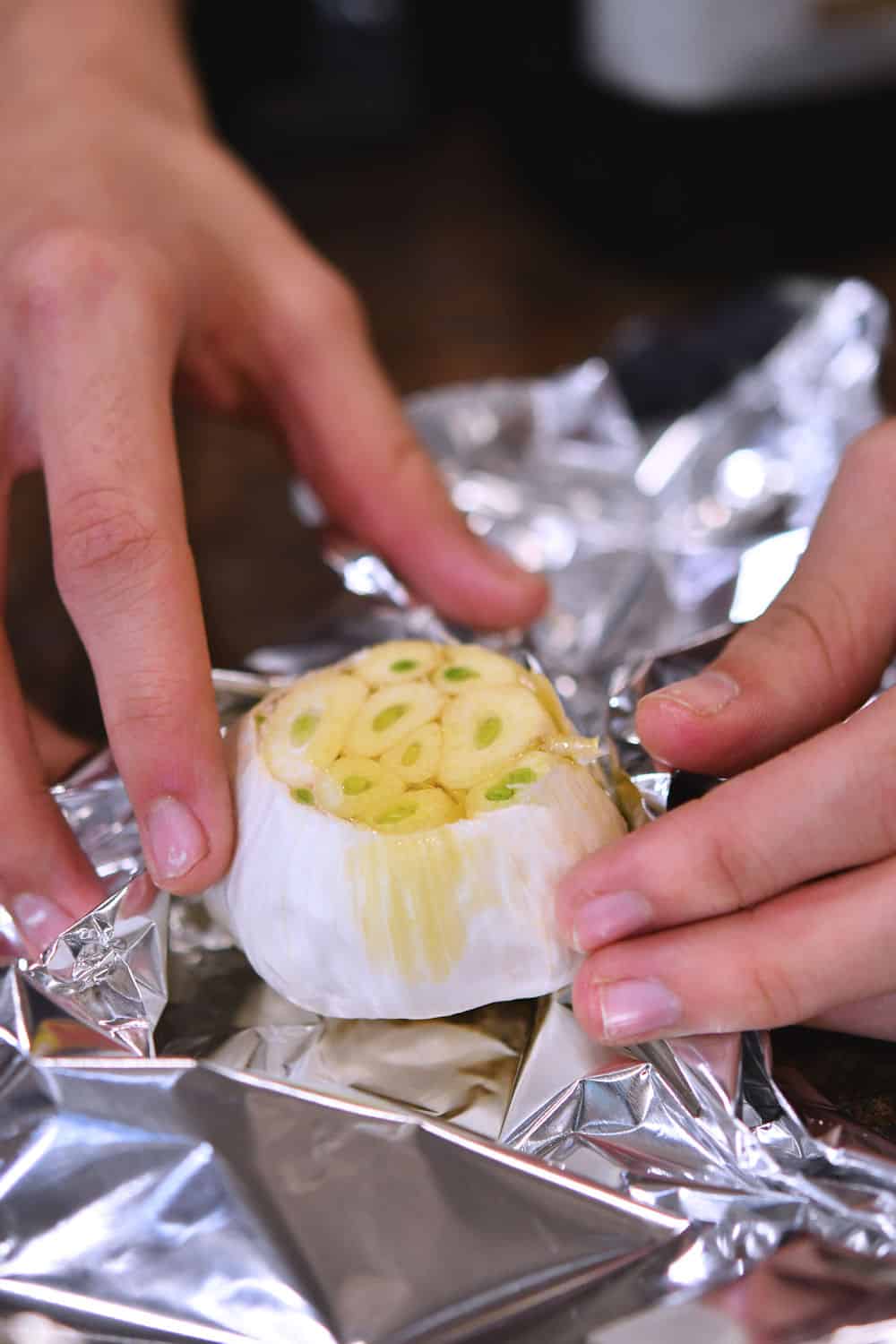 How Long Will This Salsa Keep in the Refrigerator?
Because of the added vinegar, this salsa will keep almost a week but it could lose some of its freshness in about 3 or 4 days.
You can also divide it into portions and store it in the freezer for 3 to 6 months.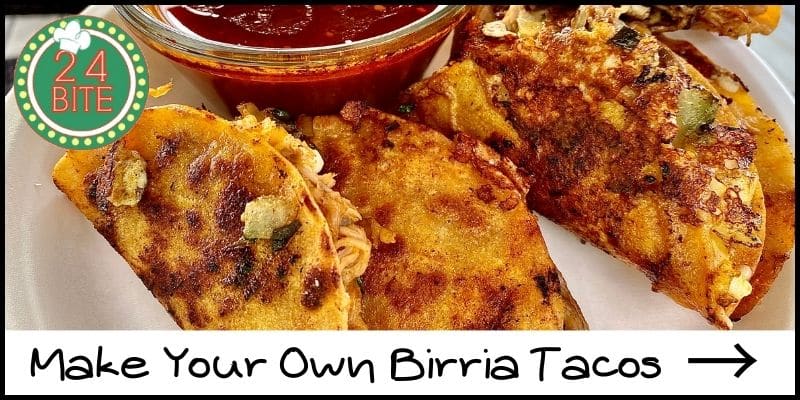 Can You Can Pineapple Salsa?
This salsa can be canned in a water bath to make it shelf stable for 12 to 18 months.
Unlike tomato salsa, I would suggest you boil pints for 40 minutes. The National Center for Home Food Preservation recommends more time for tomatillos than tomatoes.
When you're boiling the salsa, you are actually cooking it more. This can cause the fruit and vegetables to break down even further so the consistency can be different from fresh.
Where Would You Serve This Salsa?
Have a look at our Mexican food recipes for a larger variety. Specifically, I think this salsa would be great with any of these recipes:
Don't forget the chips! You can make your own blue corn tortilla chips from scratch with this recipe.
Recipe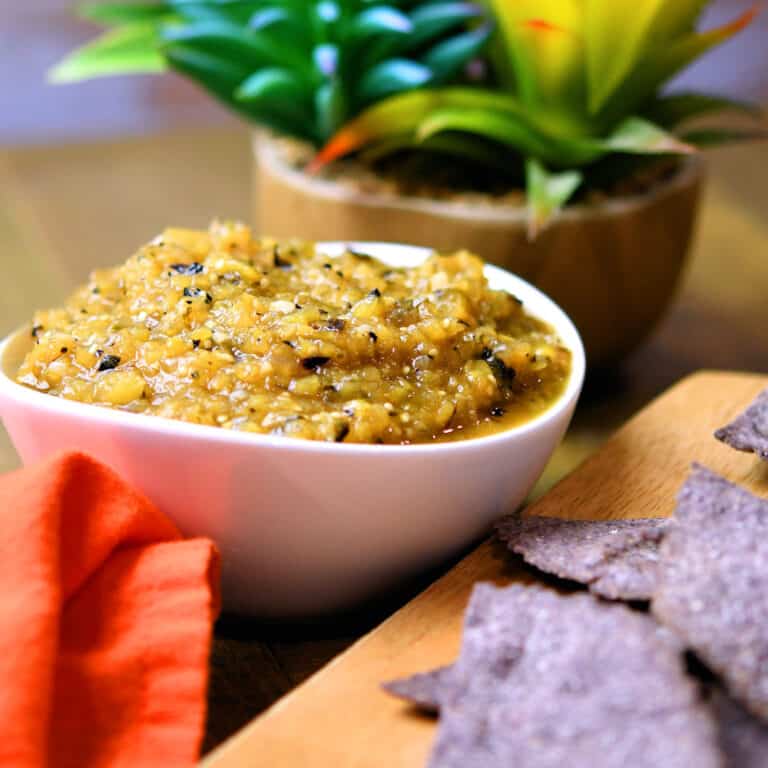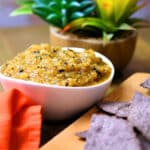 Pin Recipe Now
Pineapple Tomatillo Salsa with Blue Tortilla Chips
Tap to leave a star rating
Save or Print
Roasted pineapple tomatillo salsa is a delicious combination of sweet and spicy. Pair with chicken, fish or simply tortilla chips.

For more information, be sure to check the recipe details in the attached 24Bite® post.
Equipment
Large baking sheet

Food processor
Ingredients
Cooking Spray

,

like Pam

1

Pineapple

,

top, bottom and sides removed, then cut into 6 or 7 slices horizontally

1

pound

Tomatillos

,

husks removed, cleaned to remove sticky residence and cut in half horizontally

1

Onion

,

large, top, bottom and peel removed, then cut into 4 slices horizontally.

2

Jalapenos

,

whole, cleaned

1

head

Garlic

,

whole, unpeeled

1

teaspoon

Olive Oil

1

Lime

,

juice only

1

tablespoon

Apple Cider Vinegar

1

teaspoon

Salt
Instructions
Preheat oven to broil (usually about 550℉.

Prepare pineapple, jalapenos, tomatillos and onion as directed. Spray baking sheet with cooking spray and place all the fruit and vegetables flat on the sheet. Set aside.

While whole head of garlic is still in one piece, slice off the top to expose the tops of the cloves. Discard the top. Place the whole garlic head with top facing up on a piece of foil about 10". Carefully spoon over the olive oil on the top of the garlic and, if desired, sprinke on a little salt. Close up the foil around the head of garlic, carefully keep it upright.

Place the baking sheet on the highest level of the oven, closest to the broiler. Place the wrapped head of garlic in the center of the oven.

Cook for 15 minutes. Remove sheet from oven. Close the oven door, leaving the garlic inside to continue cooking.

Remove the tomatillos to a food processor. Set aside.

Turn over the remaining fruit and vegetables. Return the sheet to the oven. Cook for 10 to 15 minutes more. You should see a nice liitle char.

Remove the baking sheet and foil wrapped garlic from the oven. Immediately place the jalapenos in a ziploc bag.

Place the onion slices in the food processor.

Cut chunks of pineapple away from the core. Discard the core. Place the pineapple chunks in the food processor.

Remove the foil from the cooked garlic and squeeze the garlic cloves out of the peel. Place the garlic cloves in the food processor. Discard the peel.

After the jalapenos have been in the bag for 10 or 15 minutes, remove them from the bag. Remove the charred outer skin, stem and seeds then discard. Place the remaining jalapeno in the food processor.

Place the remaining salsa ingredients in the food processor and process to desired consistency. Serve chilled.
Note: If there is a video, it will not display while there is an adblocker.
Notes
Allow the salsa to chill for several hours or overnight before serving, to meld flavors.
Makes one quart. Nutrtional values based on ½ cup of salsa and 2 tortillas. 
Serve with chicken or fish. Can be used in burritos, tacos or serve with any corn tortilla chips.
Nutrition Facts
Pineapple Tomatillo Salsa with Blue Tortilla Chips
Amount Per Serving
Calories 94
Calories from Fat 9
% Daily Value*
Fat 1g2%
Sodium 294mg13%
Carbohydrates 22g7%
Protein 2g4%
* Percent Daily Values are based on a 2000 calorie diet.
______________________
Percent Daily Values are based on a 2000 calorie diet. All amounts are estimates and 24Bite® takes no responsibility for actual figures since calculations vary by packaging and supplier. Please calculate the amounts yourself based on package labeling if you have specific dietary requirements. 24Bite®, Kim Guzman or Christian Guzman shall not be liable for adverse reactions or any other outcome resulting from the use of recipes or recommendations on this website or actions you take as a result.
© 2019-2023 Kim Guzman and Christian Guzman. All rights reserved. Subscribe to 24Bite email newsletters.
Follow 24Bite: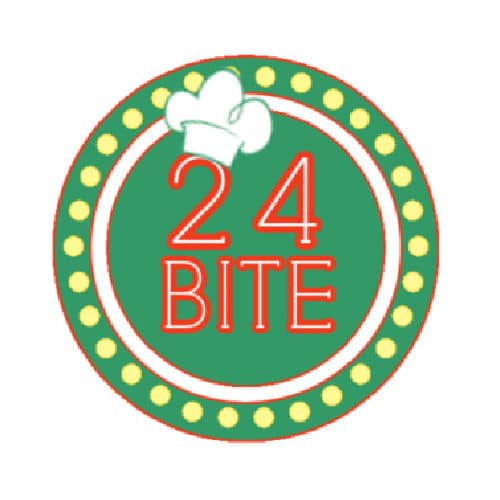 Twitter | Facebook | Pinterest