Disclaimer:
This website contains affiliate links. Any purchases through affiliate links will provide me with the income necessary to keep this site available at no extra cost to you. Please see
Privacy Policy
 page for more information.
Red Onion Salsa is a quick and easy condiment combining sweet red onion and spicy chiles, delicious with grilled meats, tacos, burritos and so much more. Use it anywhere you would normally use salsa or pico de gallo.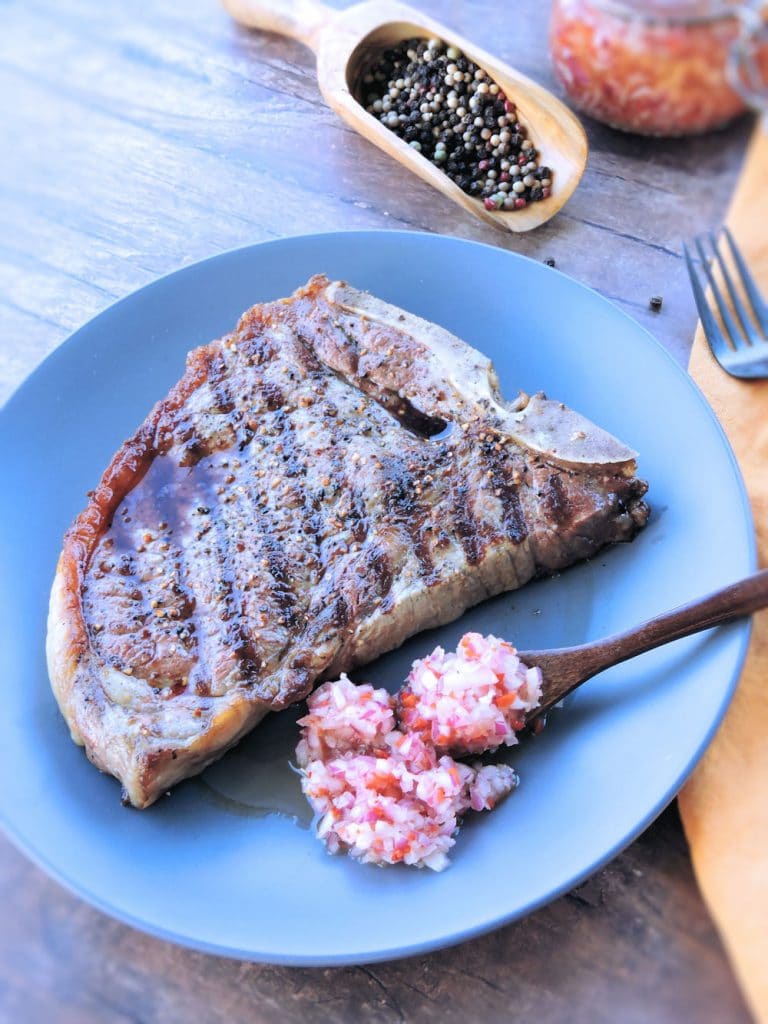 Red Onion Salsa
I grabbed this from my mom's cookbook when we found this incredible looking Angus T-Bone at the grocery store this week. Isn't that lovely? I realize that we don't eat much steak but this looked amazing and had to be done.
My mom had this in her cookbook and I asked her where she came up with it. This is something she made up through trial and error with several different types of salsa.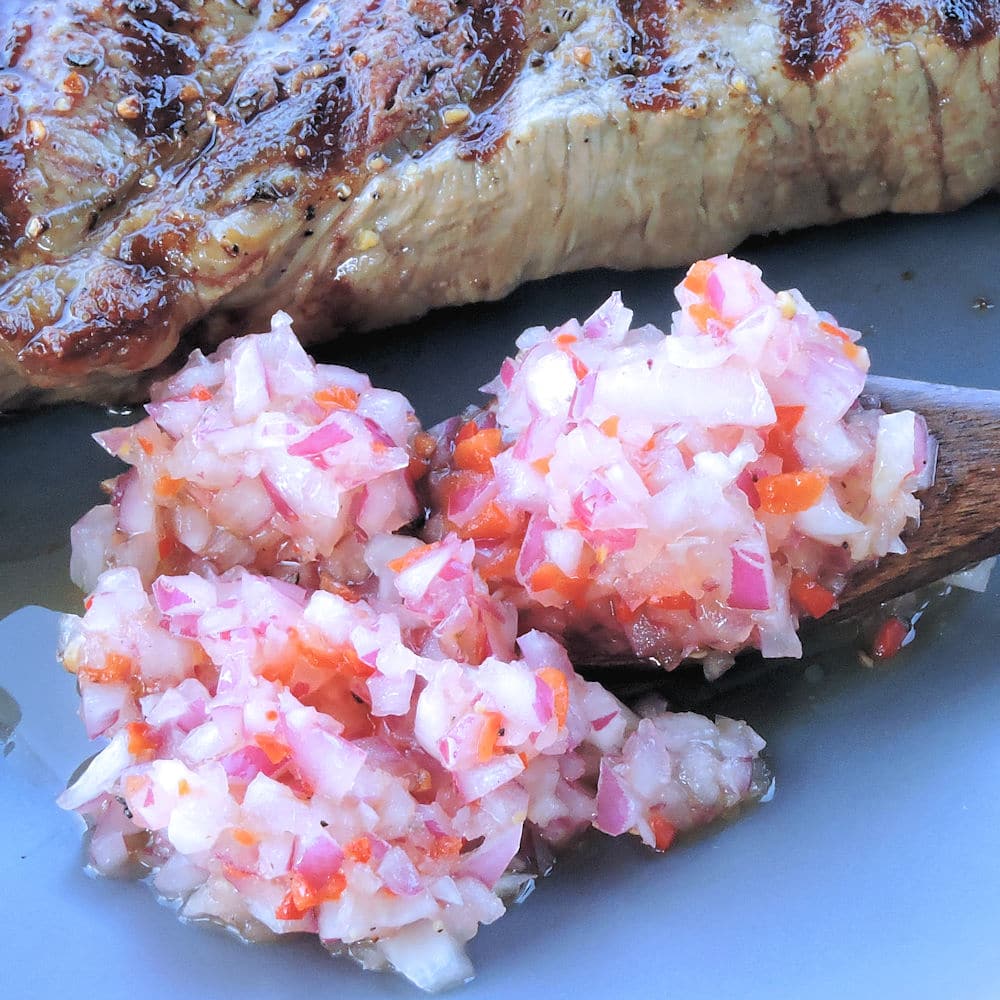 Mom started out with a chimichurri recipe, the typical salsa served with meat in Argentina. Parsley turned out to taste well, not what she thought. With an allergy to cilantro, that was out too.
In the end, that combination of red wine vinegar and oil is so delicious that all the green isn't needed at all.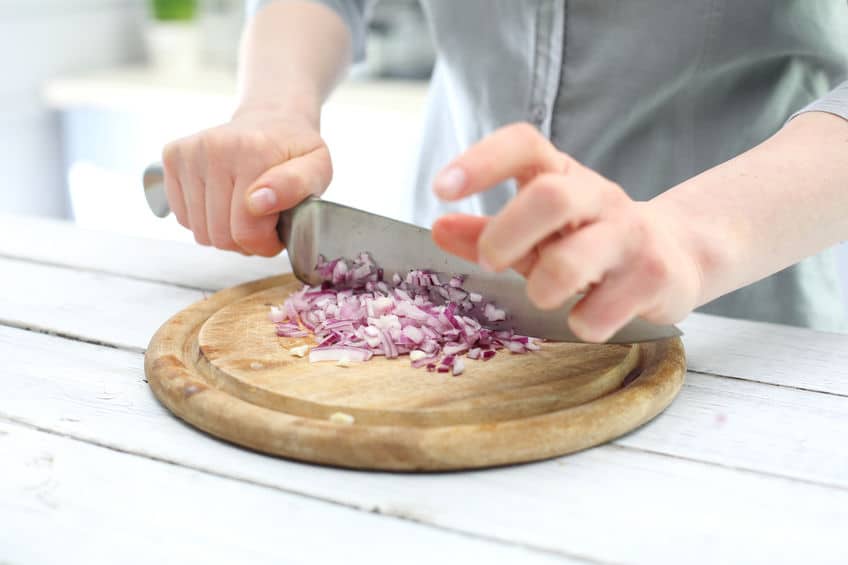 Red onion and cayenne peppers with some added garlic is all that is needed here. It was even more fun because I planted and watered the peppers myself. I always love using things that I've grown myself.
This salsa is incredible. I'm going to make some tacos tomorrow and top them with this. It's going to be wonderful!
Grilling the Steak
I know you're going to ask about that steak. It turned out so photo-worthy and was delicious!
We don't have a grill. Surprised, right? I did some research first and I was able to get this lovely piece of beef cooked in the oven with this.
It was quick and easy to make this steak following the instructions from Gimme Some Oven.
After seasoning, I placed it on the hot grill skillet to sizzle and make those beautiful lines making it look like it was cooked on a grill. After turning it over, I immediately put it in the preheated oven and cooked it for about five minutes more. Then, done! That's it. It worked perfectly. It was so easy!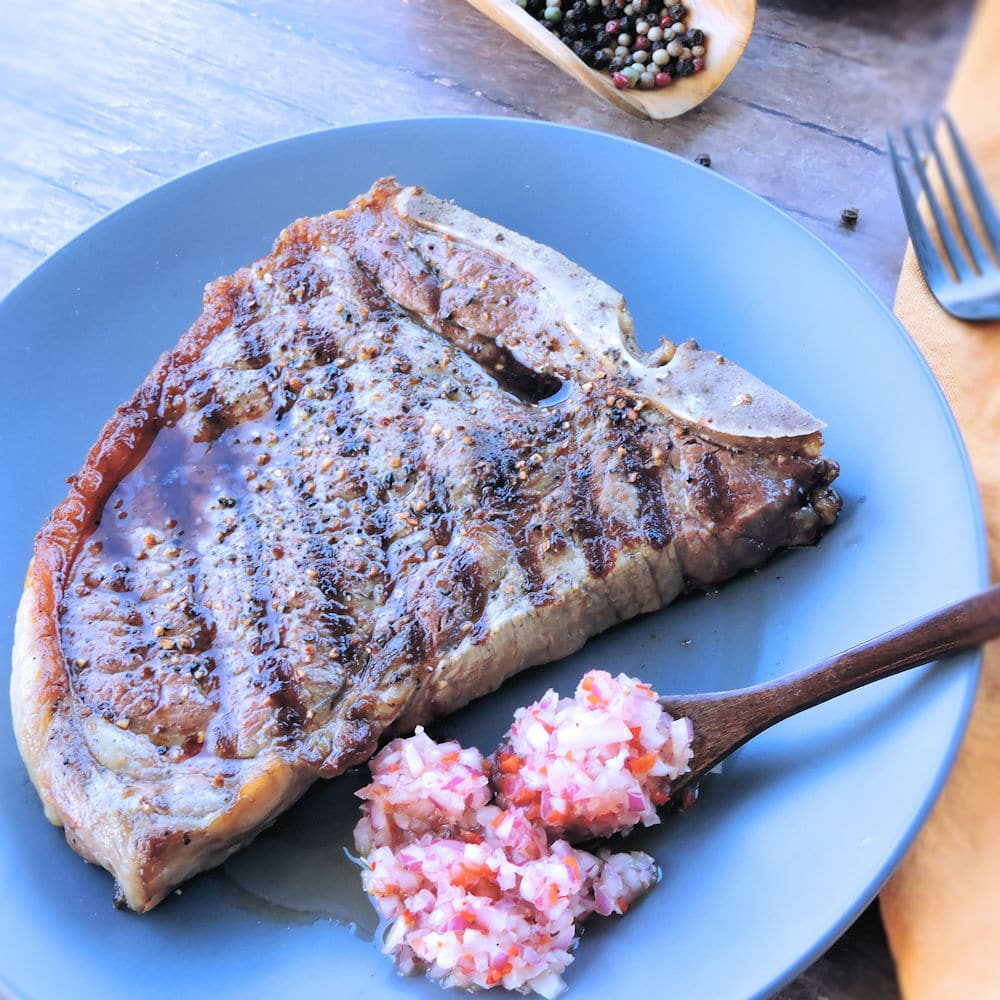 Serve this Red Onion Salsa with my Verde Chicken Enchilada Recipe in place of pico de gallo.
It will also be great with my Slow Cooker Steak Chili and as a side to this Spinach Quiche.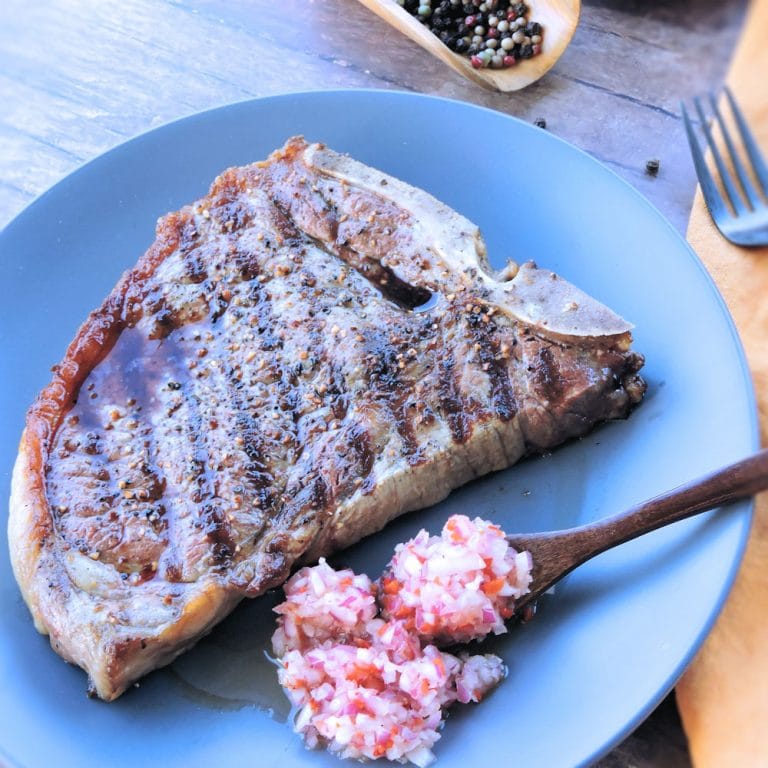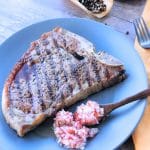 Red Onion Salsa with Chiles
Print Recipe
A quick and easy condiment combining sweet red onion and spicy chiles, delicious with grilled meats, tacos, burritos and so much more. Use it anywhere you would normally use salsa or pico de gallo.
Ingredients
2

tablespoons

Red Wine Vinegar

6

tablespoons

Avocado oil

1

teaspoon

Salt

1

teaspoon

Cracked Pepper

1

large

Red Onion

finely chopped

2

Red Chiles (Cayenne used here)

finely chopped

6

Garlic Cloves

minced
Instructions
Place vinegar, oil, salt and pepper in a 1 cup jar, cover with a lid and shake well for about 10 or 15 seconds. The dressing will look creamy. Set aside.

When chopping the vegetables, try to chop as fine as you can. This will make a tastier salsa. Remove the seeds and membranes from the chiles to reduce the spicy heat. Make those chiles finely chopped so the heat is spread out well in the salsa. You don't want to get a big chunk of hot. You want it to be spread out. Stir all vegetables.

Add dressing and mix well. Set aside for at least 30 minutes for the flavors to mingle. Makes about 16 2-tablespoon servings.
Notes
Use this salsa anywhere you would typically use salsa. Perfect with grilled beef and chicken, great with Mexican food in place of pico de gallo. Add it to your taco or fajita. Eat it with chips. It's delicious. Use it everywhere!
Nutrition
______________________
Percent Daily Values are based on a 2000 calorie diet. All amounts are estimates and 24Bite™ takes no responsibility for actual figures since calculations vary by packaging and supplier. Please calculate the amounts yourself based on package labeling if you have specific dietary requirements. 24Bite™, Kim Guzman or Christian Guzman shall not be liable for adverse reactions or any other outcome resulting from the use of recipes or recommendations on this website or actions you take as a result.
© 2019-2020 Kim Guzman. All rights reserved.
Follow 24Bite: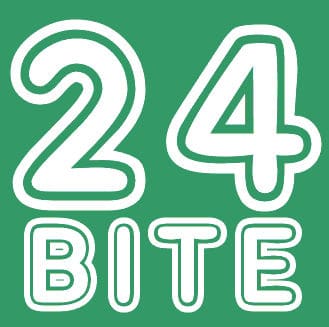 Twitter | Facebook | Instagram | Pinterest
Pin It: