This green tomatoes recipe is the perfect use for the end of the growing season. Before the first frost, you can pick all those tomato stragglers for a delicious hot dog relish recipe.
Don't stop with hot dogs, though. It's also terrific on hamburgers, steak and baked beans. You may find you want it on everything!
Recipe | Ingredients | What is Pickling Spice? | A Food Processor Tip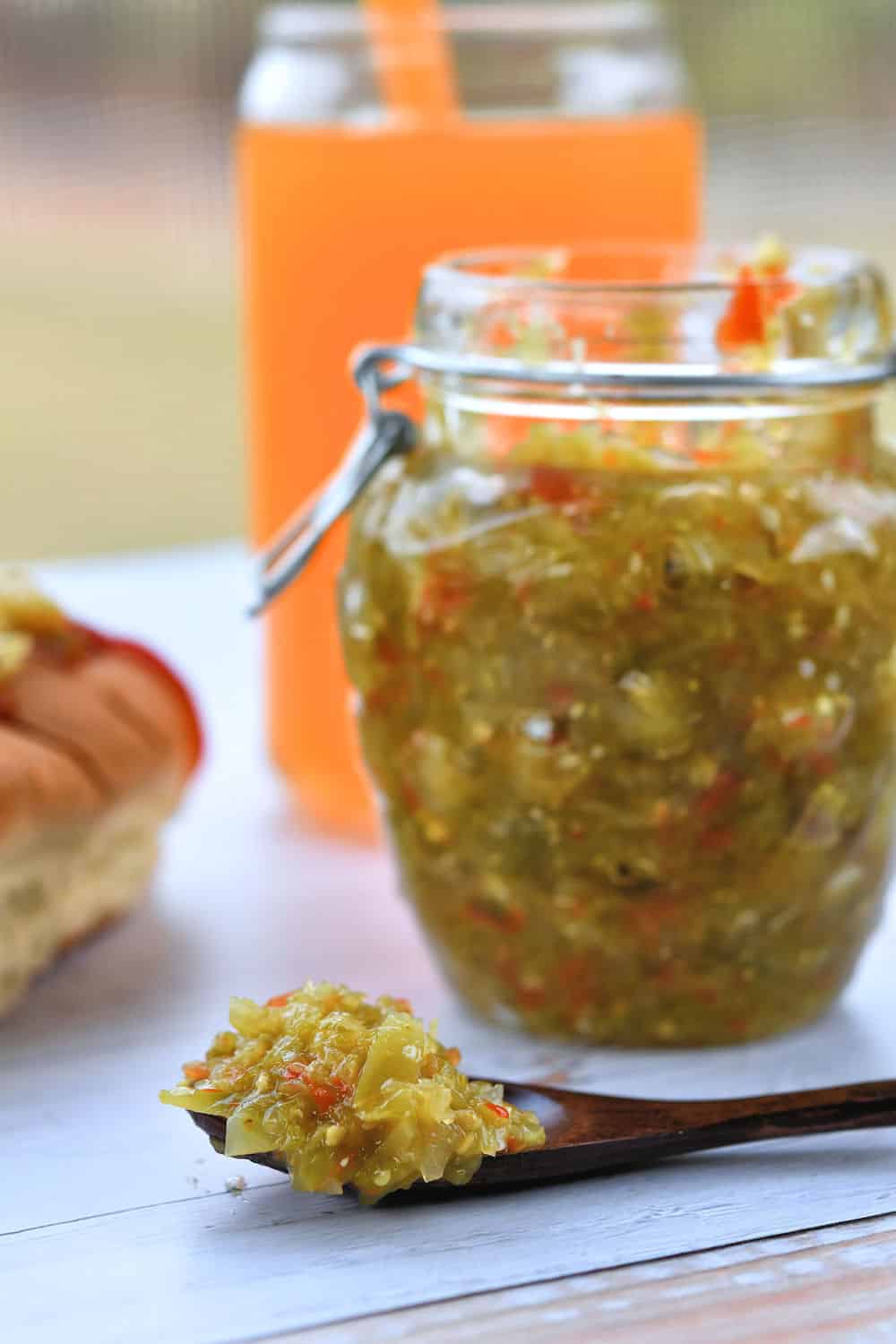 What to do with green tomatoes besides frying?
Make this delicious green tomato relish recipe, of course! It's quick and easy. You'll use it for everything from hot dogs to hamburgers and even baked beans.
You can add it to tacos or serve it alongside your meal like you would pico de gallo.
What's the difference between pickle relish and sweet relish?
This recipe is made with vinegar and pickling spices, including dill. It's a tangy, spicy blend.
Sweet relish, on the other hand usually has some brown sugar, white sugar or other sweetener. You will also find different spices like ginger or cloves instead of dill.
It's all a matter of choice. I prefer the dill version for hotdogs but I've also tried the sweet version with fried fish and it's delicious as well.
Ingredients
You will love this tangy and slightly spicy version of green tomato hot dog relish.
I've used only two pounds of green tomatoes so you don't need to make so much that you have hot dog relish running out of your ears.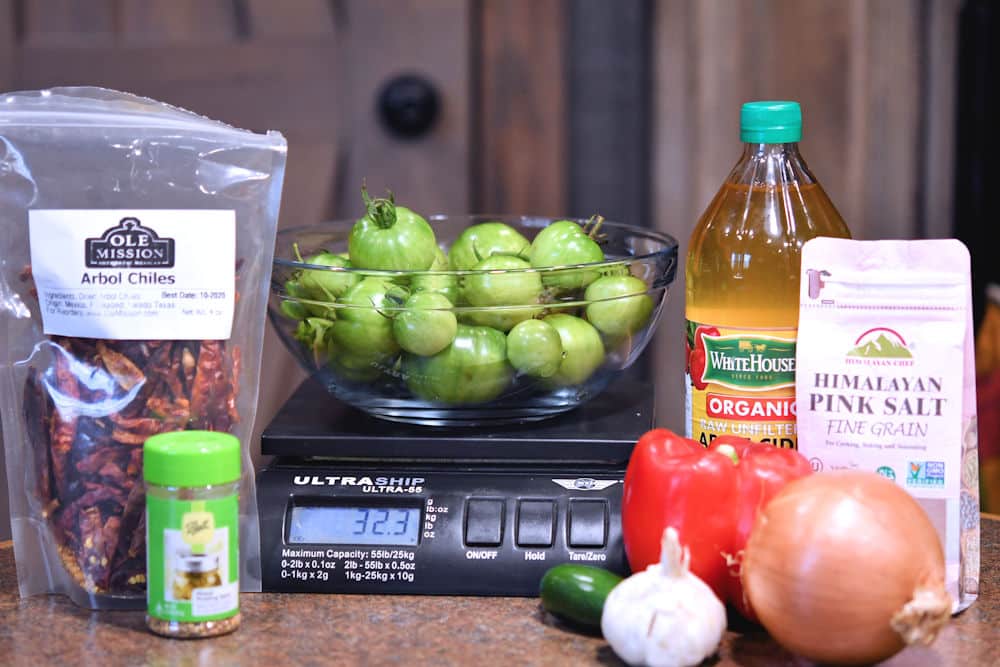 I like to spice things up so I've added some jalapeño pepper and I've added some of the little hot fire sticks: chile de arbol.
Check out my Scoville Heat Scale for details on the level of hotness.
If you want to experiment with more heat, always remember that you can add but you can't subtract. Start off small.
What is Pickling Spice?
For this recipe, I'm using little bits of pickling spices. You can see them here.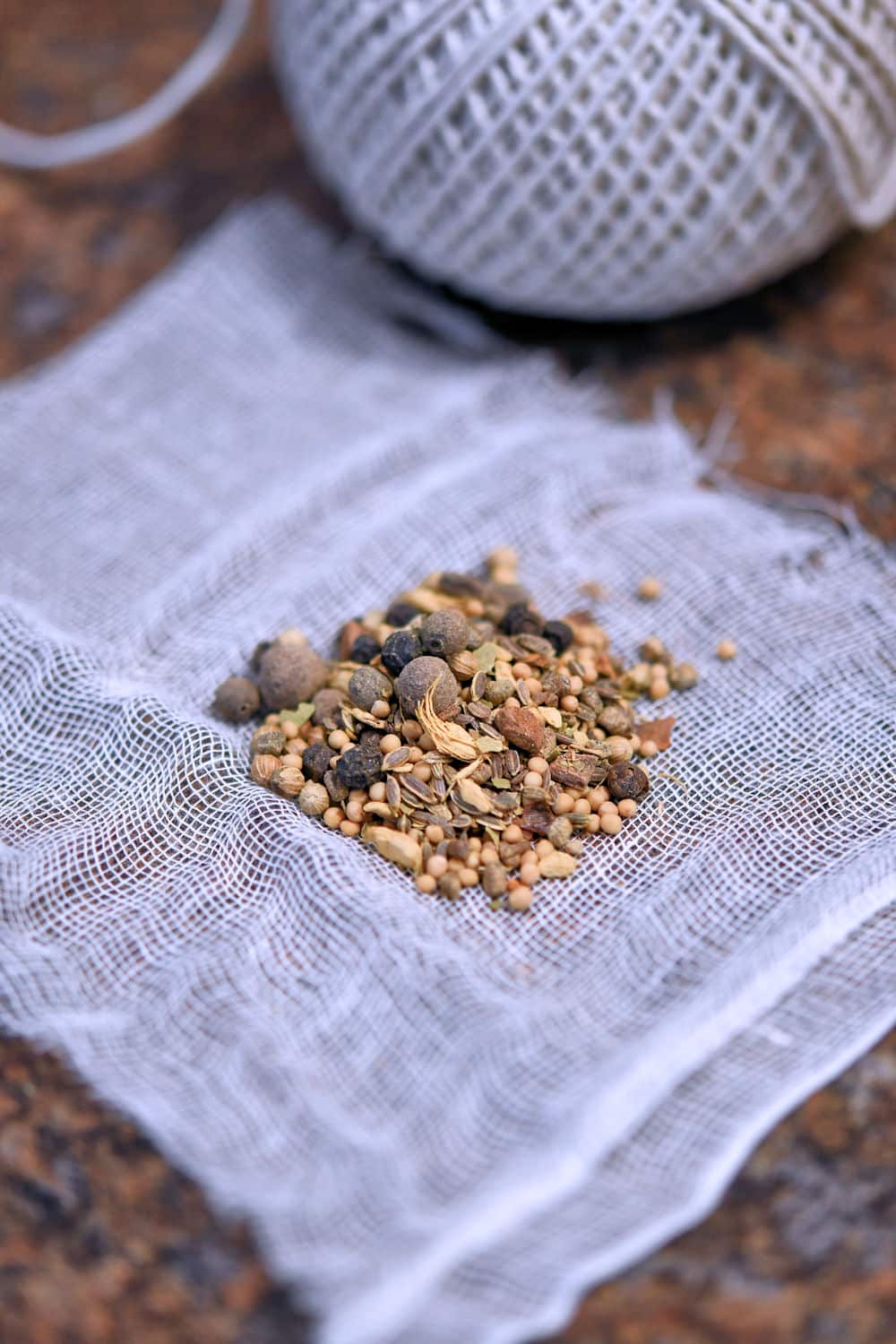 You can see things like black peppercorns, mustard, coriander and dill seeds. You can also sometimes find whole allspice and ginger.
I've used a pickling spice blend from our pantry, but you can make your own, if you like.
Try this Homemade Pickling Spice from Foodie Crush.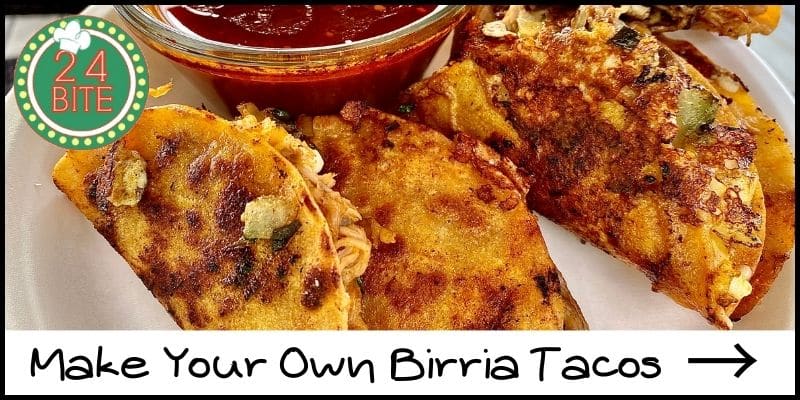 When you're using big crunchy bits like this, you don't want to have it directly in your food. You place it in a cheesecloth and tie it up then throw it in the saucepan while cooking.
Once you've finished cooking, you take it out and discard it. You get all the lovely flavor without breaking a tooth. Yeah!
Chopping the Vegetables
Use a food processor to chop up the raw vegetables. You don't want to liquify them. You just want them to be chopped nicely.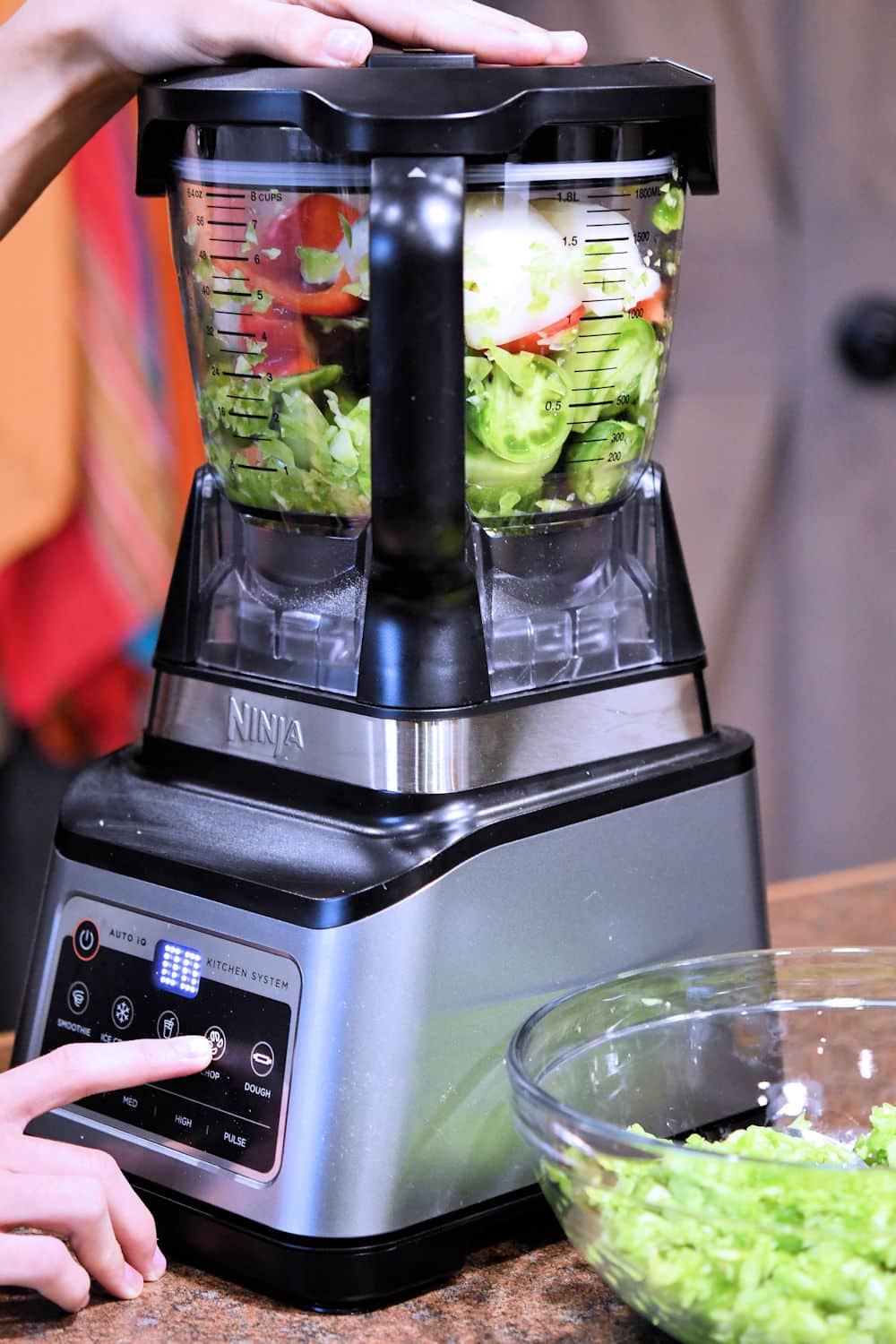 A Food Processing Tip
As you can see here, I placed all the vegetables in the food processor at the same time. This didn't work as well as I wanted. It wasn't a huge big deal but I had to take some bigger chunks out and chop them by hand.
I've since learned that it works a lot better if you process the vegetables separately.
You can process the tomatoes and put them in a bowl. Then, process the onions and put the in the same bowl. Then continue until everything is processed.
You will end up with less work in the end.
Have a look at this Ninja Professional Plus Kitchen System (aff link) at Amazon. It's the one we use and includes the blender, a food processor bowl and two to-go cups.
Removing the Excess Liquid
Here, you can see that I've used cheesecloth again. Squeeze out some of the liquid because tomatoes, even green ones, have a lot of juice.
This step isn't absolutely essential. It saves you time, though.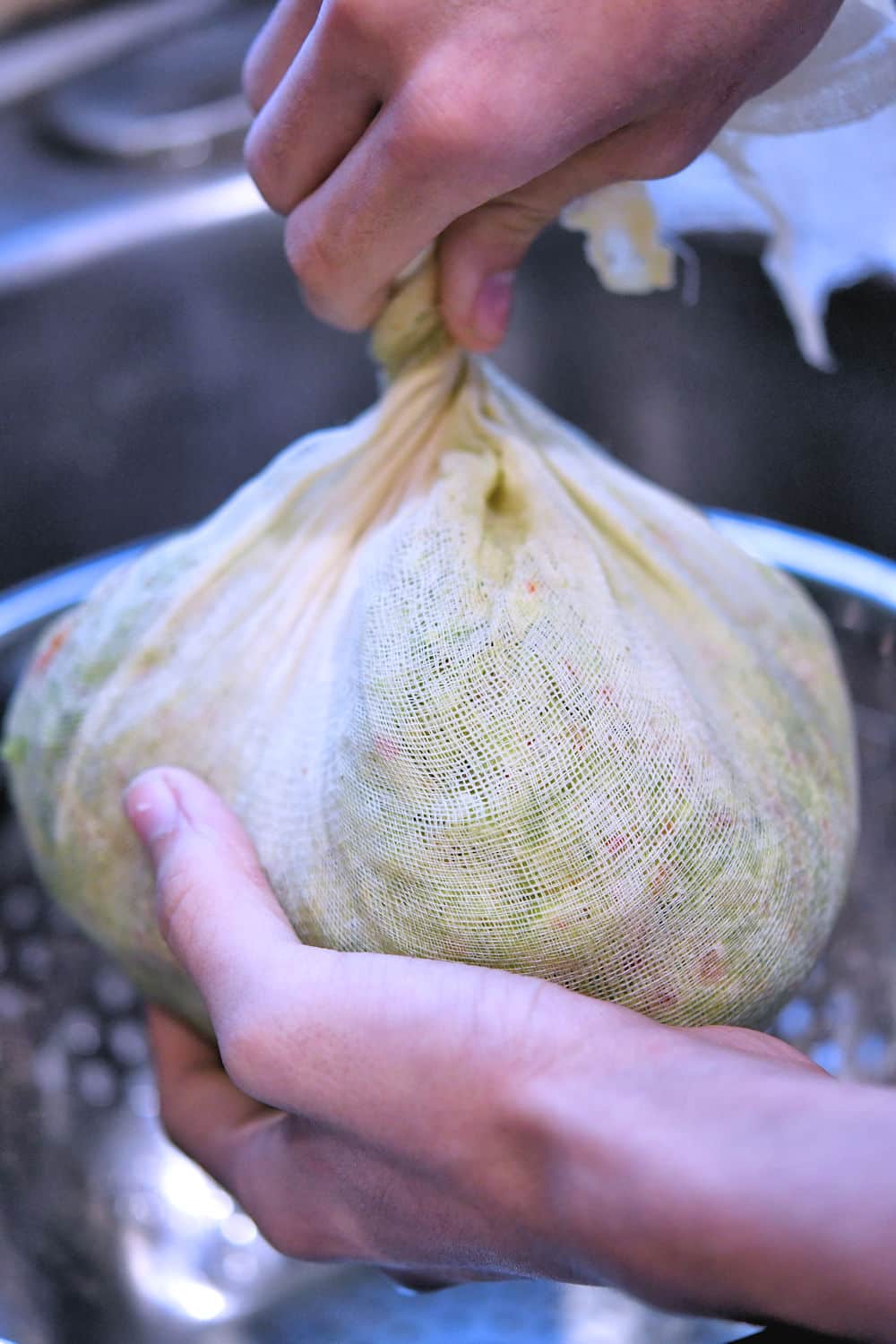 If you can get some of the liquid out of the tomatoes, you won't have to cook it for so long because you won't need to evaporate the liquid in the pan.
Alternatively, you could use a strainer but make sure it's one with a fine mesh or the vegetables will go down the drain too.
Food Storage
This recipe makes only a pint and your green tomato relish will last about 3-4 weeks in the refrigerator.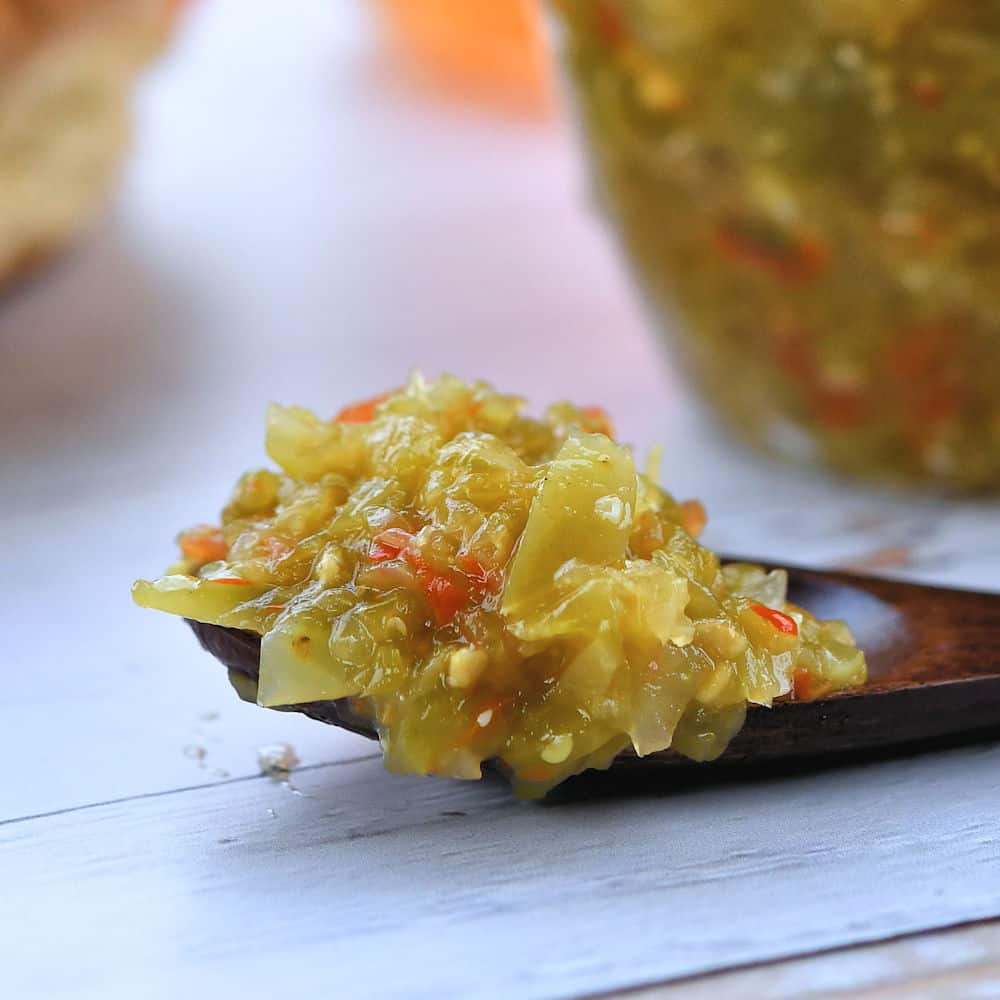 If you have a lot more green tomatoes, you can increase the number of pints you make and can them. It's very easy with the water bath canner.
You can also freeze the relish if a pint is too much. Don't be surprised if it doesn't stay in the freezer long because you may want to add a little zing to everything once you try it.
Recipe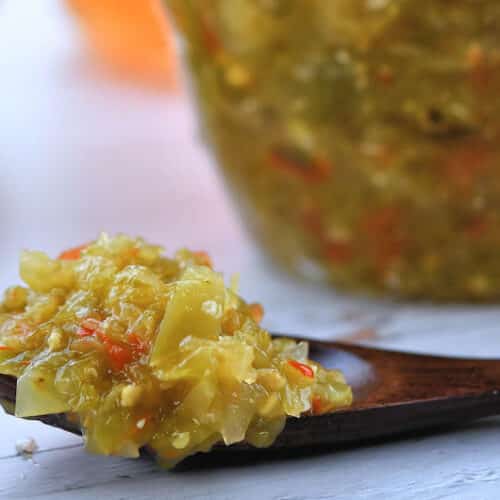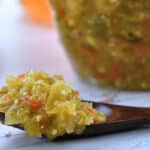 Pin Recipe Now
Green Tomatoes Hot Dog Relish Recipe
Tap to leave a star rating
Save or Print
This green tomatoes recipe is the perfect use for the end of the growing season. They will be great for a burger, beans or hot dog relish.

For more information, be sure to check the recipe details in the attached 24Bite® post.
Equipment
Food processor

Cheesecloth

Medium Saucepan
Ingredients
2

pounds

Green Tomatoes

,

fresh, raw

½

Onion

,

large

½

Red Bell Pepper

1

Jalapeno Pepper

5

Garlic Cloves

1

tablespoon

Pickling Spice

4

Chile de Arbol

,

whole, not chopped

¾

cup

Apple Cider Vinegar

1

tablespoon

Salt
Instructions
With food processor, process green tomatoes, onion, red bell pepper, jalapeno peppers and garlic cloves. You want to have small pieces, but you don't want to liquify.

Place processed vegetables in cheesecloth and squeeze excess liquid out but you don't need to go completely crazy with this. A little bit of liquid remaining will be okay.

Pickling Spice Bag: Prepare a small square of cheesecloth and place pickling spices in the center. Tie the top with a small strip of cheesecloth or baker's twine.

Place vegetables into medium saucepan with pickling spice bag, chile de arbol, vinegar and salt. Place pan on stovetop on medium heat until just boiling then allow to simmer uncovered for 30 minutes.

Stir occasionally. If it looks like the vegetables are starting to stick to the bottom, add about ¼ to ½ cup water and continue simmering.

Remove from heat and allow to cool completely before placing in refrigerator. Remove spice bag before storing. You can also remove the whole chiles, if you like.

Serve as a condiment with hot dogs or hamburgers. Serve as a side relish for meats and baked beans.
Note: If there is a video, it will not display while there is an adblocker.
Notes
I removed the chile de arbol before storing. I felt like the relish was spicy enough for me at that point. I believe that, if you store the relish in the refrigerator with the chiles, it may intensify the heat.
Makes one pint, or 32 tablespoons. It's such a small amount that you don't need to can it unless you really want to have very small portions as shelf stable.
In the refrigerator, your relish should last about 3-4 weeks. Frozen, it should last up to 3 months.
If you want to can this relish, process in a water bath canner for 15 minutes for pints and 25 minutes for quarts. Remember to use canning salt instead of table salt.
Nutrition Facts
Green Tomatoes Hot Dog Relish Recipe
Amount Per Serving
Calories 10
Calories from Fat 9
% Daily Value*
Fat 1g2%
Sodium 222mg10%
Carbohydrates 2g1%
Protein 1g2%
* Percent Daily Values are based on a 2000 calorie diet.
______________________
Percent Daily Values are based on a 2000 calorie diet. All amounts are estimates and 24Bite® takes no responsibility for actual figures since calculations vary by packaging and supplier. Please calculate the amounts yourself based on package labeling if you have specific dietary requirements. 24Bite®, Kim Guzman or Christian Guzman shall not be liable for adverse reactions or any other outcome resulting from the use of recipes or recommendations on this website or actions you take as a result.
© 2019-2023 Kim Guzman and Christian Guzman. All rights reserved. Subscribe to 24Bite email newsletters.
Follow 24Bite: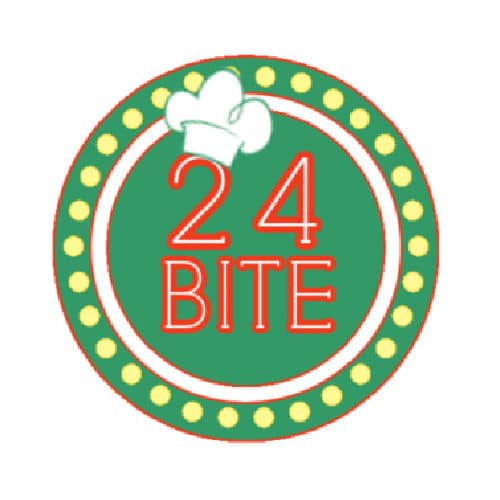 Twitter | Facebook | Pinterest