Learn to make your own homemade fruit jam without pectin, without canning and in only 30 minutes. Only three ingredients will get you a jar of jam perfect for biscuits, fillings and sandwiches.
It's easy to make your own homemade fruit jam without pectin. Once you understand the science, you can make homemade strawberry jam, peach jam, blackberry jam or any combination.
Recipe | Pick Your Fruit | What Is Pectin?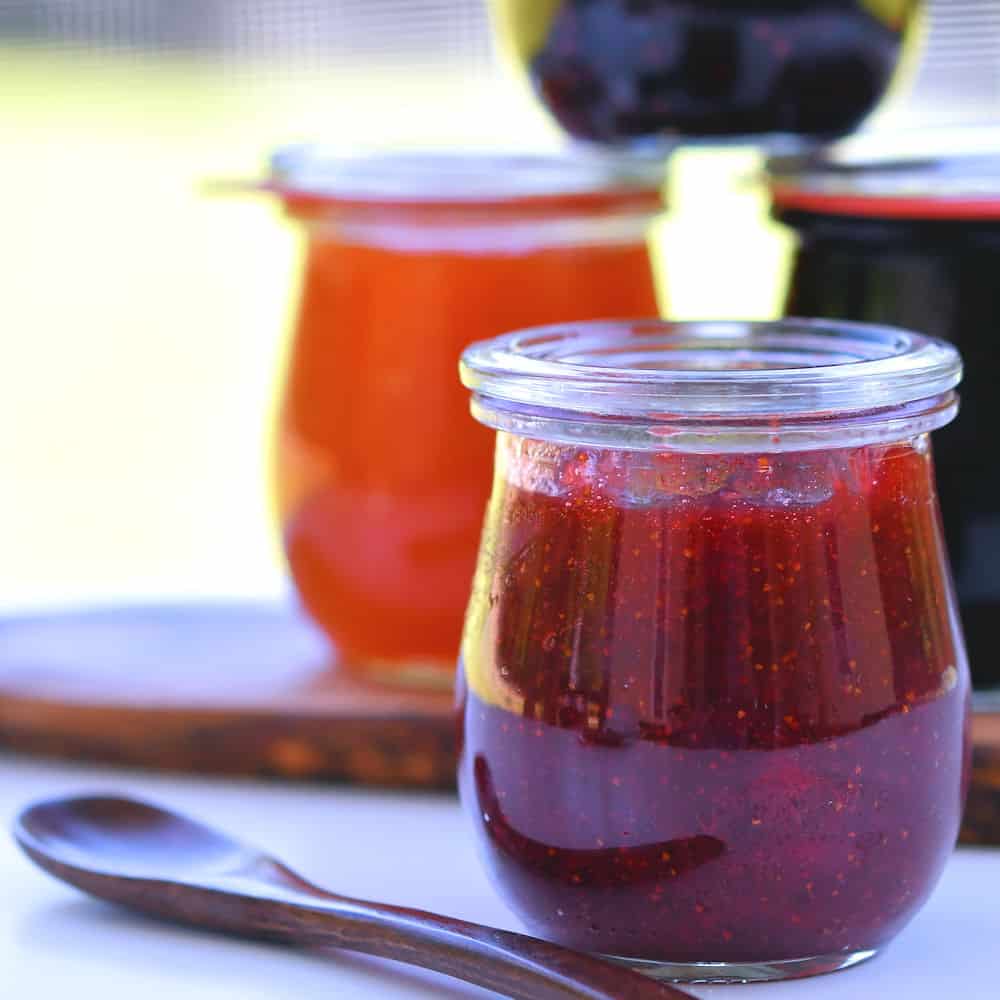 Only Three Ingredients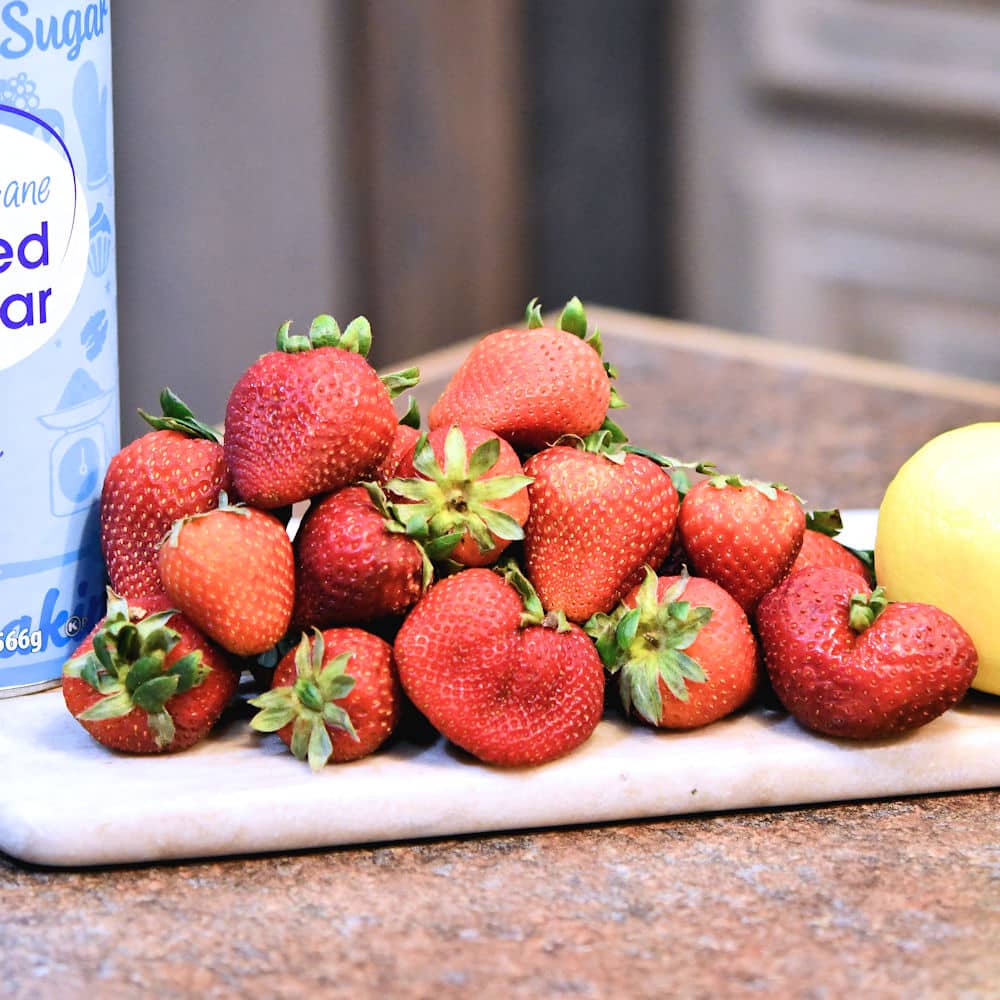 This recipe makes only one jar of fruit jam and is made with only three ingredients.
It can't get any easier. You don't need any additional pectin to make fruit jam when you follow the science.
Supplies
You don't need many supplies to make homemade jam. Most of these things will be found in your pantry already.
3-Quart Sauce Pan
When you're making jam, it's best to use a nonreactive, stainless steel pan. Since this recipe is for only one jar of jam, you can use a 3-quart sauce pan. A 1-quart sauce pan won't give you enough room to move and anything larger than 3-quart will spread the liquid too thinly across the bottom.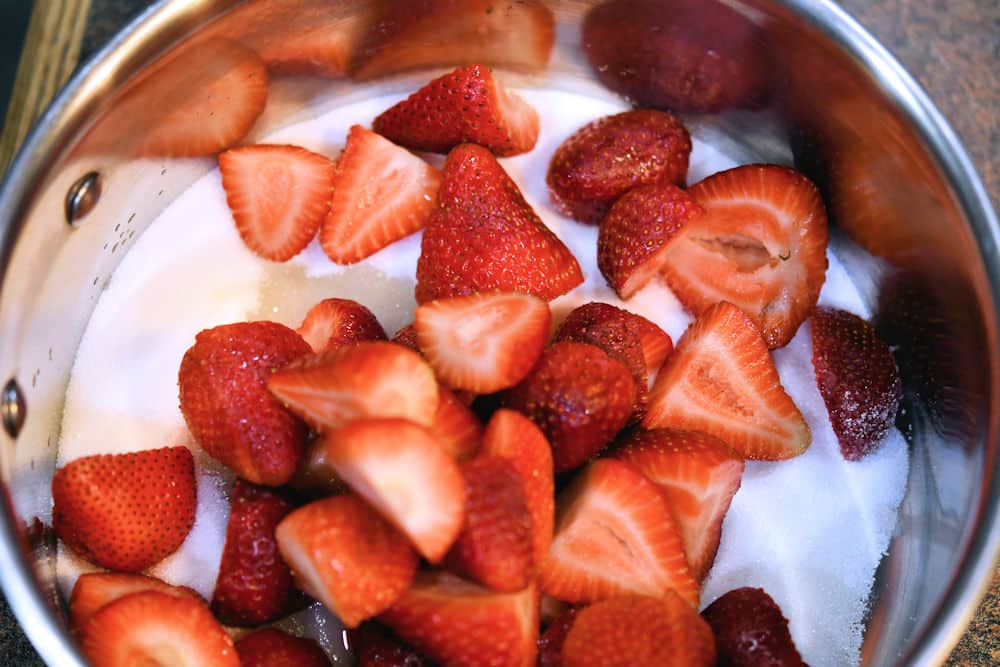 Immersion Blender
An immersion blender is very handy to have for this recipe. It's not absolultely crucial but definitely makes things easier. If you don't want to use an immersion blender, chop the fruit to your desired consistency before adding to the sauce pan.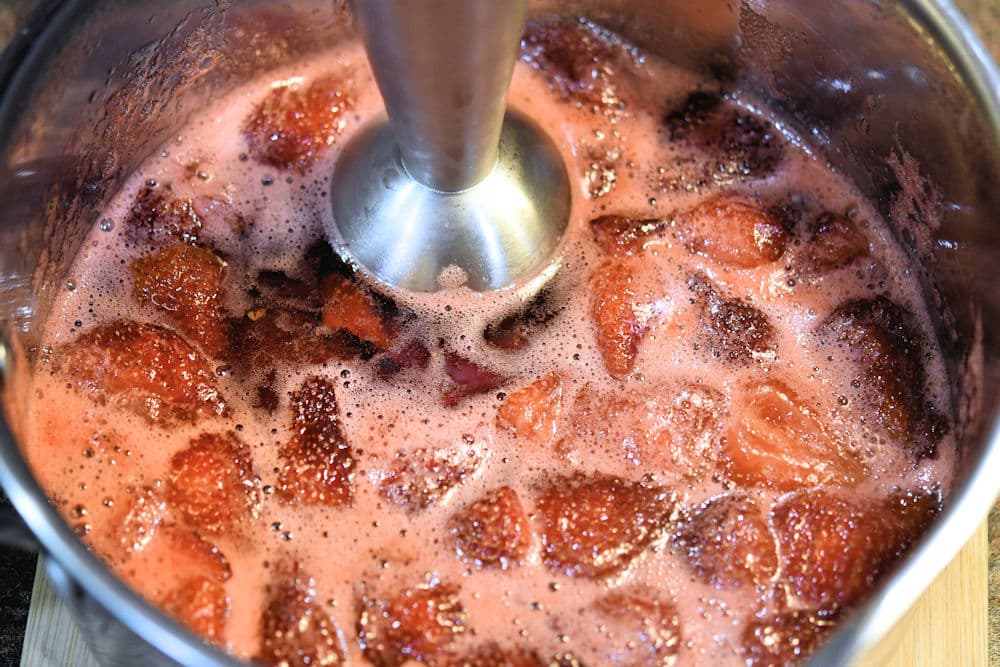 Digital Thermometer
You'll need a thermometer that reads at least up to 220°F/104°C. Be sure to check. Many meat thermometers won't go over 200°F.
It's best to use the "stick" thermometer instead of the typical glass candy thermometer because the glass one needs about two inches of liquid for an accurate measurement.
Glass Container
You'll also need some sort of container. This recipe only makes one cup of jam so it doesn't need to be a big container, of course. I like to use glass. You don't need a fancy canning jar. You can even use a jelly jar that you've saved from store bought jelly. You're not canning it. You're just putting it in the refrigerator.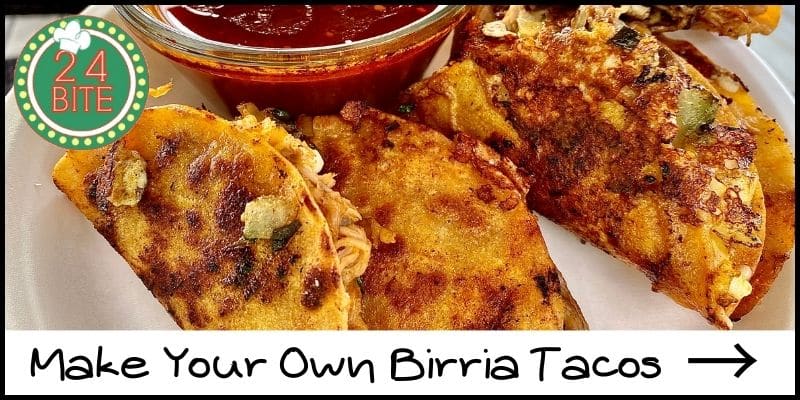 What Fruit to Use for Jam
If you test this recipe with different fruit, please post about it in comments below. I look forward to hearing all about your experiments as well!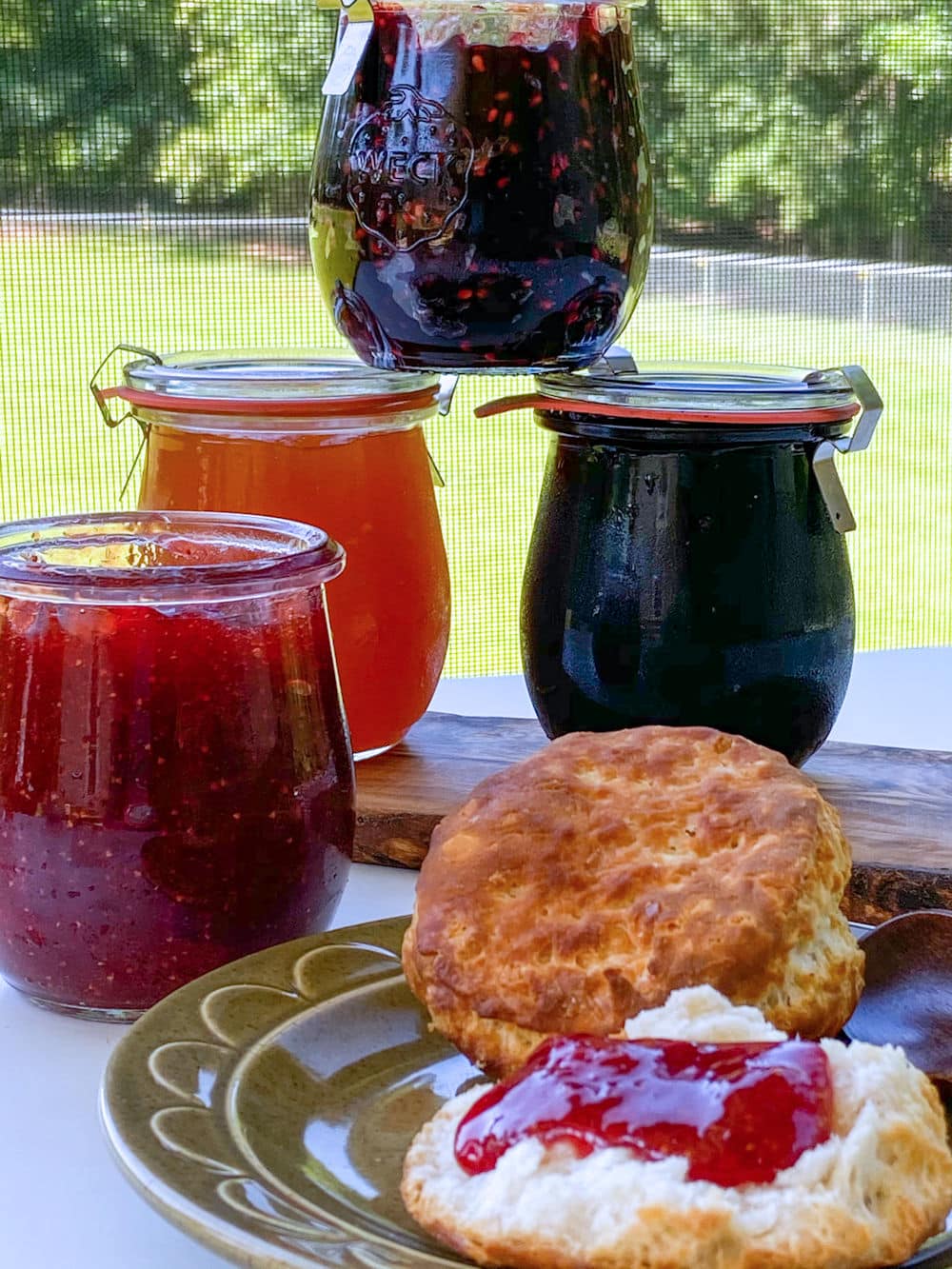 For this recipe, I've tried four different kinds of fruit. I used fresh strawberries, which you can see in the open jar and on the biscuit. The orange one is peach jam, made from fresh peaches from the farmers market. The top jar is made from blackberries.
Can I Use Frozen Fruit?
The blueberry jam on the right, which is DELICIOUS by the way, was made from a one pound bag of unsweetened, frozen blueberries. I was curious whether I could use frozen fruit as well. The frozen fruit reacted exactly the same as the fresh fruit except it took about 10 or 15 minutes longer since there was more water from the ice.
What Other Fruit Can I Use for Jam?
Since this recipe is based on science, I'm going to say that it will work with just about any fruit. I feel confident that it will work with raspberries, loganberries, cherries, currants and pretty much whatever you want to try. Mango? I'm willing to give it a go! If I had some guava, I would be trying that too.
What's the Science?
The science of making homemade jam and jelly is that you need to boil it to exactly 220°F/104°C. Once you reach that temperature, you have jam! Pretty cool, huh? No, really. That's all it takes!!
Boiling point changes and adjustments will need to be made when you're above sea level.
Can I use a Sugar Substitute?
I haven't had a chance to try this recipe with a sugar substitute, although I noticed that we have a bag of Splenda in the pantry to try. A Pinterest follower tried using Splenda for her jelly and she posted a photo to show that it works!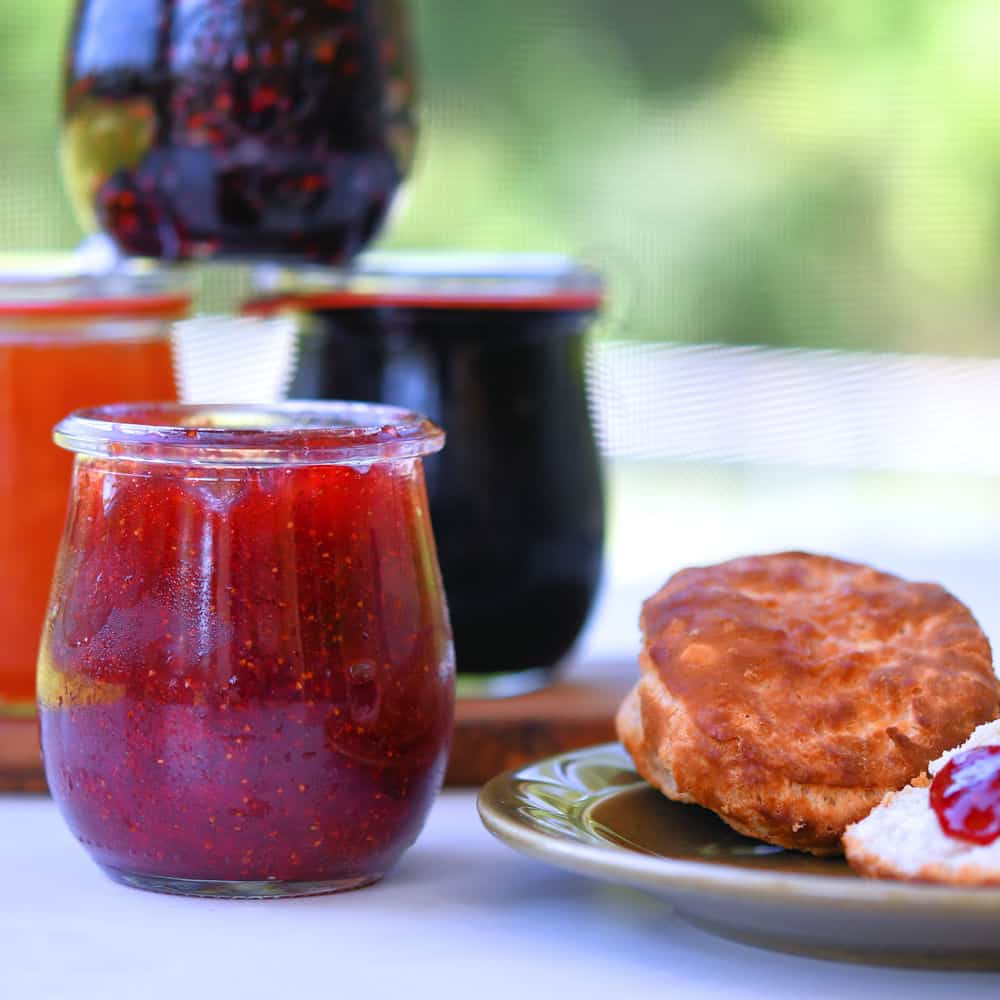 Just be aware that sugar is a natural preservative. The jelly as written will last six months to a year in the refrigerator. If you don't use sugar, it won't have that natural preservative and it could have a much shorter refrigerator life. The lemon juice could give it a little perservation but keep an eye on it.
Perhaps, if you don't plan on using it right away, you could place plastic wrap in an ice cube tray then freeze small portions of the jelly. Thaw only the jelly you will be able to eat before it goes bad.
Frequently Asked Questions
What is a nonreactive pan?
A stainless steel pan is perfect. Reactive pans like iron, copper or aluminum can leave a metallic taste to jam and jelly.
How much juice is in one lemon?
One large lemon will usually yield about 4-5 tablespoons of fresh squeezed lemon juice.
What is pectin?
Pectin is a natural starch found in some fruits and vegetables. Some fruits, like apples, plums and oranges, have a large amount of pectin. Other fruits, like strawberries, grapes and cherries, have small amounts of pectin. When you describe a jelly or jam that is made without pectin, it means without "added" pectin. It doesn't mean that there's no pectin at all. The fruit itself will have some pectin already.
How long will the jelly last in the refrigerator?
If refrigerated in an airtight container, it should last six months to a year because it's almost straight sugar and sugar is a natural preservative.
More Jelly
I have another jelly recipe that's made the same as this recipe except that it has more ingredients. Try the Papaya Jelly for another option.
Recipe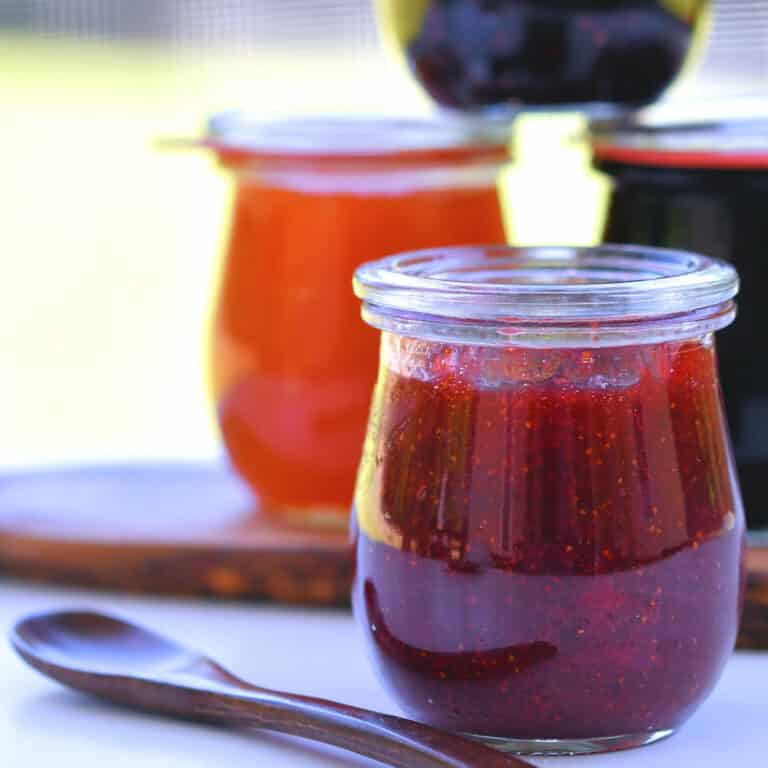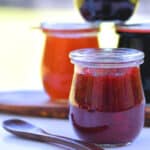 Pin Recipe Now
30 Minute One Jar Homemade Fruit Jam Without Pectin
Tap to leave a star rating
Save or Print
Learn to make your own homemade fruit jam without pectin, without canning and in only 30 minutes. Only three ingredients will get you a jar of jam perfect for biscuits, fillings and sandwiches.

For more information, be sure to check the recipe details in the attached 24Bite® post.
Equipment
3-Quart Stainless Steel Sauce Pan

Immersion Blender (optional)

Digital Thermometer
Ingredients
1

pound

Strawberries

,

cleaned, trimmed, cut in half

1

cup

Sugar

1

tablespoon

Lemon Juice

,

bottled or freshly squeezed
Instructions
Clean, trim and cut strawberries in half. If using, peaches, cut into chunks. Weigh the peaches after trimming. You need one pound of actual peaches. This could be up to two pounds of uncut peaches. For blackberries, clean only, no need to chop unless you're not using an immersion blender and you want to chop or mash them before cooking. For frozen fruit (blueberries used here), weigh out the frozen berries. No need to thaw. If you are using fruit with a center seed, remember that you will need one pound of actual fruit, the weight of the fruit alone, after the seed is removed.

Add your chosen fruit, sugar and lemon juice to 3-quart saucepan. Stir to mix well. Cook on medium heat, stirring occasionally, for 10 minutes.

Remove from heat and use immersion blender to crush to desired fruit consistency. Return to medium heat and stir often until mixture reaches 220℉., about 15 minutes.

Remove from heat and allow to cool completely before pouring in your glass container or jar. Store in the refrigerator for up to three months.
Note: If there is a video, it will not display while there is an adblocker.
Notes
Nutrtional information provided for strawberry jam only. The other fruits will vary slightly.
This recipe requires no commercial added pectin and is not canned. Store in the refrigerator for up to three months.
There are only three ingredients and I've tested this on four different fruits. You will probably have success with a wide range of fruits such as raspberries, currants, mango and more. I will update as I test more.
One pound of unsweetened frozen fruit can be used but it may take an additional 10 minutes or so of cook time.
Nutrition Facts
30 Minute One Jar Homemade Fruit Jam Without Pectin
Amount Per Serving
Calories 58
Calories from Fat 9
% Daily Value*
Fat 1g2%
Sodium 1mg0%
Carbohydrates 15g5%
Protein 1g2%
* Percent Daily Values are based on a 2000 calorie diet.
______________________
Percent Daily Values are based on a 2000 calorie diet. All amounts are estimates and 24Bite® takes no responsibility for actual figures since calculations vary by packaging and supplier. Please calculate the amounts yourself based on package labeling if you have specific dietary requirements. 24Bite®, Kim Guzman or Christian Guzman shall not be liable for adverse reactions or any other outcome resulting from the use of recipes or recommendations on this website or actions you take as a result.
© 2019-2023 Kim Guzman and Christian Guzman. All rights reserved. Subscribe to 24Bite email newsletters.
Follow 24Bite: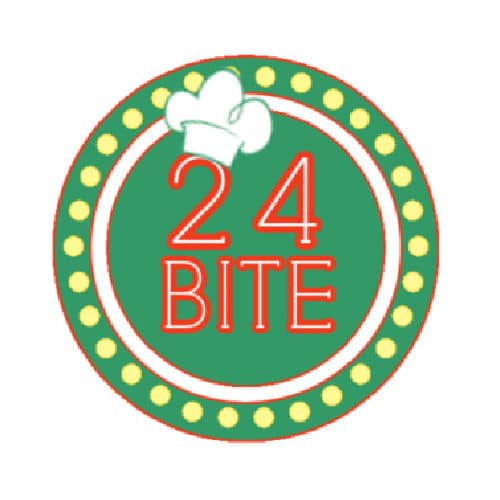 Twitter | Facebook | Pinterest