Pork chile colorado, also known as chili colorado or pork asado, is a perfect hearty Mexican comfort food, well known for its brilliant red chile flavored sauce.
Pork chile colorado can be eaten in a bowl, like a stew or chili. It's also delicious in tacos, burritos and I look forward to using it for tamales.
The name chile colorado simply means red pepper. You can use either pork or beef roast. I've chosen pork roast because pork roast is less expensive than beef roast and it's what we have right now.
I look forward to trying it with beef another time.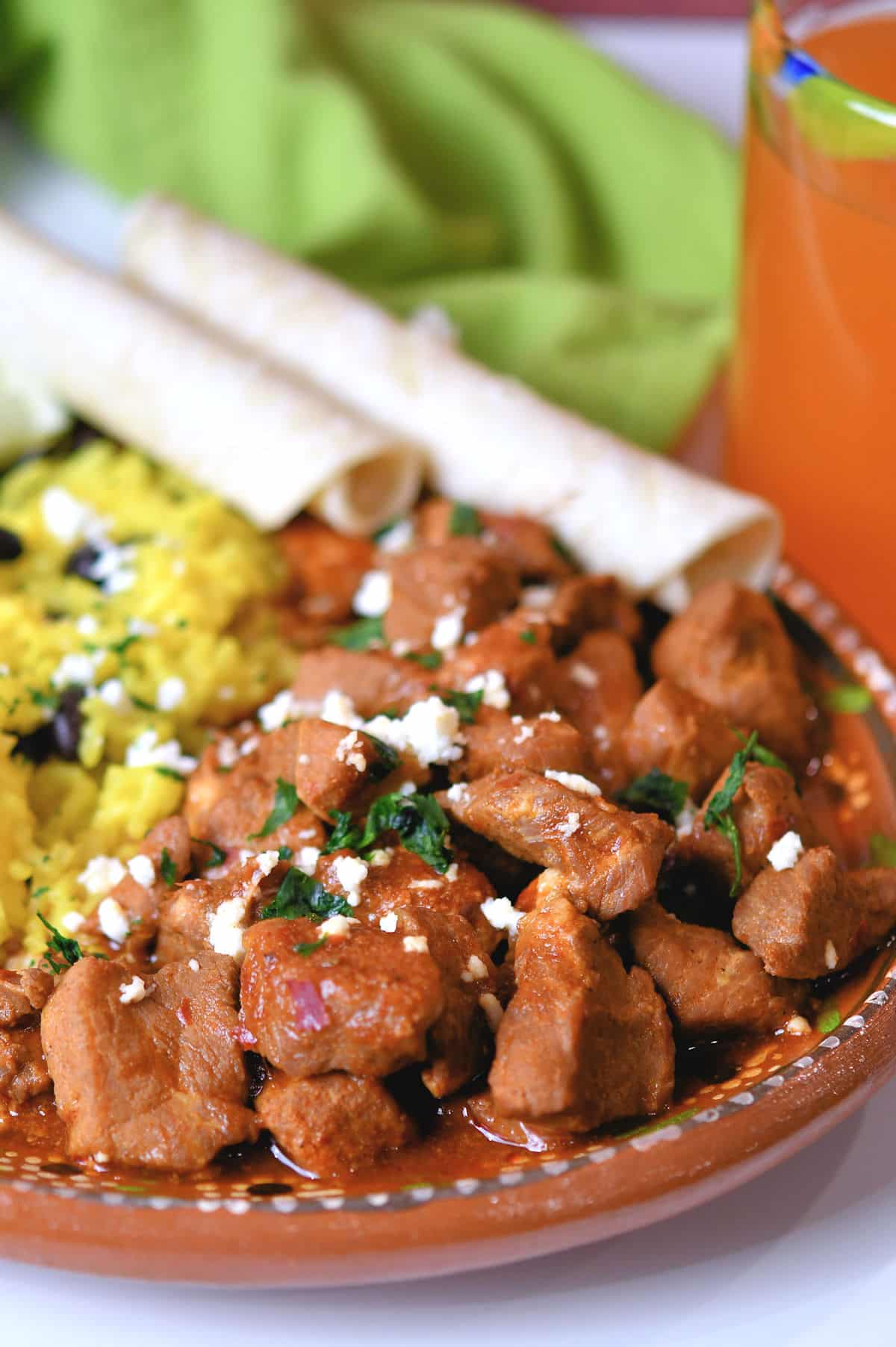 Ingredients
For this dish, you will need all the typical spices which I use all the time: salt, cumin, oregano, garlic powder and onion powder.
The only thing I've added, that I don't usual add, is achiote powder.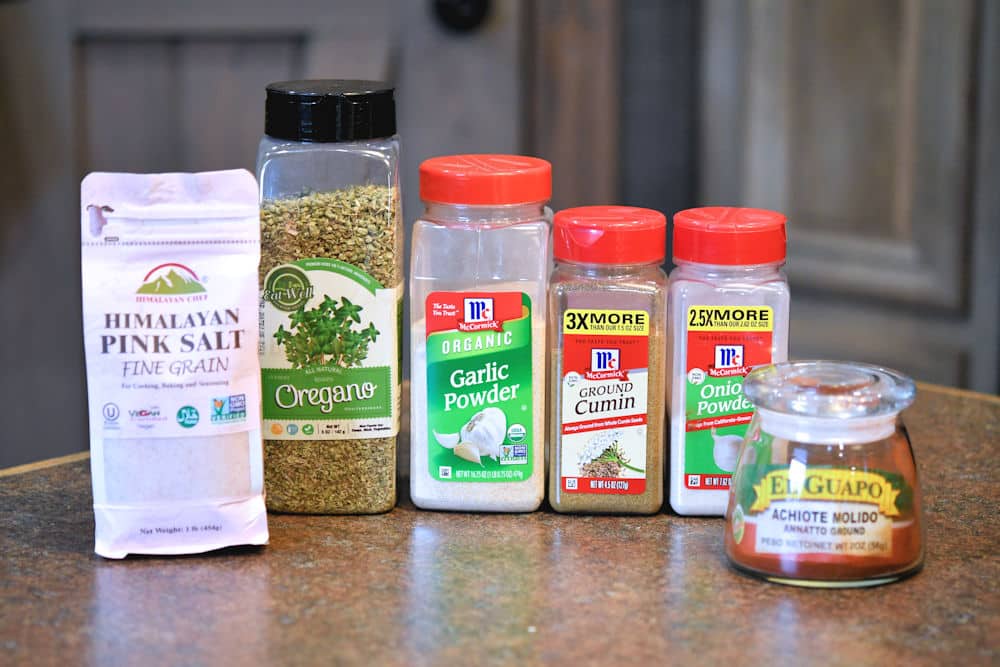 What is achiote?
Achiote is a strong seasoning, made from annatto seed. It is a deep reddish brown and, when used sparingly, can be used primarily for coloring.
It has a little bit of a smoky flavoring which reminds me of smoked paprika. I've used it in replace of paprika when I make my own chorizo with this recipe.
Using the achiote is completely optional for this dish since I've used it primarily for coloring. Since it's very strong, use care not to use too much unless you are familiar with the taste.
Read more about achiote at Spruce Eats.
Dried Mexican chiles
Once you get the spices out of the way, there aren't many ingredients.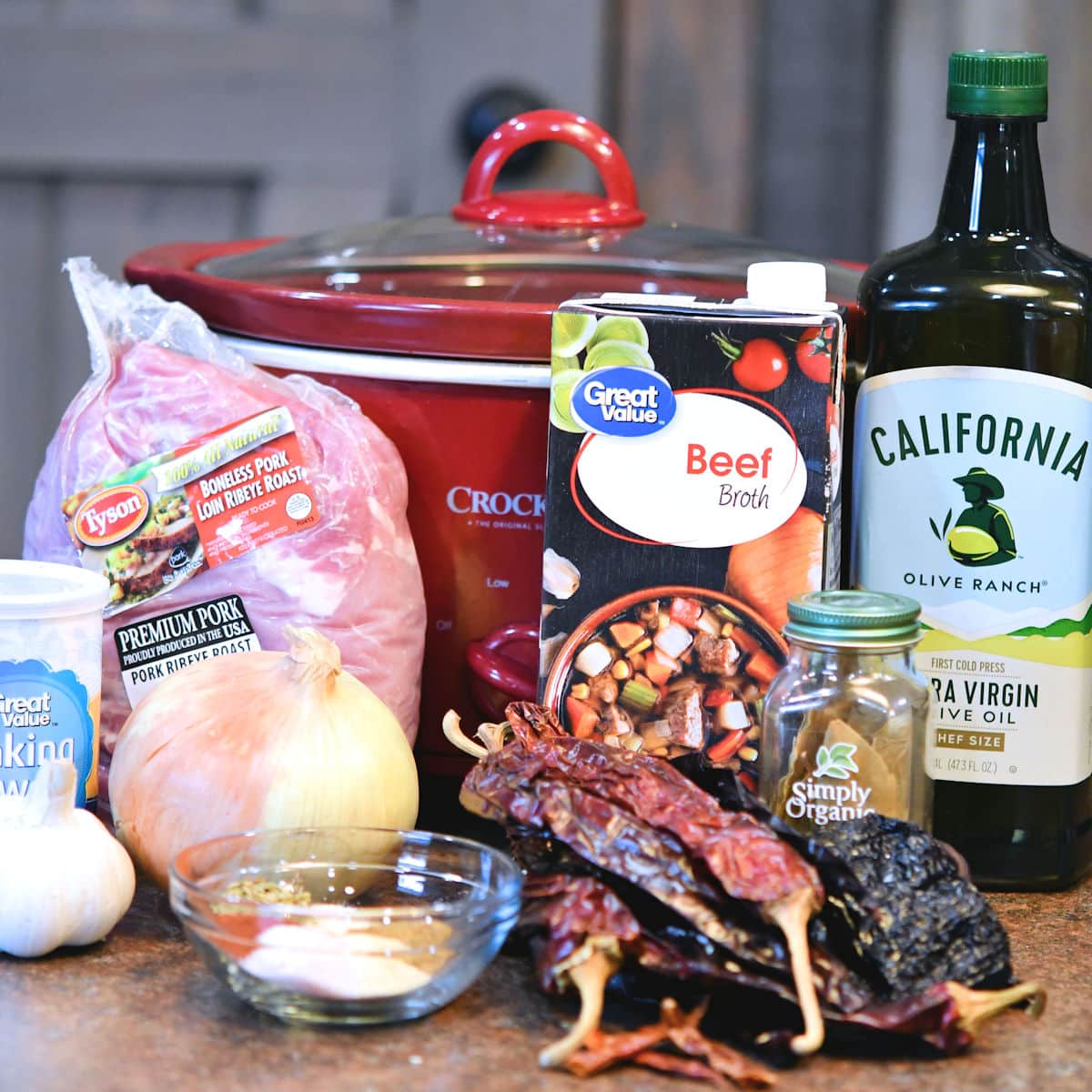 California Chiles vs. New Mexico Chiles
My favorite dried Mexican chiles are California chiles. These are the dried versions of Anaheim peppers that were grown in California.
You can also find New Mexico chiles. These are the same chile but grown in New Mexico. It seems a mystery, but the ones from New Mexico are a little more spicy than the ones grown in California.
The only explanation is the differences in weather and soil. You can use either chile.
Ancho Chiles
I've used an ancho chile which is the dried version of a poblano. Poblano chiles aren't spicy. Maybe a step up over a bell pepper.
Chiles de Arbol
I've also used a few chile de arbol. Chile de arbol are quite spicy. Two or three certainly won't affect the heat too much. The heat will be there and you can feel it but it's not over the top.
If you prefer more heat, you have some options. Using Guajillo chiles will give you the same necessary red color but it will increase the heat.
Adding more chiles de arbol will increase the spice but be careful with this one. It's definitely fairly spicy.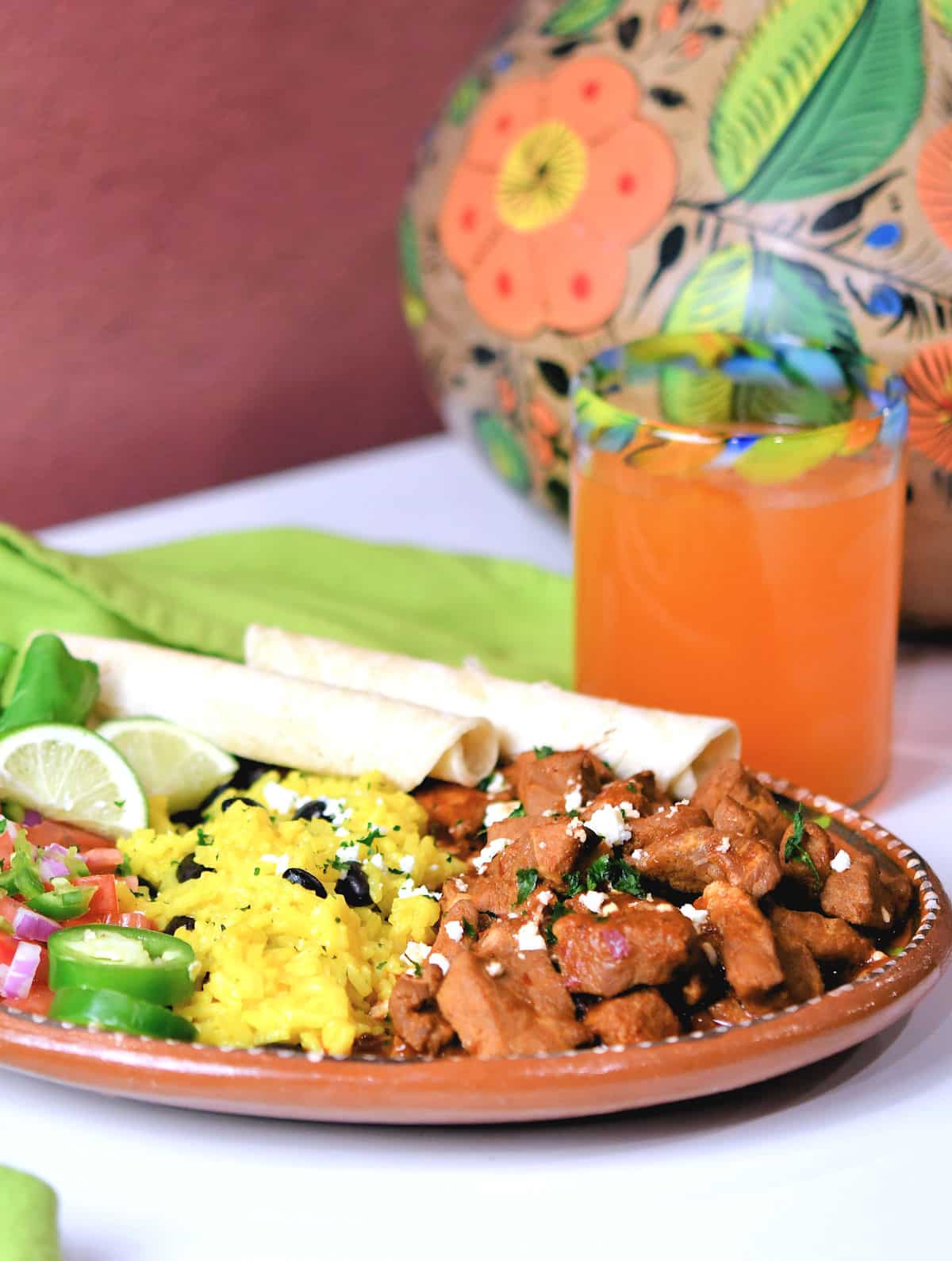 Pequin Chiles
Instead of chile de arbol, you may also think about using pequin chiles. I'm a lightweight when it comes to spicy chiles but, if you're familiar with them, you can very easily spice this up to your desired level of heat.
To learn more about how much spicy heat is in each chile pepper, view the Scoville Heat Scale which lists several different peppers used here.
What is pork asado?
This dish can also be called pork asado in some parts of Texas and Mexico. Don't be confused between carne asada and carne asado, though. Asada is the grilled, tenderized skirt steak. Asado is this chile colorado, stewed meat in a red chile sauce.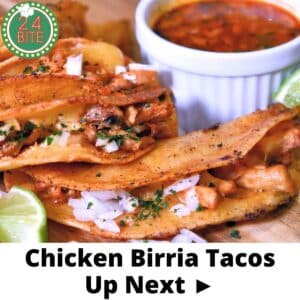 Reconstituting the Chiles
When you are using dried Mexican chiles, you will usually want to reconstitute them.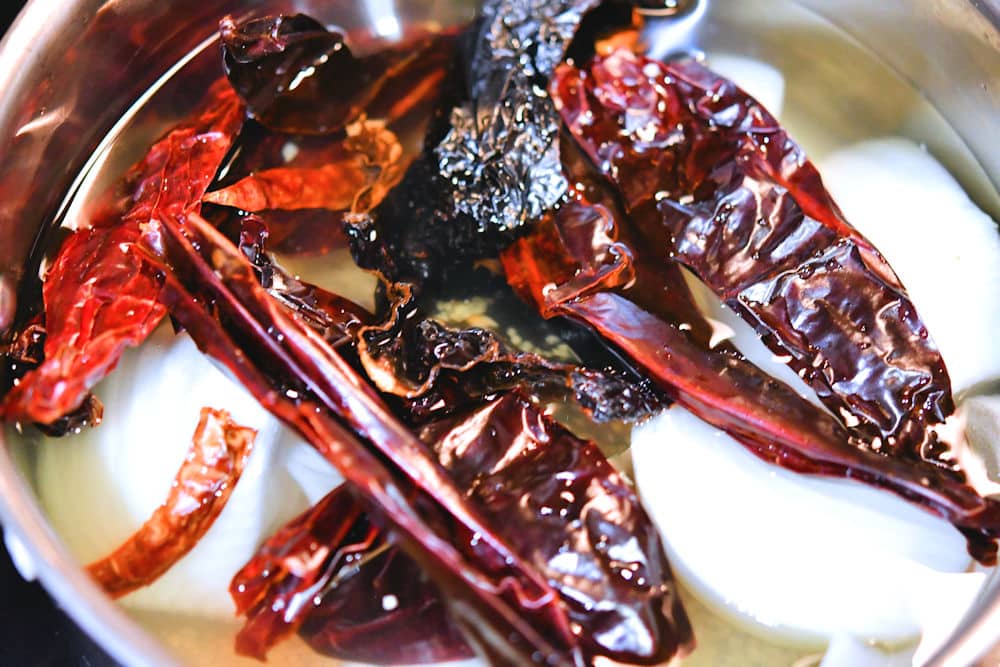 Once you've removed the stems and seeds, cover them with water and cook everything on the stove top for about 15 minutes.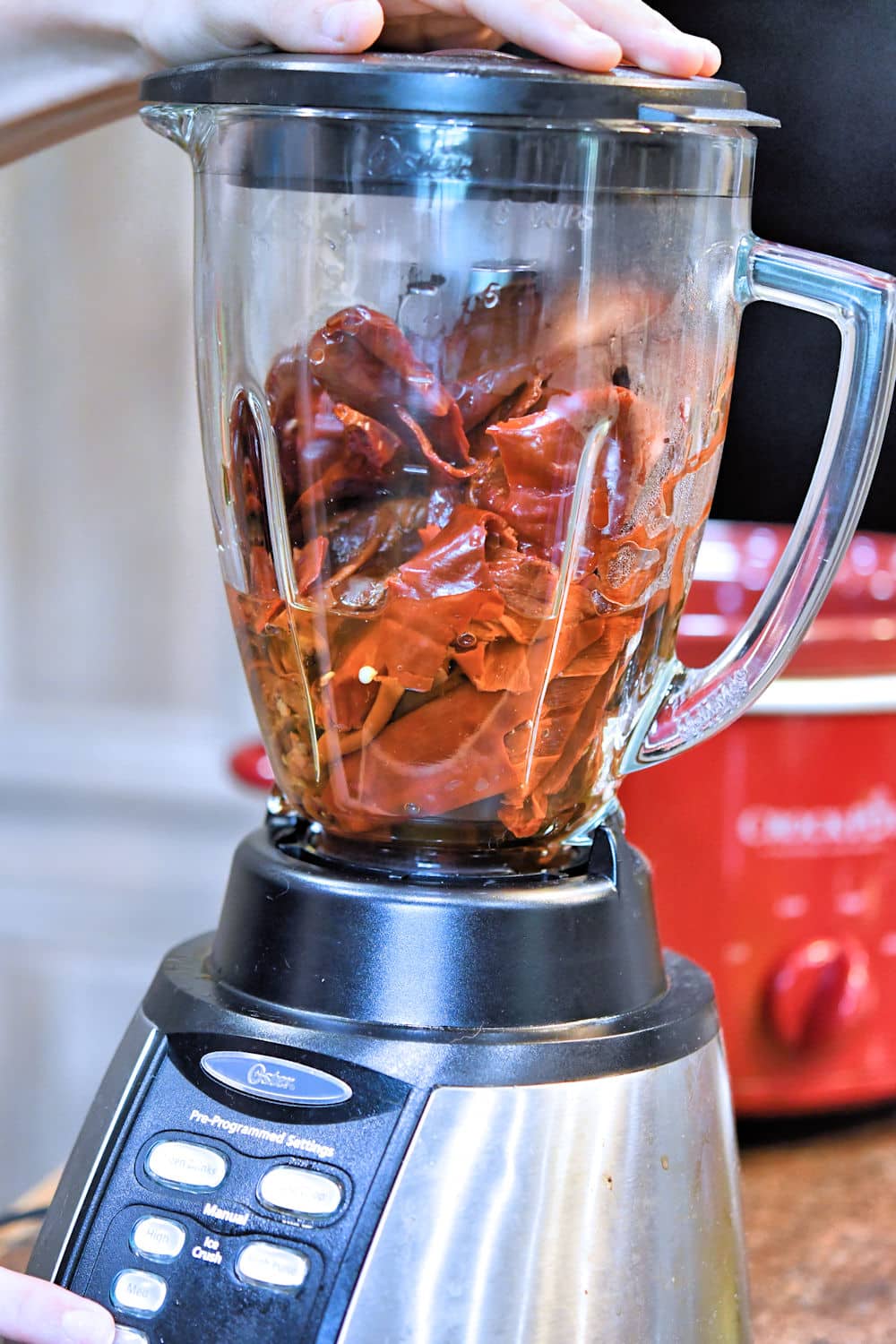 This will make the chiles, onion and garlic soft enough to run through a blender to make the sauce.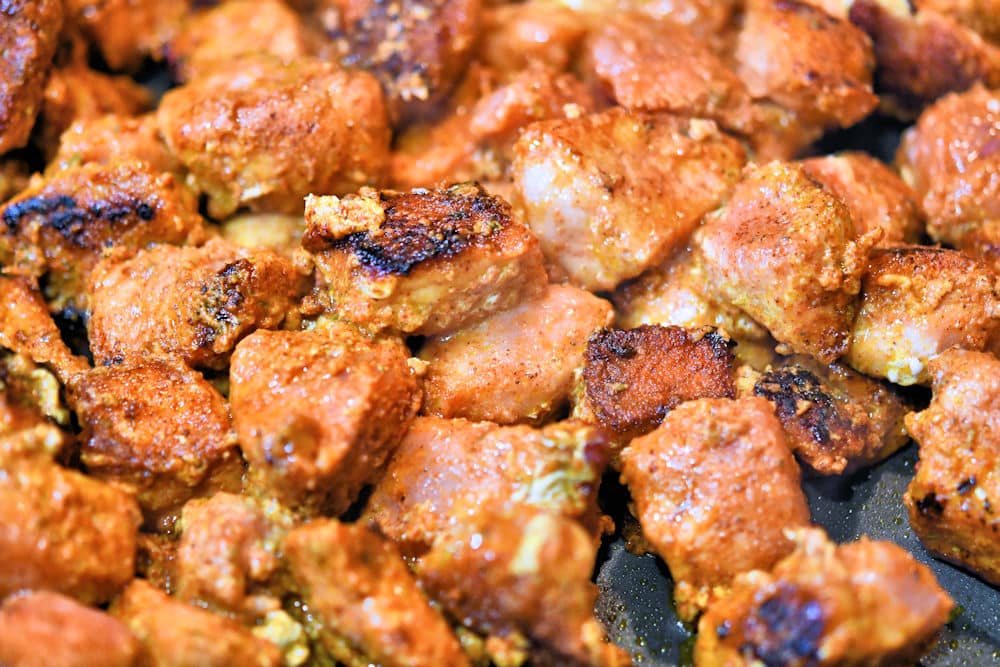 Before putting the pork in the crock pot, sear it first to seal in the juices.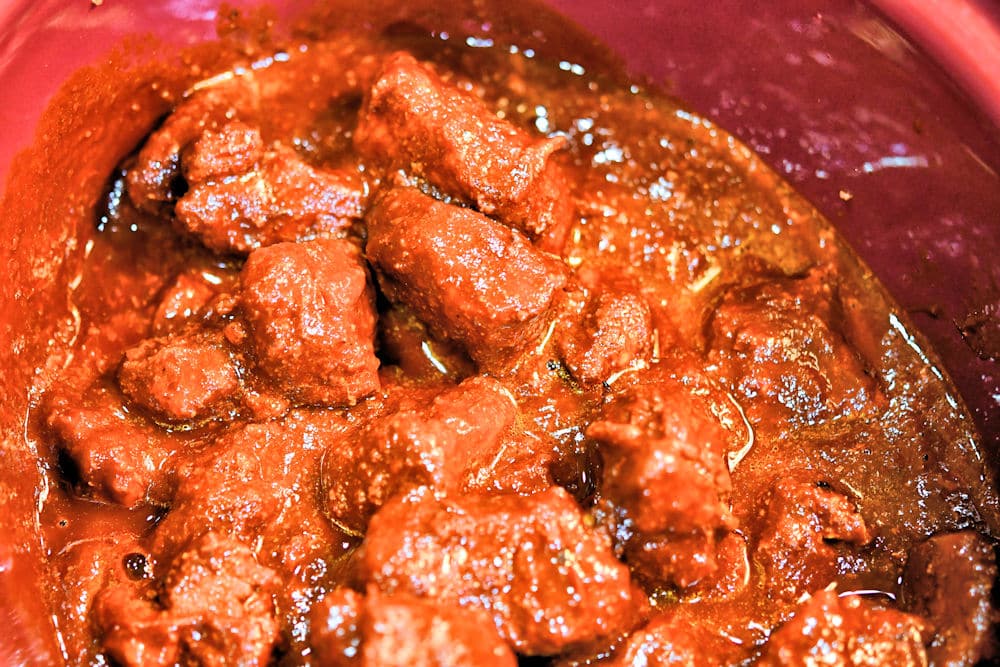 Slow cooking the pork in the delicious red chile sauce will make it moist and fork tender.
More Mexican food recipes
If you like Mexican food, I have several Mexican food recipes or choose one of these favorites.
Recipe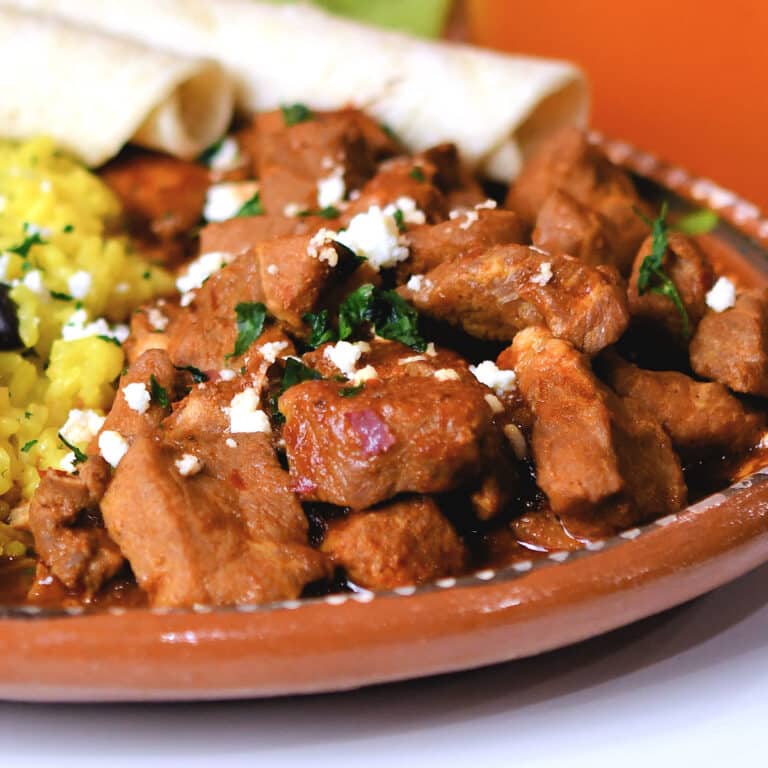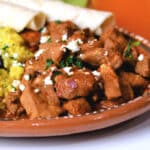 Pin Recipe Now
Pork Chile Colorado
Tap to leave a star rating
Save or Print
Pork chile colorado, also known as chili colorado or pork asado, is a perfect hearty Mexican comfort food, well known for its brilliant red chile flavored sauce.
For more information, be sure to check the recipe details in the attached 24Bite® post.
Equipment
Electric Blender

6 quart Crock Pot (slow cooker)
Ingredients
1

Onion

6

Garlic Cloves

9

Dried Anaheim Chiles

3

Chile de Arbol

1

Ancho Chile

4

cups

Beef Broth

2

tablespoons

Baking Powder

1

teaspoon

Salt

1

teaspoon

Cumin

1

teaspoon

Onion Powder

1

teaspoon

Garlic Powder

1

teaspoon

Oregano

½

teaspoon

Achiote

,

(optional, for color)

2

pounds

Pork Loin Roast

,

like Tyson Pork Loin Ribeye Roast

2

tablespoons

Olive Oil

2

Bay Leaves
Instructions
Quarter onion. Peel garlic cloves. Stem, seed and rinse all dried chiles. Place all in a medium sauce pan with enough water to cover.

Place pan on medium high heat and bring to a boil then reduce to low and cover with lid. Allow to cook until everything is heated through and chiles are soft, about 15 minutes.

With slotted spoon, remove all ingredients from sauce pan to electric blender. Add enough beef broth to allow blender blades to turn easily. Pulse until fully chopped and blended. Pour into clean crock pot and stir in the remaining beef broth. Set aside.

In a small bowl, mix together baking powder, salt, cumin, onion powder, garlic powder, oregano and achiote. Set aside.

Cut pork roast into bite sized pieces. In medium bowl, mix well with enough spice powder to cover.

In large skillet, heat olive oil on medium high heat. Add pork roast pieces and cook, stirring occasionally, until seared (about 8-10 minutes).

Remove pork roast pieces to crock pot and stir together with chile mixture. Add bay leaves and stir gently.

Cook 3-4 hours on high, or 5-6 hours on low. Remove bay leaves before servng.
Note: If there is a video, it will not display while there is an adblocker.
Notes
Serve immediately in bowls as chili, if desired. You can also serve in warm corn tortillas with sauteed bell pepper and onions, red cabbage, chopped tomatoes, chile sauce, crema, avocado, limes and cheese. This meat can also be used in burritos and tamales.
Nutrition Facts
Pork Chile Colorado
Amount Per Serving
Calories 221
Calories from Fat 81
% Daily Value*
Fat 9g14%
Sodium 801mg35%
Carbohydrates 8g3%
Protein 28g56%
* Percent Daily Values are based on a 2000 calorie diet.
______________________
Percent Daily Values are based on a 2000 calorie diet. All amounts are estimates and 24Bite® takes no responsibility for actual figures since calculations vary by packaging and supplier. Please calculate the amounts yourself based on package labeling if you have specific dietary requirements. 24Bite®, Kim Guzman or Christian Guzman shall not be liable for adverse reactions or any other outcome resulting from the use of recipes or recommendations on this website or actions you take as a result.
© 2019-2021 Kim Guzman and Christian Guzman. All rights reserved. Subscribe to 24Bite email newsletters.
Follow 24Bite: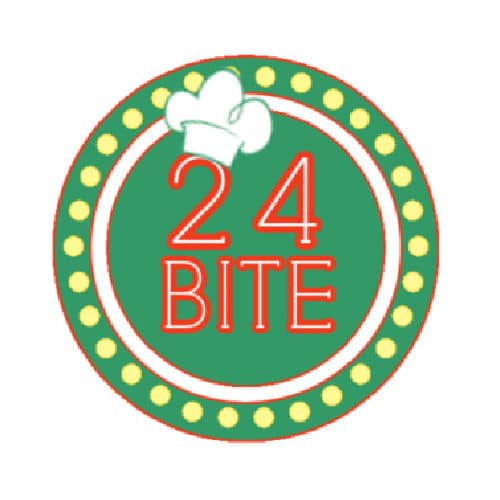 Twitter  |  Facebook  | Pinterest  |  Instagram | MeWe