Strawberry Tiramisu is the amazingly light and refreshing dessert you didn't know you needed. It's a fun and easy twist on the Italian classic.
This is a fun dessert that is so easy to make. It's the perfect finish for any meal but is especially incredible for a holiday. It would be fantastic for Valentine's Day!
Recipe | What is Tiramisu? | How Do You Macerate Strawberries?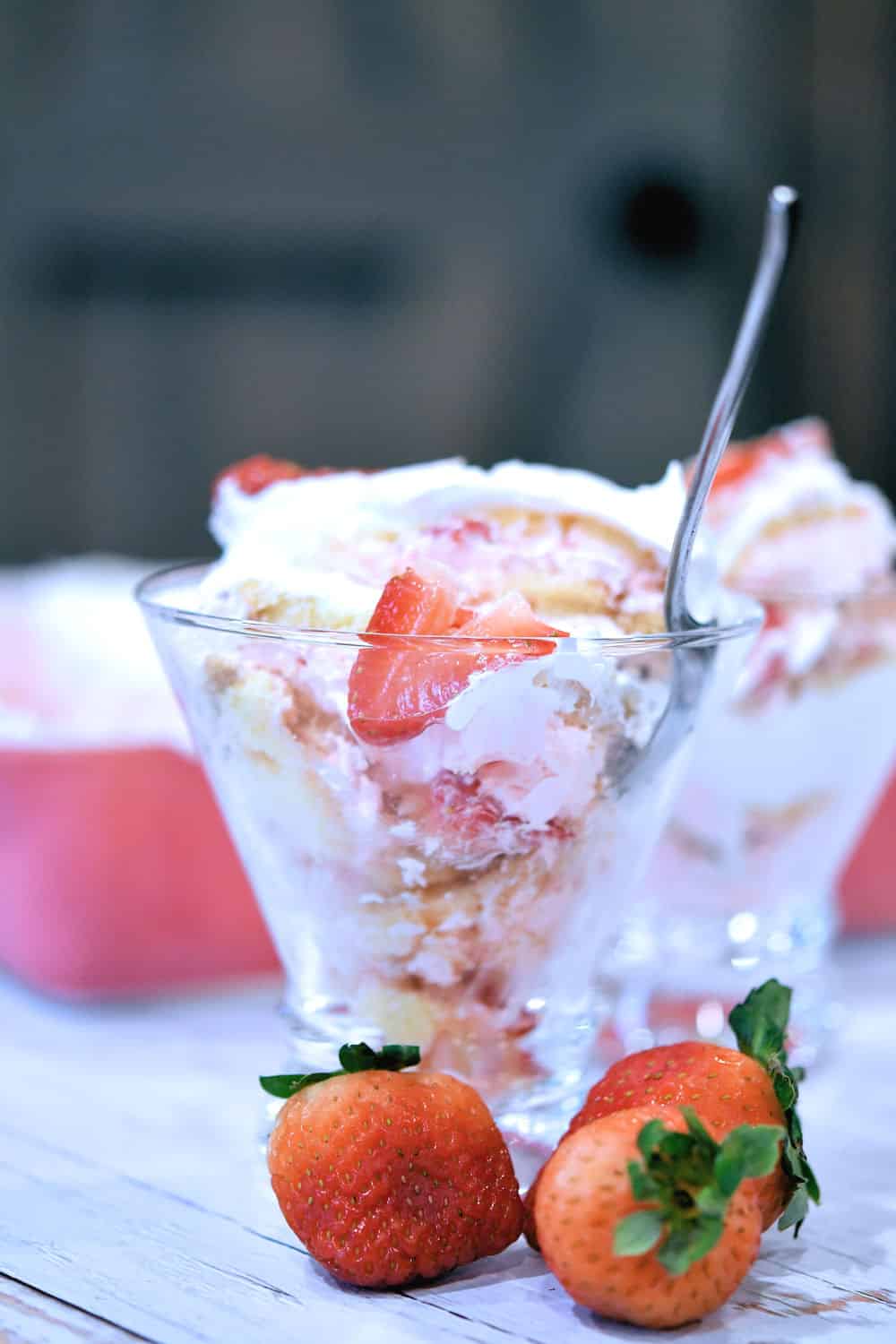 Ingredients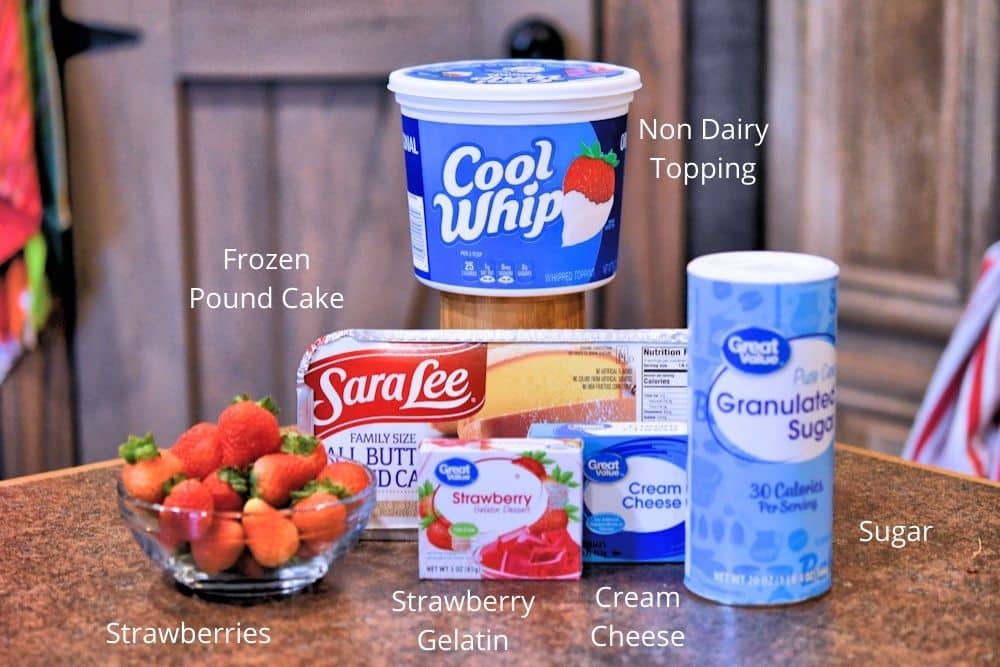 Cream Cheese. Make sure this is softened before you begin and whip it really well. If you don't, you may have lumps of cream cheese. Not that there's anything wrong with that.
Sara Lee Pound Cake. This is what makes this dessert so easy to put together. The pound cake is already made. Keep it frozen, though. It's easier to slice it when it's frozen.
Strawberry Gelatin Mix. You will only need one tablespoon. I didn't discard the remainder, though. This dessert is so delicious that I plan on making it again very soon.
Cool Whip. This is another ingredient that's a ready-packaged shortcut. Use any non-dairy topping or make it yourself with heavy whipping cream, if you prefer.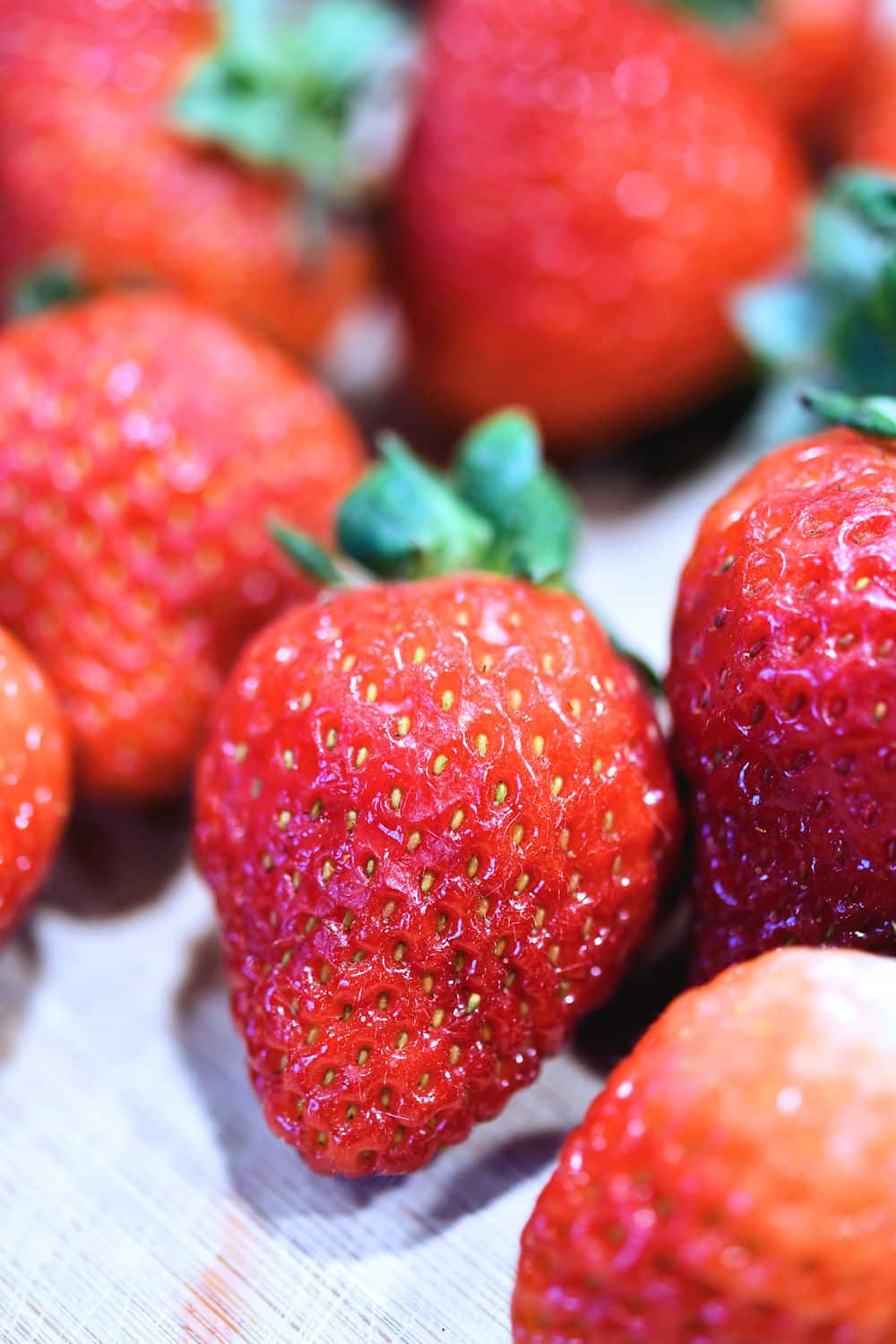 Strawberries. This recipe uses one pound of fresh strawberries. One pound is about 15 to 20 medium size strawberries.
Sugar. There is only a small amount of sugar, used to macerate the strawberries.
How Do You Macerate Strawberries?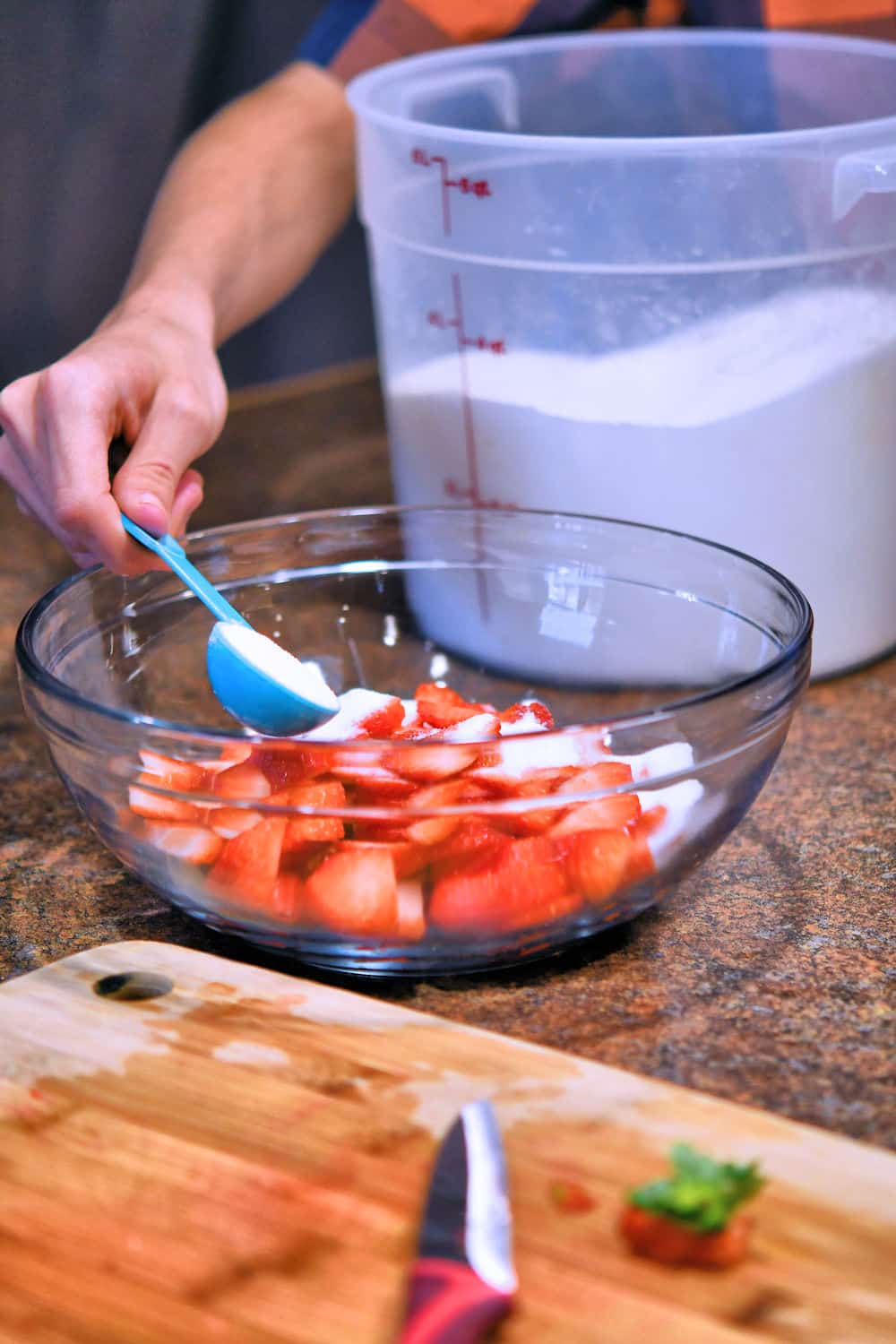 This is just a big, fancy word for adding sugar to fruit and letting it sit long enough for the sugar to melt and release some of the juice from the strawberries.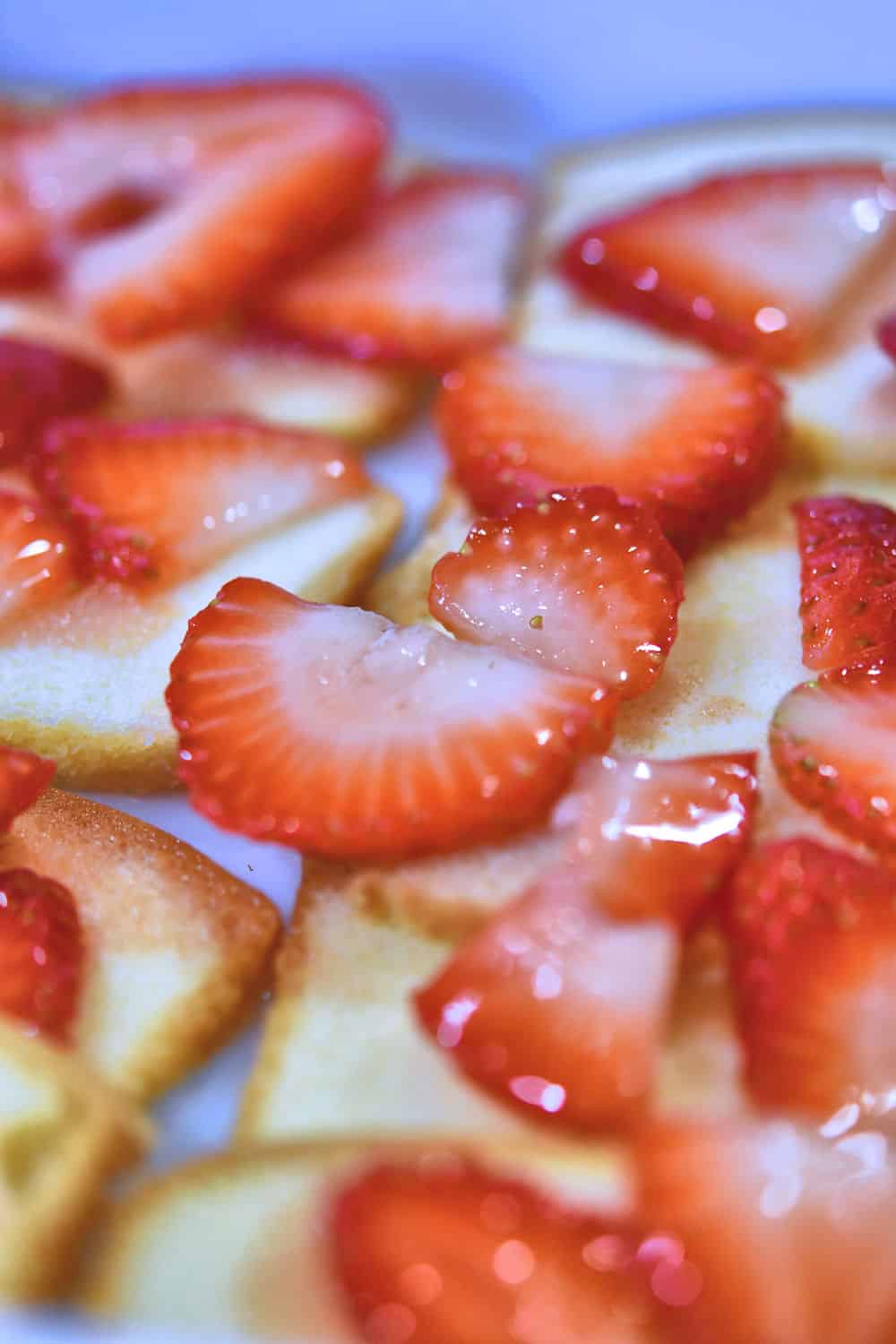 For this recipe, I sliced the strawberries and added one quarter cup of sugar. Put it in the refrigerator for about two hours and it produces a nice, red juice.
If you want more of the sugar juice, it's very easy. This produces one quarter cup of sugar juice but you can add one half cup of sugar instead for even more juice.
Try to resist drinking the sugar juice because you are going to use it in the recipe. I know that's going to be difficult. Just work with me here.
You don't want the sliced pound cake to be swimming in the juices. You are just use a little bit here and there.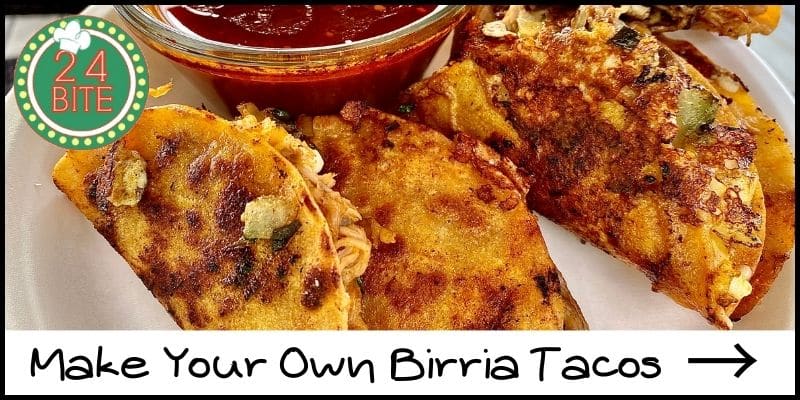 What Can I Use Instead of Ladyfingers in Tiramisu?
This recipe is your answer. I've used thinly sliced pound cake instead of ladyfingers to make this Strawberry Tiramisu.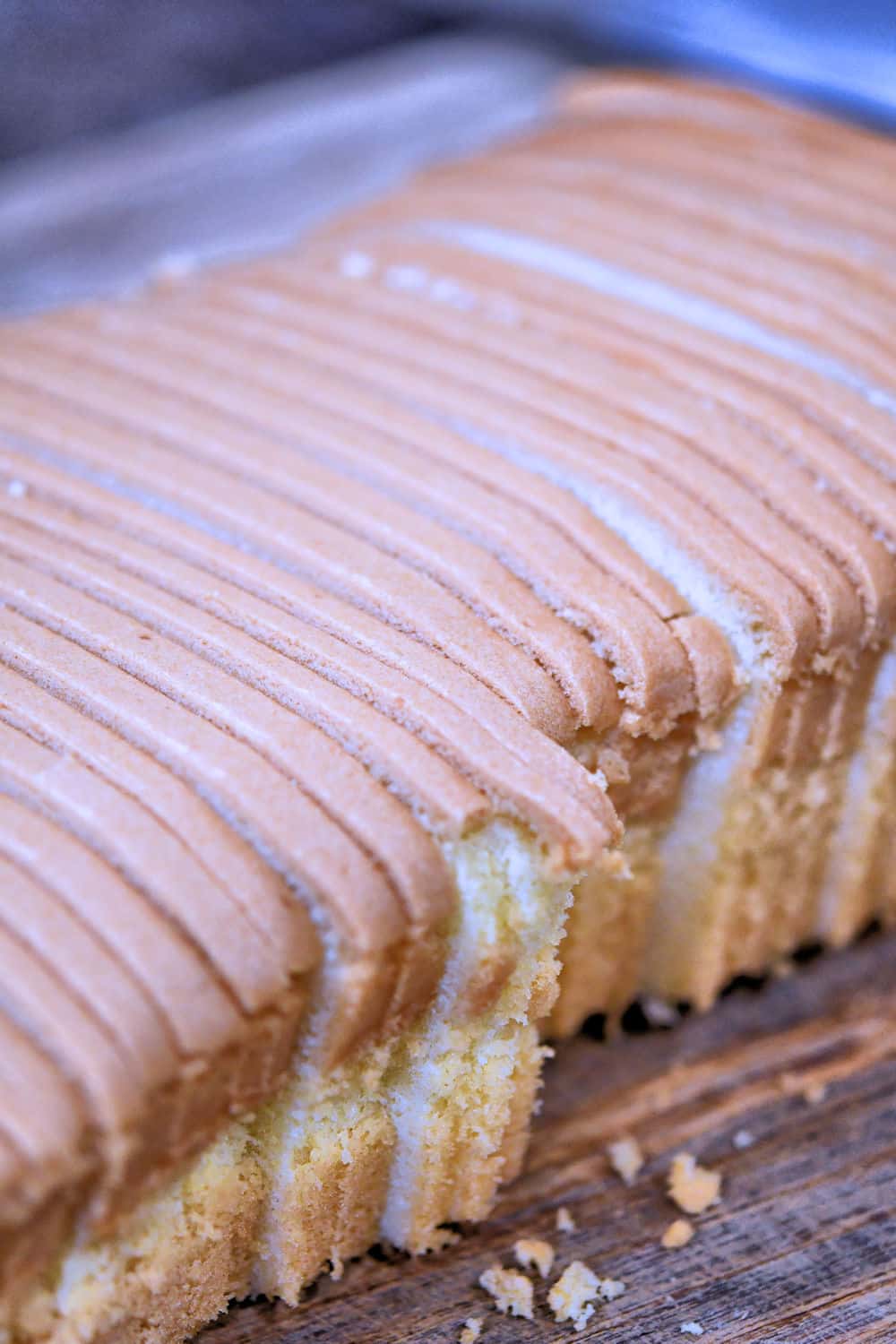 It's a variation of traditional coffee tiramisu but it will become a family favorite after just one try.
What is Tiramisu?
Traditional Italian tiramisu is made with layers of little sponge cake cookies called ladyfingers, mascarpone cheese, cocoa, coffee, eggs and coffee liquer or marsala wine.
What are Ladyfingers?
Ladyfingers are longish oval-shaped cookies (biscuits in the UK) which are made of sponge cake. Ladyfingers, wow what a name, right?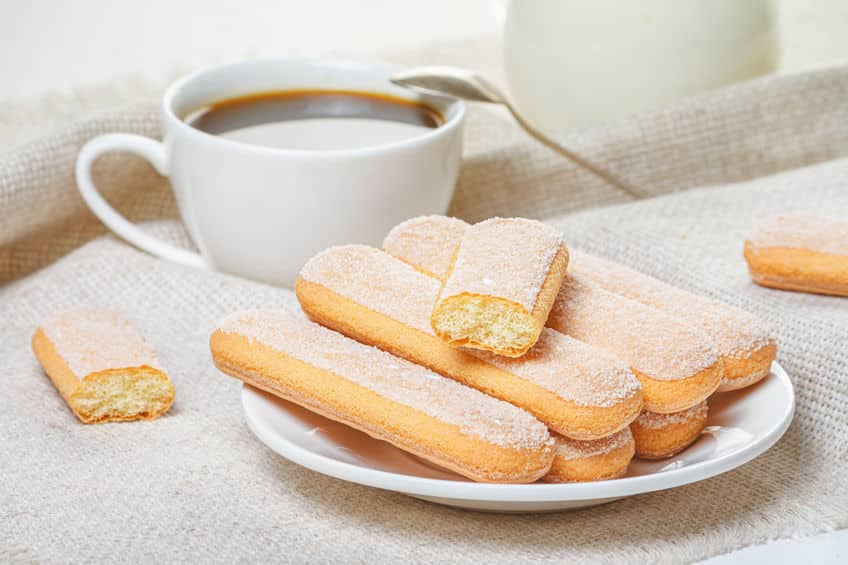 I guess they're supposed to look like fingers. If they really did look like fingers, maybe we could use them for a Halloween treat.
Perhaps the shape has changed over the years because they really don't look like fingers to me. Let's not talk about it, okay? Moving on.
Ladyfingers aren't common in our area so sliced pound cake is a perfect substitute for this recipe.
My Strawberry Tiramisu is a fun, fresh variation. It contains no raw eggs and no alcohol or wine.
You can serve it on a plate for the layered cake look. I much prefer putting it into clear glasses, though. It makes a nice presentation and would be perfect for any holiday and would be a welcome treat for any celebration.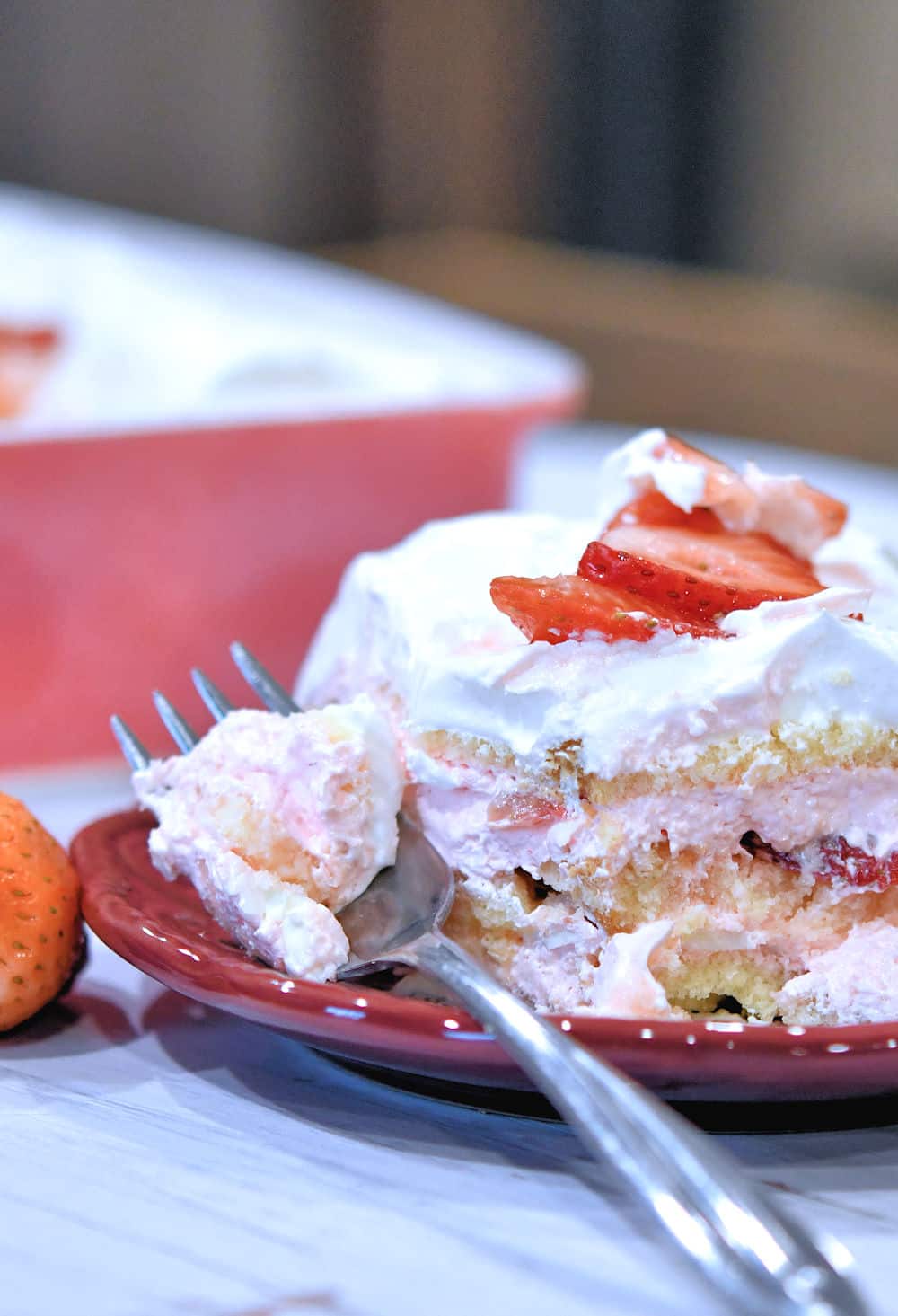 If you're looking for more desserts, this Lemon Fluff with Mandarin Oranges is a great one. You may also like this No Bake Pumpkin Dessert too.
For something more filling, try this Mexican Rice Pudding for a gluten free alternative. Delicious!
Or, maybe you want to browse all our Dessert Recipes.
Recipe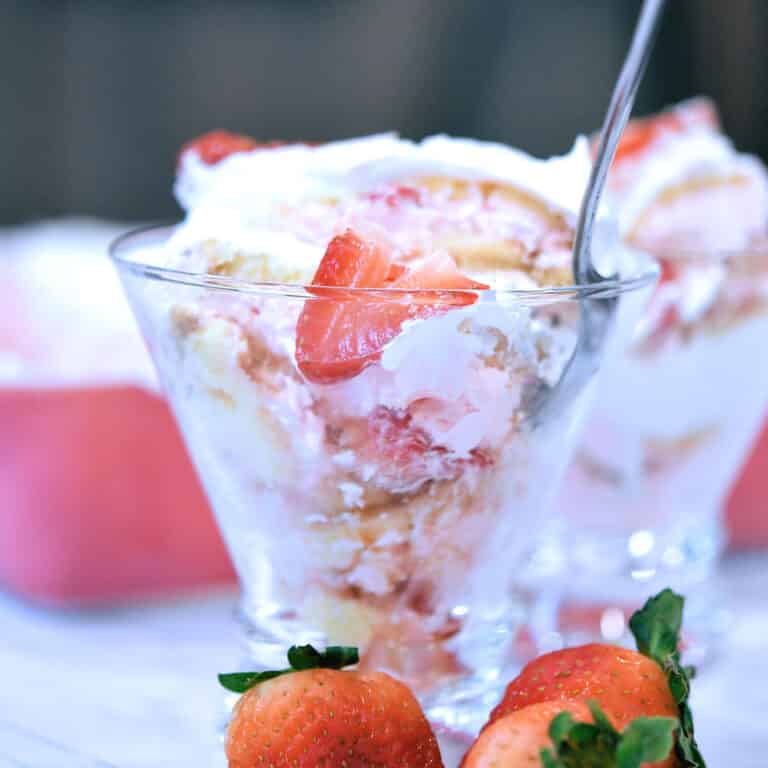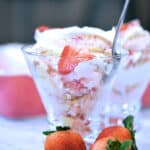 Pin Recipe Now
Strawberry Tiramisu No Bake Layered Dessert
Tap to leave a star rating
Save or Print
Strawberry Tiramisu is the amazingly light and refreshing dessert you didn't know you needed. It's a fun and easy twist on the Italian classic.

For more information, be sure to check the recipe details in the attached 24Bite® post.
Equipment
8 x 8" or 9 x 9" square casserole
Ingredients
1

pound

Strawberries

,

fresh, raw

¼

cup

Sugar

8

ounces

Cream Cheese

,

softened

1

tablespoon

Strawberry Gelatin Dessert Mix

12

ounces

Cool Whip

,

divided (or other non dairy topping)

453

grams

Sara Lee All Butter Pound Cake

,

keep frozen (one pound size)
Instructions
Wash and trim strawberries. Thinly slice or chop strawberries. Place in a bowl with sugar and stir well. Cover with plastic wrap and place in refrigerator for at least two hours to macerate.

Whip cream cheese until fluffy. Add only 1 tablespoon of Gelatin mix. Mix well. Fold in 8 ounces Cool Whip. Set aside or discard the remaining Gelatin mix.

With a sharp knife slice the frozen pound cake into 24-30 pieces. It's easier to slice when still frozen. This is about ¼". If it helps, start by cutting it in half, then cutting each half into half and repeating until you have the correct amount of slices.

Place 8 or 9 slices in the baking dish, making an even layer. There can be some overlapping. Spread about half the strawberries evenly on the cake layers, getting some of the sugar juices as well. Spread one half of the cream cheese mixture on top.

Place another 8 or 9 slices in the pan, pressing down, to remove any air spaces. Place more strawberries on top, getting all the remaining sugar juices. Spread the other half of the cream cheese mixture on top.

Place the remaining 8 or 9 slices in the pan, pressing down again. Spread on about 4 ounces of remaining Cool Whip. Cover and place in refrigerator for at least 4 hours or overnight.
Note: If there is a video, it will not display while there is an adblocker.
Notes
When ready to serve, use any extra sliced strawberries, if desired.
If your strawberry tiramisu doesn't want to stack nicely when serving, use glasses instead. It makes a beautiful presentation. It's so pretty in the glasses that I recommend it this way anyway.
Nutrition Facts
Strawberry Tiramisu No Bake Layered Dessert
Amount Per Serving
Calories 306
Calories from Fat 162
% Daily Value*
Fat 18g28%
Sodium 193mg8%
Carbohydrates 32g11%
Protein 4g8%
* Percent Daily Values are based on a 2000 calorie diet.
______________________
Percent Daily Values are based on a 2000 calorie diet. All amounts are estimates and 24Bite® takes no responsibility for actual figures since calculations vary by packaging and supplier. Please calculate the amounts yourself based on package labeling if you have specific dietary requirements. 24Bite®, Kim Guzman or Christian Guzman shall not be liable for adverse reactions or any other outcome resulting from the use of recipes or recommendations on this website or actions you take as a result.
© 2019-2023 Kim Guzman and Christian Guzman. All rights reserved. Subscribe to 24Bite email newsletters.
Follow 24Bite: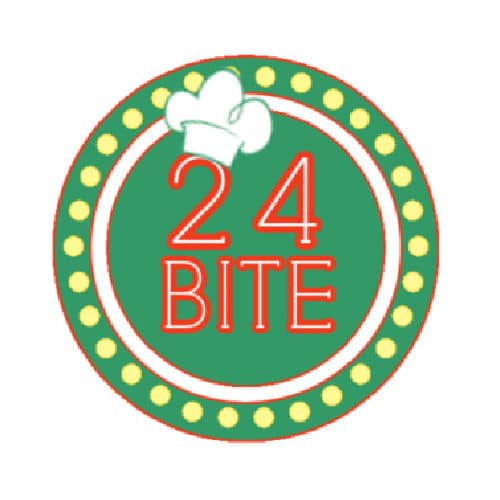 Twitter | Facebook | Pinterest