Italian Sausage Chili is the ultimate comfort food with its robust flavors of smoky chipotle and the sweetness of roasted tomatoes. You won't want your chili any other way.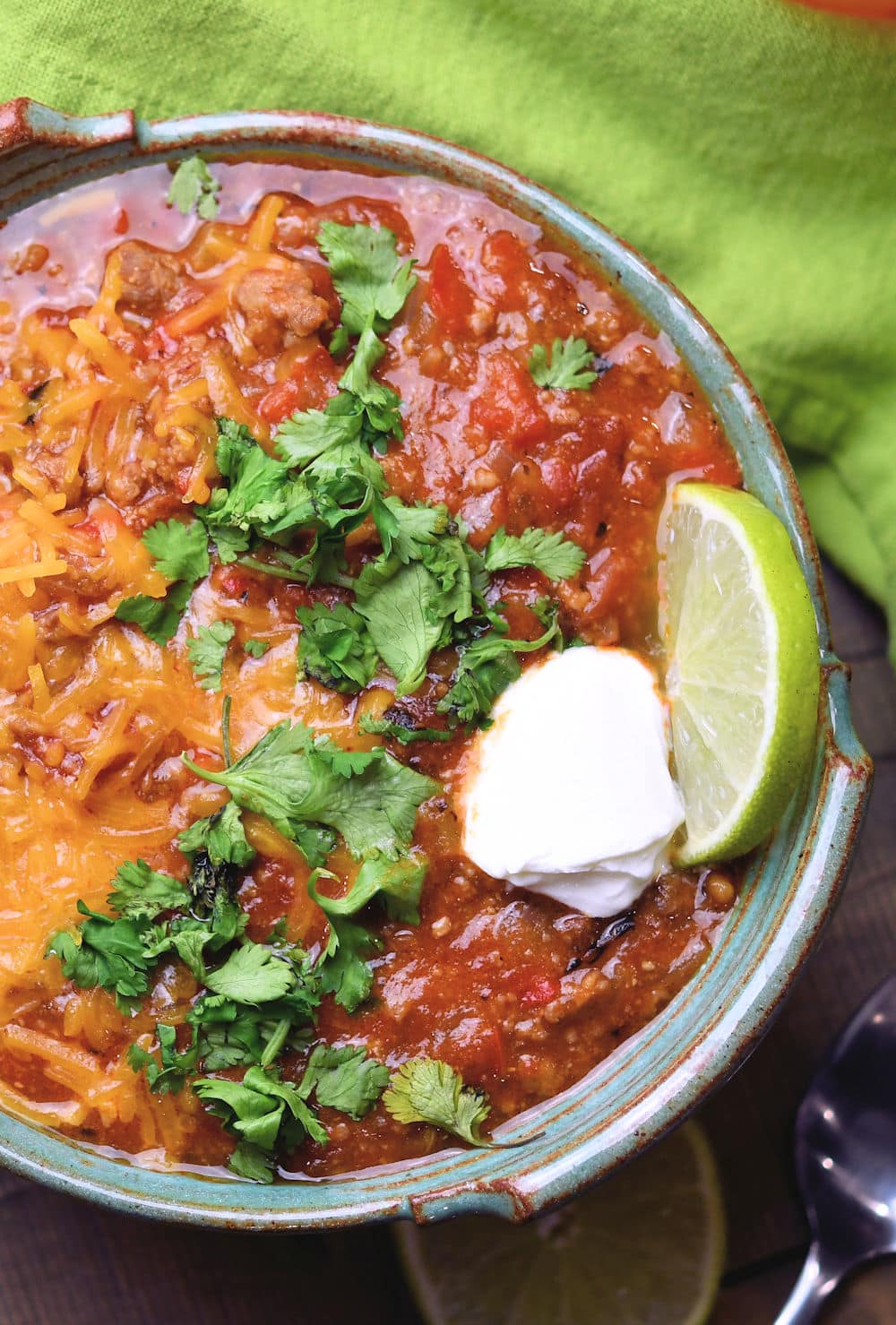 This chili is different than any other chili I've ever made. And, it's the most delicious I've ever had. The combination of flavors turned out to be unexpectedly perfect.
Ingredients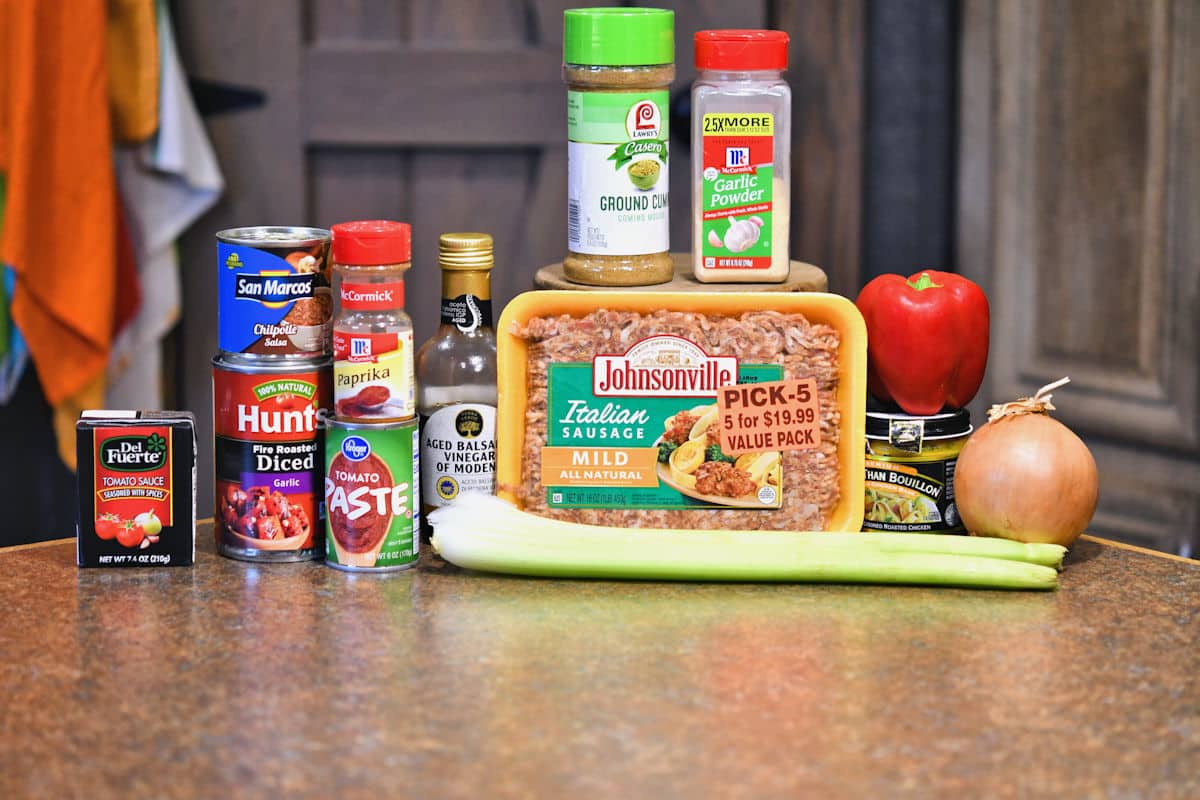 Italian Sausage
To begin, there is the obvious use of Italian sausage. It was just a fluke that I decided to add it. I accidentally thawed out the wrong package. But, my accident, wow. Chili will never be the same.
You can try to make this sausage with ground beef but I assure you that Italian sausage chili is the way to go. You won't believe the incredible flavor.
There is a difference in varieties. You can get mild Italian Sausage or hot Italian Sausage. One has some spicy chili powder added in the mix. I use mild since I prefer to get my spicy heat from the chipotle sauce.
Vegetables
I didn't use anything unusual. Just like most chili I've made, I used onion, bell pepper and celery.
For the tomatoes, I've used Fire Roasted Diced Tomatoes. I love these tomatoes. The roasting brings out a more distinctive sweet flavor that pairs perfectly with the balsamic vinegar.
Seasonings
Garlic powder, cumin and paprika. Nothing unusual there, right? I know I'm missing the chili powder. But, here's where it gets interesting.
Rather than a powder, I used a can of San Marcos Chipotle Sauce. I really love this stuff. It's a mixture of tomato sauce and chipotle.
If you're unable to find it, you can get a very similar sauce by mixing a little bit of tomato sauce with the sauce from a can of chipotle in adobo. You can also find chipotle in ground powder form. But, do be careful. Things can get spicy pretty quickly.
It's readily available at our grocery store in central Arkansas so I would imagine that it's available in most places. If not, I believe you can find it at Walmart or Amazon online.
Better Than Bouillon
Okay, this is in the chili because I just like it. I love it, actually. Ever since discovering it, I've been adding it for flavor in a lot of things. In the past, I may have used more chicken stock or chicken broth for flavoring. But, the Better Than Bouillon makes things easier and more pantry-friendly.
Balsamic Vinegar
Balsamic vinegar may seem like an unusual addition to chili but it's perfect with tomatoes so it' seems like's the perfect pairing for a tomato-based chili.
The balsamic vinegar helps to balance the rich flavor of the meat and vegetables while adding a touch of acidity.
Is This Chili Gluten Free?
Ordinarily, I would say that everything in this chili is gluten free. The Better Than Bouillon, though. The company says that they cannot confirm there is no gluten.
There may not be any in the ingredients but it could still be made where gluten is found. Just be careful if you're sensitve to gluten. Use a different bouillon or omit it.
How Do You Thicken The Chili?
If you find that you need to thicken the chili, try adding corn flour, also known as masa harina.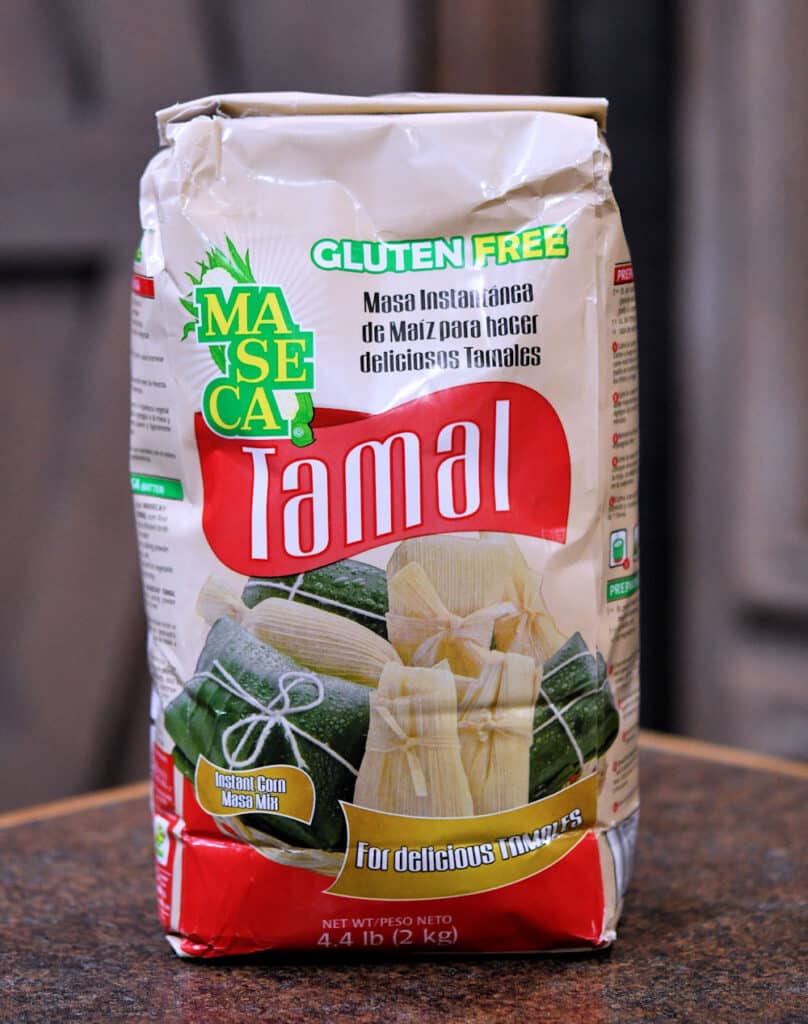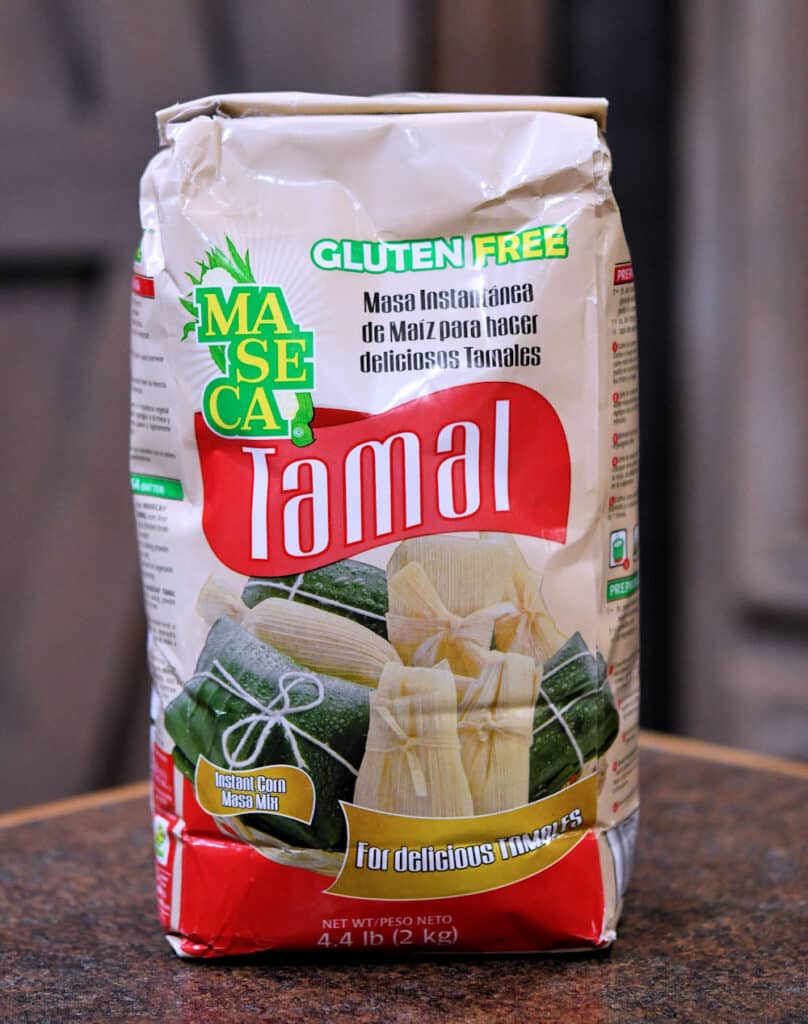 Masa harina isn't exactly cornmeal. It's the corn flour used to make tortillas and tamales. You can use regular masa harina or masa harina specifically made for tamales. We use Maseca brand.
Mix two or three tablespoons of masa harina in about a ¼ cup of cool water to form a paste before adding to the chili. Allow it to continue simmering on the stove until it thickens to your desired consistency.
For an alternative, if you have some leftover corn tortillas, you can pulverize them in a blender or food processor then add them directly to the chili.
The Best Seasoning for Chili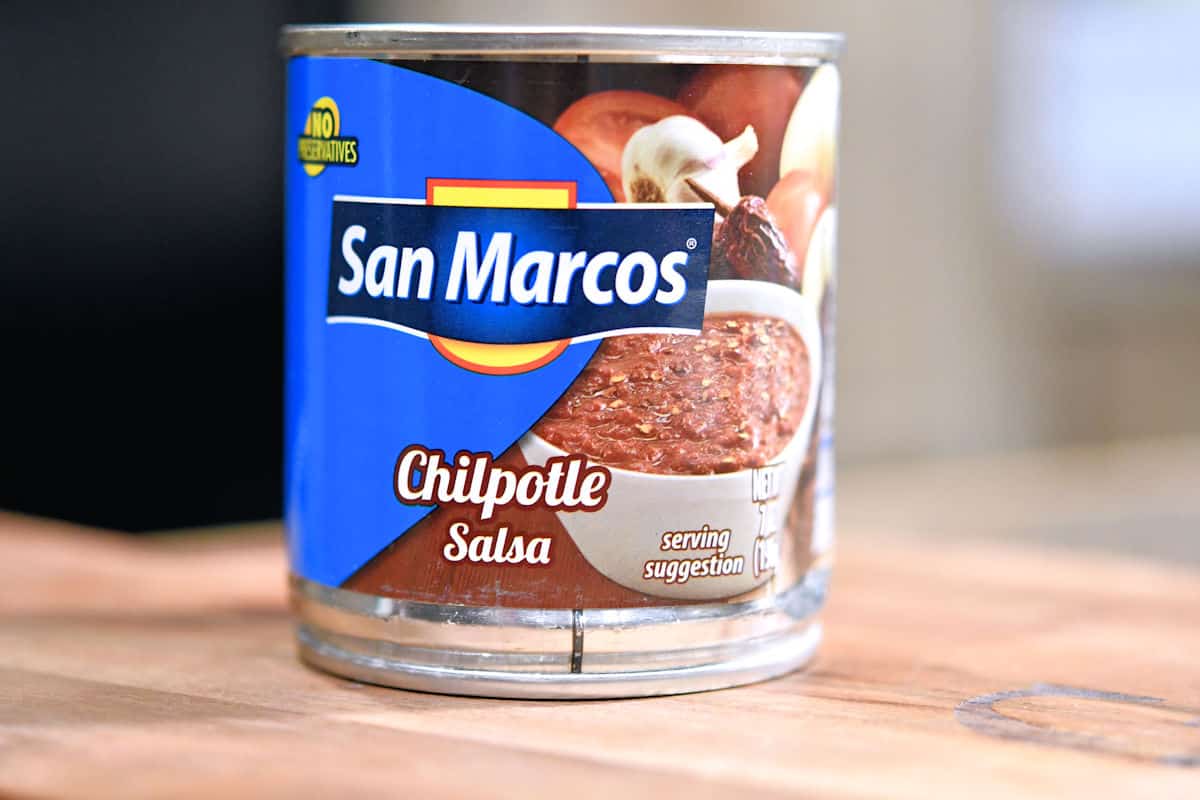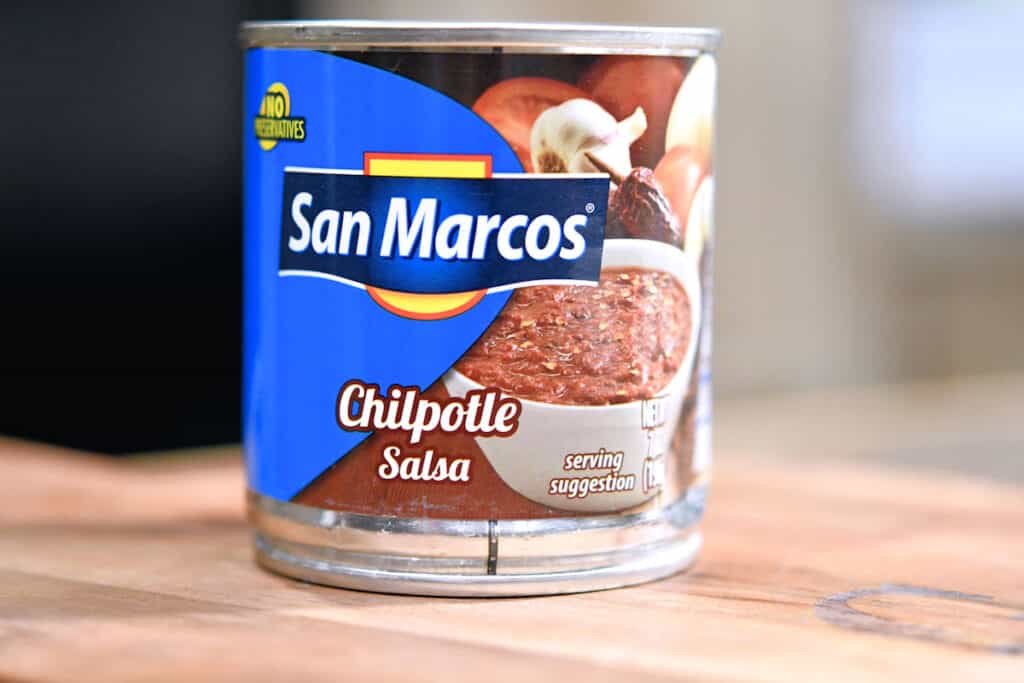 My mom passed to me her secret ingredient for the best chili. No matter what kind of chili she makes, she always adds a can of San Marcos Chipotle Salsa. It's a mixture of tomato sauce and chipotle chiles.
The Chipotle Salsa is fairly spicy. It's not overwhelmingly spicy. To the uninitiated, you may need to reduce the amount to half the can. Maybe add half and taste it before adding more.
If you're unable to find this not-a-secret-anymore ingredient, try using the same amount of tomato sauce or a few tablespoons tomato paste with ½ to 1 teaspoon of chipotle powder.
What Do You Do with Leftover Chipotle Salsa?
If you use half a can of chipotle sauce, this leaves you with the other half. Not to worry. I love it and try to use it frequently in my recipes.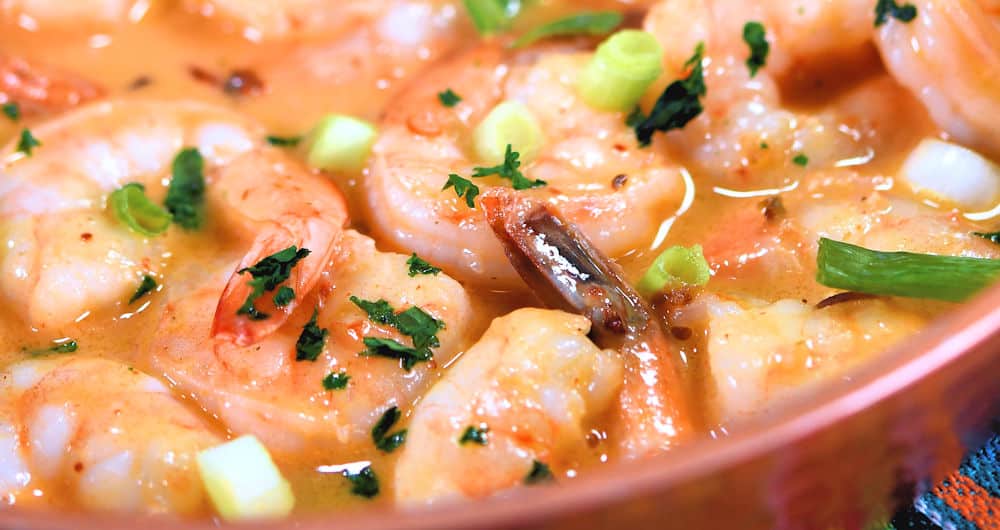 So, if you're looking for something else to make with the leftover, try this Creamy Chipotle Shrimp. It has just the perfect amount of spicy heat, just like this chili recipe.
Of course, if you want more heat in your chili, you still have the other half of the can. You can add as much as you like. Use it as a table sauce too!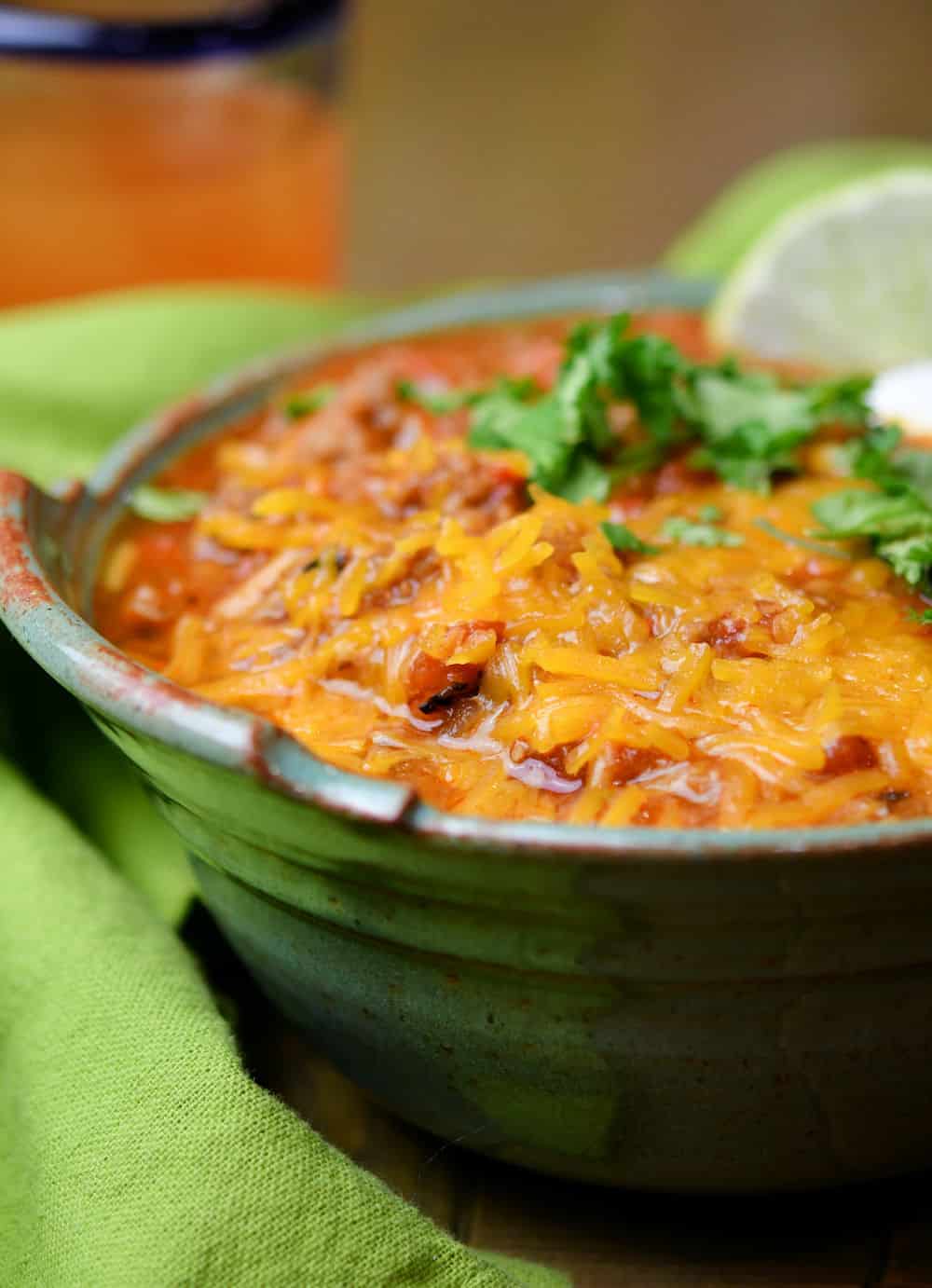 On the other hand, if you don't like a lot of heat, try adding even less of the chipotle sauce before you taste it. You can get just the right amount.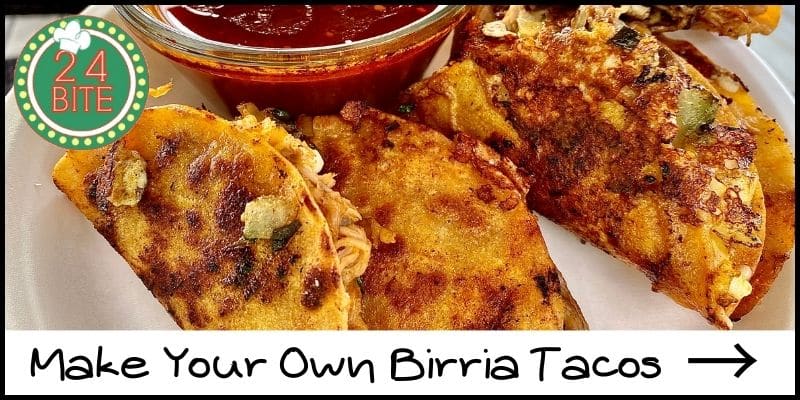 How Do You Garnish Your Chili?
Because I felt like this chili had a sort of Mexican flair with the chipotle, I garnished the bowls with my standard shredded cheese, cilantro, lime and sour cream.
Try chopped fresh green onions, jalapenos, corn chips and avocado.
Chili No Beans
I decided no beans for this chili. I didn't want to take away from any of the delicious flavors. But, if you want to add beans, you could go with black beans or maybe even a can of chili beans. Pinto beans will work well with the flavor base too.
I may have added chili beans if I could find some in the pantry. But, beans aren't really necessary. The chili is so hearty as it is.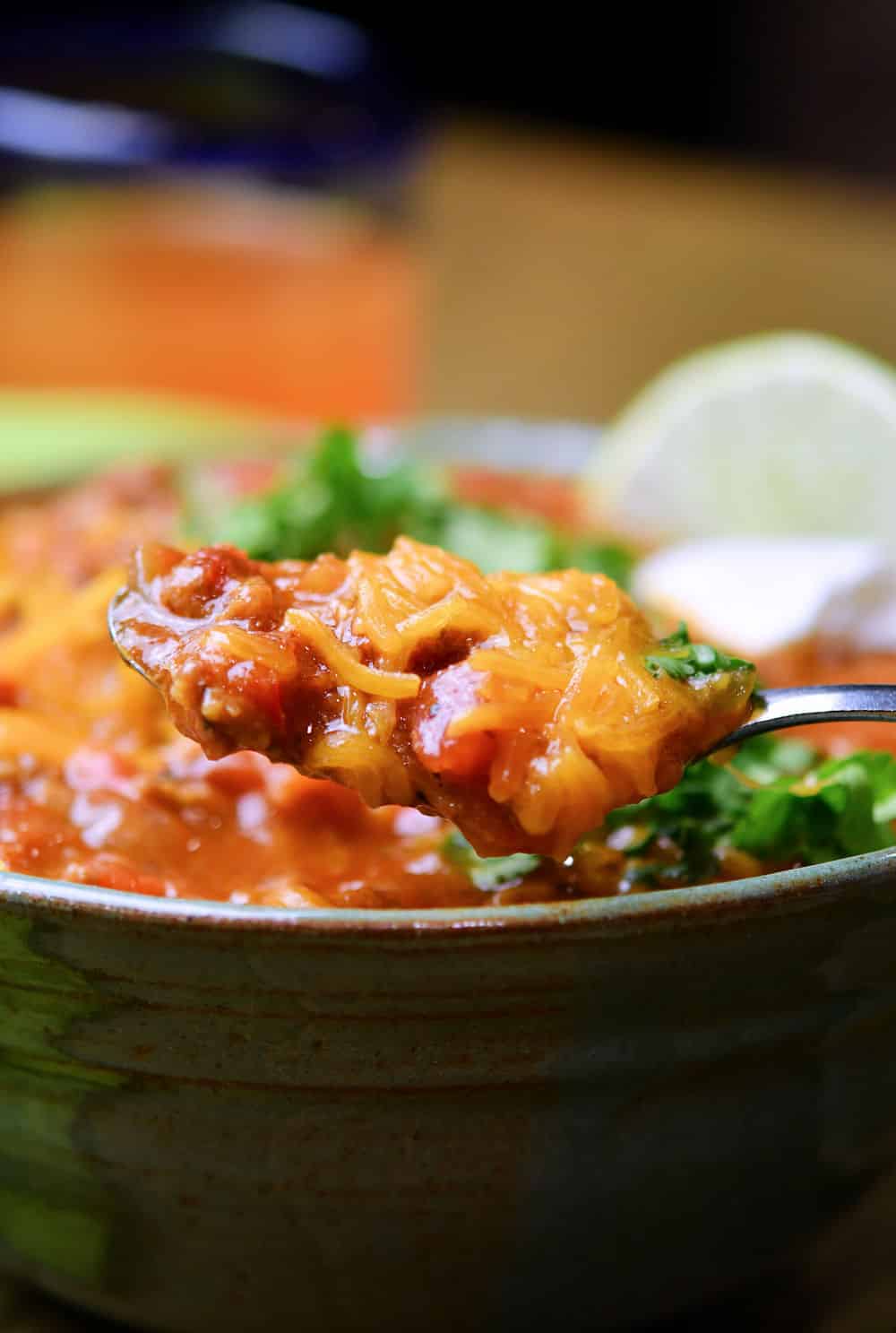 Do You Have Leftover Chili?
The next day, I decided to add some cooked macaroni to the leftover chili. If you would like to spread out the Italian sausage to even more servings, chili-mac works great for that.
More Recipes For Chilly Days
Did you see what I did there? I'll bet you did!
I have lots of recipes that are perfect for when the temperatures start coming down outside. When some people start thinking about pumpkin spice, I start thinking about stew, soup and chili!
Recipe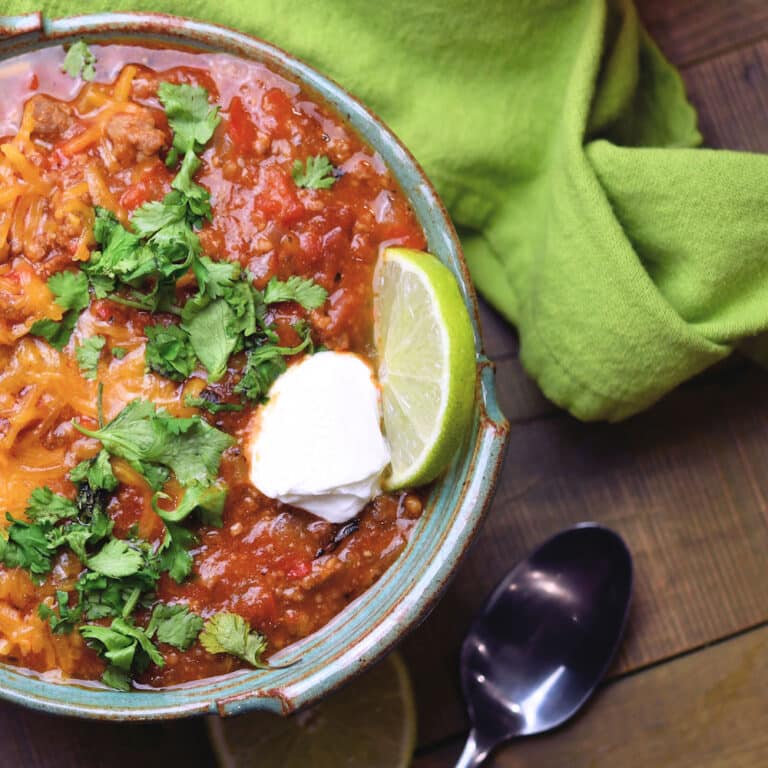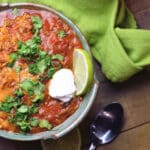 Pin Recipe Now
Italian Sausage Chili Without Beans
Tap to leave a star rating
Save or Print
Italian Sausage Chili is the ultimate comfort food with its robust flavors of smoky chipotle and the sweetness of roasted tomatoes. You won't want your chili any other way.

For more information, be sure to check the recipe details in the attached 24Bite® post.
Equipment
Large skillet, large pot or Dutch oven
Ingredients
2

tablespoons

Olive Oil

1

pound

Italian Sausage

,

ground

1

Onion

,

chopped

1

Bell Pepper

,

red or green, seeded and chopped

2

Celery Stalks

,

chopped

14.5

ounces

Fire Roasted Tomatoes

,

canned, not drained

7

ounces

San Marcos Chipotle Sauce

7.4

ounces

Tomato Sauce

6

ounces

Tomato Paste

1

cup

Water

1

teaspoon

Better Than Bouillon Chicken Flavor

2

teaspoons

Balsamic Vinegar

1

teaspoon

Garlic Powder

1

teaspoon

Paprika Powder

1

teaspoon

Cumin Powder

2

tablespoons

Masa Harina

,

optional
Instructions
Add olive oil to large, heavy pan and heat on medium-high heat. Add Italian Sausage and brown, breaking up the meat and stirring frequently.

Once meat is fully cooked, add onion, bell pepper and celery. Stir well and continue cooking for about 3-5 minutes until fragrant.

Add all remaining ingredients except masa harina. Stir well. Bring to a boil then reduce heat to simmer, uncovered for about 15-30 minutes. I don't find that salt is necessary because of the amount already in the bouillon, but, if you like, you can add some salt to taste.

If you want to thicken the chili, you can continue cooking for more of the liquid to evaporate. Alternatively, stir about 2 tablespoons masa harina in ¼ cup cool water until it forms a paste then add slowly to the chili. Allow to continue cooking until desired consistency.
Note: If there is a video, it will not display while there is an adblocker.
Notes
Makes about 1 ½ quarts, for about eight servings.
If you are worried about the spicy heat of the chipotle, add about ⅓ to ½ of the can to begin then add more to taste. See post for information on substituting if you can't find the chipotle salsa.
Serve with shredded cheese, sour cream, cilantro and a squeeze of lime. You can also serve with corn or tortilla chips.
Add about half to a full can of cooked beans, if you like. A can of chili beans would work well. You could also use black beans or pinto beans.
Nutrition Facts
Italian Sausage Chili Without Beans
Amount Per Serving
Calories 304
Calories from Fat 198
% Daily Value*
Fat 22g34%
Sodium 1164mg51%
Carbohydrates 17g6%
Protein 10g20%
* Percent Daily Values are based on a 2000 calorie diet.
______________________
Percent Daily Values are based on a 2000 calorie diet. All amounts are estimates and 24Bite® takes no responsibility for actual figures since calculations vary by packaging and supplier. Please calculate the amounts yourself based on package labeling if you have specific dietary requirements. 24Bite®, Kim Guzman or Christian Guzman shall not be liable for adverse reactions or any other outcome resulting from the use of recipes or recommendations on this website or actions you take as a result.
© 2019-2023 Kim Guzman and Christian Guzman. All rights reserved. Subscribe to 24Bite email newsletters.