This Kielbasa Sausage Soup with Lentils is easy to make in the Instant Pot and has the perfect amount of spicy heat from Mexican chorizo. Warm and hearty, this quick and easy soup is perfect for any cold front.
Recipe | Difference between Kielbasa and Smoked Sausage | What are Lentils?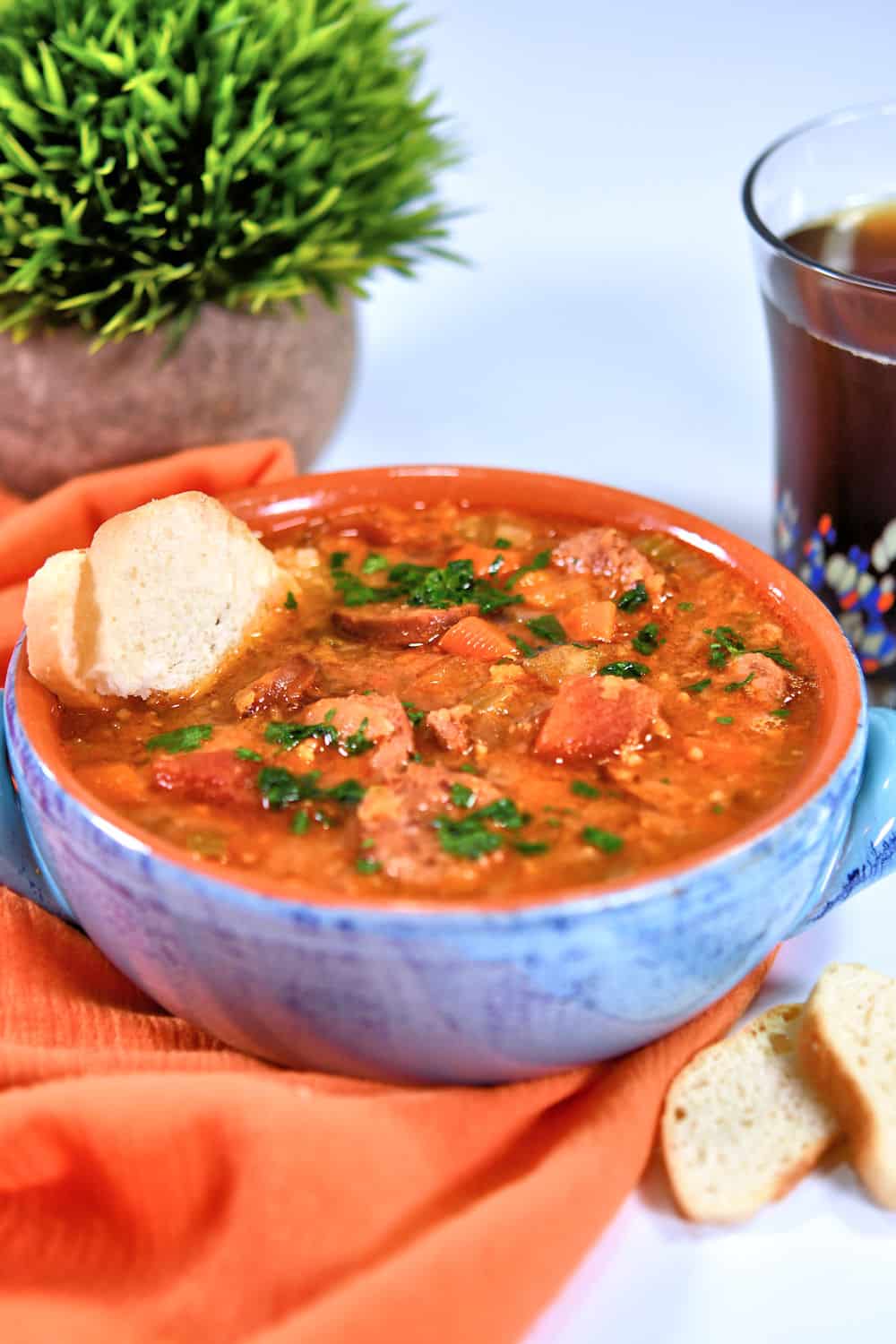 Ingredients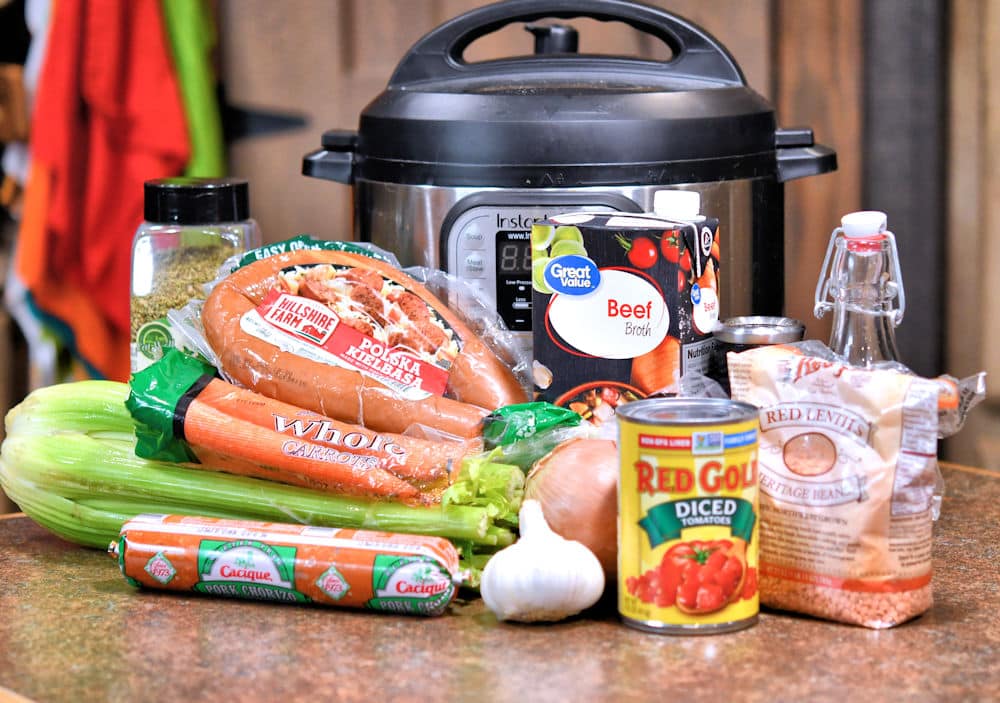 Kielbasa Sausage Rope
I've used a Kielbasa sausage for this recipe. It's that long sort of U-shaped dinner sausage you'll find in the cold cuts section.
While cutting this up today, my mom told me that I have loved this sausage since I was a toddler. She said I would stand next to her, waiting for her to give me a piece of the sausage as she was cutting it up. I've got to admit that I had a few pieces of it before putting it all in the soup today too. Still love it!
These days, though, it's Pepper the Super Dog who stands near the kitchen island, waiting for sliced sausage handouts. Don't tell mom!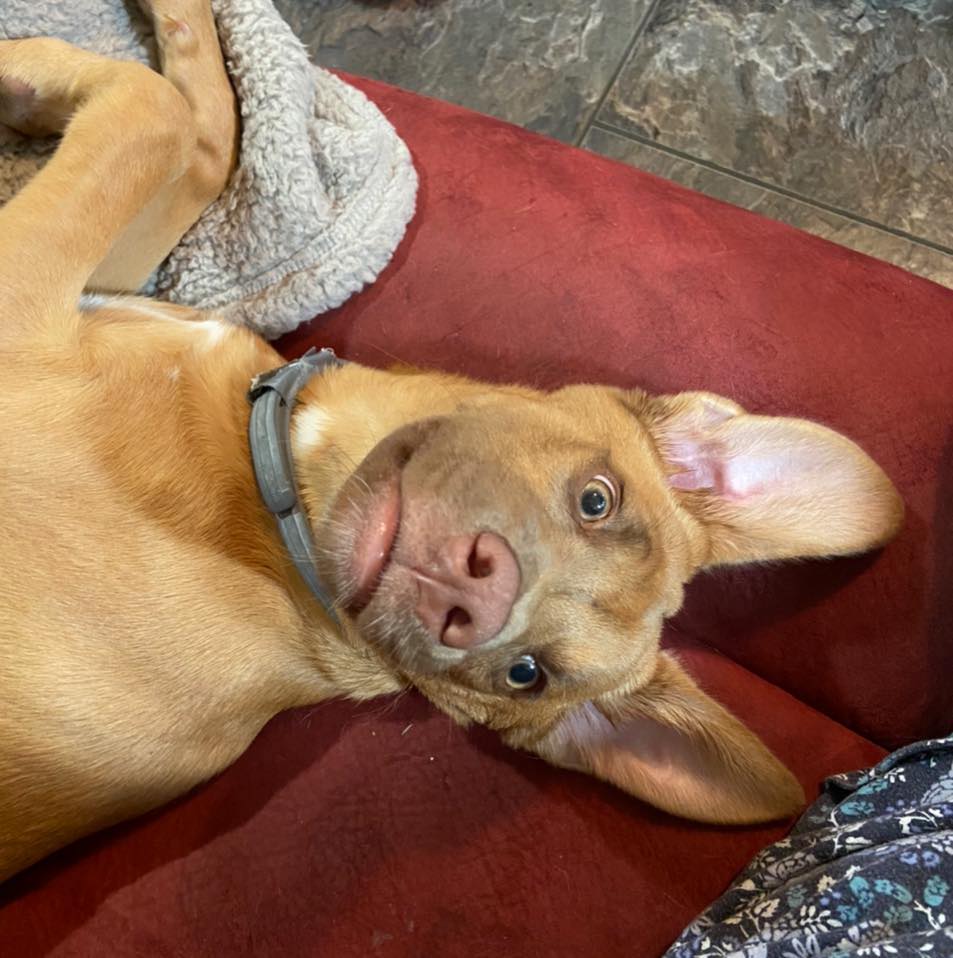 Adding Chorizo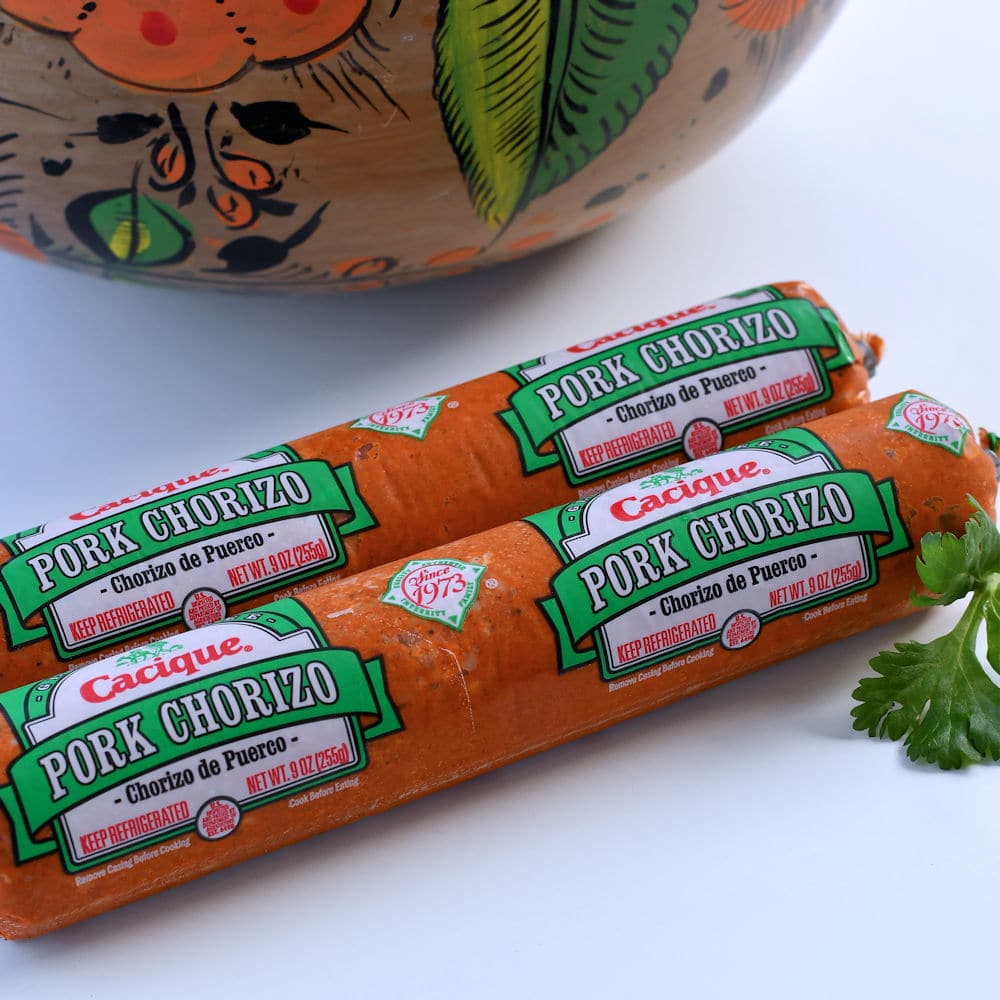 If you're unfamiliar with Mexican chorizo, it is usually available in both pork and beef varieties. It is uncooked and it needs to be fully cooked before eating.
Chorizo can be a little spicy. I've used only about ⅓ of a tube in this recipe but, if you want to add more spicy heat, use more, as you like.
What's the difference between Kielbasa and Smoked Sausage?
There are lots of different sausage choices at our grocer, near the bacon and breakfast sausage. It's pre-cooked so you don't mix it up with breakfast sausage that you find in rolls and it requires cooking.
Kielbasa has a course texture and it's usually heavy on the garlic. Yum! In the past, traditional Kielbasa may not have been smoked. These days, though, most all of it seems very close to the same, smoked and pre-cooked.
They all taste the same to me and can be interchanged easily.
Because most all of the Kielbasa and smoked sausage at big grocers is pre-cooked, you can eat it right out of the plastic, if you want. You can eat it in cold or hot dishes.
If you happen to be lucky enough to find some homemade Kielbasa, be sure to check the label or ask the ower. Sometimes Kielbasa sausage isn't pre-cooked and you will need to adjust your cooking plans to make sure it cooks through.
Most sausage is made from pork, but you can also find beef varieties. Although not traditional, you'll find that turkey smoked sausage is just as good as beef or pork. It's a healthier alternative and we use it often.
What are Lentils?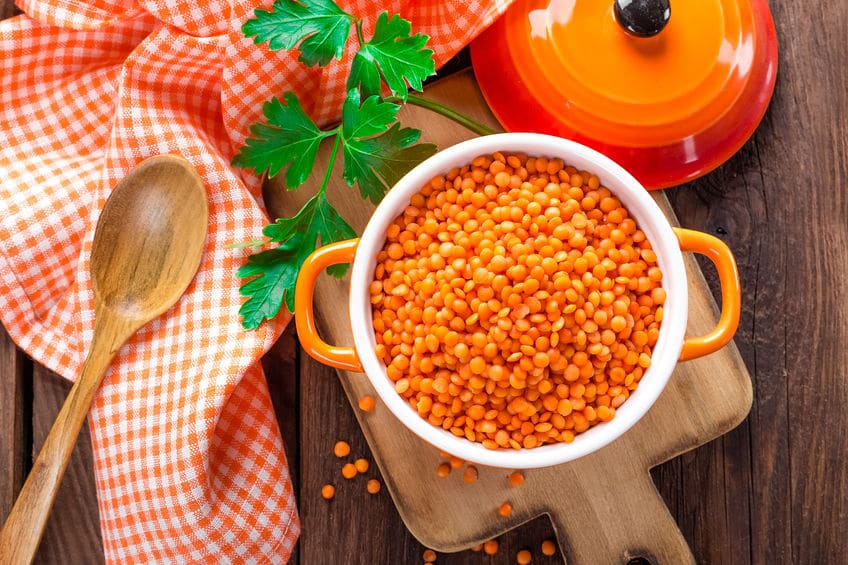 Lentils are a legume, like beans. And, like beans, they are high in fiber and protein but low in fat. They're a wonderful supplement to your diet and I've read that they're great for your heart too! You can read more about the benefits of lentils at WebMD.
Be sure to save all the lentils recipes. They're so good for you and you really can't eat too much. In a pinch, it doesn't hurt to have them by themselves with some sauce, or mix them with salsa.
You can even eat them cold, mixed in a salad. Quinoa is more trendy, but you could substitute cold cooked lentils instead.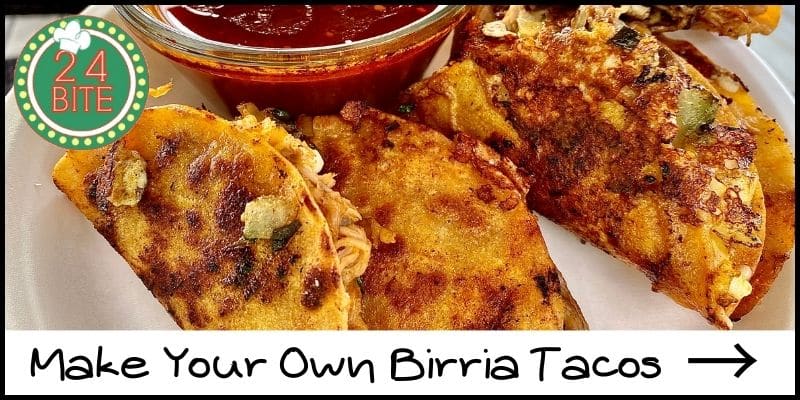 What's great about lentils is that you can use them in a soup that's a little too thin. I know that a lot of people use instant potatoes to thicken up a soup but don't forget lentils.
You can add about ½ cup to a pot of soup and it will thicken up in 15-25 mintues. And think of all that added protein! Tasty, and nutritious.
Cooking in the Instant Pot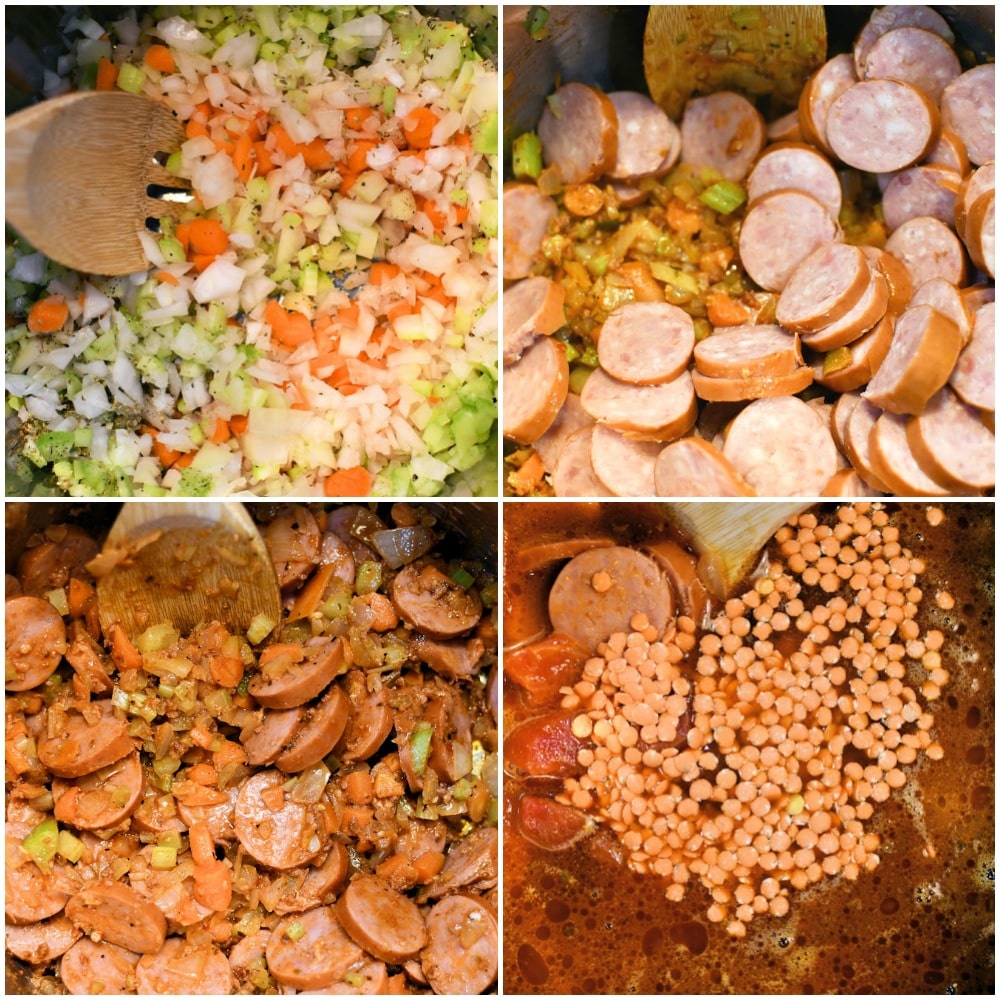 I started out by sauteing the vegetables in olive oil, right there in the Instant Pot. That's the beauty of the Instant Pot: you can cook everything in the same pot. It's a beautiful thing.
It's everything you know and love about one skillet meals, without all the fuss.
Once everything is ready, you'll add the remaining ingredients and pressure cook for 15 minutes and then allow it to natural release. After that, open the lid and serve immediately.
I've chosen natural release to give all the flavors a chance to merge. If you can't wait, you can do a quick release instead. Everything will be cooked by that time. Go ahead. I won't tell.
If you don't have an Instant Pot, have a look at this 6-Quart Instant Pot (aff link) which we use. We've had it for several years and it still works great.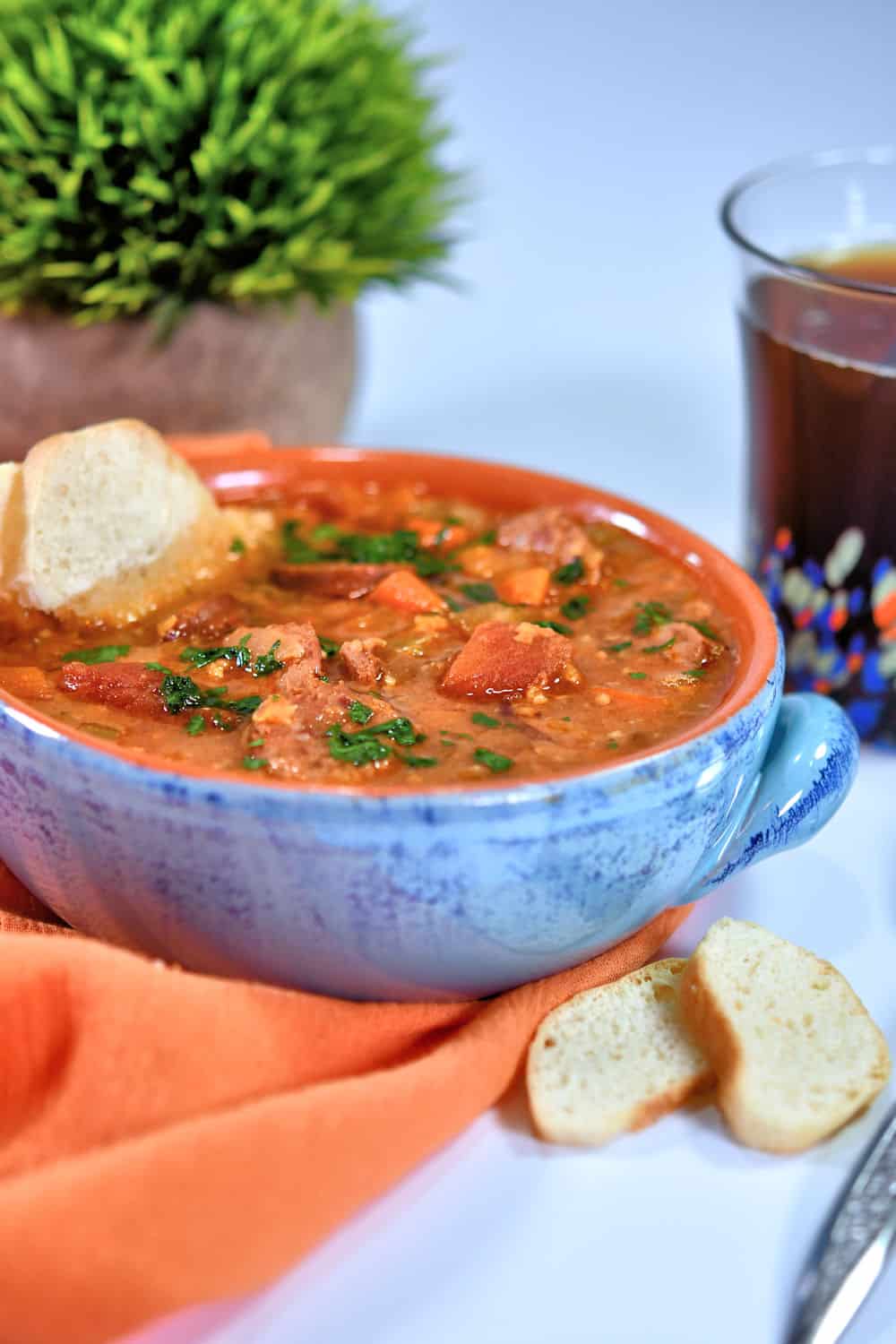 Enjoy this delicious meal in a bowl garnished with green onion and grated Parmesan. Add some sour cream and saltines. It will warm you up in no time.
Can I cook this soup on the stove?
Yes, you can cook this sausage and lentils soup on the stove top. Saute the vegetables and other ingredients just like you would saute everything in the recipe card.
Once you add the stock or broth and lentils, you will bring to boil then lower the heat. Cover the pan and simmer about 15-20 minutes or so, to cook the lentils.
How long can I refrigerate?
As with most all dishes like this, you should eat it within 3-4 days. It's really delicious and I don't see that as a problem. ha!
The soup freezes well too so you can expect it to last about 6 months in an airtight container in the freezer.
Try More Instant Pot Recipes
Browse all our Instant Pot Recipes or choose one of these.
Recipe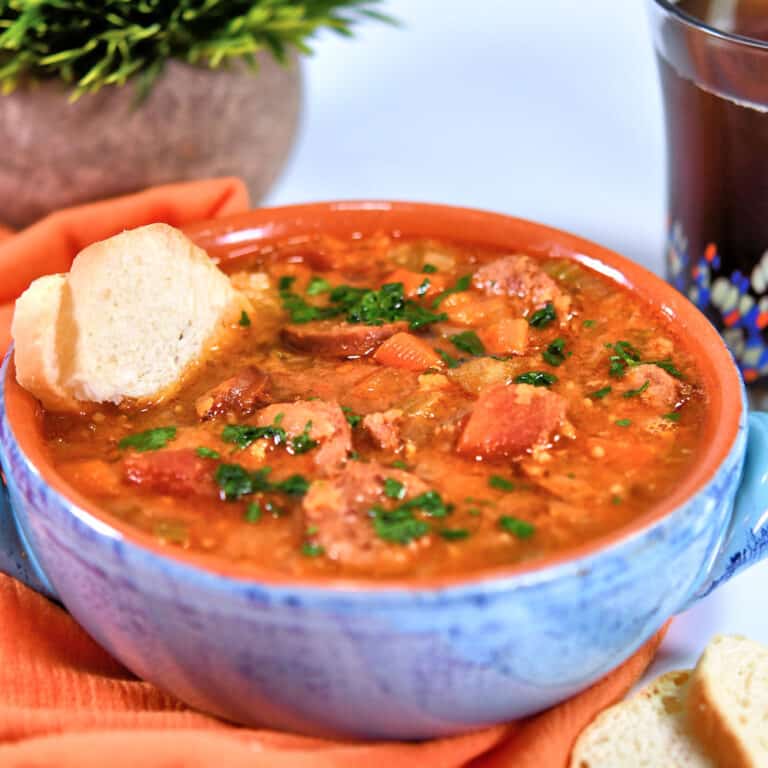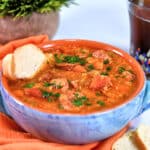 Pin Recipe Now
Instant Pot Kielbasa Sausage and Lentils Soup
Tap to leave a star rating
Save or Print
This Kielbasa Sausage Soup with Lentils is easy to make in the Instant Pot and has the perfect amount of spicy heat from Mexican chorizo. Warm and hearty, this quick and easy soup is perfect for any cold front.

For more information, be sure to check the recipe details in the attached 24Bite® post.
Equipment
6-quart Instant Pot Pressure Cooker
Ingredients
2

tablespoons

Olive Oil

1

medium

Onion

,

chopped

2

Celery Stalks

,

chopped

2

Carrots

,

chopped

4

Garlic Cloves

,

minced

1

teaspoon

Oregano

Salt and Pepper

,

to taste

3

ounces

Cacique Mexican Pork Chorizo

14

ounces

Kielbasa

,

thinly sliced

32

ounces

Beef Broth

14.5

ounces

Canned Diced Tomatoes

½

cup

Red Lentils
Instructions
Chop and mince all vegetables as directed. Thinly slice kielbasa sausage into little circles.

Press the Saute button on the Instant Pot to begin cooking in saute mode. Add olive oil. Add chopped onion, celery, carrots and garlic. Add oregano, salt and pepper. I usually start off with one teaspoon of each of salt and pepper and taste it at the end. Stir frequently until onions are fragrant, about 3 minutes.

While still on Saute, stir in the chorizo until heated, about 1 minute. Add the Kielbasa slices and stir until heated, about 1 minute. Press the Cancel button on the Instant Pot to reset.

Add beef broth, tomatoes and lentils. Stir. Check the Instant Pot lid to ensure the seal is in place and nothing is blocking the vent. Place lid on top and set lever to Sealing. Press the Manual button on the Instant Pot and set to high for 9 minutes, then natural release. The entire cook time will be about 25 minutes.
Note: If there is a video, it will not display while there is an adblocker.
Notes
Makes 2 quarts, or 8 one-cup servings. Garnish with chopped green onion, grated Parmesan, a spoon of sour cream and saltines, as desired.
Nutrition Facts
Instant Pot Kielbasa Sausage and Lentils Soup
Amount Per Serving
Calories 292
Calories from Fat 189
% Daily Value*
Fat 21g32%
Sodium 1030mg45%
Carbohydrates 14g5%
Protein 14g28%
* Percent Daily Values are based on a 2000 calorie diet.
______________________
Percent Daily Values are based on a 2000 calorie diet. All amounts are estimates and 24Bite® takes no responsibility for actual figures since calculations vary by packaging and supplier. Please calculate the amounts yourself based on package labeling if you have specific dietary requirements. 24Bite®, Kim Guzman or Christian Guzman shall not be liable for adverse reactions or any other outcome resulting from the use of recipes or recommendations on this website or actions you take as a result.
© 2019-2023 Kim Guzman and Christian Guzman. All rights reserved. Subscribe to 24Bite email newsletters.
Follow 24Bite: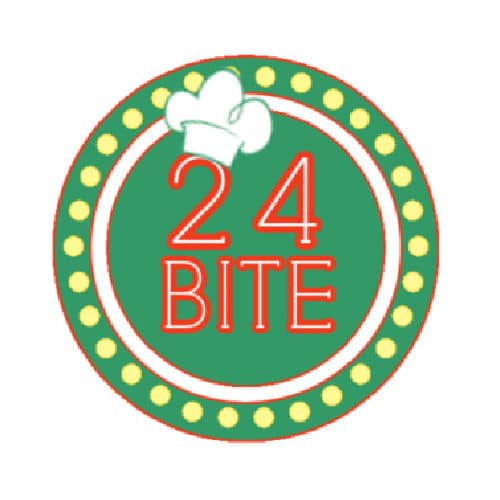 Twitter | Facebook | Pinterest