Learn how to make tamales in the Instant Pot with these chicken no lard tamales. It's a small batch so you can learn without an all day commitment.
You just need a place to start when you're learning so you don't get overwhelmed. Tamales are easy and a small batch just makes it easier.
Even better, these are healthier tamales! Making healthier tamales is easy when you remove the lard and substitute a smaller amount of a light oil like the safflower oil I've used. You could even make these vegan with potatoes, jalapenos, tomatoes or beans as the filling.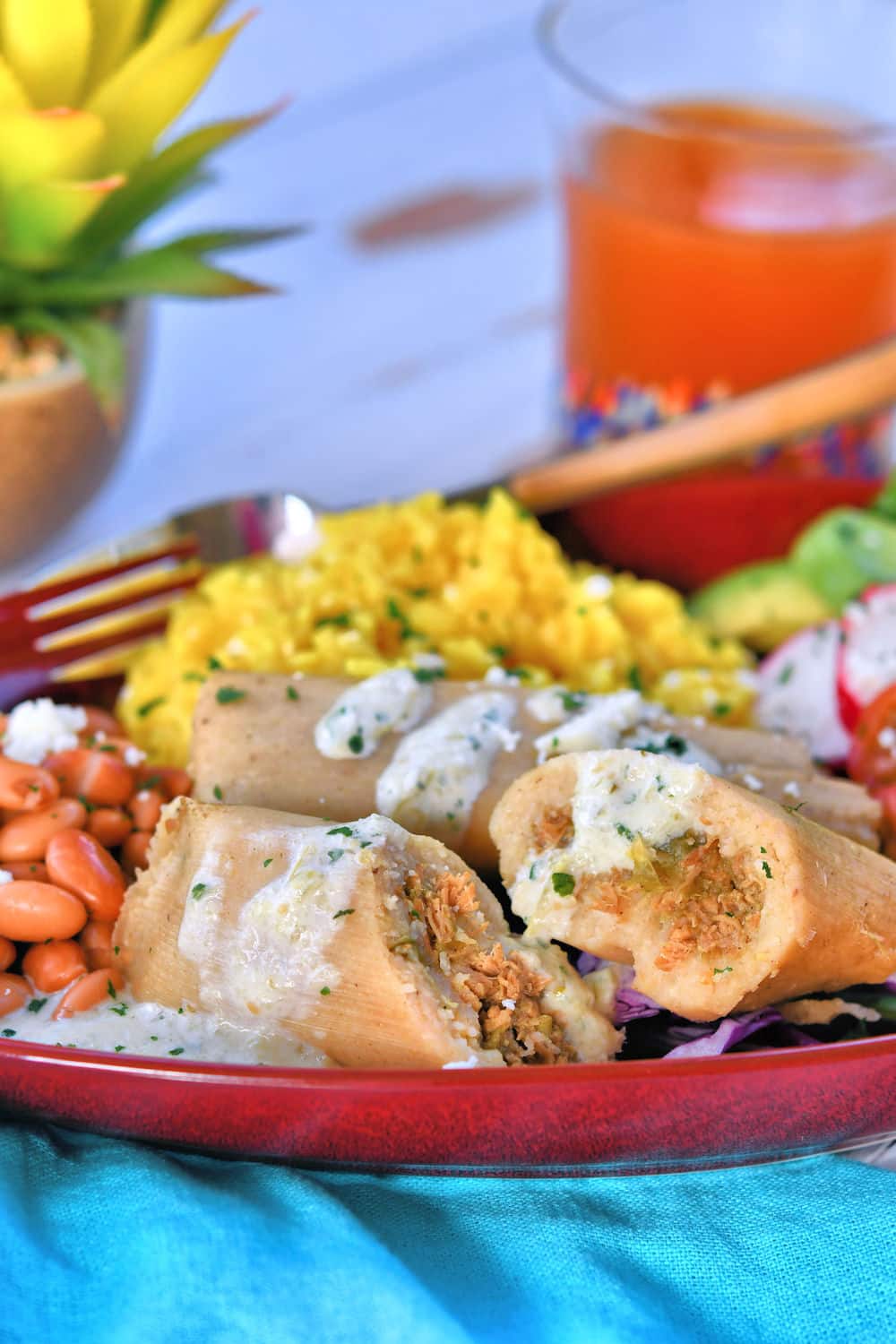 I've had lots of emails from people wanting to try making tamales but there was so much involved in the Traditional Mexican Pork Tamales that it seemed intimidating.
Using chicken, especially leftover chicken, eliminates all the time involved in slow cooking pork or beef. I've used a jar of salsa verde instead of making it from scratch.
Learn to make this small batch recipe for chicken tamales and you'll be able to tackle any of my tamale recipes.

Christian Guzman
Make a small batch of tamales
The typical tamale recipe makes about 45-50 tamales. It takes several hours. The time is intentionally reduced in this recipe since it's a small batch and only makes 15 or 16 tamales.
Have a look at my other Tamale Recipes to see the variety of different flavors you can make. You can either make these full tamale recipes or adapt them to this small batch tamale version.
Lastly, I've used an Instant Pot for steaming the tamales. The Instant Pot is the perfect steaming tool for making boiled eggs and it works perfectly for tamales too.
Ingredients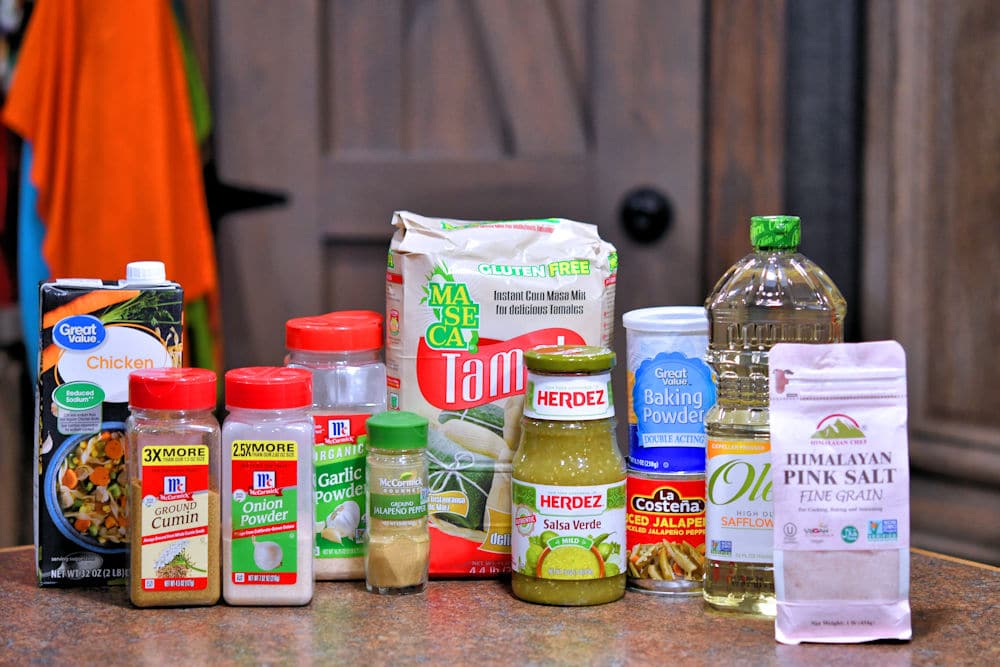 Let's talk about ingredients. To remove some of the steps, I've used some pre-packaged products instead of making everything from scratch.
Start with your protein
For this small batch of tamales, I used some leftover chicken. You need about a pound of boneless chicken which makes around 2 ½ to 3 cups or so when shredded.
If you have other leftover meat, you can use this recipe and swap out the chicken for beef or pork.
You can even use the plant-based "meat" crumbles if you want to make vegan tamales. Use vegetable stock instead of chicken stock to keep it vegan.
Swap out the salsa verde for a red salsa sauce, if you like.
Make your masa tamale dough
I use Maseca masa harina for all my tamales. It comes in a regular corn masa version and a tamal masa version. You can use either for tamales. We buy whichever is available.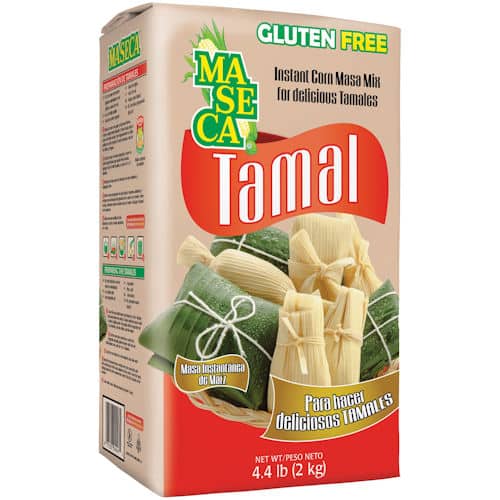 If you want to try out your own corn tortillas too, you can buy the regular Maseca masa harina and use it for both tamales and tortillas.
Can you make tamales without lard?
Yes! I've used Safflower Oil instead of lard. Safflower oil has only 1 gram of saturated fat per tablespoon so it makes a nice healthier alternative.
You can use the oil of your choice for this recipe. Vegetable oil is a great alternative. You can also use coconut oil, which is more trendy, but remember that coconut oil contains up to 14 grams of saturated fat per tablespoon.
Making Healthy Tamales
All fat is fat, no matter what. But, you CAN make choices about the fat you use.
The more saturated fat, the more unhealthy it will be. I'm not sure why coconut oil is so trendy with that much saturated fat. Lard only has about 5 grams saturated fat making even lard more heart healthy than coconut oil.
Stick with safflower oil, olive oil, vegetable oil or avocado oil for lower saturated fats.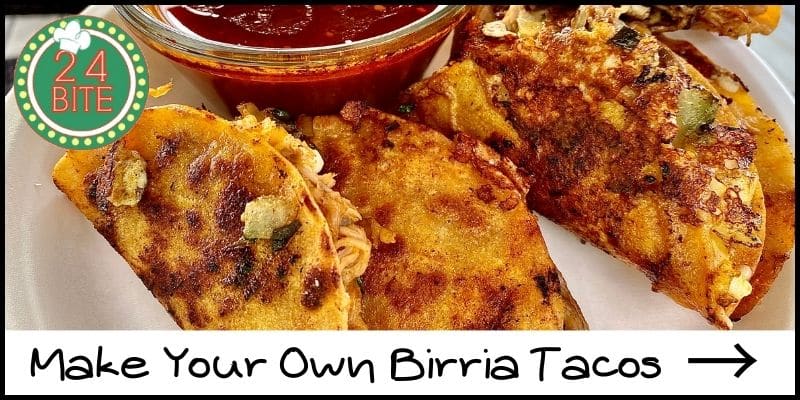 Corn husks
The corn husks are used to shape your tamales during steaming. You don't eat them. They're just wrappers.
We can usually find corn husks in 10 ounce, 12 ounce of 16 ounce packages. This is a small batch chicken tamales recipe so you will be fine with the smaller package.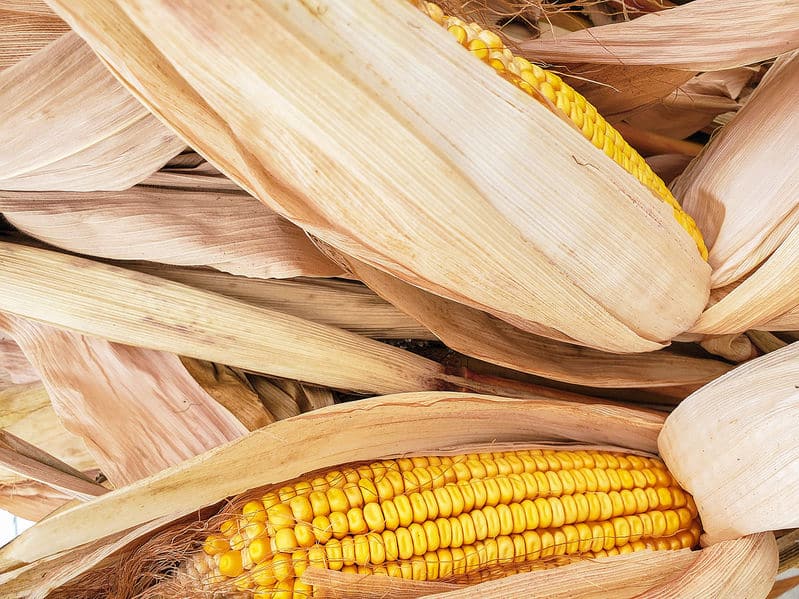 Check out your corn husks before using. Check for at least 16-18 nice average size corn husks. The smaller ones can be used to line the bottom or sides of the steamer. The large ones can be split or used to cover and protect the tamales while cooking.
When you're inspecting the corn husks, check for any discolorations. Discard the ones that look like they have a lot of dark spots.
While developing this recipe, I wondered whether we could make our own corn husks. And, yes, you can! You can read about making your own corn husks at eHow. I'm not sure that I'll ever give it a try, but it's something to think about if we ever have a big corn harvest.
More pantry ingredients
We always have these La Costeña pickled jalapeños in the pantry. They're delicious all by themselves. They're also great in cornbread. Try them with our Mexican jalapeño cornbread too.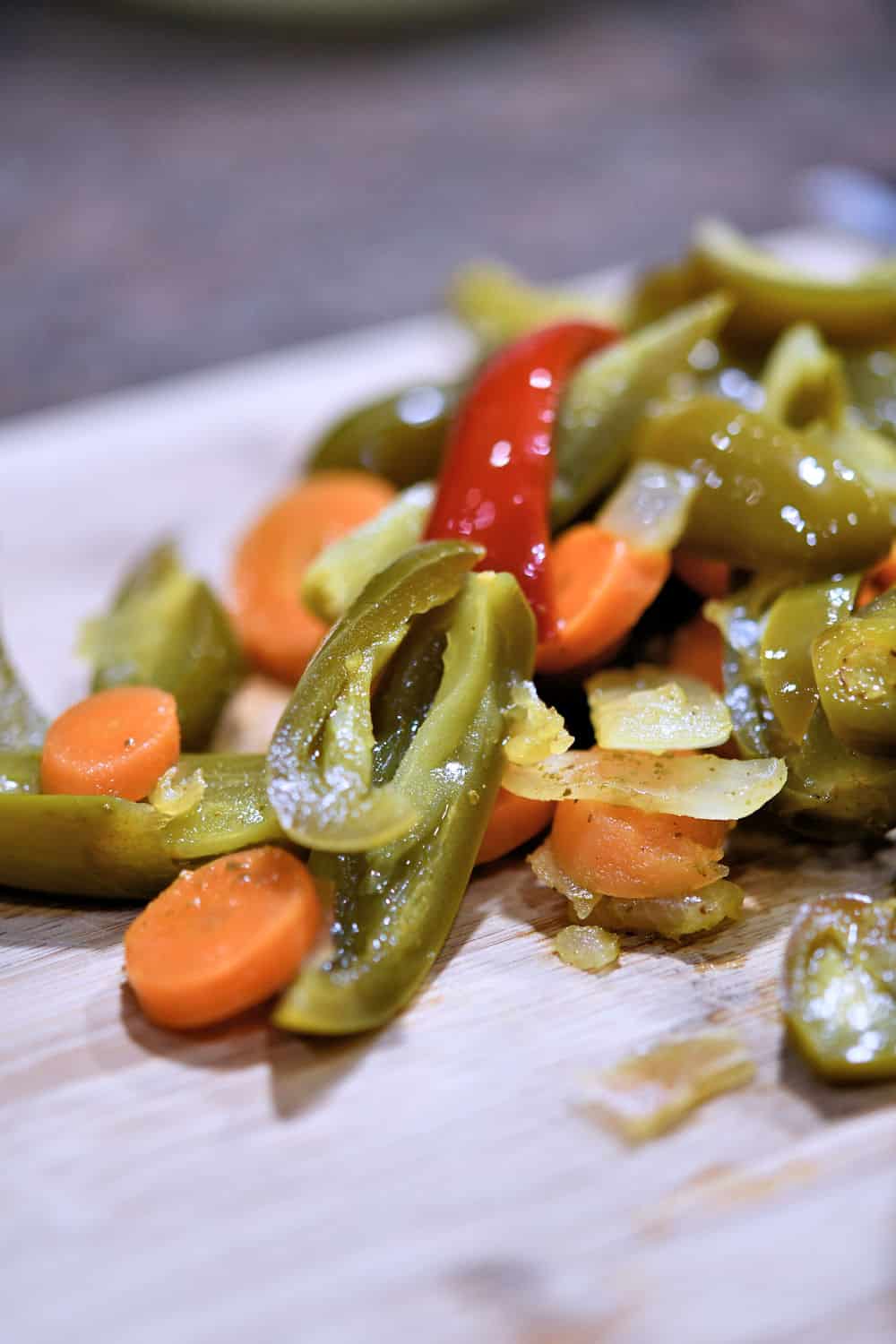 You'll find all the typical seasonings in these tamales: onion powder, garlic powder and cumin.
Salt is optional since there's already so much salt in the pickled jalapeños and chicken stock. Jalapeño powder is also optional for those who want more spicy heat.
Baking powder will help keep your tamales at the right texture.
I've used a 16 ounce jar of Herdez Salsa Verde. It's tasty and works great to cut corners.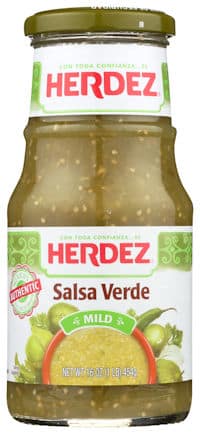 Homemade Salsa Verde
If you like, try this Restaurant Style Salsa Verde recipe if you prefer to make it yourself.
Herdez Salsa Verde green sauce is mild but flavorful. It's not overpowered by tomatillo and is delicious. We always have some in the pantry for chips and sauce for tacos, tostadas and, of course, tamales.
You can mix a little sour cream into a small bowl of salsa verde to make a delicious cream verde sauce too. It tastes great on top of these chicken tamales.
Tamale Assembly
Using the back of a serving spoon, smooth a three or four tablespoon amount of masa dough onto the smooth side of a corn husk.
You want to make a flat surface that's about 3 or 4 inches, depending on the size of your corn husk. If your dough is sticky, you can keep a bowl of water handy to dip your spoon.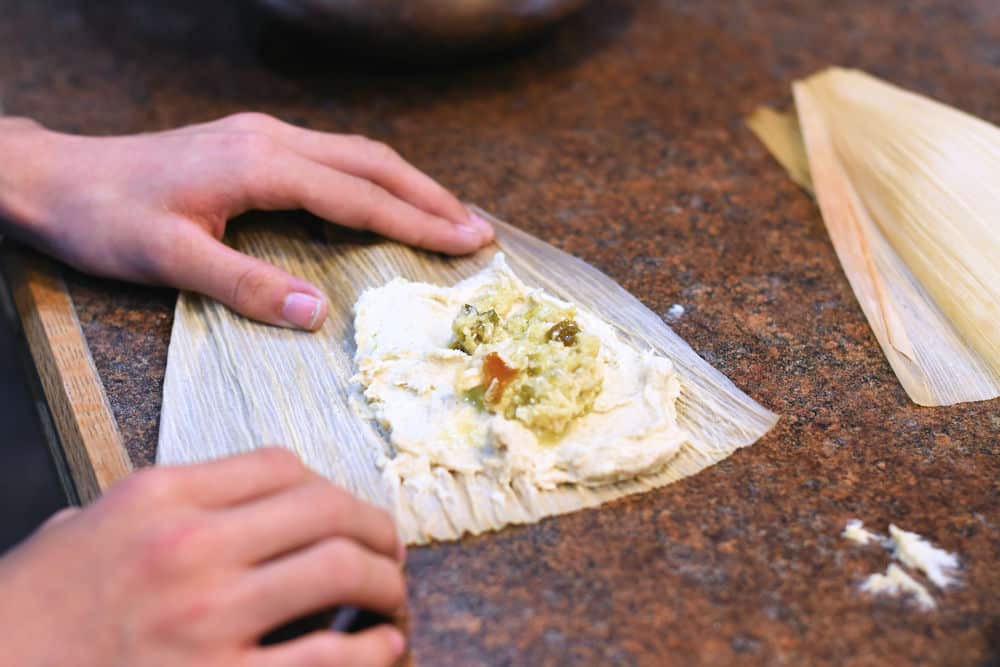 You're going to fold the corn husk over vertically from edge to edge, so leave at least ½″ where they will join.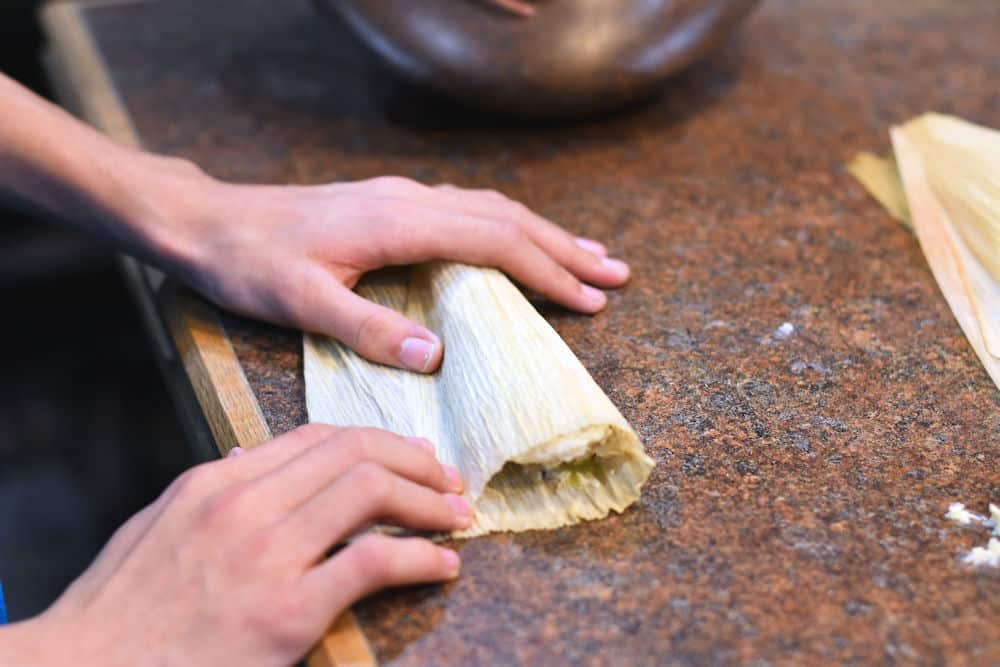 Push the edge toward the masa dough to set it up into a cylinder then roll it all the way.
Fold under the short edge of the corn husk to make a nice little package. Set them all aside until you're ready to cook them.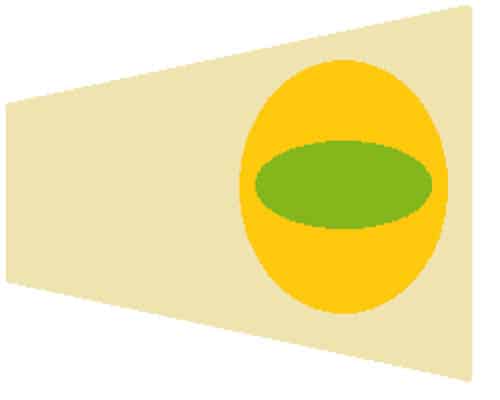 Cooking tamales in the Instant Pot
I've been wanting to try cooking tamales in the Instant Pot. It's the perfect way to cook them since you can so easily steam them.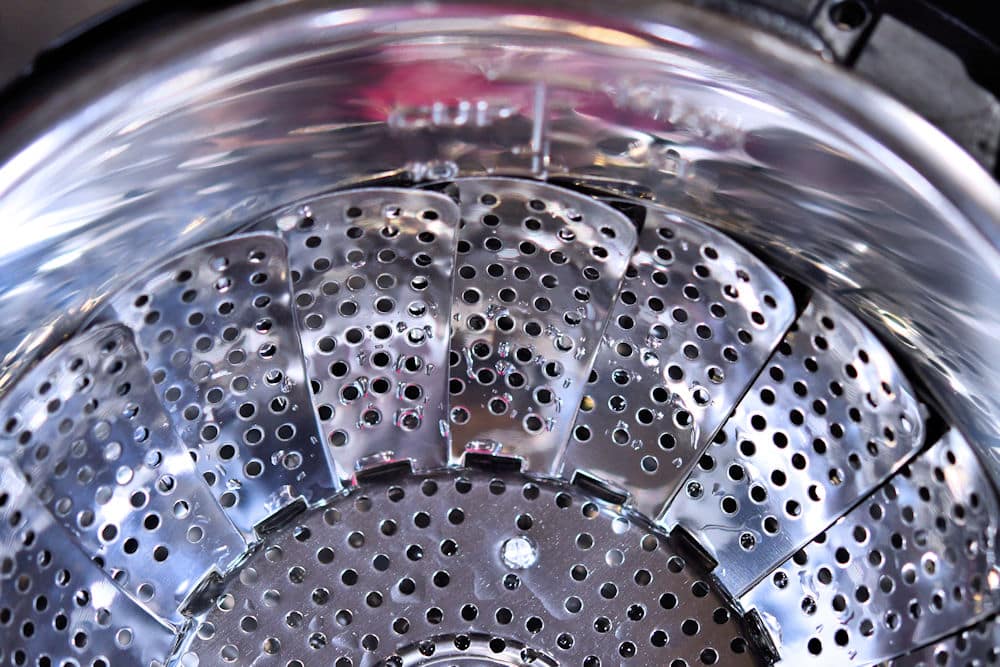 The trick is to make your tamales more wide than tall so they will fit easily in the Instant Pot. If you can't get a good connection with the lid, it won't build pressure.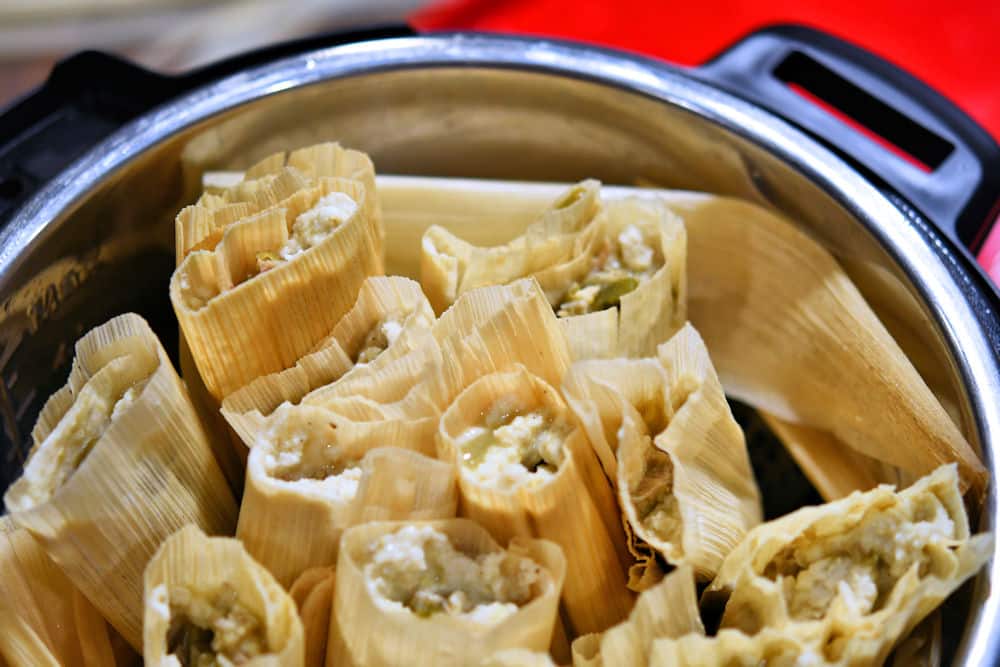 Cover the tamales with extra corn husks. This will keep the condensation on the lid from pouring into your tamales.
If you don't have an Instant Pot, have a look at this 6-Quart Instant Pot (aff link) which we use. We've had it for several years and it still works great.
Can you cook these tamales on the stove?
If you have a tamale steamer, you can use it with this recipe. I'm guessing, though, that you're using this recipe as a way to learn to make tamales.
This recipe will work with any stock pot you have, as long as the tamales can sit upright. Use a steamer basket to keep the tamales above the water.
When you check the tamales, you may need to add more water if it's evaporated. When you lift the lid, don't allow the condensation under the lid to fall onto the tamales.
It will probably take the same 60-90 minutes to finish cooking. Using the Instant Pot is kind of a misnomer. It doesn't necessarily mean that things cook faster.
Instead, what I like about the Instant Pot is that you don't need to babysit it. You can let your tamales cook the entire time without worry.
Using the stovetop method means that you will need to check it and especially check to make sure the water doesn't dry up.
How to serve tamales
Everyone loves tamales but eating too many isn't all that healthy. You can make it more of a healthy meal by using moderation and including other healthier sides to even things out.
Serve tamales with black or pinto beans, saffron rice and a side salad.
I've put together an entire feast of ideas to serve with tamales at What to Serve with Tamales here.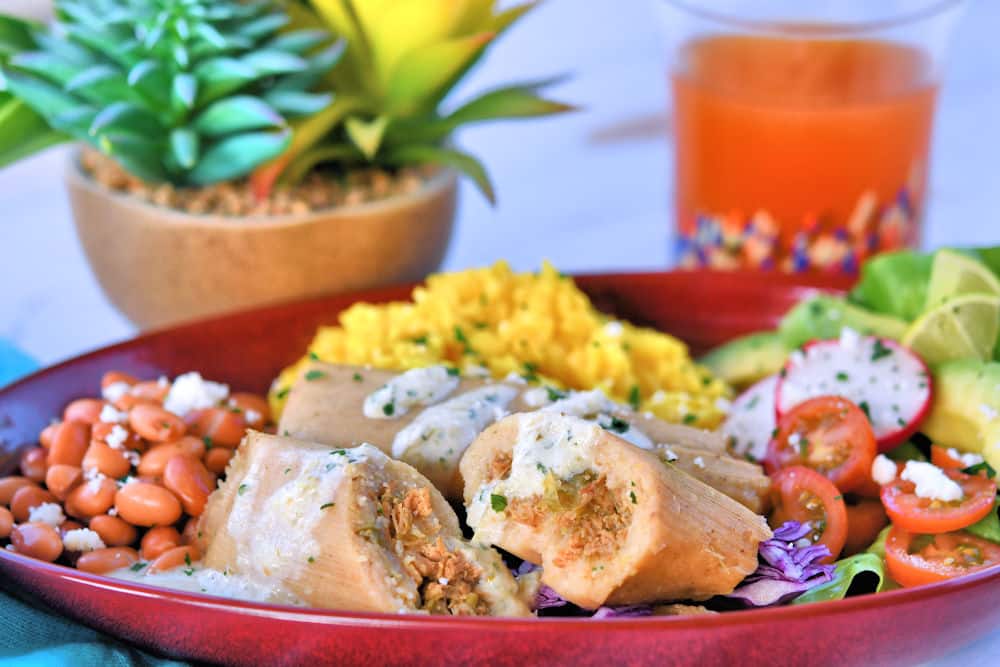 Recipe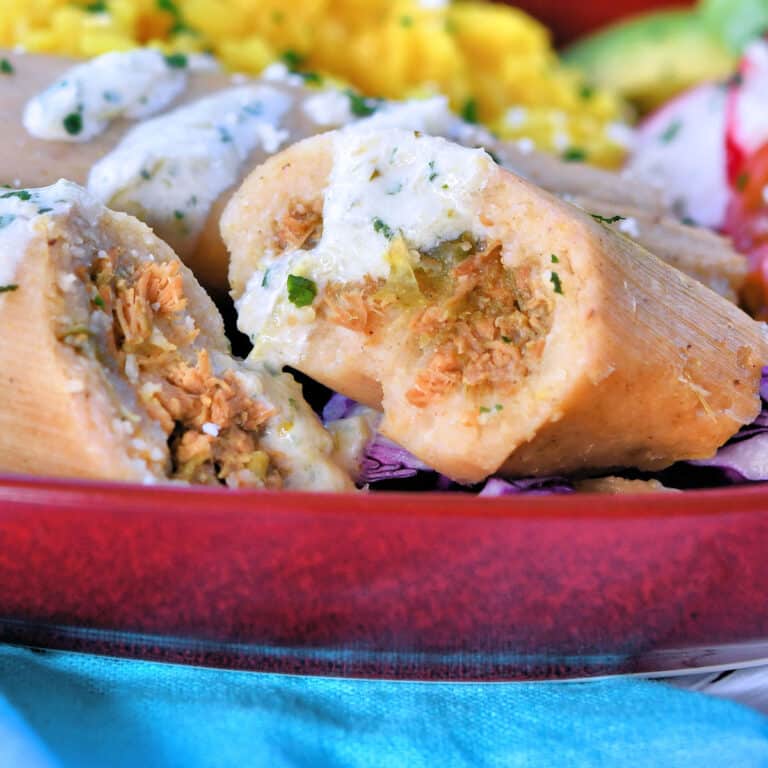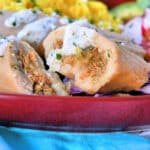 Pin Recipe Now
No Lard Tamales Small Batch Recipe (+video)
Tap to leave a star rating
Save or Print
These No Lard Tamales are made in a small batch so you can finish them quickly and easily without an all day kind of commitment. Stove top and Instant Pot instructions.

For more information, be sure to check the recipe details in the attached 24Bite® post.
Equipment
6-quart Instant Pot

Steamer Basket
Ingredients
Corn Husks
20-22

Corn Husks

,

cleaned and softened in hot water
Chicken Filling
1

pound

Boneless Skinless Chicken Breasts

,

boiled, sauteed or roasted then shredded or chopped, about three cups

8

ounces

Herdez Salsa Verde Mild

,

about 1 cup

12

ounces

Pickled Sliced Jalapenos

,

La Costeña, drained, sorted and chopped
Masa Dough
2

cups

Masa Harina

,

like Maseca

2

teaspoons

Baking Powder

1

teaspoon

Onion Powder

1

teaspoon

Garlic Powder

1

teaspoon

Ground Cumin

½

teaspoon

Salt

,

optional

½

teaspoon

Jalapeño Powder

,

optional

⅓

cup

Safflower Oil

2

ounces

Herdez Salsa Verde Mild

,

about ¼ cup

2

cups

Chicken Stock

,

or Chicken Broth
Instructions
Preparing Corn Husks
Being careful not to rip the corn husks, wash with cool water and a brush to remove all debris and corn silks.

Place in a large pan or dishpan or even in a clean sink. Fill with hot water to cover the husks. Place a large heavy dish or plate on top to ensure that the husks are all underwater. You may want to do this a couple of hours ahead of time but, depending on the age of the corn husks, they may be soft enough to use in only the time it takes to prepare the rest of the ingredients.
Preparing Chicken Filling
Boil chicken at medium heat in enough water to cover until done. Remove from water and shred with forks. Cut the shreds to make sure there are bite sized shreds.

Drain pickled jalapeños. Pick out any stems. To reduce heat, you can also remove any big bunches of seeds.

Place chicken, 8 ounces salsa verde and chopped jalapeños in medium bowl. Mix well. Set aside.
Preparing Masa Dough
Whisk together masa harina, baking powder and seasonings. You don't need to add the optional jalapeño powder unless you want more heat than given by the jalapeños. Taste the pickled jalapeños, if you like, to determine their level of heat.

Add oil and 2 ounces salsa verde to masa harina mixture. Mix well. It will look like wet sand like you would use to make sand castles.

Add ½ cup of stock at a time and mix well after each addition. You are looking for the consistency of hummus or cake batter.
Assembling the Tamales
Separate and pat dry a few husks at a time. Inspect to ensure that you have the smooth side facing upwards. Turn it vertically and hold the skinnier end with your non-dominant hand. Spread about four tablespoons masa dough in the wider portion of the corn husk. It should measure in a sort of oval/circle about 3" x 4" or so. This isn't going to be exact because each corn husk will be a different size.

Spread about two tablespoons of the chicken filling in a line down the center of the spread masa. If you plan on steaming in the Instant Pot, be sure to test the maximum length of your tamales when standing vertically. If you can't close the lid, you won't be able to use the Instant Pot.

Fold the husk vertically, edge to edge. With your dominant hand, push the top back a little with the filling and curl toward you to form a tube. Fold over the skinnier end and place in a tray with seam side down. Repeat until you run out of one of the ingredients (husks, masa or filling).
Steaming the Tamales in an Instant Pot
In an Instant Pot, place a steamer basket and fill with water up to the bottom of the basket. Place some extra corn husks on the steamer basket and around the sides.

Stack the tamales straight up in the stock pot with the fold at the bottom. If you like, make a ball out of aluminum foil to place in the center if you're having a hard time getting the tamales to stand up. If you have enough room, place a couple of the corn husks flat on the top of the tamales. This will help when you raise the lid so that condensation doesn't get into the tamales. Check to ensure that there will be nothing blocking the connection between the lid and the Instant Pot liner. If there is something blocking, the Instant Pot won't come to pressure.

Check the Instant Pot lid to ensure the rubber gasket is in place and nothing is blocking the vent. Place lid on top and set lever to Sealing. Press the Manual button on the Instant Pot and set to high pressure for 65 minutes then natural release fully. The entire cook time will be about 95 minutes. See note below for additional cook time, if necessary.

Remove lid and turn off Instant Pot. Let sit in the Instant Pot for about 20 minutes. The tamales will be soft while still very hot. Remove them with tongs once they've cooled off enough to retain their shape.

Serve immediately. Allow to cool completely before storing in the refrigerator or freezer. When storing, leave them in the husks.
Steaming the Tamales in a Stock Pot
In a tall Stock Pot, place a steamer basket and fill with water up to the bottom of the basket. Place any extra corn husks on the steamer basket.

Stack the tamales straight up in the stock pot with the fold at the bottom. If you like, make a ball out of aluminum foil to place in the center if you're having a hard time getting the tamales to stand up. If you have enough room, place a couple of the corn husks flat on the top of the tamales. This will help when you raise the lid so that condensation doesn't get into the tamales.

Cover and heat to boiling then reduce heat to low to keep the water steaming through the tamales. Check the water level every 10-15 minutes when using a steamer basket since the water level is already low. You don't want the water to dry up. When replenishing water, move the tamales out of the way before pouring so you don't get extra water inside the tamales. When removing the lid to check the tamales, try not to tilt it since this might add water to the inside of the tamales.

Cook for 60 to 90 minutes. After about 60 minutes, pull out one of the tamales and remove it from the husk to check for doneness. If it comes clean from the husk, it's done. If not, keep going for 15 minutes and try again. If still not quite done, you'll need 15 minutes more. Your goal is separation from the husk. The tamales will still be very soft but will retain their shape as they cool. Try not to move them until they have cooled enough to retain their shape.

Serve immediately. Allow to cool completely before storing in the refrigerator or freezer. When storing, leave them in the husks.
Note: If there is a video, it will not display while there is an adblocker.
Notes
To see the step-by-step process for making these chicken tamales, see my web story at Beginner Green Chile Chicken Tamales Story.
Due to the various sizes of the corn husks and individual technique, sometimes the tamales don't cook all the way in 65 minutes. You'll need just a little more time.
Move the tamales aside so you can pour about one cup of water into the bottom of the liner. Cook for 20 minutes more then natural release again. 
Serve with avocado, lime slices, tomato salad, chips and salsa. 
If you have any salsa verde remaining, mix in some sour cream or crema to make a creamy verde sauce to serve over the tamales.
To better control the amount of sodium in this recipe, consider making up a batch of your own homemade pickled jalapeños. You can make a small batch to keep in the refrigerator so you don't need to can them for shelf stability.
You may also want to make your own salsa verde. You can use this Restaurant Style Salsa Verde recipe so you can control your ingredients.
Look for a low sodium version of the Chicken stock to reduce the sodium even more.
Nutrition Facts
No Lard Tamales Small Batch Recipe (+video)
Amount Per Serving
Calories 160
Calories from Fat 63
% Daily Value*
Fat 7g11%
Sodium 413mg18%
Carbohydrates 14g5%
Protein 11g22%
* Percent Daily Values are based on a 2000 calorie diet.
______________________
Percent Daily Values are based on a 2000 calorie diet. All amounts are estimates and 24Bite® takes no responsibility for actual figures since calculations vary by packaging and supplier. Please calculate the amounts yourself based on package labeling if you have specific dietary requirements. 24Bite®, Kim Guzman or Christian Guzman shall not be liable for adverse reactions or any other outcome resulting from the use of recipes or recommendations on this website or actions you take as a result.
© 2019-2023 Kim Guzman and Christian Guzman. All rights reserved. Subscribe to 24Bite email newsletters.
Follow 24Bite: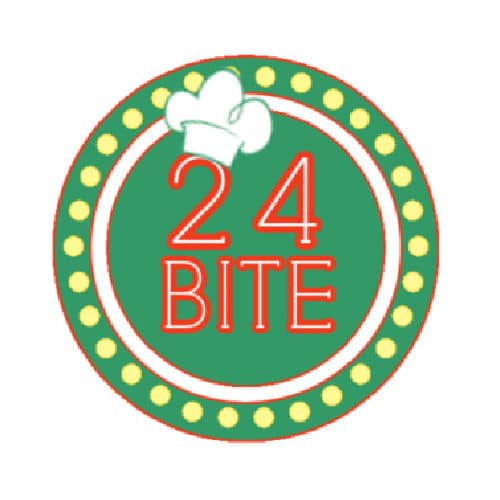 Twitter | Facebook | Pinterest