This Creamy Chicken Chili Recipe is just the perfect quick meal in one pan that you can have on the table quickly. A wonderfully hearty chicken soup with just a touch of warm heat from the peppers.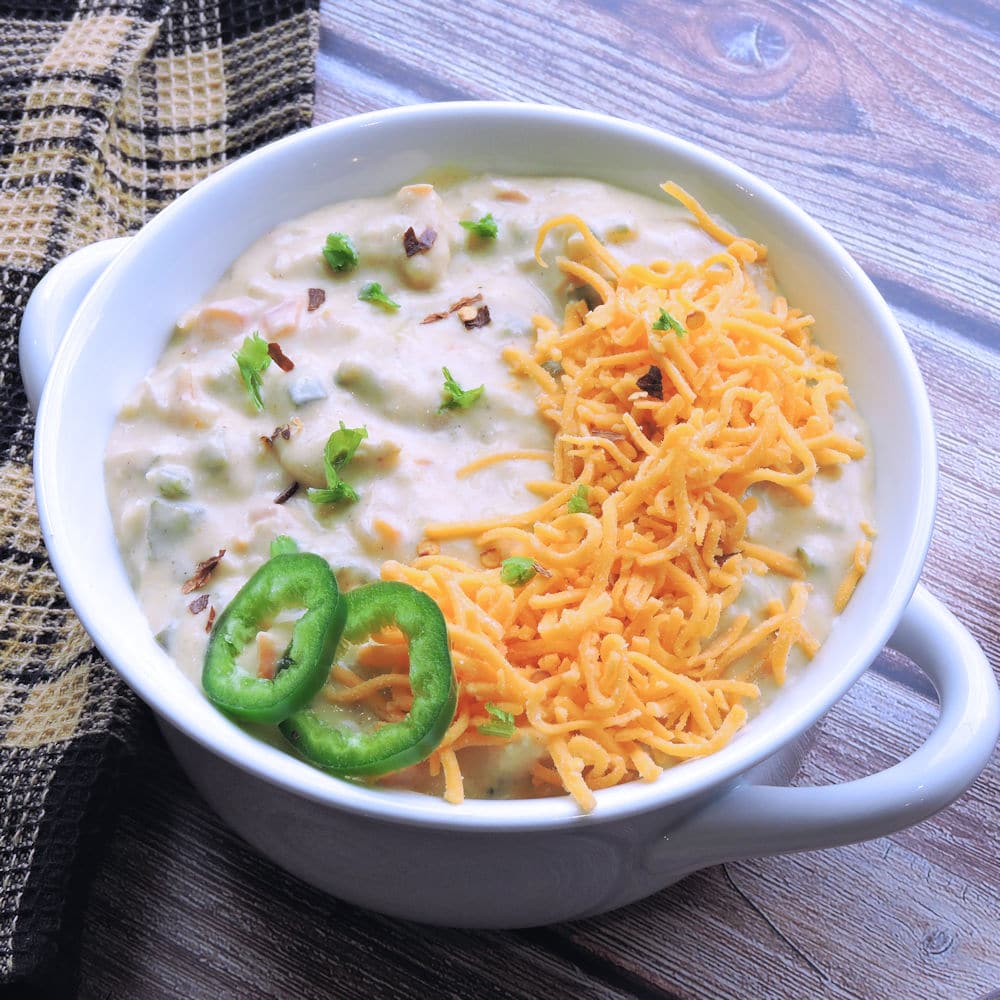 Creamy Chicken Chili Ingredients
Creamy Chicken Chili Recipe ingredients can be quickly pulled together once you get all your vegetables chopped. Here is a photo of the ingredients. As you can see, there are a lot of fresh vegetables in this chili.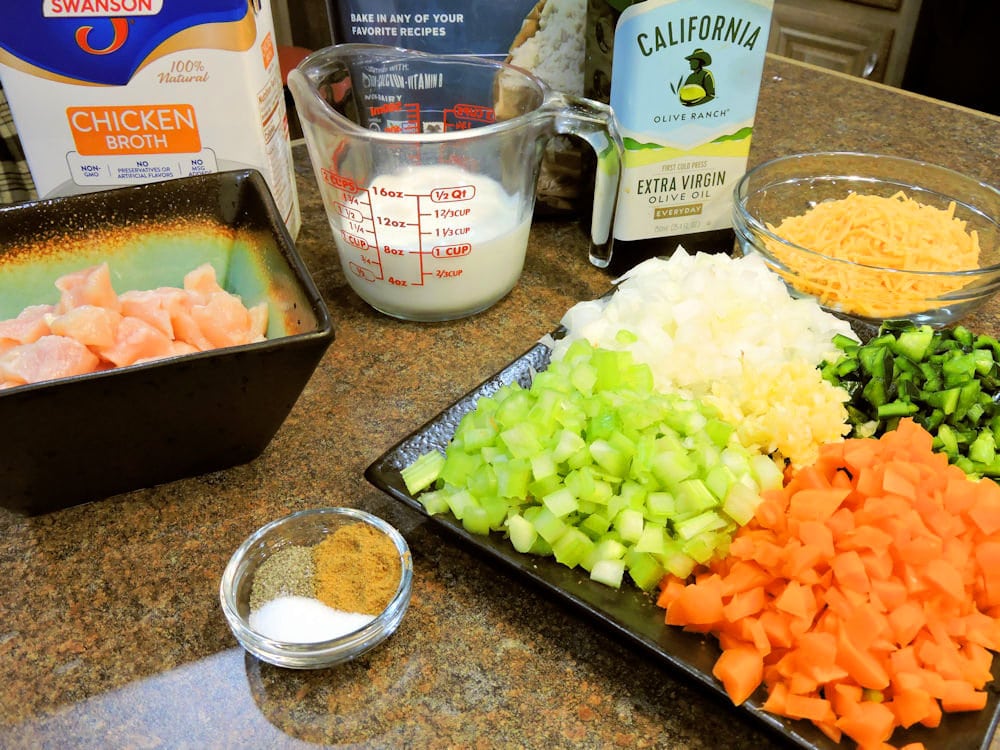 It's a wonderfully hearty chicken chili with just a touch of warm heat from the poblano peppers. Feel free to adjust the heat by using different peppers.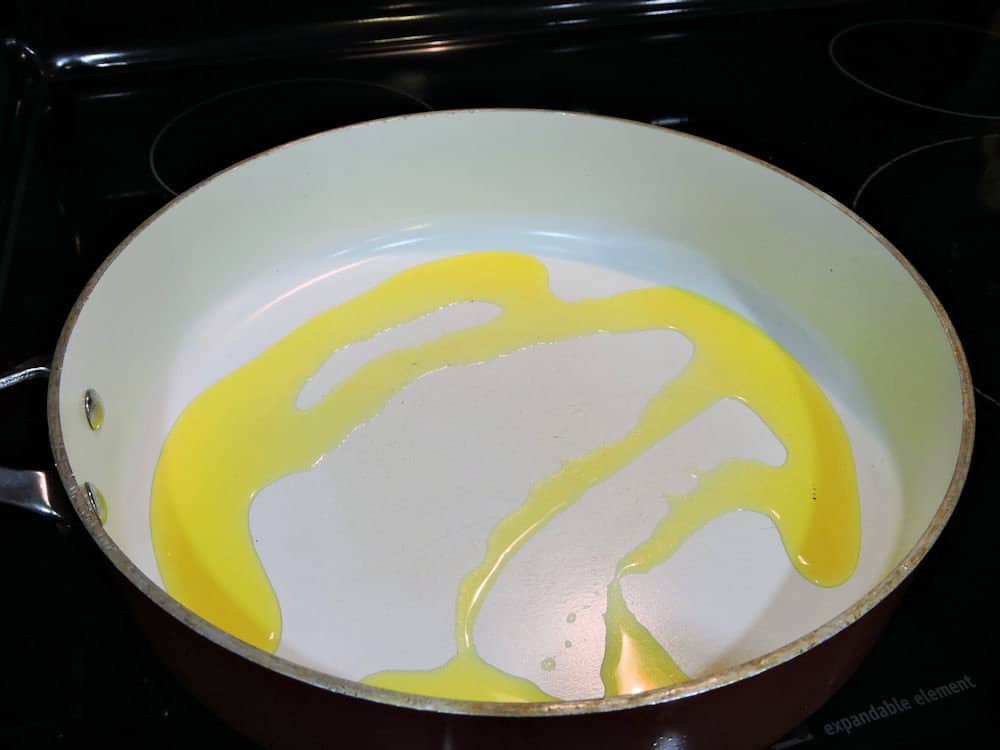 I minced four large cloves of garlic. This is a really handy tool for mincing garlic. It's easy to use and does a great job. I suggest rinsing it out immediately after use so it's not difficult to clean.
Look at that beautifully minced garlic.
For safety, I like to use an ulu knife. You can get a lot of vegetables chopped and ready when you are making two cutting passes at the same time.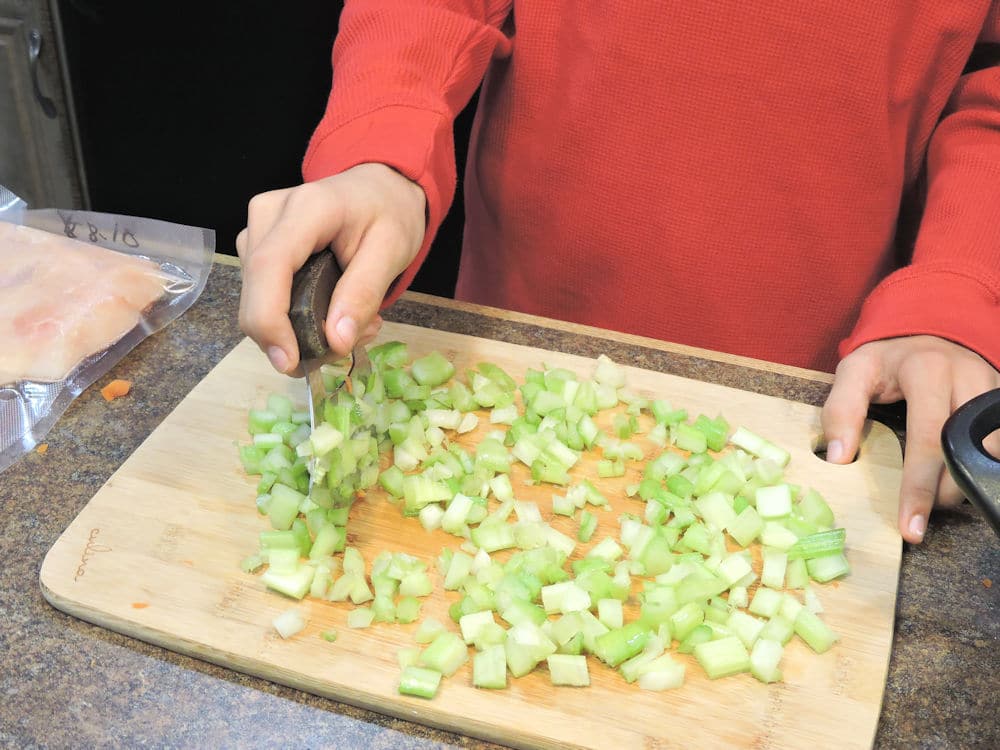 Add the vegetables to the oil and stir. Cook until tender. Adjust the pepper as you desire. I used one large poblano pepper here. You can use any of your favorite peppers.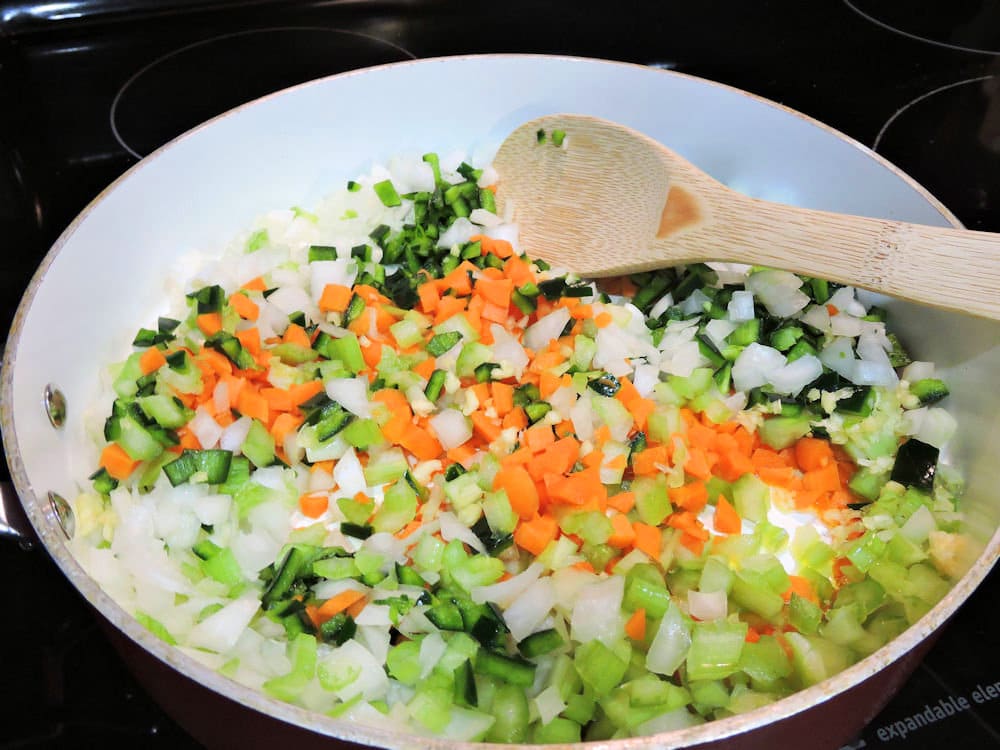 Choosing Your Pepper
Use anaheim for something about the same heat as poblano. If you like more heat, combine jalapeño or serrano with the milder pepper.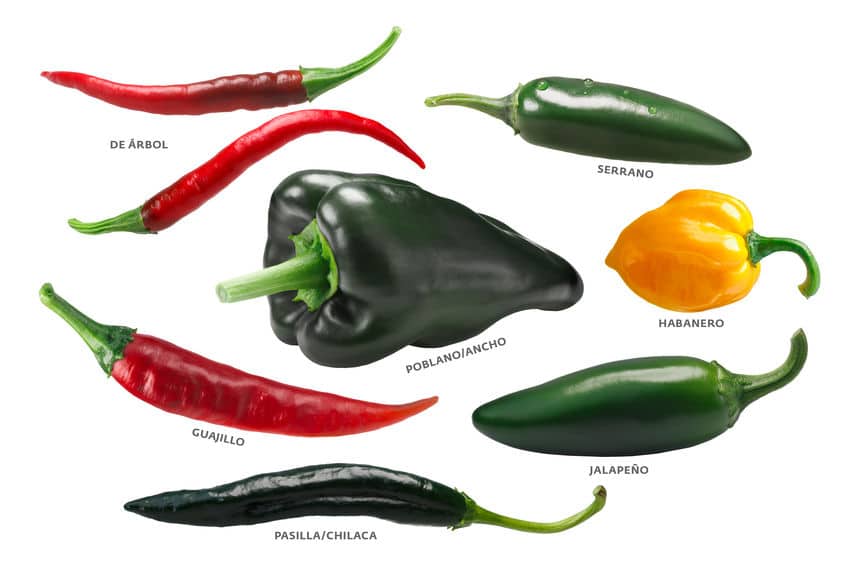 If you prefer no heat at all, use bell pepper. A nice red bell would be lovely.
If you're curious about the heat of your peppers, I found this great Scoville Heat Index which indicates very clearly that I'm a lightweight.
One Skillet Recipe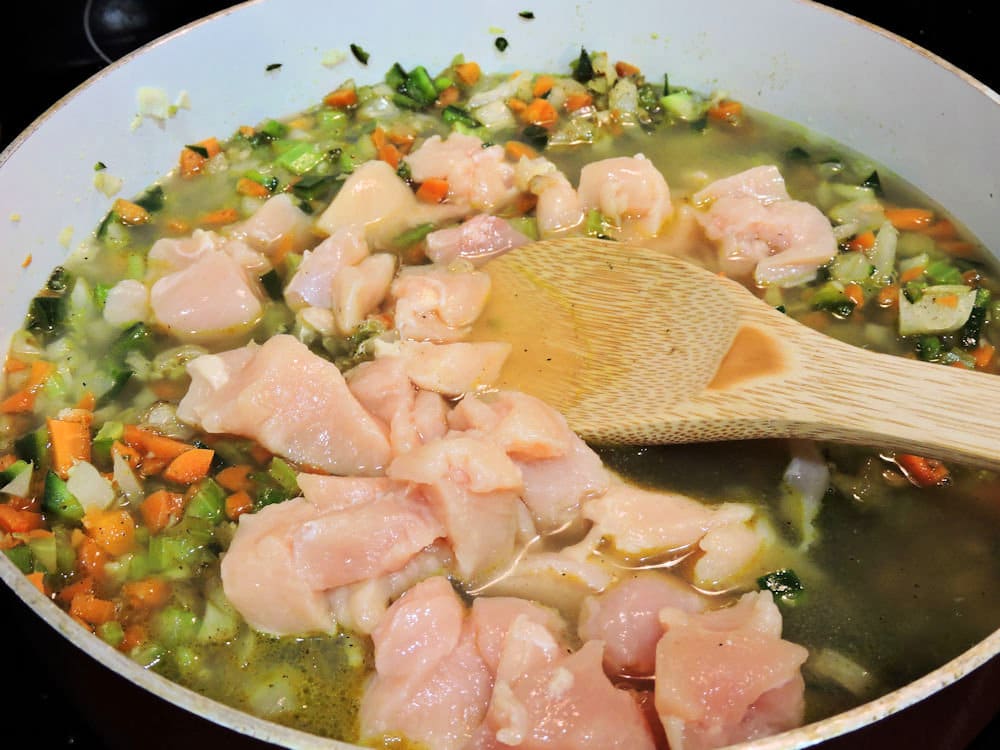 Stir in all your spices, chicken stock and chicken. Bring to a boil then reduce heat, cover and cook until chicken is done.
Add the tablespoon sized pieces of butter and cheese and continue cooking until melted.
It's best not to add the flour and cream directly to the hot pan. Temper it by mixing it separately then gradually bringing it up to temperature by adding a little bit of the hot liquid to it. Once it's heated, then add it to the chicken mixture and continue cooking until it's thickened.
More Soup Recipes to Warm Bellies
If you're looking for more great soups, try one of these hearty and warm recipes: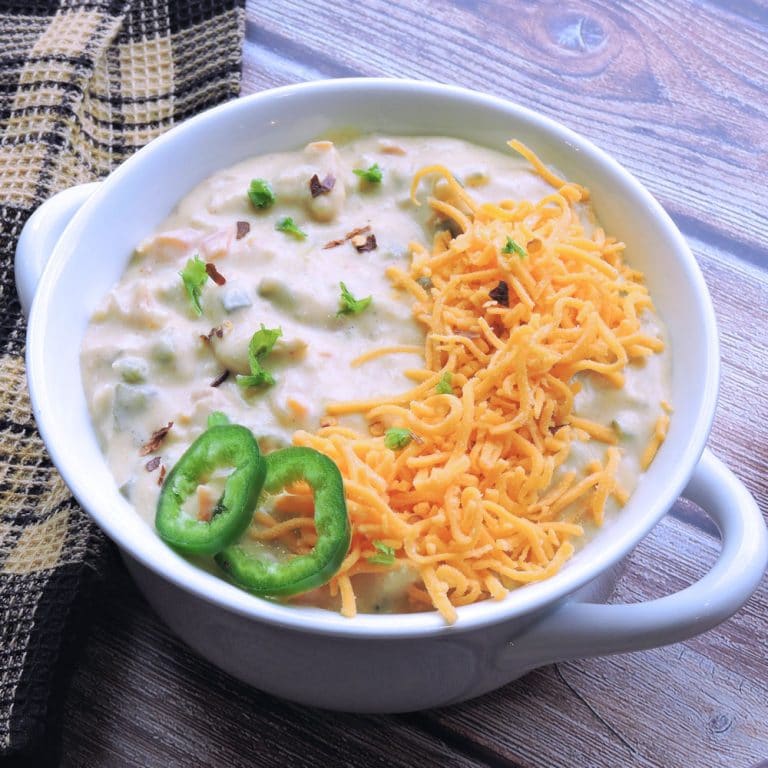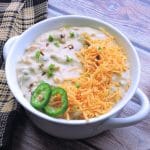 Creamy Chicken Chili with Mexican Green Chiles
Print Recipe
A wonderfully hearty chicken soup with just a touch of warm heat from the peppers.
Ingredients
2

tablespoons

olive oil

1

large

onion

chopped

1

large

pepper (poblano, anaheim or jalapeño, or a combination)

seeded and chopped

3

carrots

peeled and chopped

4

celery stalks

chopped

4

garlic cloves

minced

1/2

teaspoon

pepper

ground

1

teaspoon

salt

1

teaspoon

cumin

ground

1

pound

chicken

cut in bite-sized pieces

2

cups

chicken stock

4

tablespoons

butter

cut in 4 equal pieces

1

cup

cheddar cheese

shredded

1/4

cup

flour

1

cup

heavy cream
Instructions
Using a skillet that has a cover, pour in olive oil. Add onion, pepper, carrots, celery and garlic. Cook on medium until tender, about 7 or 8 minutes.

Add pepper, salt and cumin. Stir.

Add chicken and chicken stock. Bring to boil, about 5 minutes.

Cover, lower heat to simmer and cook until chicken is done, about 10-15 minutes.

Place the four pieces of butter evenly around the top and add the cheddar cheese. Stir to combine and allow to melt.

In a two-cup glass measuring cup, add cream and flour. Stir briskly with a fork to remove any lumps. Temper the flour mixture by adding 3/4 cup of hot liquid from chicken, 1/4 cup at a time, mixing well after each addition. Add flour mixture to chicken mixture and bring to heat and cook until thickened, about 5 minutes.

8 servings. Garnish with cilantro, if desired. Serve with a bit of shredded cheese and corn chips.
Nutrition
______________________
Percent Daily Values are based on a 2000 calorie diet. All amounts are estimates and 24Bite™ takes no responsibility for actual figures since calculations vary by packaging and supplier. Please calculate the amounts yourself based on package labeling if you have specific dietary requirements. 24Bite™, Kim Guzman or Christian Guzman shall not be liable for adverse reactions or any other outcome resulting from the use of recipes or recommendations on this website or actions you take as a result.
© 2019-2020 Kim Guzman. All rights reserved.
Follow 24Bite: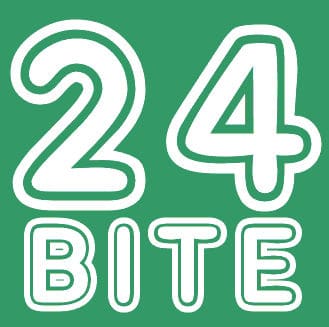 Twitter | Facebook | Instagram | Pinterest
Pin It: