This easy one skillet cheesy chicken chili means you don't have to sacrifice anything to enjoy a hearty meal that breaks from the traditional and becomes the extraordinary.
Cheesy chili is a wonderfully hearty chicken stew with just a touch of warm heat from the peppers.
Recipe | White Chili Without Beans | Using an Ulu Knife for Safety | Gluten Free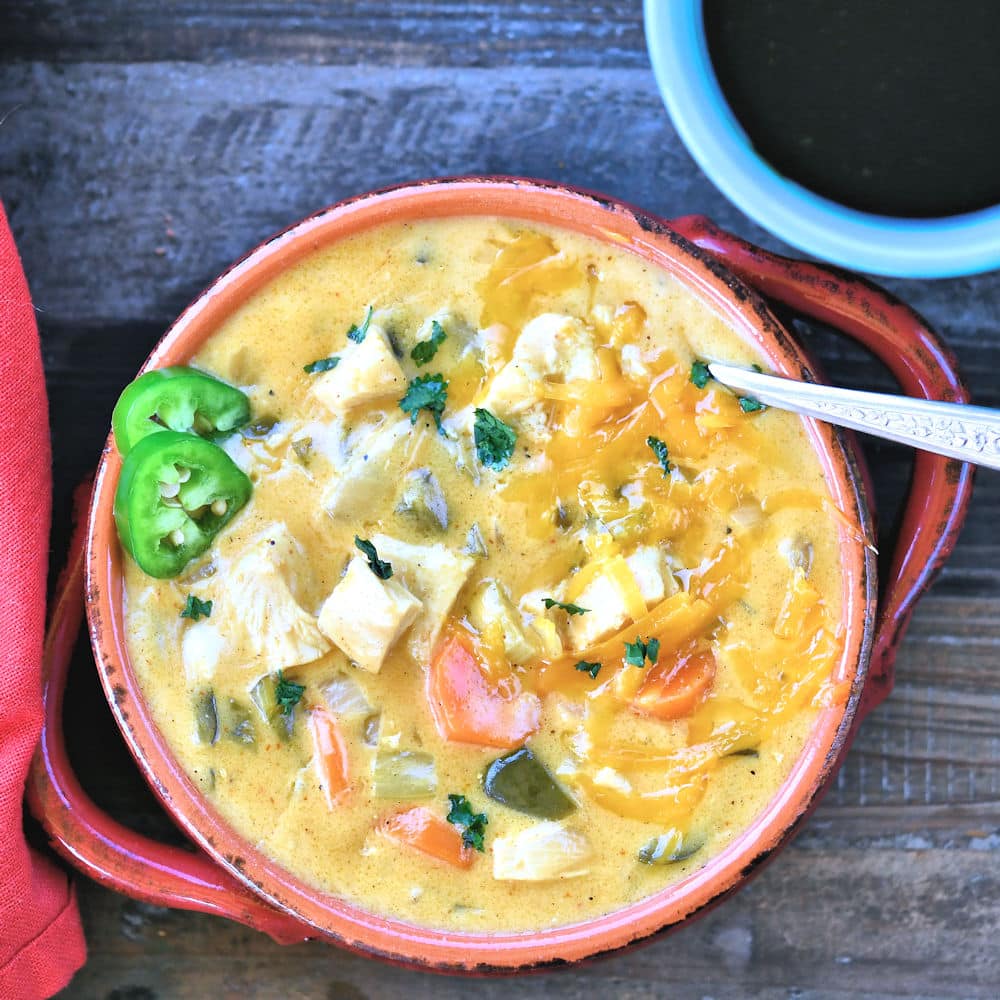 I love using the slow cooker and Instant Pot but I decided to do something on the stovetop this time so I could keep an eye on the cheeese and cream to keep it from scorching.
Ingredients
This chili includes lots of fresh vegetables in the ingedients list. It can be quickly pulled together once you get all your vegetables chopped. Here is a photo of the ingredients and you can see there are a lot of fresh vegetables in this chili.
No Beans
White chicken chili usually will include white or pink beans. To keep the carbs down, I've made this chili with no beans. I've used a lot of fresh vegetables in order to fill it out without beans.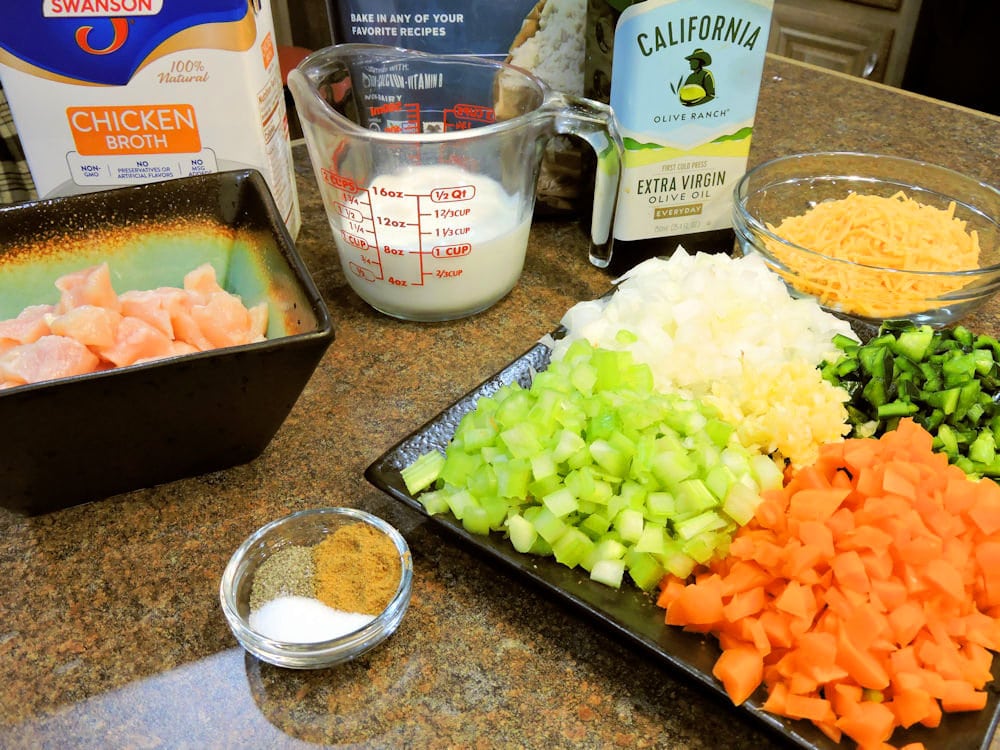 Fresh vegetables
Poblano pepper
Jalapeño pepper
Onion
Carrots
Celery
Garlic
I've used one Poblano pepper and one Jalapeño pepper, but don't worry if you want to adjust the heat. You can make it more spicy or less spicy simply by changing the peppers.
Don't miss this delicious tomato-based Italian Sausage Chili for another unique twist on a comfort food favorite.
Instructions
This recipe will happen all in one skillet, with a little bit of oil.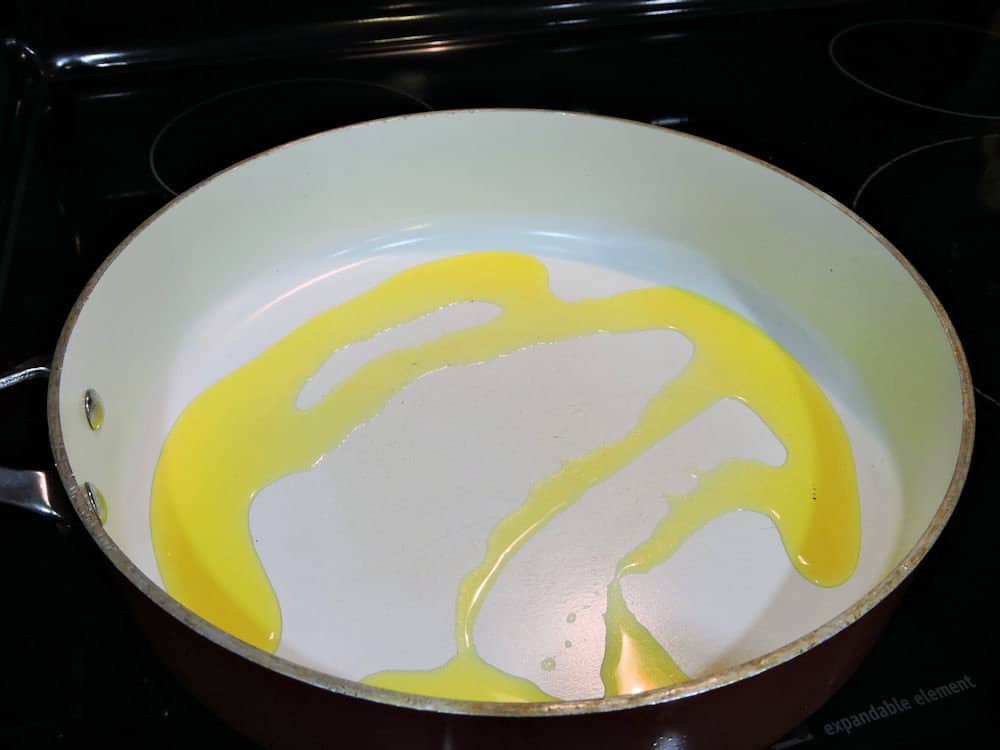 Using an Ulu Knife for Safety
For safety, I like to use an ulu knife. You can get a lot of vegetables chopped and ready when you are making two cutting passes at the same time. You can simply rock it back and forth and get all your chopping finished easily and safely.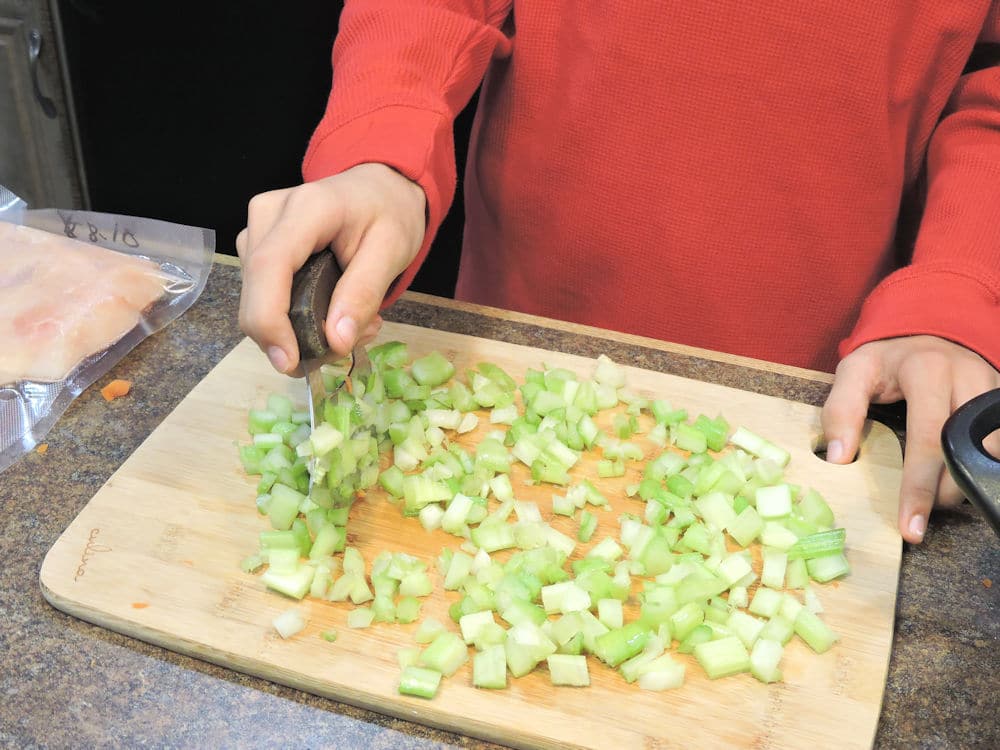 Add the chopped vegetables to the oil and stir. Cook until tender. Adjust the pepper as you desire. I used one large poblano pepper here. You can use any of your favorite peppers.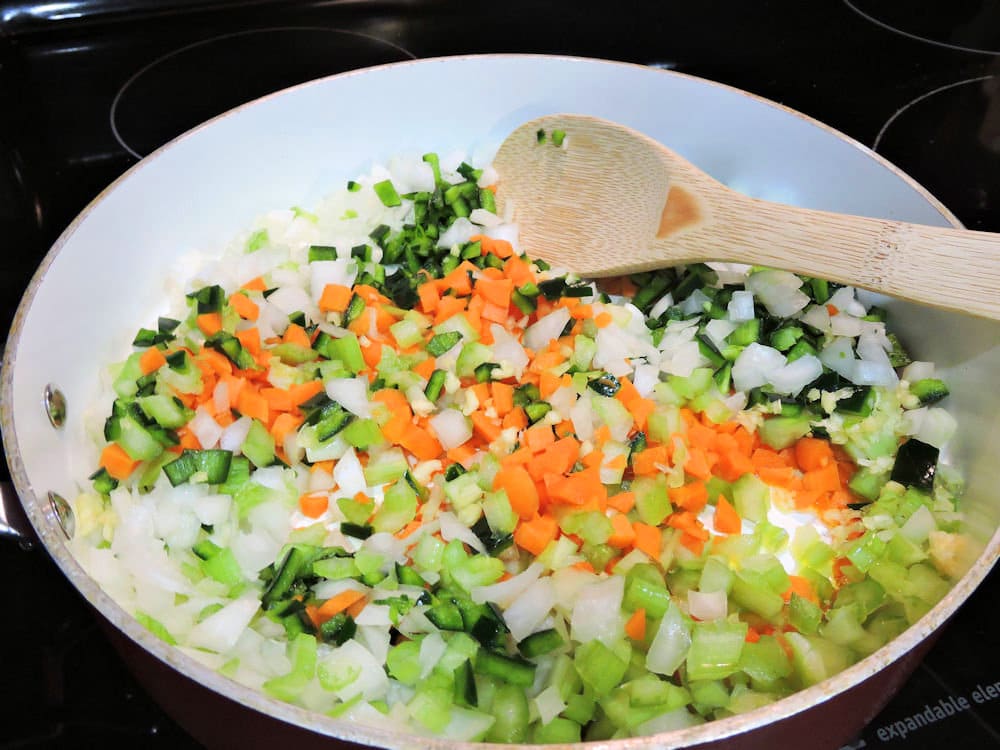 Choosing your pepper
Use anaheim for something about the same heat as poblano. If you like more heat and spice, combine more jalapeño or serrano with the milder pepper. Habanero is a good choice for you lovers of hot and spicy.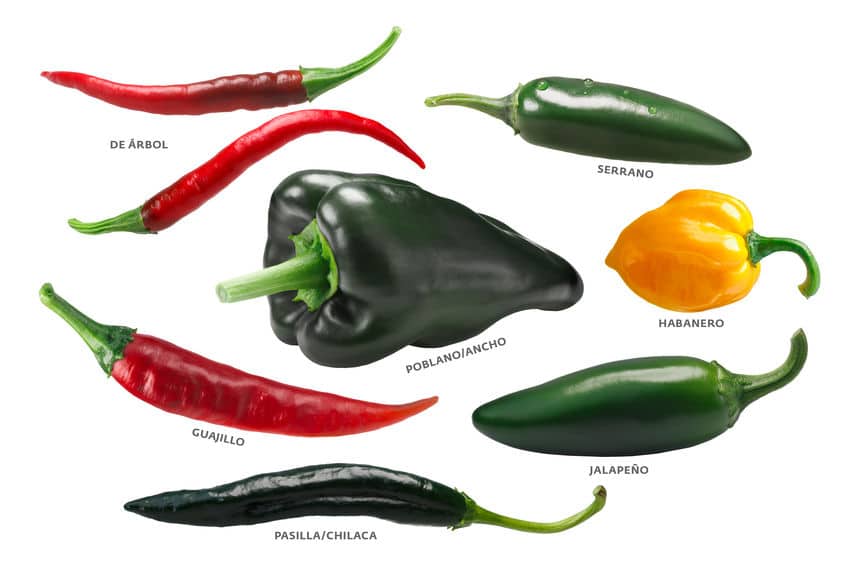 If you prefer no heat at all, use bell pepper. A nice red bell would be perfect.
If you're curious about the heat of your peppers, read about the Scoville Heat Scale, created by Wilbur Scoville in 1912.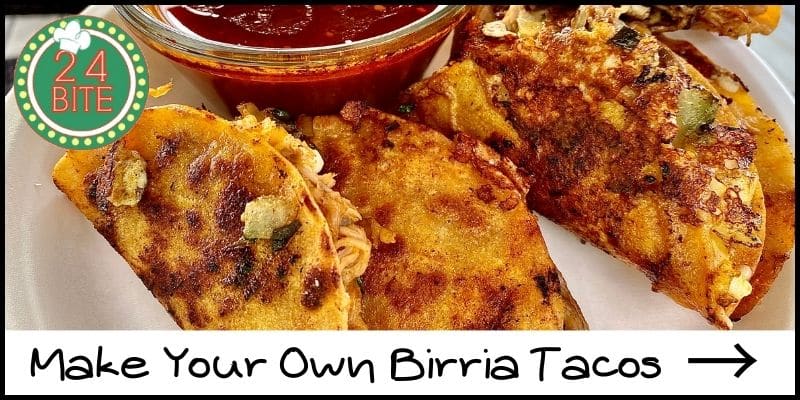 Is It Gluten Free?
I've used flour to slightly thicken this soup. This means that it's not gluten free, but it would be easy to adjust to a gluten free diet.
Try using a gluten free flour. Or, you could use my all-time favorite of adding a little bit of some instant mashed potatoes. Or, you could decide that you don't need any thickening at all.
Instructions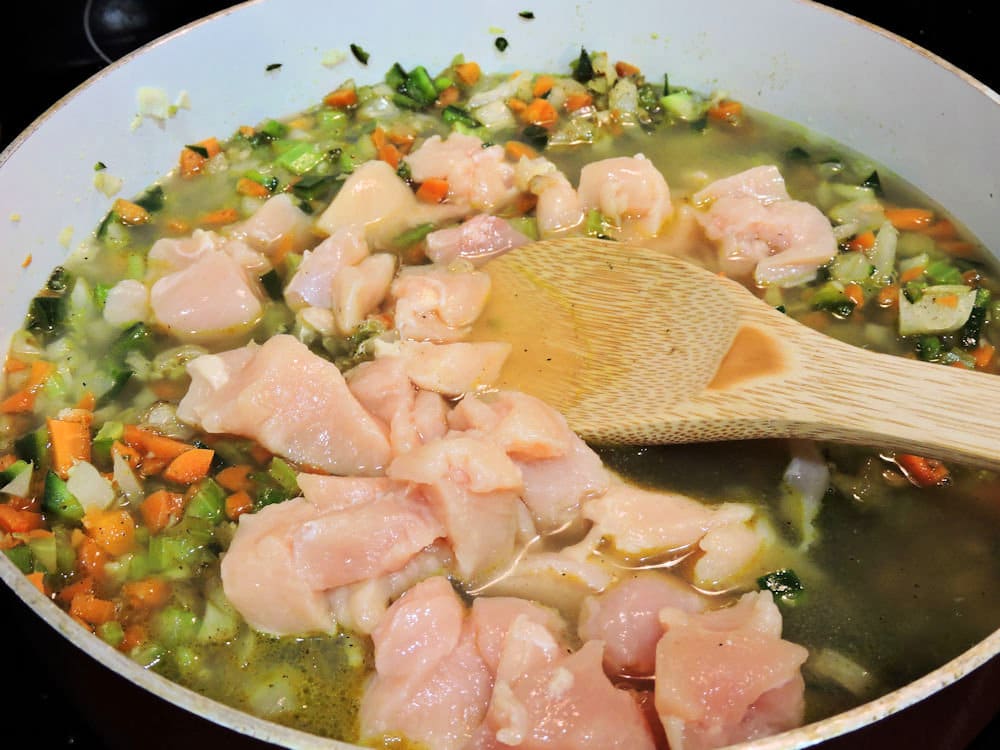 Stir in all your spices, chicken broth and chicken. Bring to a boil then reduce heat, cover and cook until chicken is done.
Add the tablespoon sized pieces of butter and cheese and continue cooking until melted.
How to temper your flour
It's best not to add the flour and cream directly to the hot skillet. Temper it first by mixing it in a separate container. Gradually bring it up to temperature by adding a little bit of the hot liquid to it and stirring it in after each addition.
Once it's heated, then add it to the chicken mixture and continue cooking until it's thickened.
More soup recipes to warm bellies
If you're looking for more great soups and stews, we've got you covered at 24Bite. Try one of these hearty recipes: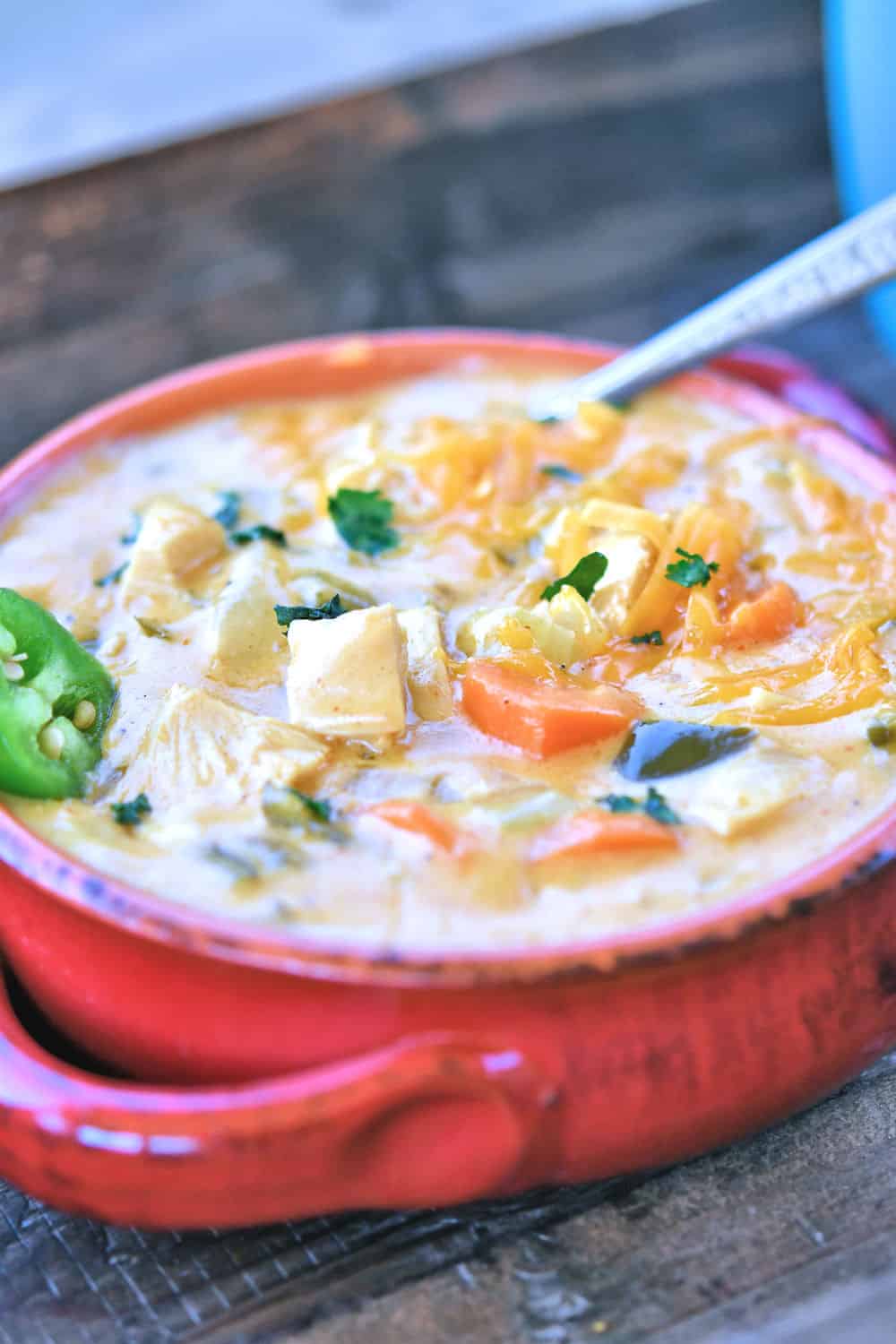 Recipe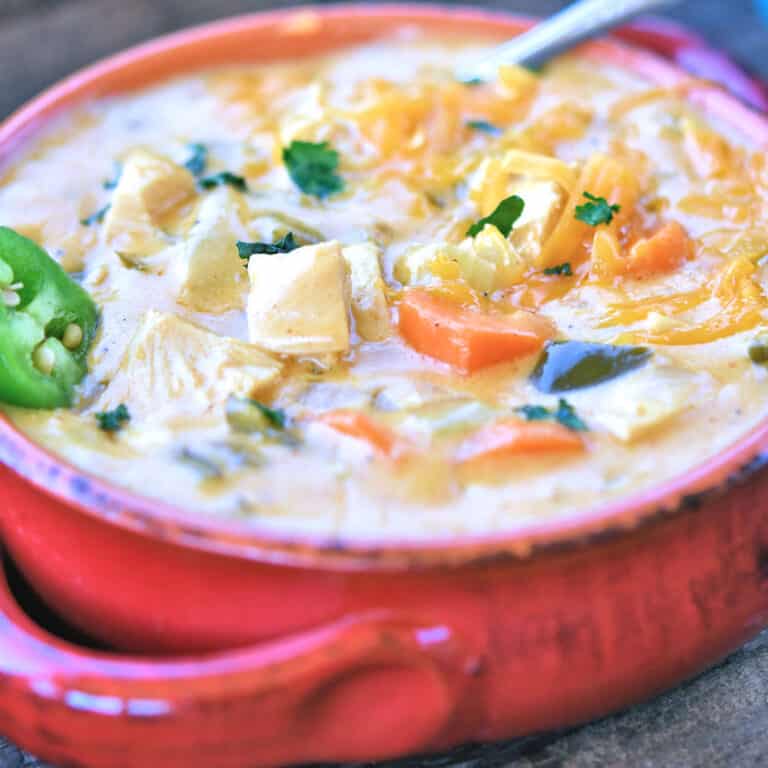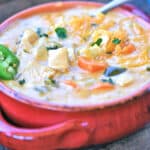 Pin Recipe Now
One Skillet Cheesy Chicken Chili
Tap to leave a star rating
Save or Print
This one skillet white chicken chili means you don't have to sacrifice anything to enjoy a hearty meal that breaks from the traditional and becomes the extraordinary.

For more information, be sure to check the recipe details in the attached 24Bite® post.
Ingredients
2

tablespoons

Olive Oil

1

Onion

,

chopped

1

Poblano Pepper

,

seeded and chopped

1

Jalapeño Pepper

,

seeded and chopped

3

Carrots

,

peeled and chopped

4

Celery Stalks

,

chopped

4

Garlic Cloves

,

minced

½

teaspoon

Pepper

,

ground

1

teaspoon

Cumin Powder

,

ground

1

teaspoon

Chili Powder

1

teaspoon

Better Than Bouillon Chicken Flavor

1

pound

Boneless Skinless Chicken Breast

,

cut in bite-sized pieces

4

cups

Chicken Broth

4

tablespoons

Butter

,

cut in 4 equal pieces

1

cup

Cheddar Cheese

,

shredded

¼

cup

All Purpose Flour

1

cup

Heavy Cream
Instructions
Using a large skillet that has a cover, pour in olive oil. Add onion, peppers, carrots, celery and garlic. Cook on medium until tender, about 7 or 8 minutes.

Add pepper, salt, cumin, chili powder and bouillon base. Stir.

Add chicken and chicken broth. Bring to boil, about 5 minutes.

Cover, lower heat to simmer and cook until chicken is done, about 10-15 minutes.

Place the four pieces of butter evenly around the top and add the cheddar cheese. Stir to combine and allow to melt.

In a two-cup glass measuring cup, add cream and flour. Stir briskly with a fork to remove any lumps. Temper the flour mixture by adding ¾ cup of hot liquid from chicken, ¼ cup at a time, mixing well after each addition. Add flour mixture to chicken mixture and bring to heat and cook until thickened, about 5 minutes.
Note: If there is a video, it will not display while there is an adblocker.
Notes
Garnish with cilantro, if desired. Serve with a bit of shredded cheese and corn chips.
Nutrition Facts
One Skillet Cheesy Chicken Chili
Amount Per Serving
Calories 351
Calories from Fat 243
% Daily Value*
Fat 27g42%
Sodium 753mg33%
Carbohydrates 10g3%
Protein 18g36%
* Percent Daily Values are based on a 2000 calorie diet.
______________________
Percent Daily Values are based on a 2000 calorie diet. All amounts are estimates and 24Bite® takes no responsibility for actual figures since calculations vary by packaging and supplier. Please calculate the amounts yourself based on package labeling if you have specific dietary requirements. 24Bite®, Kim Guzman or Christian Guzman shall not be liable for adverse reactions or any other outcome resulting from the use of recipes or recommendations on this website or actions you take as a result.
© 2019-2023 Kim Guzman and Christian Guzman. All rights reserved. Subscribe to 24Bite email newsletters.
Follow 24Bite: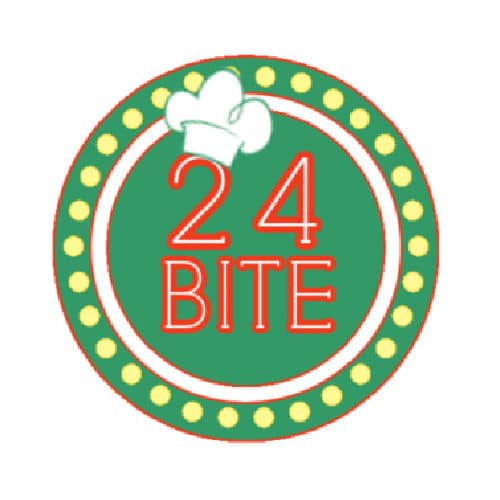 Twitter | Facebook | Pinterest