Enjoy a hearty bowl of beef barley stew, made quickly and easily when you let the Instant Pot do all the work. It's a complete meal in a bowl.
Recipe | What is Mirepoix? | What is Barley? | Is It Gluten Free?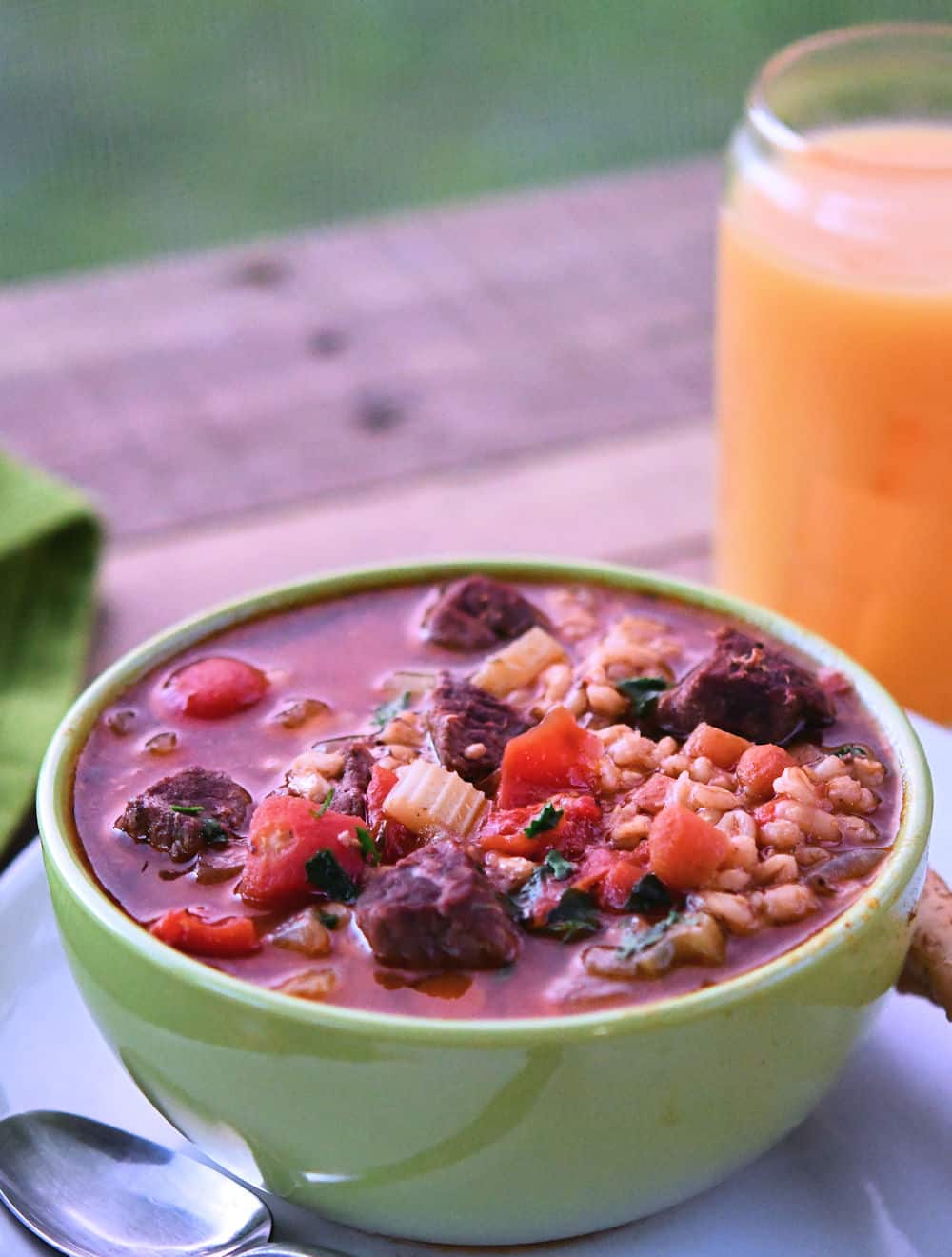 What is Mirepoix?
I'm going to, once again, use all the typical ingredients we're forever trying to keep available for recipes:
The base of many French dishes is mirepoix (pronounced meer-pwaa) which is actually just the word for this combination of three vegetables.
These three vegetables (and garlic, of course) seem to be the base of so many of my 24Bite recipes. I'm not doing a lot of French recipes right now, but it's interesting that I find myself starting with these same three for so many different things.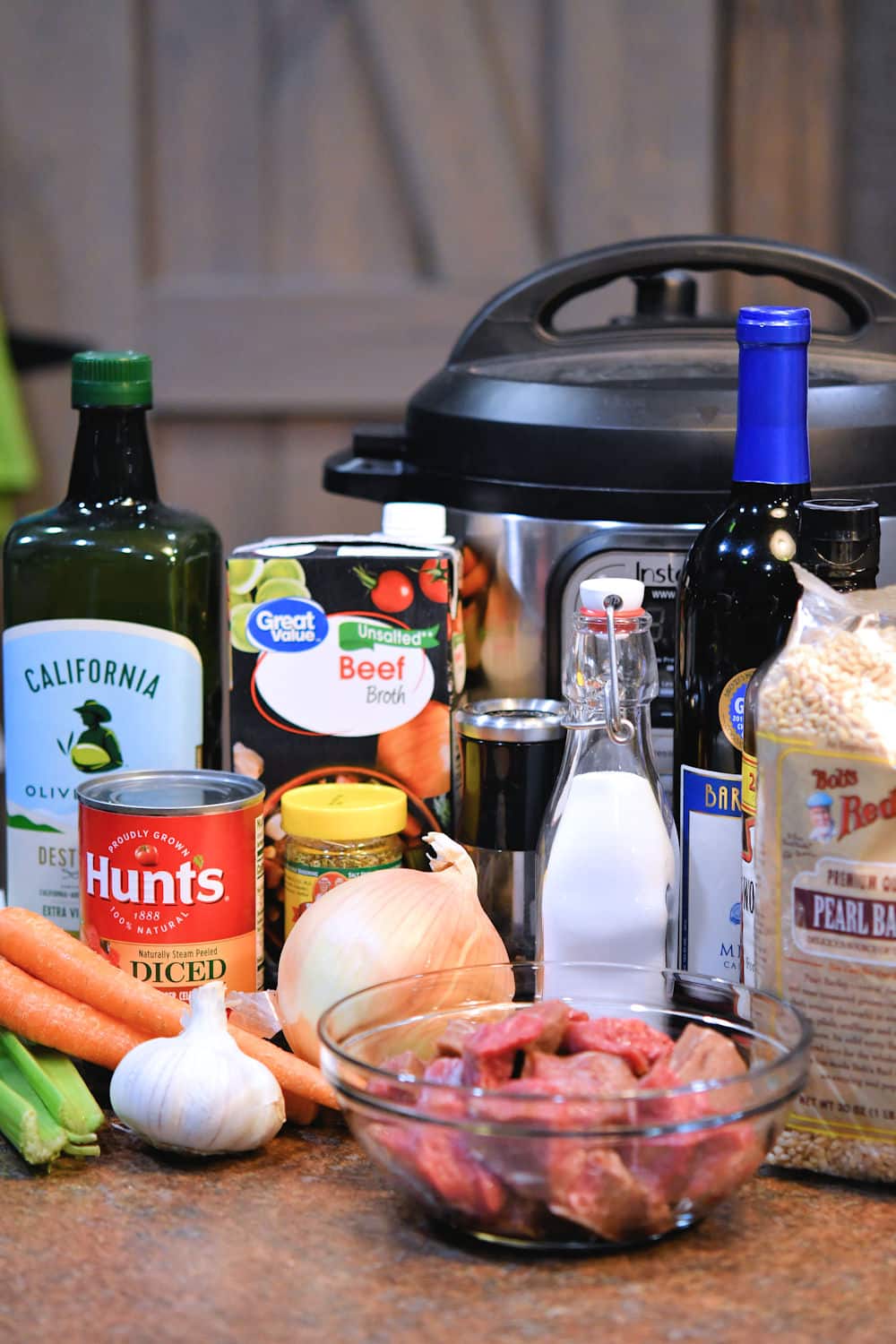 Variations of Vegetable Base
I was reading up on this vegetable base at SeriousEats. Almost every cuisine from around the world has some sort of combination of simple, common vegetables to start even the most famous of recipes, from chicken fricassee to jambalaya.
I especially love the Holy Trinity of Cajun cooking: onion, celery and green bell pepper.
Easy Step by Step
The first step to making this Beef Barley Stew is to sear the beef cubes. I like the meat to have a little bit of brown on it. Not only does it look more appetizing but it helps to seal in the flavor as well.
Just look at those tasty bits at the bottom that will be incorporated into the dish when you scrape them up while you saute the mirepoix!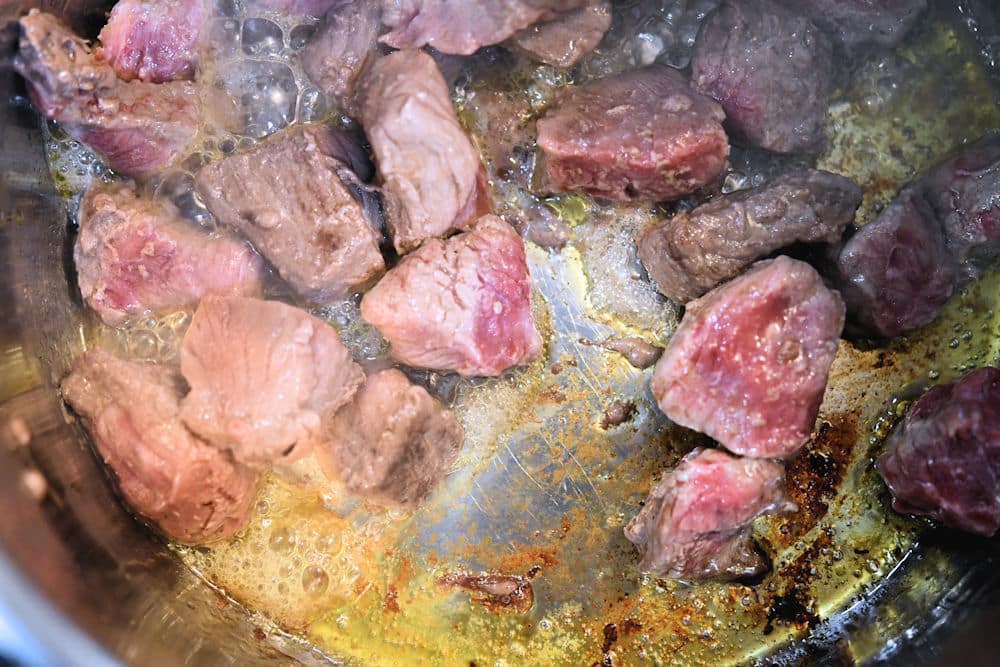 Be careful when you're working with the Saute setting on the Instant Pot. It can get really hot. The olive oil gets hot quickly and it may pop at you.
Once you've seared the meat, remove it with tongs to a separate plate and set aside for a moment.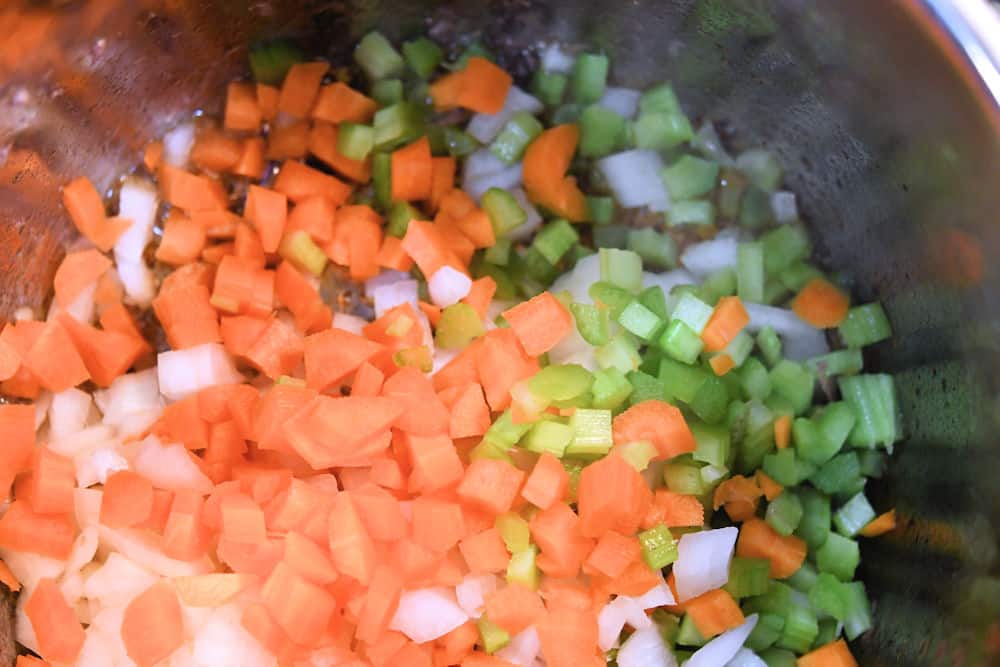 Now for that simple mirepoix vegetable base. You've still got enough oil in the pan to saute the vegetables until the onion becomes fragrant.
Next, go ahead and throw in the rest of the ingredients.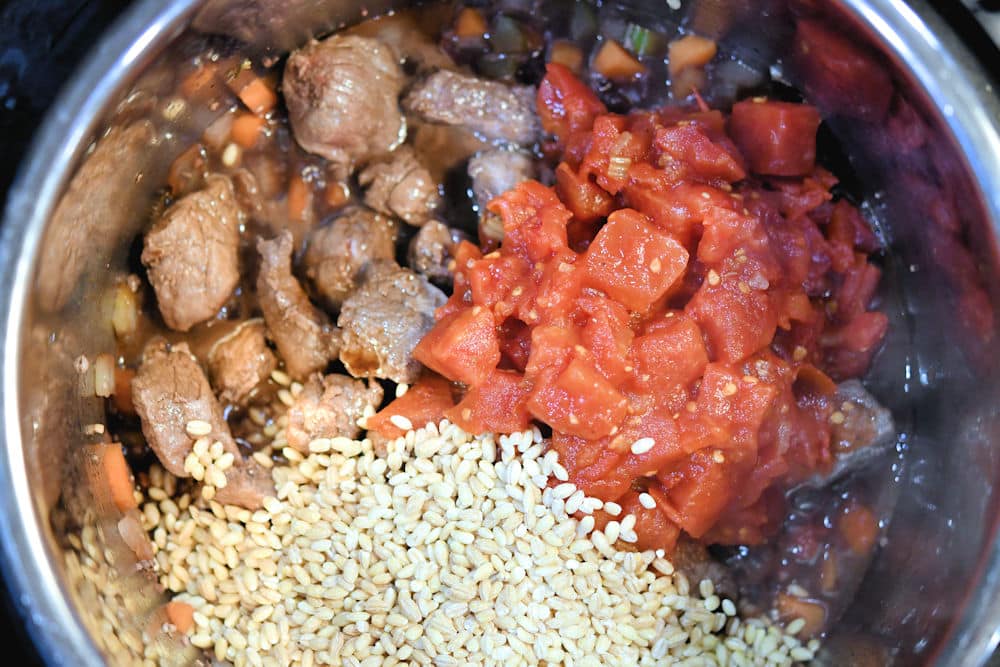 This was the first time I've used barley in a recipe. Actually, it was the first time I've eaten barley.
Like other rice and grains, you may want to rinse it off a little before adding it to the pan. It could have bits of dust or debris. You can grab a little mesh strainer and run it under the tap for a moment.
If you don't have an Instant Pot, have a look at this 6-Quart Instant Pot (aff link) which we use. We've had it for several years and it still works great.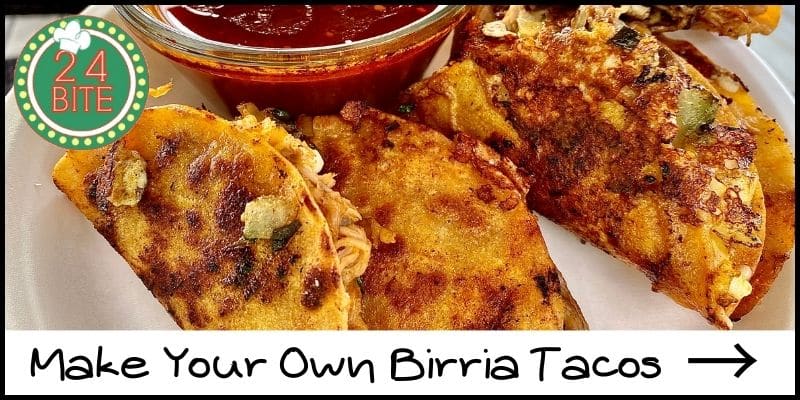 What is Barley?
Barley is the edible seed of a type of grass. You can typically find it in two different forms: "hulled" or "pearl". Hulled means that it still has a little bit of the original coating on it from the seed. Pearl means that layer has been removed, leaving only the softest part of the seed.
Although the pearl barley is not as nutritious as its hulled counterpart, it's still a good source of fiber, protein and other nutrients. Because the hulled barley is thicker, it will need to cook maybe about double that of the pearl barley.
Pearl Barley
I've used pearl barley for this recipe. Because you're using the Instant Pot and you can't just open up and readily add ingredients at different times, I don't suggest that you use either hulled barley or what is called 'quick" barley.
Quick barley is partially cooked, which means that it's made to cook faster. Neither of those would be suitable here. Stick with regular pearl barley for best results.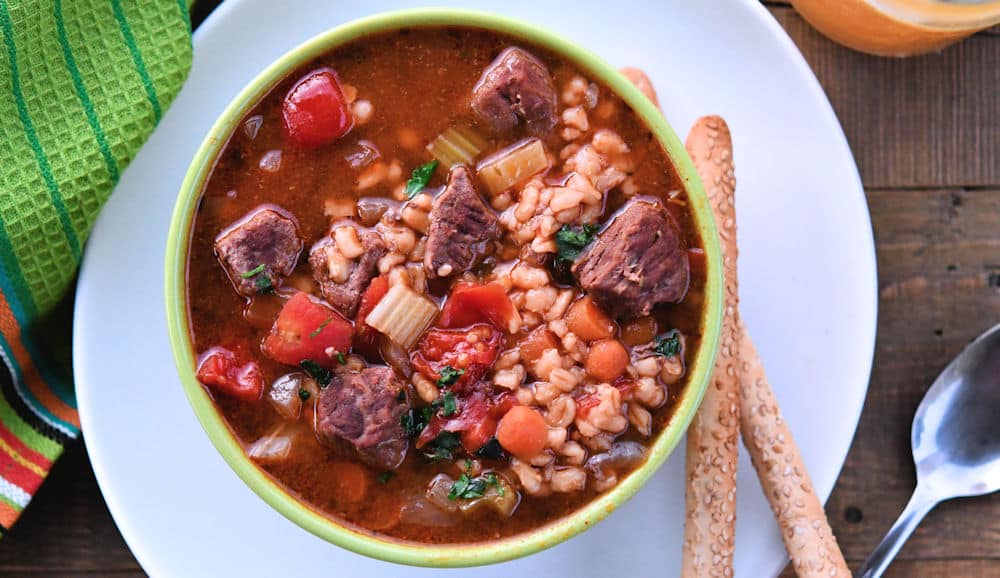 Is Beef Barley Stew Gluten Free?
Barley is a grain and isn't gluten free. I've researched and the best substitute I could find that had the same Instant Pot cook time is brown rice. Add the same amount of brown rice as barley and keep the same cook times. This is the only substitution you would need to make in order for it to be gluten free.
More Instant Pot Recipes
I love using the Instant Pot. It's like a one skillet meal without all the work! Browse all our Instant Pot Recipes or choose one of these.
Recipe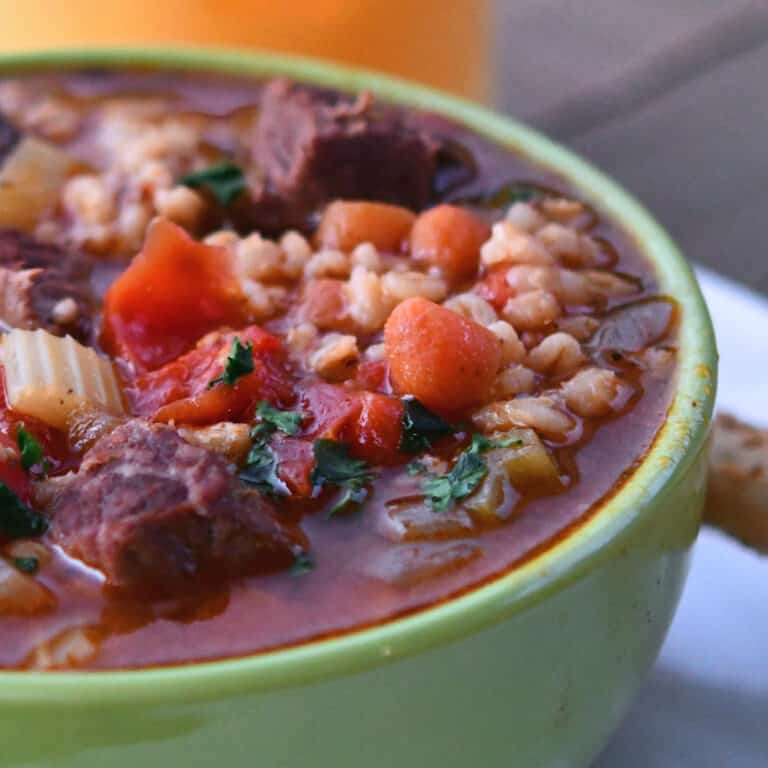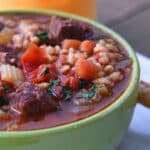 Pin Recipe Now
Instant Pot Hearty Beef Barley Stew
Tap to leave a star rating
Save or Print
Enjoy a hearty bowl of beef barley stew, made easily and quickly when you let the Instant Pot do all the work. It's a complete meal in a bowl.

For more information, be sure to check the recipe details in the attached 24Bite® post.
Equipment
6-quart Instant Pot Pressure Cooker
Ingredients
2

tablespoons

Olive Oil

1.5

pounds

Chuck Roast

,

trimmed, cut into bite size pieces

1

medium

Onion

,

chopped

2

Celery Stalks

,

chopped

3

Carrots

,

chopped

5

Garlic Cloves

,

minced

½

cup

Red Wine

1

teaspoon

Braggs Sprinkle Seasoning

1

teaspoon

Salt

1

teaspoon

Black Pepper

2

cups

Beef Stock

14.5

ounces

Canned Diced Tomatoes

1

tablespoon

Worcestershire Sauce

½

cup

Pearl Barley

,

rinsed
Instructions
Chop and mince all vegetables as directed. Cut chuck roast into bite size pieces.

Press the Saute button on the Instant Pot to begin cooking in saute mode. Add olive oil. Add beef cubes, trying to place them in a single layer. Saute until seared on one side then turn, about 7-9 minutes total. Remove cubes to separate dish.

To already heated Instant Pot (still on saute), add chopped onion, celery, carrots and garlic. Stir frequently until onions are fragrant, about 3-4 minutes.

Press the Cancel button on the Instant Pot to reset.

Add seared cubed roast back to Instant Pot with all remaining ingredients. Stir. Check the Instant Pot lid to ensure the seal is in place and nothing is blocking the vent. Place lid on top and set lever to Sealing. Press the Manual button on the Instant Pot and set to high for 25 minutes, then natural release. The entire cook time will be about 45 minutes.

Press the Cancel button to reset or remove cord. Stir then serve.
Note: If there is a video, it will not display while there is an adblocker.
Notes
Serve with warm crusty bread or breadsticks.
For gluten free, substitute brown rice for the pearl barley, cook times remaining the same.
Nutrition Facts
Instant Pot Hearty Beef Barley Stew
Amount Per Serving
Calories 277
Calories from Fat 126
% Daily Value*
Fat 14g22%
Sodium 592mg26%
Carbohydrates 18g6%
Protein 20g40%
* Percent Daily Values are based on a 2000 calorie diet.
______________________
Percent Daily Values are based on a 2000 calorie diet. All amounts are estimates and 24Bite® takes no responsibility for actual figures since calculations vary by packaging and supplier. Please calculate the amounts yourself based on package labeling if you have specific dietary requirements. 24Bite®, Kim Guzman or Christian Guzman shall not be liable for adverse reactions or any other outcome resulting from the use of recipes or recommendations on this website or actions you take as a result.
© 2019-2023 Kim Guzman and Christian Guzman. All rights reserved. Subscribe to 24Bite email newsletters.
Follow 24Bite: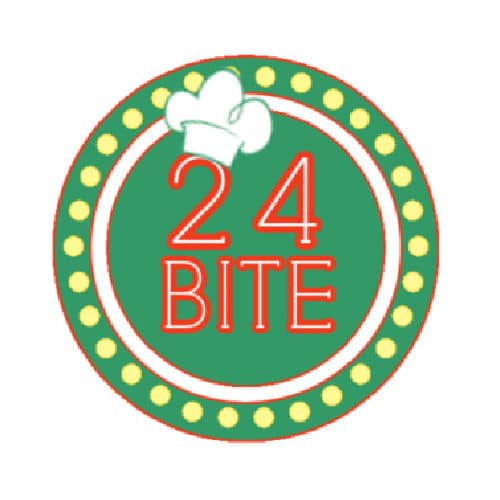 Twitter | Facebook | Pinterest