Instant Pot Jumbo Boiled Eggs are quick and easy to make and even easier to peel! Use the double yolk hard boiled eggs to eat by themselves with a little salt or add them to other recipes.
Recipe | Double Yolk Eggs | Freshness Test | Instant Pot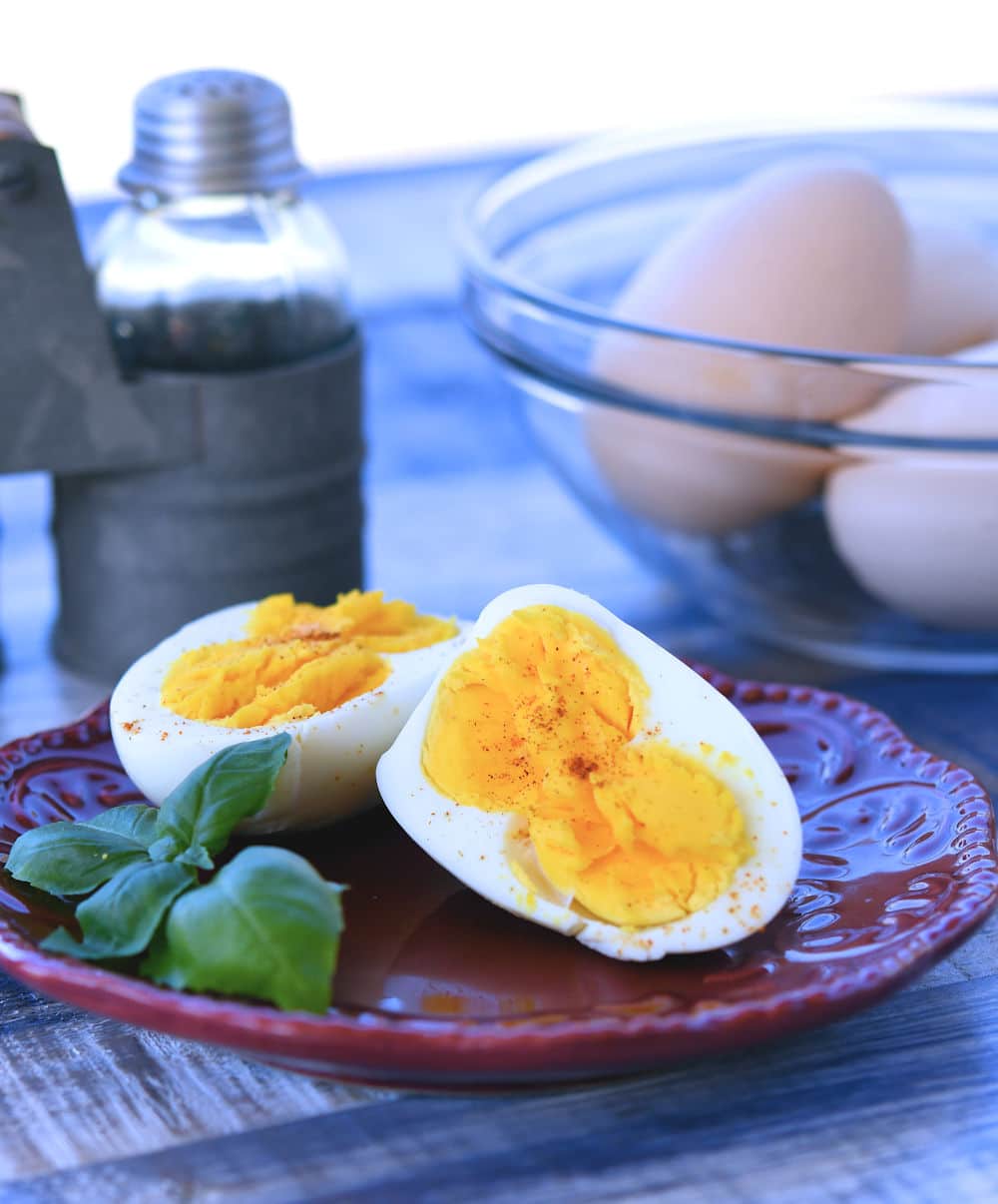 Double yolk eggs
Jumbo double yolk eggs, also called double yolkers, aren't something you will usually find at a grocery store. They're easier to find when you have your own chickens, of course.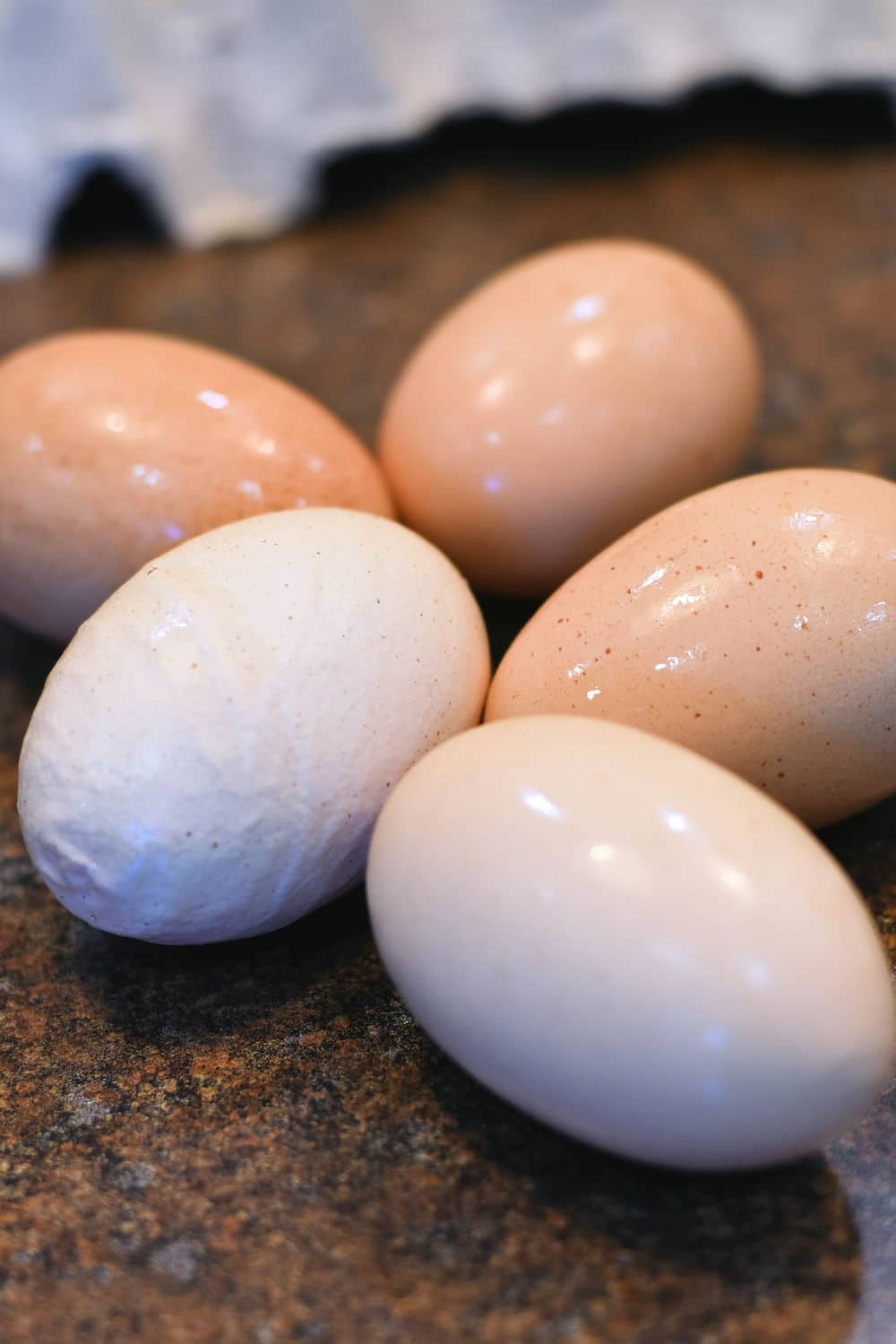 The eggs are really quite large. They're larger than anything I can find in our stores. This egg is shown in a 4-cup size measure. You can see how big the egg is in the bottom of the measuring cup by comparison.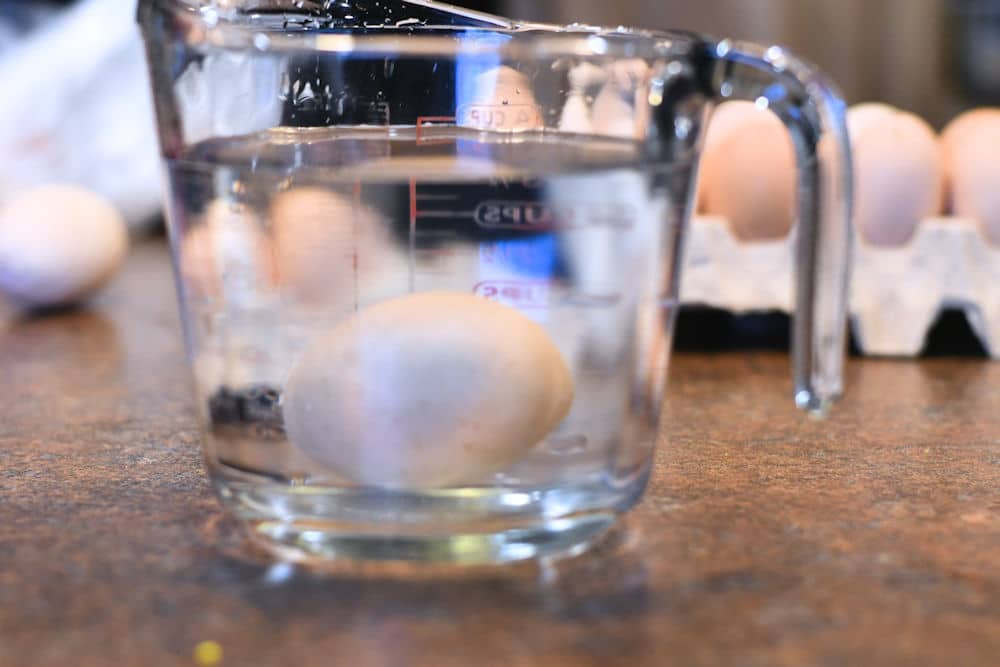 Test eggs for freshness
Since your farm fresh eggs won't include an expiration date, you need to do a test yourself.
Place your egg in a cup or bowl of cool water. If the egg goes right to the bottom horizontally, you're good to go. The egg is fresh. If it tilts up lengthwise, it's not "expired" but it may not be as fresh as you would like. The ones that float to the top are not good. Don't cook them and don't eat them.
Using your Instant Pot
Making hard boiled eggs in the Instant Pot is easy. It's the first thing I made in ours so I could get accustomed to using it.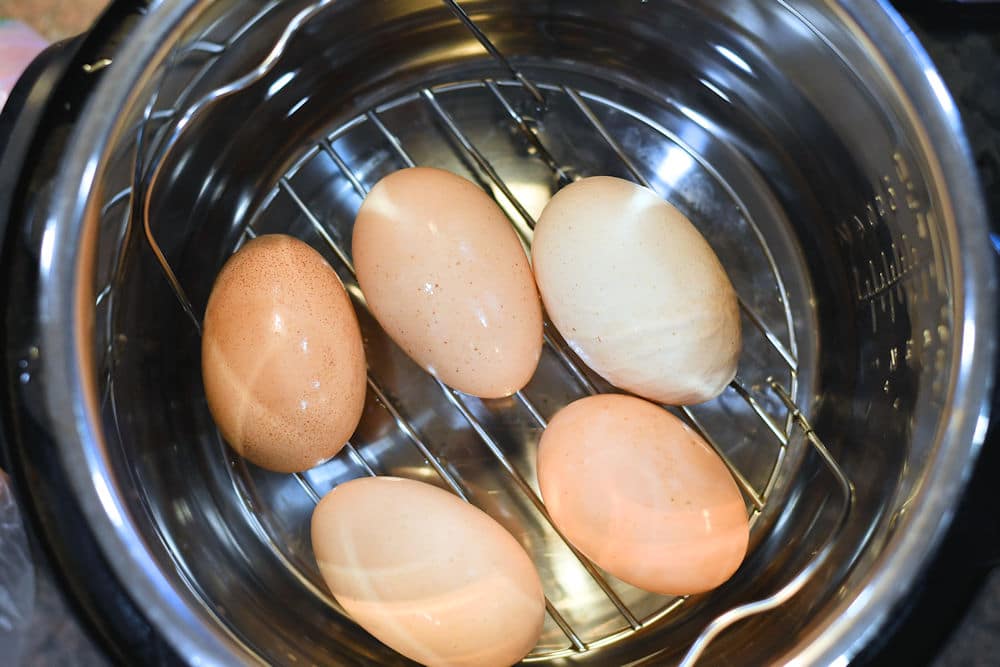 All you need is a little bit of water in the bottom and the eggs. Be sure to read your manual to learn how to check everything out before use.
I think the scariest part of the entire process is turning the lever to vent. You suddenly see and hear a lot of pressure exiting through the top. It can be a little scary for you and any pets you may have. If you're really scared, try turning the lever with a wooden spoon the first time.
For size large eggs, we use the Steam setting for 6 minutes before quick release. With these jumbo double yolk eggs, I've increased that time to 8 minutes before quick release. Very simple and it works really well!
If you don't have an Instant Pot, have a look at this 6-Quart Instant Pot (aff link) which we use. We've had it for several years and it still works great.
Ice water bath
Your eggs should go immediately into an ice water bath as soon as the pressure is fully released.
Leave the eggs in the ice water bath until they are cool enough to handle, about 4-5 mintues.
If you've never used an Instant Pot for eggs, you're going to be pleasantly surprised by how easy they are to peel. One time, I pulled an egg out of the ice water and the peel dropped right off because it had cracked slightly while cooking.
Mom has said many times, "Even if I only use the Instant Pot for boiling eggs, I would have still bought it." The eggs practically peel themselves.
Frequently Asked Questions
Can I make hard boiled eggs in the Instant Pot?
This recipe uses jumbo or double yolk eggs. For large size hard boiled eggs, the kind you can easily find at the store, reduce the cook time to 6 minutes instead of 8 minutes. Everything else will stay the same.
How many hard boiled eggs can I cook in the Instant Pot?
This will depend on the size of your Instant Pot. You should be able to easily cook a dozen at a time. You need to make sure that the eggs are on the trivet and that they do not touch the water or the Instant Pot liner.
How do you eat hard boiled eggs?
Hard boiled eggs are an excellent source of protein, especially the white part. You can eat them straight out of the shell (with a little salt, of course). Slice them for a salad. Make deviled eggs! Yum! Smooth and mix with mayonnaise and a little pickle juice for egg salad. Chop them and mix into tuna or chicken salad.
More Instant Pot recipes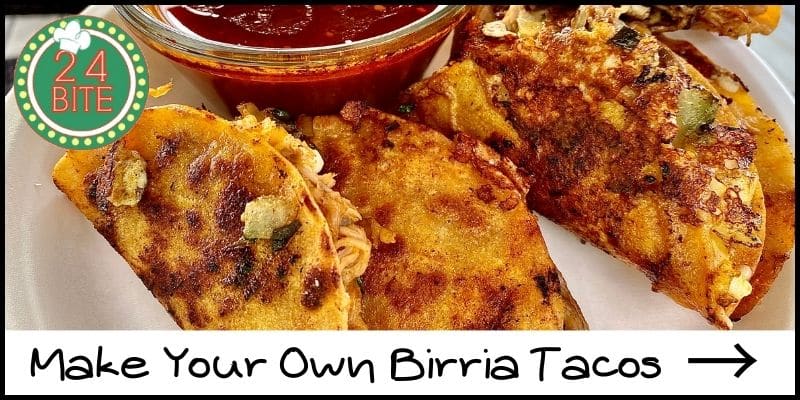 Don't stop at making eggs. There are so many other things you can make in the Instant Pot and they're all easy to make. Browse all our Instant Pot Recipes or choose one of these.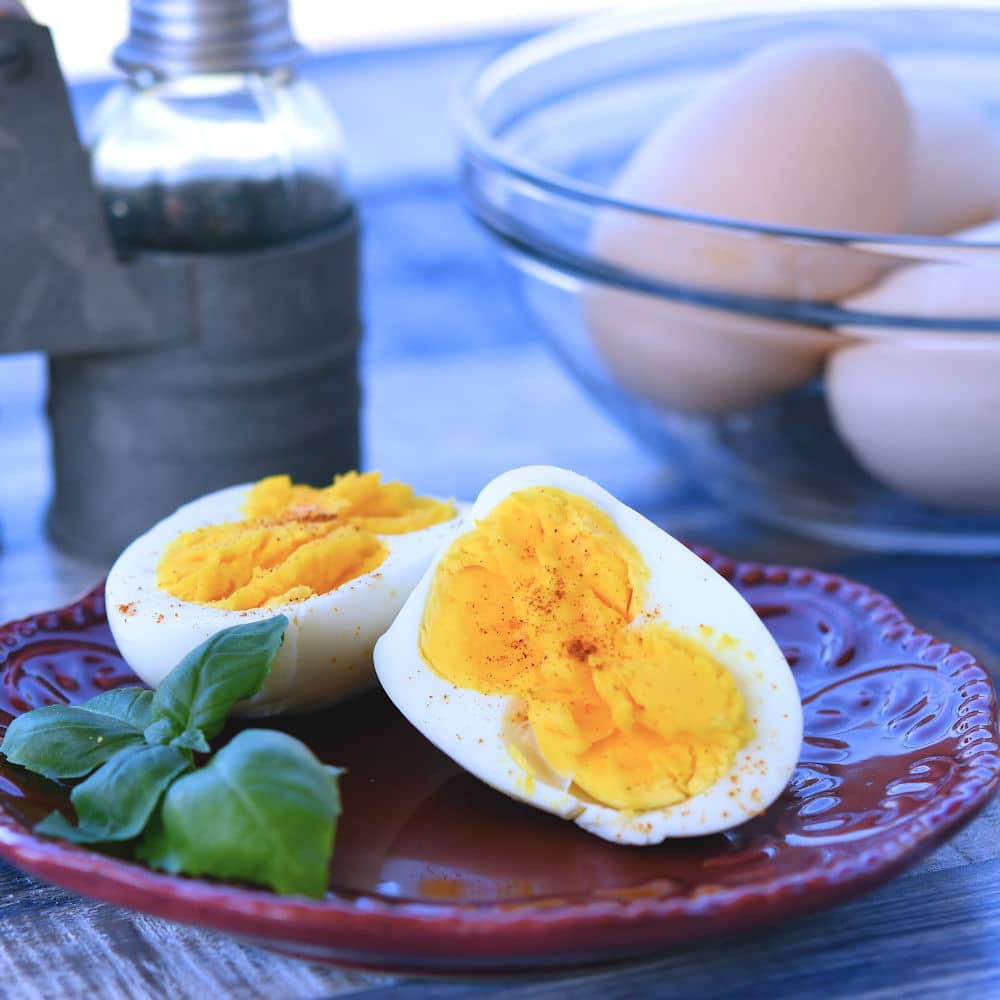 Recipe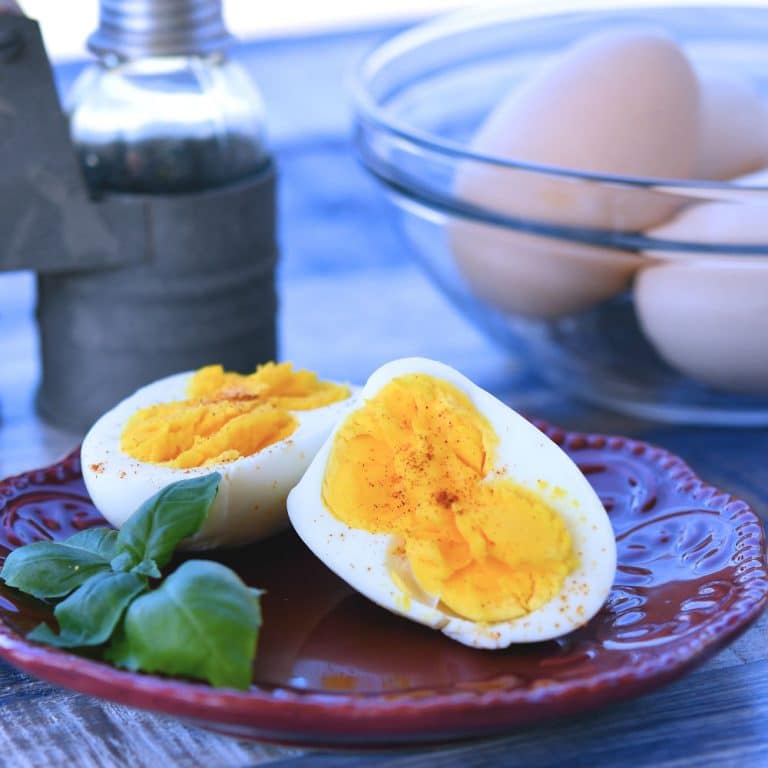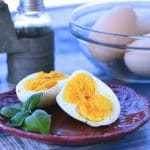 Pin Recipe Now
Instant Pot Jumbo Boiled Eggs
Tap to leave a star rating
Save or Print
Instant Pot Jumbo Boiled Eggs are quick and easy to make and even easier to peel! Use the eggs to eat by themselves with a little salt or add them to other recipes.

For more information, be sure to check the recipe details in the attached 24Bite® post.
Equipment
6-quart Instant Pot with Trivet
Ingredients
5

extra large

Eggs

,

like double yolk

1.5

cups

Water

Ice and more water
Instructions
Wash eggs and do a fresh test to make sure the eggs are still good to eat.

Place the trivet in the bottom of the Instant Pot. Place eggs carefully on the trivet so they are not touching. Add water to Instant Pot.

Check the Instant Pot lid to ensure the seal is in place and nothing is blocking the vent. Place lid on top and set lever to Sealing. Press the Steam button on the Instant Pot and set to high for 8 minutes, then quick release immediately. The entire cook time will be about 17 minutes.

While the eggs are cooking, prepare a large mixing bowl with ice and cool water.

After quick release, remove lid and, with tongs, remove the eggs to the bowl of ice water. Allow to chill in the water for about 5 minutes.

Peel and serve or add to other recipes, as desired.
Note: If there is a video, it will not display while there is an adblocker.
Notes
Double yolk eggs are not sold in a store. They're usually only available, if you have chickens so you need to check for freshness and wash the eggs before you use them.
Nutrition Facts
Instant Pot Jumbo Boiled Eggs
Amount Per Serving
Calories 90
Calories from Fat 63
% Daily Value*
Fat 7g11%
Sodium 67mg3%
Carbohydrates 1g0%
Protein 8g16%
* Percent Daily Values are based on a 2000 calorie diet.
______________________
Percent Daily Values are based on a 2000 calorie diet. All amounts are estimates and 24Bite® takes no responsibility for actual figures since calculations vary by packaging and supplier. Please calculate the amounts yourself based on package labeling if you have specific dietary requirements. 24Bite®, Kim Guzman or Christian Guzman shall not be liable for adverse reactions or any other outcome resulting from the use of recipes or recommendations on this website or actions you take as a result.
© 2019-2023 Kim Guzman and Christian Guzman. All rights reserved. Subscribe to 24Bite email newsletters.
Follow 24Bite: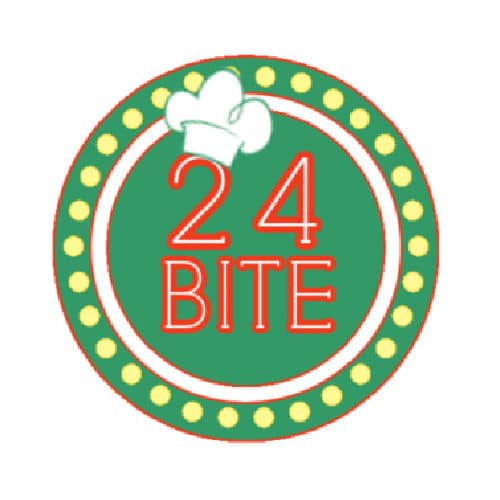 Twitter | Facebook | Pinterest