Ground beef stew is an easy recipe for hearty warmth and comfort in a bowl. It's budget friendly and ready to eat in just under an hour.
Recipe | How do You Thicken a Thin Stew? | How to Reduce the Fat Content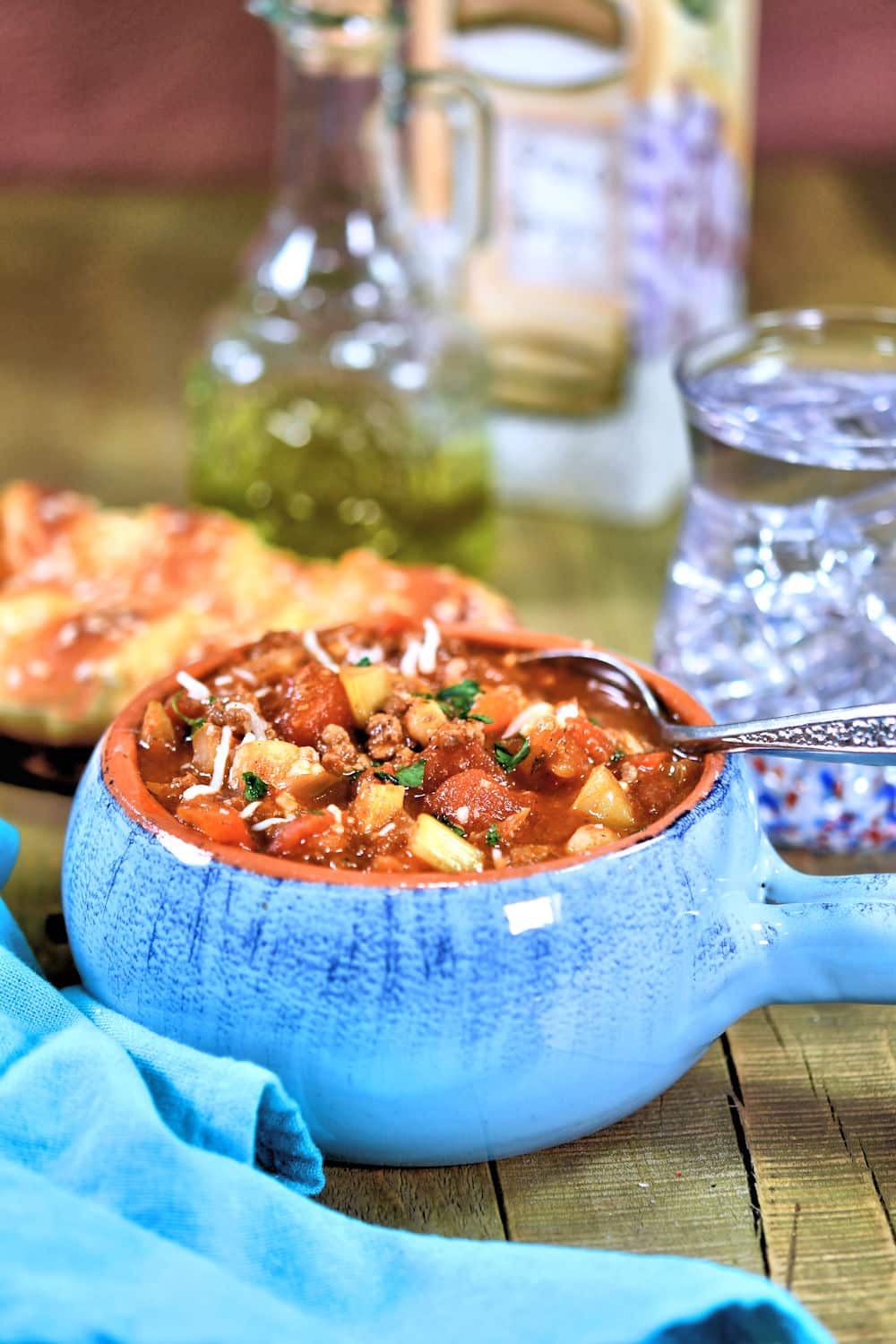 Mom buys large packages of ground beef and freezes them in one pound vacuum sealed bags. It saves money and makes it easy to prepare a recipe like this for a family of six.
That might be more like a family of three or four, if you have teenage boys. That's personal experience speaking. I may eat more than your average person. Just sayin'.
Hamburger stew is great on a budget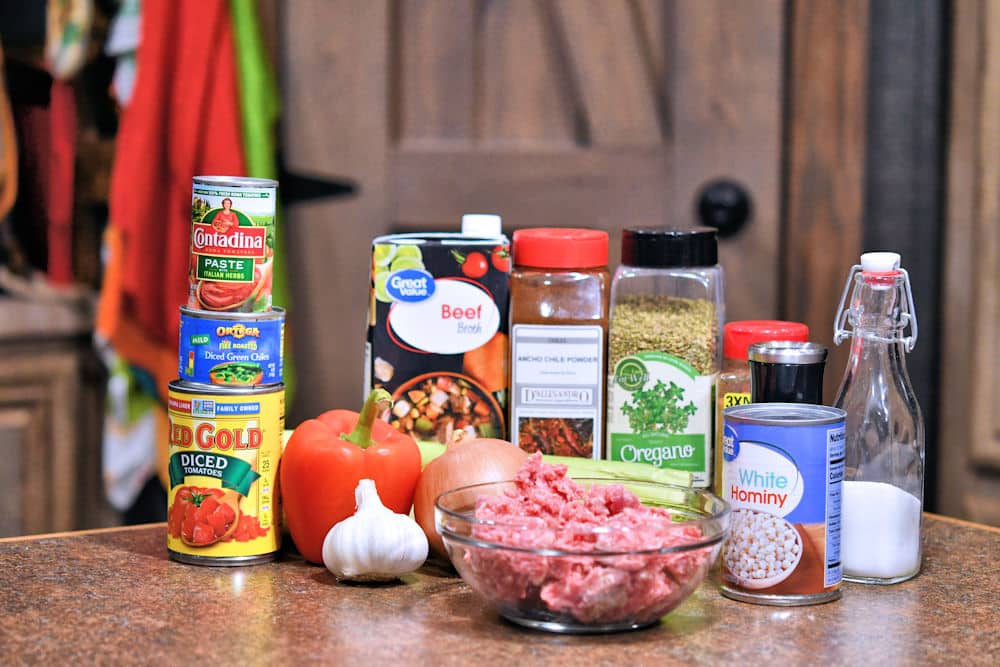 For this stew, you only need one pound of ground beef. You can stretch out one pound of ground beef with these inexpensive vegetables.
Make sure to break up the ground beef as much as possible when you're cooking it. No fair one person getting huge chunks of ground beef and someone else getting only vegetables. Am I right?!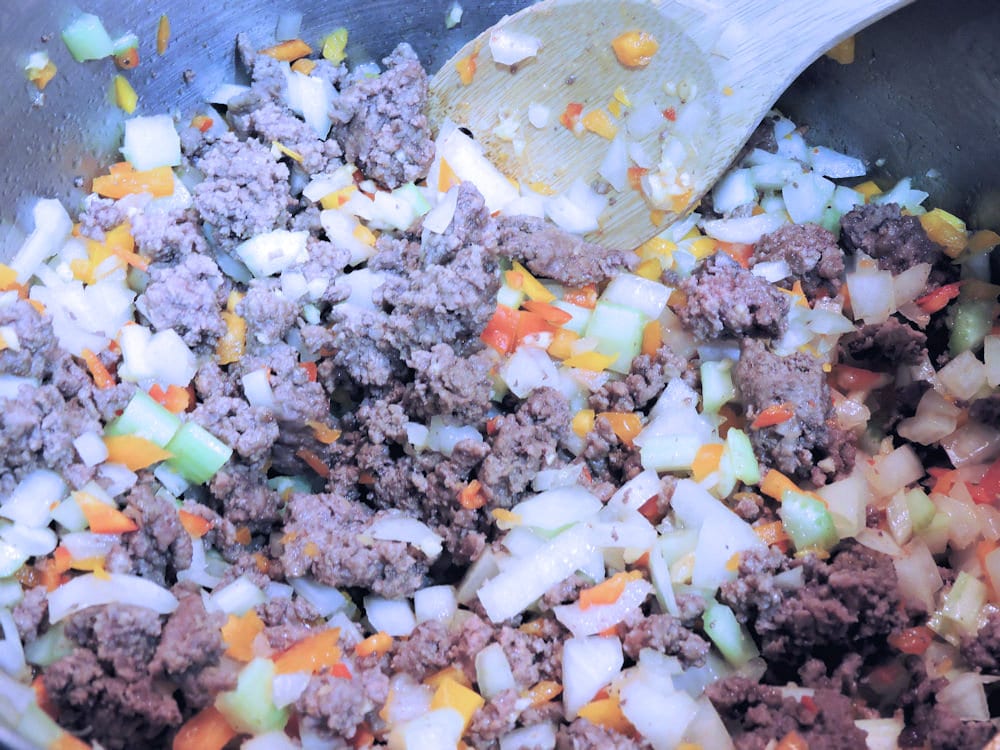 You can add a lot of bulk to your meal just by adding onion, celery, bell pepper and canned tomatoes. If you want to stretch the meat even further, you can add about a pound or a pound and a half of cubed potatoes as well.
Typical soup seasonings
When I'm cooking, I find myself using the same seasonings frequently. These are my favorites.
Ground Cumin Powder
Ground Ancho Powder
Oregano
Salt
Pepper
I already have a mild chile Everyday Seasoning Salt Blend. I think I will work on another seasoning blend to have handy as well. Look for more blends coming soon.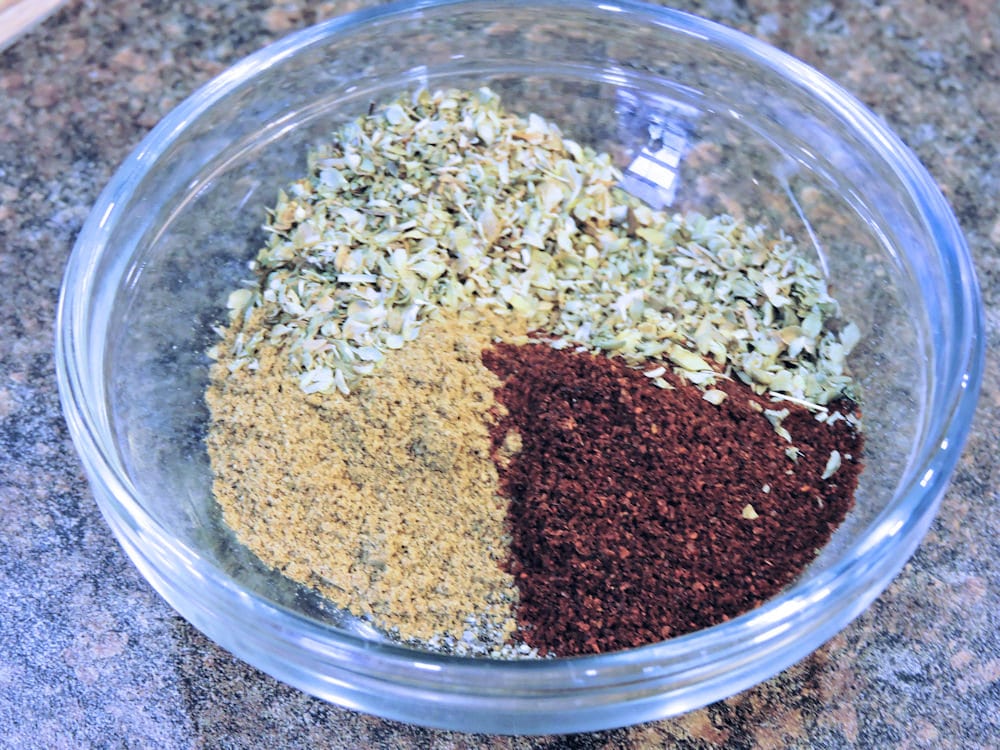 Reducing the fat content
I've used chuck for this ground beef stew so there will be lower fat content than other ground beef. You could use ground chicken or ground turkey instead.
You may want to add a couple of tablespoons of olive oil before cooking the vegetables to keep it from sticking. There is such a thing as too little fat content.
Rinsing to remove most of the fat
Did you know that you can remove almost all fat in ground beef if you strain it after cooking and then rinse it? Sometimes we will do this when we are adding sauce to the cooked ground beef. If you're adding a sauce anyway, you might as well rinse away some of the fat, if you want.
I didn't rinse the cooked hamburger for this recipe because I would end up having to add some oil to cook the fresh vegetables anyway. Try it both ways to see which you prefer.
Meatless substitute
For a meatless substitute, I've recently discovered MorningStar Farms Grillers Crumbles. It's completely plant-based. Use vegetable stock or water instead of the beef stock in the recipe.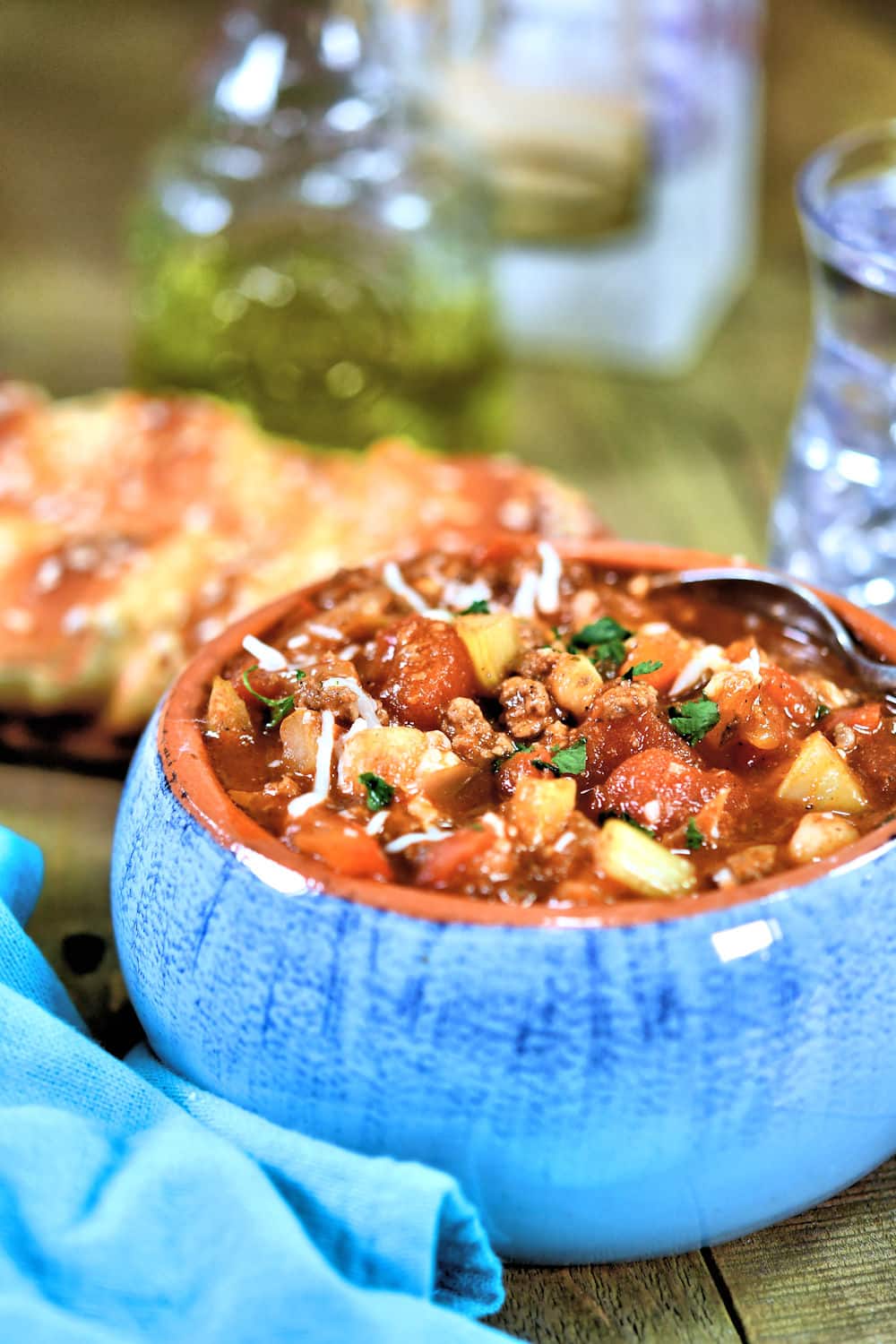 How to thicken a thin stew
Flour or corn starch
If you want to thicken a thin stew, you could make a paste with ¼ cup water and 2 or 3 tablespoons flour or corn starch. Stir it into the stew and, as it heats, it will thicken. Add more, if necessary, until you reach your desired consistency.
Mashed potatoes
If you have some instant mashed potatoes, pouring some into the stew will thicken it quickly.
Tomato paste
Tomato paste is a good way to thicken a stew. Try some refried beans; they're basically mashed beans and will thicken easily.
Adding rice, lentils or pasta
If you have a lot of liquid in your stew, you can add rice, lentils or pasta to soak some of that liquid up, but be careful. You could find yourself needing to add even more liquid to make up for too much of a loss.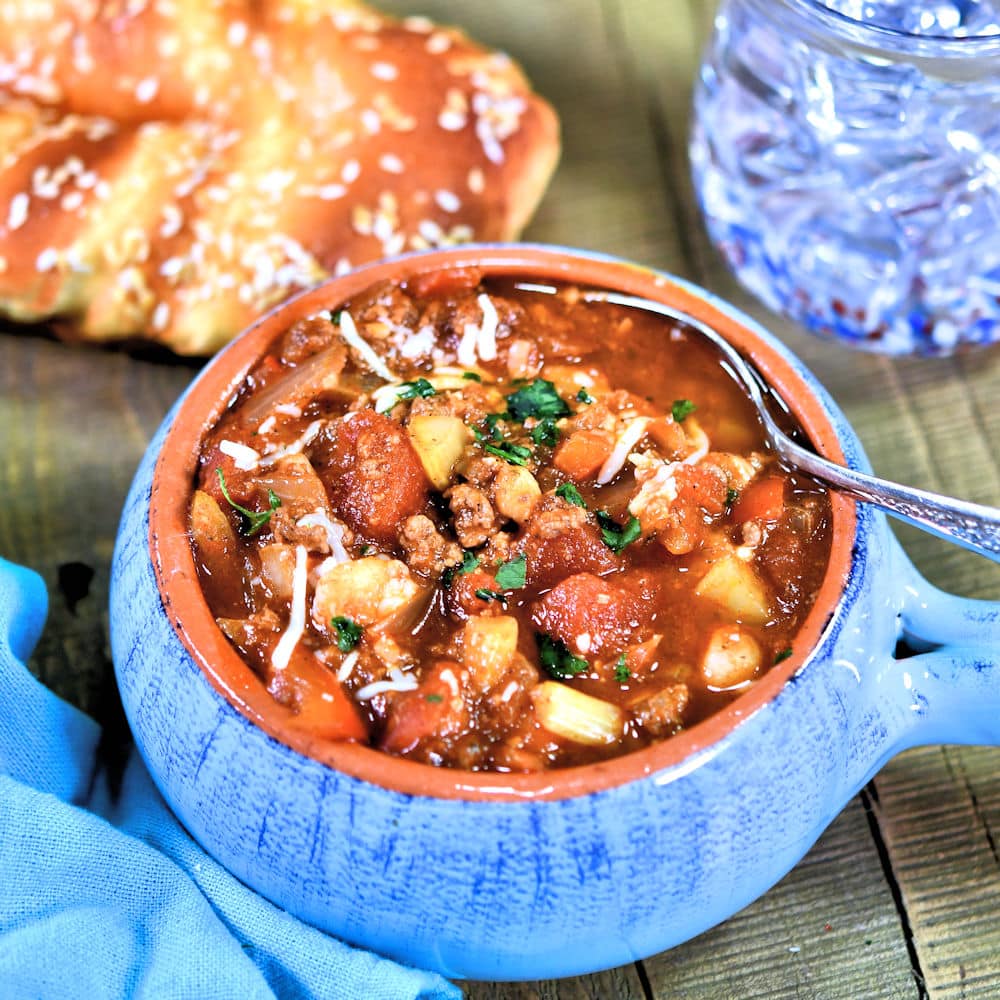 What to do if there is too much salt?
Have you ever put too much salt in your soup or stew? Peel a potato and put about half of it into the pot. It will absorb some of the salt then you can remove the salty potato and discard once you've adjusted the sodium content.
How to remove excess fat from soups and stews
Once your soup has cooled, you can see the fat rising to the top. Dip some slices of bread into the top of the soup and it will soak up the fat. Do this quickly so you don't soak up too much of the yummy soup.
Serve with saltines, toasted bread slices, lime squeezes, crumbled cheese and cilantro.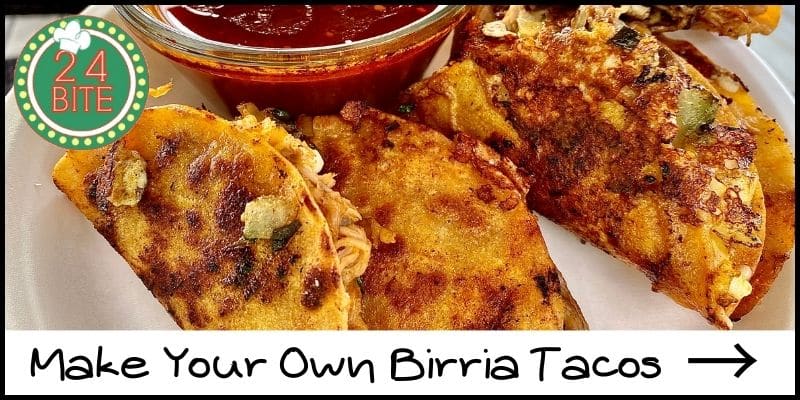 Looking for More Recipes?
Looking for more hearty comfort foods? Try these:
Recipe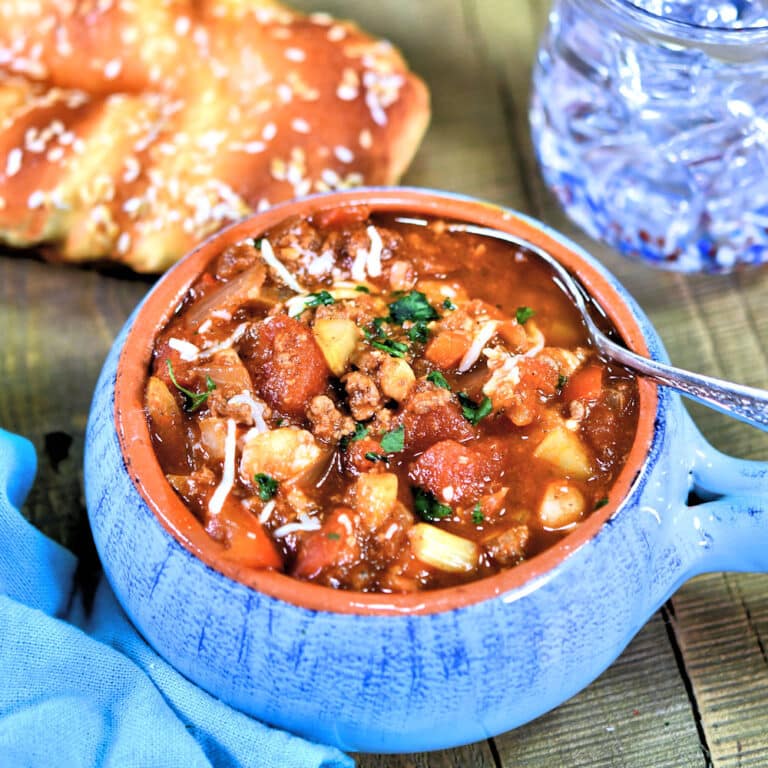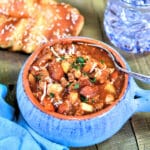 Pin Recipe Now
Hamburger Soup Ground Beef Stew Recipe
Tap to leave a star rating
Save or Print
Hamburger stew is a quick and easy meal packed with fresh vegetables and budget friendly ground beef. It's the perfect hearty and comforting soup on any day of the week.

For more information, be sure to check the recipe details in the attached 24Bite® post.
Ingredients
1

pound

Ground Beef Chuck

2

stalks

Celery

,

chopped

4

Garlic Cloves

,

minced

1

large

Bell Pepper

,

chopped

1

large

Onion

,

chopped

14.5

ounces

Petite Diced Tomatoes

6

ounces

Tomato Paste

4

ounces

Mild Chopped Green Chiles

14.5

ounces

Beef Broth

1

teaspoon

Ground Cumin

1

teaspoon

Ground Ancho Powder

1

teaspoon

Dried Oregano

1

teaspoon

Salt

1

teaspoon

Ground Black Pepper

15.5

ounces

Hominy

,

yellow or white
Instructions
In large straight sided skillet, on medium heat, crumble and brown ground beef until done, about 10 minutes.

Drain meat, if necessary, reserving about 2 tablespoons fat and leave fat in skillet with ground beef.

To meat, add celery, garlic, bell pepper and onion. Continue cooking on medium for about 5-7 minutes, until onions are softened and fragrant.

To meat mixture, add tomatoes, chiles and broth. Add cumin, ancho, oregano, salt and pepper. Stir. Turn heat to low and cover. Cook for about 30 minutes, stirring occasionally.

Add hominy to meat mixture, stir and cover. Continue cooking on low for 10 more minutes.
Note: If there is a video, it will not display while there is an adblocker.
Notes
Makes 6 servings.
Serve with crumbled cheese, saltines, sliced lime, avocado and cilantro. 
Nutrition Facts
Hamburger Soup Ground Beef Stew Recipe
Amount Per Serving
Calories 327
Calories from Fat 144
% Daily Value*
Fat 16g25%
Sodium 1354mg59%
Carbohydrates 28g9%
Protein 18g36%
* Percent Daily Values are based on a 2000 calorie diet.
______________________
Percent Daily Values are based on a 2000 calorie diet. All amounts are estimates and 24Bite® takes no responsibility for actual figures since calculations vary by packaging and supplier. Please calculate the amounts yourself based on package labeling if you have specific dietary requirements. 24Bite®, Kim Guzman or Christian Guzman shall not be liable for adverse reactions or any other outcome resulting from the use of recipes or recommendations on this website or actions you take as a result.
© 2019-2023 Kim Guzman and Christian Guzman. All rights reserved. Subscribe to 24Bite email newsletters.
Follow 24Bite: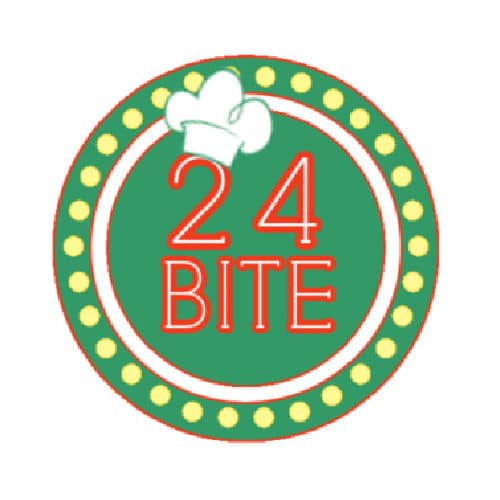 Twitter | Facebook | Pinterest