Baby Bella Mushrooms are divine in this recipe, especially sauteed and served with steak but can be eaten as a quick meal with a salad and breadsticks.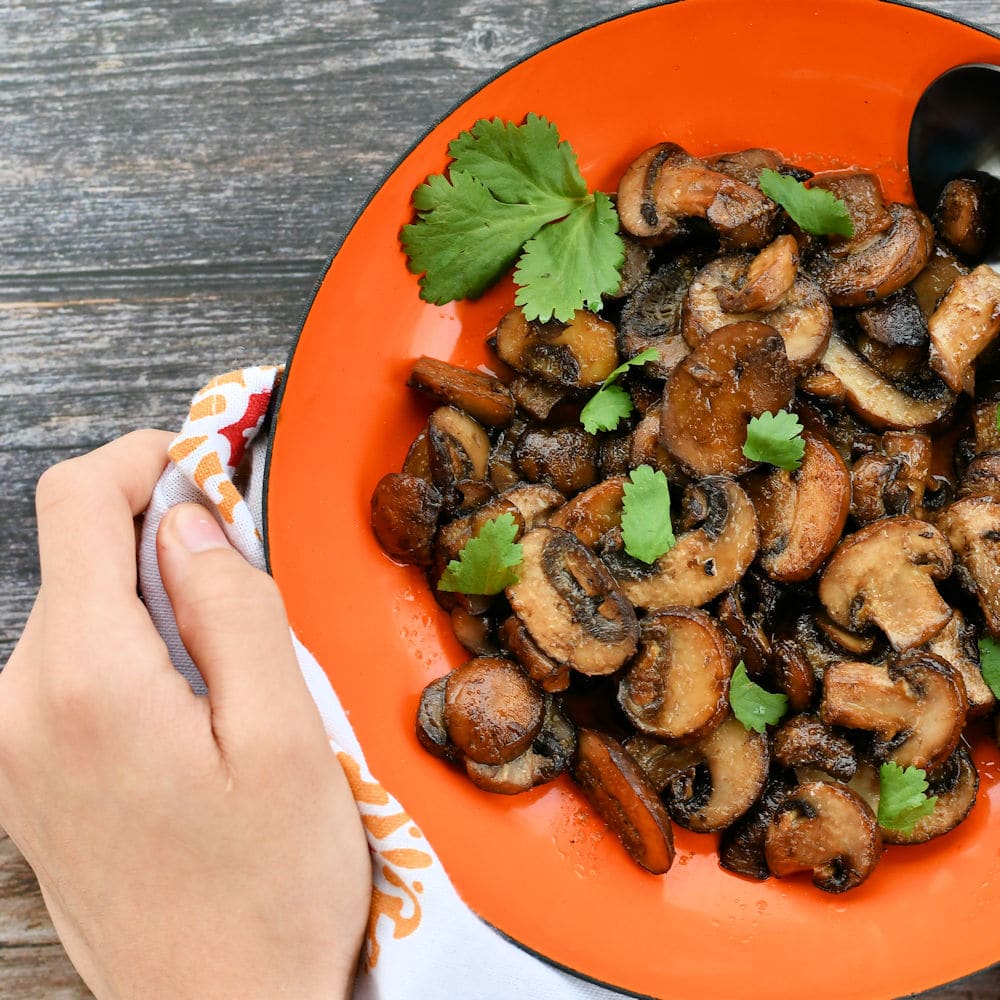 Portabella Mushrooms vs. Portobello Mushrooms
I will admit that, until today, I didn't realize there was a difference. Mom always buys the sliced Baby Bellas at the store. It's a regular in our grocery list. Neither of us knew that there was a difference between Portabella Mushrooms and Portobello Mushrooms other than the obvious. I've been using the term Portobello throughout my recipes, never realizing that there was a reason for the A in the smaller ones.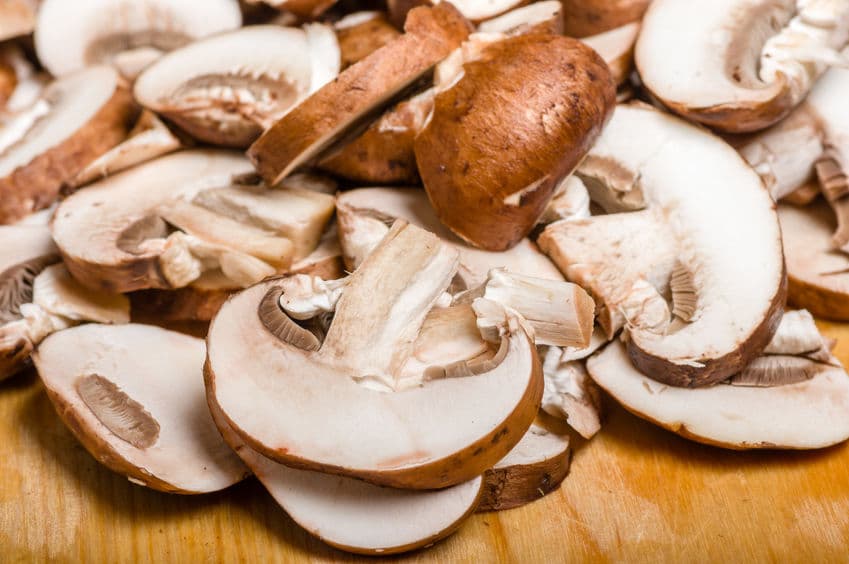 After researching today, I have discovered that my favorite little Baby Bellas are cremini mushrooms and are simply the new, tender baby portobello mushroom. The same mushroom except the baby version. I could have figured that out on my own, of course. What I didn't know is that the baby is distinguished by the A in Portabella. It's not a cute marketing name like I thought.
Portobello (with the O) is the name for the same mushroom when it has fully grown. Although we always buy the Baby Bellas, it's good to know that, when using the larger, mature Portobello mushrooms, you should cut off the stem and scrape out the inside ribs. Good tip! Oh, don't worry. They're still edible. Apparently the stem isn't all that tender and cooking with the ribs turns your food black.
Have a look at TheKitchn for more information.
I'll probably go through the website here and make certain that I have the correct mushroom name listed in the recipes. I'm learning as I go!
Sauteeing the Baby Bellas
In this baby bella mushrooms recipe, these flavor-packed little bites are sauteed in butter first. Melt the butter and then turn the heat to low so you don't burn the butter or the mushrooms.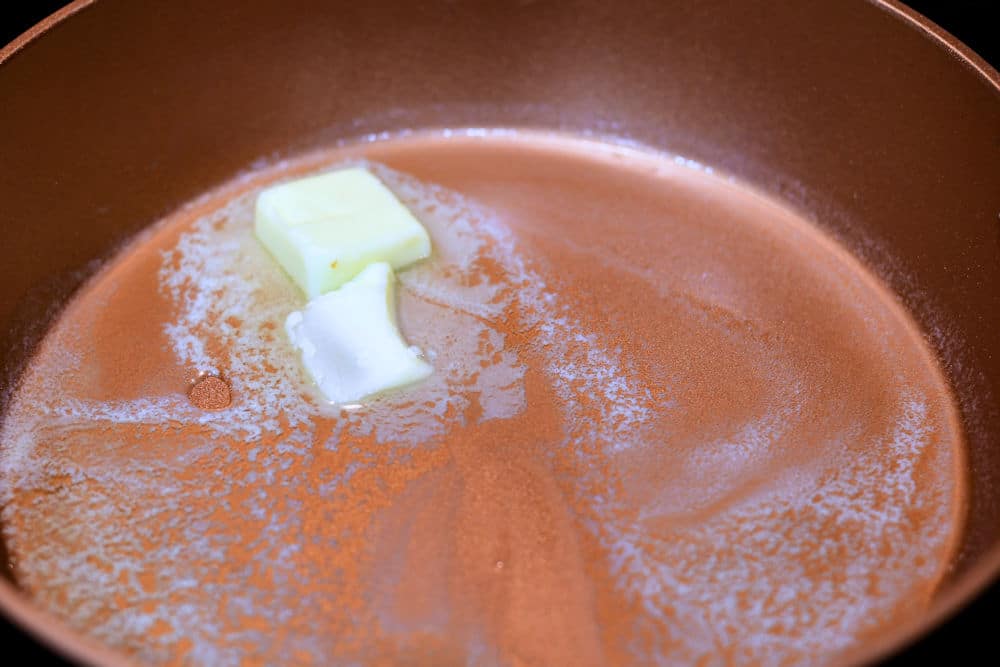 Once you have the mushrooms coated in butter, cover and saute for about 5-7 minutes. They're going to soak up all the butter but, because you have the lid, the moisture isn't going to escape much.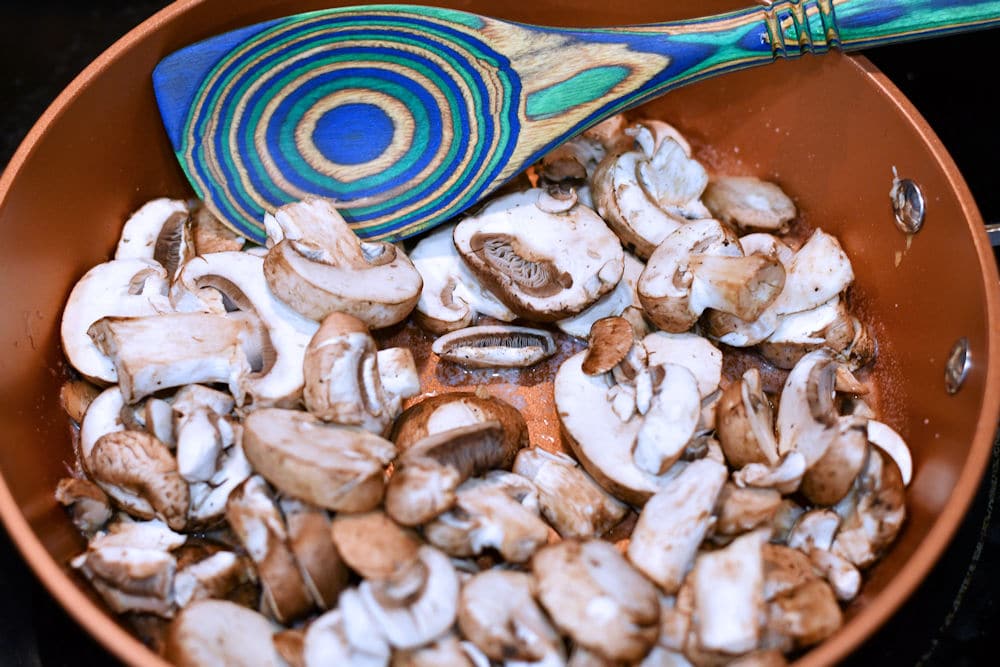 Once they've sauteed, you can add your seasonings, wine and Worcestershire. Mushrooms are like potatoes. They absorb all the flavors you add. You can taste all the flavors in every delicious bite.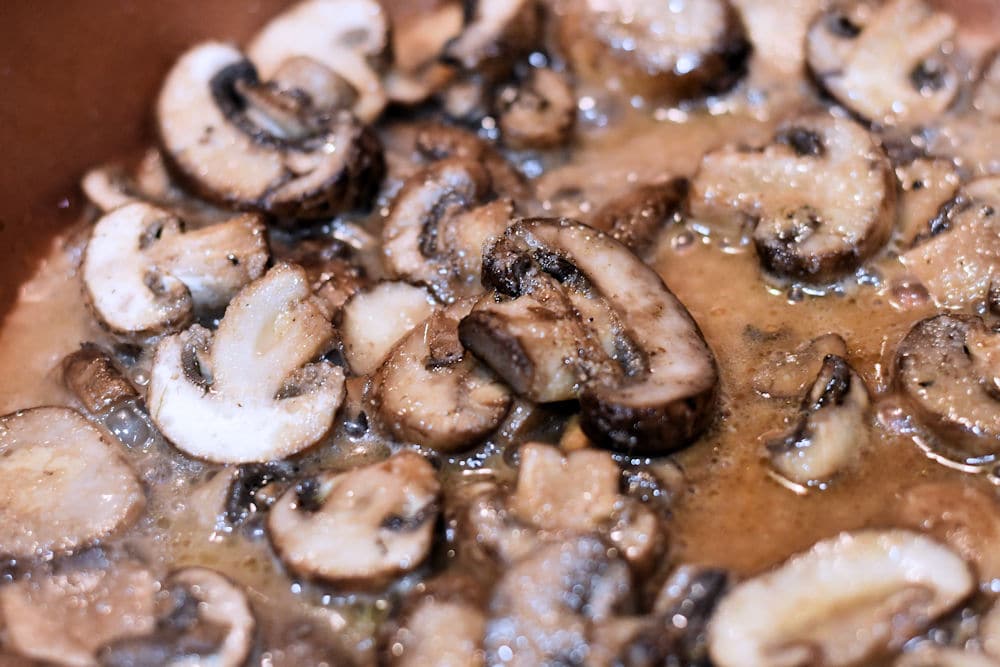 With the liquid added, stir until well coated and increase the heat as necessary so it gets bubbly. Allow to cook until there is almost no liquid remaining. There will be very little sauce since it turns into a nice carmelized glaze on the mushrooms. Yum!

Crate Collective Pakka Wooden Spoons Set – Exotic Pakkawood Utensils for Serving & Cooking – Non-Stick Spoon, Slotted Spoon, Corner Spoon, and Spatula for All Cookware – Lightweight & Heat Resistant
I don't mind telling you that I ate every single one of these mushrooms right after these photos. I didn't wait for anything else to go with them. I just ate them, just like this. Incredible and so easy!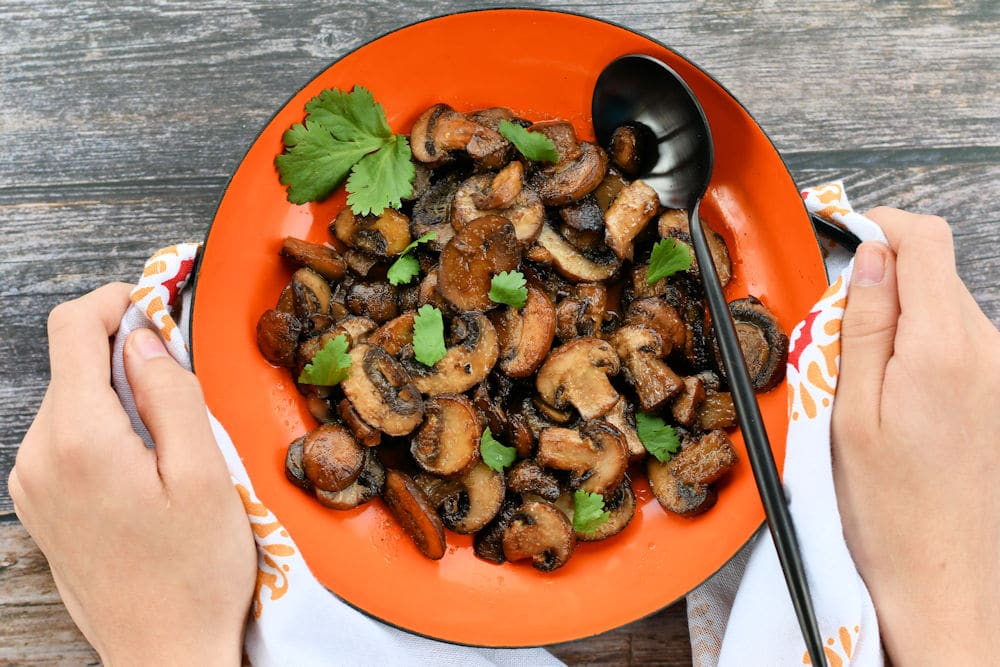 These Baby Bella Mushrooms would be an excellent side dish for my Tuscan Chicken for Two. An 8-ounce package of sliced Baby Bellas turns out to be the perfect amount for two (or three) people.
If you have more will power than me, you could use these mushrooms to top a pizza as well. There is no way I could have waited, though.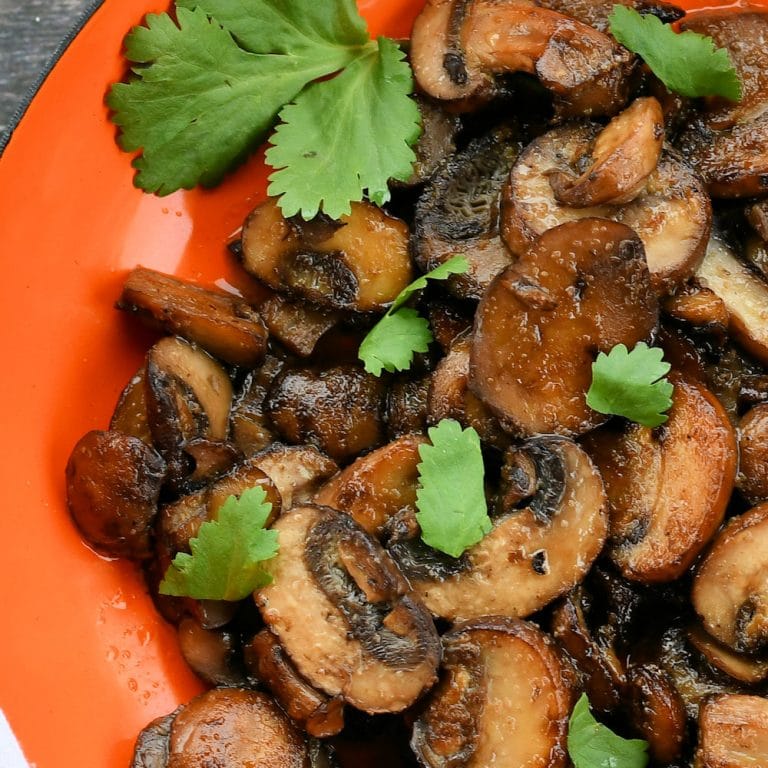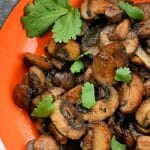 Sliced Baby Portabella Mushrooms in Wine
Print Recipe
Sliced Baby Portabella Mushrooms are divine, especially sauteed and served with steak but can be eaten as a quick meal with a salad and breadsteaks.
Ingredients
3

tablespoons

Butter

8

ounces

Baby Portobello Mushrooms

sliced

1

teaspoon

Salt

1

teaspoon

Pepper

1

teaspoon

Garlic Powder

1

tablespoon

Worcestershire Sauce

1/4

cup

White Wine
Instructions
Melt butter in skillet over medium heat. Swirl to distribute. Reduce heat.

Add sliced mushrooms to butter, stir to coat. Cover and cook on low 7 minutes, stirring occasionally. Increase heat to medium

Add salt, pepper, garlic powder, Worcestershire and wine. Stir. Leave uncovered and cook until liquid is absorbed, about 5 minutes.
Notes
When used as a side dish, there are 2 or 3 servings but can be eaten as a meal as 1 or 2 servings. When eaten as a meal, serve with salad and breadsteaks.
Garnish with shredded cheese, if desired.
Nutrition
Calories:
145
kcal
|
Carbohydrates:
4
g
|
Protein:
3
g
|
Fat:
11
g
|
Saturated Fat:
7
g
|
Sodium:
966
mg
|
Fiber:
1
g
|
Sugar:
1
g
______________________
Percent Daily Values are based on a 2000 calorie diet. All amounts are estimates and 24Bite™ takes no responsibility for actual figures since calculations vary by packaging and supplier. Please calculate the amounts yourself based on package labeling if you have specific dietary requirements. 24Bite™, Kim Guzman or Christian Guzman shall not be liable for adverse reactions or any other outcome resulting from the use of recipes or recommendations on this website or actions you take as a result.
© 2019-2020 Kim Guzman. All rights reserved.
Follow 24Bite: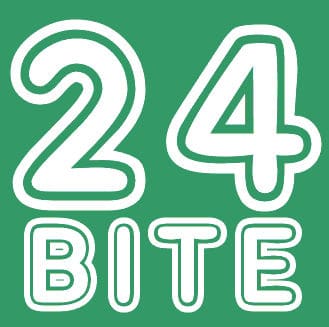 Twitter | Facebook | Instagram | Pinterest
Pin It: