Sopa De Fideo Con Carne is an authentic Mexican recipe made of toasted noodles cooked in a tomato base. It's what Mexican childhoods are made of.
This recipe for sopa de fideo, which simply means Mexican noodles soup, can also be called only "Fideos". If you ask for Fideos, this is it! Pantry staples and 25 minutes is all you will need.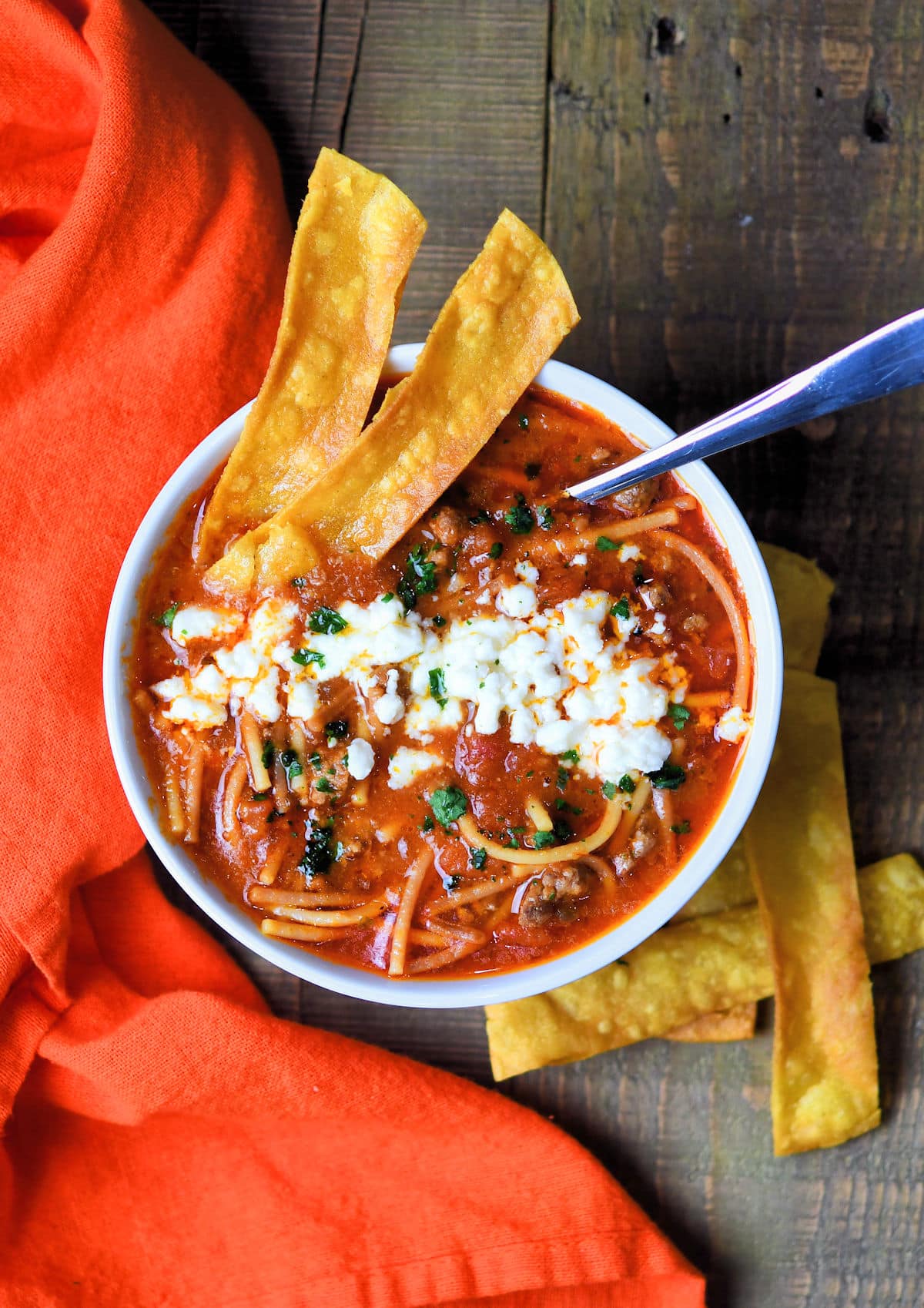 Ingredients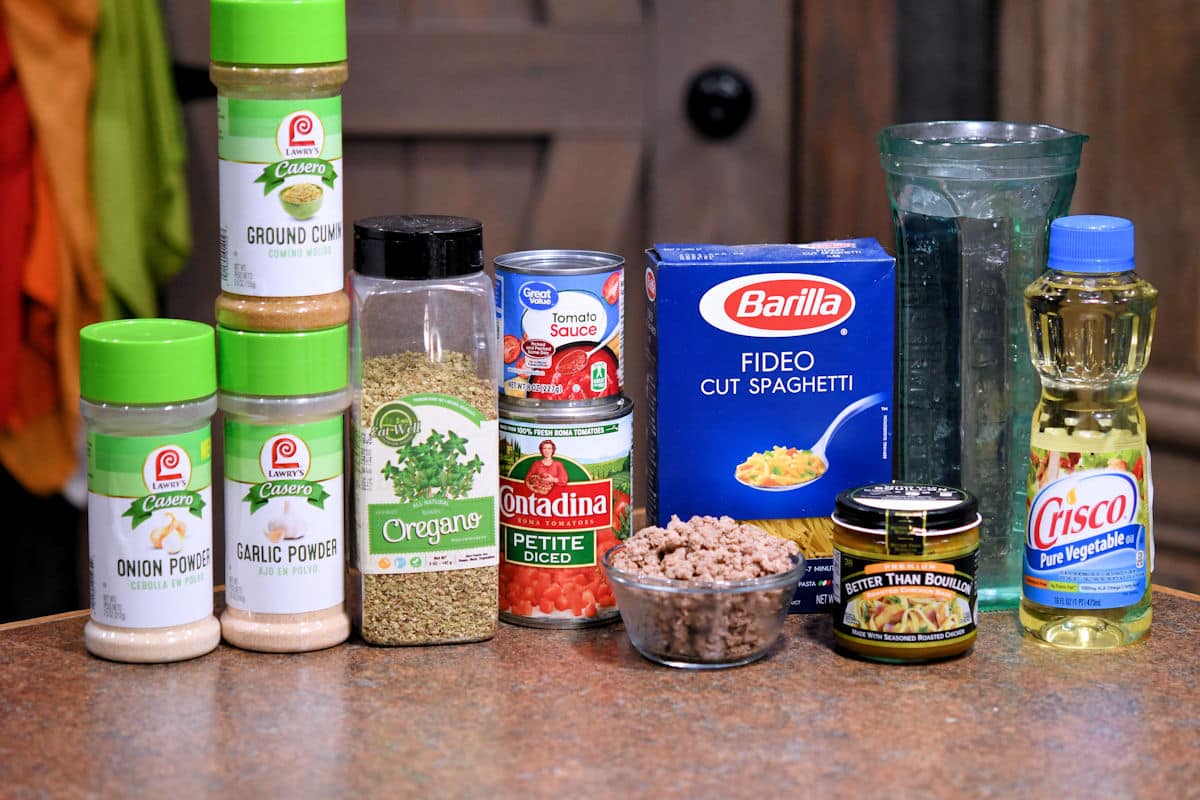 Pantry staples and only one cup of leftover ground beef (Carne Molida) makes a quick and nourishing meal to comfort the soul and the stomach.
Because I want to make sure this is suitable for kids, I didn't use any hot spices. It's the way I had it when I was little. But, these days, I like to add some sriracha sauce. It adds heat and a smoky flavor that I love.
What is Fideo Pasta?
This easy fideo soup is made with a type of thin pasta, cut into 1 or 1.5″ lengths. It's thin like vermicelli but can also be made with angel hair pasta.
The word "fideos" simple means noodles in Spanish. Mexican noodle soup is so popular in Mexico. It's served in almost every household because it's easy, quick and inexpensive.
Fideo pasta is a pantry staple in our house because it's perfect for kids. You don't have to cut up the spaghetti after cooking. Everything is already cut up into nice little pieces, perfect for kids of all ages.
How to Make Your Own Fideos
If you can't find Fideo pasta, you can easily make it yourself using vermicelli. You can cut or break the pasta into the desired lengths before adding it to the recipe. Just a simple box of spaghetti can be cut up to make fideos.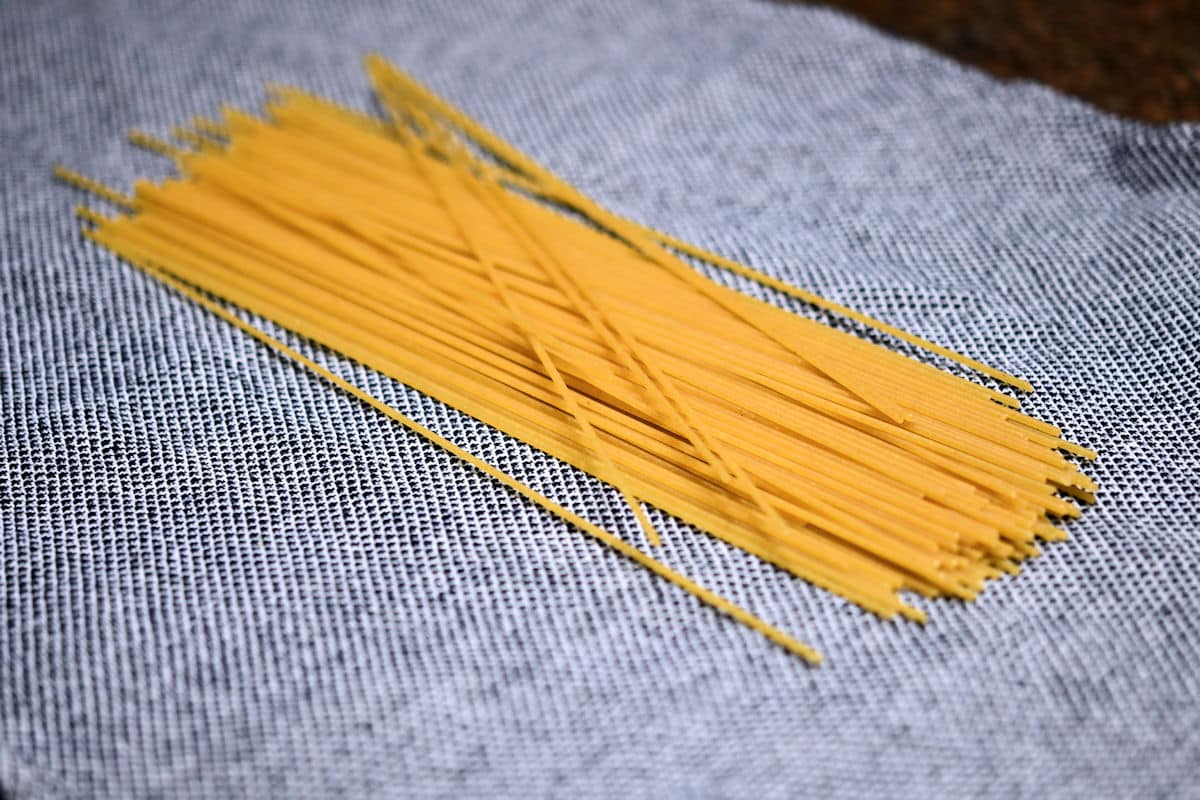 I've used four ounces of fideos for this recipe. Most pasta boxes are one pound. So, this is a half of a half. You don't want too much or the noodles won't be easy to saute in the skillet.
Place your spaghetti, vermicelli or angel hair pasta on a clean dish towel. Roll it up and break the pasta running your hand down the length of the towel. You can open up the towel and check it at any time to see if you've broken it up enough.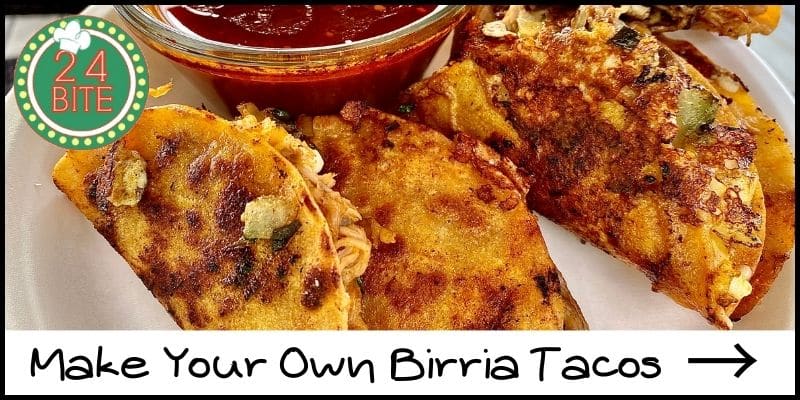 What is Fideo Seco?
Fideo Seco simply means that your sopa de fideo is served dry. The least amount of water is added while cooking. It's not soup-y.
Whether you like your sopa de fideo soup-y or dry is personal preference. Make it a lot so you can learn your own favorite.
Why Do You Saute Fideos?
When making authentic Mexican sopa de fideo, you start by cooking the pasta in a little oil to saute it. That may sound strange at first, but I'm sure you've heard of Rice A Roni which requires the same thing.
When you saute the fideo first, it gets a nice color and keeps the noodles from sticking together.
Variations
You already know now that "sopa de fideo" is Spanish for Noodle Soup. So, "sopa de fideo con carne" is Noodle Soup with Meat. In this case, I've used "carne molida" which is ground beef. But, you can make it with any meat or chicken or neither.
This traditional Mexican noodle soup can be changed by different additions. It's a great way to use up leftovers from your refrigerator.
Add-Ins
Here are some favorite add-ins.
cooked, cubed potatoes
chopped onion
carrot
peas
leftover shredded beef
shredded chicken
jalapeno or other green chiles
corn
Once you're ready to serve, you can add queso fresco, cilantro and crema with a couple of squirts of lime.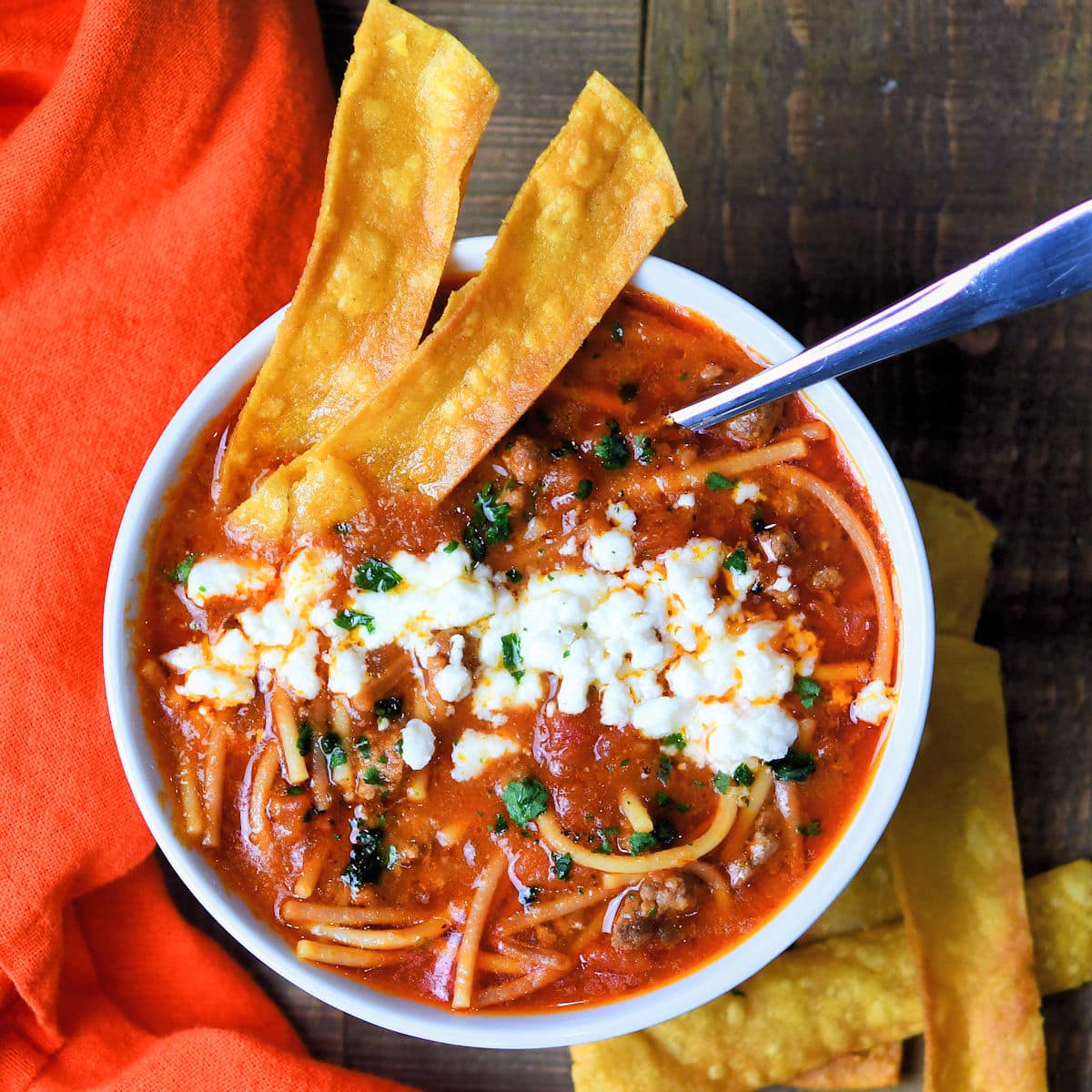 More Easy Recipes
Try some other easy recipes:
Recipe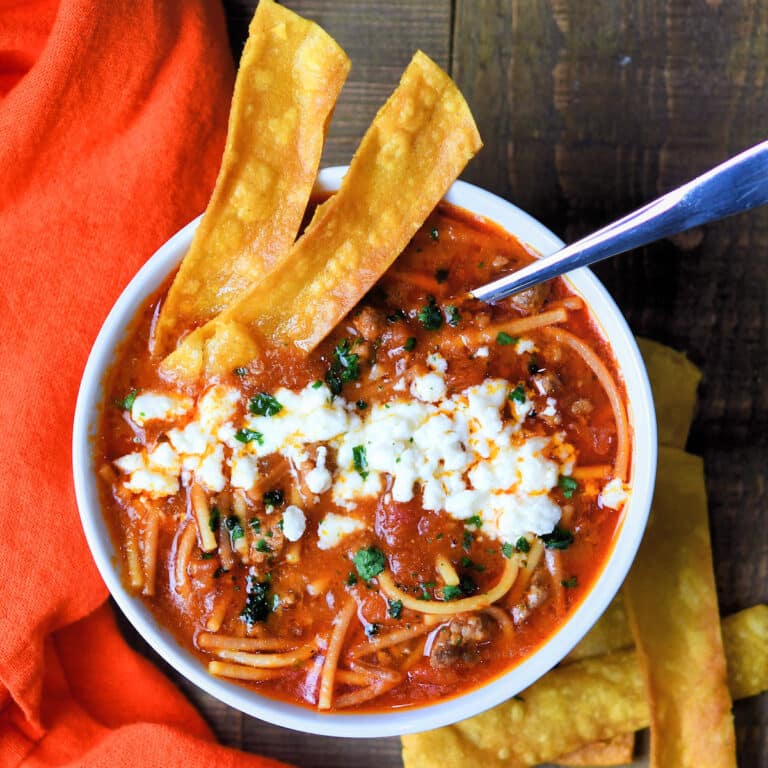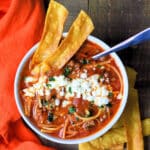 Pin Recipe Now
Sopa de Fideo con Carne Mexican Noodles
Tap to leave a star rating
Save or Print
Sopa de Fideo con Carne is an authentic Mexican recipe made of toasted noodles cooked in a tomato base. It's what Mexican childhoods are made of.

For more information, be sure to check the recipe details in the attached 24Bite® post.
Ingredients
2

tablespoons

Vegetable Oil

4

ounce

Fideo Pasta

,

or vermicelli cut into 1.5" pieces

1

cup

Ground Beef

,

cooked, drained

14.5

ounces

Petite Diced Tomatoes

8

ounces

Tomato Sauce

1

teaspoon

Chicken Bouillon

,

paste, cubed or granules

1

teaspoon

Onion Powder

1

teaspoon

Garlic Powder

1

teaspoon

Oregano

½

teaspoon

Cumin

3

cups

Water

,

divided
Instructions
Place vegetable oil in large skillet. Saute fideo pasta over medium heat until golden, about 4-5 minutes. Watch it constantly since it can turn on you quickly. You don't want it to burn.

Add all remaining ingredients with TWO CUPS water. Stir to combine and continue cooking over medium heat.

Stirring occasionally, continue cooking for about 10-15 minutes. Add more water, as desired. Continue cooking until fideos have softened. It can take 5-15 minutes more, depending on how long you toasted the fideos. The longer they're toasted, the longer it takes to soften them.
Note: If there is a video, it will not display while there is an adblocker.
Notes
Makes six servings when served as a main dish, double that if served on the side. When serving as a side dish, it's typical to use the least amount of water and allow it to almost cook away. Served this way, it's called Fideo Seco.
Garnish with Mexican crema, queso fresco, cilantro and a couple of squirts of lime.
Will keep 3-4 days in refrigerator or up to 6 months of best quality in the freezer. When reheating, you may need to mix in more water since the pasta will continue to expand and use up the stock. Pasta changes texture when frozen.
Sopa de Fideo is one of those soups that changes each time someone makes it because it's normal to use things you have in the refrigerator. Cooked cubed potatoes is a very popular addition. 
Add jalapeno or another favorite chile. Add a little chipotle. I like to add sriracha sauce.
You can add onion, celery, carrot, bell pepper, peas, just whatever you want to get from your refrigerator to the table.
Nutrition Facts
Sopa de Fideo con Carne Mexican Noodles
Amount Per Serving
Calories 200
Calories from Fat 72
% Daily Value*
Fat 8g12%
Sodium 415mg18%
Carbohydrates 22g7%
Protein 11g22%
* Percent Daily Values are based on a 2000 calorie diet.
______________________
Percent Daily Values are based on a 2000 calorie diet. All amounts are estimates and 24Bite® takes no responsibility for actual figures since calculations vary by packaging and supplier. Please calculate the amounts yourself based on package labeling if you have specific dietary requirements. 24Bite®, Kim Guzman or Christian Guzman shall not be liable for adverse reactions or any other outcome resulting from the use of recipes or recommendations on this website or actions you take as a result.
© 2019-2023 Kim Guzman and Christian Guzman. All rights reserved. Subscribe to 24Bite email newsletters.
Follow 24Bite: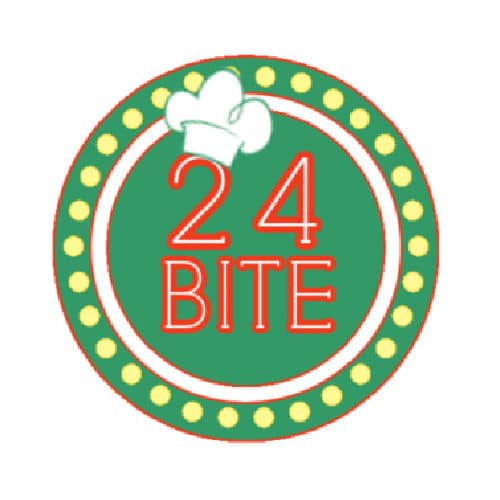 Twitter | Facebook | Pinterest