Throw out tradition by using a white creamy sauce for your next pizza instead of a red sauce.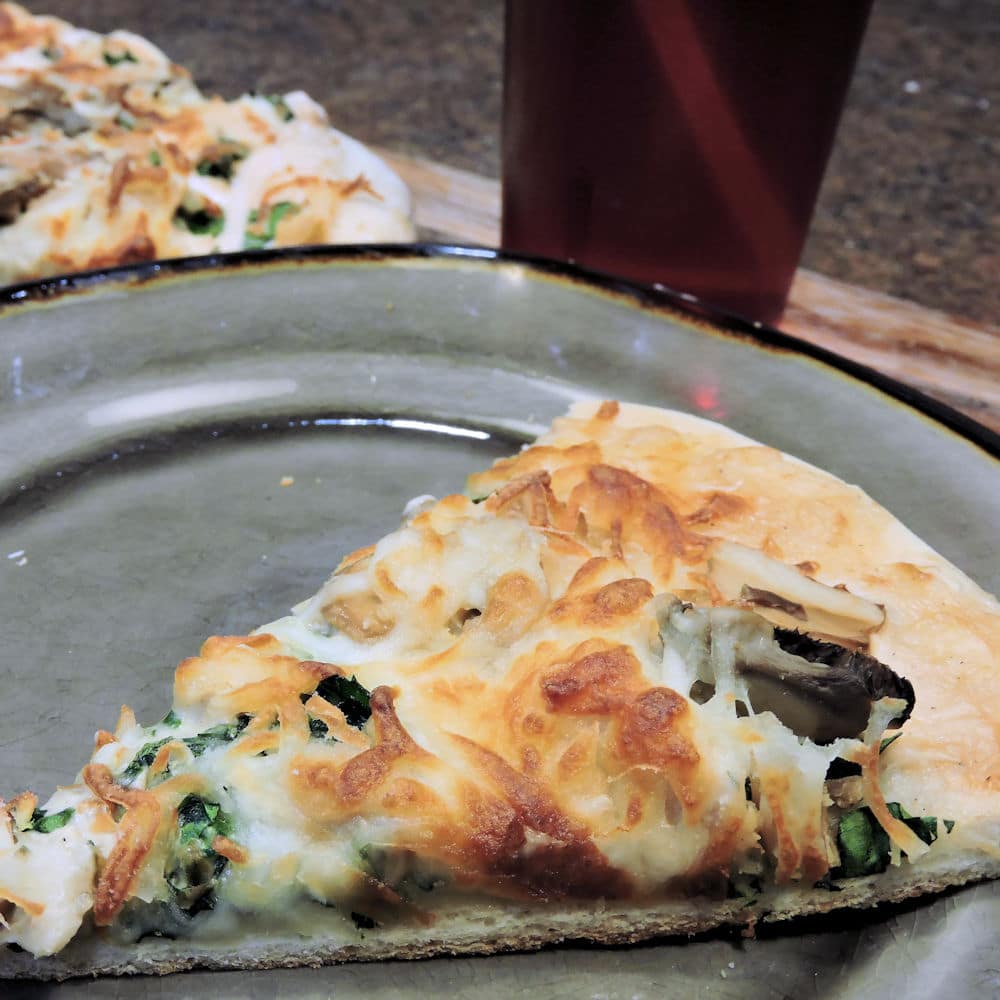 I think there must be nothing that Christian likes more than chicken, spinach and mushrooms.
A couple of days ago, he insisted that he wanted it on a pizza so I immediately got the bread machine down and told him to "go for it!"
I have had this bread machine since 2013 and I couldn't be happier. I have used it only for making dough and it's been an incredibly handy tool. I can simply add my ingredients and walk away. The baking feature works as well; I simply prefer to cook my bread in a bread pan for the traditional bread shape that will fit into the plastic bread bags I use.

Cuisinart CBK-100FR 2-Pound Programmable Breadmaker (Renewed), Brushed Chrome, Silver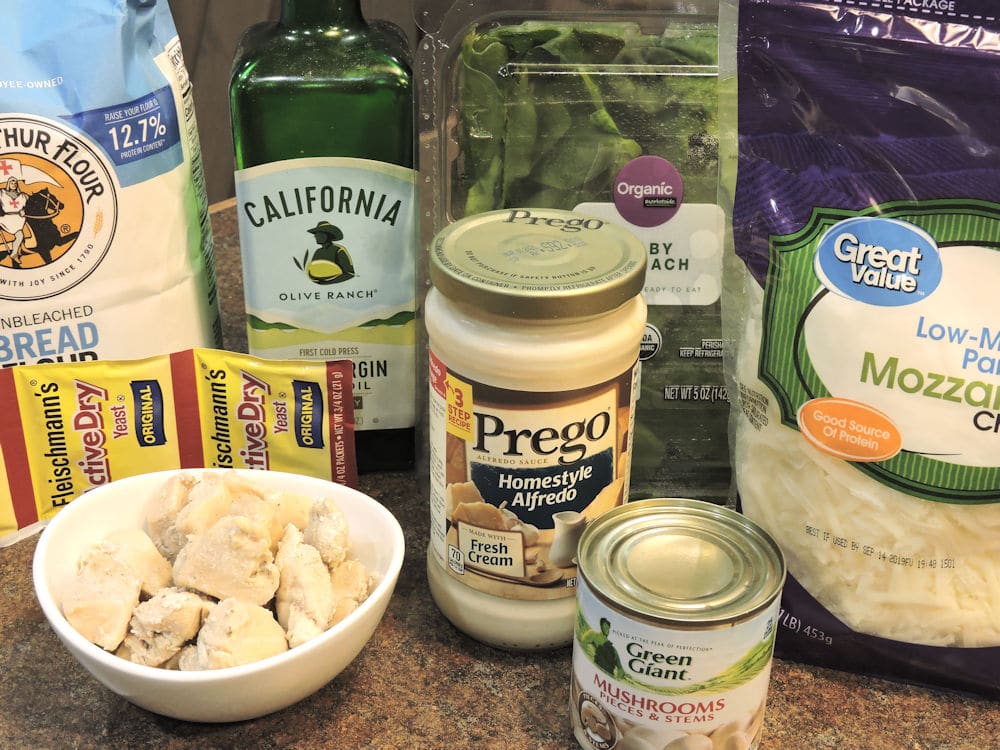 Homemade Pizza Dough
I prefer the homemade pizza dough I make in the bread machine. The recipe for Homemade Pizza Dough is here. If you want to make your own dough, I recommend that you check out that recipe because it's in the bread machine and SO EASY!
Use my pizza dough instructions or your own or even the pre-packaged completed dough, if you prefer. If you're using homemade pizza dough, try to refrigerate it for at least 4 hours or overnight.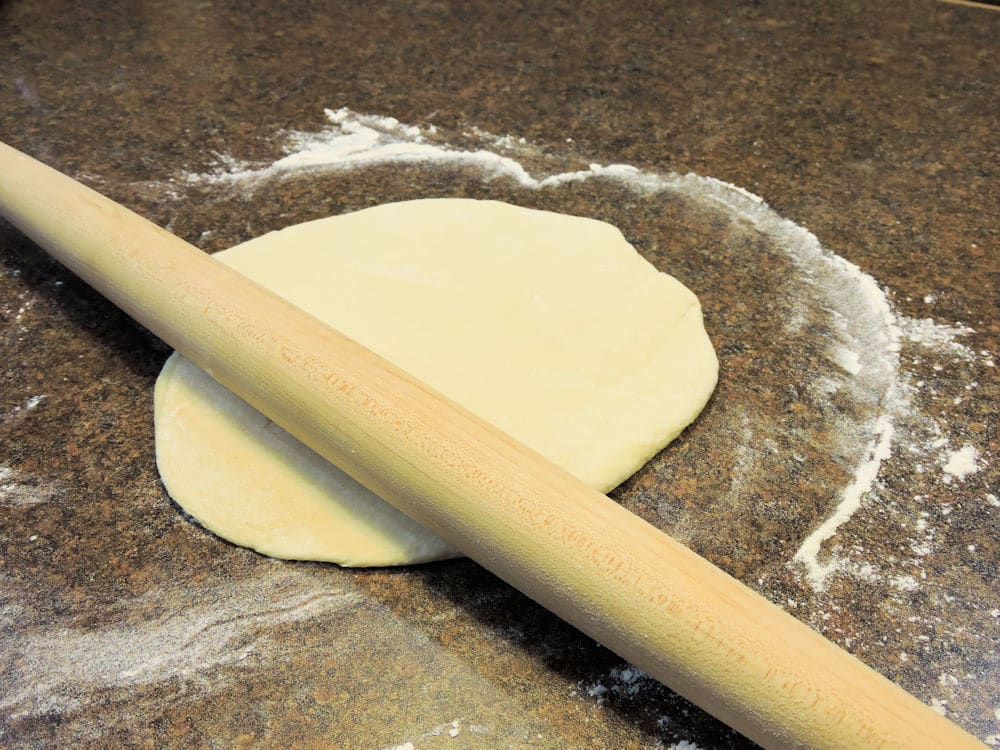 People were shocked when they found out that I still had a Pizza Pizzazz that worked. I bought this because it seems a lot safer for kids to make their own pizzas and it means that the oven doesn't have to heat up the entire house.
Presto Pizza Pizzazz Plus Rotating Pizza Oven
We use the
Pizza Pizzazz
(now available at Walmart) for all our pizza. I don't think we even own a regular pizza pan. The Pizza Pizzazz works great so you can see the pizza at all times. You don't have to worry about it burning. If you have pets, make sure they don't get close!
Spray the pan with cooking spray and, after rolling out the dough, pinch up the edges a little and place it on the pan.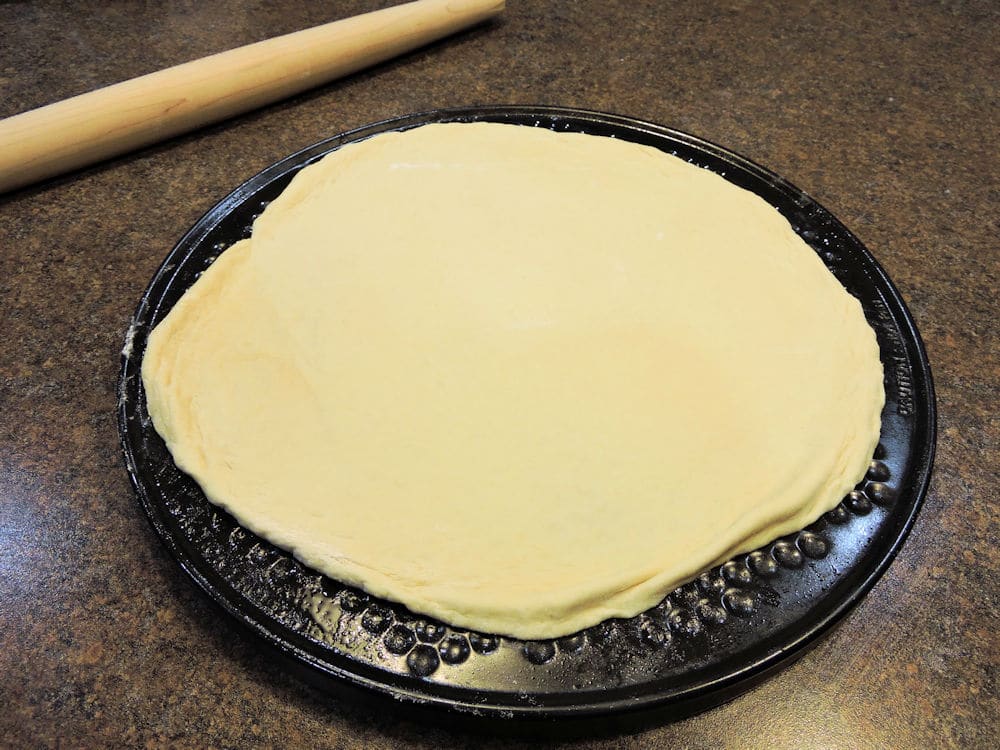 Add the Sauce and Toppings
Since this recipe is for two pizzas, split the alfredo sauce between them. You can use any alfredo sauce you like, even your own favorite recipe.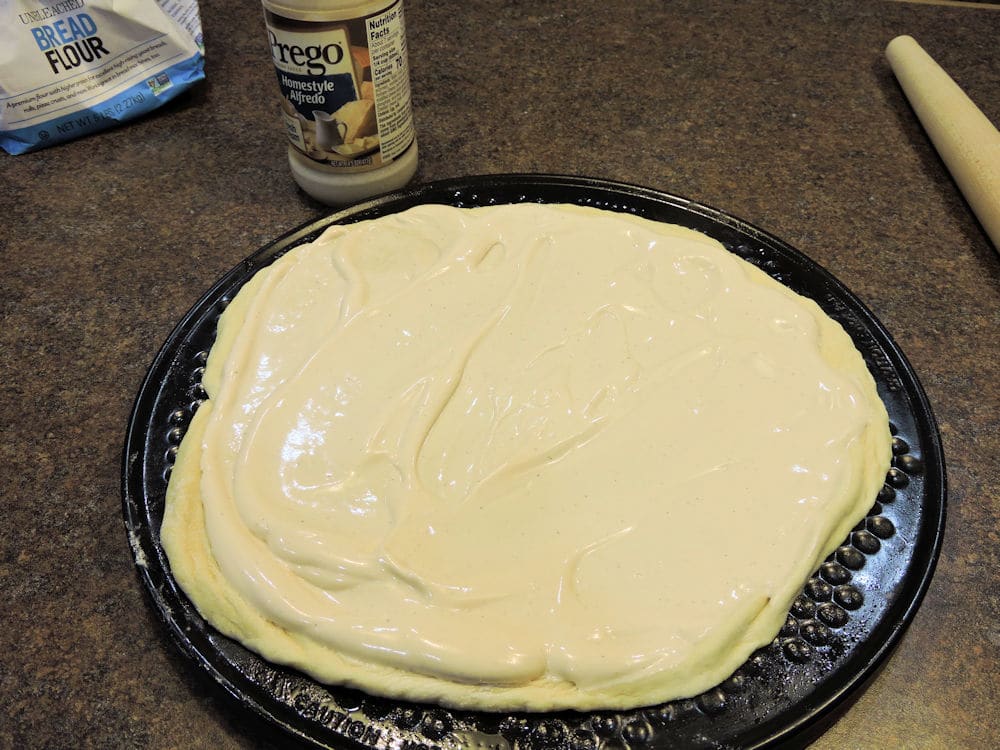 Add the chopped fresh spinach.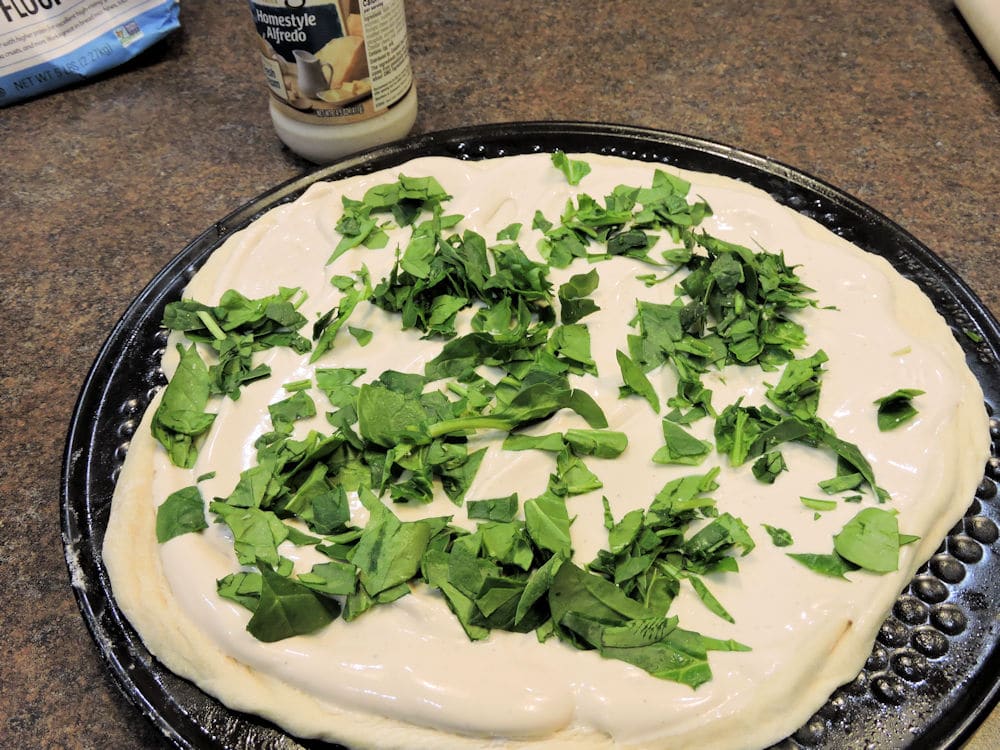 Add the diced cooked chicken and mushrooms. Use fresh mushrooms, if you like. We always keep canned mushrooms in the pantry when we don't have some fresh ones.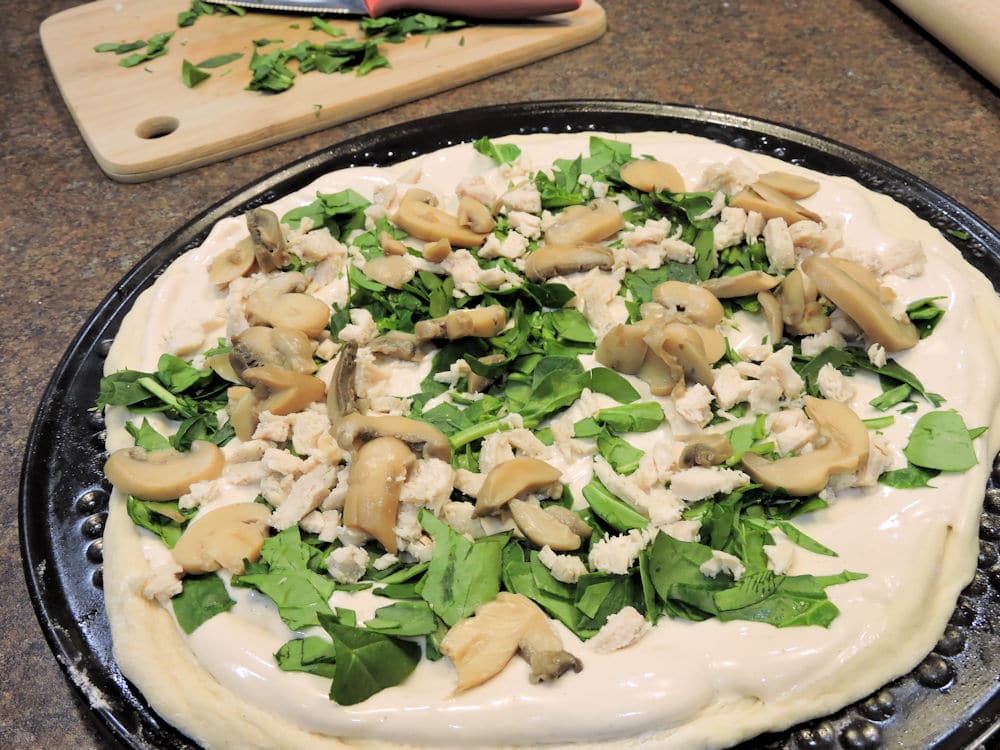 Sprinkle the cheese everywhere.
Place it on the Pizza Pizzazz or into your oven and let cook. Yum!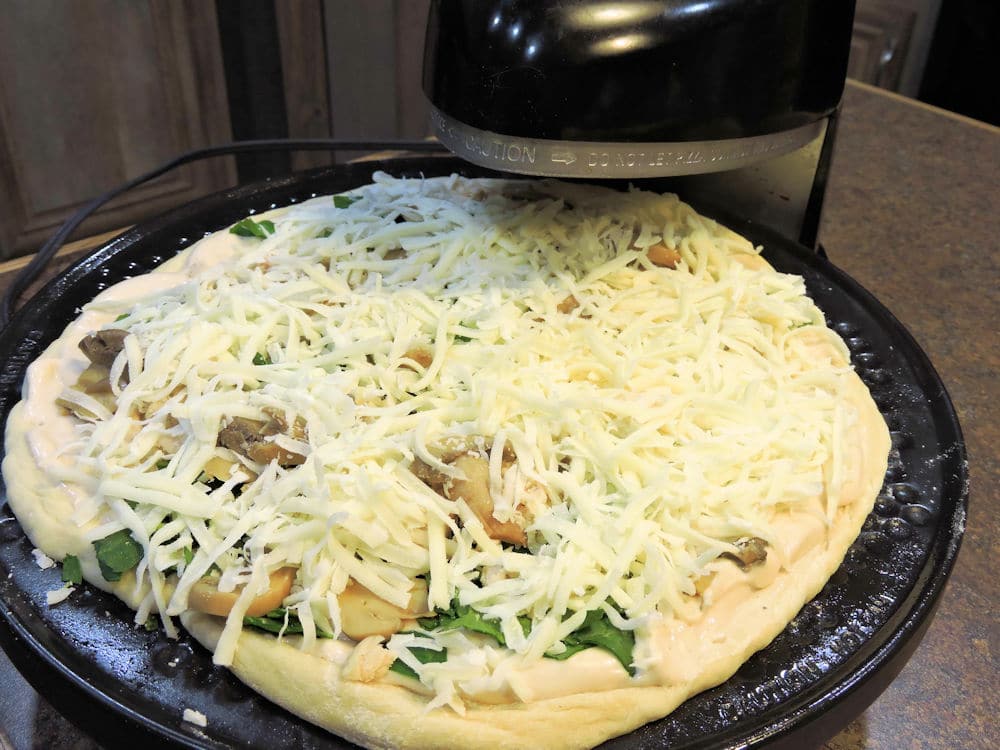 This takes about 15-20 minutes when the dough is pretty thin like this. It will probably be more like 25-30 minutes if it's a stuffed crust. If you want a stuffed crust, I recommend that you cook the crust halfway, put on the toppings then put it back in the oven to finish cooking. This stops it from being undercooked in the center.
Recipe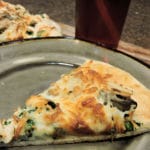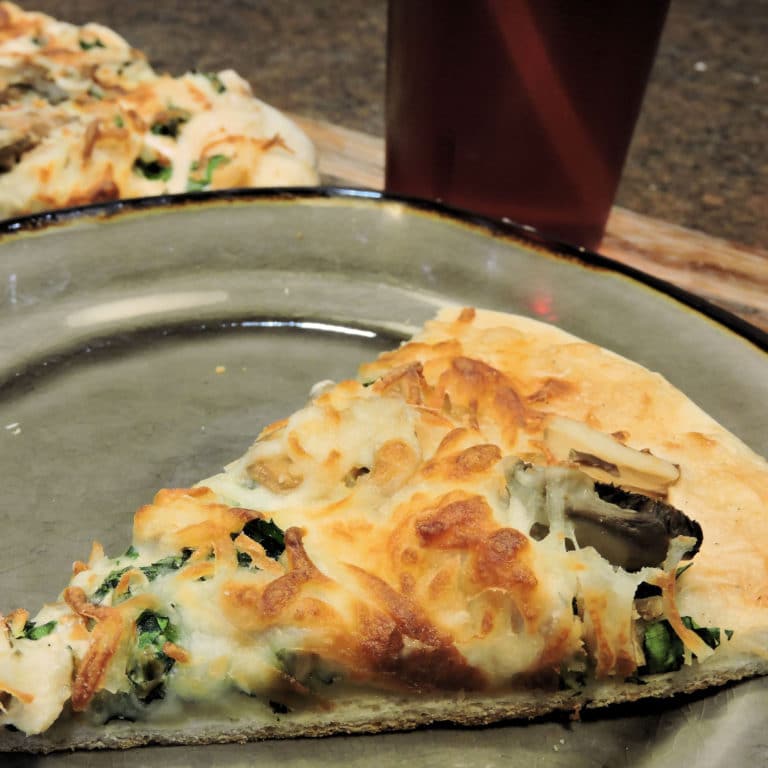 Chicken Alfredo Pizza with Spinach and Mushrooms
Print Recipe
Throw out tradition by using a white creamy sauce for your next pizza instead of a red sauce.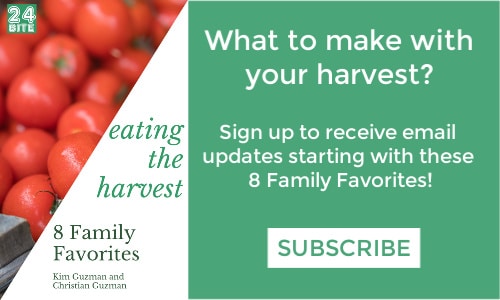 Ingredients
1

14.5 oz jar

Prego Homestyle Alfredo Sauce

split into two portions

1

cup

chopped raw spinach

split into two portions

1

cup

diced, cooked chicken breast

split into two portions

1

4 oz can

Green Giant Mushrooms Pieces & Stems

drained and split into two portions

2

cups

shredded mozzarella cheese

split into two portions

cooking spray
Instructions
If you are using homemade pizza dough, begin at least 3 hours before you plan to prepare the pizza to complete the kneading and rising process. It's better to refrigerate for 3 or more hours after that, but it's not entirely necessary, if you're in a time crunch. Halve the dough equally and roll out on a lightly floured surface.

Spray pizza pan with cooking spray. Place crust on pan and pinch the edges a little, if you like. This helps to catch the sauce from spilling over.

Spread half the jar of sauce on each pizza. Evenly distribute chopped spinach, chicken and mushrooms. Top with cheese.

Cook for 15-20 minutes, or until done. Cool slightly and cut each pizza into 8 pieces.
Nutrition Facts
Chicken Alfredo Pizza with Spinach and Mushrooms
Amount Per Serving
Calories 205
* Percent Daily Values are based on a 2000 calorie diet.
______________________
Percent Daily Values are based on a 2000 calorie diet. All amounts are estimates and 24Bite® takes no responsibility for actual figures since calculations vary by packaging and supplier. Please calculate the amounts yourself based on package labeling if you have specific dietary requirements. 24Bite®, Kim Guzman or Christian Guzman shall not be liable for adverse reactions or any other outcome resulting from the use of recipes or recommendations on this website or actions you take as a result.
© 2019-2020 Kim Guzman. All rights reserved. Subscribe to 24Bite email newsletters.
Follow 24Bite: