This website contains affiliate links. Any purchases through affiliate links will provide me with the income necessary to keep this site available at no extra cost to you. Please see
Privacy Policy
 page for more information.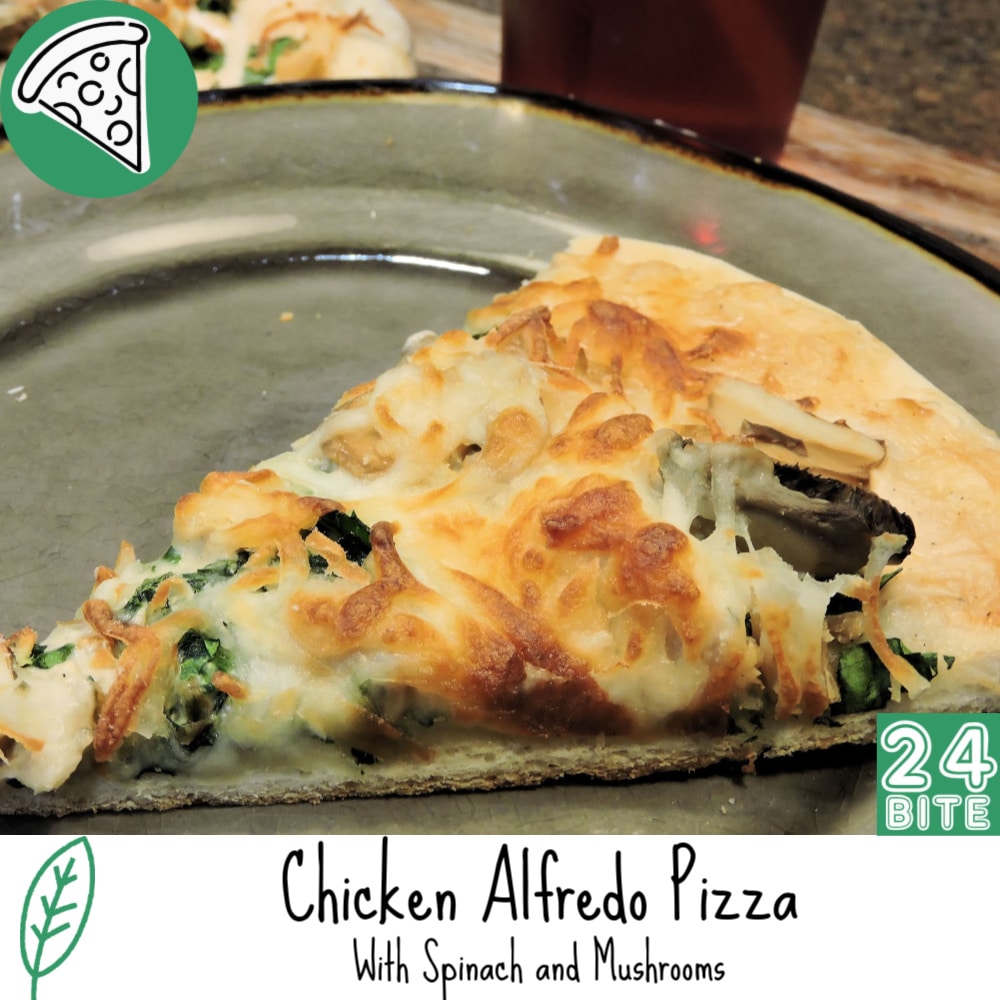 I think there must be nothing that Christian likes more than chicken, spinach and mushrooms.
A couple of days ago, he insisted that he wanted it on a pizza so I immediately got the bread machine down and told him to "go for it!"
I have had this bread machine since 2013 and I couldn't be happier. I have used it only for making dough and it's been an incredibly handy tool. I can simply add my ingredients and walk away. The baking feature works as well; I simply prefer to cook my bread in a bread pan for the traditional bread shape that will fit into the plastic bread bags I use.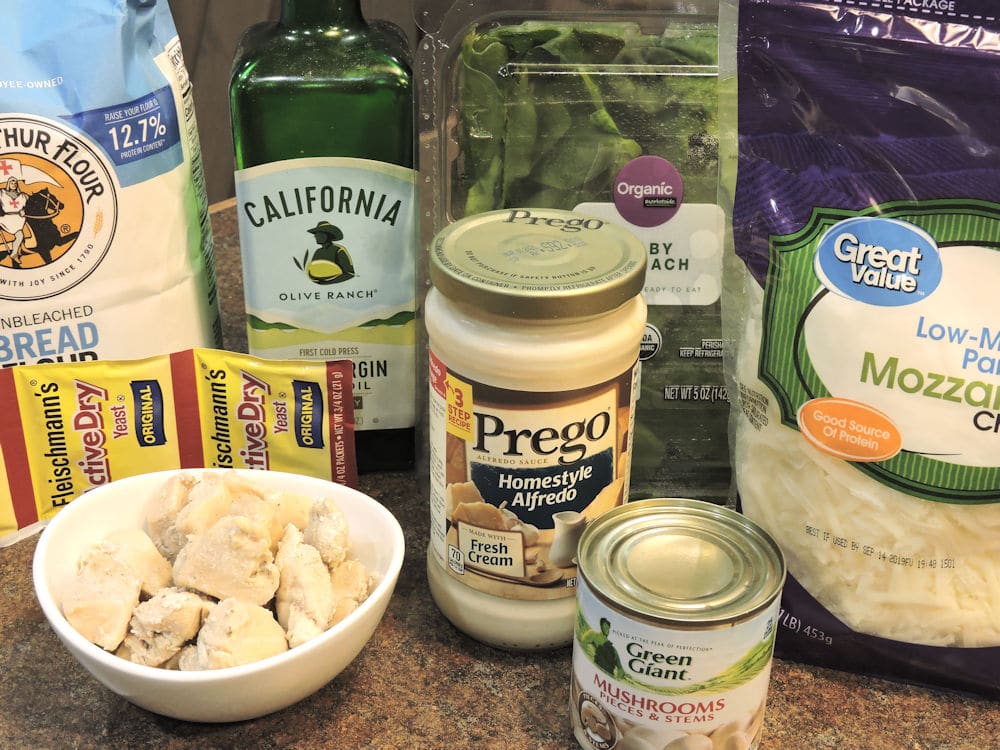 I have been using this same pizza dough recipe for years. The only ingredient change I've ever made is to snip off some globe basil and add it to the dough. Karin's Easy Peezy Pizza Dough Recipe
I haven't included the separate ingredients for the pizza dough in the recipe below. It will simply say "prepared pizza dough" and you can use Karin's or your own favorite.
Proof Your Yeast
I always proof my yeast first. This means that you stir the yeast into warm water (110° to 115°) with the sugar and let it sit for about 10 minutes. If it starts to get foamy, the yeast is fine. If it just sits there, the yeast is dead and you'll need to try a different batch. There is nothing worse than getting everything into the machine and getting it going, only to find out that there is no rising because the yeast is dead.
I usually put the proofed yeast and water in the bread pan first, then the olive oil, then the flour. I always put the salt on top of the flour. I read somewhere that putting the salt right by the yeast will kill it, so I do this, just in case.
This recipe makes two regular crust medium sized pizzas or one very large rectangle pizza or one pan pizza (try that in an iron skillet!). My recipe calls for two crusts, but adjust as you like with the ingredients to get a pizza you prefer.
Refrigerate Your Dough
Always refrigerate your dough, if you can. I like to make my dough in the morning and it will be ready by the evening to throw together a pizza. Wrap it in plastic wrap then wrap it a second time, loosely. That's for everyone who leaves the house and comes back later to see that their dough has exploded out of the wrap! It definitely will grow in the refrigerator so wrap it then the second wrap will catch the explosion.
If you want to roll out your dough straight away, you can do that. I just find that the dough rolls out so much easier when it's cold.
On a dry, clean surface, put a couple of little piles of flour and dust the rolling pin as well. For good measure, add a dose of flour to the dough ball too, if you want. All of that helps with sticking. When you get the dough rolled out a bit, try picking it up by the edges and rotating to allow gravity to pull it down.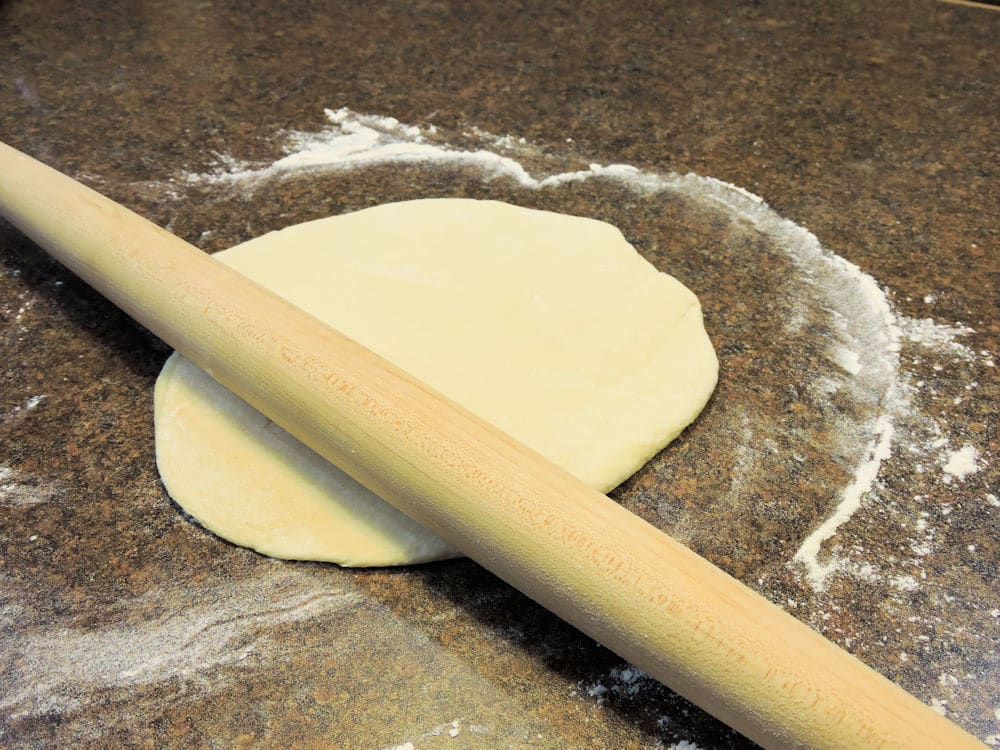 People were shocked when they found out that I still had a Pizza Pizzazz that worked. I bought this because it seems a lot safer for kids to make their own pizzas and it means that the oven doesn't have to heat up the entire house.
Spray the pan with cooking spray and, after rolling out the dough, pinch up the edges a little and place it on the pan.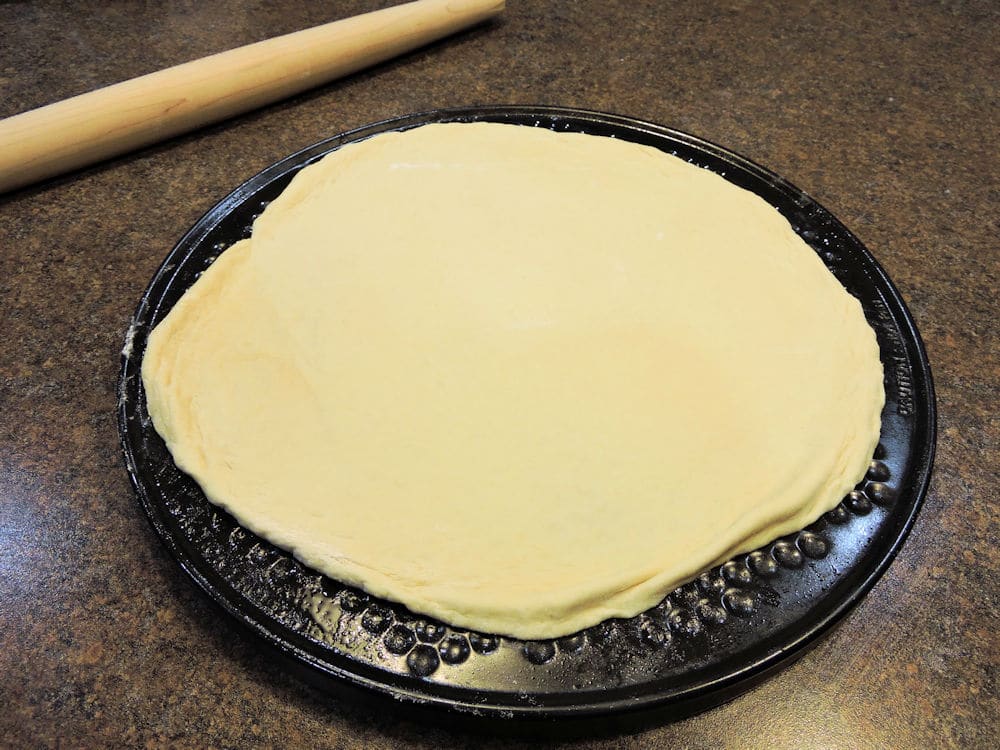 Add the Sauce and Toppings
Since this recipe is for two pizzas, split the alfredo sauce between them. You can use any alfredo sauce you like, even your own favorite recipe.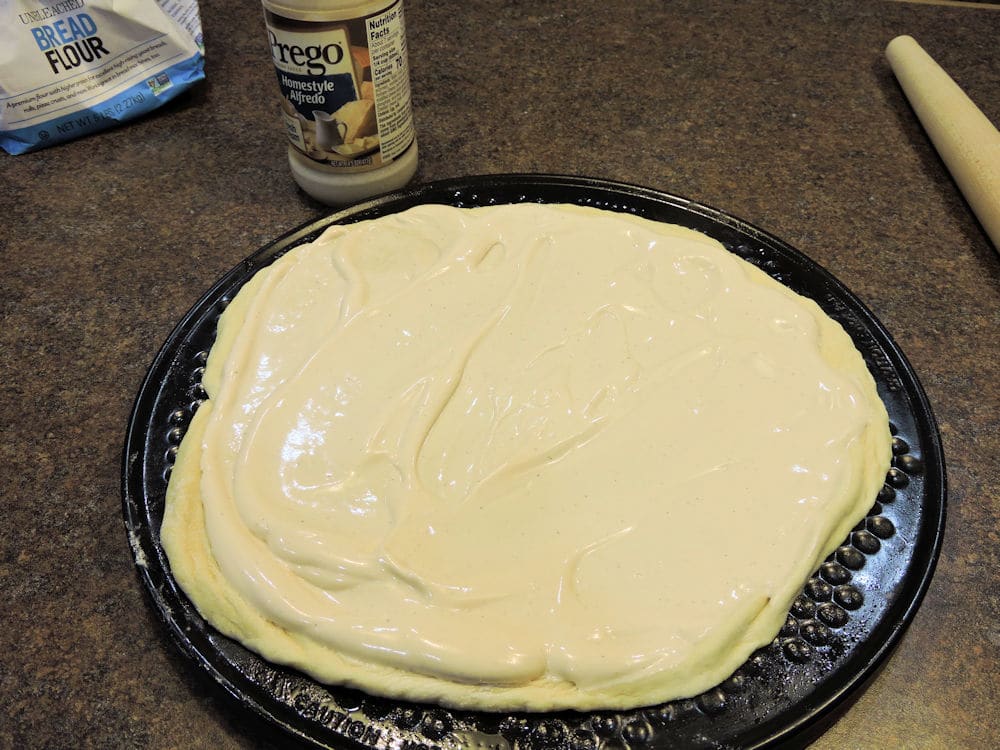 Add the chopped fresh spinach.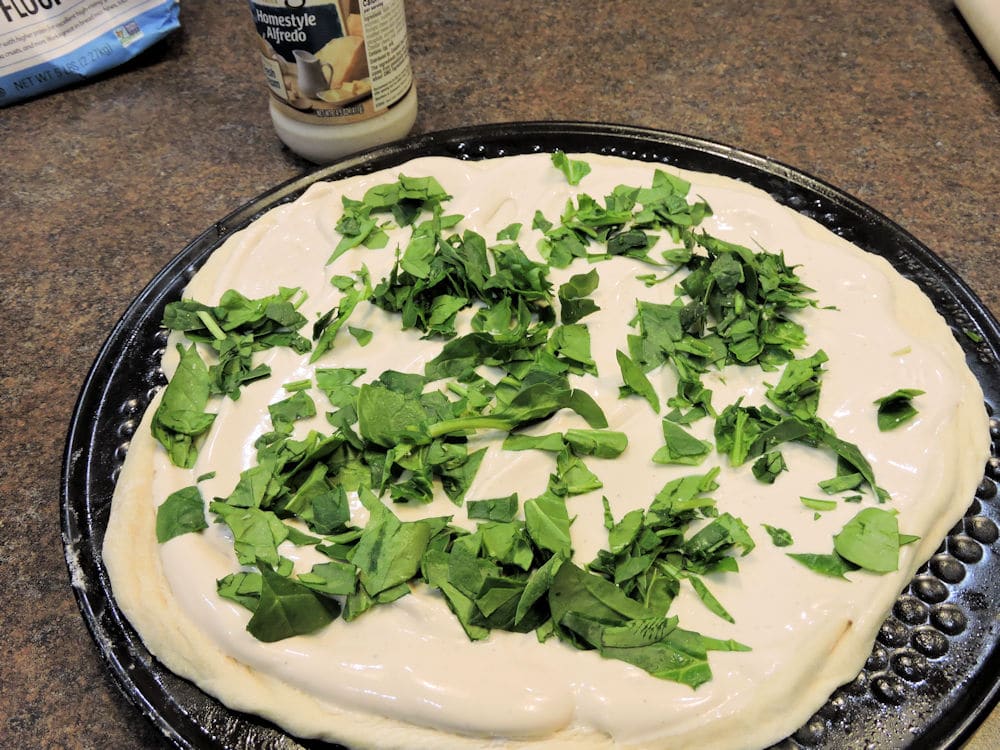 Add the diced cooked chicken and mushrooms. Use fresh mushrooms, if you like. We always keep canned mushrooms in the pantry when we don't have some fresh ones.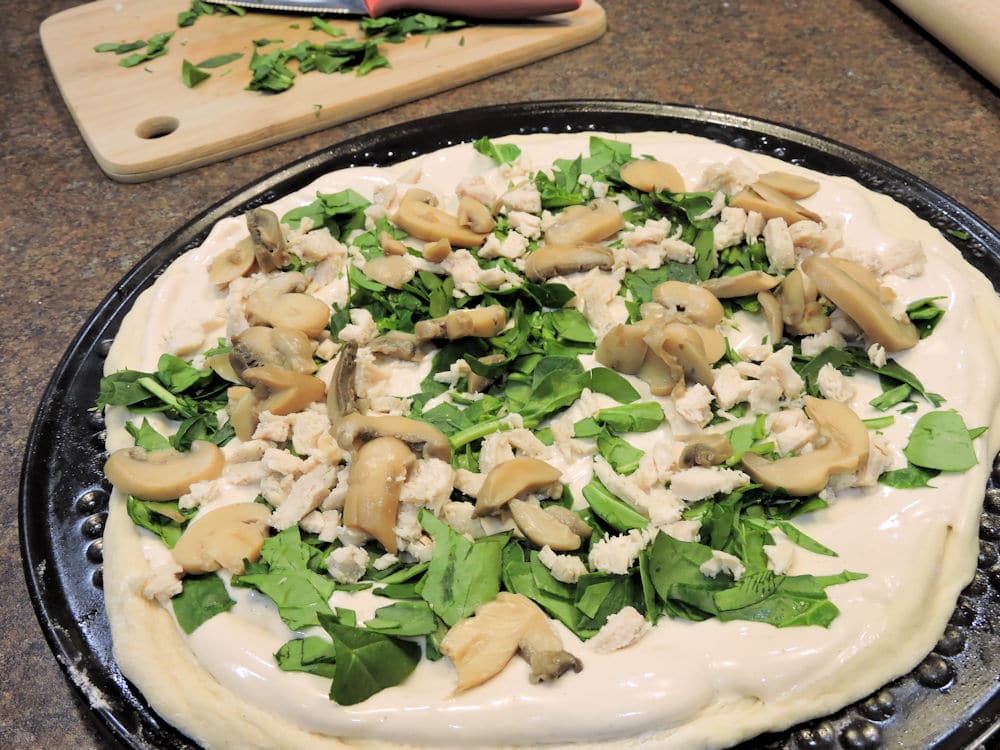 Sprinkle the cheese everywhere.
Place it on the Pizza Pizzazz or into your oven and let cook. Yum!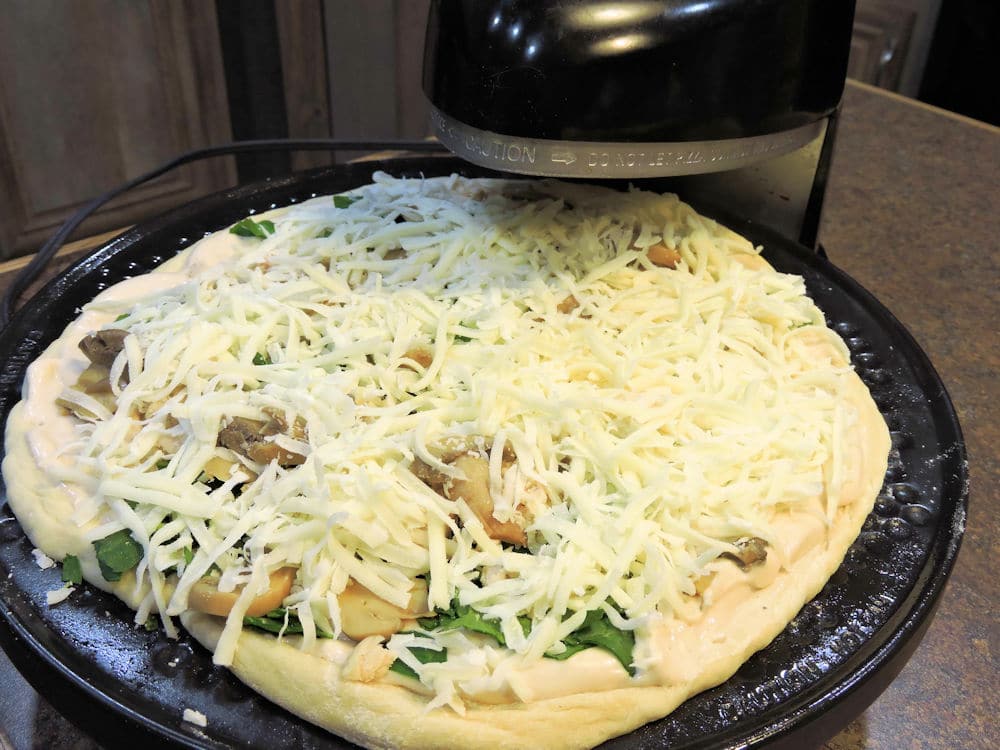 This takes about 15-20 minutes when the dough is pretty thin like this. It will probably be more like 25-30 minutes if it's a stuffed crust. If you want a stuffed crust, I recommend that you cook the crust halfway, put on the toppings then put it back in the oven to finish cooking. This stops it from being undercooked in the center.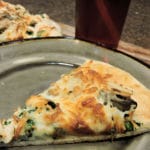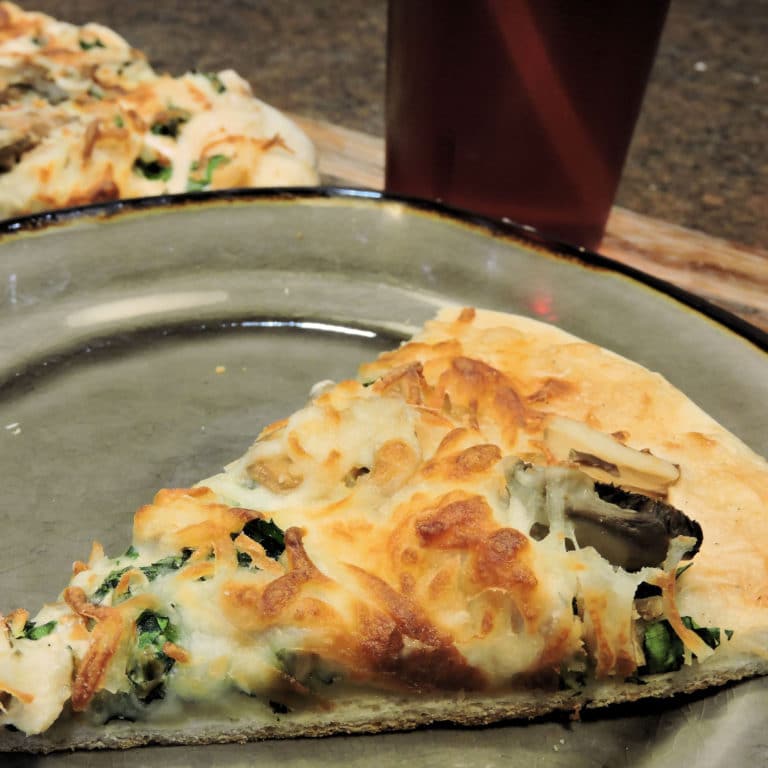 Print Recipe
Chicken Alfredo Pizza with Spinach and Mushrooms
Throw out tradition by using a white creamy sauce for your next pizza instead of a red sauce.
Ingredients
2

prepared, uncooked pizza crusts

see link above

1

14.5 oz jar

Prego Homestyle Alfredo Sauce

split into two portions

1

cup

chopped raw spinach

split into two portions

1

cup

diced, cooked chicken breast

split into two portions

1

4 oz can

Green Giant Mushrooms Pieces & Stems

drained and split into two portions

2

cups

shredded mozzarella cheese

split into two portions

cooking spray
Instructions
If you are using homemade pizza dough, begin at least 3 hours before you plan to prepare the pizza to complete the kneading and rising process. It's better to refrigerate for 3 or more hours after that, but it's not entirely necessary, if you're in a time crunch. Halve the dough equally and roll out on a lightly floured surface.

Preheat oven to 425°.

Spray pizza pan with cooking spray. Place crust on pan and pinch the edges a little, if you like. This helps to catch the sauce from spilling over.

Spread half the jar of sauce on each pizza. Evenly distribute chopped spinach, chicken and mushrooms. Top with cheese.

Cook for 15-20 minutes, or until done. Cool slightly and cut each pizza into 8 pieces.
Follow 24Bite: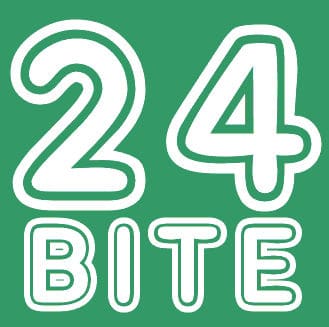 Twitter | Facebook | Instagram
Pin It: