Make your own delicious pizza dough and you can skip the pizza delivery tonight! You've probably already got lots of ingredients in your refrigerator and cupboard you can use for pizza.
"Can You Pizza It?"

—Christian Guzman
Proof Your Yeast
I always proof my yeast first. This means that you stir the yeast into warm water (110° to 115°) with the sugar and let it sit for about 10 minutes. If it starts to get foamy, the yeast is fine. If it just sits there, the yeast is dead and you'll need to try a different batch. There is nothing worse than getting everything into the machine and getting it going, only to find out that there is no rising because the yeast is dead.
Disclaimer:
This website contains affiliate links. Any purchases through affiliate links will provide me with the income necessary to keep this site available at no extra cost to you. Please see
Privacy Policy
 page for more information.
I usually put the proofed yeast and water in the bread pan first, then the olive oil, then the flour. I always put the salt on top of the flour. I read somewhere that putting the salt right by the yeast will kill it, so I do this, just in case.
This recipe makes two regular crust medium sized pizzas or one very large rectangle pizza or one pan pizza (try that in an iron skillet!).
Refrigerate Your Dough
Always refrigerate your dough, if you can. I like to make my dough in the morning and it will be ready by the evening to throw together a pizza. Wrap it in plastic wrap then wrap it a second time, loosely. That's for everyone who leaves the house and comes back later to see that their dough has exploded out of the wrap! It definitely will grow in the refrigerator so wrap it then the second wrap will catch the explosion.
If you want to roll out your dough straight away, you can do that. I just find that the dough rolls out so much easier when it's cold.
On a dry, clean surface, put a couple of little piles of flour and dust the rolling pin as well. For good measure, add a dose of flour to the dough ball too, if you want. All of that helps with sticking. When you get the dough rolled out a bit, try picking it up by the edges and rotating to allow gravity to pull it down.
Homemade Pizza Dough in Bread Machine
Make this delicious homemade pizza dough in your bread machine and skip the pizza delivery!
Print
Ingredients
1

pkt

active dry yeast (2 1/4 tsp)

1 1/8

cup

very warm water

110° to 115°

2

tbsp

granulated sugar

2

tbsp

avocado or olive oil

3

cup

bread flour, plus a little bit more for rolling

1

tsp

salt
Instructions
In a small bowl, stir together yeast, water and sugar. Set aside. After 10 minutes, check that it's bubbly. If so, continue. If not, you may want to try again with fresher yeast.

Add yeast mixture to bread pan in bread machine.

Set bread machine to make dough only. Once finished, take out and separate into two balls. Cover with plastic wrap and put in refrigerator for several hours or overnight.

Roll out and add toppings as desired. When the recipe is split in two crusts like this, it takes about 15-20 minutes to cook the completed pizzas in a 425° oven.
Follow 24Bite: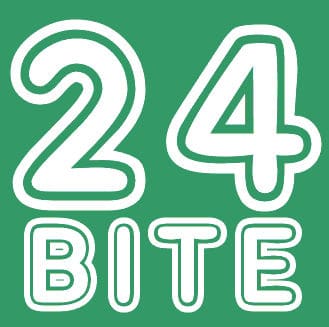 Twitter | Facebook | Instagram | Pinterest
Pin It: