These White Chocolate Chip Brownies are so easy and quick that you can satisfy your chocolate craving with a recipe that's just as easy as opening a box mix. The white chocolate chips are what give these brownies that extra creamy goodness.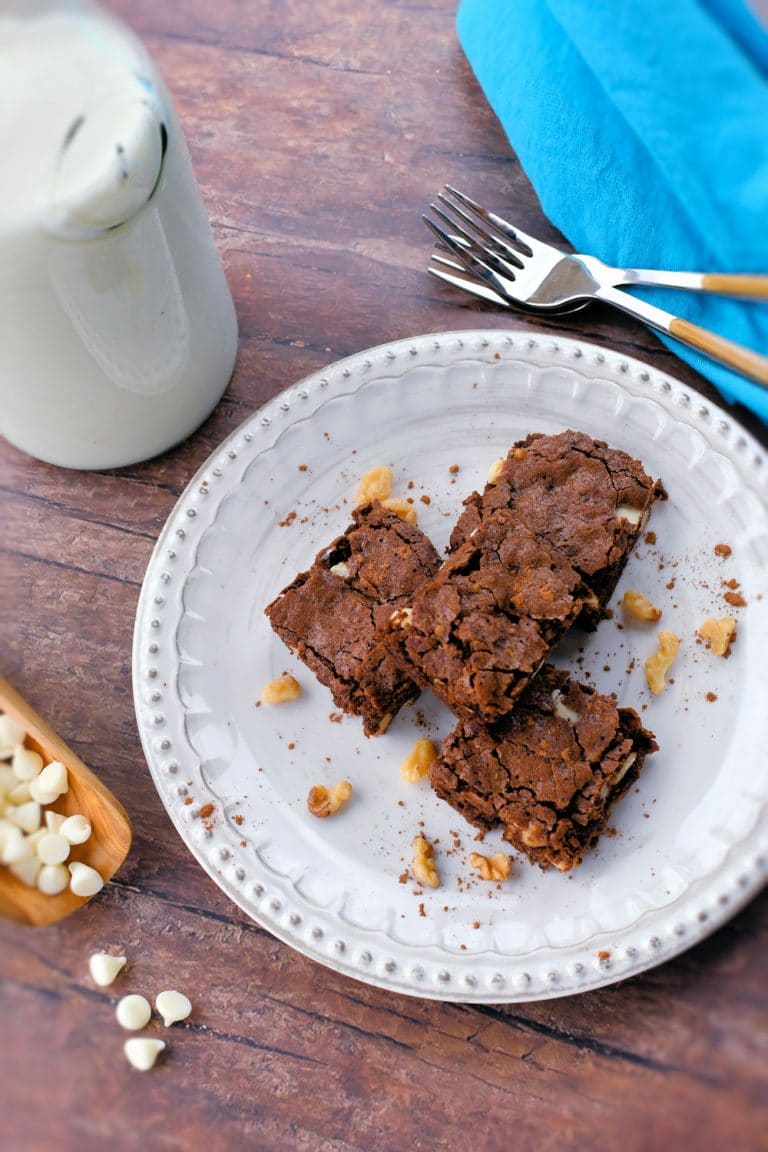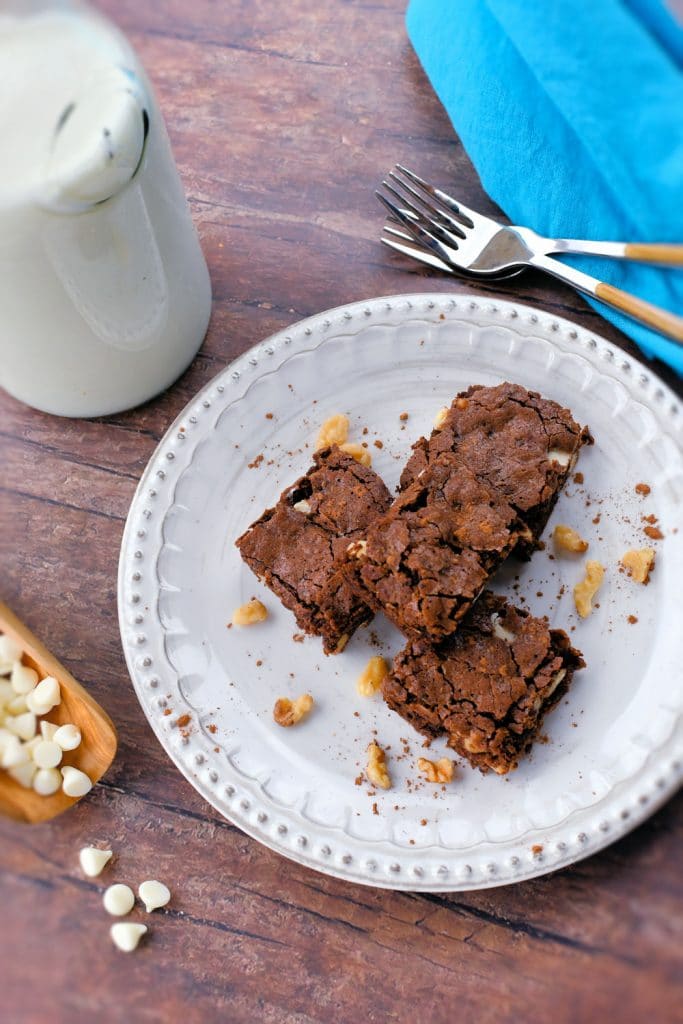 I took a quick photo of the brownies just as I put them in the oven. Oh, the anticipation! Can you taste it?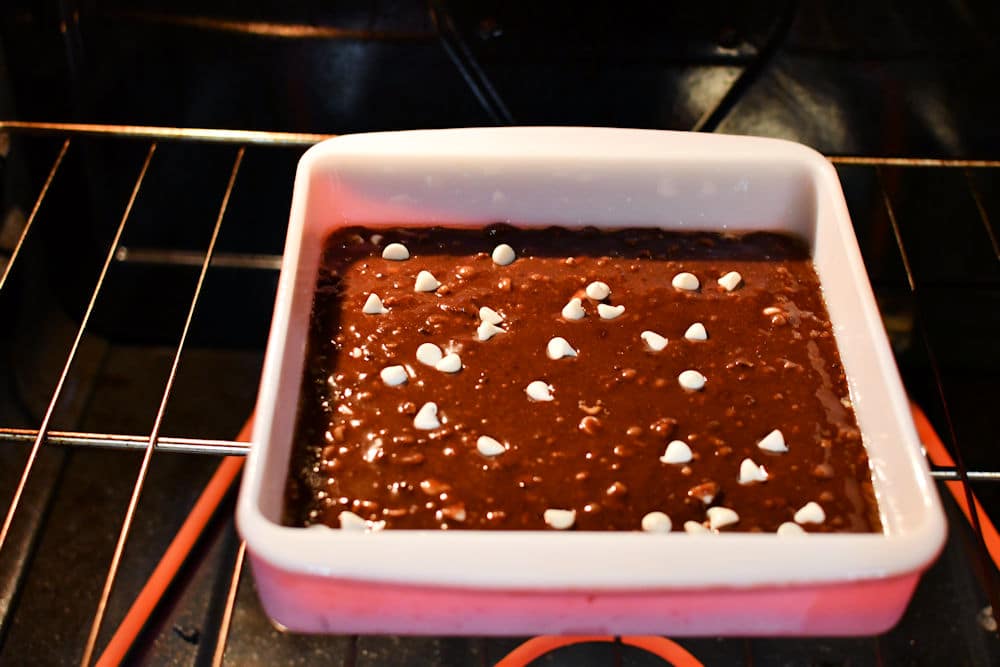 White Chocolate Isn't Real Chocolate?
Yes, I know. I've heard this too. I'll let you in on a little secret, though. It doesn't matter!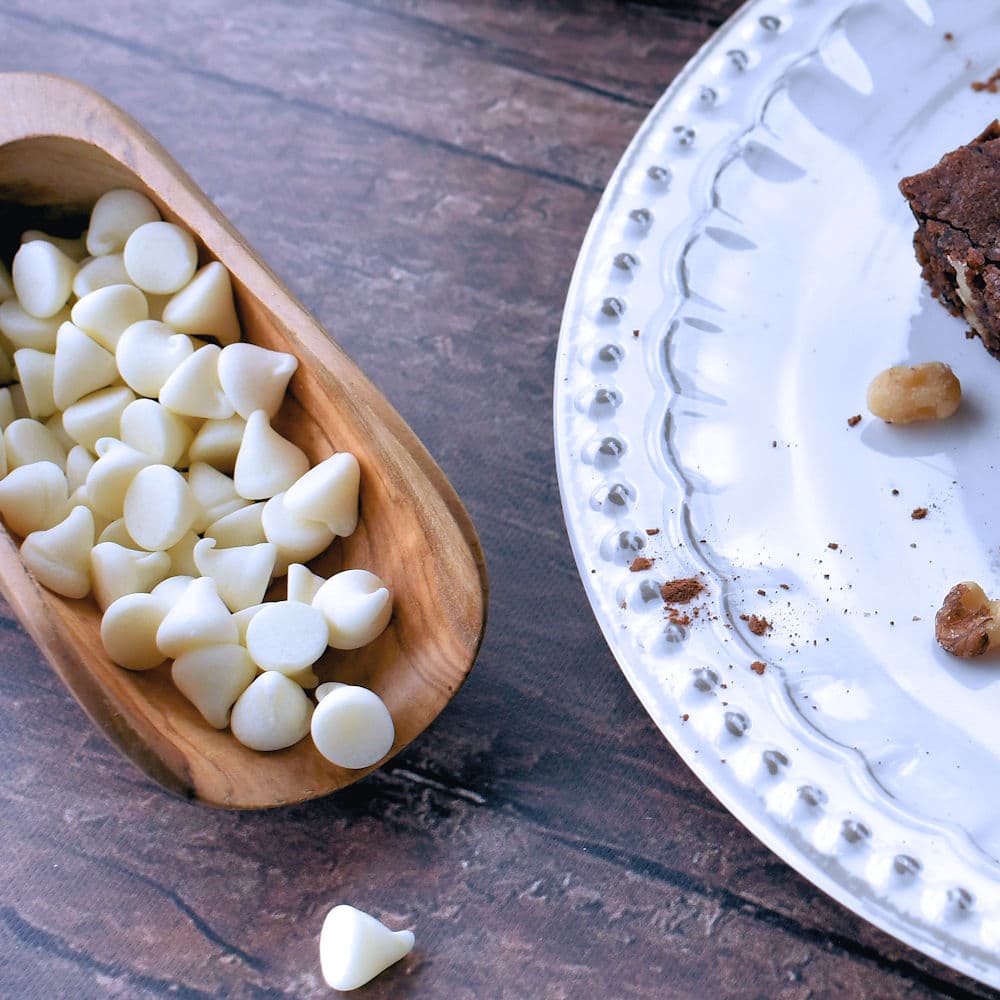 Technically, white chocolate is just the cocoa fat leftover when you take out all the "real" chocolate. Chocolate purists don't think it should be called chocolate.
But, truly, don't let this stop you from trying it! I think we should still be able to call it chocolate. We call fried potatoes by the name of French Fries even though they're not from France. A hamburger doesn't contain ham.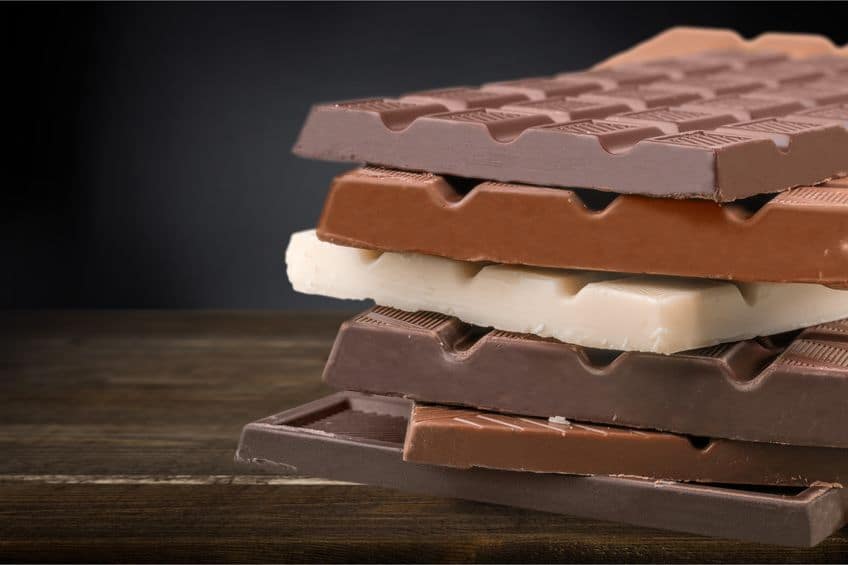 Let's just stick with white chocolate chip brownies. Once you taste them, you're not going to worry about it either. I promise you.
Read more about this debate from Simran Sethi at the Washington Post.
My First White Chocolate
The first time I tried white chocolate was with these White Chocolate Kit Kats. I don't eat much candy but the creamy goodness of white chocolate is the perfect compliment to the cookie wafer. I like it so much better than regular Kit Kats which I really don't like much at all.

Hershey's, Kit Kat, Mini's, White Chocolate Covered Wafer Candies, 8oz Bag (Pack of 3)
Easy White Chocolate Chip Brownies Recipe
This is another fantastic recipe that's so easy that you can have it done and in the pan before you even have the chance to open up that wax paper bag in the brownie mix box.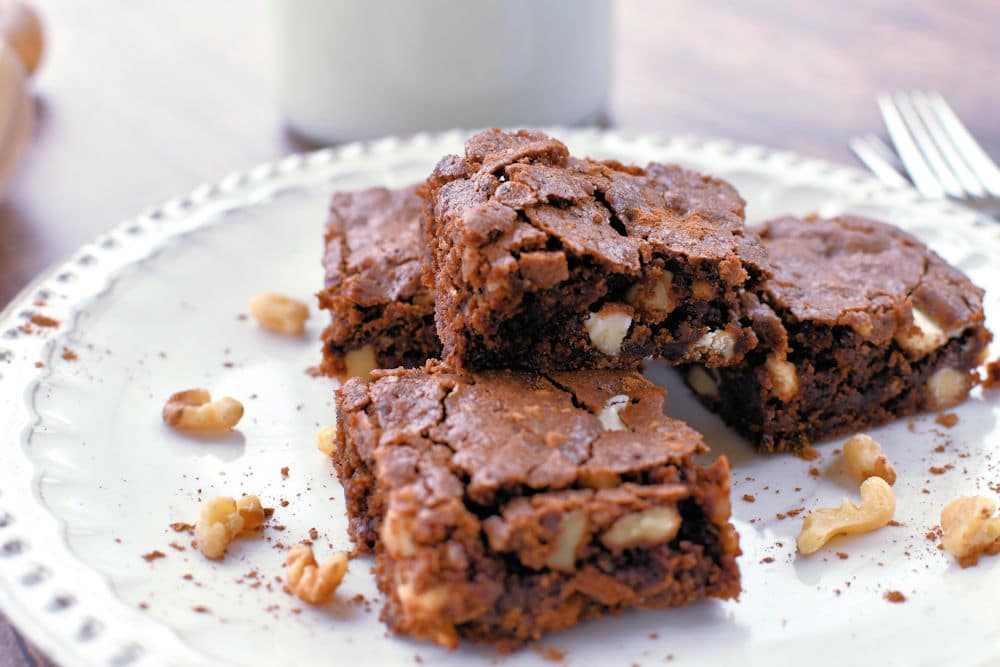 You don't even have to pull out the mixer. Everything is easy to mix by hand.
Try to let it cool completely before you cut into it, though. You can burn the roof of your mouth. Ask me how I know.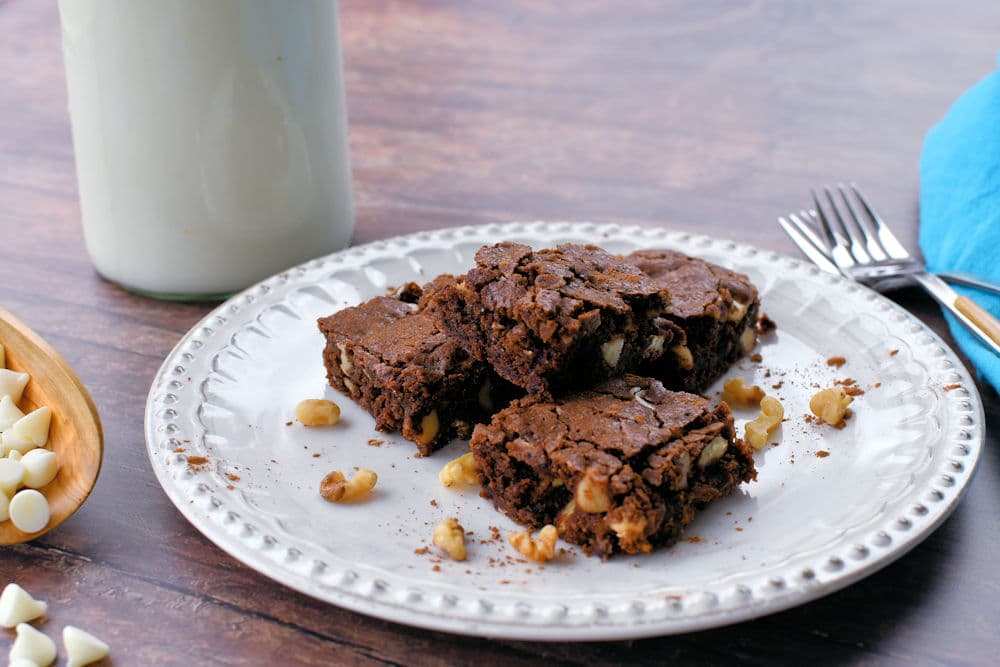 If you like this recipe, you might also like these other cookies I've made with chips other than the traditional chocolate chip: Espresso Cookies and Magic Unicorn Chip Cookies.
For another chocolate treat, try this recipe for Easy Cheese Danish with Chocolate Chips.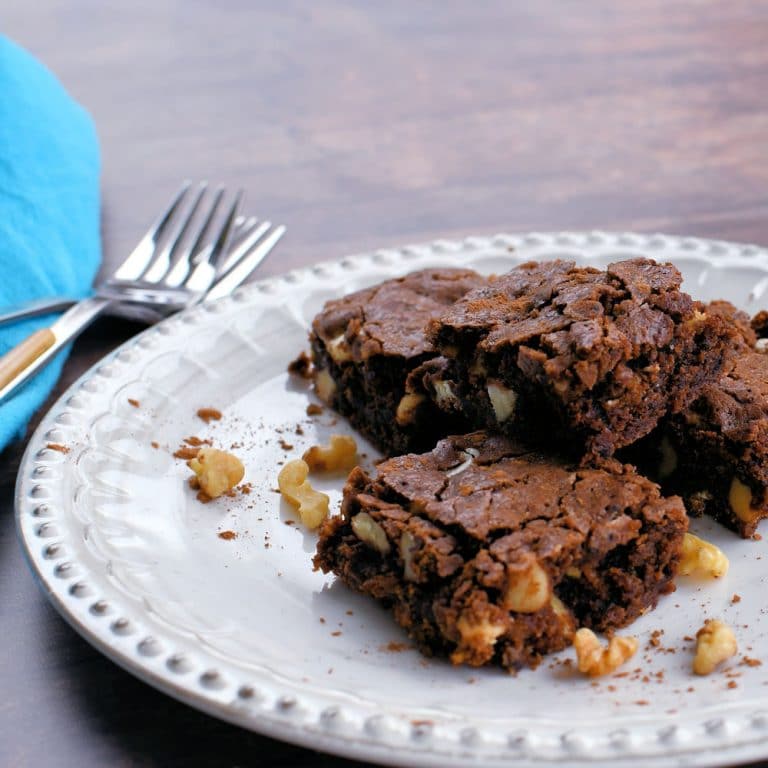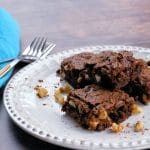 Easy White Chocolate Chip Brownies
Print Recipe
These White Chocolate Chip Brownies are so easy and quick that you can satisfy your chocolate craving with a recipe that's just as easy as opening a box mix.
Ingredients
Dry Ingredients
1/2

cup

All Purpose Flour

1/3

cup

Unsweetened Cocoa Powder

1/4

teaspoon

Baking Powder

1/4

teaspoon

Salt
Wet Ingredients
1/2

cup

Vegetable Oil

1

cup

Granulated Sugar

1

teaspoon

Vanilla Extract

2

large

Eggs
Extras
1/2

cup

White Chocolate Chips

1/2

cup

Walnuts

chopped

Cooking Spray

like Pam
Instructions
In small mixing bowl, whisk together all dry ingredients. Set aside.

In medium mixing bowl, stir together all wet ingredients. (This can an be done by hand. A mixer isn't necessary.)

Stir the dry ingredients into the wet ingredients. Do not over stir. It may still be a little lumpy.

Stir in white chocolate and walnuts.

Spray baking dish with cooking spray. Pour into dish and smooth the top.

Bake for 20 to 25 minutes. Cool completely before cutting into squares. Makes 16 servings (or 9, if you prefer larger servings).
Notes
If you prefer, you can use parchment paper to line the baking dish.
Nutrition
______________________
Percent Daily Values are based on a 2000 calorie diet. All amounts are estimates and 24Bite™ takes no responsibility for actual figures since calculations vary by packaging and supplier. Please calculate the amounts yourself based on package labeling if you have specific dietary requirements. 24Bite™, Kim Guzman or Christian Guzman shall not be liable for adverse reactions or any other outcome resulting from the use of recipes or recommendations on this website or actions you take as a result.
© 2019-2020 Kim Guzman. All rights reserved.
Subscribe to 24Bite email newsletters.
Follow 24Bite: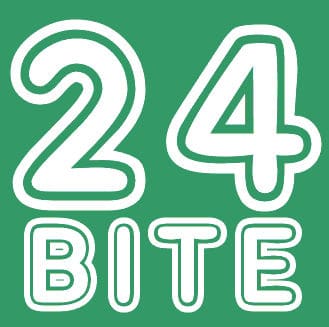 Twitter | Facebook | Instagram | Pinterest
Pin it: