This Venison Burger is a gourmet dream with chorizo, cheddar and jalapeno. Try adding the fresh avocado mayo for the perfect taste combination.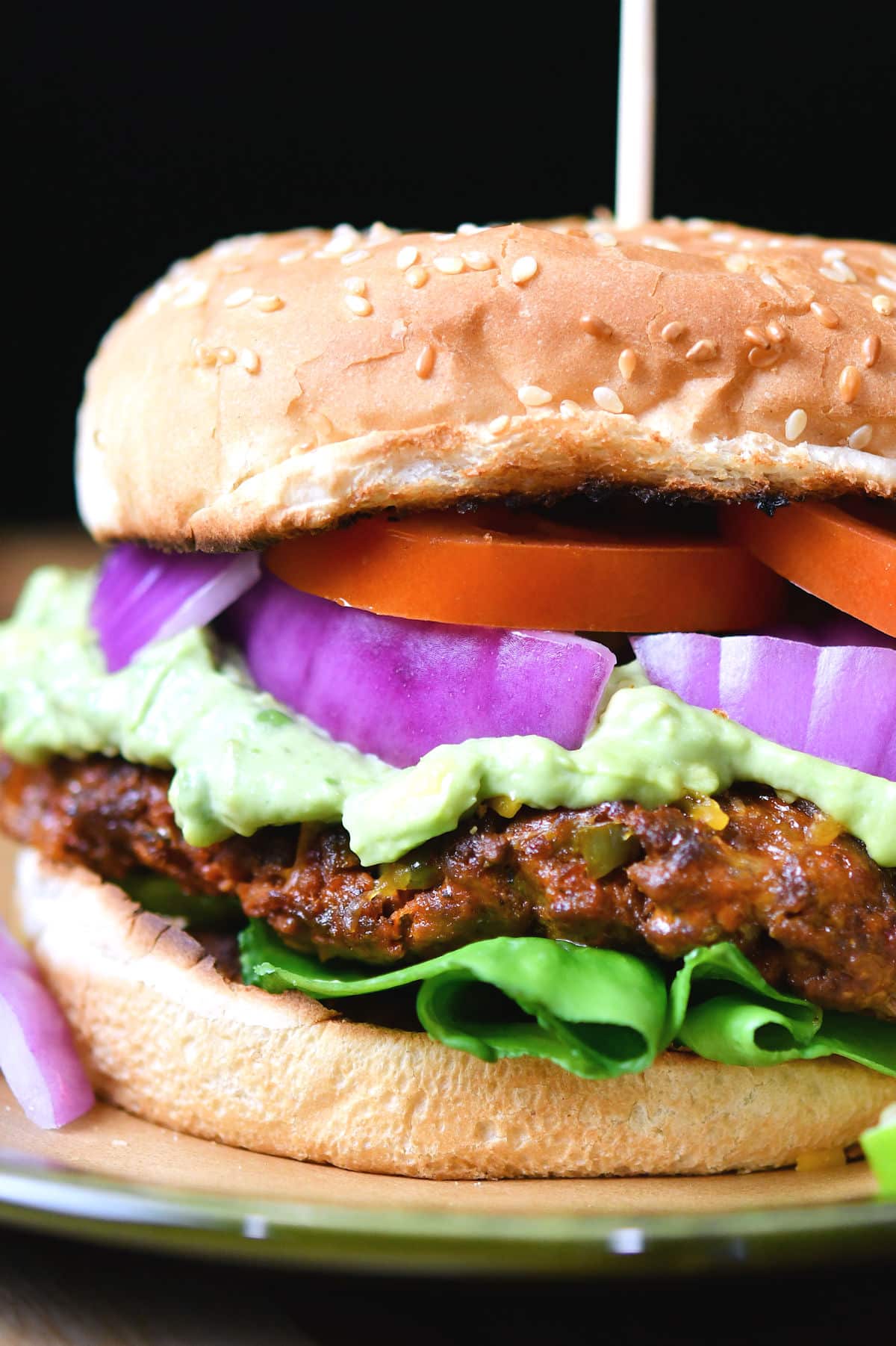 We were gifted a pound of ground venison and I finally made the decision about what I wanted to do with it. Gourmet burgers is the way to go.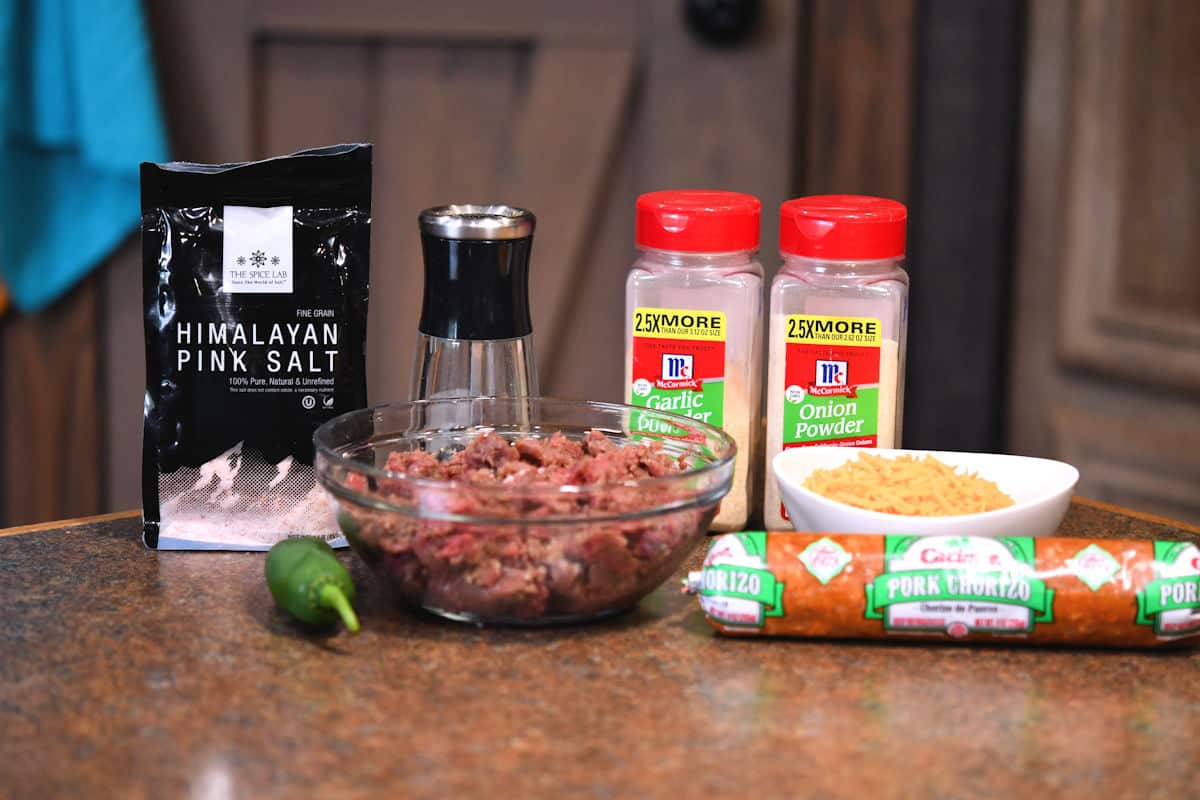 Venison is Naturally Low Fat
Venison is very lean. In fact, beef fat is typically added to it during the grinding process because it's so lean. The venison here, though, had no added fat.
Aside from bacon, I think chorizo is the tastiest source of fat in our refrigerator. Chorizo can be added to many different meals to add an awesome flavor and these venison burgers are no exception.
When you pick up the chorizo, be sure to pick up more than one package because you will want to try these other chorizo recipes as well.
How to Keep Burgers from Falling Apart
In addition to the added fat, you will need some sort of binding ingredient. That's where the cheese comes in.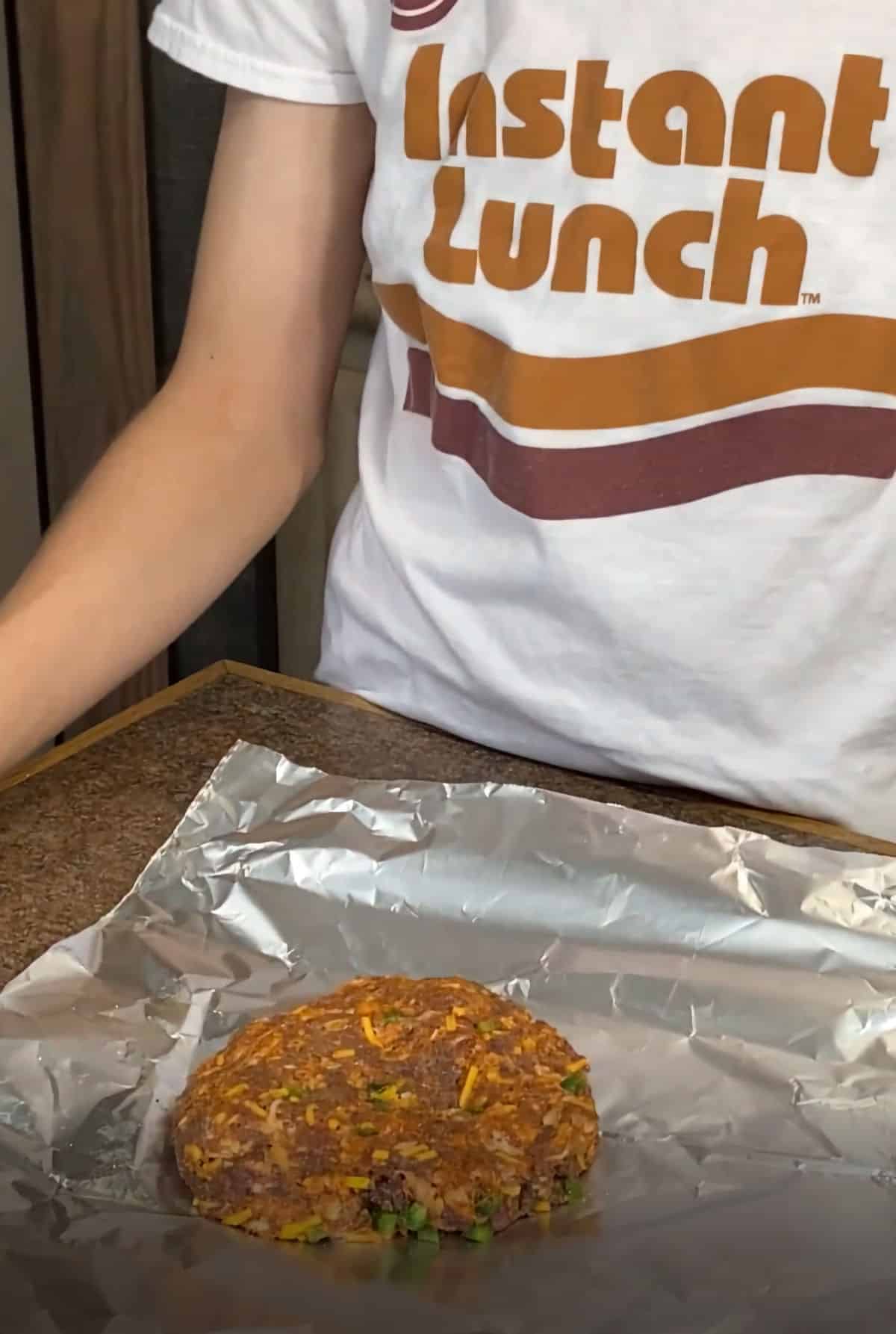 You can use any cheese you like. Try it with cheddar or monterey jack. You could use pepper jack for even more added heat.
You can also add a raw egg while mixing the meat. The egg will help hold the venison patty together.
You could add breadcrumbs, but be aware that the breadcrumbs will soak up all the fat. Instead of some of it dripping off, you get every bit of it.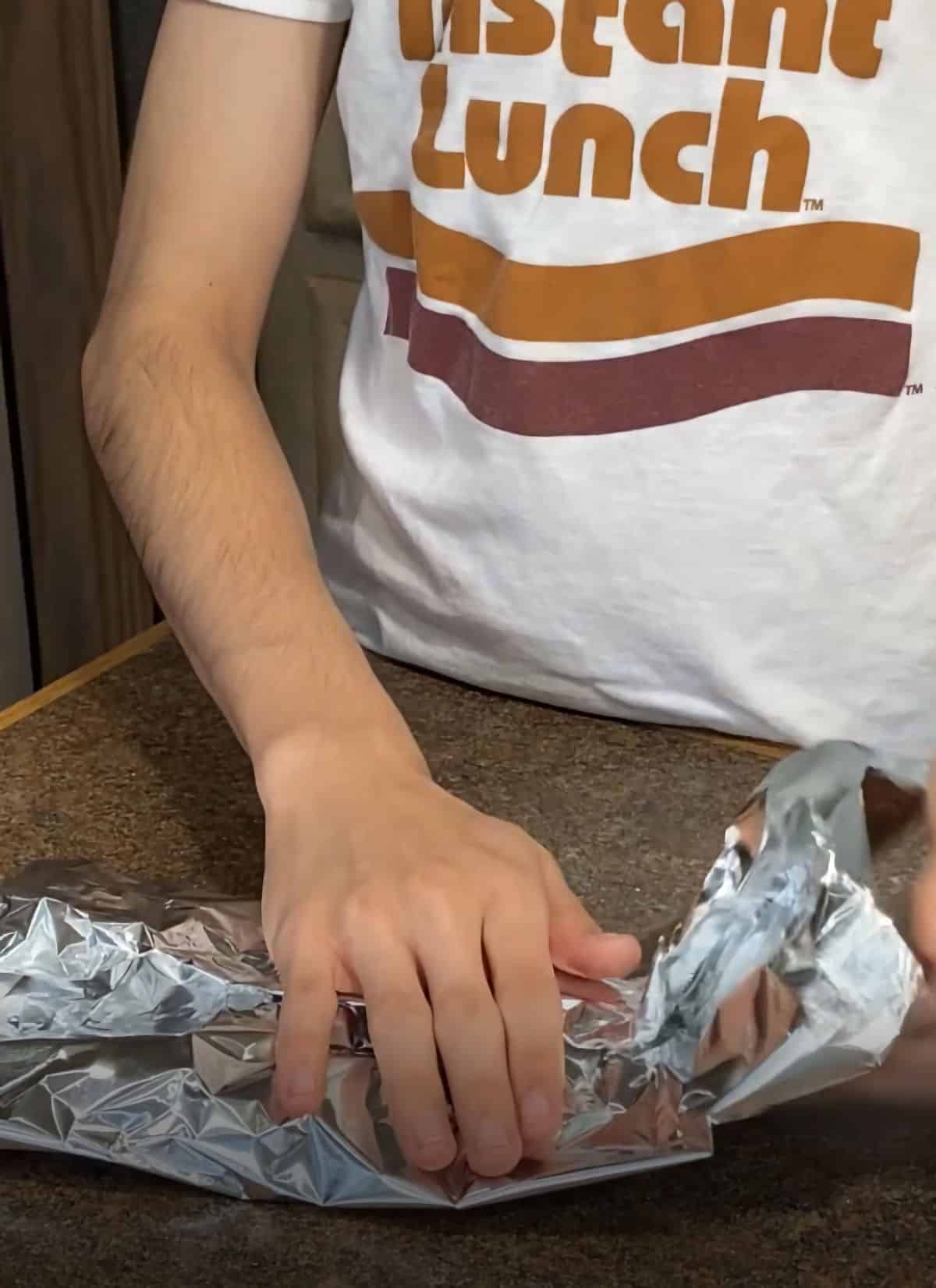 I like chorizo as much as the next guy, but maybe we don't need every single bit of the fat. Or not. I'm not judging.
To What Temperature Do You Cook Venison?
For this burger, you will need to cook the venison burger to 160℉. This means it needs to be completely done.
Because there is raw pork chorizo and especially if you use egg, you are going to need well done. You wouldn't always need to cook venison to well done, of course. It's the added chorizo.
Don't worry about the burger drying out, though. It's almost got a braised meat effect because of the fat of the chorizo. It's all good.
I like to broil the burgers a bit after cooking in the foil packets. It gives them more texture and helps them hold together better as well.
Making Avocado Mayonnaise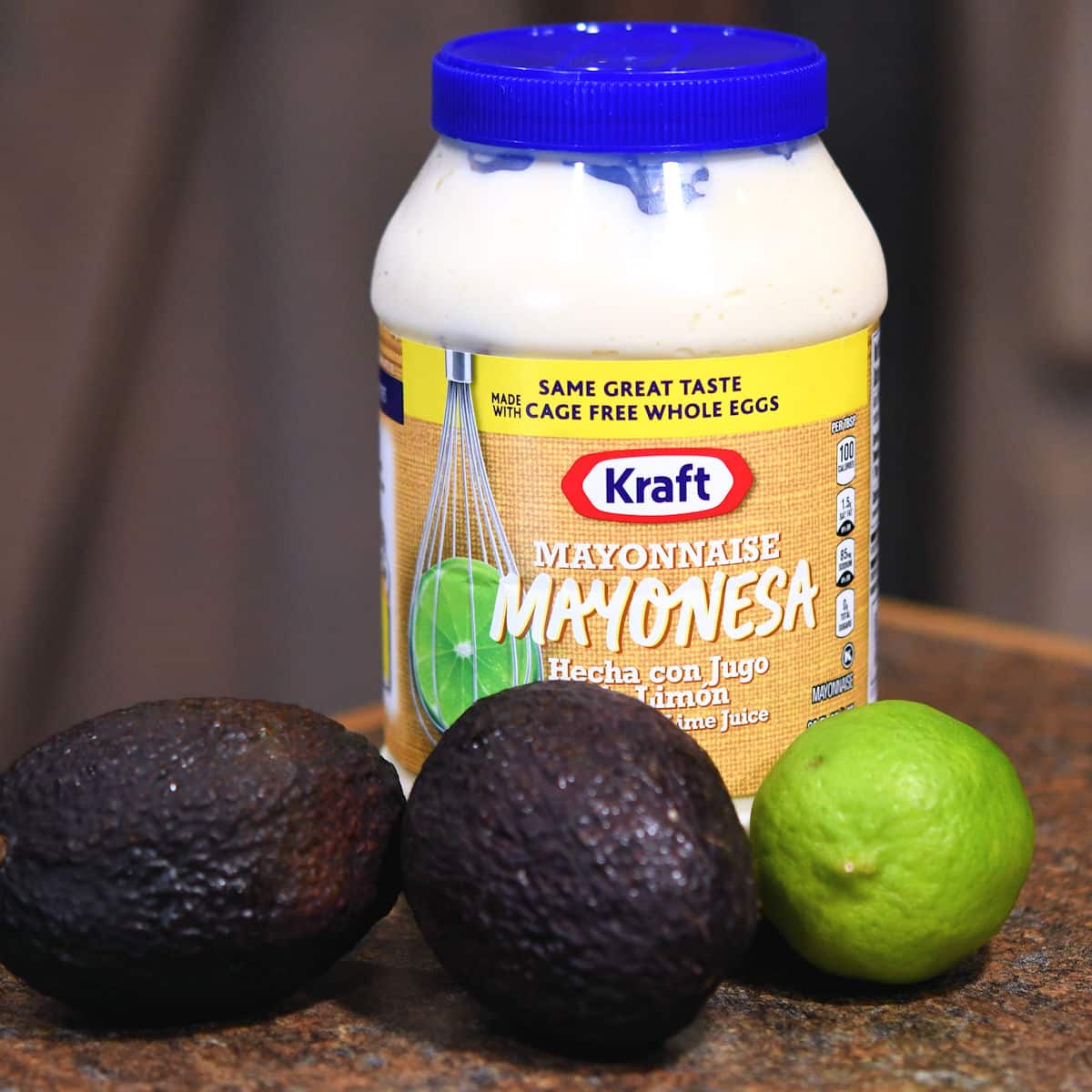 A nice creamy avocado based sauce works perfectly with the spicy chorizo. Use all the toppings you love for your burgers, but I definitely recommend the fresh avocado mayonnaise.
It's so cool and refreshing. You may want to eat it with a spoon.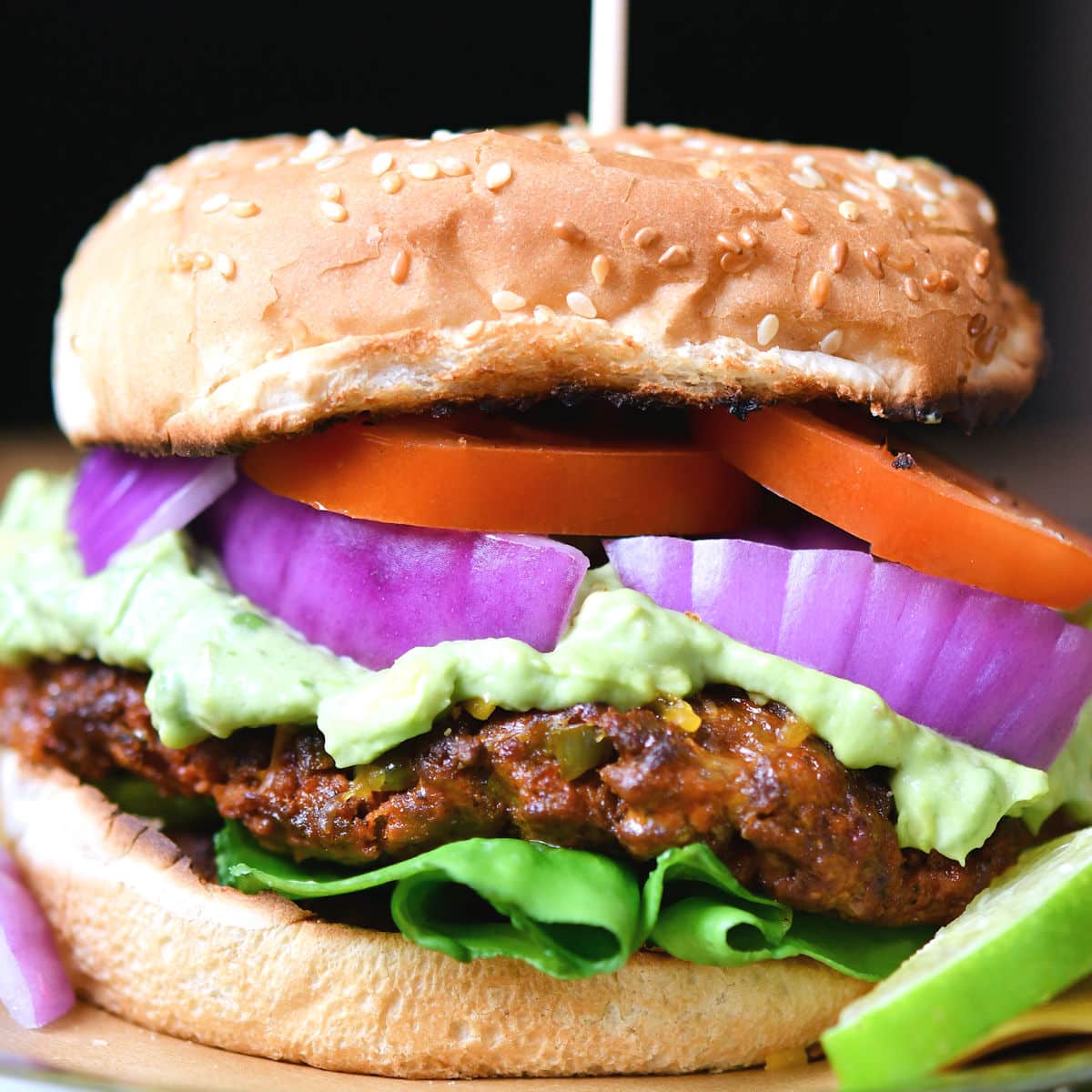 How to Remove Gamey Taste in Venison
To be honest, I didn't taste anything gamey with this venison. It could have been all the seasonings I added? I have a feeling it was more about how it was dressed by a professional.
But, if you have an issue with a gamey taste, you may want to soak the raw meat. Try these four methods of getting rid of gamey taste, if you run into that problem.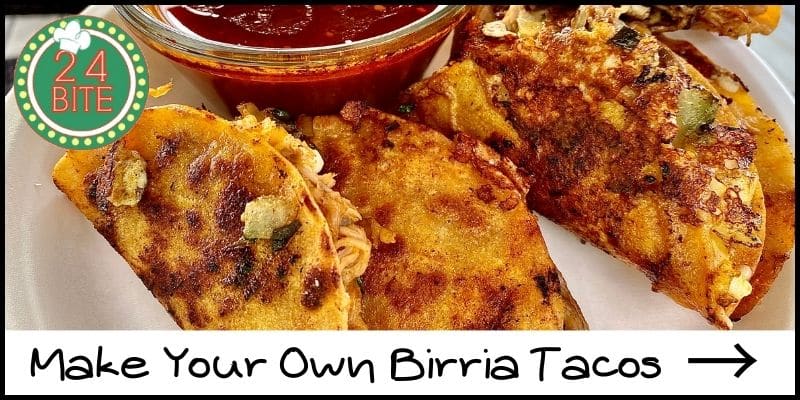 Can I Use Other Ground Meat?
Yes, absolutely. I realize that getting venison is more of a treat and not everyone can get it. I know we only have it about twice a year.
You can easily substitute the one pound venison for any other meat. It would be great with beef, pork, turkey or chicken. I may need to try it with all of them. I love chicken and it would be so fresh and bright with that avocado mayo.
More Venison Recipes
Since we've been given several freezer packages of venison, it's been fun developing and trying out new recipes. I hope to be able to do more in the coming weeks. Here are some new ones:
Recipe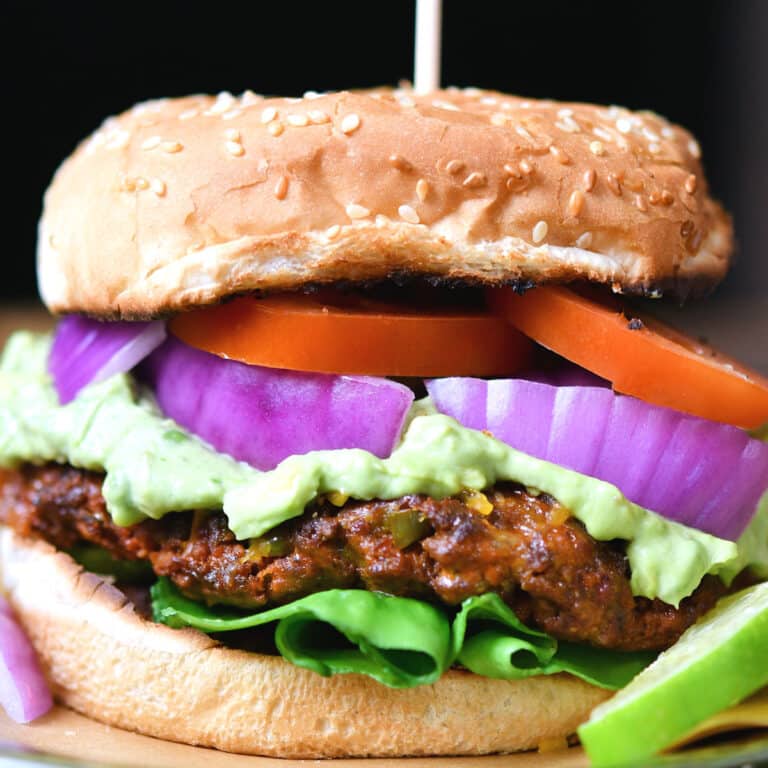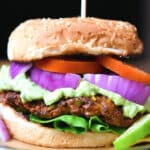 Pin Recipe Now
Venison Burger with Chorizo Cheddar and Jalapeno
Tap to leave a star rating
Save or Print
This Venison Burger is a gourmet dream with chorizo, cheddar and jalapeno. Try adding the fresh avocado mayo for the perfect taste combination.

For more information, be sure to check the recipe details in the attached 24Bite® post.
Equipment
6-quart Instant Pot Pressure Cooker

Aluminum Foil

Broiler and broiler pan
Ingredients
1

pound

Venison

,

ground

10

ounces

Chorizo

,

raw, pork or beef

1

Jalapeno

,

diced

¾

cup

Cheddar Cheese

,

shredded

1

teaspoon

Salt

1

teaspoon

Pepper

1

teaspoon

Onion Powder

1

teaspoon

Garlic Powder
Instructions
Mix all ingredients in a large bowl using hands or a potato masher.

Form six equally sized balls then form into a patty shape.

Place in the center of a large piece of aluminum foil and close into an envelope.

Place trivet and one cup water in Instant Pot then place the foil packets into Instant Pot, staggered around the interior.

Check the Instant Pot lid to ensure the gasket is in place and nothing is blocking the vent. Place lid on top and set lever to Sealing. Press the Manual button on the Instant Pot and set to high for 13 minutes. Allow to natural release for 5 minutes, then quick release the remaining.

Carefully remove the foil packets and allow to cool for 10-15 minutes to use immediately. Or, broil as below.

For best results, broil on high to give the patties some color and additional texture.

Allow to drain the fat away then serve. Use whatever toppings you like. Avocado mayonnaise (see Notes) is delicious.
Note: If there is a video, it will not display while there is an adblocker.
Notes
Use any toppings you would normally like on your burger. You can use ketchup, tomato, lettuce, onion and more.
Venison patties are well known for difficulty in sticking together in patty form. Be sure to let it cool. Broiling will help.
If you really want to keep it together, you can try using a raw egg when mixing the raw meat.
If you want to grill the patties, try freezing them first.
If you prefer, you can use one pound of any raw beef, chicken, turkey or pork instead of venison.
To reduce some of the fat, you can cook the chorizo first, drain it then, once cool, at it to the raw venison.
Avocado Mayonnaise
To make Avocado Mayonnaise, mash two small or one large avocado with 3 tablespoons regular or lime mayonnaise and about one or two tablespoons lime juice. Serve immediately.
Nutrition Facts
Venison Burger with Chorizo Cheddar and Jalapeno
Amount Per Serving
Calories 287
Calories from Fat 162
% Daily Value*
Fat 18g28%
Sodium 1080mg47%
Carbohydrates 1g0%
Protein 29g58%
* Percent Daily Values are based on a 2000 calorie diet.
______________________
Percent Daily Values are based on a 2000 calorie diet. All amounts are estimates and 24Bite® takes no responsibility for actual figures since calculations vary by packaging and supplier. Please calculate the amounts yourself based on package labeling if you have specific dietary requirements. 24Bite®, Kim Guzman or Christian Guzman shall not be liable for adverse reactions or any other outcome resulting from the use of recipes or recommendations on this website or actions you take as a result.
© 2019-2023 Kim Guzman and Christian Guzman. All rights reserved. Subscribe to 24Bite email newsletters.
Follow 24Bite: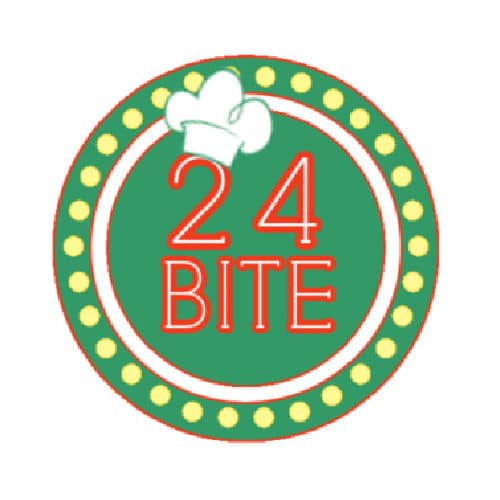 Twitter | Facebook | Pinterest