A shrimp rangoon is a little bite sized treat of cream cheese and shrimp folded in a wonton wrapper then fried. You can fry these rangoon in oil or the air fryer for a lighter version.
Recipe | How to Wrap Wonton Wrappers? | Asian Sweet Chili Sauce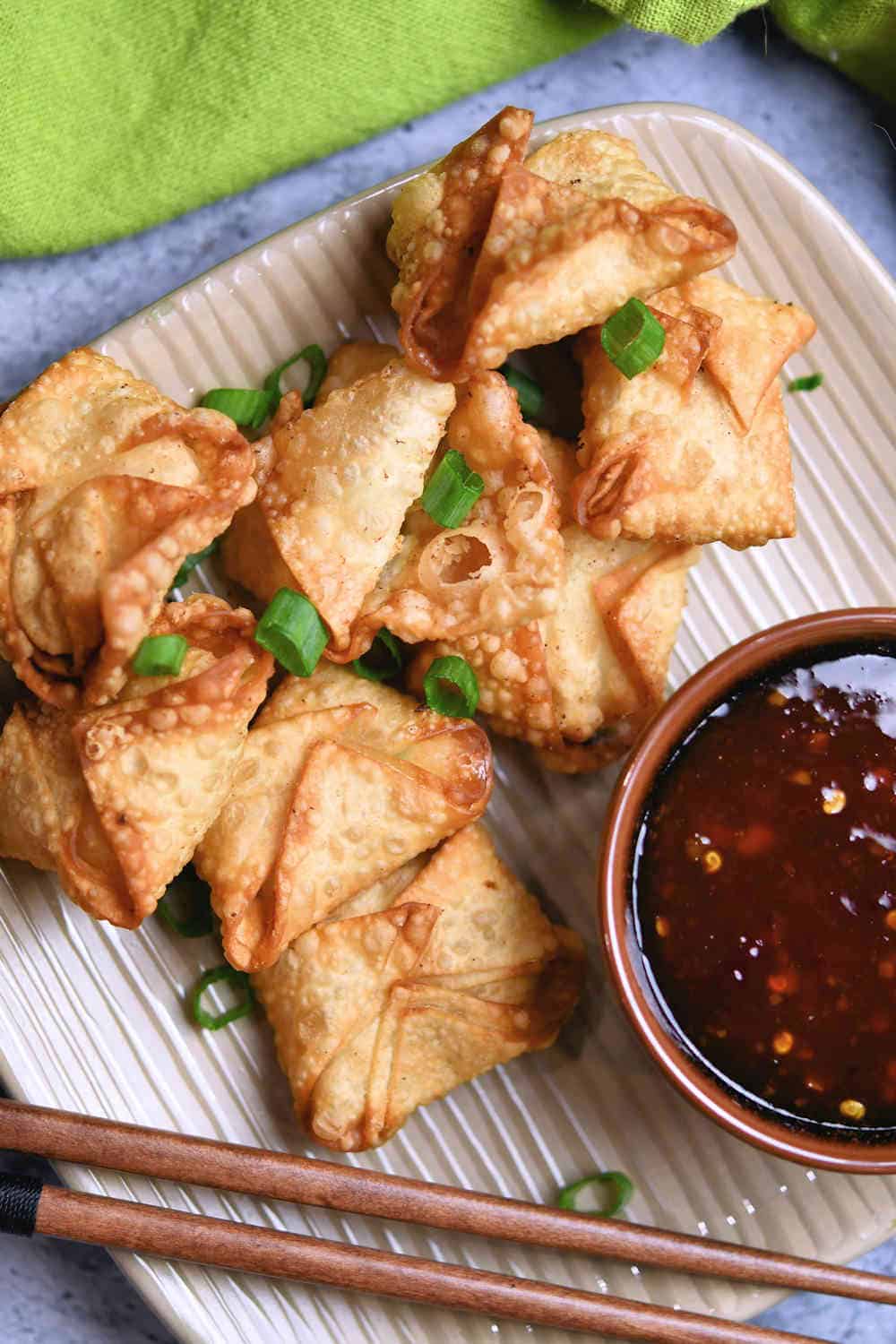 If you like crab rangoon, be sure to give this one a try as well. You may love both just as much as I do!
I've even made crab rangoon crescent rolls which are equally delicious. You could make both. Twist my arm!
Ingredients
The basic ingredients for shrimp rangoon are:
Cream cheese
Shrimp
Green Onion
Worcestershire sauce
Garlic powder
Wonton Wrappers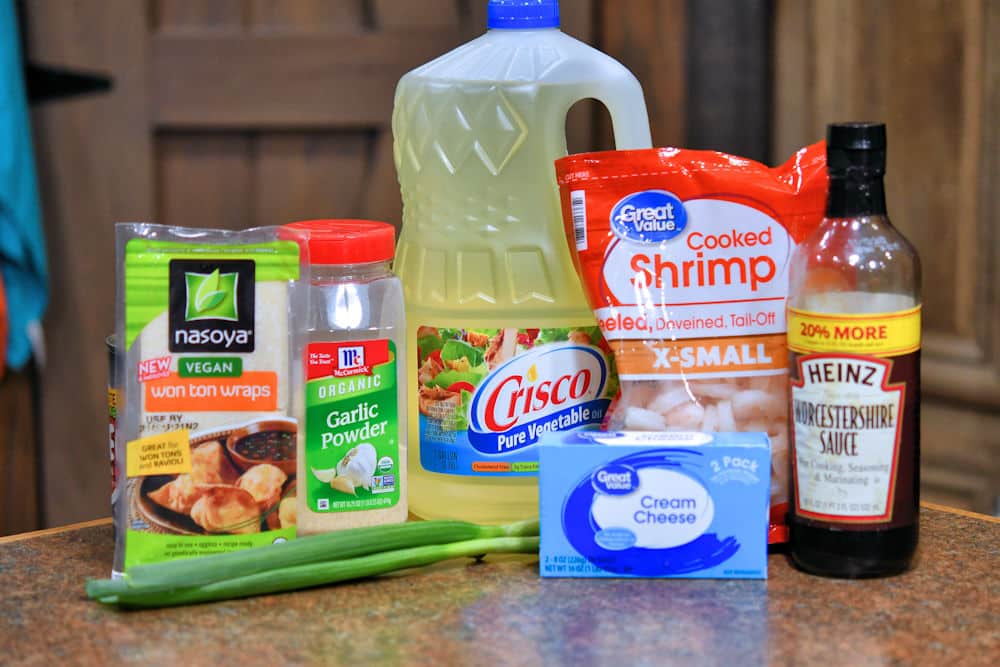 I know what you're thinking. Shrimp rangoon?? I love crab rangoon. It's wonderful. But, I was curious and this shrimp was on sale.
There are actually about 100-115 tiny little cooked shrimp in this bag. After I made the rangoon, I made some seafood pasta salad the next day with the remainder. Just make sure that you use it right away.
If you prefer crab rangoon, you'll just need to chop up the same amount of imitation crab to replace with the shrimp. I won't tell!
What is the difference between wonton and rangoon?
Technically, you boil a wonton but fry a rangoon. It's possible you could find the names used more interchangeably. For instance, you may see a "fried wonton" which would be more of a rangoon, except you put raw meat inside which is cooked during the deep frying.
Tip
To save time, you can use a food processor to mix the shrimp and cream cheese mixture.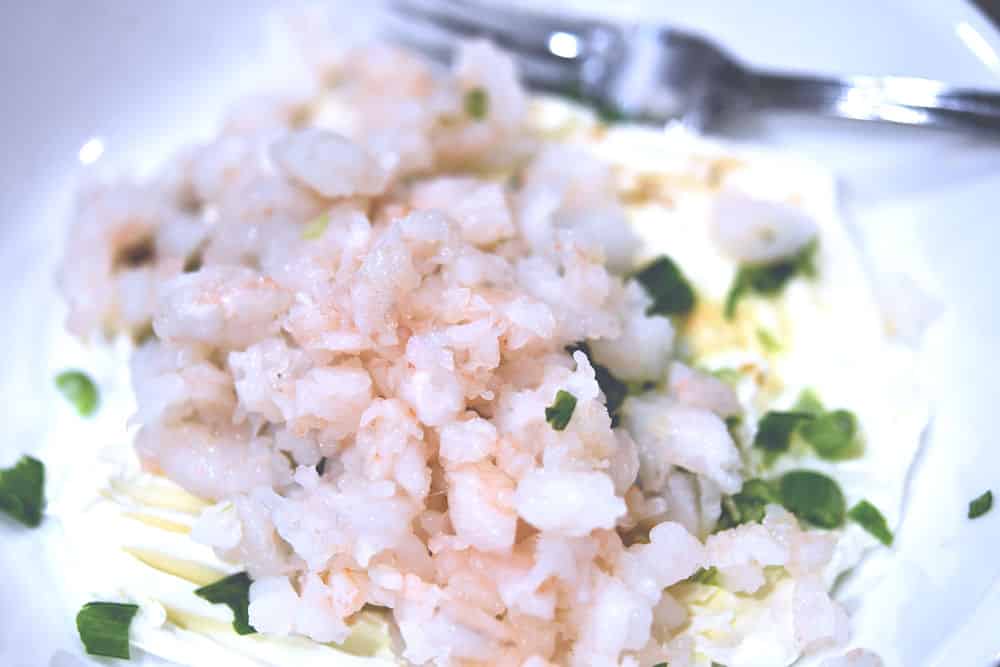 How Do You Wrap Wonton Wrappers?
There are lots of different ways to fold a wonton wrapper. A few of them are more traditional than others.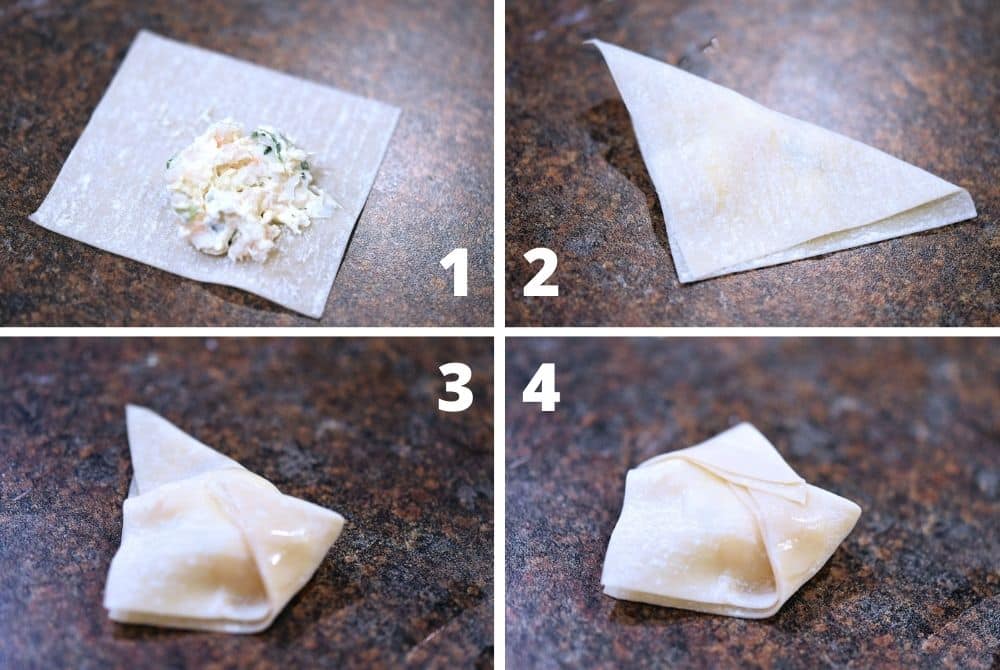 It's easy to fold the square in a point-to-point then bring the two sides to the middle.
At the last minute, I decided to make one more fold, turning this into more of an envelope. I thought deep frying might cause the filling to come out.
If you want to learn more ways, you can learn 10 different ways to wrap a wonton wrapper.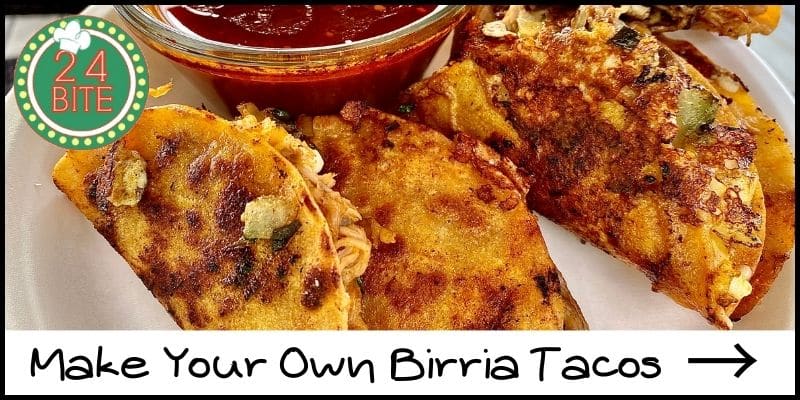 Deep Frying
I like to use vegetable oil for deep frying. Vegetable oil is the easiest to find. It's also fairly inexpensive. It will work great for a recipe like this.
Looking at the back, this Crisco is soybean oil. Fat is fat and it has the same amount of calories no matter which one you choose. The difference is the amount of saturated fat.
Soybean oil has 2 grams saturated fat per tablespoon. Take a look at the back of your oil. Safflower oil, for instance, has 1 gram per tablespoon.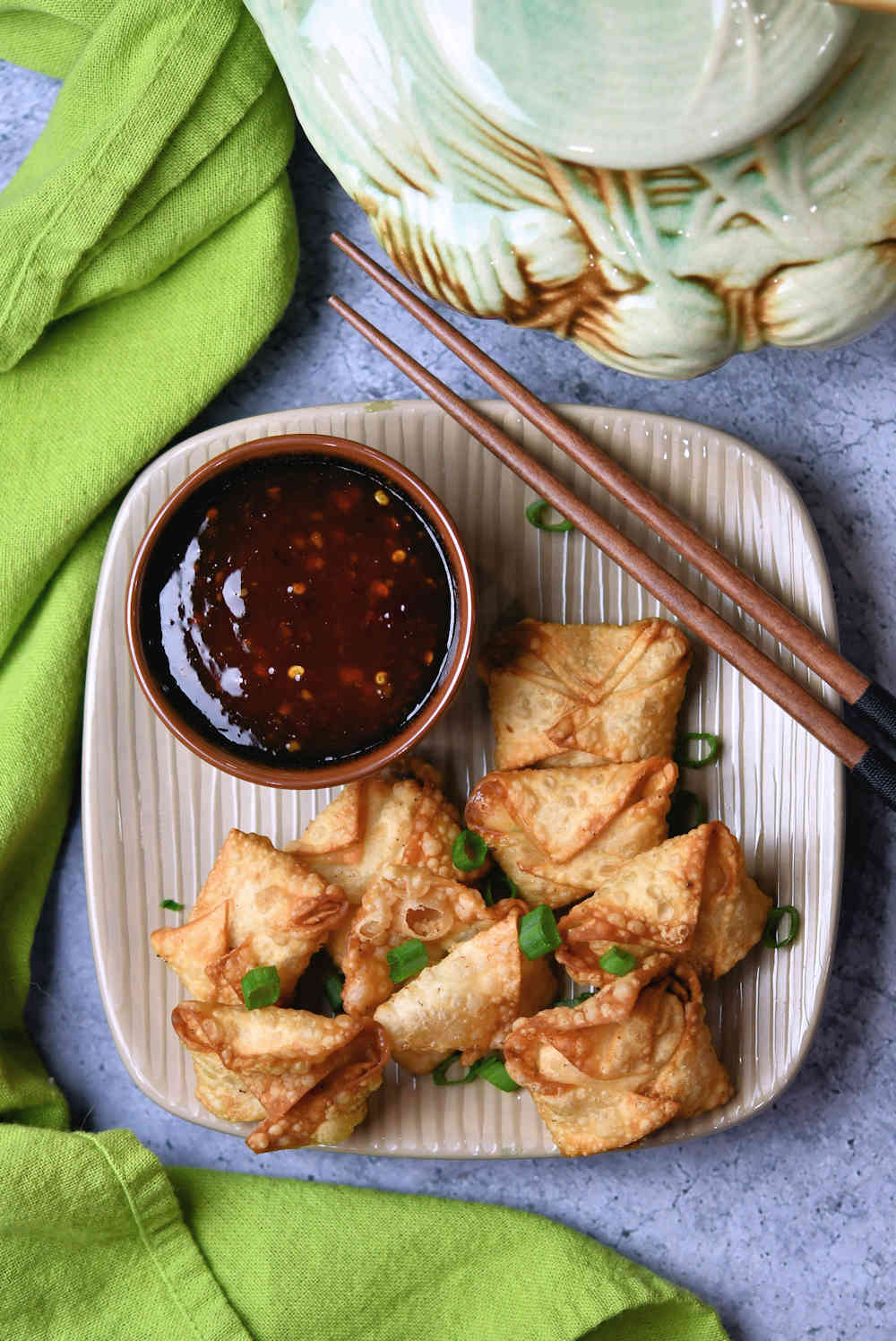 Peanut oil is great for frying but you will find about 2.5 grams in it.
You can't get around the added fat, but you can make a healthier choice, right? Why am I hearing my mom's voice in my head now?
Using an Air Fryer
If you want to cut a lot of the fat, try the air fryer instead. You can cut the fat by around half or so.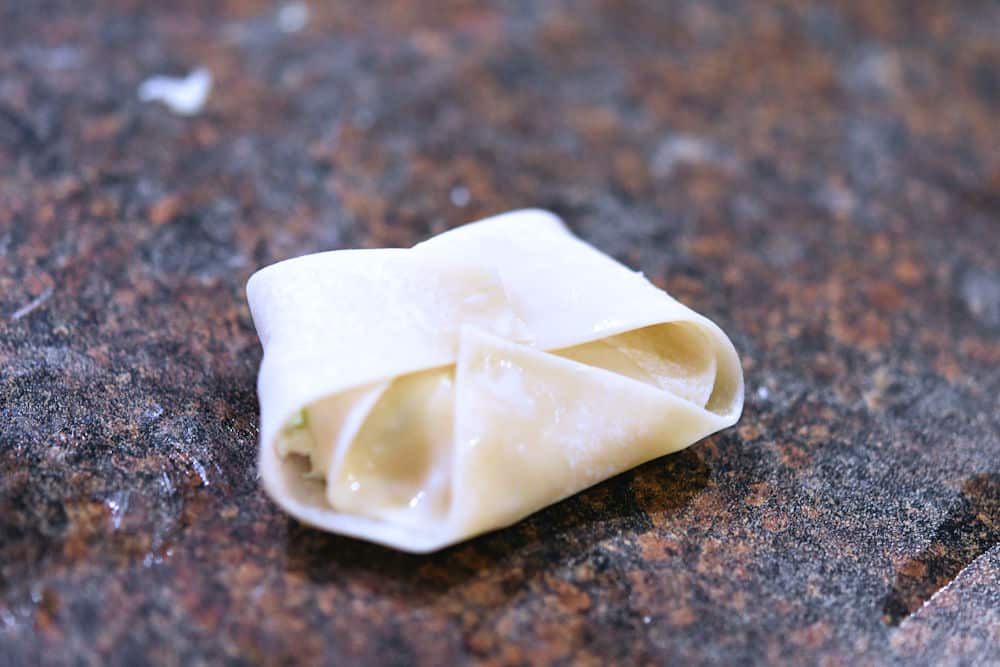 I used an "envelope" fold for for the deep fryer because I was afraid the filling would fall out. I used the traditional "bonnet" fold for the air fryer without making that last fold.
How to Serve
The dipping sauce I used was an Asian Sweet Chili Wing Sauce. It was very ginger-y and sweet but the chili bites back. Wow!
If you would like to make your own, try this Sweet Chili Sauce from Daring Gourmet.
You may like this Pork Roll in a Bowl recipe or these delicious Crab Rangoon Crescent Rolls.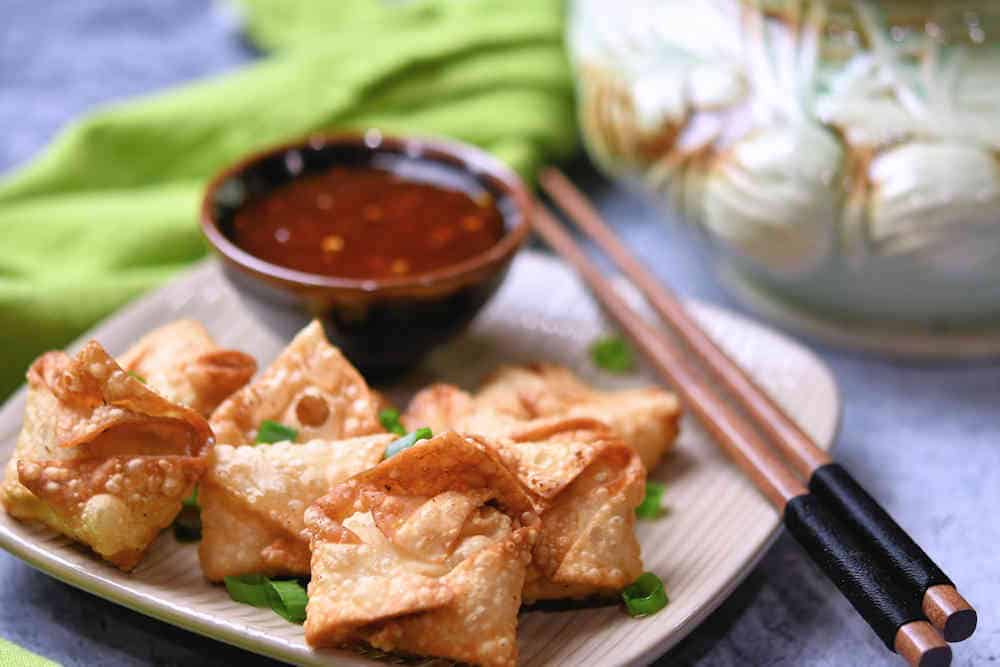 Recipe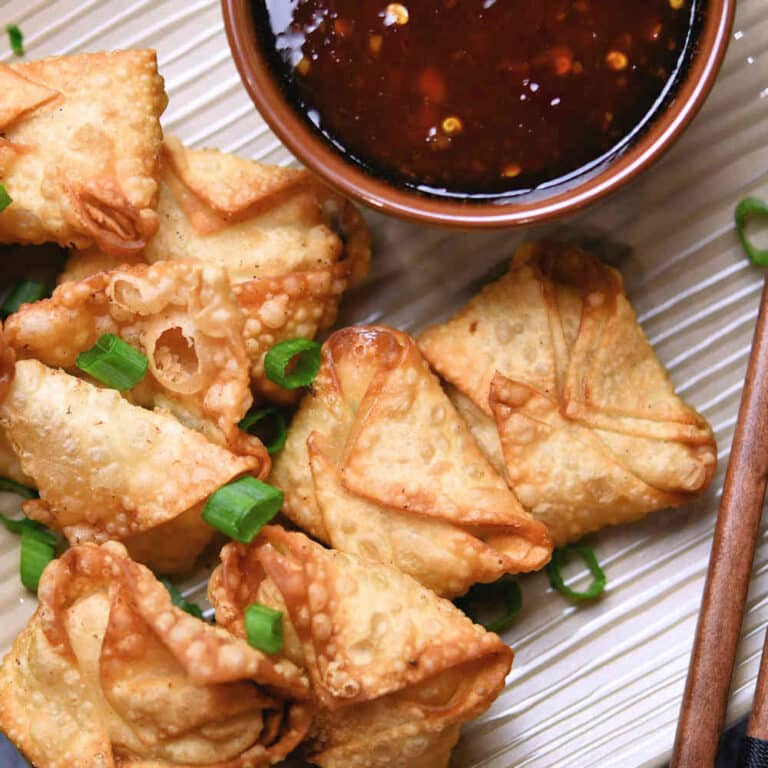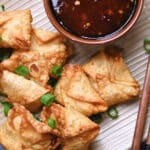 Pin Recipe Now
Shrimp Rangoon Fried Cheese Wonton
Tap to leave a star rating
Save or Print
A shrimp rangoon is a little bite sized treat of cream cheese and shrimp folded in a wonton wrapper then fried. You can fry these rangoon in oil or the air fryer for a lighter version.

For more information, be sure to check the recipe details in the attached 24Bite® post.
Equipment
Deep Fryer (optional) (could also use tall skillet or medium saucepan)

Air Fryer (optional)
Ingredients
4

ounces

Cream Cheese

,

softened

4

ounces

Shrimp

,

about 34 size small shrimp, deveined, talls off and fully cooked, chopped

1

Green Onion

,

chopped

½

teaspoon

Worcestershire Sauce

½

teaspoon

Garlic Powder

25

Wonton Wrappers

OIl for Deep Frying

,

optional

Olive Oil

,

spray (optional)
Instructions
Place softened cream cheese in a bowl and press it with a fork until easy to mix.

Chop green onion and shrimp. You don't want any large pieces of either in the wonton wrapper because it will hinder the closing.

While not in use, place wonton wrappers under damp cloth. The brand of wrappers I used had 50 wrappers inside, but this recipe only calls for half. Feel free to double the recipe by using the tool above in the total servings area of this recipe card.

Mix shrimp, green onions, worcestershire sauce and garlic powder with cream cheese.

Place about one teaspoon cream cheese mixture at one corner of a wonton wrapper.

Place a small bowl of water near you. Dip small pastry brush in water and make a thin line of water along the edges of the wonton wrapper. Close wrapper down the diagonal to form a triangle. Wet a side point and fold it toward the center. Wet the opposite side point and also fold it toward the center. See photos in post for greater detail. This folding is a traditional "bonnet". If you are concerned about the filling coming out when frying, you can fold over the remaining point to make more of an "envelope".
Deep Frying
If using a deep fryer, turn it on to begin heating. If you are using a skillet, use the stovetop and begin heating. You'll need about 350℉. (See Air Fryer instructions below.)

Carefully fry the rangoon in small batches for about 5-7 minutes, turning as necessary, until golden. Remove to a plate lined with paper towels.
Air Fryer
Preheat air fryer to 350℉.

Spray basket with spray olive oil. Place rangoon in basket and fry for about 5 minutes. Spray tops of rangoon with olive oil and turn. Cook for about 3-5 minutes more. Remove to a plate lined with paper towels.
Note: If there is a video, it will not display while there is an adblocker.
Notes
Serve with Asian Sweet Chili Sauce for dipping.
Nutrition information is approximate since the amount of oil remaining will vary. Saturated fat is based on vegetable oil and use of different oils will cause variation of the saturated fat. Using an air fryer will decrease the amount of oil.
If you're planning ahead, a typical serving size would be 2-4 rangoon.
See the Shrimp Rangoon web story.
Nutrition Facts
Shrimp Rangoon Fried Cheese Wonton
Amount Per Serving
Calories 76
Calories from Fat 54
% Daily Value*
Fat 6g9%
Sodium 94mg4%
Carbohydrates 5g2%
Protein 2g4%
* Percent Daily Values are based on a 2000 calorie diet.
______________________
Percent Daily Values are based on a 2000 calorie diet. All amounts are estimates and 24Bite® takes no responsibility for actual figures since calculations vary by packaging and supplier. Please calculate the amounts yourself based on package labeling if you have specific dietary requirements. 24Bite®, Kim Guzman or Christian Guzman shall not be liable for adverse reactions or any other outcome resulting from the use of recipes or recommendations on this website or actions you take as a result.
© 2019-2023 Kim Guzman and Christian Guzman. All rights reserved. Subscribe to 24Bite email newsletters.
Follow 24Bite: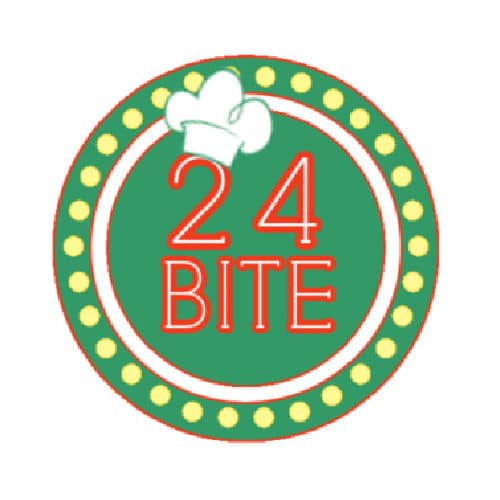 Twitter | Facebook | Pinterest