Learn to make crab rangoon crescent rolls in this easy recipe. A cream cheese and crab mixture is surrounded by a tender, flaky crust.
Recipe | What is Imitation Crab? | Is Imitation Crab Gluten Free?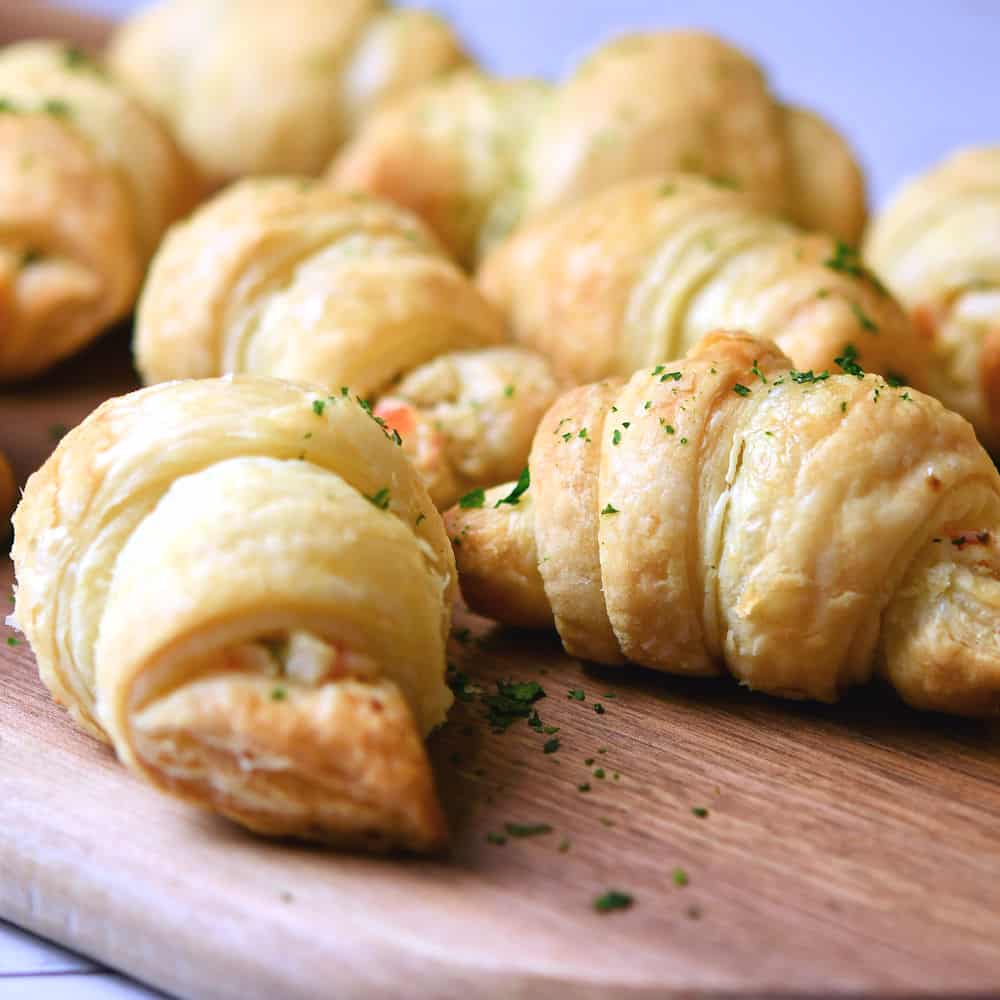 Bringing the wonderful taste of crab rangoon to a dinner roll!
I love crab rangoon but I don't really enjoy frying it. I think I probably get enough fried foods as it is. Enter the crab rangoon crescent roll!
I've recently tried using an air fryer for this Shrimp Rangoon recipe and it worked wonderfully! I will be trying it with crab soon.
What is Imitation Crab?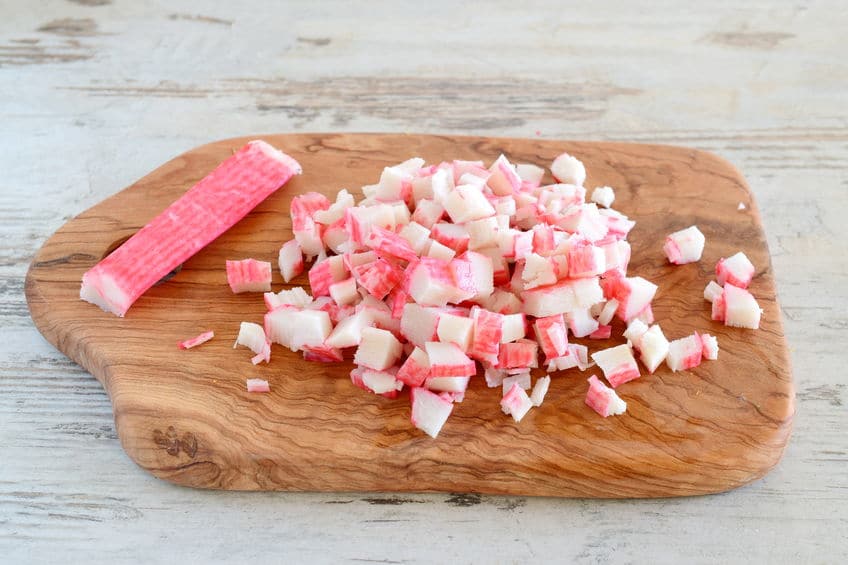 I know there's some controversy about using real crab or imitation crab. I really don't mind imitation crab.
It's always in the refrigerator because it's a quick and delicious snack, low in calories and fat.
Imitation crab is made from fish that's been shaped and made to look like real crab.
I'm willing to bet that most every crab rangoon you've had at a Chinese restaurant has been made with imitation crab.
It's available in both stick shapes, made to look more like crab legs, and a flaky style.
Frequently Asked Questions
Can you eat imitation crab raw?
Imitation crab isn't actually raw. It's fully cooked then formed into this shape. You can eat it right out of the bag and I often do.
Is imitation crab vegan?
No, it's not vegan. It's made with fish, which isn't eaten on a vegan diet.
Is imitation crab gluten free?
Most of the time, imitation crab isn't gluten free. In order to keep the fish in shaped forms, starch and eggs are added. The starch is usually made from wheat. There could be brands that are gluten free, though. Check the label to be certain.
Ingredients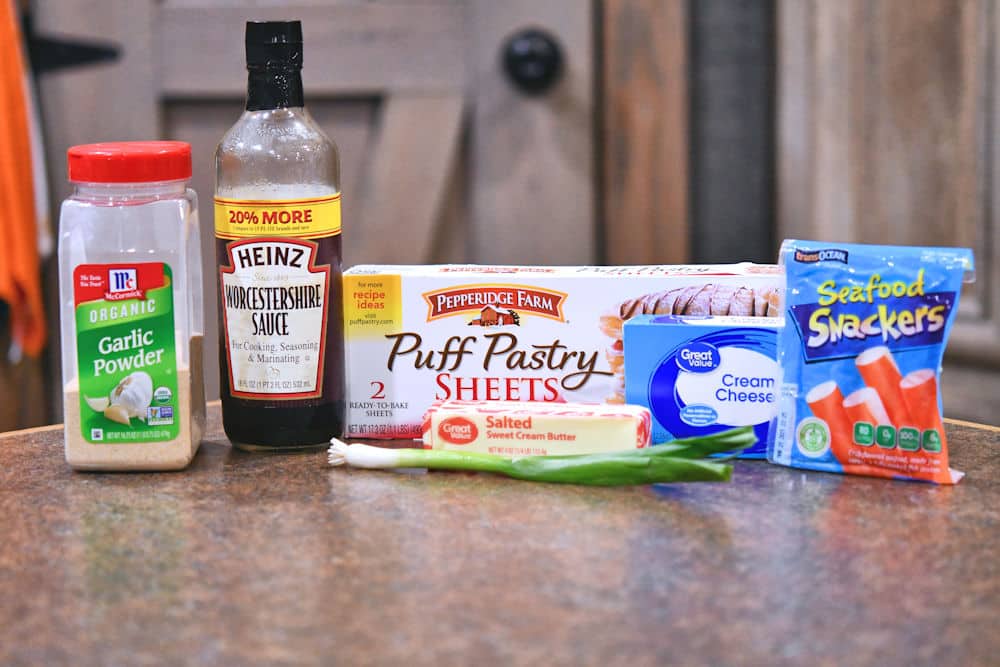 This recipe has all your usual crab rangoon ingredients. You'll find cream cheese, green onion, garlic and Worcestershire.
I've used something called Seafood Snackers which is exactly the right amount of imitation crab and it's only $1. This stuff just miraculously appears in our refrigerator and it makes great snacks!
Puff Pastry Sheets
I don't know about you, but the only thing we don't normally have in our refrigerator is the Pepperidge Farm Puff Pastry Sheets.
Before starting this website, I didn't know about these pastry sheets at all, to be honest. If you've never seen them, they're in the freezer section.
Since I've found them, though, I've used them as much as I can. They are the perfect thing to have around for a quick, elegant treat or dessert.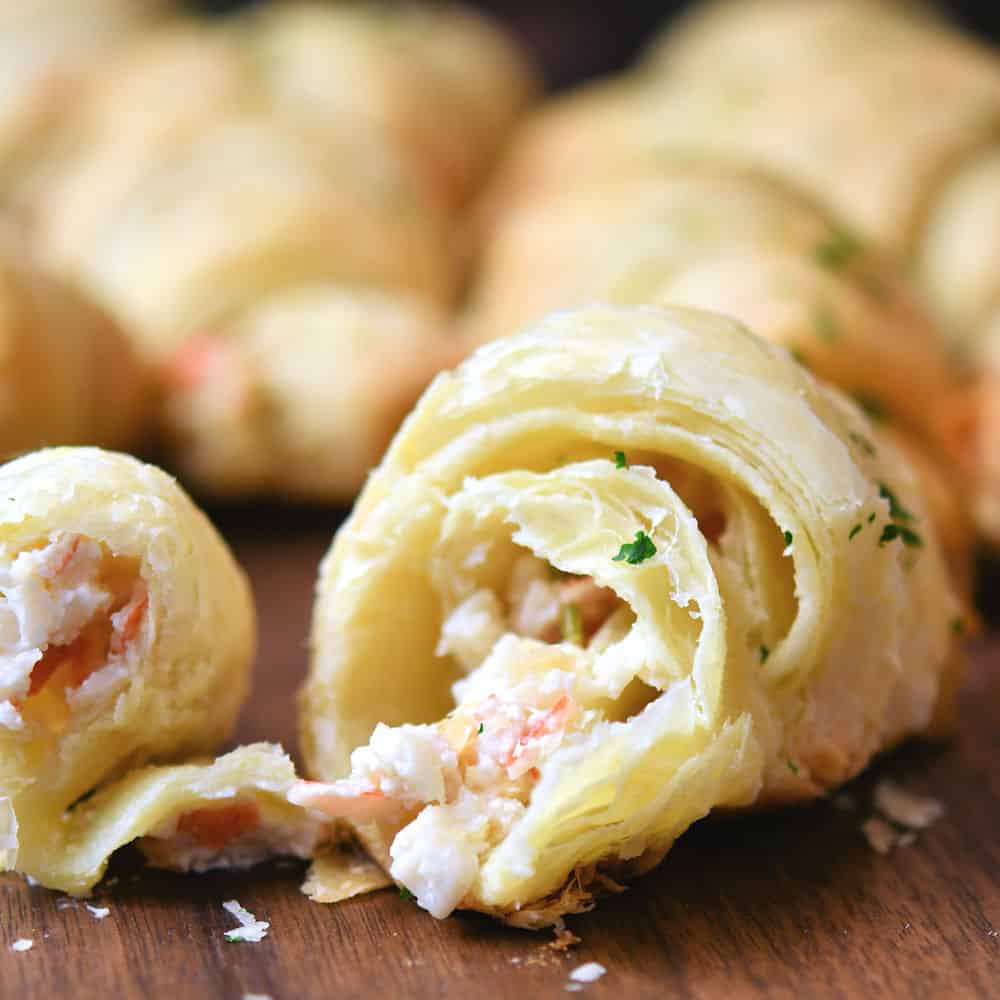 I've used them with raspberry and cream cheese to make these Raspberry Pinwheels. Cheese and chocolate chips for an Easy Cheese Danish recipe. Leftover Chicken and Pesto Puff Pastry Bites is another savory treat.
For another savory appetizer, try this Puff Pastry Jalapeno Poppers or Spinach Ricotta Puff Pastry Braid.
If you want to try your hand at making the puff pastry yourself, try this Easy Homemade Puff Pastry from Baking a Moment.
Assembly
To cut the puff pastry, I suggest a pizza cutter. You don't want to use a knife to make jagged lines. You could instead use a really large straight knife and simply press down.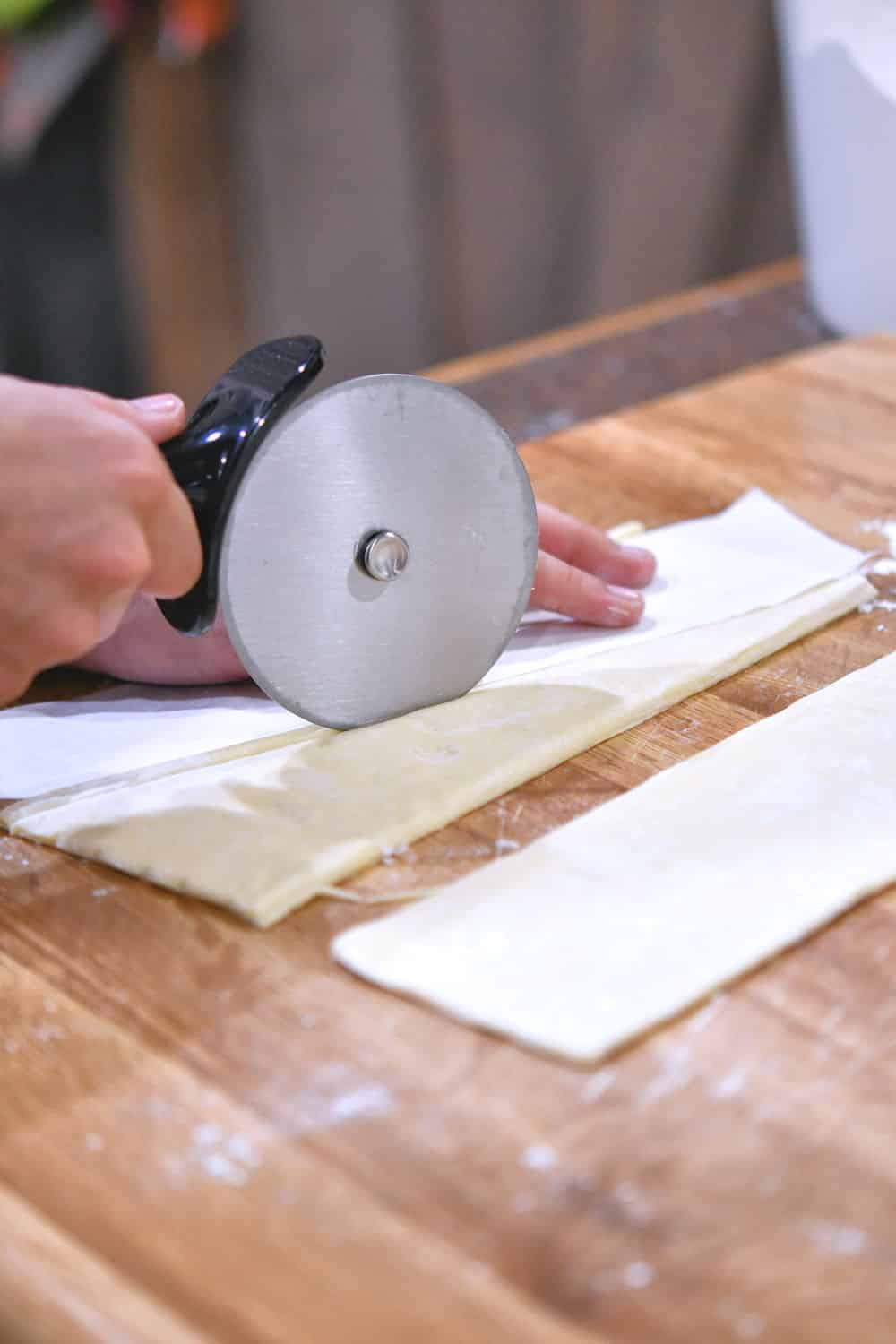 The puff pastry arrives folded in thirds. It makes it really easy to follow the lines and cut into three pieces.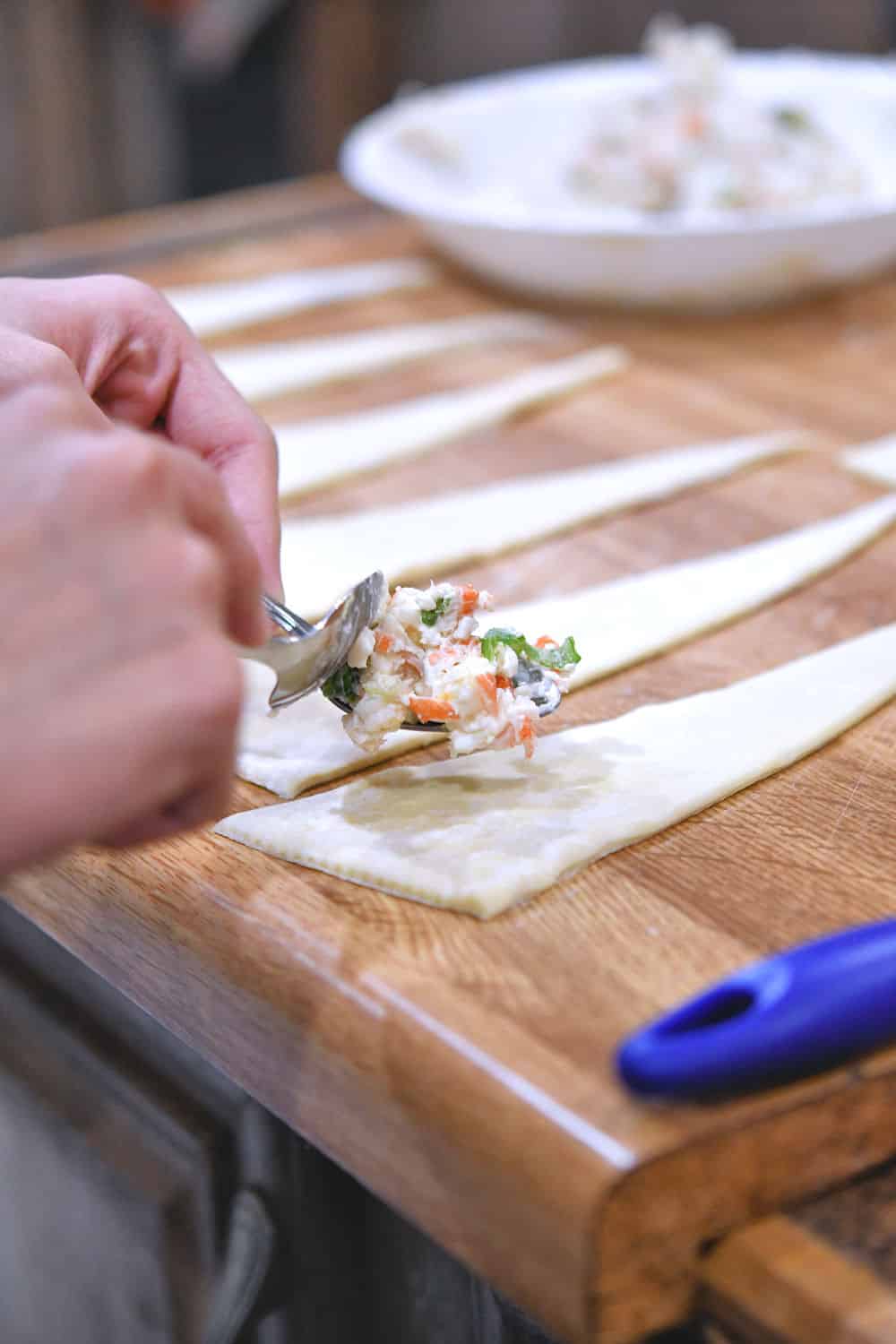 Once you have everything cut into long triangles, place about two or three teaspoons on all 12 pieces.
It's okay if the cream cheese mixture sticks out on the sides a little. It makes a great presentation when you can see little bits of it sticking out after baking.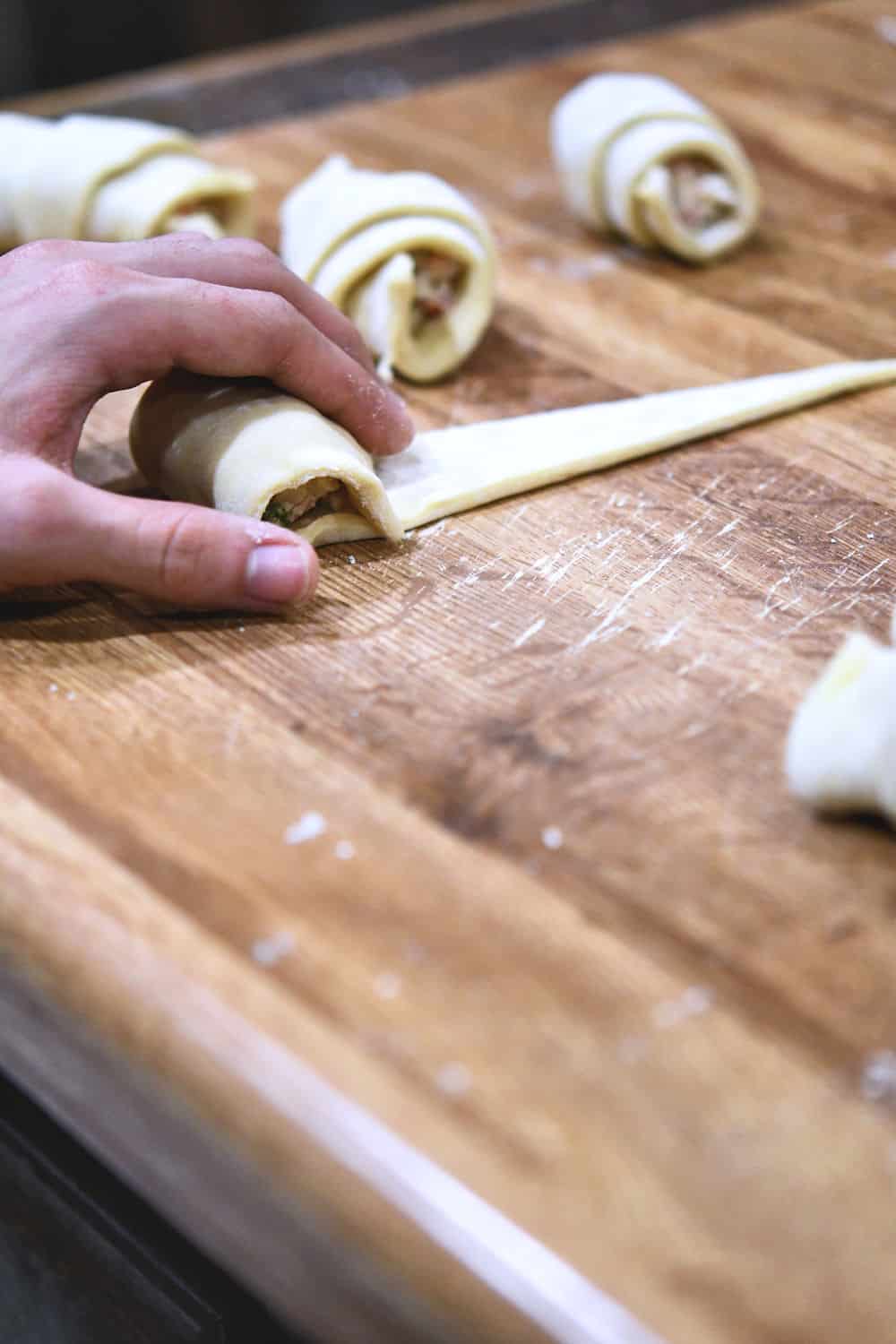 Roll each triangle starting at the widest point. At the beginning of the roll, make sure that you sort of try to form a circle.
Don't let it turn into a squared off crescent roll!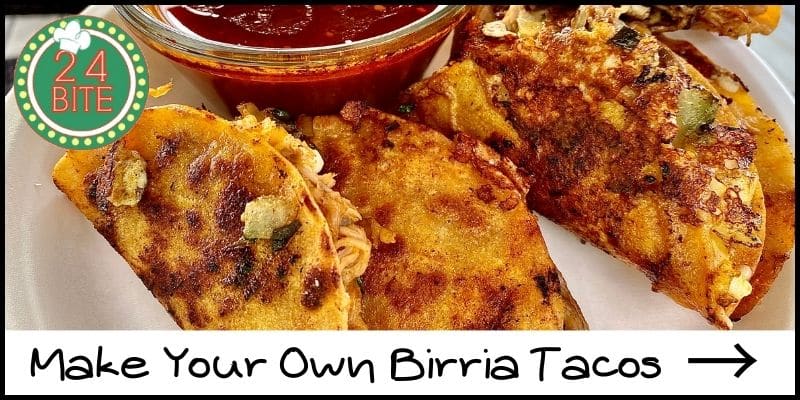 Be sure to fill each triangle before you start to roll. This will help if you need to add or remove some of the filling to make things more even.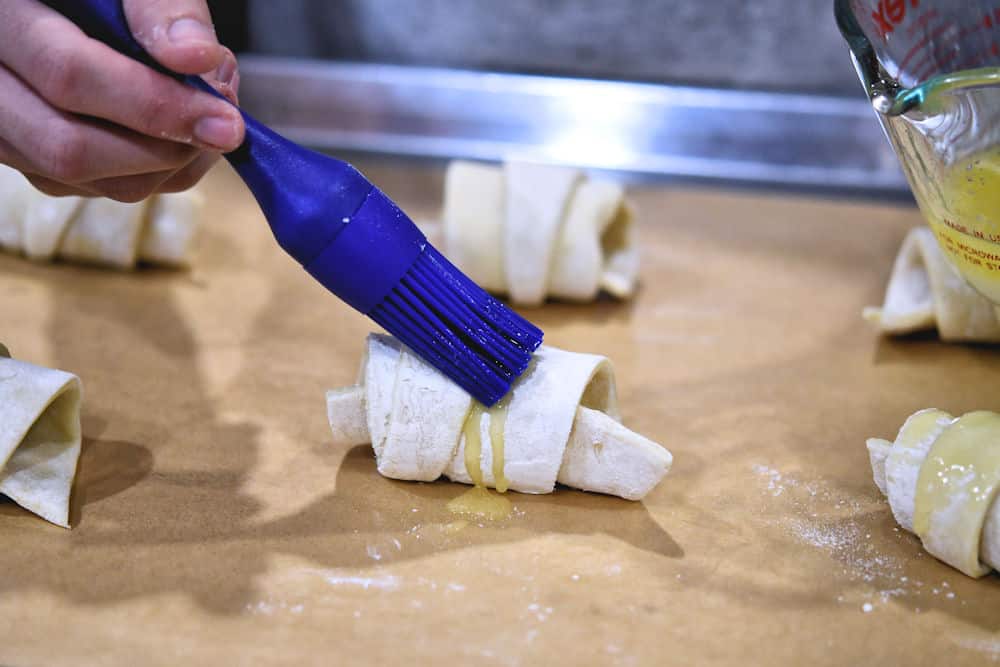 Use a pastry brush to brush on melted butter. This will give the pastry a nice golden color when baking.
I realize that this is supposed to be an appetizer, but I have a hard time eating just one!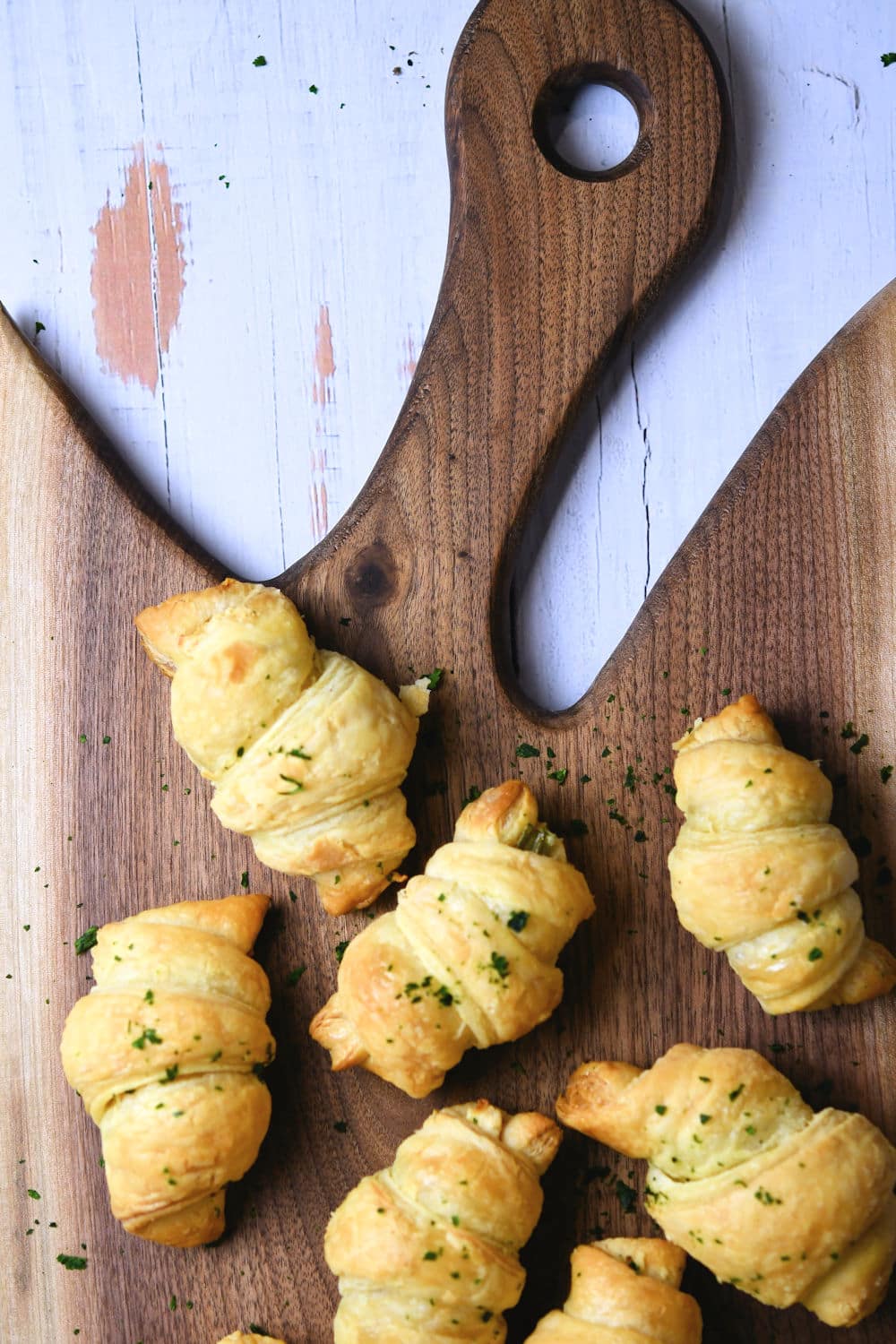 Recipe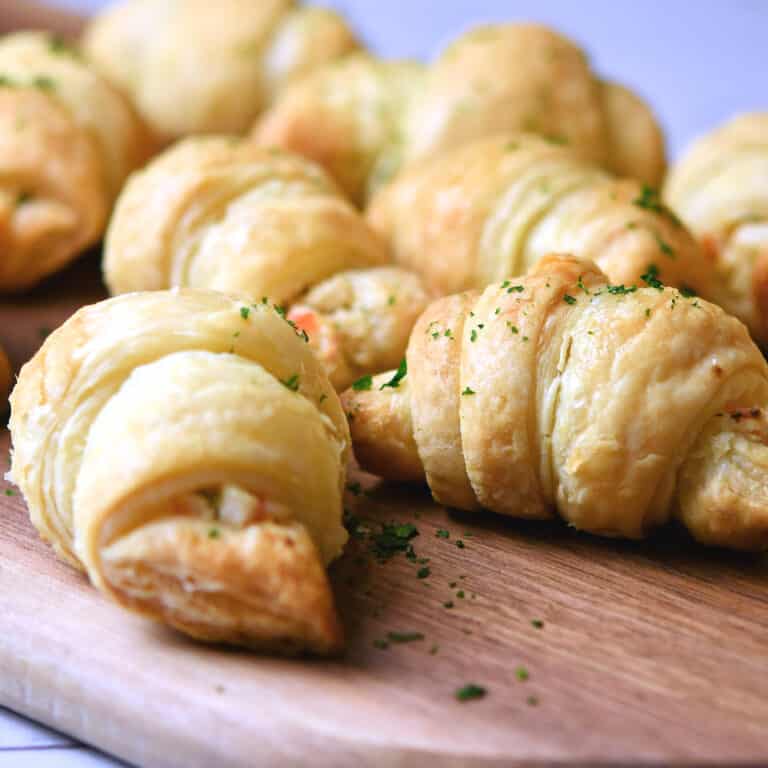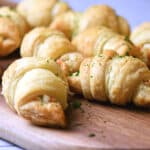 Pin Recipe Now
Crab Rangoon Crescent Rolls
Tap to leave a star rating
Save or Print
Bringing the wonderful taste of crab rangoon to a dinner roll! Learn to make crab rangoon crescent rolls in this easy recipe. A cream cheese and crab mixture is surrounded by a tender, flaky crust.

For more information, be sure to check the recipe details in the attached 24Bite® post.
Ingredients
4

ounces

Cream Cheese

,

softened

4

ounces

Imitation Crab

,

chopped

1

Green Onion

,

minced

½

tsp

Worcestershire Sauce

½

tsp

Garlic Powder

1

box

Pepperidge Farms Puff Pastry

,

room temperature

Flour

,

small amount

⅛

cup

Butter

,

melted

Cooking Spray
Instructions
Mix together cream cheese, imitation crab, green onion, worcestershire and garlic powder. Set aside.

Place small amount of flour on the working surface to help with sticking. With pizza cutter, cut puff pastry into three even strips then make a diagonal line across each strip. (There will be two pieces of puff pastry in the box and you will have 6 triangles out of each, for a total of 12.)

Place two or three teaspoons of cream cheese mixture at widest edge of triangle and roll up. It's best to place the mixture on all of them then roll up to make sure you have enough to go around.

Place parchment paper on baking sheet and spray with cooking spray.

Place the 12 rolls evenly on baking sheet.

Brush with melted butter.

Bake for 20-23 minutes. Makes 12.
Note: If there is a video, it will not display while there is an adblocker.
Notes
These crab rangoon dinner rolls can be served with a seafood gumbo or any seafood dish. Being able to dip it in a soup based meal would be delicious.
You may not need any extra flour when cutting the triangles. The puff pastry includes a lot of flour to keep it from sticking.
Nutrition Facts
Crab Rangoon Crescent Rolls
Amount Per Serving
Calories 220
Calories from Fat 135
% Daily Value*
Fat 15g23%
Sodium 243mg11%
Carbohydrates 18g6%
Protein 4g8%
* Percent Daily Values are based on a 2000 calorie diet.
______________________
Percent Daily Values are based on a 2000 calorie diet. All amounts are estimates and 24Bite® takes no responsibility for actual figures since calculations vary by packaging and supplier. Please calculate the amounts yourself based on package labeling if you have specific dietary requirements. 24Bite®, Kim Guzman or Christian Guzman shall not be liable for adverse reactions or any other outcome resulting from the use of recipes or recommendations on this website or actions you take as a result.
© 2019-2023 Kim Guzman and Christian Guzman. All rights reserved. Subscribe to 24Bite email newsletters.
Follow 24Bite: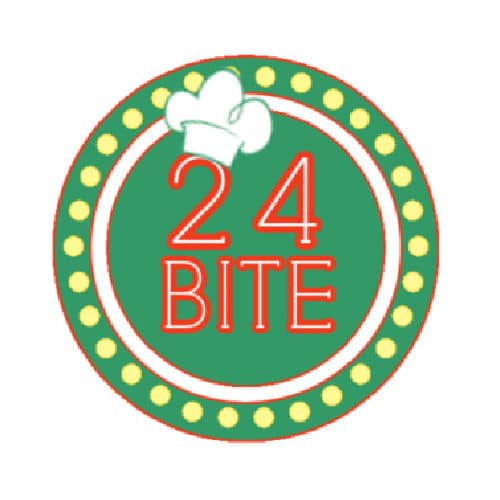 Twitter | Facebook | Pinterest