Disclaimer:
This website contains affiliate links. Any purchases through affiliate links will provide me with the income necessary to keep this site available at no extra cost to you. Please see
Privacy Policy
 page for more information.
A delightful combination of Prosciutto ham and mushrooms makes this dish incredibly tasty and you'll be going back for more.
I previously made an incredible Prosciutto Provolone Pizza with half the package of Prosciutto. My grandmother had asked me about the Prosciutto and yes, it's supposed to be eaten "raw" when sliced thin. It's cured and it's supposed to be that way. I wanted to try it fried up as well, so this recipe was born.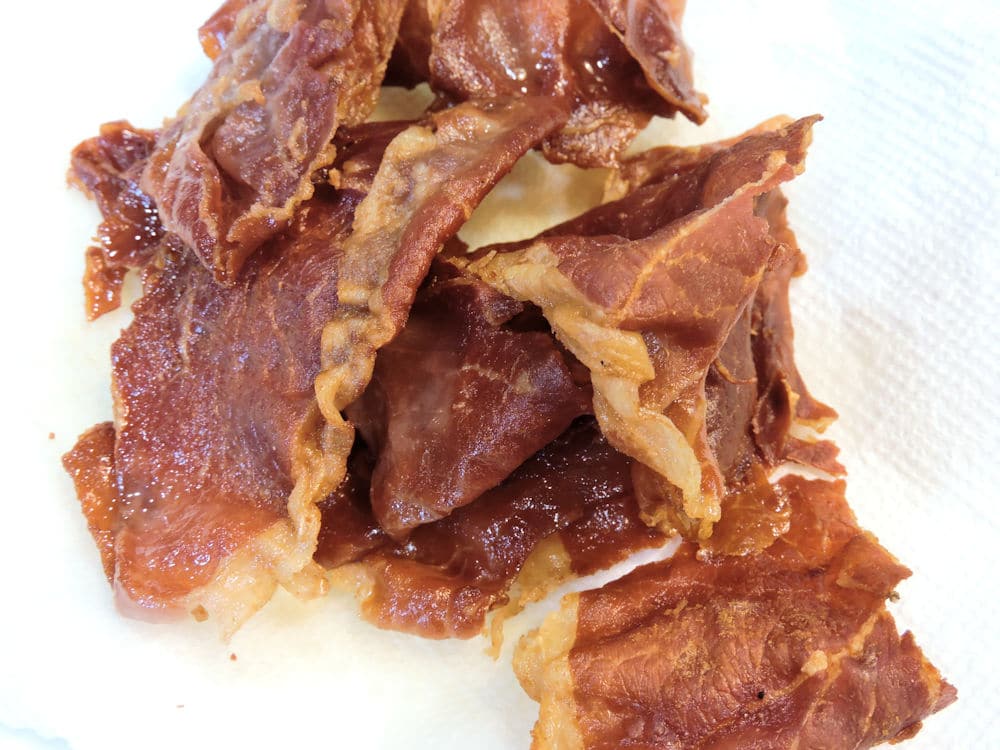 Here is the Prosciutto, just cooked, draining on a paper towel. I had a few nibbles and it's delicious!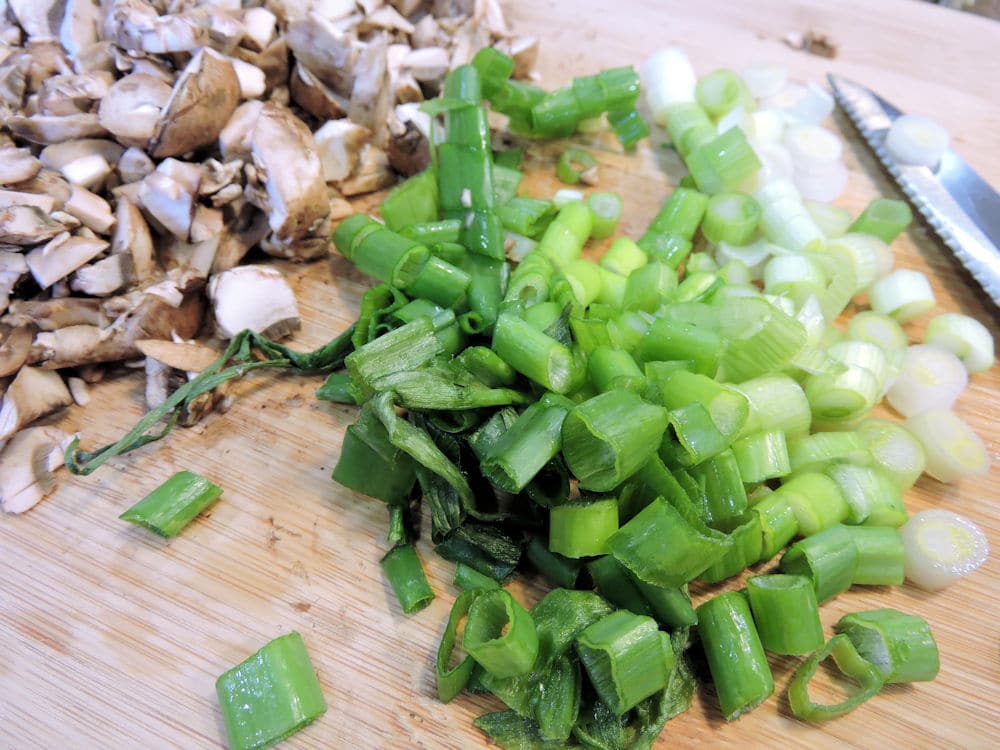 My recipe calls for green onions because we had some green onions that needed to be used. I'm sure it would be fine with regular onions or scallions. It's up to you.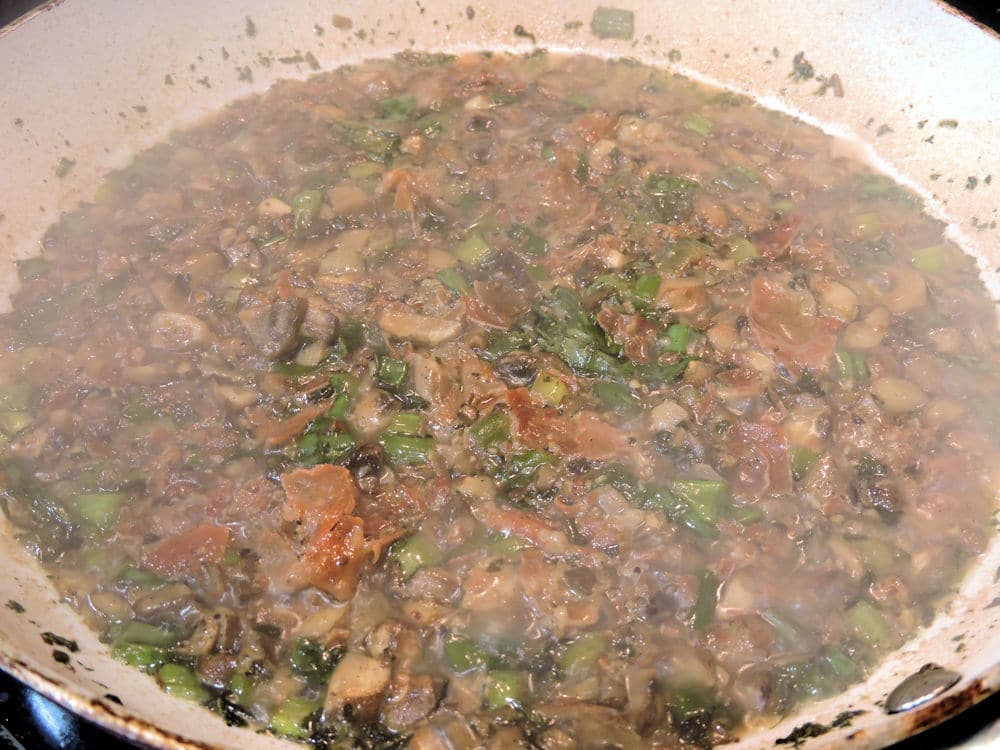 I took a photo of everything simmering down. How do food bloggers take photos when there's all this steam, I wonder?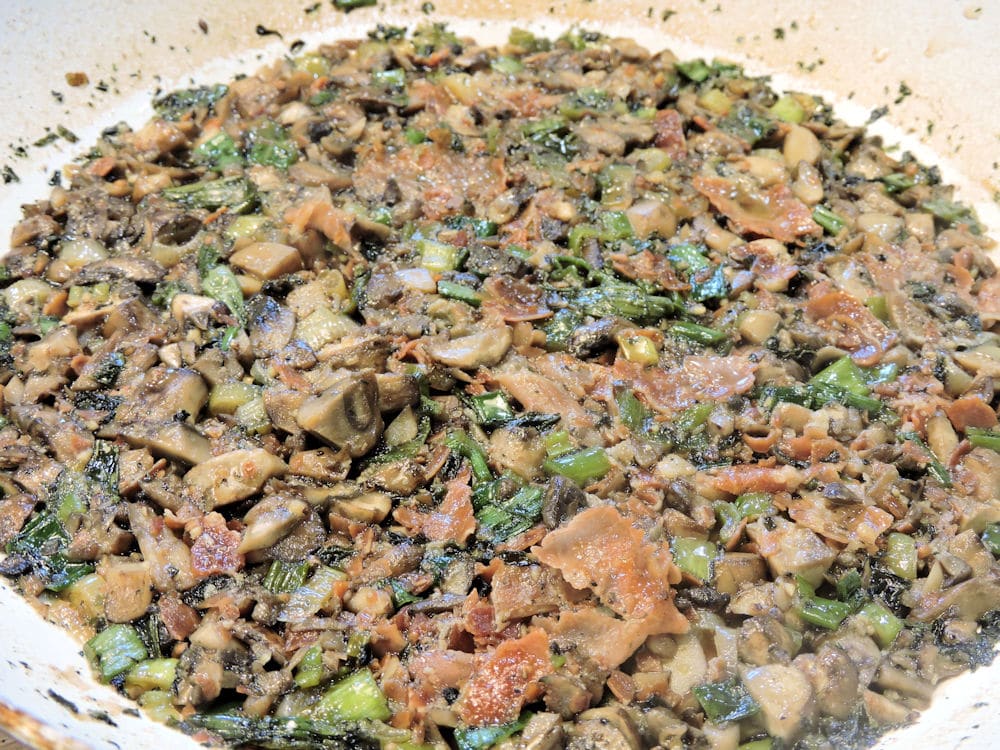 I took this off the heat right before adding the final ingredients of cream and butter so I could get a proper photo.
This is really an incredible dish and I love it! I shared some with my grandmother and she loved it as well. It's a hit! Enjoy!
Prosciutto and Portobello Mushrooms Pasta
Print Recipe
A delightful combination of Prosciutto ham and mushrooms makes this dish incredibly tasty and you'll be going back for more.
Ingredients
8

ounces

Spaghetti Pasta

uncooked

3

ounces

Prosciutto Ham, thinly sliced

like Daniele Del Duca Presliced Prosciutto

2

tablespoons

Olive Oil

4

ounces

Baby Bella Mushrooms

chopped

3

Green Onions

chopped

1

teaspoon

Ground Black Pepper

1

teaspoon

Crushed Dried Basil

1

cup

Chicken Stock or Broth

1/4

cup

Heavy Cream

3

tablespoons

Unsalted Butter
Instructions
Begin a pan of water for cooking the spaghetti according to the package instructions.

On medium high, fry Prosciutto ham in olive oil until crispy. Drain on paper towels. Crush and divide in half.

In the same oil, on medium high, cook mushrooms and half the green onions until tender, about five minutes. While cooking, the water for the pasta may be ready for the spaghetti now.

Reduce heat to medium. Add pepper, basil, chicken stock and half the Prosciutto. Cook until liquid is reduced almost completely, scraping any bits from the bottom of the pan from cooking the Prosciutto.

Add cream and butter. Stir and continue cooking until butter is melted then remove from heat. Drain the spaghetti and toss it with the mushroom mixture. Serve with garnishes of the remaining crushed Prosciutto and remaining green onions. Serves 4.
Nutrition
______________________
Percent Daily Values are based on a 2000 calorie diet. All amounts are estimates and 24Bite™ takes no responsibility for actual figures since calculations vary by packaging and supplier. Please calculate the amounts yourself based on package labeling if you have specific dietary requirements. 24Bite™, Kim Guzman or Christian Guzman shall not be liable for adverse reactions or any other outcome resulting from the use of recipes or recommendations on this website or actions you take as a result.
© 2019-2020 Kim Guzman. All rights reserved.
Follow 24Bite: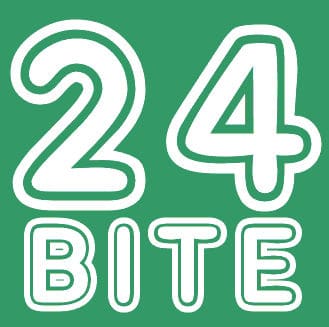 Twitter | Facebook | Instagram | Pinterest
Pin It: