There is nothing quite like the taste of fresh basil pesto, especially when you grow the basil yourself!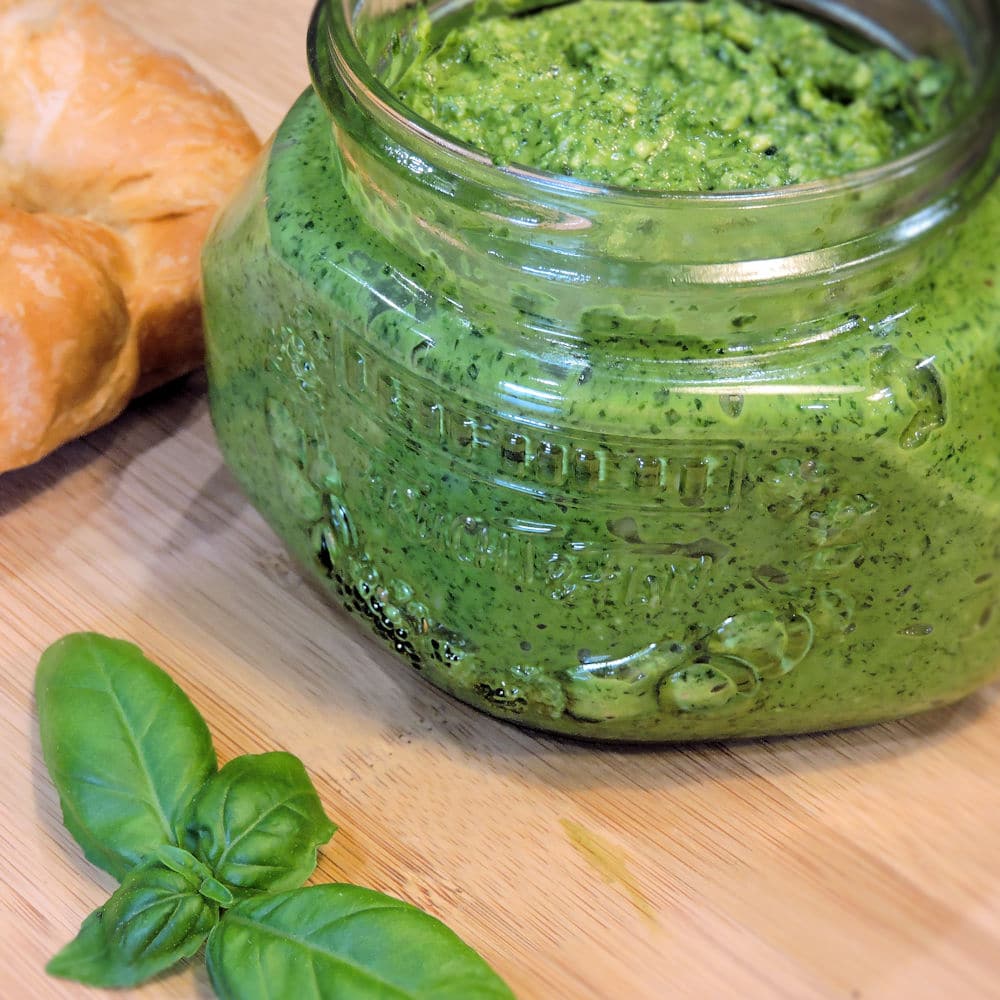 Here is the magnificent basil-making Aerogarden. Because I *love* basil so much, this will be going year-round if I can.
The Aerogarden is a water based system so there is no messy soil and it has its own grow light which means we can grow anywhere, anytime.
It only takes four weeks to go from placing the seeds to a bounty of basil. Check out all the things you can grow in your own Aerogarden.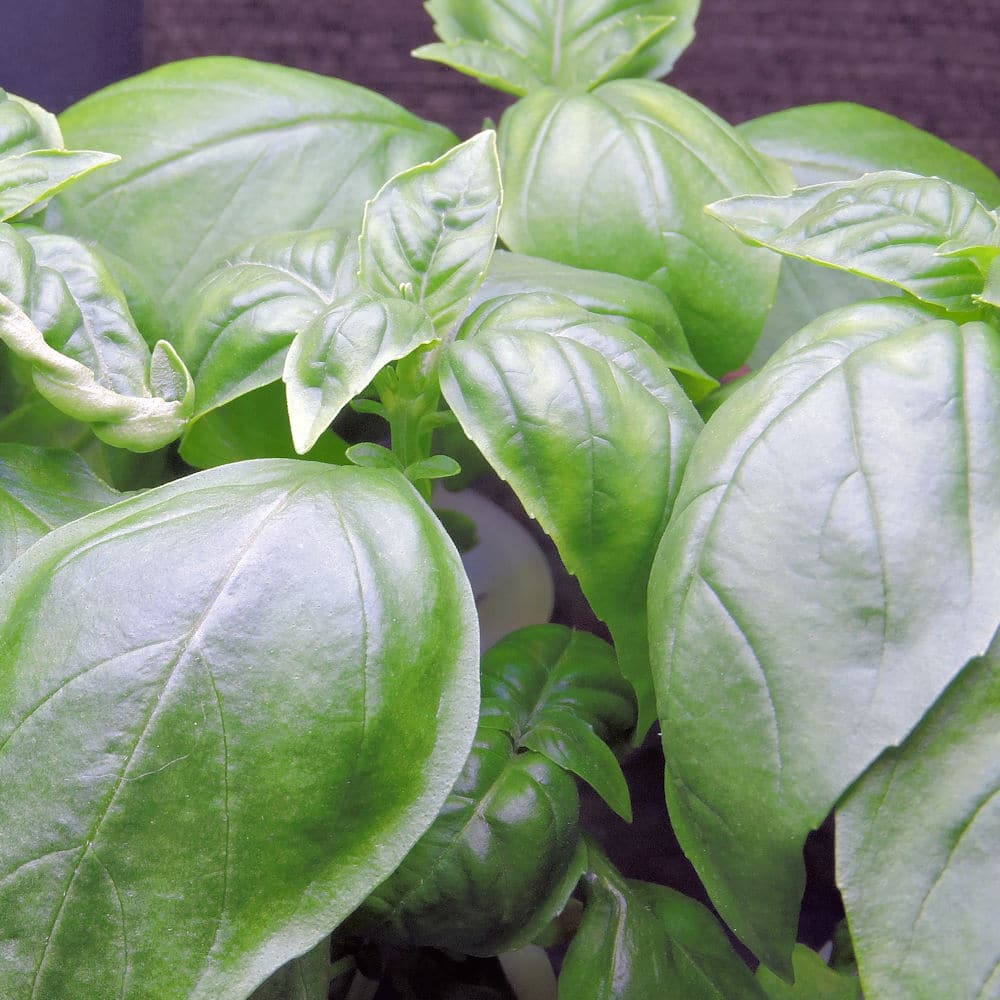 We harvest the basil before it flowers. It can get bitter once it flowers. And, I feel the same way about spinach. I always use baby spinach leaves instead of regular spinach leaves which can also be very bitter.
There wasn't enough basil to make a full 8 ounces of leaves so I supplemented with spinach leaves.
I cut all the leaves from the tough stems before processing. You don't want the stem in your pesto. It's not going to break down as quickly as the leaves and I wasn't ready for all that roughage. There is such a thing as too much fiber! I draw the line at stems.
AeroGarden Harvest Elite
This
Aerogarden Harvest Elite
is the perfect size to get started. It has positions for six plants and will accommodate up to 12″ height which is enough for basil, romaine lettuce and cilantro. It's a great way to try out soil-less, in-home growing.
As you can see, the pesto is a nice bright green, unlike the darker color when you buy it in a jar. That's the difference between fresh, raw pesto and the pesto that is cooked for preservation in the jar. Such a beautiful color and it adds such a pleasant touch to any dish when the color is so bright.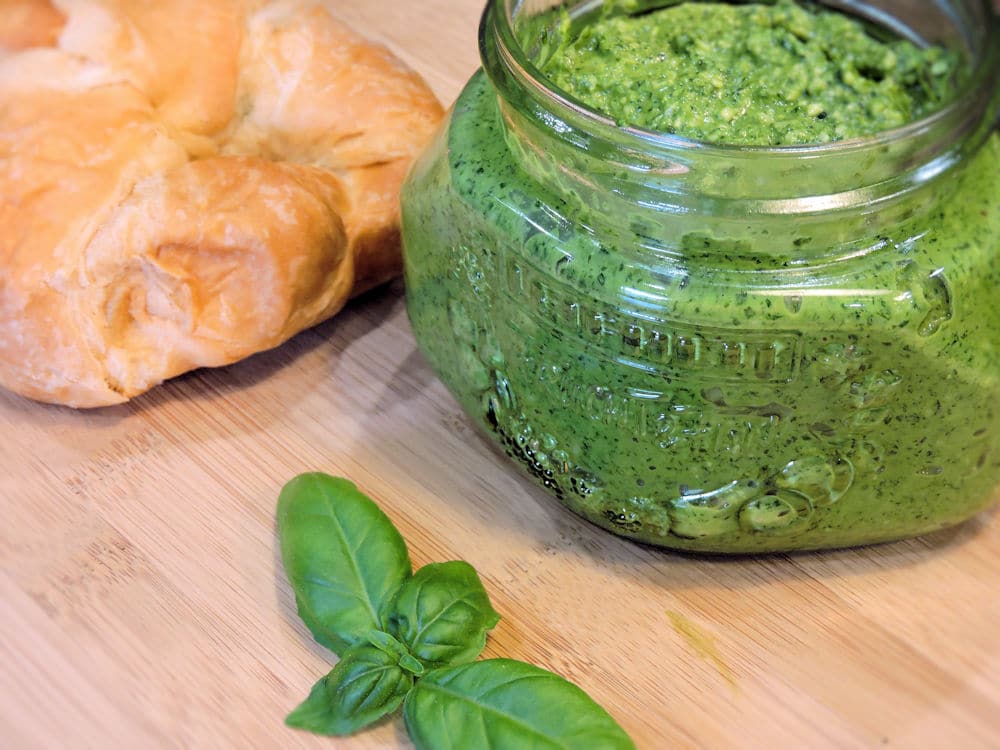 I literally ate several spoons of this by itself before reluctantly putting it in the jar and putting it in the refrigerator. I plan on using half of it with pasta and diced chicken. I'll use the other half as the sauce on a pizza. Yum!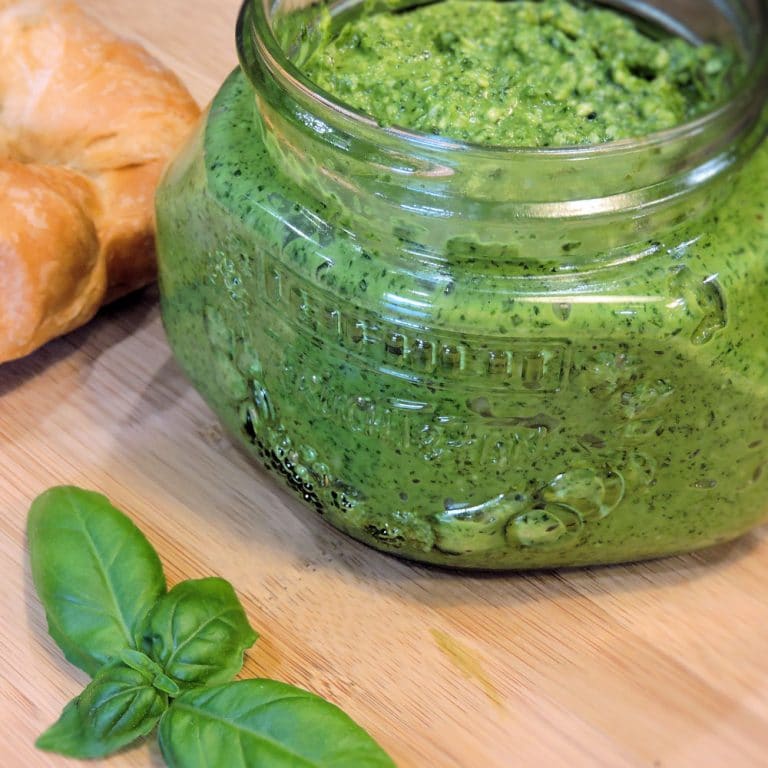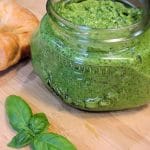 Basil and Spinach Pesto Recipe
Print Recipe
There is nothing quite like the taste of fresh basil pesto, especially when you grow the basil yourself!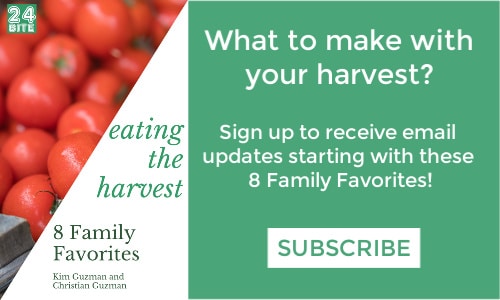 Ingredients
1/2

cup

Pine nuts

8

ounces

Basil and Baby Spinach leaves

washed and pat dry

1/2

cup

Olive Oil

extra virgin

1

cup

Shredded Parmesan Cheese

see note below

1/2

teaspoon

pepper

ground
Instructions
Place the chopping blade in the food processor and process the pine nuts until finely chopped.

Add enough basil and spinach leaves to fill the processor bowl and process until finely chopped. Continue adding more leaves to bowl to process further, until all leaves are in the bowl and processed.

Remove the pusher from the sleeve at the top of the processor and while the blade is still processing, slowly pour in the olive oil.

Add Parmesan cheese and pepper and pulse lightly until well mixed.
Notes
To keep this recipe vegetarian, be certain to buy Vegetarian Parmesan made with non-animal enzymes.
You can use all basil (or all spinach) in this recipe, if you prefer. The spinach is added only to supplement and bring the measurement up to the eight ounces total.
This recipe makes about 14 ounces of pesto. Calorie count is by ounce (two tablespoons).
Nutrition Facts
Basil and Spinach Pesto Recipe
Amount Per Serving
Calories 130
* Percent Daily Values are based on a 2000 calorie diet.
______________________
Percent Daily Values are based on a 2000 calorie diet. All amounts are estimates and 24Bite™ takes no responsibility for actual figures since calculations vary by packaging and supplier. Please calculate the amounts yourself based on package labeling if you have specific dietary requirements. 24Bite™, Kim Guzman or Christian Guzman shall not be liable for adverse reactions or any other outcome resulting from the use of recipes or recommendations on this website or actions you take as a result.
© 2019-2020 Kim Guzman. All rights reserved. Subscribe to 24Bite email newsletters.
Follow 24Bite: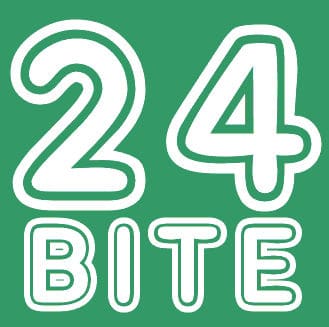 Twitter | Facebook | Instagram | Pinterest


Pin It: