Making basil pesto from scratch is easy and takes no more than 10 minutes. There is nothing quite like the taste of fresh basil pesto, especially when you grow the basil yourself!
Recipe | What are pine nuts? | Frequently Asked Questions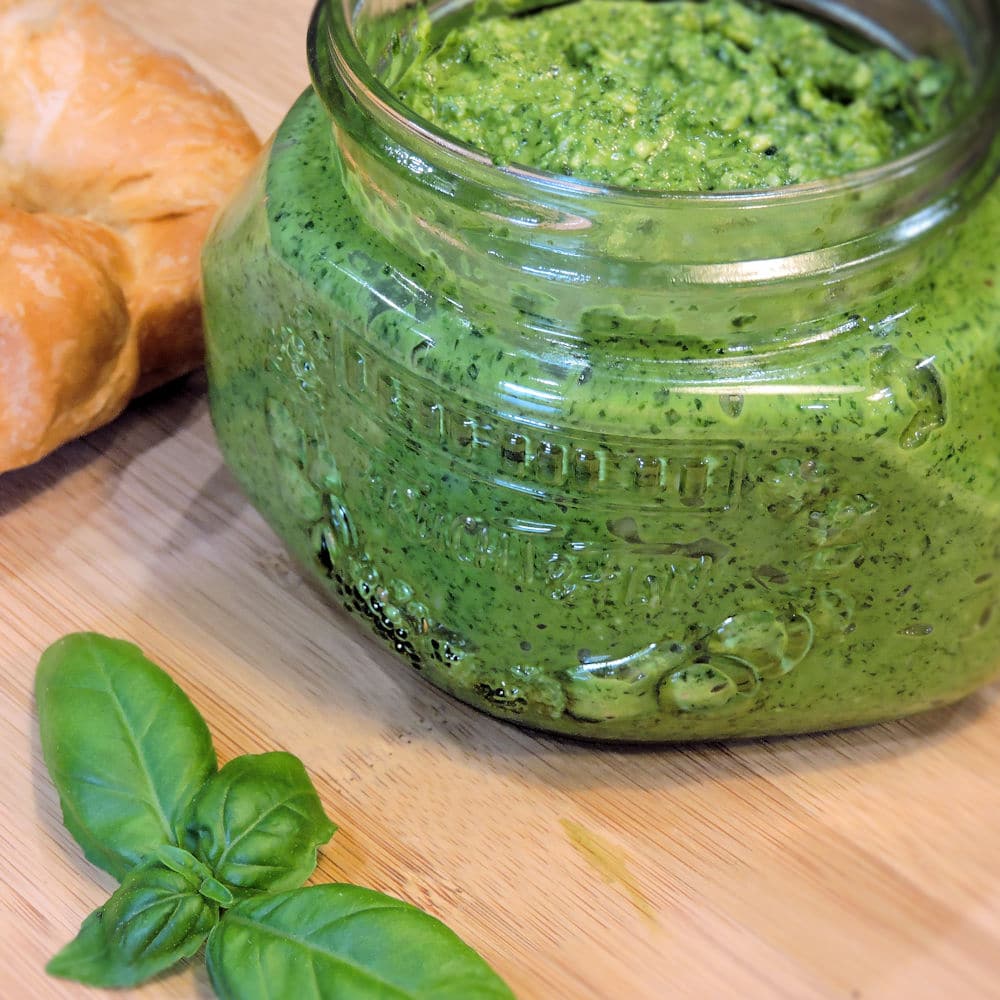 Ingredients
You will only need five ingredients to make this pesto.
The recipe calls for eight ounces of basil and spinach so you can have some options. Options are good, especially if you're buying at the grocery store where you can only find those small plastic packages of basil.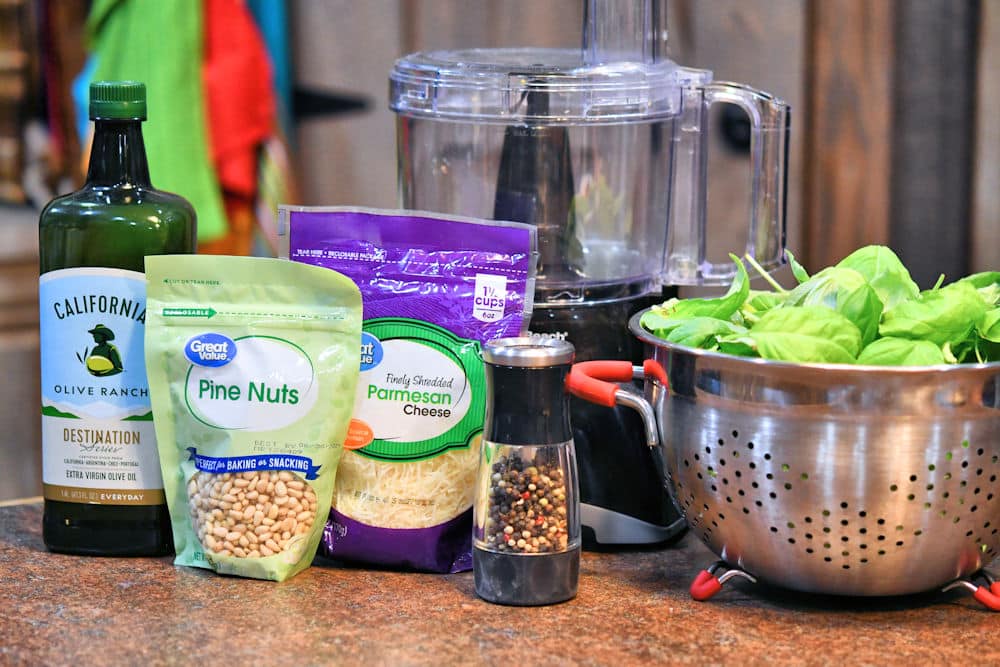 If you have a little bit of basil, add enough spinach to make 8 ounces or so. If you have all basil, use all basil. Use any combination of the two.
I had just harvested basil from the Aerogarden so I had a full colander (shown here) of basil without having to add any spinach.
This is a great way to quickly use up the baby spinach leaves you have in your refrigerator before you have to throw them out. Don't let them go bad! Do this instead.
I really prefer baby spinach, though. I'm not overly fond of toddler spinach.
Growing your own basil
Here is the magnificent basil-making Aerogarden. Because I *love* basil so much, this will be going year-round if I can.
The Aerogarden is a water based system so there is no messy soil and it has its own grow light which means we can grow anywhere, anytime.
It only takes four weeks to go from placing the seeds to a harvesting of basil. Check out all the things you can grow in your own Aerogarden.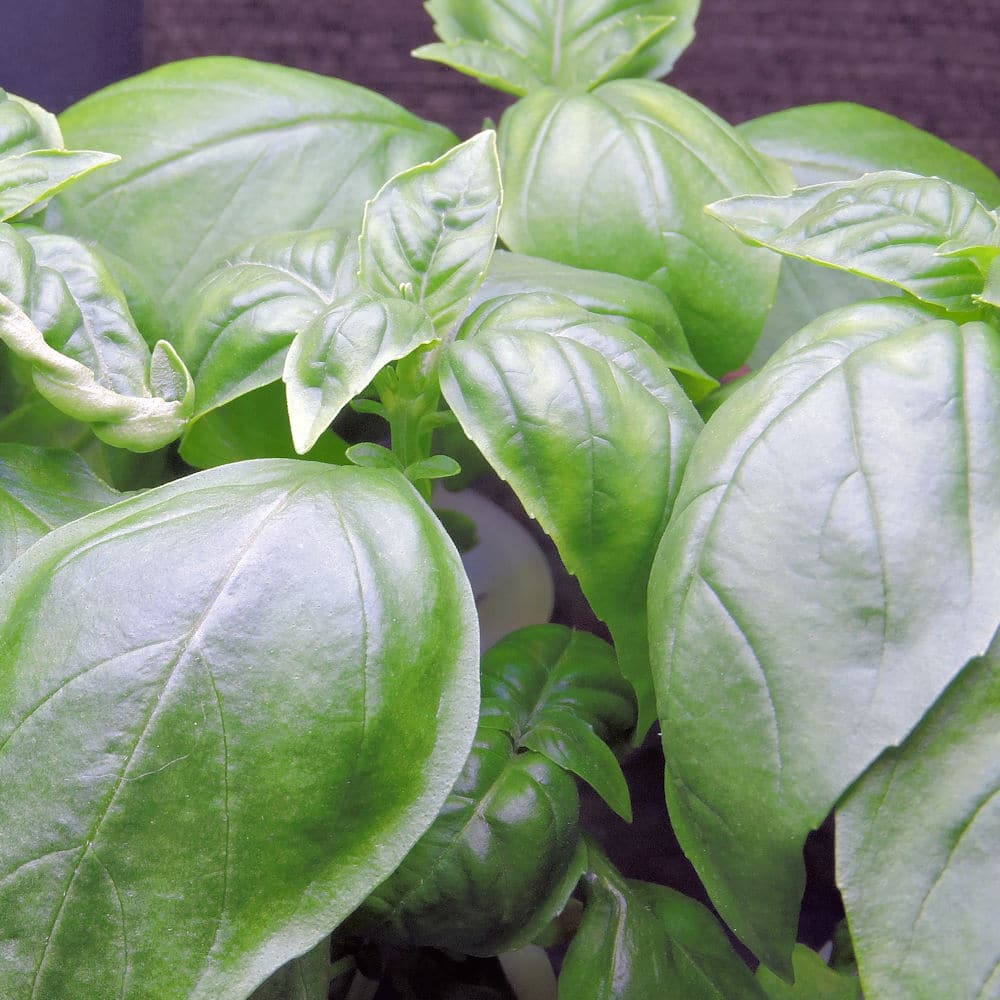 We harvest the basil before it flowers. It can get bitter once it flowers.
I cut all the leaves from the tough stems before processing. You don't want the stem in your pesto. It's not going to break down as quickly as the leaves and I wasn't ready for all that roughage. There is such a thing as too much fiber! I draw the line at stems.
As you can see, the pesto is a nice bright green, unlike the darker color when you buy it ready made in a jar. That's the difference between fresh, raw pesto and the pesto that is cooked for preservation in the jar.
Such a beautiful color and it adds such a pleasant touch to any dish when the color is so bright.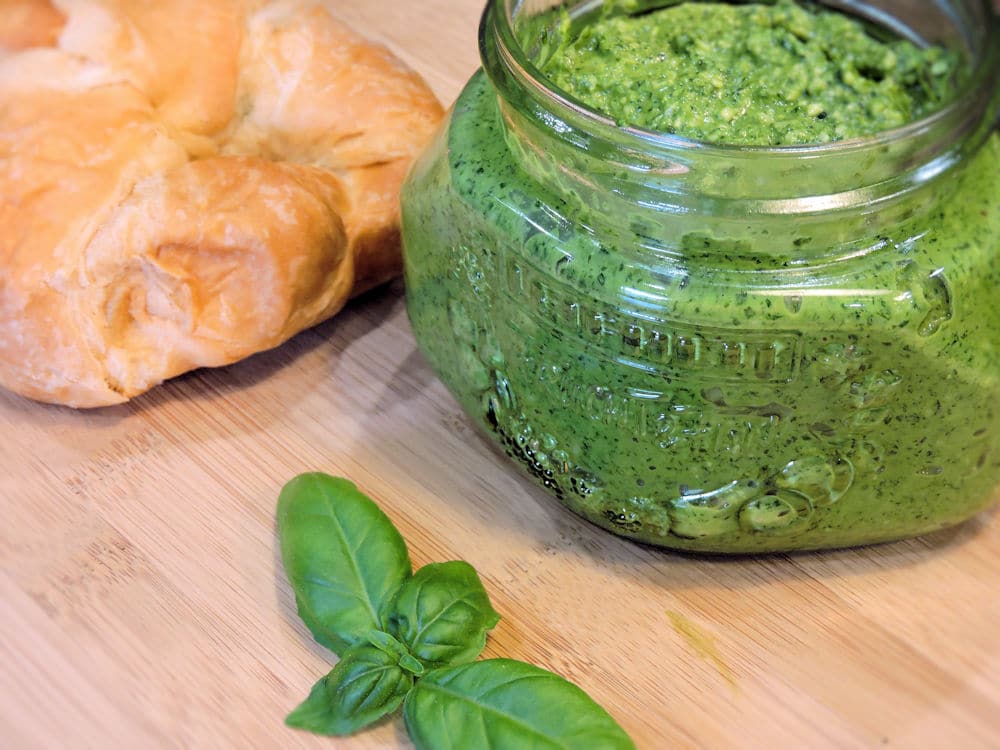 I literally ate several spoons of this by itself before reluctantly putting it in the jar and putting it in the refrigerator. I plan on using half of it with pasta and diced chicken. I'll use the other half as the sauce on a pizza. Yum!
What are pine nuts?
Pine nuts are the actual seeds harvested from pinecones. Can you believe it? It's not just a clever marketing name. They actual come from pinecones.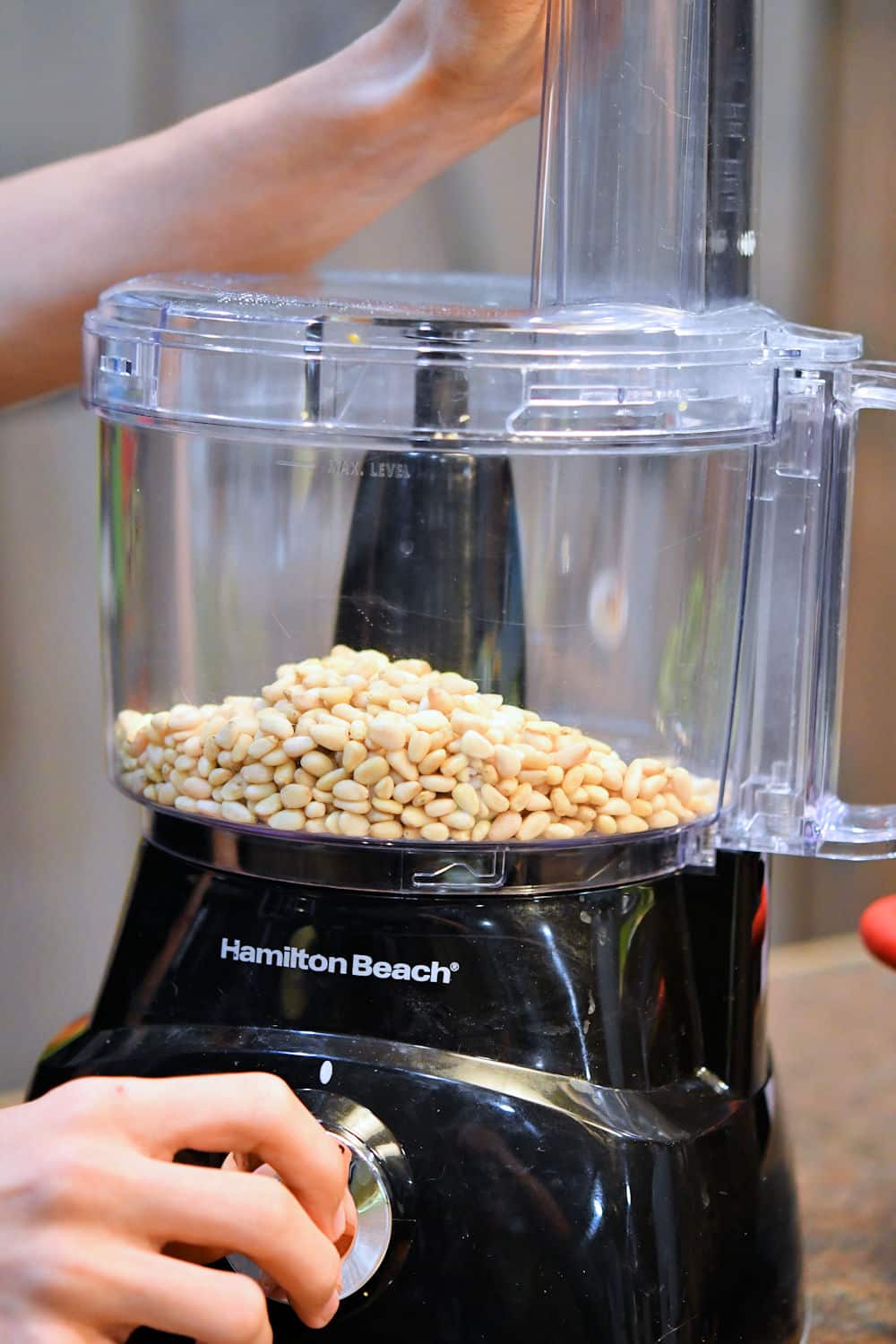 Pine nuts are also called pignoli. As you might guess, it's difficult to harvest and process them so they're one of the most expensive nuts on the market.
What can I substitute for pine nuts?
There have been many times that we've been unable to find pine nuts at our local store. In fact, during the current medical crisis, they are about as impossible to find as bread flour!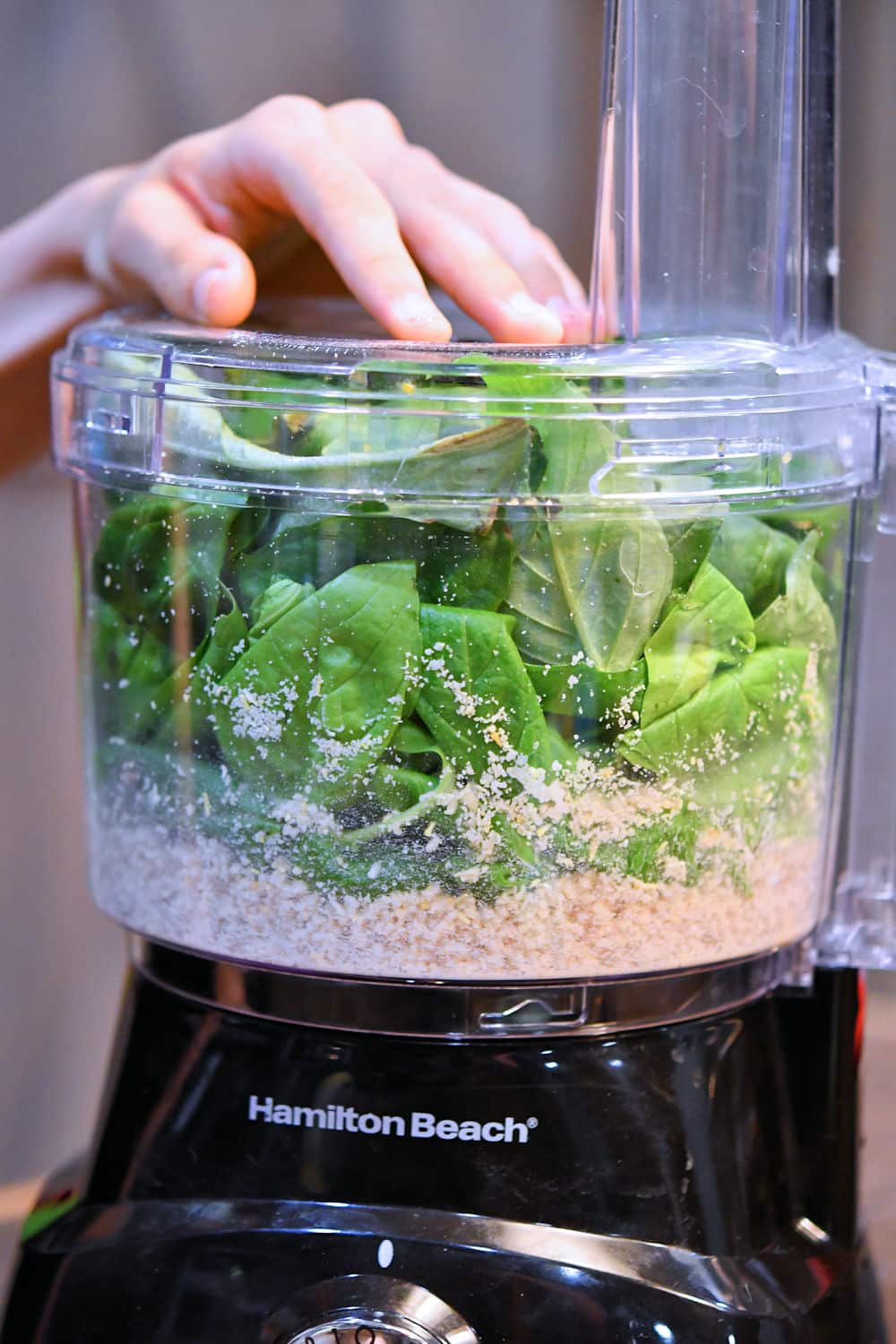 If you are unable to find them, you can use raw unsalted walnuts. It will take a little longer to process them to a fine grind.
Frequently asked questions
How do I use basil pesto?
Spread it on a nice crusty piece of bread and eat it right away. Use it as a sauce for pizza, instead of a tomato-based sauce. Serve it with grilled fish, beef steak or chicken.
How long will pesto keep in the refrigerator?
Try to eat the pesto within 5 days. It will stay good enough to eat in an airtight container about 4-5 days.
Can you freeze pesto?
You can store pesto in the freezer for about six months. The cheese may break down a bit. The freezer changes the texture of cheese. You may want to consider making the pesto for the freezer then adding the shredded cheese once you're ready to serve.
Can you can pesto?
I'm sure there are ways to can pesto. There must be ways since it's available commercially. I've never seen instructions for it, though, and raw pesto is so much better anyway! If you want to preserve it, I would use the freezer instead.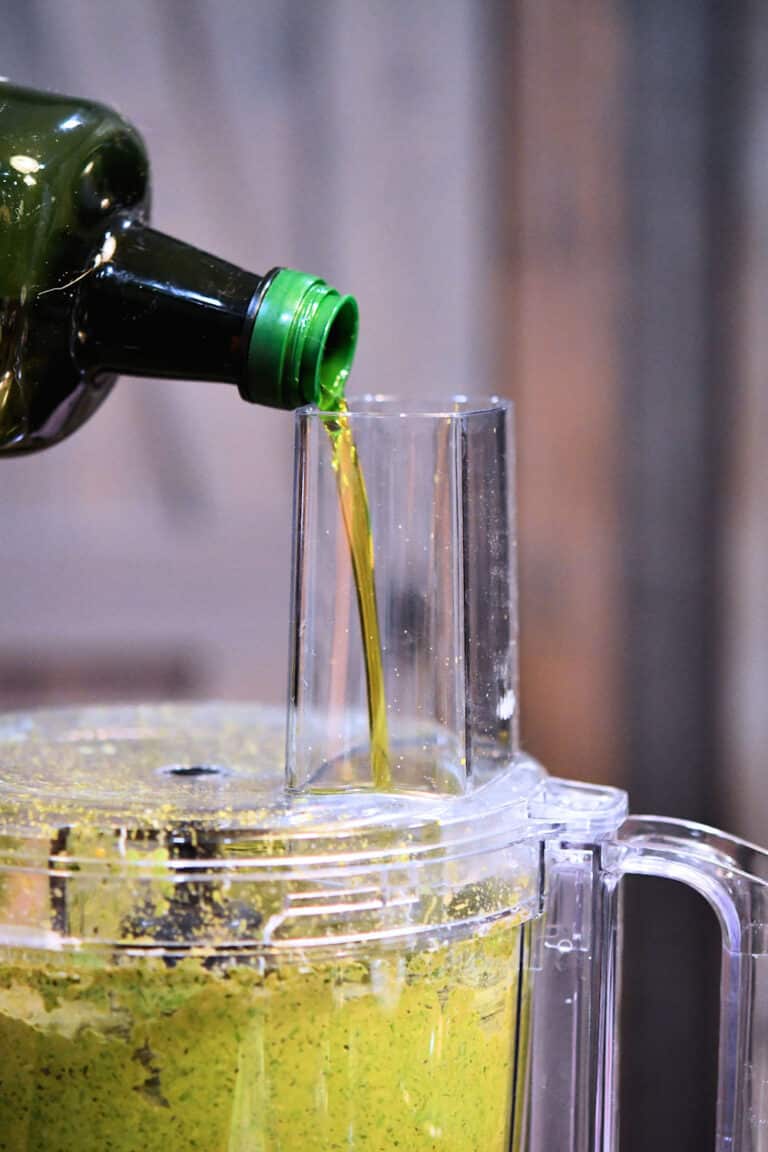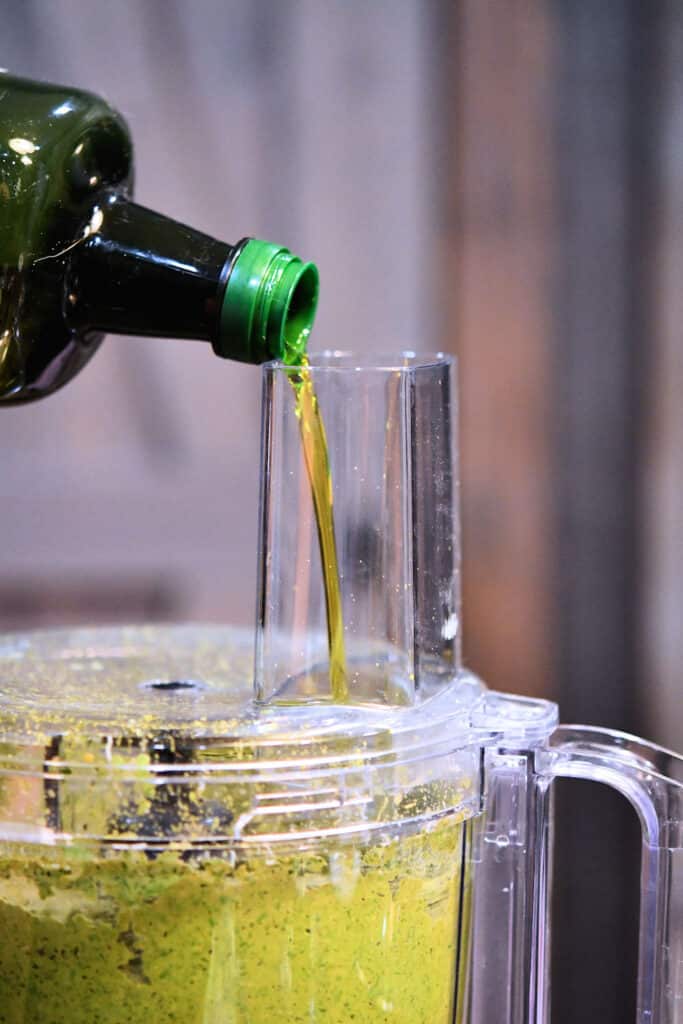 Can you make vegan pesto?
Yes, you can! Although Parmesan cheese is a significant ingredient, you can make a substitute using raw cashews for vegan pesto.
Recipe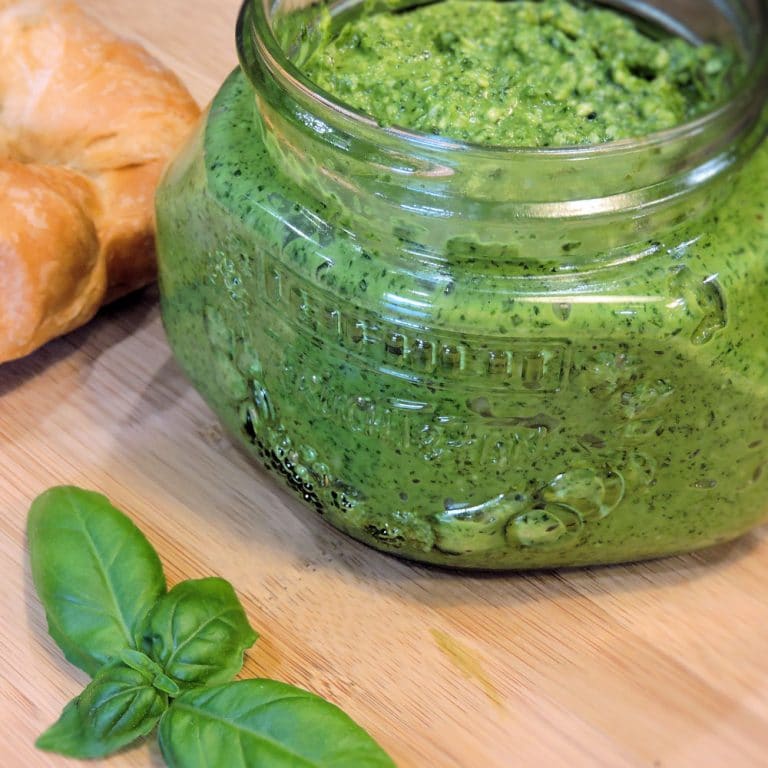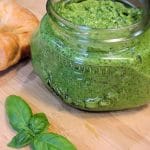 Pin Recipe Now
Basil and Spinach Pesto Recipe
Tap to leave a star rating
Save or Print
There is nothing quite like the taste of fresh basil pesto, especially when you grow the basil yourself!

For more information, be sure to check the recipe details in the attached 24Bite® post.
Ingredients
½

cup

Pine nuts

8

ounces

Basil

,

fresh, washed and pat dry

½

cup

Olive Oil

,

extra virgin

1

cup

Parmesan Cheese

,

shredded or grated

½

teaspoon

Pepper
Instructions
Place the chopping blade in the food processor and process the pine nuts until finely chopped.

Add enough basil and spinach leaves to fill the processor bowl and process until finely chopped. Continue adding more leaves to bowl to process further, until all leaves are in the bowl and processed.

Remove the pusher from the sleeve at the top of the processor and while the blade is still processing, slowly pour in the olive oil.

Add Parmesan cheese and pepper and pulse lightly until well mixed.
Note: If there is a video, it will not display while there is an adblocker.
Notes
To keep this recipe vegetarian, be certain to buy Vegetarian Parmesan made with non-animal enzymes.
You can use all basil (or all spinach) in this recipe, if you prefer. The spinach is added only to supplement and bring the measurement up to the eight ounces total.
This recipe makes about 14 ounces of pesto. Calorie count is by ounce (two tablespoons).
Nutrition Facts
Basil and Spinach Pesto Recipe
Amount Per Serving
Calories 133
Calories from Fat 117
% Daily Value*
Fat 13g20%
Sodium 115mg5%
Carbohydrates 1g0%
Protein 4g8%
* Percent Daily Values are based on a 2000 calorie diet.
______________________
Percent Daily Values are based on a 2000 calorie diet. All amounts are estimates and 24Bite® takes no responsibility for actual figures since calculations vary by packaging and supplier. Please calculate the amounts yourself based on package labeling if you have specific dietary requirements. 24Bite®, Kim Guzman or Christian Guzman shall not be liable for adverse reactions or any other outcome resulting from the use of recipes or recommendations on this website or actions you take as a result.
© 2019-2023 Kim Guzman and Christian Guzman. All rights reserved. Subscribe to 24Bite email newsletters.
Follow 24Bite: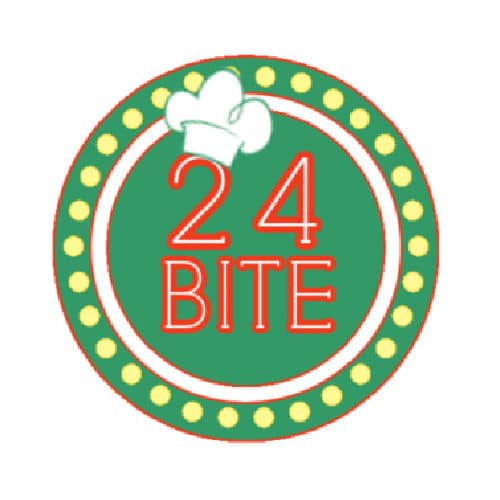 Twitter | Facebook | Pinterest