Try this easy leftover rotisserie chicken recipe for quick meals any time. It's easy to pull something together using ingredients you already have on hand.
Recipe | What are the different pasta shapes? | Is this gluten free?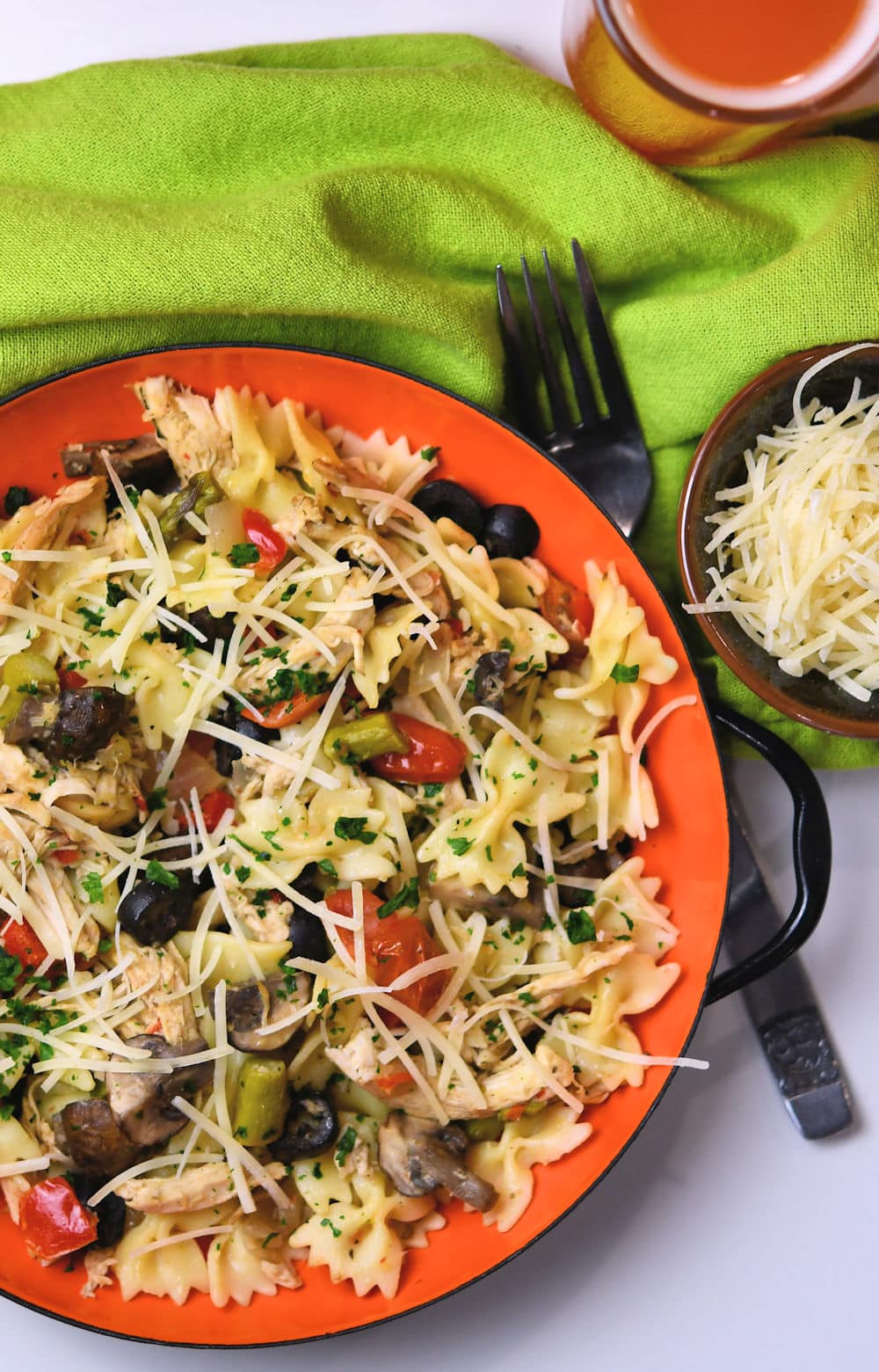 Since you're working with rotisserie chicken, you'll need to add lots of fresh vegetables and pasta to make it a meal for everyone in the family.
Rotisserie Chicken
Here's the thing. You know you're going to want some rotisserie chicken if you walk past something like this. Am I right?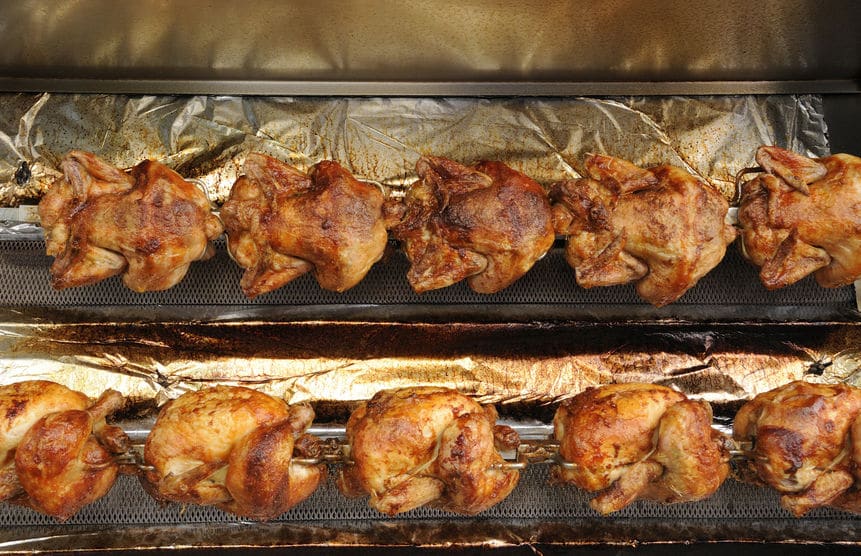 You're going to smell that chicken. After that, you're going to take out your wallet.
I know you can imagine it. Think about it. Can you resist the temptation? For me, the answer is "No, absolutely not."
I want it. I want it NOW!
How to Prepare Rotisserie Chicken
So, you buy that gorgeous roasted chicken and bring it home. What do you do with it other than eating it right out of the roaster container? I'm not judging.
What you do next is the key to making sure that you use the entire rotisserie chicken instead of forgetting it in the refrigerator.
If you need some help with carving up the beautiful roasted chicken, have a look at these tips from Little Sunny Kitchen.
Choosing Your Ingredients
It's completely up to you and your refrigerator what ingredients you choose for your leftover rotisserie chicken.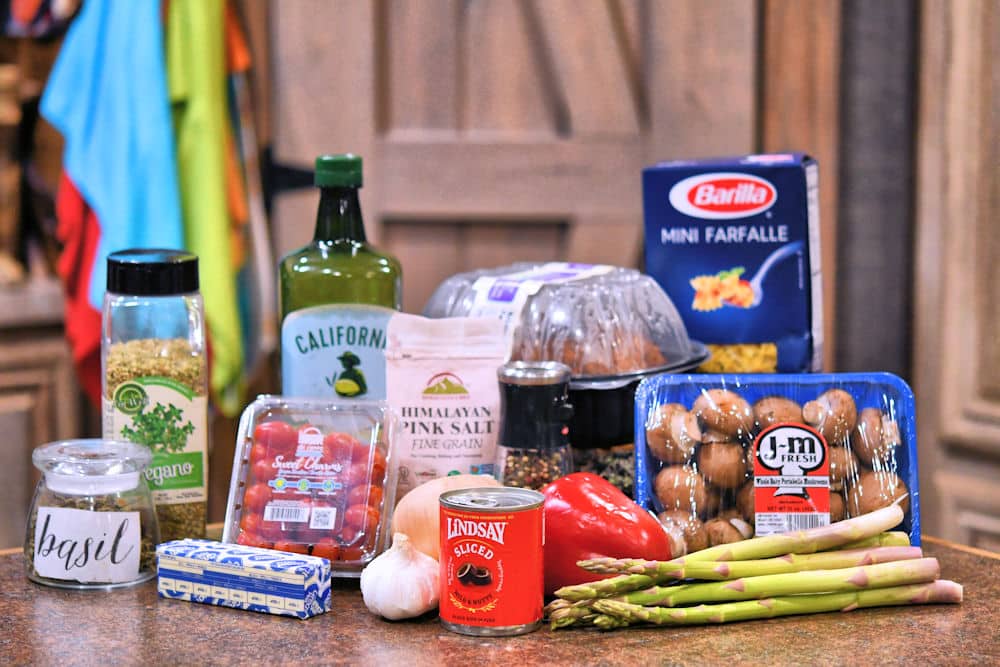 Start by opening up your refrigerator to find what you have. Don't forget to look in your pantry too!
Here's what I found in my refrigerator and pantry that I knew would be great for a quick and easy leftover rotisserie chicken recipe.
Onion
Red Bell Pepper
Garlic
Asparagus
Portobello Mushrooms
Grape Tomatoes
Sliced Black Olives
You may find some other great things to use as well. Try carrots, cubed eggplant, zucchini. If you don't have tomatoes, try canned tomato chunks.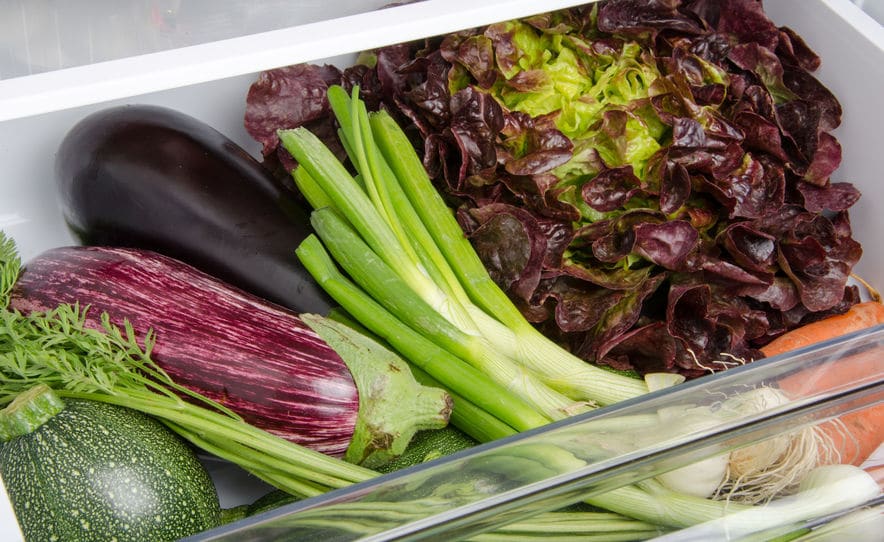 Use your own creativity and use those vegetables instead of buying them with good intentions and then depositing them into the garbage later because they went bad.
What are the Different Pasta Shapes?
There are many different types of pasta. Here are a few examples. Use whatever pasta you have available.
There's no reason to be too strict with your pasta shapes. Try them all and see if you can find a favorite.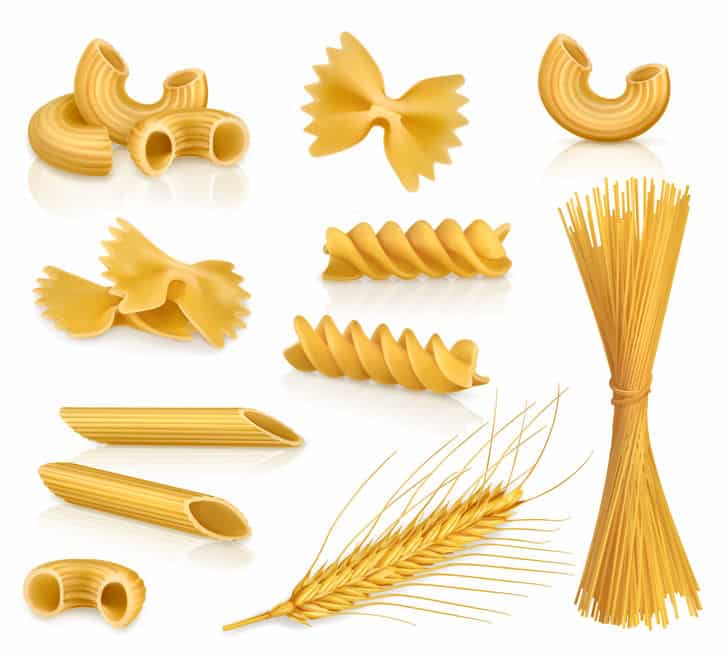 Long Pasta
The long, skinny pasta is most popular. Angel hair, spaghetti, vermicelli, linguine and fettuccine is in this list.
Fideo is also included even though it's simply vermicelli cut into small pieces. I've used fideo often.
Elbow Macaroni
You know this one already. Just ask any kid. It's the kind most popular for macaroni and cheese. It's available smooth or ridged.
Farfelle
Farfelle is the bow tie pasta. It's feathered on the edges and squeezed together in the middle.
Farfelle means butterfly in Italian so I guess it looks like a little butterfly too.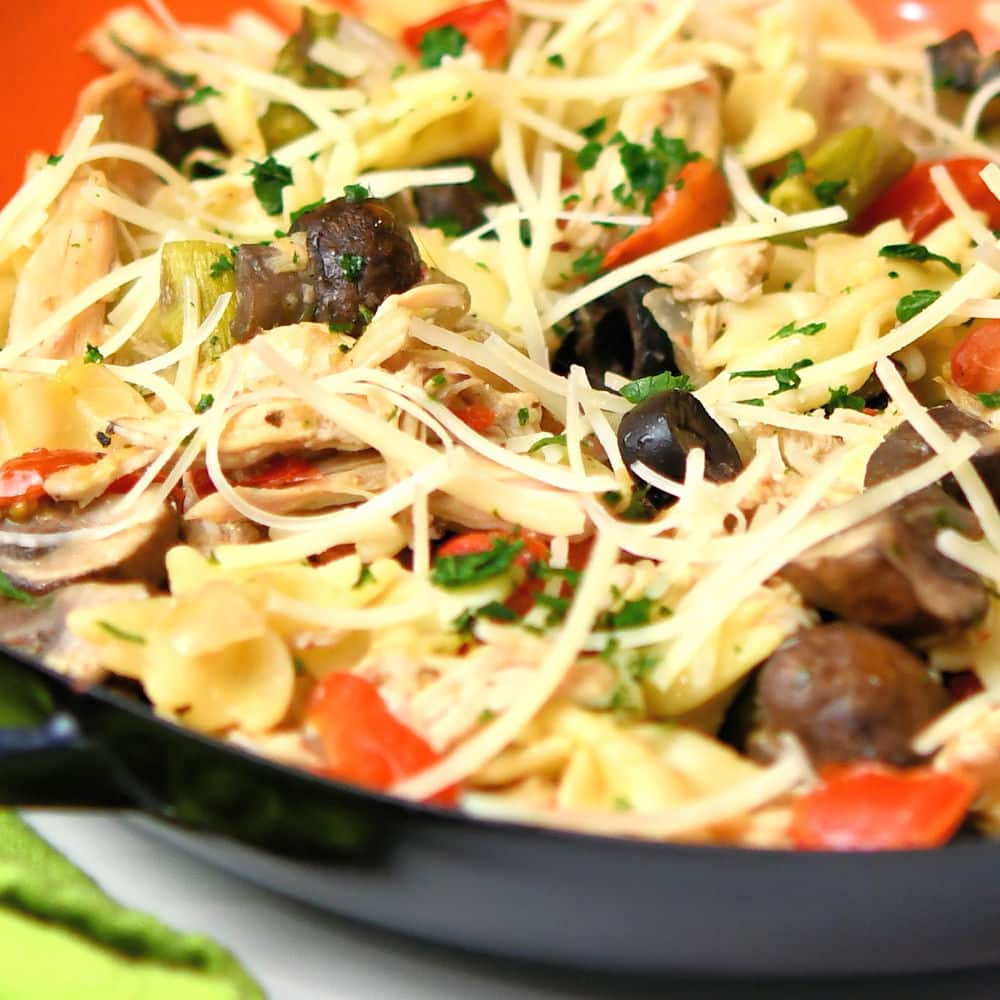 This pasta is usually available in two sizes. I've used the smaller size for this recipe.
Rotini
Rotini pasta is a nice cork screw shape. The little ridges make it perfect to hold sauces. It's my favorite and I think mom buys it in 6-packs.
Penne
Penne pasta is the tube and it's available with or without ridges. It's super popular for making large quantities of baked pasta for get togethers and potlucks.
Lasagna
Lasagna pasta is wide. It's available flat or wavy. You use it to make layered pasta casseroles.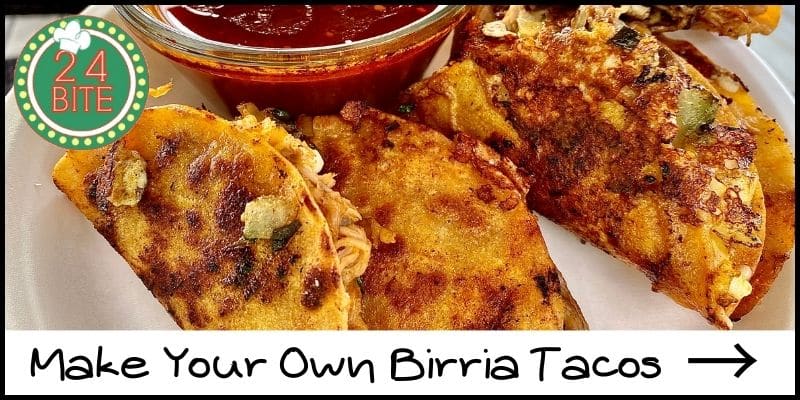 Is this Gluten Free?
Most pasta is made from wheat which isn't gluten free. You can easily substitute gluten free pasta, though.
Pasta can be found in gluten free varieties made from things like rice, lentils, chickpeas and quinoa.
Creativity is the Spice of Life
This is the beauty of this recipe. You can vary the type of pasta as well as the type of vegetables and fruit in the case of some of the sneaky fruit acting like vegetables.
It's your chance to use up the things you have available before they go bad.
Cooking Instructions
To begin, sort out your vegetables. There are three cooking phases for this easy leftover chicken recipe. Stay with me here.
I have three phases because some vegetables cook faster than others.
First Cooking Phase
Cook your onions, bell peppers and garlic. You would also want to add diced or shredded carrot during this phase. Carrots need to cook the longest.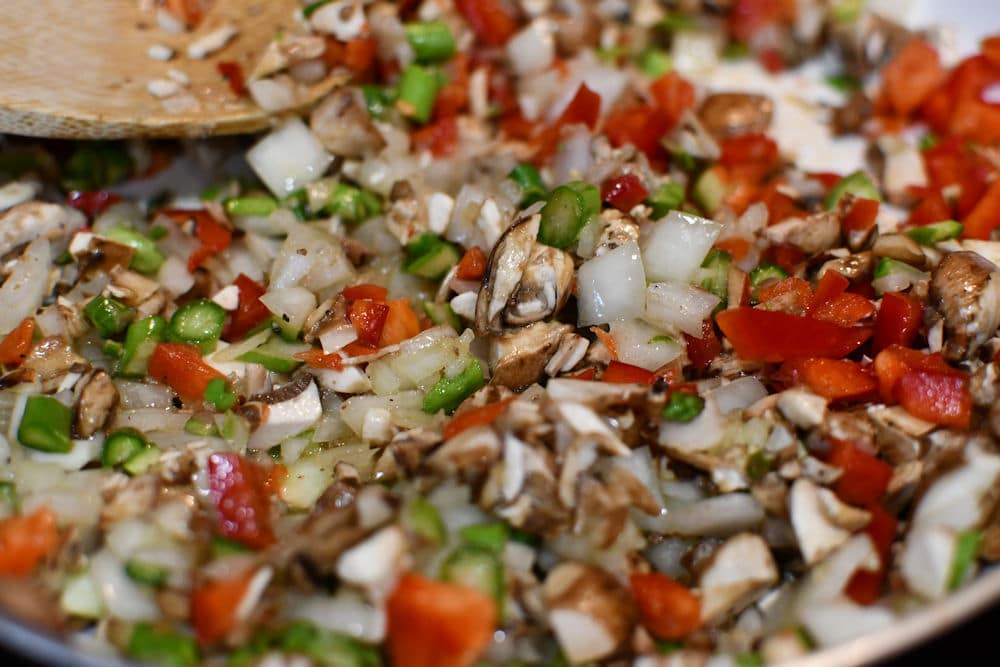 Second Cooking Phase
This phase is for the medium to soft vegetables that need cooking but aren't like the others. This is the phase where you will add the asparagus and mushrooms. If I had eggplant or squash, I would add it here as well.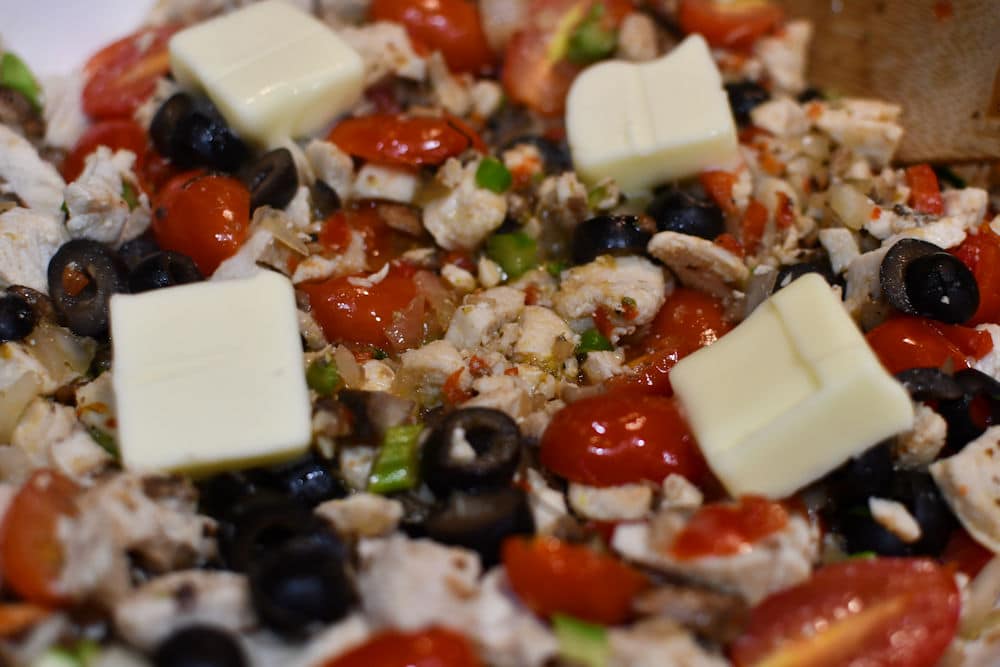 Third Cooking Phase
This is the final cooking phase so add things that cook very quickly or just basically need reheating.
This is where you would add the cooked chicken and black olives.
I've also added fresh grape tomatoes here because they only need a simple short heating. Cooking tomatoes too long will result in them turning to mush.
Bringing It All Together
After your pasta is finished cooking and your vegetables are cooked, toss it all together and you have dinner in less than 30 minutes.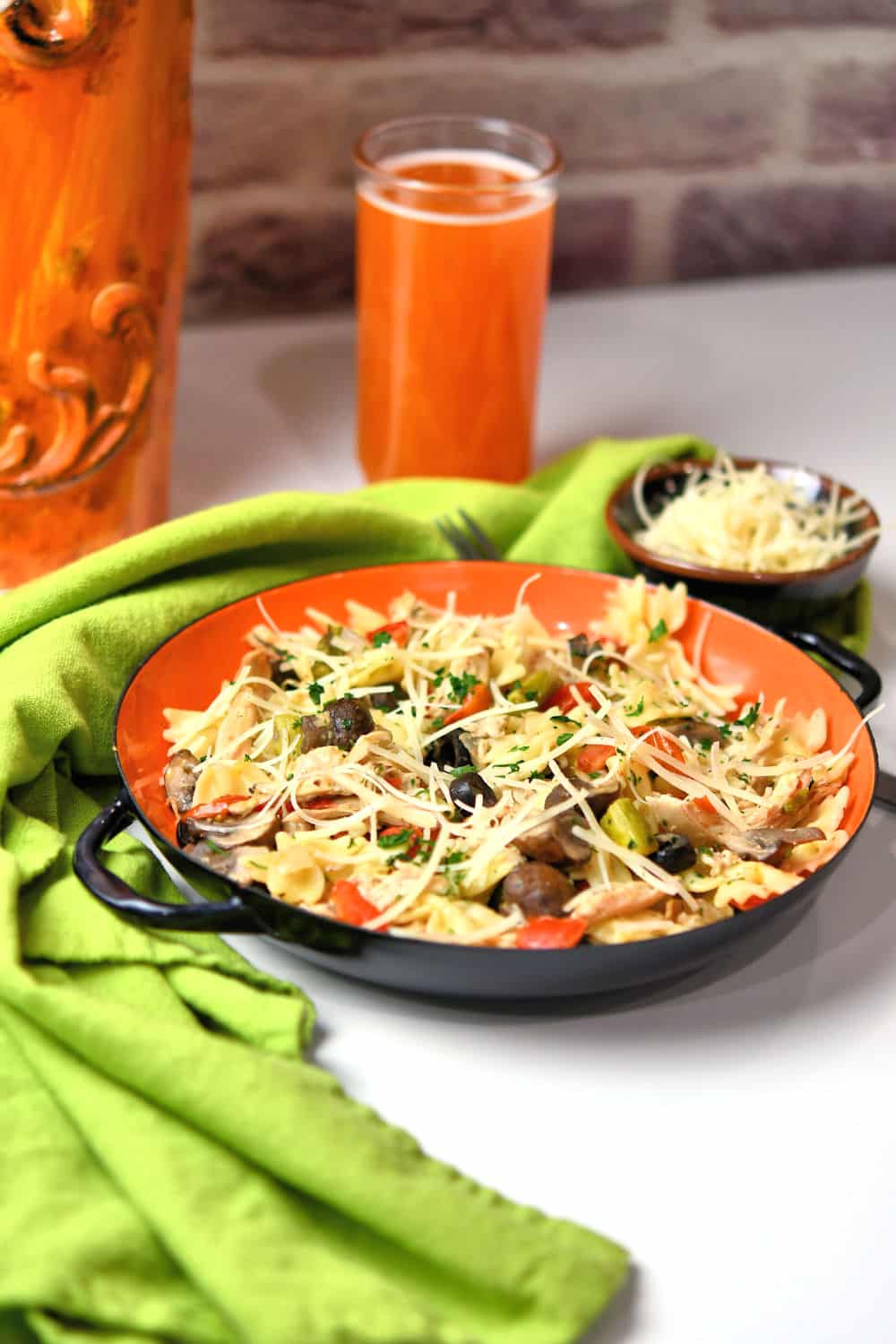 Looking for more recipes to use your leftover chicken? Try these:
Recipe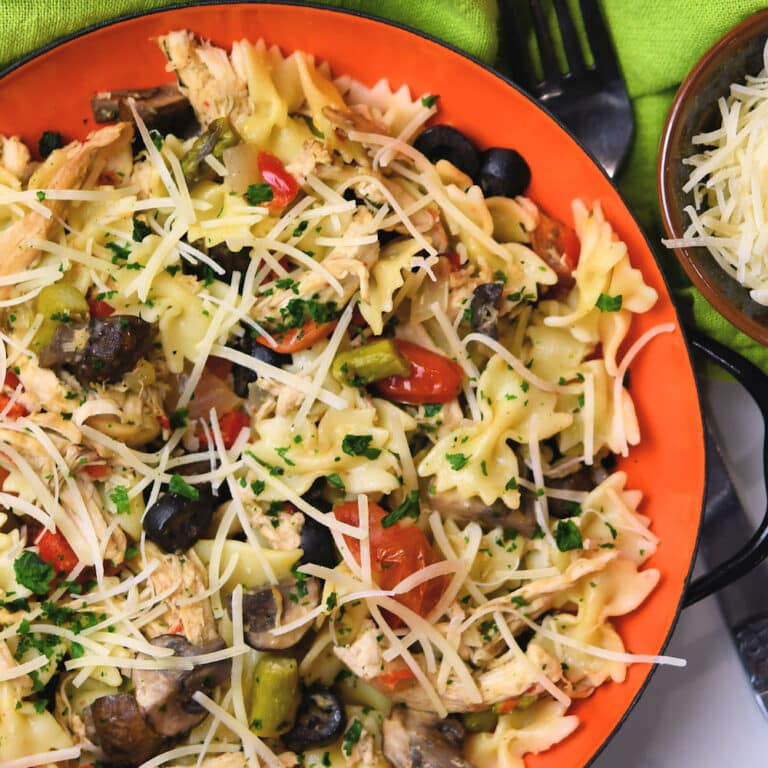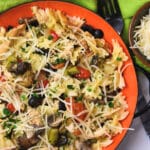 Pin Recipe Now
Rotisserie Chicken Pasta Recipe
Tap to leave a star rating
Save or Print
Try this easy leftover rotisserie chicken recipe for quick meals any time. It's easy to pull something together using ingredients you already have on hand.

For more information, be sure to check the recipe details in the attached 24Bite® post.
Ingredients
8

ounces

Bow Tie Pasta

,

mini farfelle, uncooked

2

tablespoons

Olive Oil

1

medium

Onion

,

chopped

1

medium

Red Bell Pepper

,

chopped

4

Garlic Cloves

,

minced

1

teaspoon

Oregano

1

teaspoon

Basil

1

teaspoon

Salt

1

teaspoon

Pepper

4

Asparagus

½

pint

Portobello Mushrooms

,

quartered

1

pound

Chicken

,

cooked, chopped or shredded

½

pint

Grape Tomatoes

,

cut in half

3

ounces

Black Olives

,

drained, sliced

4

tablespoons

Butter

,

cut into 4 equal pieces
Instructions
Begin the water and cook the pasta according to package instructions. While the water is boiling and the pasta is cooking, continue with the rest of the preparations.

Place olive oil in large skillet and heat on medium high. Add onion, bell pepper and garlic as well as the 4 seasonings. Stir and cook until onions are transparent, about 5 minutes.

Add asparagus and mushrooms. Stir and continue cooking on medium high about 3-5 minutes more.

Add cooked chicken and olives. Stir and continue cooking on medium high about 3 minutes.

Add 4 pieces of butter and continue cooking on medium high about 3 minutes. Remove from heat then stir in halved tomatoes.

Drain pasta. If it will fit in the same skillet as the vegetables, pour it in and toss to combine. If it won't fit in the skillet, pour everything into a large mixing bowl and toss to combine.
Note: If there is a video, it will not display while there is an adblocker.
Notes
Garnish with cracked red pepper, parmesan cheese, sliced or chopped green onion.
Nutrition Facts
Rotisserie Chicken Pasta Recipe
Amount Per Serving
Calories 287
Calories from Fat 144
% Daily Value*
Fat 16g25%
Sodium 533mg23%
Carbohydrates 27g9%
Protein 10g20%
* Percent Daily Values are based on a 2000 calorie diet.
______________________
Percent Daily Values are based on a 2000 calorie diet. All amounts are estimates and 24Bite® takes no responsibility for actual figures since calculations vary by packaging and supplier. Please calculate the amounts yourself based on package labeling if you have specific dietary requirements. 24Bite®, Kim Guzman or Christian Guzman shall not be liable for adverse reactions or any other outcome resulting from the use of recipes or recommendations on this website or actions you take as a result.
© 2019-2023 Kim Guzman and Christian Guzman. All rights reserved. Subscribe to 24Bite email newsletters.
Follow 24Bite: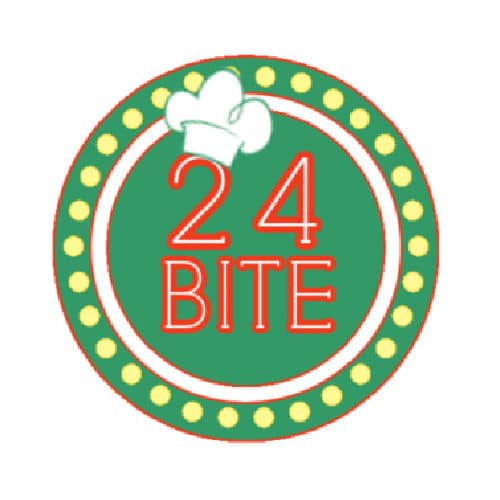 Twitter | Facebook | Pinterest